As a content marketer you have lots of options for formats, from gated guides to research reports, from infographics to interviews. And of course, the expert roundup blog post.
Roundups are among the most effective, but least popular formats for content. We've seen this in the data year after year in our annual blogger survey. Here is the data showing just some of the formats from the survey…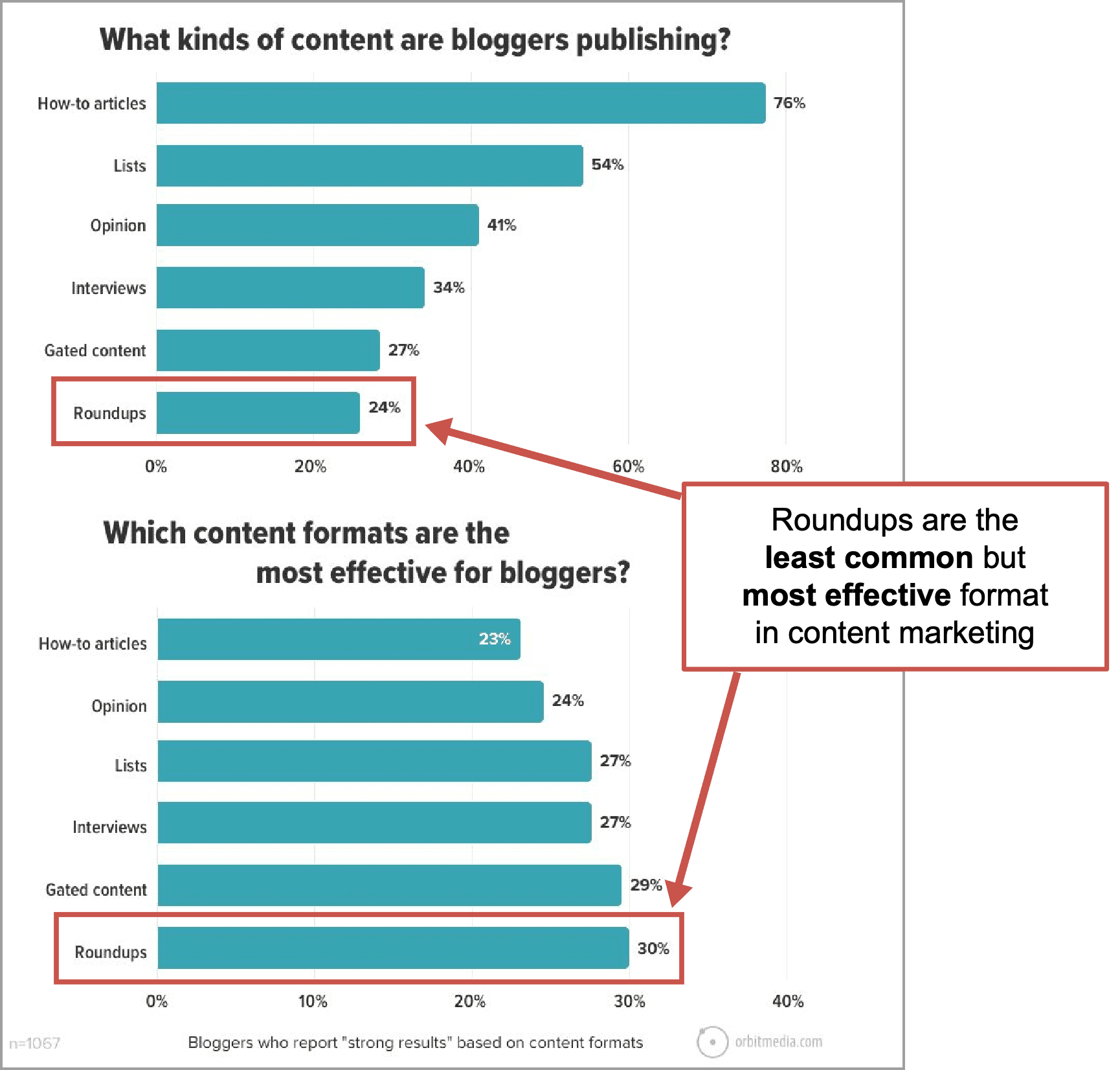 What is a roundup in marketing? It's a collection of expert insights on a common theme, or a panel of experts answering common questions, published in a blog post format for digital marketing.
They're fun and easy to produce, but they often miss simple opportunities to add value and interest. The problem with roundups is quality, not quantity.
The problem with expert roundups
Many roundups are a large group answering one question. The creator emails a single question to a bunch of experts, then copies and pastes their answers into a list in no particular order. Copy, paste, copy, paste, copy, paste, publish.
Often, the idea isn't really to gather insights, it's to get blog traffic. The creator is hoping that the contributors will share on social media. The roundup is a big pile of low-quality ego bait. The writer is doing link building or social shares.
It's hard for a piece to stand out from the crowd if it literally looks like a crowd.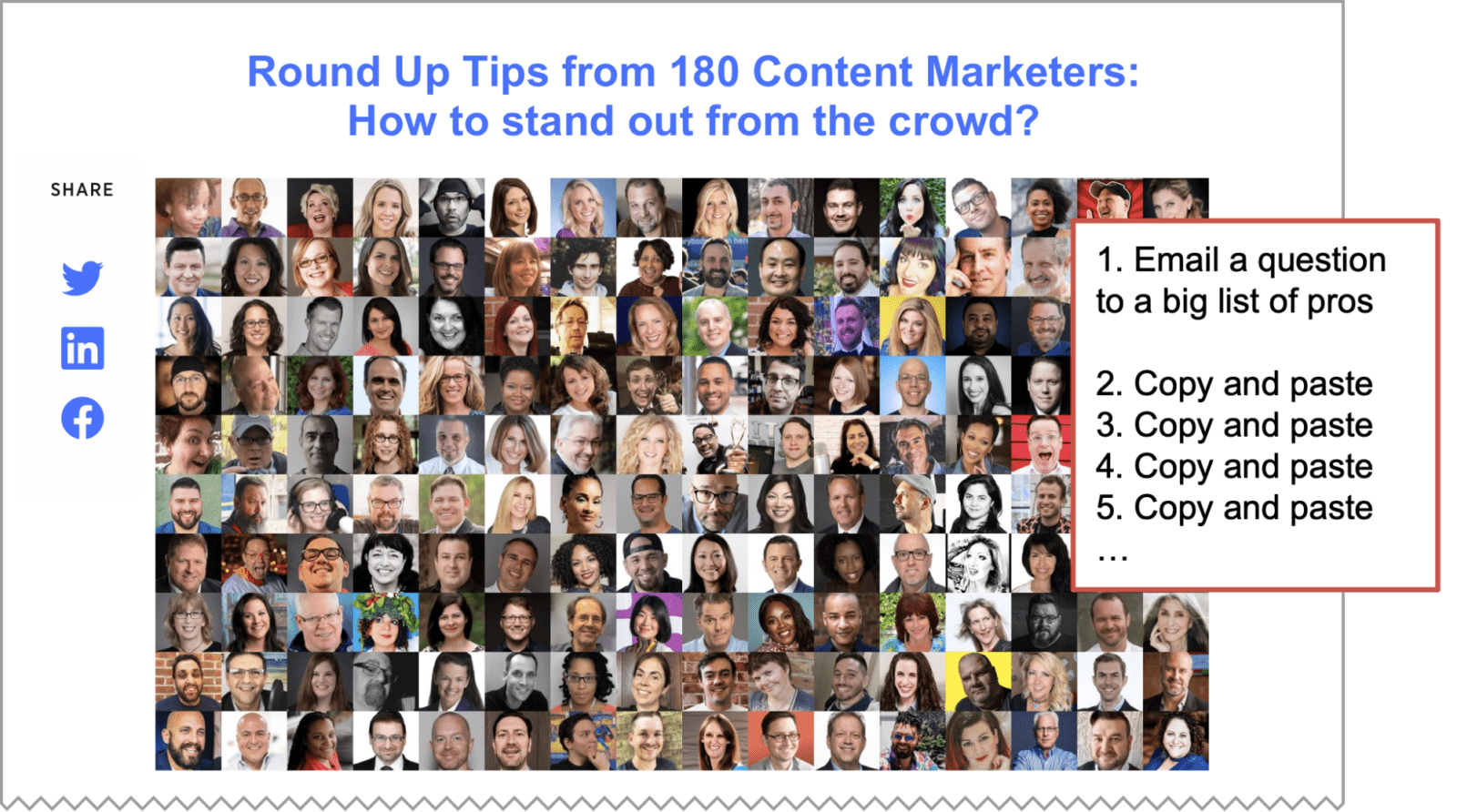 This is not how to write a roundup. It isn't actually writing at all. It's simply a giant copy-and-paste job.
The idea of collaborative content is great. Organic influencer marketing is an excellent approach to content marketing. But good roundups are good curation. The curator gives it more value than the sum of its parts.
Aside from the obvious (invite contributors who share practical advice) there are simple ways to make a roundup more valuable to the reader.
Invite contributors who add contrarian perspectives
Exclude contributions that are low value (or push contributors to go deeper)
Edit contributions to be more concise
Group the answers into common themes
Add your own perspective
Upgrade the format from text to video
So here are five examples of roundups that embrace these approaches and the results of each. It's a little roundup of roundups from our own content program.
1. Expert Roundup with Video Interviews
Example: Career Tips for SEOs and Content Marketers
3 Questions + 10 Expert Video Interviews + Analysis + Visual Diagram
The lineup at MozCon 2019 was fantastic. So many great speakers. It would have been a shame to not create something with these SEO experts. But what to make?
So while eating lunch with Casie Gillette, I asked her for some input. She shared a few ideas and 30 minutes later, I was holding my laptop in front of Casie, recording her answering questions into a lav mic.
ProTip: Never leave home without a lav mic
The questions were simple:
What do you love about SEO and content marketing?
What are the most important skills for beginner marketers?
Will SEO ever die?
Over the next two days, I recorded nine other top marketers answering the same three questions. The answers were content gold. Take a look:
So the format was upgraded from text to video, but it still needed a theme. A headline. A hook.
What do those questions and answers have in common? They're all especially relevant to someone considering a career in content marketing. So that became the theme. The "career tips" headline followed naturally.
But it needed more. Every curator of every roundup should add their own insights. In this case, it was an overview of the various types of SEOs. This created an opportunity for an image.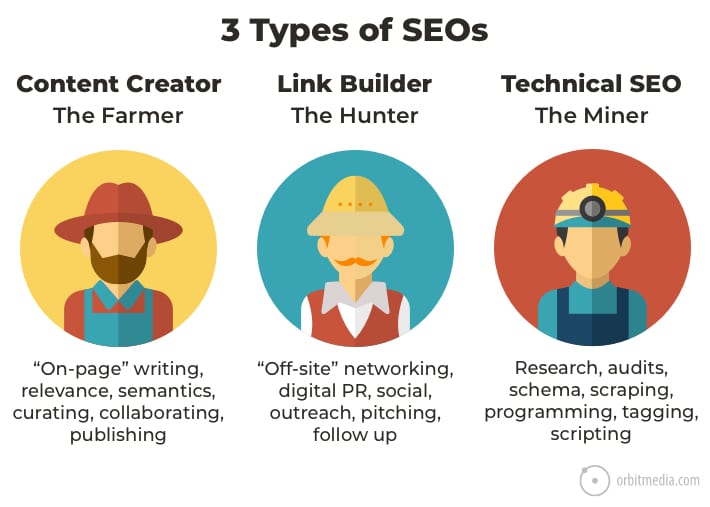 Let's take a look at another example related to events:
2. One topic, many contributor quotes
Example: 34 Ways to Get the Most From a Conference
Original Article + Many Contributor Quotes
After attending dozens of conferences and meeting dozens of smart marketers, we collected ideas on how to get more value from attending an event. The list included creating content with speakers and dozens of other recommendations and ideas.
Sit in the front row… host a networking breakfast… tips to remember names… how to follow up with new friends…
If you're headed to any events this year, you should give this one a skim.
We were ready to write a classic list post, but that would have been a huge missed opportunity. Why not add the input from our new friends? This is the mentality of the expert content strategist: Don't just create, collaborate and curate.
So the final post is a mix of the original idea, with many supportive quotes added. It reads like a typical post but with lots of commentary and additional ideas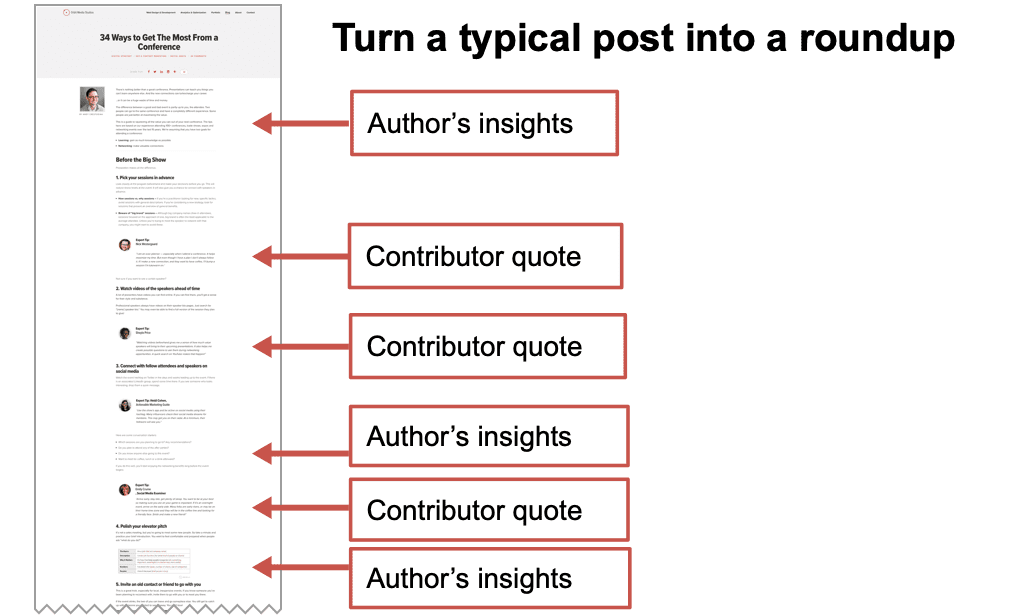 The final piece had input from 21 experts. It is filled with people. Reading it, you almost feel like you're at an event. Their input gave the piece huge advantages: quality, flow, visuals and social reach.
This piece was shared more than 1,200 times. It has dozens of comments. Would it have reached those levels of social interaction if it had been a solo effort? Not likely.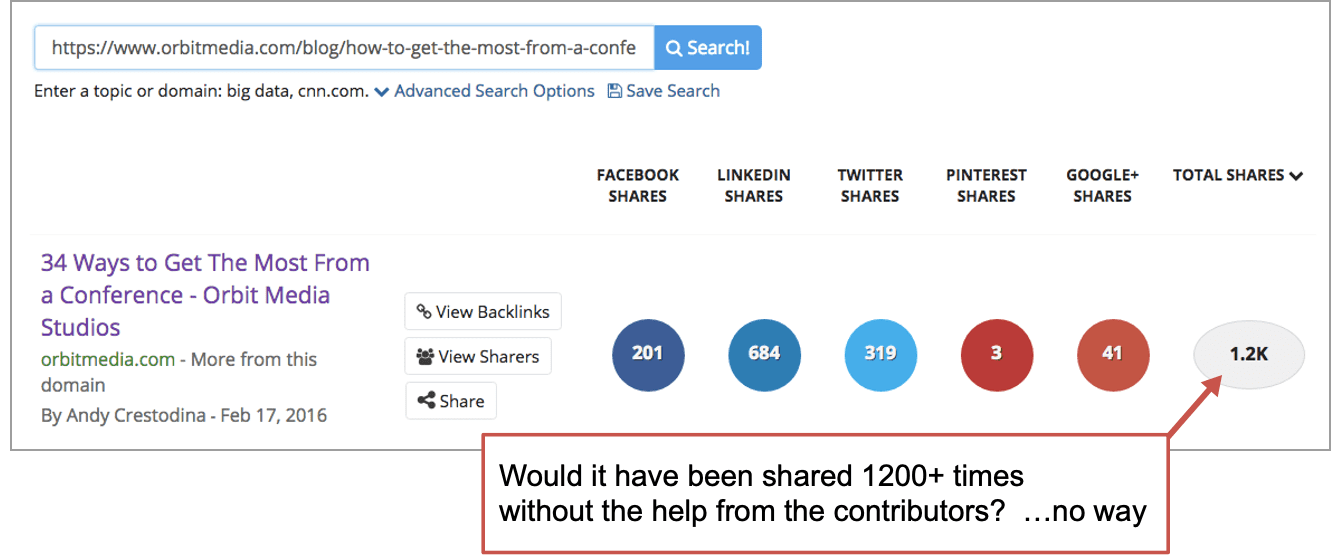 Ego bait wasn't the main idea, but social sharing was one powerful benefit.
3. The unexpected angle
Example: 27 Pictures of Desks: Top Marketers Share Tips for Cameras, Lights and Mics
Unexpected idea + Contributor quotes + Contributor photos
The usual suspects answering common questions. That's just what many roundup posts are.
The classic is the end-of-year "X Predictions for the New Year." Come late December/early January, you'll spot one for sure. And it may be filled with great insights. But the headline is so common, so expected, it's hard to stand out.
But when the usual suspects answer uncommon questions, the headline feels different and clickthrough rates are higher. Look for another perspective. Another angle.
We've all seen their backgrounds in webinars and YouTube videos, but when do you see their desks from the other angle? When we asked these marketers to share pictures of their setups, literally showing another perspective. It's an insider look.
Douglas Burdett has recorded 380+ episodes of the Marketing Book Podcast. Ever wonder what his home studio looks like? So did we. Here it is: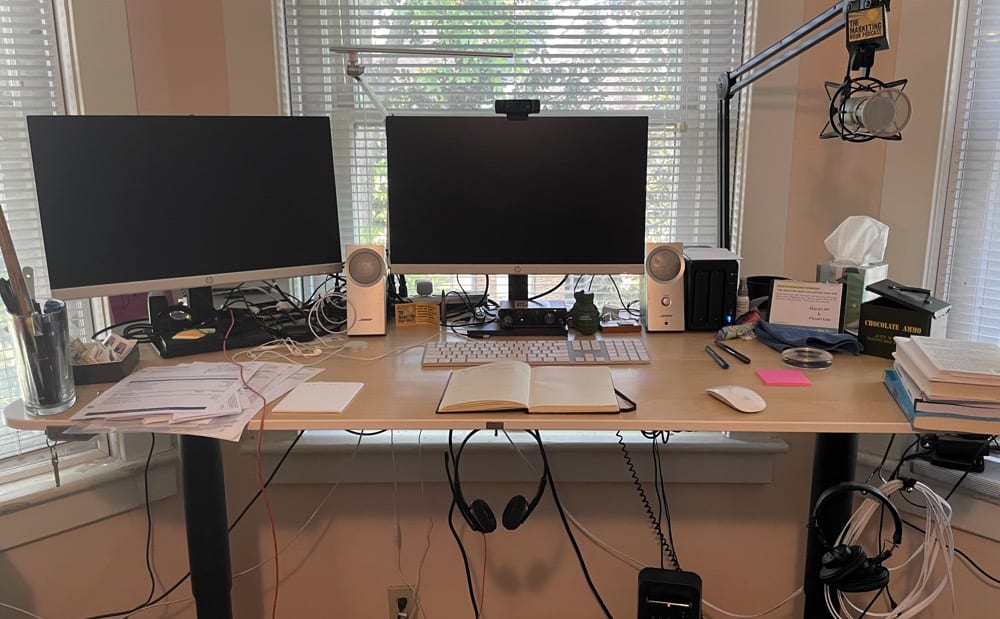 Differentiated content performs better. This roundup triggered a lot of social media interaction (social was the top source of traffic) and very high engagement (a staggering 10+ minute average time on page).

4. The image roundup: "55 Marketing Diagrams"
Example: 55 Marketing Diagrams and Charts that Explain Content Marketing
Collection of Diagrams + Email Subject Line
Although not a collaborative format, this is a big opportunity for a lot of content programs. If you've been adding charts and diagrams to your content, you can simply round them up into a post.
It's simple.
Just create an article that includes them all and write a short blurb about each. The headline will look something like this:
[Number] Diagrams and Charts that Explain [Concept or Industry]
Add this to your swipe file and make it your own. It's effective because it checks a lot of boxes:
All those visuals will keep visitors engaged
…our email visitors averaged 8 minutes on the post
It may rank for the "diagrams" phrase
…our page ranks #1 for "marketing diagrams" which we selected through keyword research
The email subject line may outperform all others
…ours was the top performer of the year as you'll see below
We've discovered that visual content can actually boost email open rates when the subject line indicates visuals. Our top-performing email campaigns every year are roundups of visuals. Here's the Google Analytics data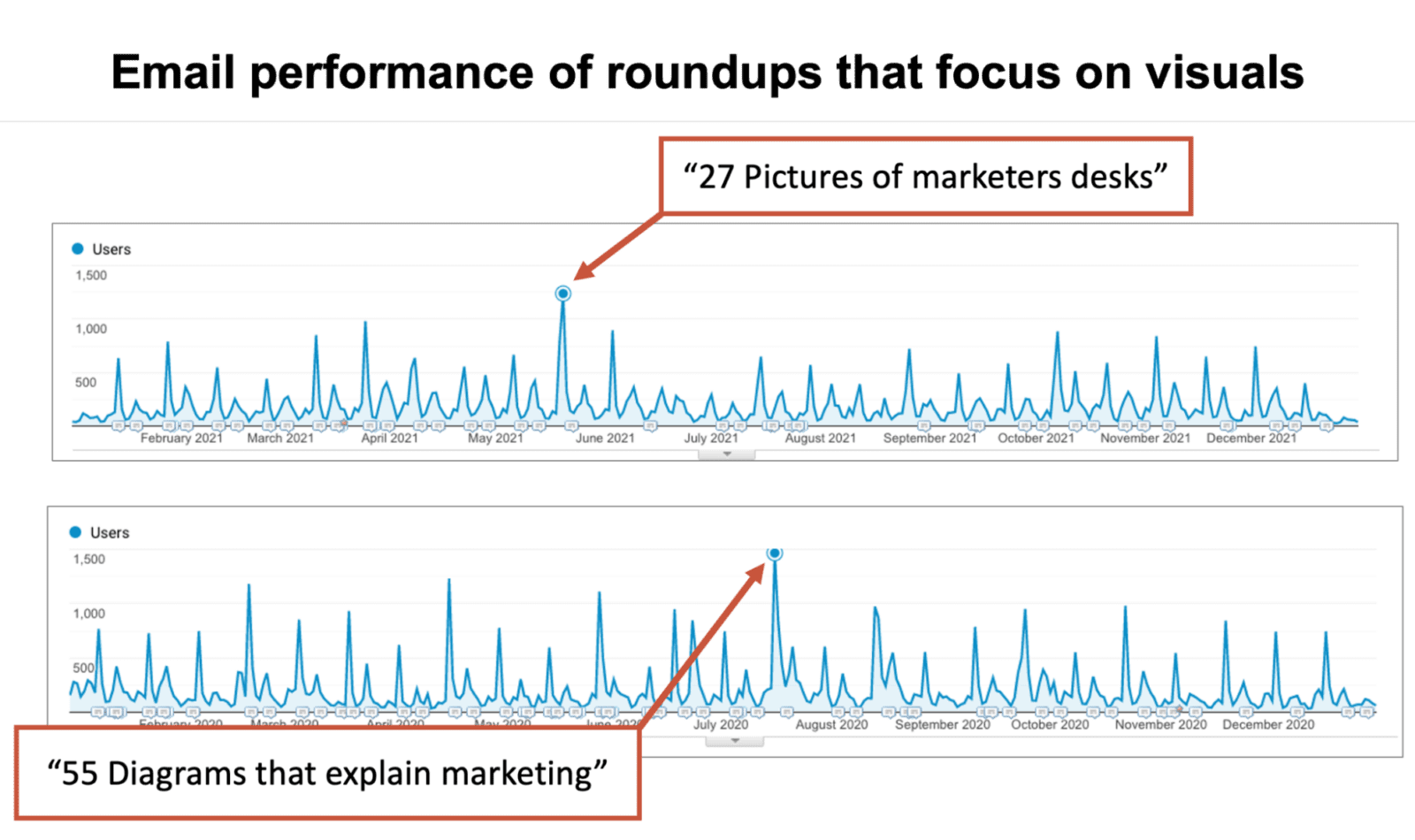 5. The polite dissent
Example: The Life Changing Magic of Deleting Old Content: 11 Experts on Content Pruning for SEO
Question + Expert contributions + Contrarian perspective
When there isn't a single correct answer, roundups are perfect. They give the reader a range of perspectives and expert opinions, inviting them to form their own conclusions.
In SEO, there often isn't a right answer. The blogger can always say "it depends" but it's more fun to curate quotes from experts to draw out the dependencies. Like a panel discussion at an event, the contributors offer various points of view.
But what if you don't agree with your contributors?
Good. Panels are more interesting when panelists disagree. This was the case in our roundup about "pruning content for SEO." Some search marketers believe that deleting old, outdated content can improve the rankings of other content.
But in our experience, it's not true.
Our recommendation is to "hoard your content" but none of our contributors agreed with our advice. So what? It started a conversation and that's the point. The purpose of content is to give people something to talk about. So said Seth Godin.
Readers commented directly on the post and took the conversation to social media. According to Buzzzsumo, it had 190+ interactions on Facebook and we're not even active on Facebook. Readers took the conversation there themselves.

"Content marketing is now in a post-single point of view era"
Today, most articles should include some sort of collaboration. There is still one format that works well with a single point of view: the strong opinion piece. But everything else needs contributors.
Just as a journalist doesn't write articles without sources, marketers should stop writing articles without contributor quotes.
The expert roundup blog post is a great approach, but it needs more than just a lot of voices to be great content. The best roundups are content curation projects.
Interesting topic/topic
Insights from experts
Analysis/input from the curator
Strong supportive visuals (faces, diagrams, videos)
A compelling headline (keyword focus, number)
Think roundups are overdone? Too many? Too predictable? Yes, they're very common in the marketing community. But they're not so common in other industries. It may still be a blue ocean for expert roundup articles in your industry.
And if you're in a rush or completely tapped out on ideas, curation is a lifesaver. Just take the top upvoted question from Quora and send it to the top experts from LinkedIn. Put the Q and the A's into a post. Hit the publish button and send them a quick email.
Final tip: Promoting your expert roundup
Instead of just emailing the contributors the link to the article once it's live try this instead:
Share the roundup on social media, then grab the link to that social media post and send that to them in the email. Invite them to engage with the social post. If they do, they may trigger the social media algorithm to increase the organic reach.
Here's what those emails look like when sent from the Databox content program…

Smart, right? You can learn more about this influencer-driven approach to roundups here: 3 Real Life B2B Content Marketing Strategies. Enjoy!