There's nothing better than a great conference. Presentations can teach you things you can't learn anywhere else. And the new connections can turbocharge your career.
…or it can be a huge waste of time and money.
The difference between a good and bad event is partly up to you, the attendee. Two people can go to the same conference and have a completely different experience. Some people are just better at maximizing the value.
This is a guide to squeezing all the value you can out of your next conference. The tips here are based on our experience attending 100+ conferences, trade shows, expos and networking events over the last 15 years. We're assuming that you have two goals for attending a conference:
Learning

: gain as much knowledge as possible

Networking

: make valuable connections
---
Before the Big Show
Preparation makes all the difference.
1. Pick your sessions in advance
Look closely at the program beforehand and make your decisions before you go. This will reduce stress levels at the event. It will also give you a chance to connect with speakers in advance.
How sessions vs. why sessions – If you're a practitioner looking for new, specific tactics, avoid sessions with general descriptions. If you're considering a new strategy, look for sessions that present an overview of general benefits.
Beware of "big brand" sessions – Although big company names draw in attendees, sessions focused on the approach of one, big brand is often the least applicable to the average attendee. Unless you're trying to meet the speaker to network with that company, you might want to avoid these.
| | |
| --- | --- |
| | "I am an over planner — especially when I attend a conference. It helps maximize my time. But even though I have a plan I don't always follow it. If I make a new connection, and they want to have coffee, I'll bump a session I'm lukewarm on." |
Not sure if you want to see a certain speaker?
2. Watch videos of the speakers ahead of time
A lot of presenters have videos you can find online. If you can find them, you'll get a sense for their style and substance.
Professional speakers always have videos on their speaker bio pages. Just search for "[name] speaker bio." You may even be able to find a full version of the session they plan to give!
| | |
| --- | --- |
| | "Watching videos beforehand gives me a sense of how much value speakers will bring to their upcoming presentations. It also helps me create possible questions to ask them during networking opportunities. A quick search on YouTube makes that happen!" |
3. Connect with fellow attendees and speakers on social media
Watch the event hashtag on Twitter in the days and weeks leading up to the event. If there is an associated LinkedIn group, spend some time there. If you see someone who looks interesting, drop them a quick message.
| | |
| --- | --- |
| | "Use the show's app and be active on social media using their hashtag. Many influencers check their social media streams for mentions. This may get you on their radar. At a minimum, their followers will see you." |
Here are some conversation starters:
Which sessions are you planning to go to? Any recommendations?
Do you plan to attend any of the after parties?
Do you know anyone else going to this event?
Want to meet for coffee, lunch or a drink afterward?
If you do this well, you'll start enjoying the networking benefits long before the event begins.
Expert Tip: Emily Crume, Social Media Examiner

"Arrive early, stay late, get plenty of sleep. You want to be at your best so making sure you are on your game is important. If it's an overnight event, arrive on the early side. Many folks are early risers, or may be on their home time zone and they will be in the coffee line and looking for a friendly face. Smile and make a new friend!"
4. Polish your elevator pitch
It's not a sales meeting, but you're going to meet some new people. So take a minute and practice your brief introduction. You want to feel comfortable and prepared when people ask "what do you do?"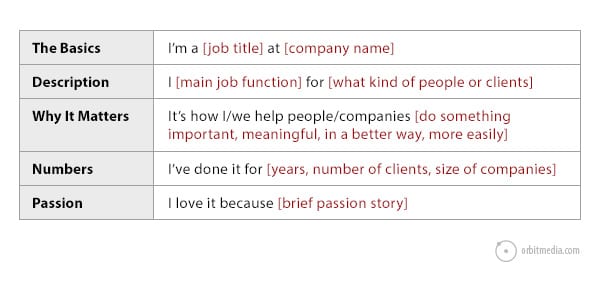 Practice a short five sentence / ten second version and a longer version of about a minute. Try it in front of a mirror. Smile.
Tip! Are you in between jobs? Just use "in transition" for the job title and "looking for an opportunity" as your function.
This is huge! Network via social media beforehand, connect in person at the event and continue your relationship online afterward.

And remember to make sure your social avatar looks like you. We all love cute cartoons but if you want to network online and off, find a photo that looks like you actually look. – Nick Westergaard
5. Invite an old contact or friend to go with you
This is a great trick, especially for local, inexpensive events. If you know someone you've been planning to reconnect with, invite them to go with you or to meet you there.
If the event stinks, the two of you can leave and go someplace else. You still get to catch up with someone you wanted to see anyway. You can't lose!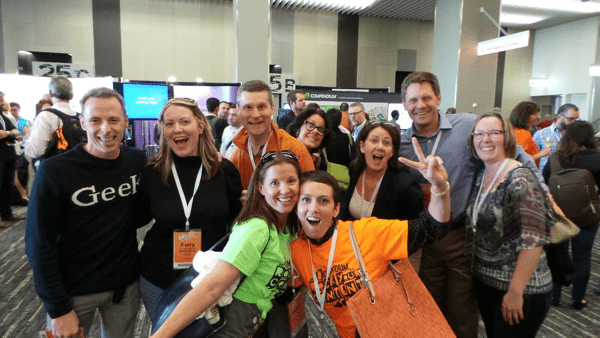 6. Travel with other attendees
Are you driving? Got room in your car? If the event is in another town, ask around to see if anyone local wants to travel together. Make a road trip out of it.
Getting there is half the value.
Example:
Every year, I drive from Chicago to Cleveland for Content Marketing World. It's always me, Kyle Akerman and Amanda Gant. Sometimes we get another Chicagoan to jump in with us. It's a marketing pilgrimage and one of my favorite parts of the conference.
Last year's trip to CMWorld…oops!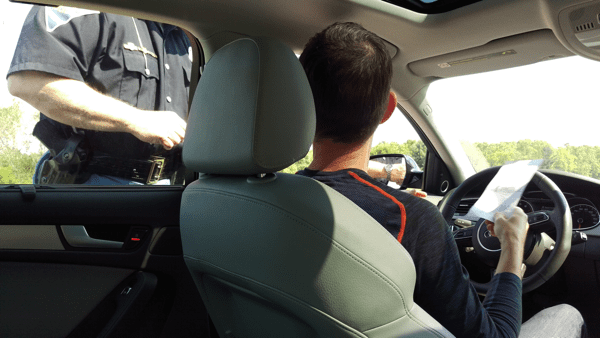 [Editor's Note: Trip home, new driver…smooth sailing!]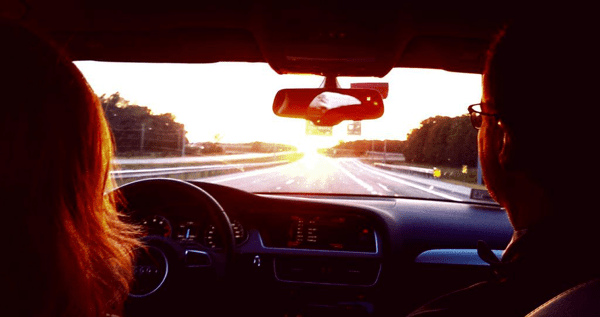 ---
During The Event
7. Create a piece of content
I'm starting with my top tip: make something at the event. This works especially well for people in sales and marketing. Act like a journalist.
If you're there to cover the event, and not just attend the event, you're destined to get a ton more value from it. 

Record video interviews of speakers


Although the camera on your phone might be good enough, you still need a tripod, microphone and good lighting. Try to find a quiet corner where you can invite speakers to answer a few questions. The speakers lounge may be an appropriate place for this.

This is great networking, which partly explains why it's such a popular tactic.
Conduct a simple survey
Use Google Forms to combine three to five multiple choice questions. Put it on a tablet and try to get 50 people to fill it out during the event. Later, you can publish the data as a piece of original research. Here are more tips on publishing research-based content.
Gather short answers for a roundup


Ask an interesting question to 10 speakers or relevant attendees. Record the answers on your phone. Later, you can transcribe those answers into a round-up post.

Livestream your commentary on social media


Periscope, Facebook Live and Blab are all easy ways to broadcast the event live from your laptop or phone. To maximize your audience, schedule it in advance and promote the times you'll be on air with a link and a little custom graphic.
| | |
| --- | --- |
| | "I love covering events with live tweets, videos, recaps or key learnings/takeways. Not only are you helping promote the event but you're also adding value to those who didn't get a chance to attend. It's also a great way to reconnect with the speakers after the event is over and build on the relationship." |
Creating content at events is so effective, we're sharing three examples:
Example: The CMWorld Yearbook
Bring a notebook and write "Conference Yearbook" on the front. Now you have an excuse to talk to everyone. ("Will you signed my yearbook??") and you'll have a nice piece of content to publish after the show.
Example: Ask it Forward
Bring a microphone and camera (or use your laptop's camera) and interview speakers. Or let speakers ask and answer their own questions. This "Ask it forward" format led to a fun, shareable piece of content and a great excuse to meet people.
"I love documenting what's happening and sharing. Many times I'll share a lot of photos of an event. Here are photos from Marketing Profs B2B where I ran a photo walk. You can see a gallery here.

It was a great way to have fun with like-minded people and share content.

When the TODAY SHOW came to Boston, I shared lots of photos, and then found out that their social media person did not make the trip to Boston that day. So the Today Show people thanked me on Twitter and then featured my photos on their site."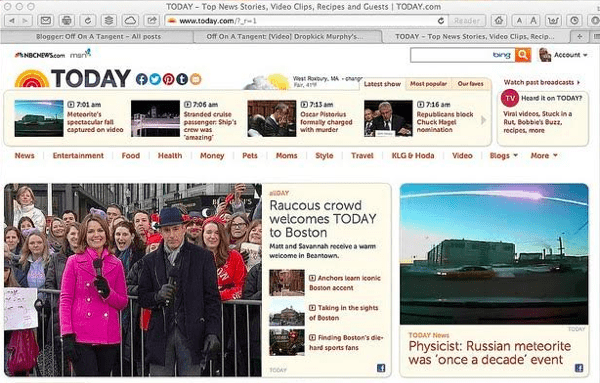 8. Make sure your badge or name tag is clearly visible
Lanyards are often so long, your name badge is down by your waist. This makes it hard for people to see your name. "Hey, eyes up here!"
To hike up your badge and make it easy for people to see your name, tie a knot in the lanyard at the back of your neck so your badge hangs higher near the center of your chest.
If your name isn't on the back, add it there with a permanent marker.
If you have the chance to write your name on your own nametag, make your name LARGE and LEGIBLE. Your first name is the most important thing. If you're active on Twitter, your Twitter handle is the second most important thing. Last name, company and hometown are less important.
| | |
| --- | --- |
| | "Don't be afraid to adjust or replace your lanyard, either. I put a knot in the lanyard cord so the badge sits higher up and is more easily visible. I hate when my name badge is down by my navel. Just don't tie it too tight, I've lost earrings taking the lanyard off later." |
9. Two tricks to remember names
It's one of the most difficult things about meeting new people. But you're not alone. Most people admit to being bad at remembering names. And not every event has badges or nametags. Here are a few tricks that might help keep the names fresh in your mind.
Immediately use their name. You can repeat it back to them, as in "Hi. It's good to meet you, Ernie." Or introduce them to someone next to you, as in "Nice to meet you, Ernie. This is Bert."

Immediately imagine the person either hugging or fighting someone else you know with the same name. Yes, this sounds crazy. But the powerful visual image will help you remember the association. It's weird but it works.
"I'm terrible with names, so the first thing I do when I meet someone at a conference is snap a photo of them holding their name tag.

If their Twitter handle isn't printed on it, I ask them for that too, then do a quick upload to Evernote.

Not only is this a great icebreaker and a way to be remembered (Hey Bob, this is Kelly. She's the one snapping faces and nametags…), but the pictures also serve as content (and ideas) for future blog posts."
If you're successful, use the name again while saying goodbye. If they've forgotten your name, just forgive them and re-introduce yourself.
| | |
| --- | --- |
| | "I often say, "You either get remembered or forgotten." And I prefer to be the former. So amongst all the hand-shaking and hand-outing, I try to make an event out of meeting me. It might be something I'm wearing—like with Mr. Social Media Pants—or something I'm doing, or giving out. Whatever it is, the idea is to create an icebreaker that facilitates more interaction and gives the people I meet something to remember me by." |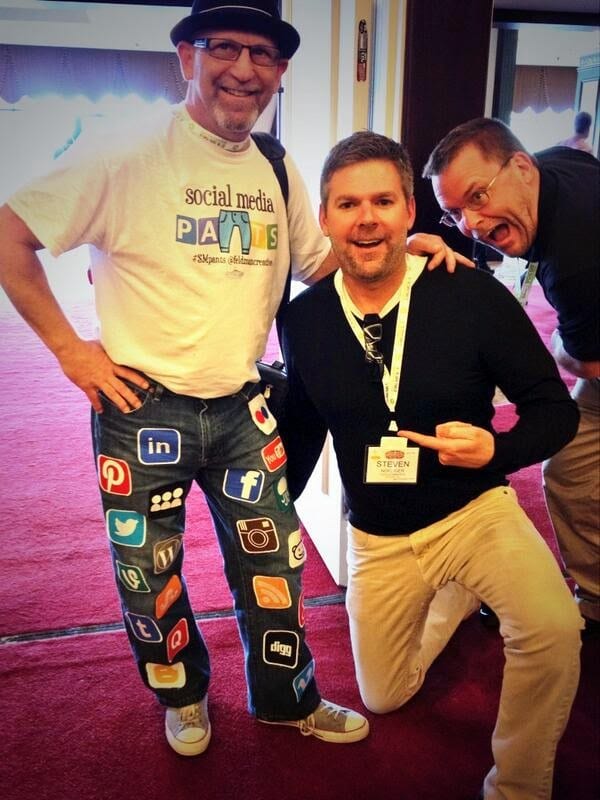 10. Play the LinkedIn "Shared Connections" game
This is a great networking trick. If you're in the same industry or live in the same city, and if one or both of you is active on LinkedIn, this is a fast way to create immediate conversation and jump start the networking.
Oh! We're both in the same industry, in the same city, know the same person. I bet we have shared connections on LinkedIn.

How many shared connections do you think we have? I bet it's more than 10 (or less than 10, or more than 50, etc.)

You both guess the number of shared connections

Take out phone, search for them on LinkedIn, scroll down to see number of shared connections

Announce the winner
What happens next is magic. A conversation will start about your mutual connections and you'll both race to click the connect button. Later, back in the office, you can finish making the connection and send a follow up.
Expert Tip: Cathy McPhillips, CMI / CMWorld

"Being in marketing, part of my job is getting to know people, so oftentimes if I meet someone at an event, before we have a chance for a second meeting, I've already scoured their LinkedIn page and even Facebook page. Not in a creepy way, but in a way to make a genuine connection and find common interests. That's how I met Laura Click of Blue Kite Marketing at Social Media Marketing World last year. And I'm a better person for doing it!"

11. Sit in the front row
The best seats in the house are often empty. You paid for the ticket, took the time to go, why not sit up front?
The front row has the best view, the best sound and the best chance to connect with the speakers. Presenters are so grateful when people sit in front. You can create rapport during the session. You'll be most likely to be picked if you have a question.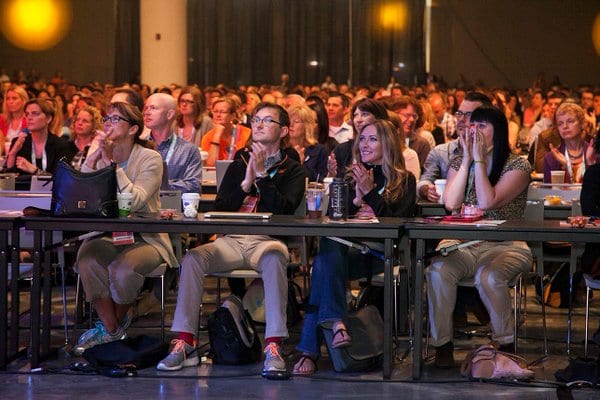 I always gravitate toward the front of the room. One, because I'm a big nerd and want to soak up the knowledge that I'm paying for, two, because there's likely power outlets there (we do that at Content Marketing World – with power strips accessible to the first few rows), and three, because it gives me a chance to engage more with the speaker and those most excited about being there. Then, I jump on LinkedIn (see #10!) and start making connections. – Cathy McPhillips, CMWorld
…but there is one reason to sit in the back row…
12. Bail out of bad sessions
If you're not sure the session is right for you, it's not a bad idea to take a seat toward the back. Then, if the session isn't right for you, do not hesitate to walk out. Don't feel bad for the presenter. Go find something better.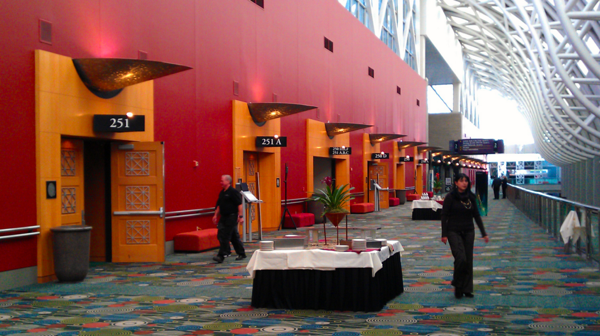 13. Skip the sessions completely!
To truly maximize the networking benefits, stay out of the sessions. Take the extra time to meet people and make friends. If the sessions are recorded, you can watch them later. Plan ahead to get the virtual pass.
"Depending on the conference and your objective, I actually think missing most of the sessions in order to network outside of specific networking events is a great idea. I saw a lot of people doing this at SMMW last year and it was very beneficial. For bigger conferences, where I am not in it to learn so much, I definitely recommend this as a tactic.

After all, it's all about meeting people, making connections, and spending the most amount of time doing it."
During sessions, there are interesting people outside of rooms. Organizers, sponsors and speakers are usually right there. The mood is quiet and relaxed. It's a great time for conversation or collaboration.
Example: This is how I approached all the speakers for "Ask it Forward" in Tip #7.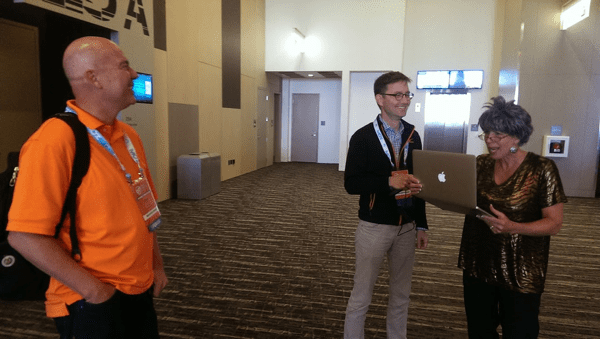 | | |
| --- | --- |
| | "Invest in the hallways. Give attendees plenty of space to relax, to recharge (themselves AND devices!) and places to create content. Conferences are VERY grueling, look for ways to make the event more relaxing to attendees. A couple of couches in a hallway works wonders!" |
14. Make your notes actionable
Your notes will be a combination of information, quotes and ideas. When you're back in your office days later, reviewing everything will be a real job.
To make the job easier, add special markers in your notes. Here are some icons that you can add in the margins.

This will make it faster and easier to scan through later and prioritize follow up action.
Expert Tip: Jason Quey, KlientBoost

"Take notes like an alpha geek. Summarize the key highlights into a business notebook. After completing a page of notes, write down any topics covered on that page (content marketing, networking, etc) followed by the page number. When you later wish to dig deeper on the topic, you've got a notebook full of gold nuggets you can easily skim."
15. Record the Sessions
The ultimate note taking is an actual recording. Recording sessions make it easy to share a great session with your team and pull out verbatim quotes if you write a summary. Recording also lets you relax by removing the concern you'll miss something.
Here are the three main ways to capture a live session:
Voice recording app


The mic and built-in app on your phone are sufficient for grabbing the basic audio, especially if you sit in the front or near a speaker. But use an upgraded microphone if you plan to publish the audio later.

Take pictures of the slides


Pictures are great notes and easy to share on social media. If you like this approach, sit front and center or directly in front of a screen.

Use a pen recorder


If you haven't tried one yet, you might be amazed by these little tools.

Livescribe

is a pen that records the audio, while you write on special paper.

It actually knows what audio goes with which notes.

So later on, you can listen to what the speaker was saying while you were writing specific words!
16. Own the Hashtag
Social media crosses over from online to offline at events, making it one of the best places to be active. Even if you're generally quiet on social networks, now is the time to be present. Here are the three levels of event hashtag activity:
Hello-and-goodbye posts


Post once to Facebook and Twitter at the beginning and end of the event. People who are very actively watching the hashtag will be likely to follow, like and share.
Share once per session


Listen for the best soundbite and post it with a picture and the hashtag. Or reshare a few posts from others. People who are casually watching the hashtag may follow, like and share.
Flood the Zone


Take it on yourself to cover the event and you'll win the greatest social media benefits. Continually post on multiple networks throughout the day. Anyone who even glances at the hashtag will notice you. Other attendees and even speakers are likely to walk up to you and say hello. "I saw that you shared that quote. Nice one!"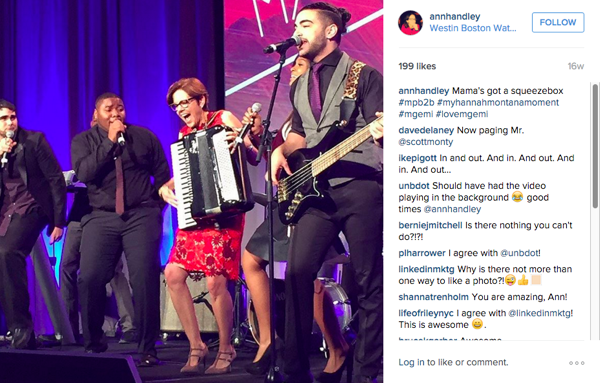 …or consider the other approach to social media at events…
17. Stay off of social, focus on the content
It's a distraction, so turn it off. Focus on learning and face-to-face interactions. Don't feel guilty for not posting or tempted to take out your phone.
Make this your plan and check that hashtag after the event is over. It's never too late to find people to network with.
18. Get a Book Signed
If you'd like to meet a speaker who is also an author, this is an easy trick. Bring a book and ask them to sign it. If you find a time when there aren't a lot of people around, you may have an opportunity to start a conversation.
Expert Tip:  Ian Cleary, RazorSocial

"Don't miss out on the opportunity to connect with speakers. At the end of every speaker session they have a queue of people to speak to but what about before the session? This is the best time to get quiet 1 to 1 time with the speaker. Quite often they are in an empty room preparing for their talk."
19. Offer to collaborate with the speaker
It was a really insightful session. You took a ton of notes. But you'd like to go deeper on a topic or get answers to a follow up question. And you'd love to get some of their ideas on your site.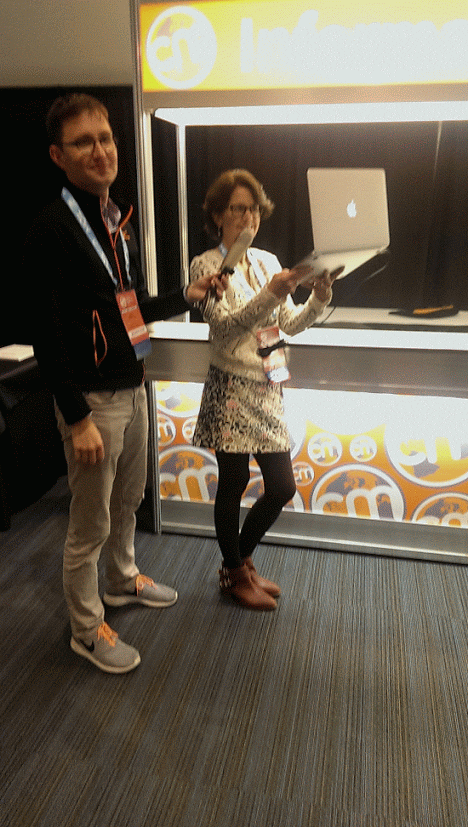 Here's how to approach the speaker and pitch a quick collaboration.
Make it an interview and make it easy for them. Just walk up to them after the session and say something like this:
"I loved your session. Great stuff. It got me thinking about writing an article on some of these topics. Would you be open to a quick email interview? I'd like to just email you a few questions and put your answers into a post. It wouldn't take long. If this works for you, I'll email a handful of straightforward questions next week. Sound good?"
Even busy speakers will often agree to this. They came to the event hoping for good things like this to happen. People love email interviews. You may have just made their day!
Expert Tip: Sonia Simone, Copyblogger

"I tend to meet dozens of people when I speak at conferences, and it's tricky to make a more lasting connection. Having a simple focus like this helps me to reconnect your name & face — it makes you memorable and gives us a little shared history! Don't be afraid to follow up (politely), especially if the speaker is meeting a lot of folks at the event."
20. Join others at lunch
"Never eat alone" It's a book title. It's also great advice. Lunch is a great time to socialize.
Pick a table where there's room and ask politely if you can join. Better yet, if you see someone else looking for a place to eat and a table with two open seats, suggest that you both pull up a chair.
"If you're already with a group of people and you see someone wandering around alone, be proactive and ask them to join you. Don't be cliquey.

Some people are really shy and won't be the first to reach out, but nobody wants to be the loner at the lunch table. You just made a new buddy and now they have an instant group of new friends!"
21. During Q & A, ask a question that is relevant to other attendees
If there's time for questions after a session, be the first to raise your hand. When you stand up to ask your question, remember that your asking on behalf of everyone who is attending the session. You're representing the entire audience.
If you're question is too personal to you or your business, save it and ask the speaker after the session.
If you ask a really good question, other attendees may approach you and thank you afterwards. Now you have another chance to make a connection and a new friend.
Question asking is a great networking strategy. Ask a 101 level question to kick start a conversation. The most basic questions are the ones that very often lead to the best discussions because everyone can join in. If you ask a question, be sure to stop by and say hi to the speaker after their session. They will remember you and thank YOU for your contribution! Audience peers will remember you better too. – Kelly Hungerford
22. Introduce yourself to the exhibitors
There are hidden gems in those tradeshow booths. If you're expecting to get a sales pitch, you might be surprised. People in the booth are often just glad to have someone to chat with.
Don't expect low-level salespeople. You might meet a founder or CEO.
If you do hear a pitch, listen attentively and then actively try to help. This might mean sharing an idea, suggesting a connection or giving feedback on their pitch.
If they have swag to offer, don't hesitate to ask for it. Their job is to give it away!
The expo area is often the most casual and carefree place in a conference. It's also a good central meeting place to rendezvous with friends and attendees.
| | |
| --- | --- |
| | "Chat with the exhibitors about partnerships, or special offers they could extend to you and your clients. Carry a travel microphone you can hook up to your phone to do a quick podcast interview if the CEO or founder of the company happens to be in the booth. Inquiry about potential giveaways they could extend to your clients or social media following, and ask about collaboration opportunities in general." |
23. Introduce yourself to the organizers
They're easy to find and they're happy to help. They also love feedback. It's easy to make the day of an organizer with a few kind words. Naturally, the event organizers are a gold mine for insights and introductions. Here are some topics and responses you might hear.

Recommendation for a session… 

"Actually, she was our top-rated speaker last year. Definitely go see her."
Help meeting one of the speakers…

"I saw him in the speakers lounge earlier. If you'd like, I can ask if he has a minute to chat with you."
Tips on anything else…

"Try this restaurant, borrow my charger, we can watch your bag for you, here is our process for applying to become a speaker next year."
What are they hoping for from you? Honest feedback. That's it.
Some of our favorite speakers were once only attendees. They introduced themselves to us. They made themselves known as advocates and fans. And pretty soon, we were tapping them to speak – Ann Handley
24. Divide and conquer
If you're going with someone you know, share insights about which sessions to attend. If two sessions look good, but they're at the same time, you can each take one.
Take careful notes for each other
Meet later to share notes and recordings
Knowing that you're there for someone else will sharpen your focus during the session. You're both likely to get more out of the event.
25. Write notes on business cards
The more people you meet, the harder it gets to know who is relevant for what. But the fix is simple. Take notes on business cards.
If suggested following up with them (doing something together, sending an article, making an introduction, etc.) take a moment to jot it down on their card. You'll be much more likely to connect later.

If you're hoping they'll follow up with you (send me that link, call me next week) make a note on your own card before giving it to them. You just put an action item in their pocket!
Bring an ultrafine tip permanent marker, since some cards are hard to write on with a regular pen.
"Bring fewer business cards. I used to bring 500 cards to a conference, and come home with 400. After a while I realized that even giving out 100 was way too much. What value did each one bring?

Instead, I carry no more than five if I'm going to a networking event, and maybe 10 for a multi-day conference. This requires me to be more strategic on how I disperse them. Now I have deeper, more meaningful conversations before handing out a card. I only give them if I feel there's a good fit between me and the other person."
26. Take a group selfie
You're standing in a small group of acquaintances or new friends. Why not create a shared experience? Just take out your phone and invite everyone to be part of a selfie with you. Probably, someone will offer to take the picture for you, but that defeats the purpose. Get them into the selfie!
Next, take a minute to ask everyone if they are active on social media. If so, mention them when you share it with the event hashtag. Now it will be easy to find and reconnect with them later. They're on your phone and in your social stream.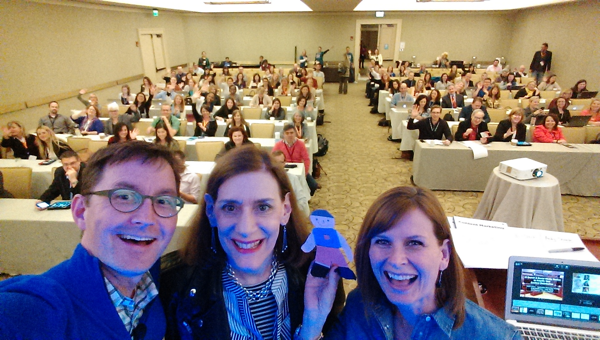 I've taken hundreds of group selfies like this one.
27. Wear layers …and comfy shoes
Conference centers are often over-air conditioned, so bring an extra layer just in case. If you get cold and don't have something extra to put on, you might find warm swag in the exhibit hall. Exhibitors often give out t-shirts.
Shoes are critical. According to my activity tracker, I typically walk 5+ miles per day at conferences. Don't let a bad pair of shoes send you back to the hotel early.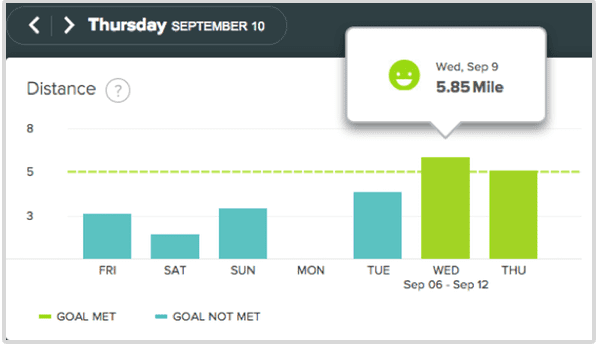 That's not exercise. That's four to six miles of walking per day at a three day conference for 15 total miles. Wear your most comfortable shoes.
I pity the women I see hobbling around in high heels after a day walking the tradeshow floor. Any points you score for being fashionable will be far outweighed by the pity you'll inspire in others as you struggle to take just…one…more…step! Wear Chucks like Nichole Kelly—you'll be the envy of everyone else at the conference! – Kerry O'Shea Gorgone
28. Relax, don't expect to catch everything
A lot of conferences are huge, with many concurrent sessions. Even a single-track conference can be overwhelming. There is no way to meet everyone and absorb all of the information.
Don't spread yourself too thin. Be realistic. Don't cut a good conversation short to go look for a better one. Don't walk away from an interesting topic. Of course you're missing something. It's a big event!
Don't be the guy who spends the entire day looking around for someone cooler to talk to or a better place to be. 
Attitude matters. Just relax and look for meaning and value right where you are.
Expert Tip: Aaron Orendorff, iconiContent

"For introverts, the vast amount of amazing people you'll encounter can be overwhelming. But first, know you're not alone. All around you are introverts just as anxious, freaked out, and hair-triggered to run back to their hotel rooms to hide.

Second, instead of focusing on what you can get out of the experience, focus on the people around you. Ask yourself over and over, "What can I give … not what can I get?"
---
After the Show
Some of these are the power tips. Attendees who are good at follow up get the most value. These are the things that expert attendees do very well.
29. Afterparty! Find the bar
Some of the best connections are made at after parties. Save some energy for late in the day. Freshen up in your room and brush your teeth. If the afterparty is loud, there will be close talking. Fresh breath!
At the party, if you stand near the bar, you'll be near the center of the social universe. People will come to you. Smile, say hello and ask people if they enjoyed the event.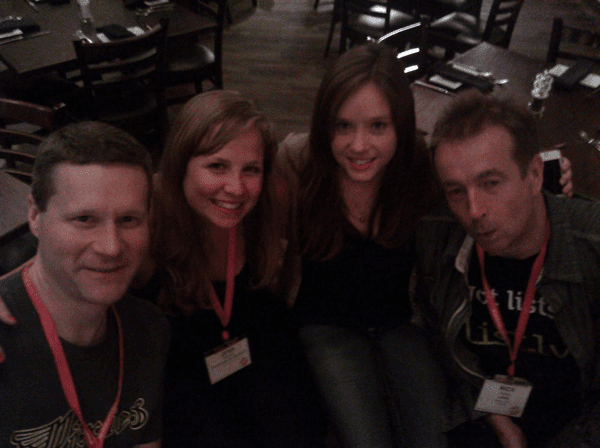 You don't need to drink. But if you do, drink in moderation. If you forgot to brush your teeth, order a gin and tonic and bite the lime. It's an alcoholic breath mint.
Don't 'network.' That's so 2009. Instead, build a squad of friends around you. You aren't 'building your contacts' (eww). You're building a support system you can rely on when you're back at your desk and feeling like no one gets you. You're part of a squad. – Ann Handley
30. Write a roundup
This is a great way to organize your thoughts and get more value from the event. Write it up into a nice roundup post. Make sure to include all the best practices for website content including an image, which is probably a picture you took on your phone.
Share it with the event organizers. They'll often reshare it with their audience immediately.
Share it with people you met a the event. If you included that group selfie picture you took in the post, tell the people who are in the picture.
Share it on social media using the hashtag, and post it in the LinkedIn group for the event or the organization.
Example: Copywriting pro Donnie Bryant wrote this nice recap after Content Jam. Notice how much he puts into it: photos of the graphic recorders artwork in the post, summaries of sessions, an embedded video of an interview recorded.
31. Give a presentation to your team
You're back in the office. You're settled in. Now you can help the rest of your company get value from the event you just attended. Time to share your new knowledge.
Organize your notes into a brief presentation of top takeaways. If you were able to download the presenters' slides. Pull the best ones together into a combined deck.
If it's hard to find the time, do it over lunch. Give the mini-presentation then let the meeting become an open discussion. If there are questions, answer them if you can. If you can't follow up by sending links to supporting articles or videos by the presenters.
Attendees who take this step are most likely to get budget approval to go to the next conference.
"Plan to deliver a presentation on what you learned to the rest of the team. Doing so will help your boss/CEO see the ROI more clearly, and it helps you focus on actual takeaways, because you are there repping others.

"Would we all find this valuable?" is a great filter for content sessions."
Ann runs B2B Marketing Forum in Boston. The best B2B-focused event on the face of this planet.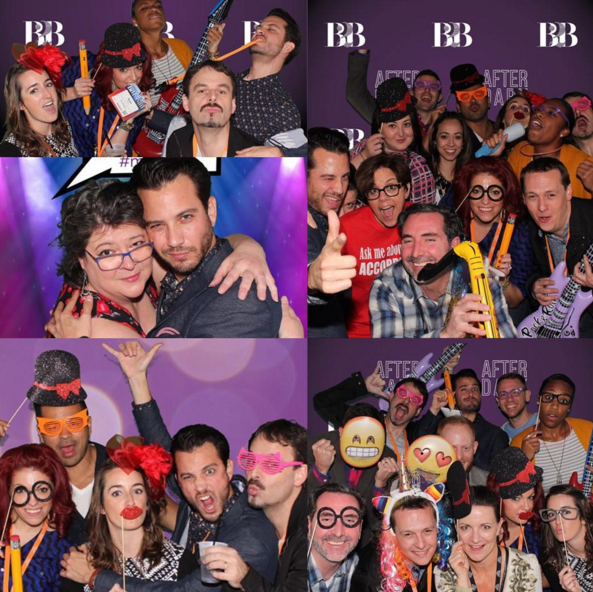 32. Connect quickly …and get rid of that pile of cards
Business cards are like bread. They get stale quickly. After a few days, you'll forget what you talked about. After a week or two, you'll forget how you met them completely!
You have just a few days to connect with the person over email. Reach out quickly
As you do, look for opportunities to share an article or post that's relevant to the conversation you had with them. If you shared something you wrote and they liked it, politely offer to add them to your newsletter list. Smart networks know that their email list is a key way to keep in touch.
If you still have cards sitting under your monitor after a week or two, just connect with them on LinkedIn and move on. Still, take a minute to mention that you enjoyed meeting them at the event. A custom LinkedIn invitation only takes a minute and makes a huge difference.
Expert Tip: Cathy McPhillips, CMI / CMWorld

"Write on the back of cards who the person is, where you met, and one point about them that was memorable to you. Then, take photos of the business cards in Evernote, and ditch the card. As far as connecting on LinkedIn, make sure you go to each person's LinkedIn page so when you do invite them to connect, you can personalize your message.

"Hi Andy, we met outside Ballroom A after Ann Handley's session…" does a lot farther than "Cathy McPhillips wants to connect with you."
33. Do a follow up call with your new friends
It was a great conversation. You really hit it off. Or they said something that really stayed with you. Or they're exactly the person you were hoping to meet. Time to make a stronger, more lasting connection.
Send a quick, casual email.
"It was so great meeting you at the event. I'm glad we had a chance to talk. I just wish we'd had more time to talk about [topic]. Maybe we can talk again soon? I'd love to jump on a quick call (or Skype, Blab or G+ Hangout) Do you have 30 minutes in the next week or so? Just let me know. It would be great to get a brief follow up call on the calendar!"
That call may lead to new knowledge and new connections. If they're a content marketer, it may lead to content collaboration, social sharing and website traffic. You never know, it might lead to referrals or even friendship!
34. Send thank you cards
Did someone give you a book? Share a cab? Give you some great advice? Take the time to write a handwritten thank you note. If you loved the conference or one of the specific sessions, write a note to the organizer or the speaker.
Bonus! Packing List for Conferences
Here's a list of things to bring to the big show
Your phone, tablet and/or laptop
Chargers for phones, tablets and laptops
Plenty of business cards
Ultra fine tip sharpie
Comfortable shoes
A sweater or light jacket
Books you'd like signed by speakers
Chapstick
Breath mints!
Now you're ready to get the most out of your next conference. If there's anything we missed, let us know in the comments below.