There are so many ways to approach B2B content marketing. So many goals. So many audiences. So many channels. So many formats. It's no wonder that content strategies vary widely.
Today we are breaking down three real-world B2B content strategy examples.
These are actual marketing programs built by real companies, fighting in the content arena. Each is working hard to drive awareness and demand every day but in very different ways.
Databox, John Bonini
Animalz, Jimmy Daly
Enchanting Marketing, Henneke Duistermaat
Let's meet the content strategists behind these programs. I talked to each of them and they were very generous in sharing the details of their strategies and the results of their marketing efforts.
At the end of this post, you'll find a scorecard you can use to evaluate your own content marketing strategy. Kinda fun.
1. Databox: Collaboration, data gathering and social promotion
Databox is a business analytics tool that pulls data from different sources into unified dashboards, making insights easy to find.
I met John Bonini, Director of Marketing, through a random act of content in 2015 and I've followed him and his work ever since. Not long after he started at Databox, I got an email from them inviting me to contribute a quote to an article. No problem.
When I looked at the final piece, I knew they were doing things very differently.
What Databox did (and is doing every day) is a brilliant combination of influencer marketing, original research and social promotion. It works something like this.
1. Build a list of influencers, customers, partners and friends. These are relevant experts, but also customers who need exposure and people who are generous on social media.
2. Build a list of relevant topics. The best topics answer common questions, trigger debate and can be approached from many angles. They should also be aligned with common keyphrases when possible
3. Email them a "We'd like to feature you" message to a relevant subset of the list, with a link to an online survey. The survey includes a few poll questions, a place to enter their best advice on the topic, and their social profiles.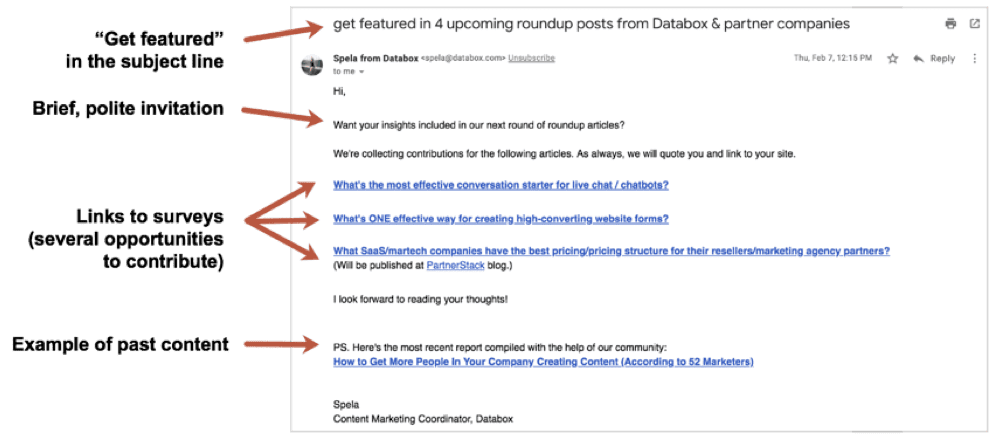 4. Once 20+ experts have responded, close the survey. A large number of responses is unnecessary.
5. Create the visuals. A designer turns the poll questions into simple graphs. There are 2-3 per article and they make great social media content. Here's an example: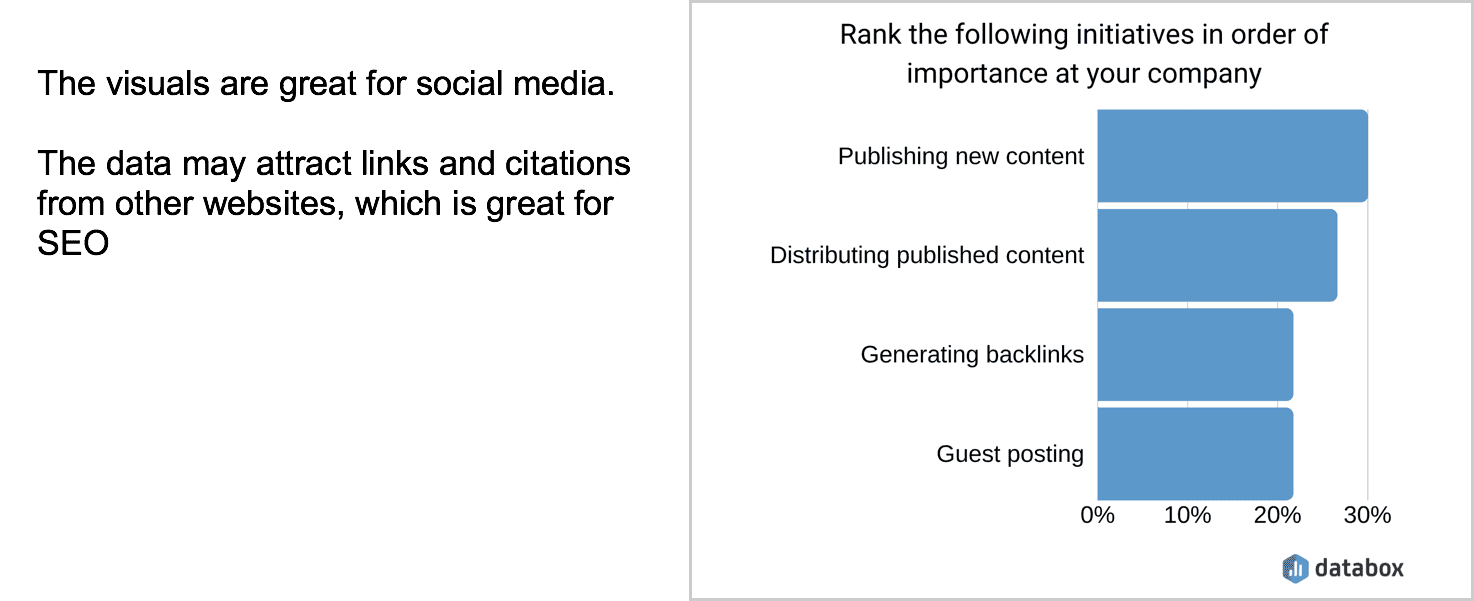 6. Write the article. Using the contributor quotes, the writer creates a long-form journalistic piece. This is not one of those copy/paste roundups. It's great content. Charts at the top and detailed long-form analysis below. And many of the articles are aligned with keyphrases.
The writer might be a freelancer, but not a ghostwriter. They get the byline.
7. Make it live, share it on social media. Of course, this post tags all of the contributors. The social media platforms are mainly Twitter, LinkedIn and Growth Hackers.
8. Email the contributors. This is a bit more than a typical "hey it's live" email. It contains the link to the social post and a request that they interact with that post (like and comment).
Naturally, it also asks that the contributor shares the article themselves. If they do, they offer to amplify (like and comment) that social post. This approach doesn't just create shares, but it creates engagement on those shares, triggering the social algorithms for greater reach.

It's a repeatable program that has produced hundreds of high-value articles over the years.
The combination of factors (outreach, social promotion, keyphrase-focused articles, original data, visual) has led to a steady stream of new links and an ever-growing Domain Authority.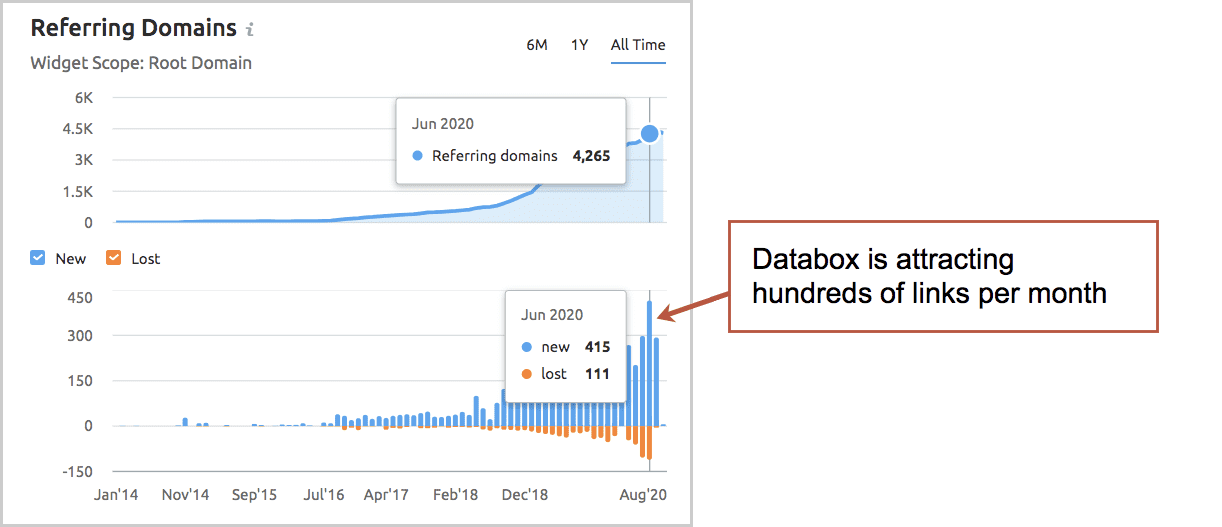 This isn't surprising. Most of their articles include new, original data. Although these stats come from small datasets (surveys of fewer than 100 respondents) they are still interesting and get referenced (and linked to) by bloggers everywhere.
The links and authority drive their page one rankings for the high-value, commercial-intent keyphrases that attract potential Databox customers.
As John explained the approach and we talked about the importance of collaboration, he said something that stuck with me:
Content marketing is in a post-single POV phase. – John Bonini, DataBox
I agree. These days, any content marketing that doesn't have outside perspective and contributor quotes is at a disadvantage. Thought leadership content (from a true thought leader, with strong opinion) is probably the only exception.
Databox content strategy stats:
| | |
| --- | --- |
| Marketing team size | 3 full time, 5 freelancers |
| Content program launched | 2017 |
| Total posts | 500+ |
| Topics | SEO, content marketing and paid advertising, including the related tools (Google Analytics, Facebook Ads, Google Ads, HubSpot, SEMrush, etc.) |
| Formats | Long form "narrative roundups" (not listicles) |
| Typical length | 200+ words |
| Publishing frequency | Daily |
| Influencers / contributors | 20+ per article |
| Top traffic channels | Organic search |
| One of my favorite articles | Blog SEO tips |
The Databox approach has a lot in common with The 1% Content Strategy. That's what we use. It is literally a combination of tactics used by fewer than 1% of B2B brands. It works miracles for us.
Related: Our friends at Northcutt created this SaaS Content Strategy Guide.
2. Animalz: Total focus on sales content
Animalz is a content marketing and SEO company that works with tech SaaS businesses. They first caught my attention years ago through simple word of mouth.
Friends kept telling me about the content written by a guy named Jimmy Daly. I read it, loved it and then reached out to Jimmy and set up a call. I quickly learned how smart their content strategy really is.
(Quick update on Jimmy: He has recently moved on and started Superpath, a job board for content marketers and sister company to Animalz).
Most content strategies are focused on traffic and brand awareness. They work hard at SEO and social media. But for Animalz, that's not really the case.
100% of the content is published in support of the sales funnel.
Basically, they don't publish anything unless they know that it's an important topic to prospects currently in the pipeline. And because the buyers are in senior roles, the topics are more strategic (frameworks and models) than tactical (how-to articles).
Literally 100% of the content we create is designed to support sales, either through lead gen, talking points for sales calls, assets that can be used during follow-up, etc. We don't need a ton of traffic to grow, so I don't really care about pageviews or sessions. I think most companies would benefit from a similar approach—marketing and sales should be in complete alignment. – Jimmy Daly, VP of Growth
Consider that for a minute.
They aren't worried about traffic. Each piece of content focused on their most valuable target audience: prospects. The idea is to simply "work backward from the money." It's working. Look at the growth.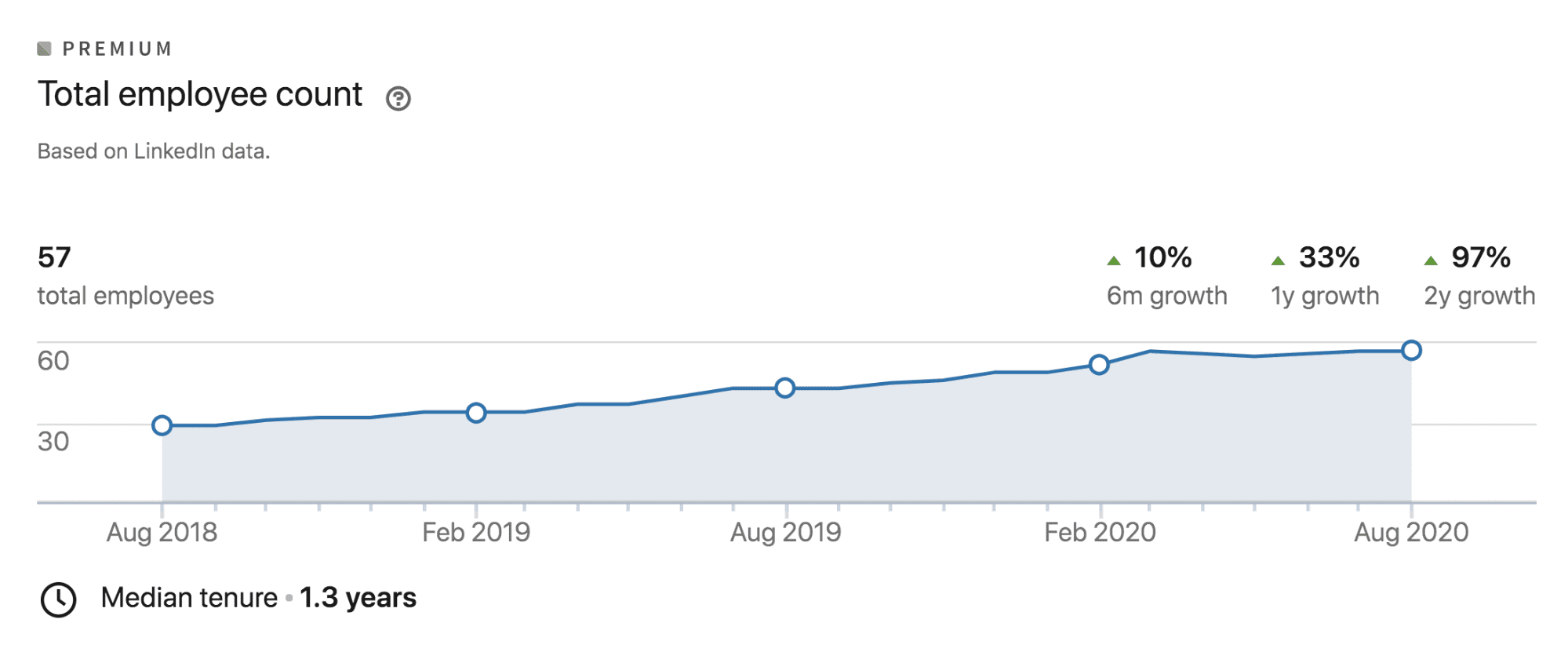 There are a lot of names for this sales/marketing alignment and approach
Bottom of the Funnel Content
Sales Enablement Content
Assignment Selling (Marcus Sheridan)
"Challenger Sale" Educational Content
Those all have slightly different meanings, but the idea is the same: write for your actual prospects.
Jimmy says most companies under-invest in this type of content. It works well for B2B service companies that need a low volume of high-value clients.
When I asked Jimmy if every article answers common sales questions, he clarified. It either answers questions they asked or it answers questions they should be asking. 
That's an important difference.
You know it's working when the articles work as actual sales scripts. Animalz took this idea a step further and launched a podcast. Each episode is basically an audio version of an article.
This is a content strategy example with perfect sales/marketing alignment. No silos. That's possible partly because of the overlap between the sales and marketing teams. It's the same people doing both jobs.
Animalz content strategy stats:
| | |
| --- | --- |
| Sales/Marketing team size | 2 |
| Content program launched | January 2018 |
| Total posts | 70 |
| Topics | Perspective, frameworks, model, lens (no tactical, how-to posts) |
| Formats | Blog posts, podcast |
| Typical length | 1000 words |
| Publishing frequency | 2-3 per month |
| Influencers / contributors | Customers, user stories |
| Top traffic channels | Twitter at first, email and direct later |
| One of my favorite articles | B2B content marketing tips |
3. Enchanting Marketing: A relationship-driven (and email powered) content strategy
Enchanting Marketing teaches business writers to create more persuasive, engaging copy. It's run by Henneke Duistermaat, whom I discovered years ago through her amazing content.
To make her online training courses visible to writers, she has a content strategy driven by her blog and her email marketing. They are beautifully constructed articles with practical writing tips.
She is a team of one.
Henneke does all of the writing and editing, publishing and promotion. From first concept to the final click in content management system. As a one-person team, she has a relatively low frequency: just one post every 3-4 weeks.
She also creates illustrations and infographics for each post, which feature Henrietta. They are both charming and helpful.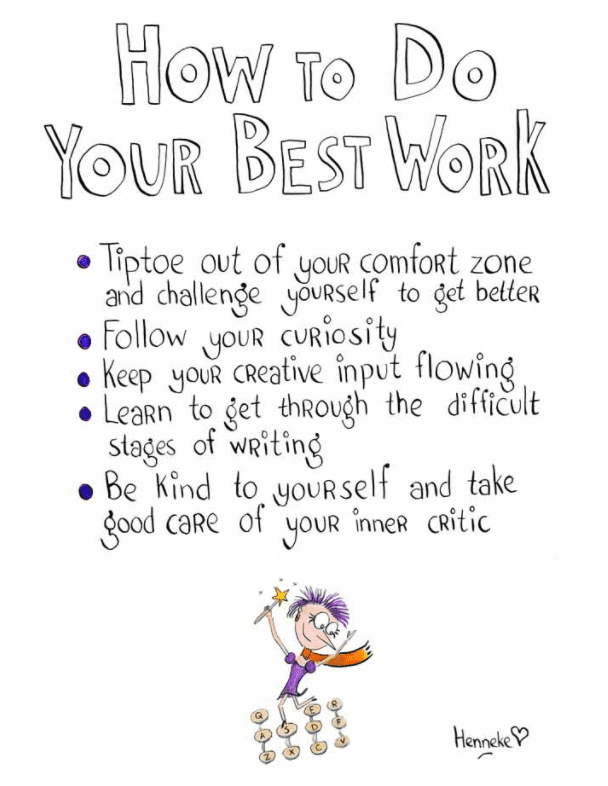 Early guest blogging
In the beginning, Henneke did a lot of writing for other websites. Her first guest post was in April 2012. She worked on it for several months before finally submitting it. It was this post for Copyblogger. That led to other opportunities and she eventually wrote 60 guest posts for sites like Unbounce and KISSmetrics.
Guest blogging was never about building links. It was all about building an audience. But it did help her SEO. Today she ranks well for many valuable phrases. But SEO was always an outcome, not a goal or a strategy.
She attributes a lot of her success to those early years of guest blogging.
Total focus
Henneke's goal is to build a relationship with her readers. The blog is a conversation she's having with her audience. The engagement shows how strong this relationship is. Her average post gets 63 comments.
The readers are first and everything else comes second. Some things she doesn't do at all.
She does not advertise
She has never asked for a link
She hasn't posted on LinkedIn or Instagram in over a year
She tweets just 12 times per week
She has no Facebook account
But she is very focused on email marketing. That includes the newsletter, her free Snackable Writing Course and a finely tuned auto-response email sequence. The results are impressive:
Around 25k subscribers
Overall open rate 42.7%, click rate 11.9% (higher for the auto-responder, of course)
150 – 250 new email subscribers per week
Henneke's website attracts 90k – 130k visitors per month (80% organic search). It adds up to more than a million visitors per year and enough sales to live comfortably from her content. Not bad for a one-person team.
One final note about Henneke's success: she truly puts herself into her work. Her voice comes through in every headline and every paragraph. She infuses her personality in her content and she stays totally focused on her reader. I think that's her secret.
Enchanting Marketing content strategy stats:
| | |
| --- | --- |
| Marketing team size | 1 |
| Content program launched | November 2012 |
| Total posts | 238 |
| Topics | How to be a better, more confident writer |
| Formats | Blog posts, infographics |
| Typical length | 1000 words |
| Publishing frequency | Once every 3-4 weeks |
| Influencers / contributors | n/a |
| Top traffic channels | Organic search and email |
| One of my favorite articles | How to Share the 'Big Picture' (Without Boring Your Readers to Tears) |
A content marketing strategy scorecard
I'm going to share something that you can use to evaluate your own B2B content marketing plan.
Twice a year, I teach marketing classes. One is for the Harbour.Space Digital Marketing Program. The other is for the Northwestern Master of Science in Communication program.
Both culminate with a final presentation. Each class is divided into small groups and each group presents the content strategy they've been working on throughout the course. The presentation is a pitch. Present your content marketing strategy to an executive with the hopes of getting approval.
This is an adapted version of the rubric used to evaluate their presentations.
Clarity of goals:
| | | |
| --- | --- | --- |
| Score | Goal | Notes |
| 5-10 | Connected to business objective (sales, conversions, brand awareness, etc.) | |
| 5-10 | Audience focused (empathy, mission, personas, geography, clear and specific benefit to readers) | |
Content strategies:
| | | |
| --- | --- | --- |
| Score | Strategic elements | Notes |
| 1-5 | Formats (visuals, videos, events, webinars, repurposing) | Example: Live event streamed on FB, videos will be used on YouTube |
| 1-5 | Promotions / Distribution (SEO, social media, email marketing, offline) | Example: Social media promotion on "National X Day" using the hashtag |
| 1-5 | PR and Off-site publishing (pitches, reach, links, authority) | Example: Involve a nonprofit and pitch to local media together or write for a relevant association website |
| 1-5 | Influencer collaboration (outreach, creative collaboration, co-promotion) | Example: Extend the relationship and collaboration |
| 1-5 | Process (workflow, team, roles) | Examples: Gather topics from sales calls, pitch our executives for podcast interviews, |
Bonuses!
| | | |
| --- | --- | --- |
| Score | Go team!  | Notes |
| +3 | Creativity | |
| +3 | Original research | |
| +3 | Sales / Marketing alignment | |
| +3 | Use of visuals in presentations | |
| +3 | Teamwork | |
How do you rate your content strategy? Are there B2B content strategies that you admire?
Let us know with a quick comment!