Our original content strategy was simple: combine a blog with a newsletter. Post an article, send an email and stay top of mind with our audience.
Things have changed since 2007, but the idea of combining channels is still at the heart of the most effective content strategies. Smart marketers combine influencers and SEO, social media and PR, etc.
Also central to most content strategies is the idea of reformatting content, in which the content is adapted from one format into another. Smart marketers turn webinars into podcasts, articles into infographics, etc.
With a new focus on these concepts, we've changed our content strategy.
We are now doing more reformatting (turning long-form articles into 12 minute videos) and leveraging a new channel (YouTube).
Here's the difference.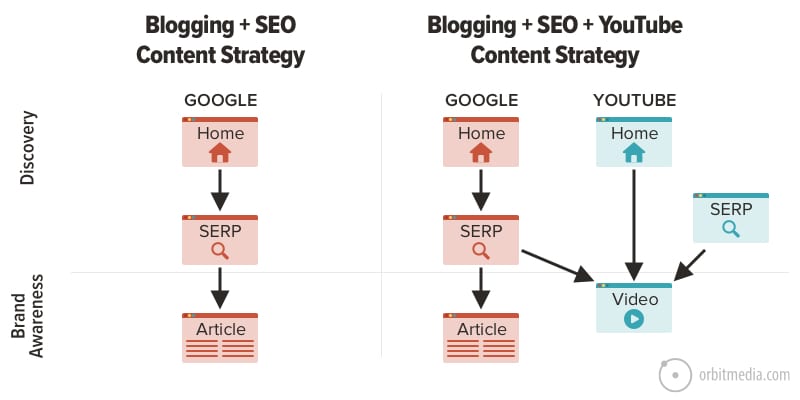 It was a blogging and SEO content strategy. It is now more of blog and YouTube content strategy. This post will show you the plan, the process and the results of this change. Fun, right? Here goes…
The goals: adding YouTube to an existing content strategy
The idea was to put videos on the articles that are already getting some traffic from search, with three goals in mind:
Boost the search rankings of the article in Google: These are pages that are already ranking, but could rank higher. Assumes that dwell time is a Google search ranking factor.
Jumpstart the visibility of the video in YouTube: Eventually getting the video to rank in YouTube search or become a suggested video. Assumes that plays and attention are YouTube search ranking factors. Also assumes that YouTube favors videos that pull people into their site.
Create another chance to appear in Google search results: The YouTube video might appear in a video carousel or in one of those giant video featured snippets. Assumes that video appears in the SERPs for that phrase.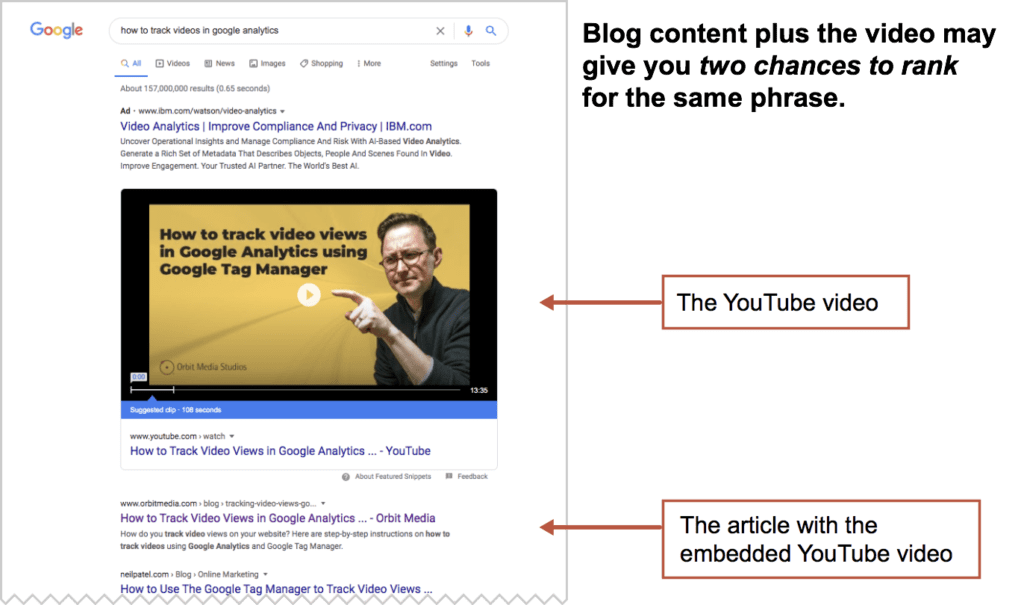 Nice side benefits might include:
Improve the behavior metrics on the article (time on page, bounce rate)
Grow our email list (visitors who watch the video may be be more likely to subscribe)
Attract visitors from YouTube to the article (we knew this was unlikely)
Grow subscribers on YouTube (admittedly, a long term play)
Adding video to the content strategy is a big commitment, there seemed to be so many possible benefits. Here's what we did.
The process: combining video with high-ranking articles
The idea is simple:
Identify evergreen articles that rank in search and are already attracting visitors
Produce a video version of that article, post to YouTube
Embed the YouTube video in the article, near the top
Put the article back in rotation (top of the blog, new social promotion)
The time required for each video is 3+ hours. That includes everything: plan, record, edit, write the YouTube description, publish, embed and basic social promotion.
We've done this 10 times over the last year and a half, so we're ready to report on the results. We've doubled the frequency the last few months. We are following recommendation #21 from our Get Ready for the Rebound post.
We started out with two built-in advantages:
There are quite a few articles in our library that already rank well
We have a bunch of presentations and decks, giving us a headstart shooting videos
Alternatively, If you've already got pre-recorded webinars, workshops and any other video content, those would be great candidates for uploading on YouTube as it's own video.
It's 100% possible to build a YouTube-powered content strategy without these advantages, but the results will take longer.
The results: visits and views, engagement and conversions
Here's the report for one example, our article and video about website navigation. This is a mini-case study about a piece of content. Obviously, this is not an experiment or research study.
This article originally went live December, 2012 and was updated on September, 2018. The video was shot, posted to YouTube and embedded into the article on March, 2020.
1. Video's impact to traffic and rankings of the article
Here is the traffic (Google Analytics) and the rankings (for "website navigation" as tracked in Moz) combined in one chart.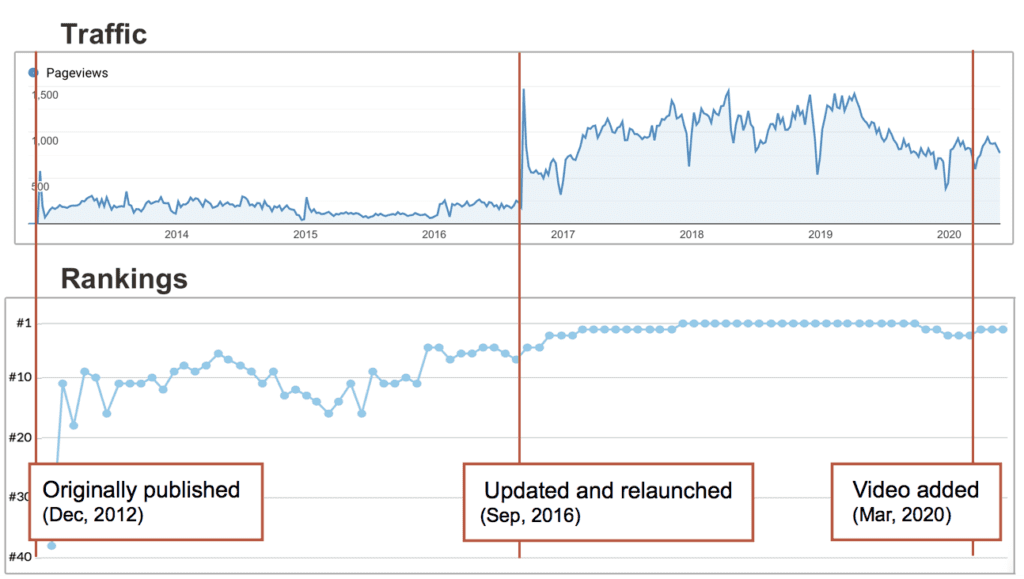 You can see that updating the video in 2018 made a huge difference in search traffic. But traffic declined over the last year, not because rankings dropped but because of SERP features. Notice that the traffic dropped even when rankings didn't.
It looks like adding the video may have actually contributed to a recent ranking and traffic lift! More on the possible reasons for that in a minute.
2. Video's impact to engagement and conversion
We track video views on our website using event tracking (here's how to do that with Google Tag Manager) so we can measure the impact of these videos on engagement in Analytics.
In this report, we set up two segments: the watchers and the non-watchers. The difference is dramatic.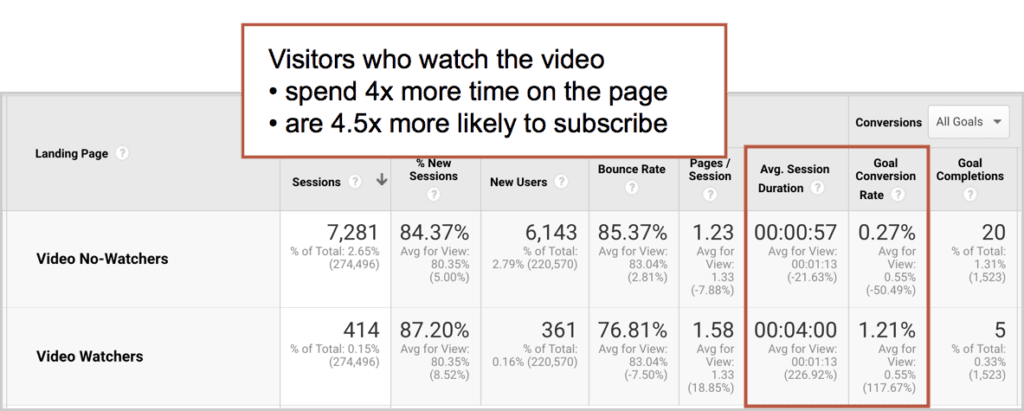 Visitors who watch the video spent 4x as much time on the article. They are 4.5x more likely to convert. They are also 10% less likely to bounce.
The video clearly has a major impact on engagement with the content.
3. Video's performance in YouTube and Google
This video doesn't seem to be ranking on its own in Google (there are no video snippets in the SERPs for the target keyphrases) but it does get a bit of traffic from other YouTube sources. 32% of the views come from browse features, suggested videos, notifications, etc.
But most of the views are from that embedded player in the article.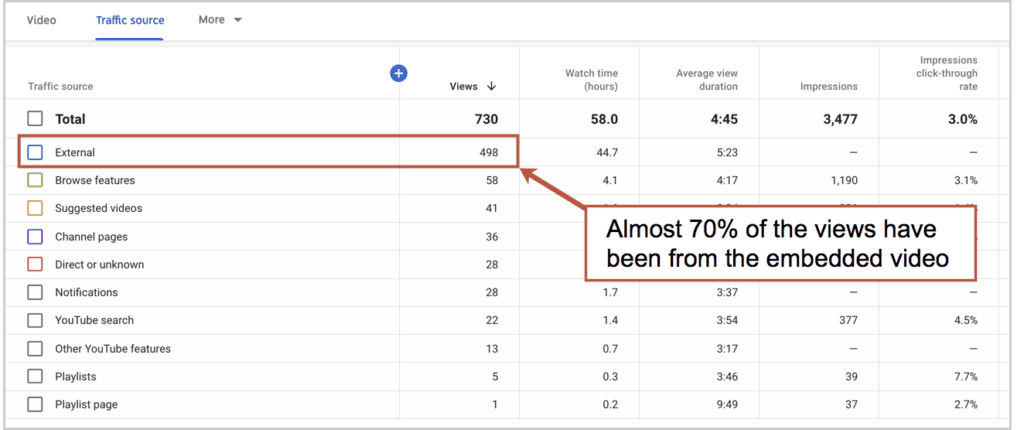 Inconsistent data? Notice how the numbers don't match. Analytics says the play button has been clicked 414 times but YouTube says it has 498 views from external sources. Surprised? We are not. Analytics is never totally accurate.
4. Video's impact on website traffic from YouTube
The clickthrough rate from the video on YouTube to the blog is abysmal. Vanishingly small. This is the link from the YouTube description. It's just very unlikely that a viewer will click on the "show more" link to see the description and then click on the link to get to the article.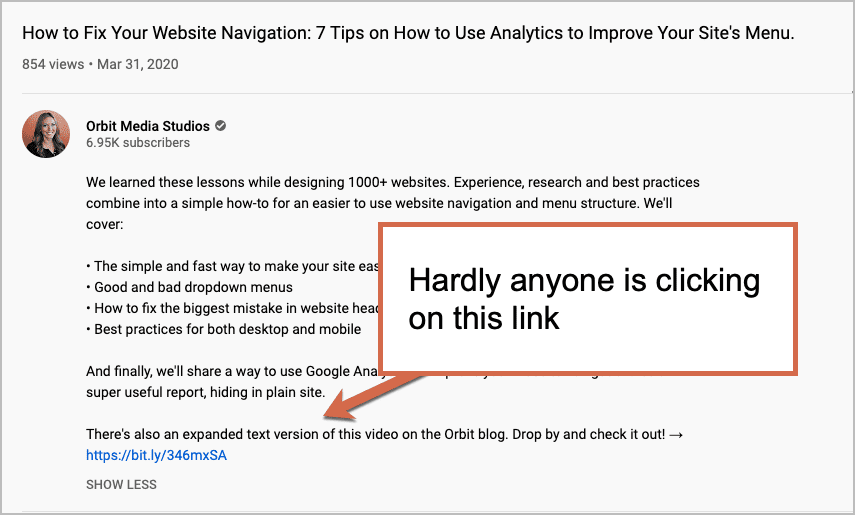 It's happened only 12 times for this article, according to the landing page report when YouTube is added as a secondary dimension.


To make this more likely, we've started adding a little call-to-action in the videos. It sounds like it.
"If you're watching this on YouTube, open the description to find a link to a step-by-step article that explains everything in this video, in a quick scannable, sharable format."
This isn't working very well. Even though total traffic from YouTube is up, it's still only 200 visits per month. That's 0.2% of our total traffic.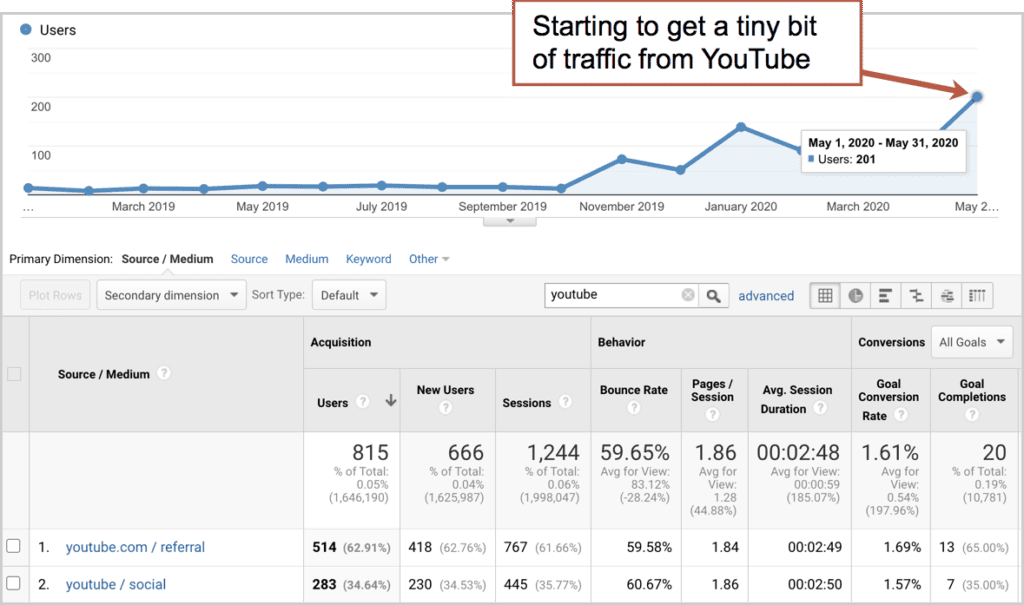 5. Video's impact on brand awareness (total views, YouTube subscribers)
There's more to life that website traffic. Views on YouTube and an engaged subscribed audience on that platform could be valuable. Here are the results in YouTube Analytics.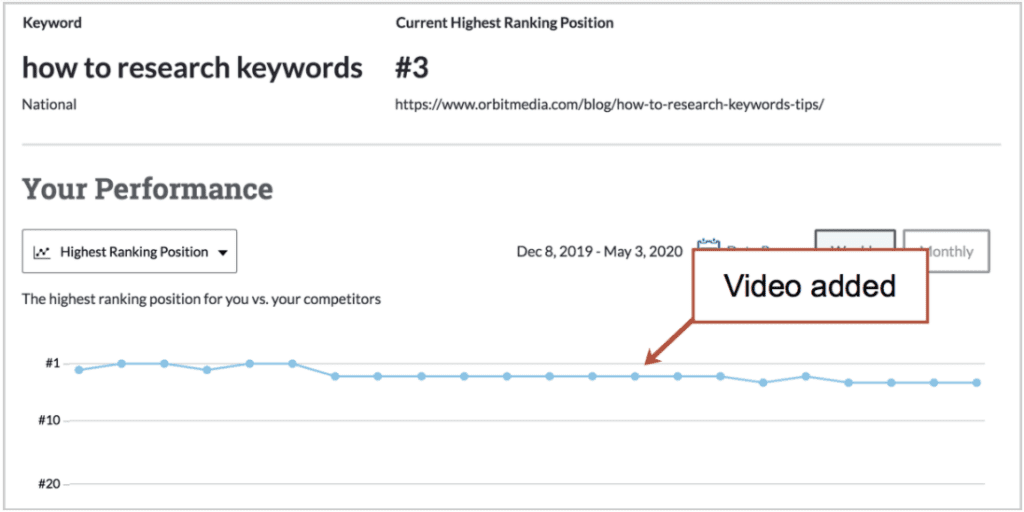 Since it's been posted 10 weeks ago, this video has created a bit of brand visibility:
750 views
60 hours total viewing time
Around five minutes average viewing duration
A dozen or so new YouTube subscribers
That's not bad! And we expect these numbers to rise for years, all for a 3-4 hour effort.
Our friends who combine YouTube and search optimized articles report similar, strong results.
---
| | |
| --- | --- |
| | "We started combining our usual content marketing efforts with weekly YouTube videos in 2016 and it changed everything for us as an SEO agency. Better Google rankings, more brand searches and a higher conversion rate." |
---
Examples of YouTube content strategies
You can see how this works in a B2B content strategy. It's easy to imagine how this could work for all kinds of companies. Most websites have a few pages that rank. Some already have videos.
Healthcare / Legal:
"It looks like site ranks for our doctors/lawyers names. Let's add personal bio videos to those bio pages." – Impact: Engagement, trust
Ecommerce:
"We have a few products that consistently get traffic from search. Let's add product description videos to those few product detail pages." – Impact: Higher conversion rates, possible rankings in YouTube
Non-profit:
"Our homepage is the only page that gets traffic from search. Let's move the video that explains our mission from the about page to the homepage." – Impact: Engagement, more views
Does embedded video help articles rank?
Let's check the data and answer the big question.
They searched for a phrase in Google and clicked on a link on the search results page. Boom. You have a visitor.
But how long does the visitor stay on your page? This is called dwell time and it's widely believed to be one of the "user interaction signals" that affects search rankings.
How to get visitors to spend more time on the page? Video.
According to Analytics, embedding a video increased the average time on page. So the hypothesis is that adding video can indirectly improve search rankings by improving dwell time.
Does it work? Let's check.
Here are the rankings for the top keyphrase for three articles that got a little video upgrade. You can see that video doesn't seem to have a strong impact on the rankings…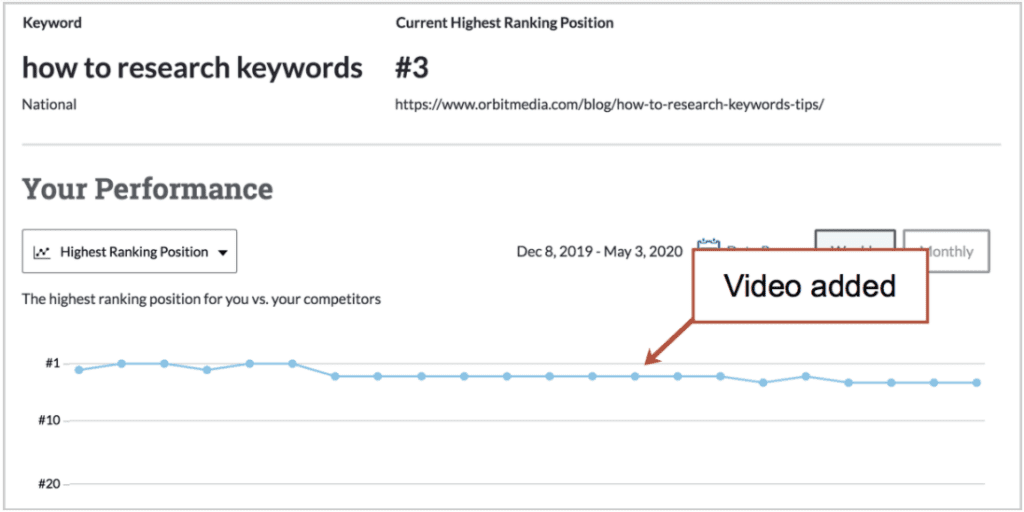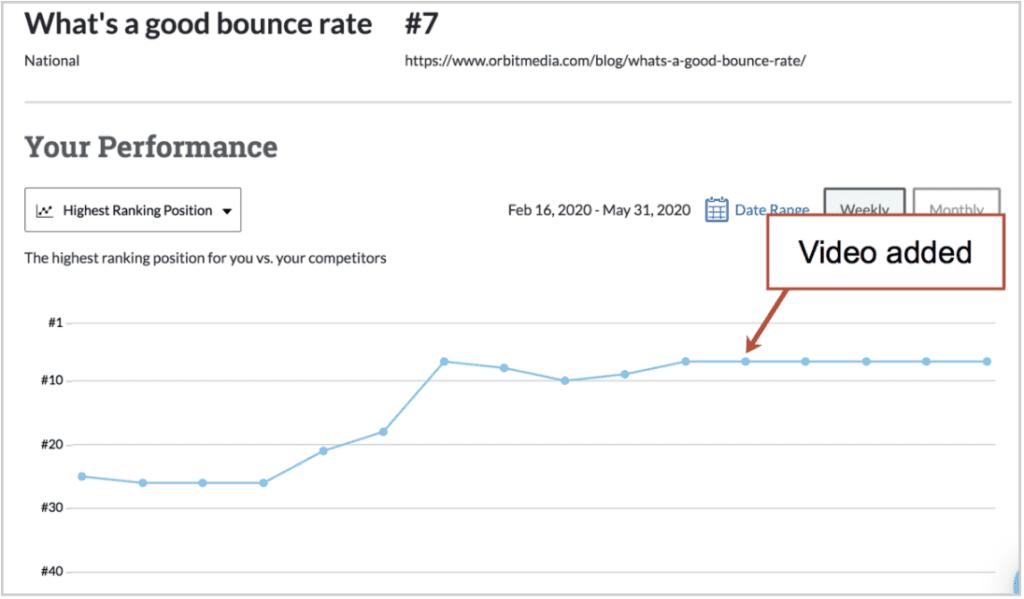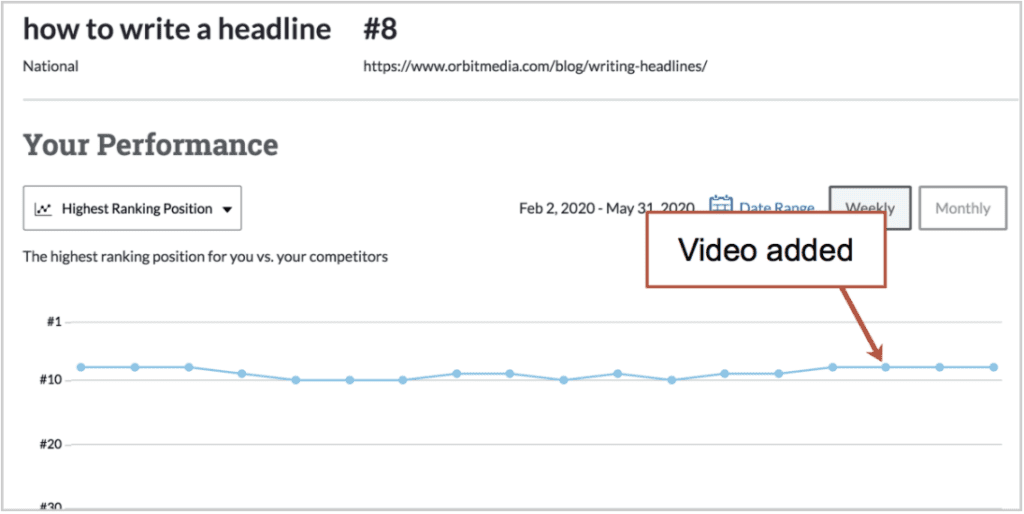 In our experience, rewriting the article (bringing it up to date and republishing it without changing the URL) can have a dramatic impact on rankings. But just adding video… not so much.
But the other benefits are enough for us.
Why YouTube?
There is a saying "don't build on rented land." Why go through the massive effort of building a YouTube audience? Why not focus on on-site content?
Well, on-site video still needs a hosting and streaming service. And YouTube is a massive engine for content discovery, famously referred to as the second most popular search engine.
According to this influencer research by Izea, an audience on YouTube is worth much more than and audience on Twitter, Facebook and Instagram.
The average cost of hiring an influencer to promote you on YouTube is more than the average cost of all the other channels combined.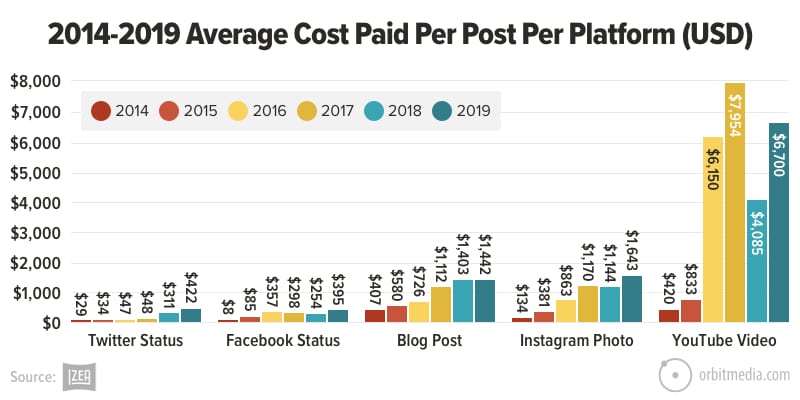 Apparently, an engaged, subscribed audience on YouTube is very valuable. We're going to keep it up.
We're still polishing it, but if you're interested, take a look at what our channel looks like on YouTube.
Any and all feedback is welcome!