It's a powerful source of traffic.
It sends the most qualified visitors.
It's more consistent than other traffic sources.
There are lots of reasons to love your rankings. But search optimization has its issues. We once wrote about the dark side of social media. Now it's time to uncover the downside of search optimization.
1. The Google Keyword Planner Is Totally Inaccurate
Google has more search data than anyone, so everyone uses their Keyword Planner to do research. This tool is supposed to show how many people are searching for a given phrase. But the numbers are waaay off. They don't accurately represent the amount of searches for the phrase.
Maybe you've always suspected this was true. Here's proof.
I once wrote a post about website footer design. With hopes of ranking and dreams of traffic, I researched phrases with an eye toward optimization.
According to the Keyword Planner, there aren't a lot of people looking for help designing their footers. Here's the data.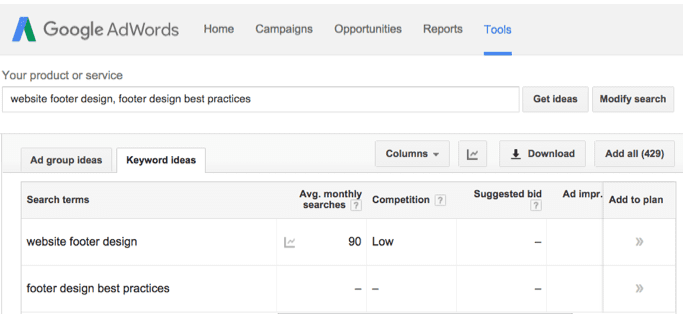 So, if my post ranks, the size of the prize is 90 searches per month? That's three per day.
Don't believe everything you see on the Internet. I knew there had to be more demand than that. So I went ahead and wrote the article anyway. And eventually, it did begin to rank. As rank climbed, so did traffic. How much traffic?

The post now gets 200+ visitors per day, more than 90% of them come from search. That's a lot more than the Keyword Planner estimated.
Why is the Keyword Planner so inaccurate?
One reason is that it's showing the "exact match" numbers as if a phrase was searched for in quotes, exactly that way, without variation in plurality, grammatical forms, etc. But as we all know, Google is a semantic search engine, focused more on topics and intent than a combination of letters and words.
The Keyword Planner vastly underestimates the amount of demand for a given topic.
I'm guessing there are 100x as many people searching for the phrase than the Keyword Planner suggests.
So what can we do?
Take the Keyword Planner data with a grain of salt. Don't focus on the specific numbers. Use the tool to find two things:
Are people looking for the topic? Yes or no?
Is phrase X generally more popular than phrase Y?
2. SEO Doesn't Work for Everyone
It's the art of being found. But what if no one is looking for you? This is true in two cases…
If you're an inventor or innovative startup that has created something no one has ever heard of, then no one is looking for you, and there isn't much SEO opportunity.
Example: Event ticket options
Maybe you want to go to a concert, but you're not sure. OptionIT lets music and sports fans buy options for tickets, so later on they can decide if they want to go or not. But it's a new service, so people aren't searching for "concert ticket options."
If you are one of a few companies that sell to a very small group of people, then forget SEO. Forget marketing altogether and focus on sales!
Example: Los Angeles Class Submarines
There are just two companies that build nuclear submarines, and they sell to one customer, the Pentagon. The Defense Department isn't Googling "nuclear sub" and adding to cart.
So what can we do?
There are two kinds of website visitors: people looking for services and people doing research. Even if no one is looking for your service, you can still rank for topics your audience cares about.
Create a content strategy that covers topics they care about, answers the questions they're asking. Rank for the question, provide the best answer and build awareness for your brand.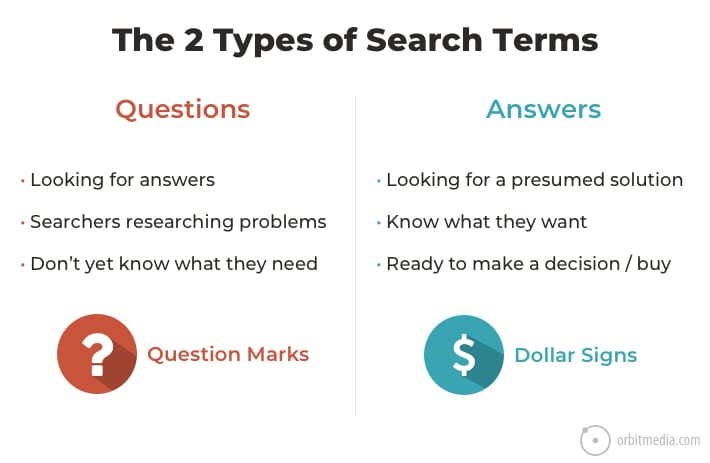 3. SEO is Totally Insufficient
Rank is not enough.
Too often, search rankings are about vanity. People brag that they rank for a phrase, but when you ask about the quantity or quality of traffic from the phrase, they have no idea.
Rank does not equal traffic… you may rank for a phrase no one's searching for
Traffic does not equal leads… you may have a low conversion rate
Leads are not always qualified leads… you may have attracted visitors who aren't a good fit
So what can we do?
Remember, being found is one step in a long process. Think of the entire experience for the potential buyer, starting from the moment they decide to start looking, to the final step when they buy.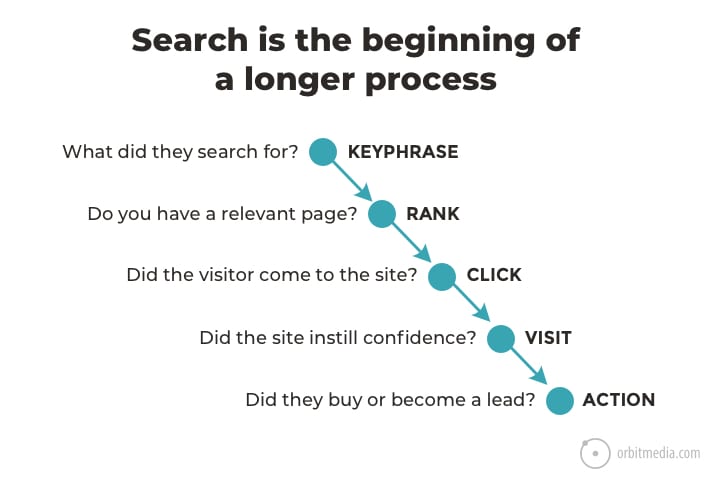 4. Lots of Search Traffic = Lots of Spam
Everyone searches. If you rank, everyone finds you, including sales people. They're not your target audience; you are their target audience. Or, as Andrew put it…
If you're ever feeling down, just remember: Someone, somewhere out there, considers you to be a qualified lead.

— Andrew Hanelly (@hanelly) March 9, 2015
Salespeople: They'll add you to lists, call you and ask to send you their info.
Recruiters: They'll call your team.
Robots: They'll spam your forms with poorly written offers of every kind.
SEOs: Yes, if you have an authoritative site with a blog, you'll get a ton of robot-pitches from "guest bloggers" who will happily contribute an original article in exchange for a link.
With great rankings comes great spam.
But the benefits outweigh the costs. Yes, you'll have to filter through a lot of noise, but the leads will make it all worthwhile.
So what can we do?
Set up the forms to prohibit robot-submissions. This will reduce spam, but you'll still have a ton of unqualified leads. Budget time to filter through to find the good ones.
5. There's a Limit To Search Traffic
You can't rank higher than number one. And there are only so many people who are looking for your help. This means that somewhere up there, there's a ceiling to search.

And beyond the traffic limit, there's another disadvantage. Not everyone is using Google. What about advertising? PR? Word of mouth?
If SEO is your only tactic, you'll never connect with people who didn't start by looking for you first. This is the curse of inbound.
So what can we do?
Make sure your content strategy includes a steady stream of new content targeting new phrases. And don't rely just on search. Consider social media, email marketing and outbound.
6. It Can Be a Risky Business
When done badly, SEO can hurt your rankings, traffic and brand. It's called "black hat SEO" and it can lead to penalties that are hard to recover from.
Here are a few bad SEO tactics:
Buying links: Submitting your site to PBNs (private blog networks) which link to your site, artificially inflating your authority, adding risk of penalties.
Spam Emails: Sending thousands of emails, representing your brand, asking for links or guest post opportunities.
Keyword Stuffing: Adding many instances of keyphrases on your pages, purely for rankings.
Spinning Content: Using content spin software, generating variations for use on other websites.
Scraping Articles: Finding and copying high-quality content from other websites and putting them on your site (aka, plagiarism).
Here's what a high spam score looks like in the Moz Link Explorer. This is bad.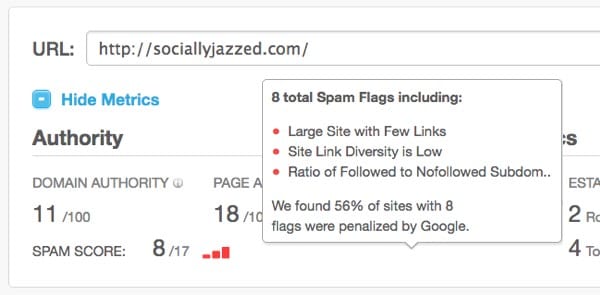 Let's chat with Sandeep from Ranks India SEO, to learn more about good and bad SEO tactics…
Sandeep Pandey, Managing Director of Ranks India Media Pvt Ltd, which provides $99 SEO services.
So what can we do?
When working with new SEO partners, proceed with caution. Check references!
7. When Buying SEO Services, You Have No Idea What You're Buying
This final point is the biggest problem in SEO: the ignorance of companies who buy SEO services.
Usually, when you hire someone, you have a general idea of what they do. People who fix cars use mechanical tools to repair and replace parts.
But the people who buy SEO services often have no clue what's involved. They don't know what an SEO actually does. What tools and tactics are involved. They think SEO is some dark art that only digital sorcerers understand.
So what can we do?
Ask yourself a few questions…
What does the typical SEO do first thing in the morning?
How do they spend their time?
What tools and tactics do they use?
How do they prioritize their actions?
How are they reporting progress?
If you can't answer these questions, don't pay another dollar for SEO services. Educate yourself first!
Learn as much as you can from these related posts…
And listen to our podcast on How To Do SEO That Works.
Have you run into any of these scenarios? Let us know about it down below.