There is a true story in the life of every visitor to every webpage.
When the visitor comes from search, we get some big clues into that story. We know a lot about what they need because they just typed it into a little box. That's why search is special. It gives us clues into the intent of that visitor.
Every keyphrase indicates intent.
Knowing their intent allows the content marketer (or the conversion copywriter) to align the page with their needs. Give them what they want …and maybe they'll give us what we want.
There are actually three types of search intent. Each with a specific type of keyphrase searched for by different types of visitors.
Know (informational queries)
These people are just looking for information or answers.
Do (transactional queries)
These people are researching a product or service.
Go (navigational queries)
This third group is usually just trying to get to a website.
The first two are the question marks and dollar signs. These are two very different types of phrases, attracting two distinct types of visitors to two different areas of our websites.
But this is a guide for all three types of search intent (also known as "user intent" or "audience intent"). Here we break down how people search and how their keyphrases give us clues into how best to satisfy the needs of our visitors through content and SEO.
First a high-level look in one diagram…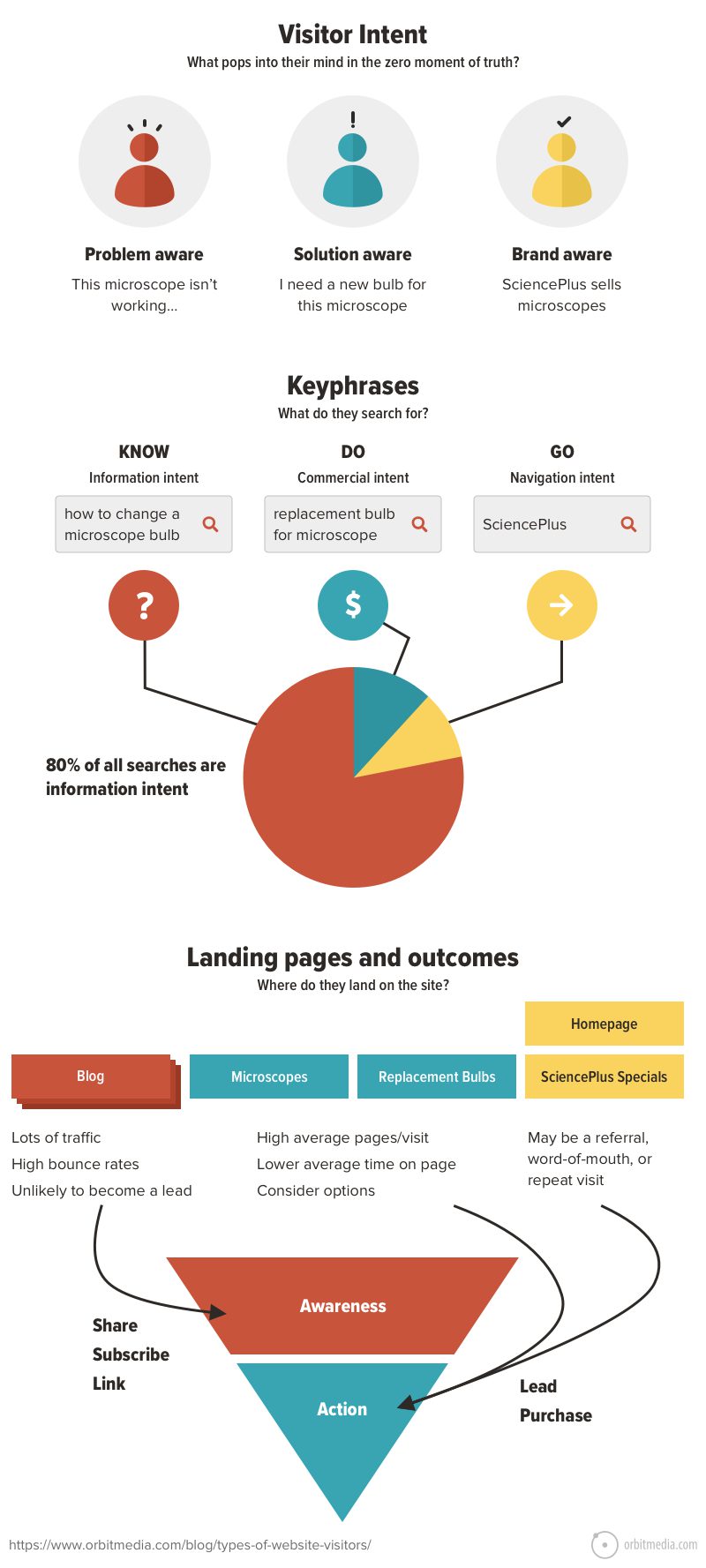 Experienced SEOs and content marketers are able to look at any phrase and categorize it immediately. Understanding search intent is the key to their job. While doing keyword research, they can scan a list of phrases and know the general intent behind any keyphrase. Is this searcher looking for help? Or just answers?
Related: Our Complete Guide to Keyword Research.
It took 10 years to learn and 10 hours to write. It will take you 10 minutes to read.
If you're unsure, just search and take a close look at the search results for the phrase. Glance through the rankings and SERP features and you can quickly see what Google thinks of the phrase. (Also, SEO tools like SEMrush tag each search query as one of these three categories)
What does the search engine think the search intent is? What appears in the SERP?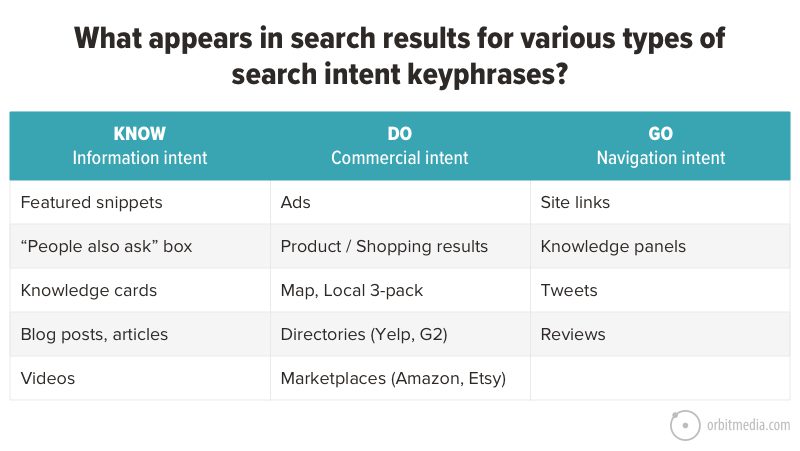 Those rankings and those features are there partly because that's what people tend to respond well to. It's a self-reinforcing feedback loop that gradually (and very accurately) reveals the intent of every phrase.
Note: If the mix of rankings and features doesn't seem to strongly indicate either information- or commercial intent, then it's likely that the phrase is used by people with both types of intent. Google shows a mix because the intent of those searchers is mixed!
Next, let's look at the practical implications for SEO: what the visitor is thinking, search intent examples and keyphrases and finally, the landing pages and the conversion outcomes.
1. KNOW: Information intent
Information intent queries, also known as "blogging keywords" or "content keywords" are used by people who are just looking for information or answers. They have an idea or question, but no plans to take action. They want to learn something or maybe they want to solve their problem themselves.
They are problem aware.
Examples of information intent queries:
80% of all searches are for informational intent queries. They often include these words: how, what, who, where, why, ideas, tips, best practices, examples.
"how to replace a microscope bulb"
"stop dog from eating shoes"
"CRM best practices"
"sink smells weird"
Landing pages for information intent queries:
This is your Top of Funnel (TOFU) content. It's the content marketing articles (blog posts) that tend to rank for these phrases and therefore, these are the pages where the visitor lands.
Blog posts and articles
Case studies
Recipes, guides, YouTube videos, etc.
Outcomes and results:
How do these visitors look in Google Analytics?
Lots of traffic, high bounce rates, low conversion rates.
Intent is low. They are very unlikely to become a marketing qualified lead. In some Analytics accounts, we see that visitors who start their visit on a blog post (because they had just information intent) convert into leads at rates as low as 0.03%.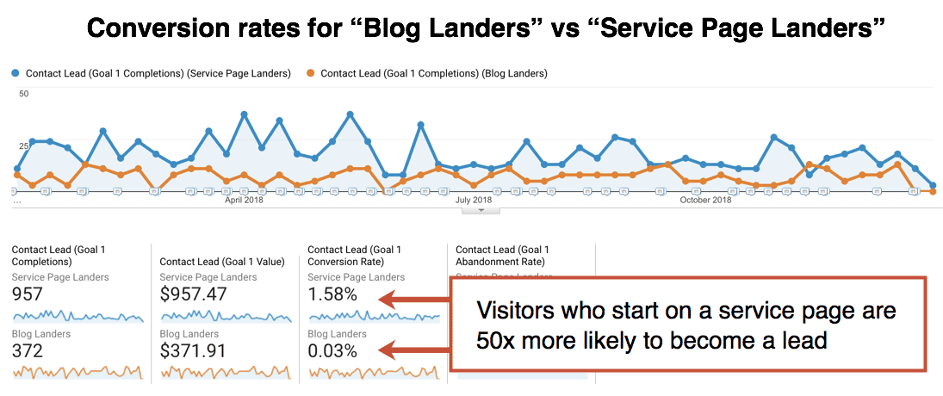 But they are likely to engage with the content. These are sometimes considered "assisted conversions" and they are generally the best you can hope for:
Subscribe to a newsletter
Download (engage with gated content)
Share, like, comment or follow
So the visitor may not want your products, but a page that ranks for the question mark phrase may also rank for the dollar sign phrase. SEO expert Dan Shure shares an example:
---
| | |
| --- | --- |
| | "Don't overlook the value of 'how to buy [product]' pages. I had a client create one of these with the intent of filling the site with product/guide content to support rankings for their product category page. But in the end, it ended up ranking directly for the commercial intent phrase: 'buy [product]' which gets 33,000 searches per month." |
---
2. DO: Commercial intent
Commercial intent queries, also known as "transactional intent" queries, "commercial investigation" queries or "money keywords", indicate the searcher is looking for a product or service. They may be in evaluation mode. They're comparing options. They may be ready to act.
They are both problem and solution aware.
Examples of commercial intent queries:
These phrases are generally the name of the product category or type of service. Any keyphrase that includes these types of words is typically a commercial intent query: buy, service, compare, reviews, order and price.
"microscope replacement bulb"
"chicago puppy training"
"CRM implementation consulting"
"24 hour plumber"
---
| | |
| --- | --- |
| | "The vocabulary you choose for commercial intent queries can also dramatically change WHO you will reach.  'Adolescent treatment program near me' uses professional lingo that may have informational intent. 'Teen rehab near me' is closer to commercial intent because it's in the words of the consumer. Sometimes one or two words makes all the difference" |
---
Landing pages for commercial intent queries:
10% of all searches are for commercial intent queries. These people enter in the middle of the marketing funnel (MOFU) or even bottom of the funnel (BOFU) if they're really ready to act. The search intent data indicates an actual commercial need. Here are the pages that tend to rank for these phrases and therefore, the pages where the visitor lands.
Product category pages
Product detail pages (ecommerce "PDPs")
Service pages
Homepages of service providers
Pay per click landing pages
Unlike the info intent "blogging keywords" where you create new content to target new phrases, here you are usually just aligning your existing service or product pages with the phrases that potential customers search for.
Outcomes and results:
How do these visitors look in Google Analytics?
Higher average pages per visit.
Lower average time on page.
These visitors may directly convert on their first visit. It happens all the time. Check the Conversions > Multi-Channel Funnels > Time Lag report and you may find that most of your conversions happen on the visitors' first visit! On this site, it's more than 80%.
They often have lower bounce rates and higher time on page than the info-intent blog readers. And they're far more likely to meet your business needs. They need help.
Caution! Be careful when linking from a service page to a blog post. When the visitor clicks, they are basically moving backward, upwards through the funnel. Why send a visitor from a page design to convert to a page design to teach?
These are the visitors who fill out forms and click submit. The thank you page visit is typically the definition of success. Filter out the spam and other noise and see what conversions you've earned.
Marketing qualified lead (MQL)
Chatbot inquiry
Ecommerce customer
The key to success is to optimize the site for conversions. Know the visitors' pains, hopes and fears. Support your assertions with evidence. Trigger biases. Remove friction.
3. GO: Navigation intent
Navigation intent queries, also known as "branded queries," indicate the searcher is trying to get to a specific website. Or they may have a question about a company or person. They may be looking for a product from a specific brand. The company name is all or part of their search query.
They are already brand aware.
Examples of navigational queries:
10% of all queries have navigation intent. Any keyphrase that includes the name of a company is a navigational query. So is any phrase for a specific product name or a proper noun.
"SciencePlus"
"Happy Tails Dog Trainers"
"AppliedTech Chicago"
"Is Leak Brothers Plumbing open?"
"Iphone 14"
Anyone who searches for one of these phrases is very likely to click on a search listing. According to a past study by Google, branded queries have a 2x click through rate compared to other keywords.
Landing pages for navigation intent queries:
These visitors are often in the bottom of the funnel (BOFU). They know you by name and reputation. They may be a word-of-mouth visitor, referred by a friend. Or they may be a repeat visitor, back to place a reorder. Or you're one of the final few options they're considering.
Or they're not in your marketing funnel at all (NOFU!). They're a job seeker or sales rep. Or a partner looking for your address. These zero intent, brand aware visitors use navigation intent keywords.
High- or low-quality, here's where they land:
Home page
Branded products/services
Outcomes and results:
How do these visitors look in Google Analytics?
Really more like a direct traffic visitor.
More likely to be a repeat visitor.
In Analytics, they appear as Organic traffic, but really you'd define them as direct traffic. Had they remembered the web address, they would have typed it.
It's frustrating for analysts that "direct" traffic includes visitors who are not brand aware (dark social, non-browser referrals) and "organic" traffic includes people who are already brand aware. There is a mismatch between search intent and the definition of traffic sources!
Tip! Navigational queries are often ignored by companies that provide SEO services. In fact, some will tell you that the point of SEO is to attract visitors for non-branded keyphrases. But researching your own branded queries is often a goldmine of insights. And the Google search results page for your brand is really your "other homepage."
Other types of search intent
If search was this simple, it wouldn't be a billion dollar business. As users of search engines, we know, search in nuanced. There are all kinds of search intent and variations on the big three.
People intent
The keyphrase included a proper noun and the entity type is "person" within Google's Knowledge Graph. The search results are more likely to show social profiles, social media carousels, images, questions and knowledge panels.
Tip! Improve your own appearance in search results with a bit of personal SEO.
Fact intent
They want a quick answer. And Google is very likely to serve the relevant content to them right there in search results with a SERP feature (featured snippet, People also ask, knowledge panel, etc.). Fact intent queries are the most likely to be zero-click searches. Building content around these phrases (glossaries, lyrics, weather, sports scores, etc.) is not likely to drive traffic anymore.
Tip! Avoid.
Linking intent
Sometimes people search because they need support for their content. They're writing something and they want to strengthen it with a good citation, usually research or a quote. They want something to link to. Creating content around these phrases (quotes, trends, research, data and statistics) is obviously magic for link attraction and search engine optimization.
Tip! Create original research and optimize for the "statistics" phrase. This will sound familiar if you've read our playbook for promoting original research.
No content marketing program? You're missing out.
All of this look into SEO and intent shows the power of content marketing.
Research shows that 80% of all searches are informational. 10% are transactional and 10% are navigational. That's right. There are 8x as many people searching for answers than searching for a product or service. Most people just aren't ready to spend money or become a lead.
So if you're not publishing information and answers, you'll never catch their attention early. You're letting your competition be relevant for your topics. You're missing out on a river of potential traffic, brand awareness and future demand.
Yes, the ideal visitor is the potential customer who is ready to buy. But even "low-quality" visitors are valuable. They may share your content, subscribe to your newsletter, follow you on social media or link to you from their blog.
And without these articles, there would be nothing on your site worth linking to. So you'll never have a chance to win for competitive dollar sign keyphrases and that one target keyword that pays the bills.
So even when conversion rates are low, content marketing helps to build the authority of the site. They're key to your SEO strategy. No authority, no rankings. You may find yourself relying on Google Ads forever.
Sites without content marketing are truly just online ads. They're known as brochureware websites. They don't have pages that teach, help, inspire or entertain. They don't target the broader set of phrases. They don't attract a larger audience.
Sites that do publish search-optimized educational content often attract huge audiences. The goal of the content marketer is to unlock the expert knowledge within their organization and offer it to the world, growing attention and, ultimately, demand.
Every visit is a chance for something good to happen. If you want a lot of leads, you have to help a lot of information seekers.