Writing is hard work. It can take hours (or more!) to write a good piece of content. Wouldn't it be nice if there was a way to turn that article into a hundred articles with little extra effort? There is  it's called content spinning. And it's gross.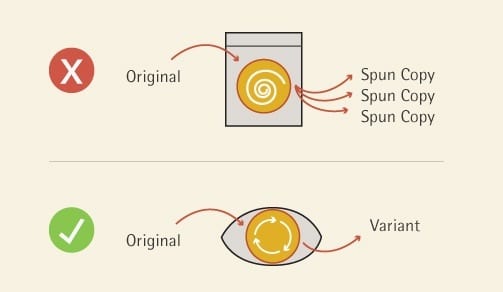 Author's note: this post begins with a rant and ends with a trick. If you're looking for practical marketing advice, scroll past the "spun content is web spam" part.
What is Content Spinning?
Content spinning is all about using a robot (software) to rewrite your article enough that another robot (Google) will think it's a different article. It does this hundreds of times within minutes. The "new" content can be submitted to hundreds of blogs, usually with an SEO benefit in mind.
This automatic "rewriting" really just replaces words and phrases with synonyms and sometimes changes sentence structure. Let's give a sentence a spin: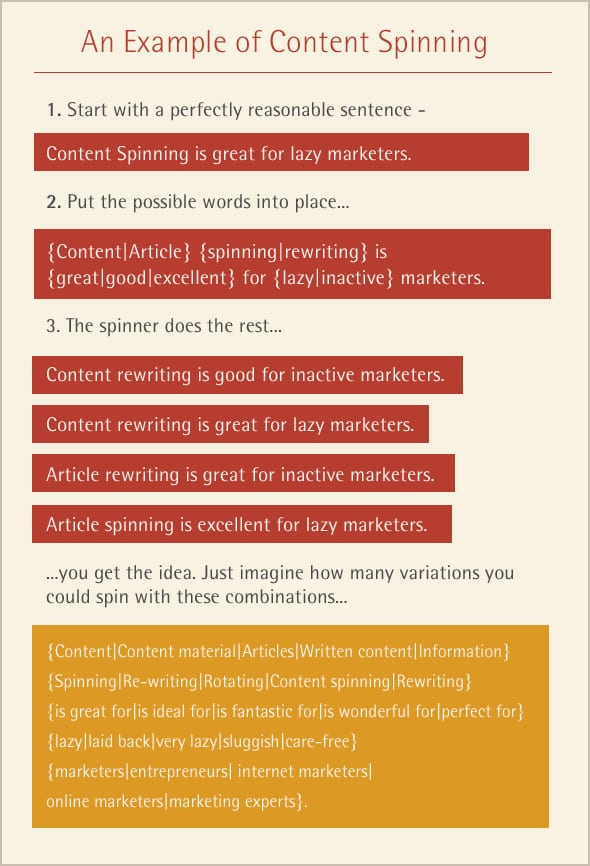 Ridiculous, right? It can even be done using Google Translate. Just translate the article into German and then back to English a few times. Danke shoen for the new article, Google!
Confessions of a Content Spinner
I'm actually friends with a former content spinner, who explains how it was used as a "black hat" SEO technique:
"At some point in late 2011 spinning had become a standard, all competitors across every niche we targeted could be found producing some type of spun content.  Manual, automatic, through networks (which did the spinning and distribution) or by downloading spinning software and uploading articles to various directories. Who can produce the cheapest content became the name of the SEO game."
Spun Content is Web Spam
Content spinning is bad for all kinds of reasons…
It doesn't work. Google has famously cracked down on spun content in blog networks. Many of those sites have been blacklisted and rightfully so. Low-quality, duplicate content was penalized by Google's "Penguin Update."
It's not future-proof. Even before the launch of Google+, there were rumors that Google was using social media activity as a ranking factor. Now with +1's and personalized search results, social signals are well known to affect rankings. Spun content rarely sees any social shares, likes, or comments.
It's awful writing. Putting an article through the spin cycle is the fastest way to ruin a good post.
All of this is bad news for content spinners. It's time to retire the robotic rewrite and get real.
Reimagined Content is Good Marketing
Spinning is bad, but resourcefulness is good. If you know how to spin content by rewriting it from a different angle or in a different format, it's actually a really good idea.

Republish in a Different Format
Think back to your most successful piece of content. Now think of all the other ways you could deliver this message. Would it work well as a video? As an infographic? As a longer whitepaper or guide? As a more detailed series of shorter posts?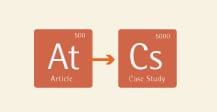 Use the Periodic Table of Content as a guide for repurposing past content.
Reverse Angle Guest Post: Research Once, Write Twice
Although your audience already read your advice on a topic, there are other blogs with other audiences that haven't heard this point of view. And the research you put into the first piece doesn't have to be repeated.
You have an opportunity to rewrite it for another audience from a different point of view. Here what happens when you hold up that topic to the mirror:
How to do something → How not to do something
Best practices for doing stuff → Common mistakes when doing stuff
5 questions to ask before buying things → 5 ways you know you bought the wrong thing
See how each is a similar article but from a different perspective? You could probably write the second post quickly. It might be too closely related to the original to publish it on your site, but it might make a great guest post.
Tip: Don't just rewrite the same post with a new perspective. Add something new that the original didn't include: new research, new ideas, or new perspective.
The guest post can link to the original, which will help it rank in search engines. And both posts can take full advantage of Google Authorship, which is the "digital signature" that will make your picture appear in search results when either post ranks.
Here are some examples of blog posts / reverse angle guest posts we've written:
Dizzy Yet?
Now you know how to spin content, in good ways and bad. What do you think of article spinning? Am I recommending something unethical? Are there any redeeming qualities in automatically rewritten content?