Like any return on investment calculation, website ROI is based on the cost and the results. Here's a look at both.
Costs
Website pricing varies wildly. Costs range from free for DIY tools, to millions of dollars for high-end digital agencies. For most companies, prices from web designers may start as low as $1000 for a freelancer or $100,000 for a fancy site from a big web development firm.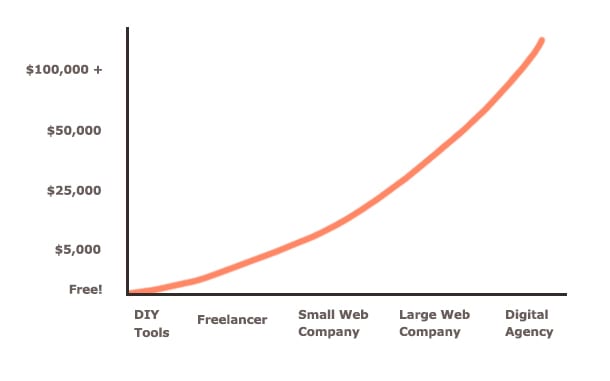 Generally, the price of a site relates to the total time it takes to create it. There are no material costs since pixels and code aren't bought by the truckload. Costs are based on estimates of the time required for design, programming, and communication.
Total Hours x Hourly Rate = Project Fee
The content (writing and images) also takes time, whether handled by the web firm, a freelance team, or the company itself.
Here are the major cost factors:
Project Management and Communication: Will many people be giving feedback and approvals? Who will manage the project?

Design: Is the brand well-established or it is being revisited? Is an off-the-shelf template being used?

Programming: Are the features of the site somewhat standard? Or are they more custom? Is the site's functionality complex?

Team: Are there a lot of skilled specialists involved? What is their experience level?

Content: Is it a large site? Is a lot of new writing required? Redesigns often have lower content costs. Is there photography or video production needed?

CMS Platform: Actually, the content management system isn't necessarily a factor. But aren't WordPress websites cheaper? Not really. WordPress can be used to make quick, inexpensive little sites efficiently, but it is also used for big, complicated sites, like CNN.com. Other common platforms are Drupal and Shopify.
Results
Results from these efforts can vary even more. The website ROI may literally be negative; if the site doesn't produce any results, the cost of the site is basically a loss. Website ROI may also be in the tens of millions of dollars, either in direct revenue from e-commerce sites or in the value of leads for a lead generation website.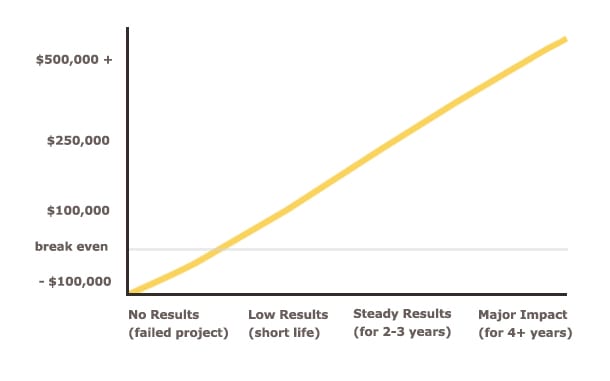 Many factors affect the variation in return on investment. Here are the five main factors in website ROI:
The Cost of Creating the Website
As we mentioned, costs can vary wildly. The dollars and hours spent during design and development are the baseline for the ROI.

The Cost of Maintaining the Website
Post-launch, out of pocket expenses – such as hosting – are probably low. But there is the time involved in content marketing (blogging, email marketing, social media), and potential advertising costs may be high.

ROI Tip: Build a site that will be easy to update. It should never take a designer or programmer to update content.

The Traffic
The number of visitors is the top line for measuring success. If the site was designed to be search engine friendly, the site is far more likely to perform well in search engines. Ultimately, it's the marketing activity, not web design, that has the biggest impact on traffic.

ROI Tip: Build a site that is search engine friendly and consider the cost of marketing that is actually needed to generate traffic.


The Conversion Rate
The percentage of visitors who take action, becoming a lead or purchasing through e-commerce, determines the bottom line results. Unlike traffic, it's the web design, not marketing activity, that has an impact on conversions. But together, traffic times the conversion rate equals results.

ROI Tip: Design your website for your users. For example, build a site that is mobile friendly with responsive design. Build it specifically to turn visitors into customers. Use compelling design, frictionless interactions and informative content.

The Website Lifespan
Although car buyers often think ahead about how long they may own the new vehicle, website buyers often do not. But this has a huge impact on the return on investment.

All things being equal, a site that is effective for twice as long has twice the ROI. A great site will produce results for five years or more. A bad site will need to be redesigned within two years or less.
Really want to dig in and calculate website ROI? Here's a post where we suggest using this formula for search optimized lead generation websites.
(SR) CTR = V
V x CR = L
(L x CL)(P – Dc) = $
Penny Wise…
When both costs and outcomes are all over the board, it's a challenging market for the buyer. Everyone knows someone who has been burned. We've got a whole collection of web design complaints.
But then again, do it right and you may generate so much demand that you'll have to send a price increase notice!
Even so, a website is not a place to save money. The difference between a $20k and a $30k price tag might seem high, but a great site will produce dramatically better results than a good site, which may translate into hundreds of thousands of dollars over time.