"Just look at those numbers. This must be a great article!"

Star reviews, upvotes, share metrics have one job to do: make the visitor believe that thing is popular, and therefore credible.
But those are just a few examples of social proof.
Evidence, along with answers to questions and calls to action, are one of the three main elements of a high-performing page. Social proof usually isn't what the visitor came to find, but it's what we want them to see while they're here.
And it's one of the biggest differences between weak and strong webpages.
A page with evidence gives the visitor reasons to believe.
A page without evidence is basically a pile of unsupported marketing claims.
Compare these two pages, one with supportive evidence and one without: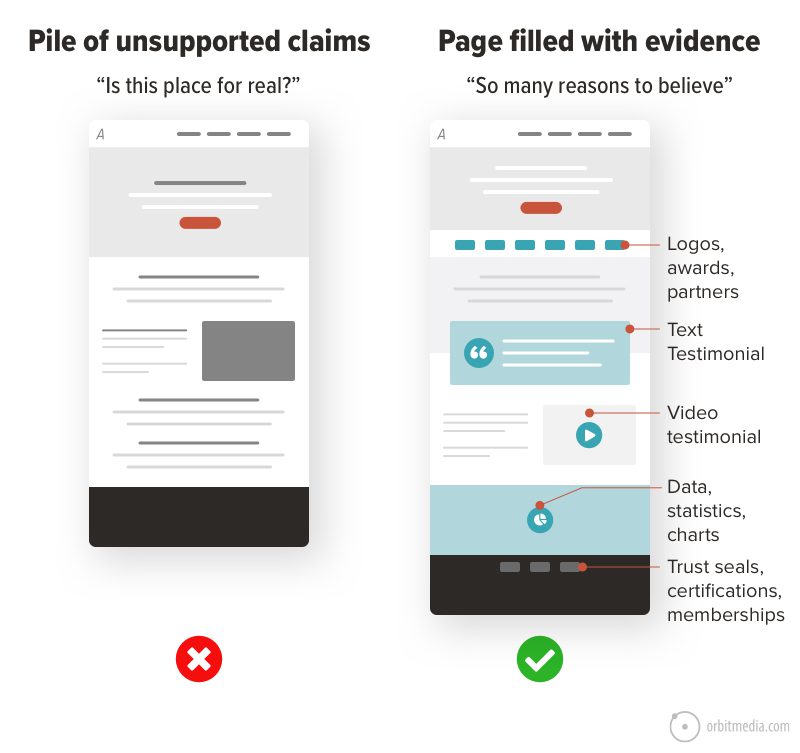 There are all kinds of evidence you can add to your pages and products. But here we'll focus on the most common type: social proof.
What is social proof?
Social proof is evidence that supports marketing claims. Social proof uses the words or actions of an audience to add credibility to a brand's value proposition. It's a key ingredient to high-performing landing pages.
It's powerful for several reasons:
Social proof triggers the conformity bias (also known as "herd behavior" or "the bandwagon effect") by visibly indicating that other people have publicly endorsed your product, service or content. It's a psychological phenomenon your prospective customers can't easily ignore.
Social proof is differentiation. You are the only brand with your testimonials.
They're a better messenger for your message. It's often more genuine, direct and disarming than anything you can write yourself.
Where to put social proof
If no one sees it, it doesn't help. So generally, social proof should be easy to spot. In other words, it should be near the top of the visual hierarchy for a given page.
Here are two general rules to guide decisions about where to add social proof.
Add social proof near the claim it supports
Add social proof in the most visible places on the page
We saw the difference above in two pages, side-by-side. Now let's look more closely at the pageblock level. Of course, there is a visual hierarchy for every page, but there's also a visual hierarchy for every scroll depth.
In other words, each pageblock (modular content area) can do a good or bad job at guiding the visitors' eyes, making the most compelling messages (in this case, the social proof) easy or hard to see.
The worst way to add social proof
Here's an example of a terrible pageblock with an awful visual hierarchy, one that makes the boring stuff big and the compelling stuff small.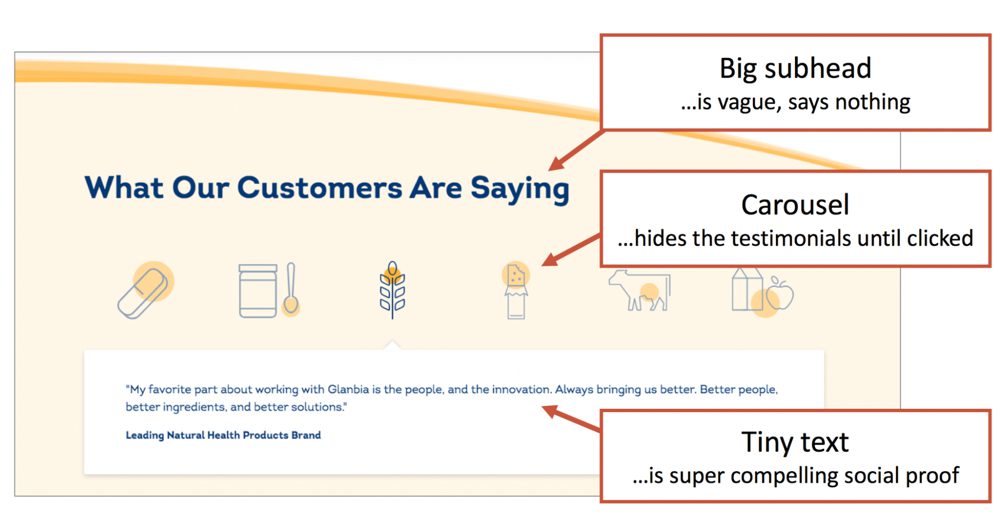 The best way to add social proof
Let's wash that last one out of our eyes with a great example, taken from our own web development page.
This page block has a very deliberate visual hierarchy. It also upgrades the format for the testimonial from text to video. It's designed specifically to guide the eye, answer a question and build trust.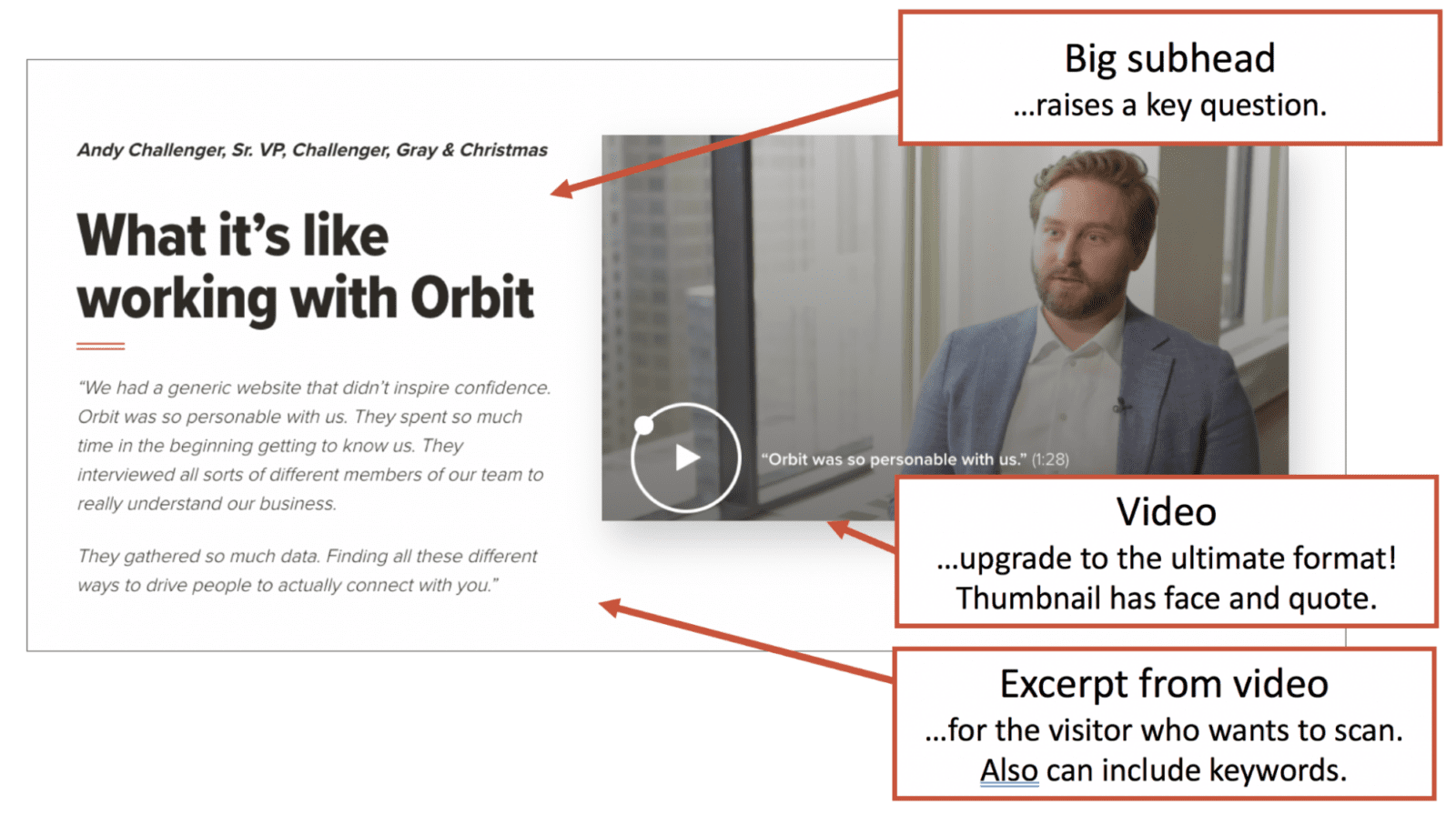 Next, let's jump into the seven social proof examples. We'll stick with testimonials since we started there.
1. Testimonials
The quotation marks are the most powerful key on your keyboard. Just surround a sentence with quotes, and the words become testimony and the reader becomes a witness. Here's what a great customer testimonial looks like: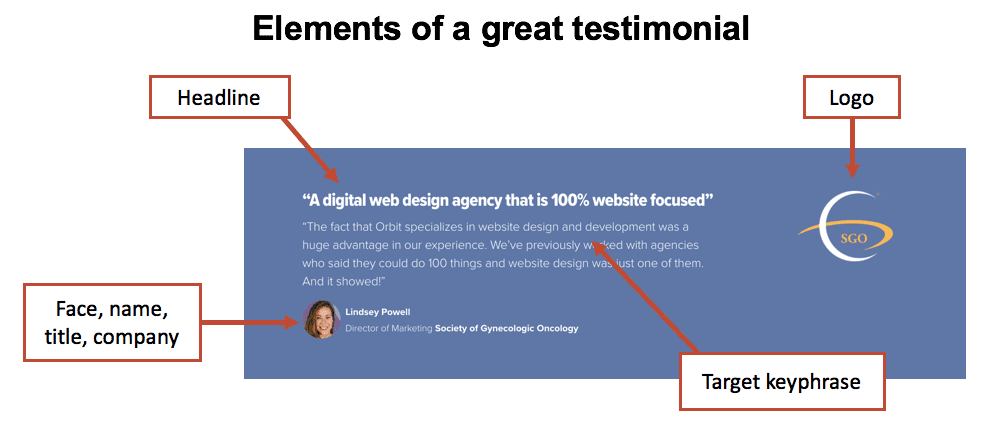 As we said earlier, your audience is a better messenger for certain messages. Compare the difference when you use the voice of the customer to deliver the message: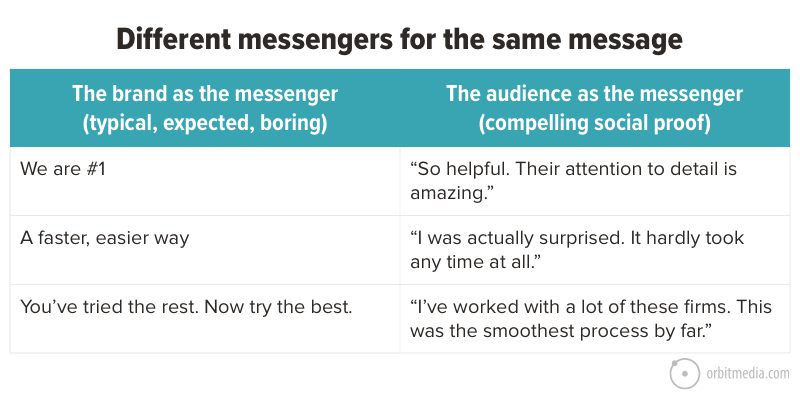 Here are three quick tips for great testimonials:
Use testimonials that include keywords when possible. Yes, they can have an SEO benefit (indicate relevance for a target phrase) as well as a trust benefit (improved conversion optimization)
Use video testimonials when possible. Seeing the face and body language, and hearing the voice will make the speaker far more credible. And the willingness to be on camera shows they mean what they're saying.
Avoid making a testimonials page. Instead, make every page a testimonials page. What's wrong with a testimonials page? Nothing, except that visitors usually skip them.
If you have a testimonials page on your website, take a look at Analytics to see if it gets a lot of pageviews. If not, ask yourself: why did we put our strongest evidence on such an unpopular page?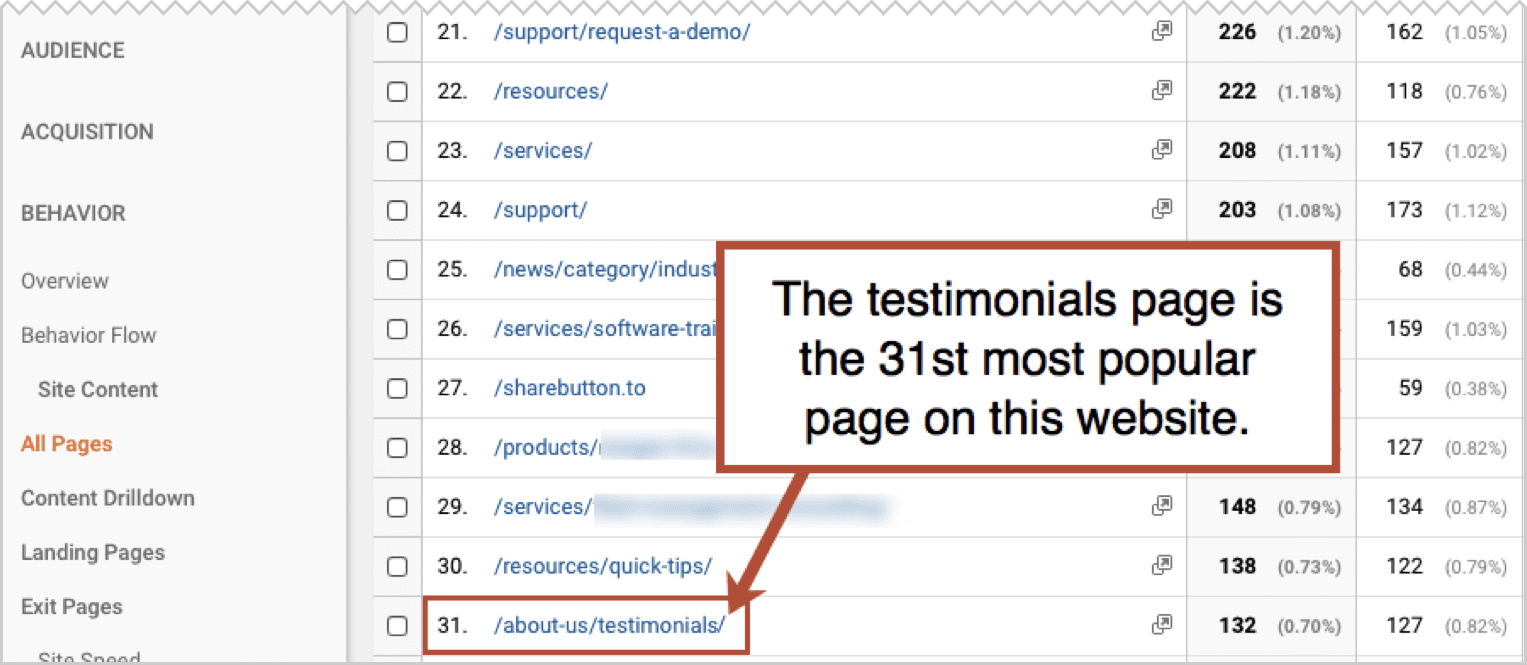 Put billboards on highways. Put your best content on your most popular pages. That means starting with your homepage.
Having trouble getting testimonials?
It's hard. You can sometimes spot them in user-generated content in online reviews or on social media platforms. But why wait. If you don't want to fish, you can hunt. Here's a guide that includes email templates for reaching out to happy clients.
2. Endorsements
An endorsement is a testimonial from someone special, someone known to and trusted by your audience. It's a kind of transfer effect. Because your audience trusts them, they'll trust you. You are borrowing their social influence. It's called the Halo Effect.
It's common in the book publishing business.
Authors reach out to their most famous friends, send them a chapter of a mostly unfinished book, ask them nicely to scan through and send back a short blurb. The most famous friend wins the front cover. Celebrity endorsements up front! The next most famous get the back cover. Everyone else goes inside.
On websites, endorsements should go at or near the top of the visual hierarchy on the most popular pages. Henneke's website, Enchanting Marketing, is a great example.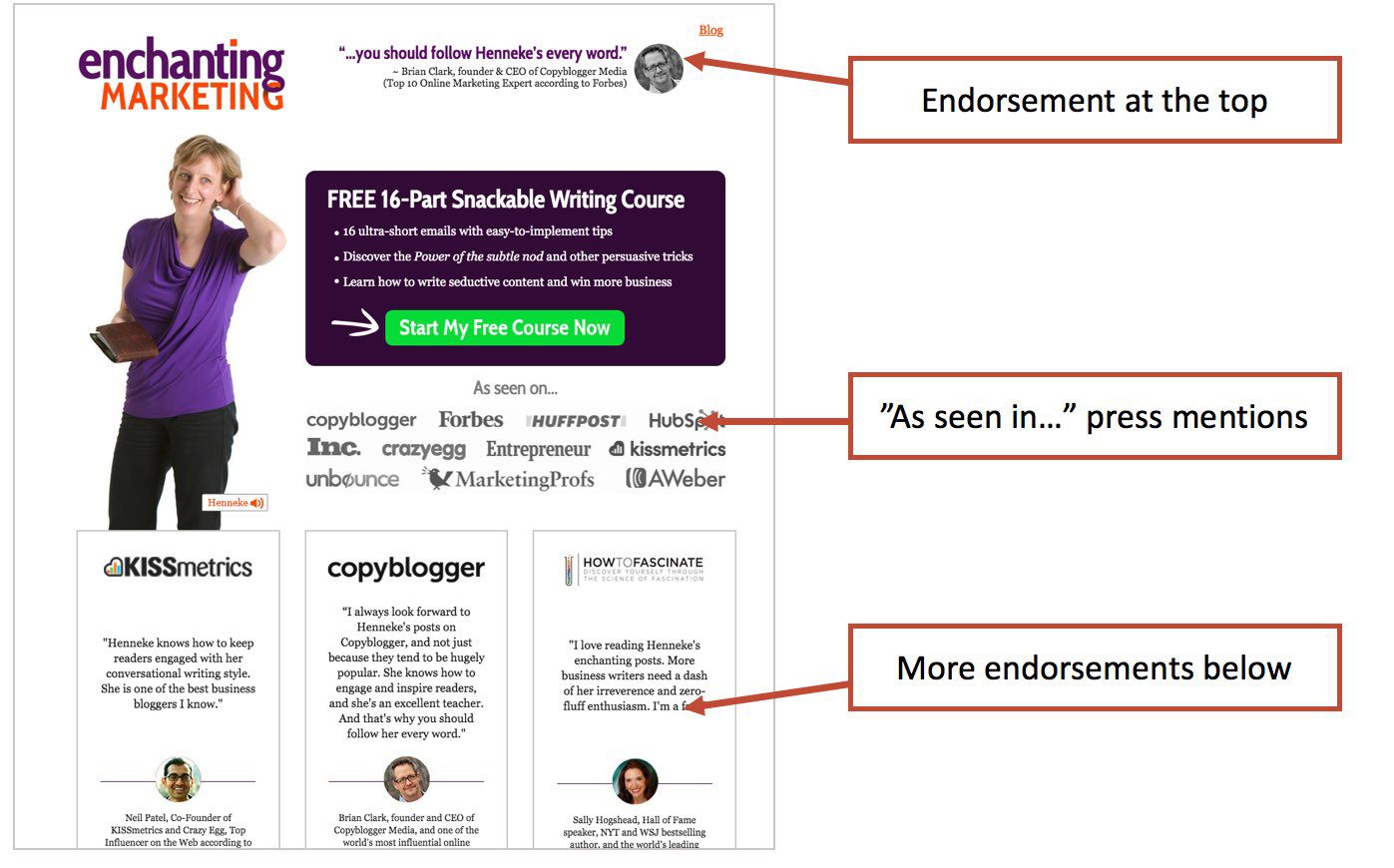 Video endorsements are even better. Take a look at Oli Gardner's speakers page. Rand Fishkin gives a sincere and ringing endorsement front and center.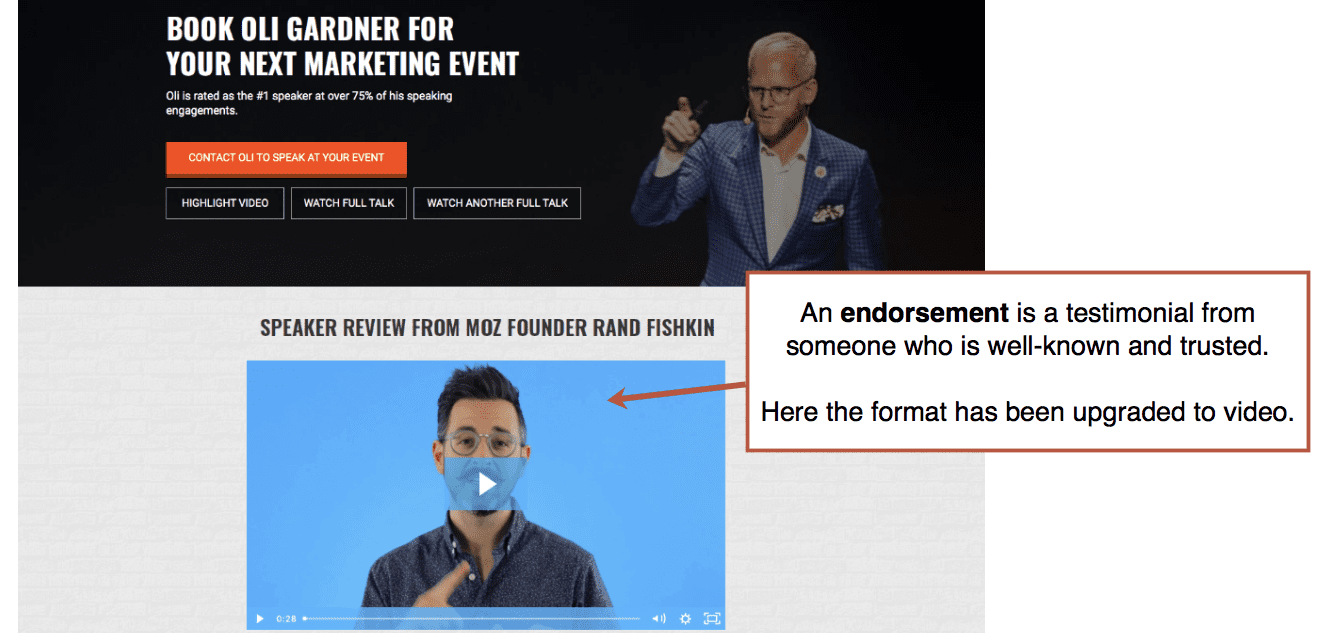 3. Press mentions
You may have noticed these on Henneke's homepage above.
This is another way to leverage the Halo Effect. If your brand has been featured in (or even mentioned by) a media source, their logo can be added to your site, usually on the homepage.
Here's an example on the Landmark Pest website.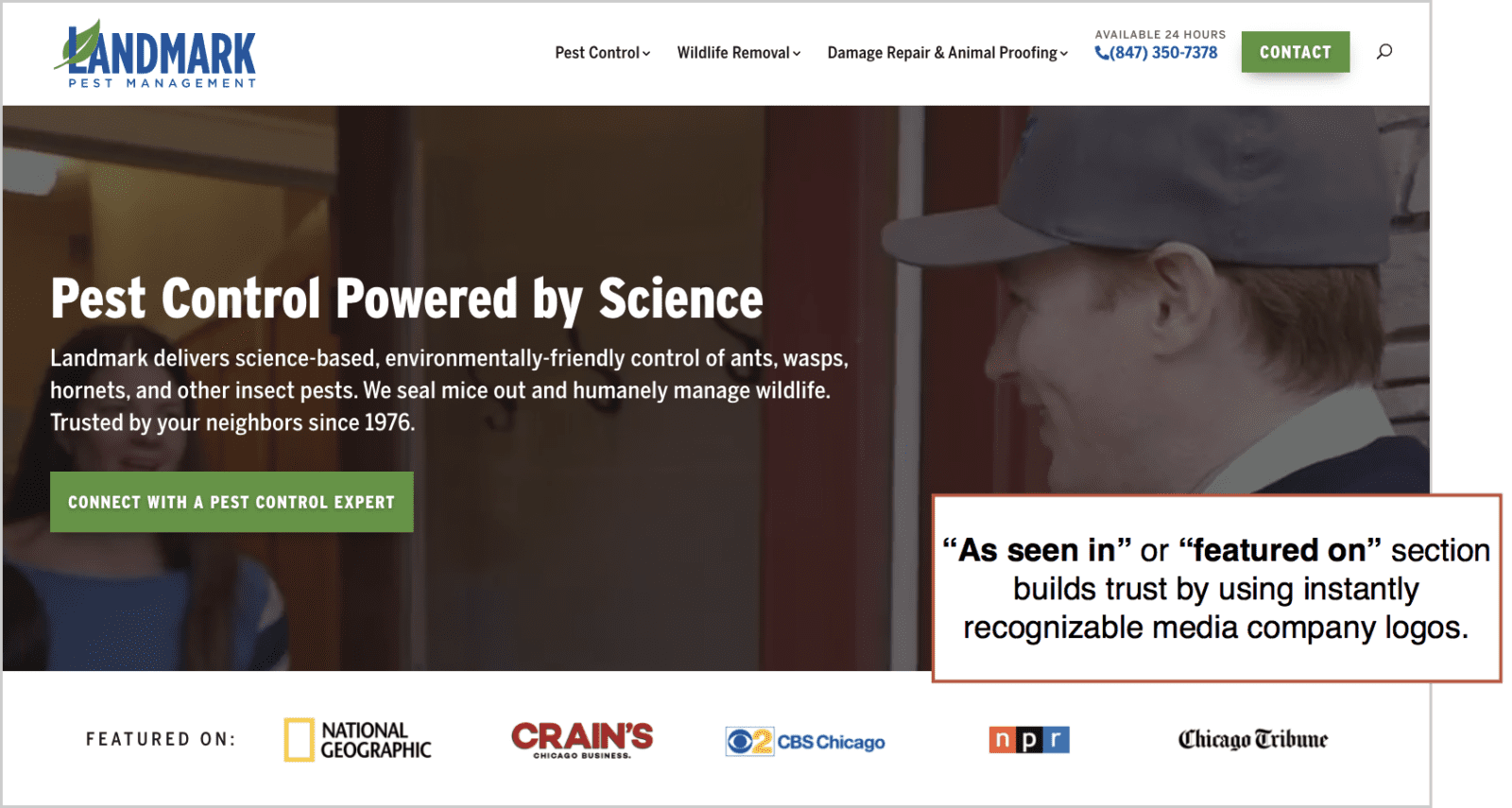 Since referral traffic from press mentions is fleeting, that logos may be the biggest benefit from a press hit. It's definitely on our list of 21 things to do after you get media coverage.
4. Client and partner logos
Our next social proof example is common on B2B service company websites. You can find in on our homepage and millions of others.
Even if the visitor doesn't recognize all of the companies, it's differentiation. It's visual evidence of legitimacy.
For the little text above the logos, consider "trusted by" rather than "our clients." It reminds your visitor that these clients don't just work with you, they trust you. Therefore it more directly triggers the conformity bias in your potential customer.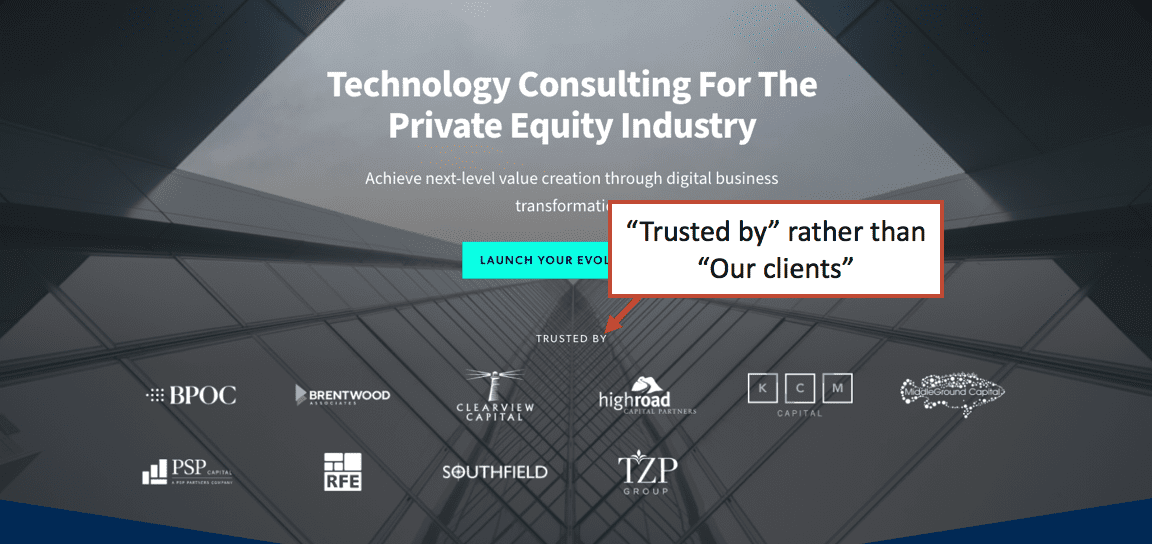 5. Data and statistics
Website templates have made this feature more popular in recent years. The number ticker is a standard pageblock on many templates, in WordPress and other platforms.
Sometimes statistics are used just to highlight the size of a problem, as on the New Era Advanced Dispute Resolution website:

Not all numbers are social proof because they aren't connected to human behavior, but they're still powerful forms of credibility and differentiation.
But when the numbers are related to the work you do or the results of the work you do, it becomes social proof.
Years in business
Combined experience of the team
Size of the team
Number of happy customers or projects
Return on investment (% increased, dollars earned, hours saved)
Those tickers are nice, but never miss the chance to upgrade from numbers to a chart. On our site, rather than show the number of projects we've completed in each project management system, we plotted them on a chart.

Data is also often used to add social proof to email subscribe CTAs. Proof is one of the three P's of high-performing email signup boxes. If you have a decent list, you can show the number of subscribers.
ProTip: If you have 5000 subscribers but many are old and unengaged, you should clean your list and stop emailing them. Suppose you remove 1000 bad addresses. That's good. But rather than revise the number down and say "Join the 4000 people who are subscribed" try making it say "Join the 5000 people who have subscribed."
It's a way to still take credit for all those subscribers who trusted you at various times over the years.
6. Social media shares
Social media marketing is all about social proof. It is everywhere. Social media metrics are among the most visible content marketing metrics in the universe. That explains why they are so often overvalued.
Rather than show a screenshot of any of the trillions of big number social widgets, follower counts, upvote counters, Facebook likes, Twitter retweets and share totals, let's look at a bad example. This is negative social proof.
Here's how social share counts can backfire.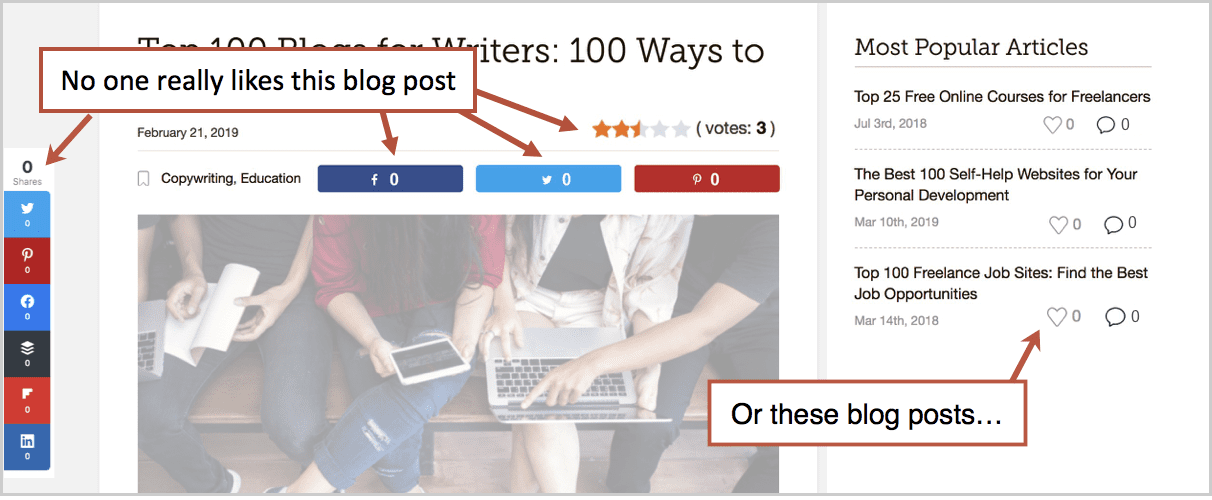 When social widgets show share counts and counts are low, the conformity bias tells visitors that the post is unpopular, making it look less credible. So use share buttons with counters only if the number of shares is generally high.
7. Awards, certifications and memberships
You won!
Put the trophy on the shelf and then put the award on your website. Along with certifications and membership logos, these little visuals are "trust seals" builds credibility and sets your business apart.
Here are the three places to add logos for awards, certifications and memberships.
Put them at the top of your homepage, if press mentions and client logos aren't available or aren't appropriate. But this is valuable real estate. Use it carefully.
Create a separate awards page, if you have enough of them. To see an example of a simple layout, take a look at our own awards page.
Add them to your website's footer, this is actually a very prominent location because it's on every page. They become a global element.
Here's how a custom awards company showcases awards and certifications in its website footer.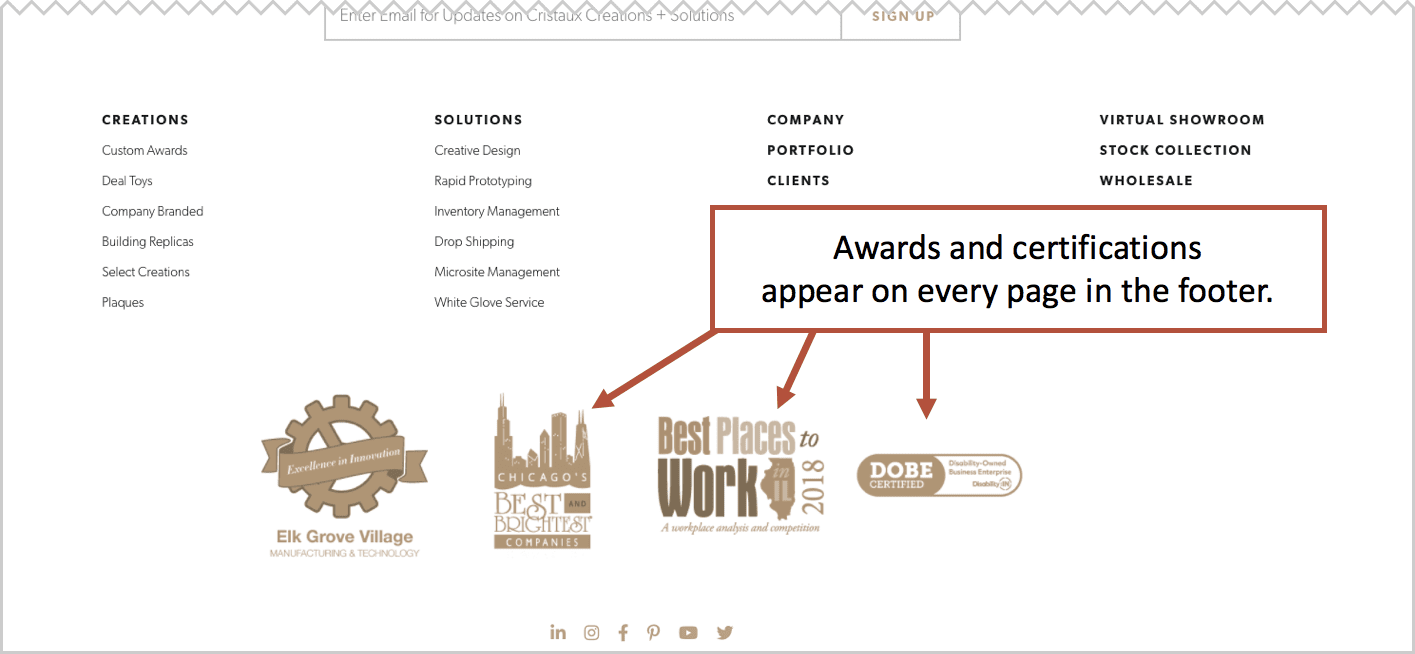 Your BBB rating, your chamber of commerce membership, your G2 ratings, your B Corp badge, the logo of your trade association, your MWBE certification, Clutch awards and even the logos of partners.
Whatever it is, make sure you have something to show. A website without a trust seal is like a restaurant without stickers on the door.
When you say it it's marketing. When they say it it's social proof.
Your visitors came to find answers, not evidence. We saw this in our parallel surveys of B2B marketers and B2B website visitors.
44% of B2B marketers named social proof as one of the top 3 elements of websites.
27% of B2B visitors named social proof as one of the top 3 most influential elements of websites.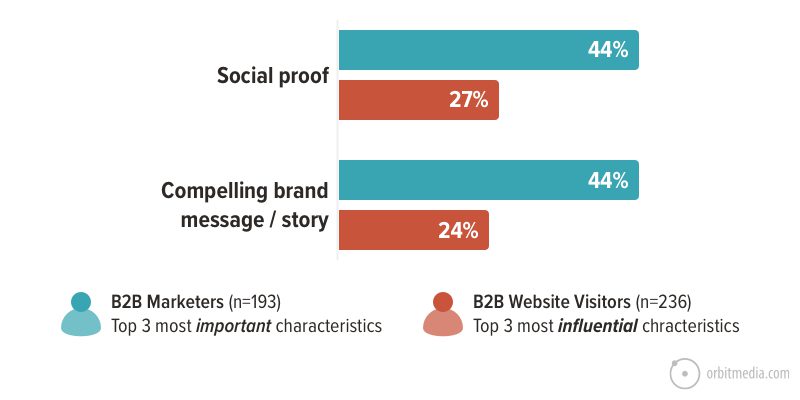 But even if it's not why they came, it's what we want them to find. Because without it, our sites lack the evidence needed to build trust, to set us apart, to trigger the psychology needed to win in competitive categories, when your ideal customer has a lot of options.
Every ecommerce marketer knows, the positive review makes or breaks the product page. All marketing, not just influencer marketing, is becoming social proof marketing. It's key to digital marketing strategy.
And besides, your customer is a better messenger for many of your most important messages.
Take a minute. Look at any of your pages. Ask yourself, is there anything here that is 100% specific to us? Or could everything here be said by a new startup company, born yesterday?
Social proof answers that question.