Congratulations! You just got some media coverage. There you are in the press or on someone's blog. You've been mentioned. It feels great doesn't it?
But as the warm fuzzies wear off, the big question sets in…
What do I do now?
You're getting a flurry of attention and traffic. But it won't last long. Usually, the spike in website traffic from media coverage lasts only for a few hours. Traffic goes back to what it was within a day or so. Here's what a classic "press hit" looks like in Google Analytics…

How do I get more value from media coverage?
Your goal now is to maximize the impact of the press mention. If you move quickly, you have a chance to capture all of these opportunities:
Promoting the piece
Networking
Search Optimization and Analytics
Leveraging trust
Here is a quick guide for maximizing the value of media coverage in all of those ways, in 21 steps.
Promote the Piece
Our first job is to drive traffic to the article. The more, the better. There are two benefits, one obvious, the other not-so-obvious
A branding benefit to us, since readers will see our name on the media publication
A traffic benefit to the publication …giving credit to the writer/editor
Journalists are now expected to drive traffic to their articles. They are judged on this.
---
| | |
| --- | --- |
| | "My editors closely watch the number of my Twitter and Facebook followers, my Klout ranking and the numbers of clicks, tweets, re-tweets, Facebook likes and LinkedIn shares each of my stories receives. These reports are shared at news meetings regularly. It is vitally important for our careers to be at the top of these rankings." |
---
Maximizing traffic to the piece is a nice way to say thanks and a great way to help your new friend succeed at their job. You want their article to be the traffic hit for the week. Here's how to make this happen.
1. Share it on social media …a lot
This is the first, easiest and most important step, so we're going to spend extra time on it. This is important. Our goal is to share it many times on many networks.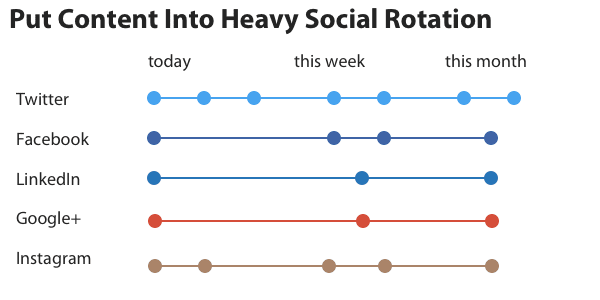 When you share it on social media, mention the writer. Giving them credit …and thanks. Here's how I thanked Alex Rynne for including me in a post on the LinkedIn blog.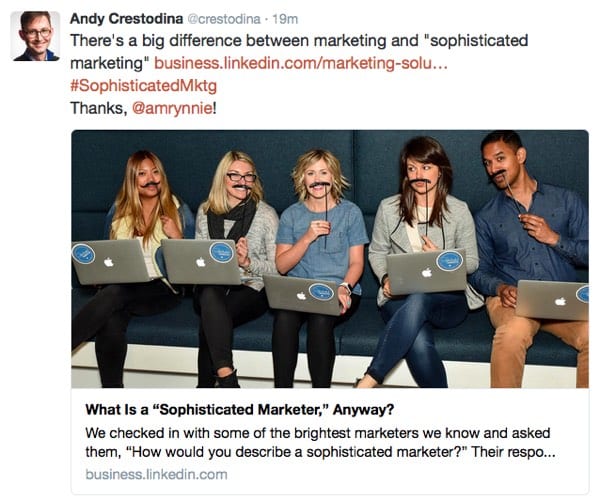 Now, share it again and mention the publication. This will get the attention of the marketers at the brand, thanking them …and giving them the chance to reshare it.

Next, if anyone else is mentioned in the article, include them in the next share. This will bring it to their attention and might enlist their help in sharing and driving more traffic.

And of course, use hashtags, questions, numbers and any other trick to drive reshares and clicks! You can set up all of these shares at once using social scheduling, or set these up using social media automation.
---
Virginia Mann, Public Relations, Corporate Communications & Public Affairs Strategist

"Don't forget about Reddit. Although having a smaller audience than some of the other social media platforms, Reddit can really help your story take-off. Especially if your target audience is younger than the baby-boomers."
---
2. Find other people who shared it. Share it again, thanking them.
The tactic isn't as obvious. But it has huge networking benefits. First, we're going to find people who shared the article using BuzzSumo. Enter the address of the article, then click "View Sharers."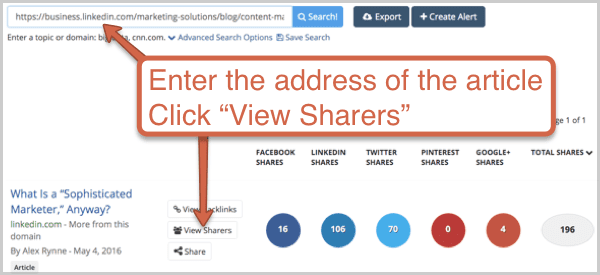 Now you're looking at a list of everyone who shared the article on Twitter.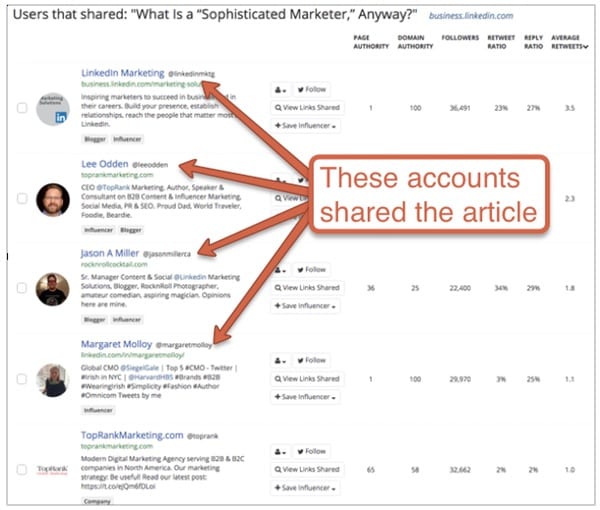 You can sort them by the size of their following or their likelihood to retweet. Next, share the article again and mention them.
If they look like a blogger, journalist or editor, we'll want to take extra steps to connect with them. Those tips are coming soon.
3. Check the publishers social media accounts
If the story appears in the Twitter, Facebook or LinkedIn accounts for the publisher, be sure to like, comment, share and retweet it. This will further expand the reach and show the writer that you're paying attention and helping to promote, especially if you mention them again.
4. Add it to your next newsletter, send it to your mailing list
If you have a list and your email strategy has room for it, add the article to your next email. After the email goes out, make sure to forward a copy to the writer, letting them know that you shared the article with your list.
5. Link to it from relevant pages and posts on your site
Depending on the topic of the article, it may be perfectly natural to link to the media mention from a page or post on your site. When you add the link, consider mentioning the article and the publication.
Then (of course) share the page with them, letting them know that you're doing everything possible to drive traffic their way.
6. Mention the press piece in answers within Quora, LinkedIn or Facebook groups
Are you active in any LinkedIn or Facebook groups? Do you ever answer questions on Quora? These are all places where you can drop in a link to the article. If possible, mention the writer.
Now that it's obvious that you'll do anything possible to drive traffic to any piece that you're mentioned in, you are much more likely to be mentioned again. But it's still important to follow up and build a stronger connection with the writer. It's time for some networking.
Networking
Now we'll use the media coverage to grow relationships, starting with the blogger or journalist who wrote the piece.
7. Send a handwritten thank you note to the blogger, editor or journalist
It's the forgotten inbox. Putting your handwritten thank you message in their mailbox immediately separates yourself from 99% of other marketers. Just get out a pen, write something thoughtful and add a stamp.
[Tweet ""Thank you notes are a networking secret weapon. – @crestodina""]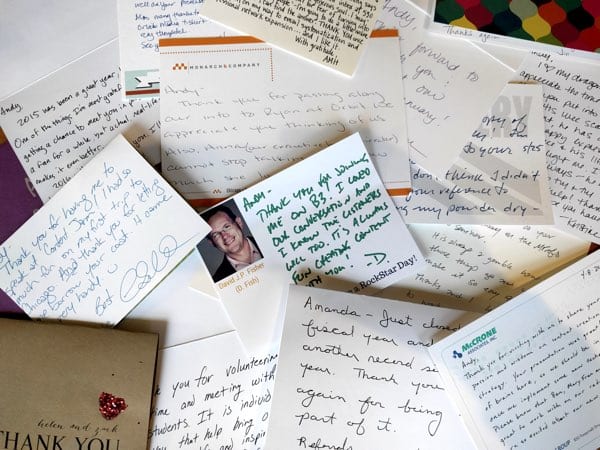 8. Ask your community to thank the blogger, editor or journalist
Next, have a few friends or superfans send a quick note to the writer. This will be unexpected surprise. It shows that you have connections who are paying attention. It's also a good way to connect good people who may be valuable connections for each other.
9. Connect with the writer on LinkedIn
If you haven't yet, make sure to send a quick LinkedIn connection request. The request itself can be another thank you message.
10. Add the writer to your list
Another way to keep better track of the writer (and all other writers you know) in social media is to add them to Twitter lists and Facebook groups.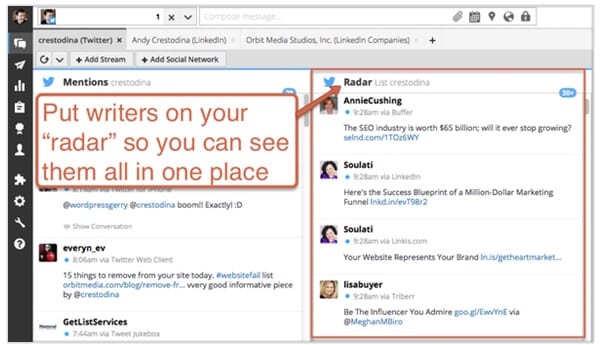 11. Invite the writer to your next event
Do you have your own event? If so, invite the writer to attend. This will build a better connection, and it might lead to a bit of press for your event. Inviting writers it a great way to promote events.
Are you going to an upcoming event? If so, invite the writer to go with you. Maybe you can meet up for coffee beforehand or a beer after. Inviting others is a great way to get more from an event.
12. Send the article to other journalists, press outlets and bloggers
Now we go beyond the original writer, to other bloggers and members of the press. They may be interested in writing something similar for their audience or consider you as a source for another topic.
Once you have press, it's easier to get more of it. The goal here is to create a snowball effect. Here are a few places to find more members of the press:
…when you share it with them, mention how well it performed, including the number of shares.
13. Send the article to bloggers who write roundups
Bloggers who write roundups are always looking for something to include. If the article seems to fit within their content strategy, send a quick message suggesting they include it.
14. Email the link to top prospects
Here's how to use media coverage to directly impact sales:
If there are leads already in your pipeline, you may be looking for reasons to reach out to them. A press mention is a perfect reason to do that.
If there are companies that you'd like to connect with, a press mention is a good way to reach out. Just find the relevant person on LinkedIn, or ask a mutual connection for an introduction.
A short, simple email with a link to the article is a smart way to get on someone's radar and build your credibility.
Pro Tip! This is sales activity in a world of crowded inboxes. The article is really just your reason to reach out. But if you want to know if they clicked the link or not, use a URL shortener like bit.ly. This way you can track the link. If clicks = 0, they didn't read it. If clicks = 1, they did!
Analytics and Search Optimization
Here we get to some of the most enduring benefits of a media mention: search engine optimization
15. Check for the link
If the media mention links to any page on your website, you just had a great day for SEO. Links to your website are authority. And authority increases the likelihood that anything on your domain will rank.
This is why PR professionals have such a huge ability to affect search rankings. The key is to understand the value of links and capture the opportunities of press mentions.
To measure the general value of a link (or a potential link) enter the URL of the publication's website into Link Explorer. This will show you their "Domain Authority."

Note: The specific value of the link from a page is equal to the "page authority" of that page. But for now, let's keep things simple and focus on Domain Authority. Here is a complete explanation of how Domain and Page Authority works.
Every link matters, but links to your site from high authority sites matter much, much more. As a general rule, you should actively try to win mentions (and links) from any site with higher Domain Authority than your website.
If you are serious about your search rankings, you should be active enough in PR to get mentions and links to your website on a regular basis.
For years, new links were visible in the Acquisition > Social > Trackbacks report in Analytics. This report is gone now, but here's what it looked like for a brand that was good at search-savvy PR and a brand that was not…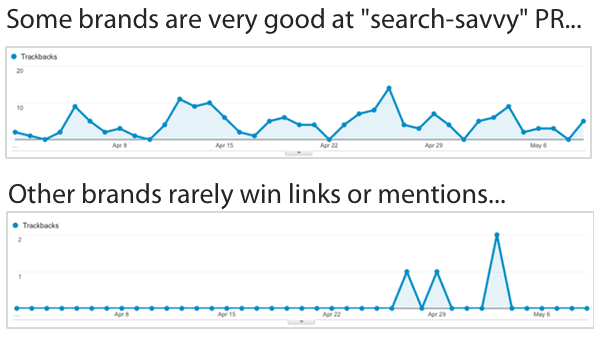 When you understand the value of these links, and their impact on search rankings, you look at media coverage differently. You never want to miss the chance to get linked or mentioned. Eventually, you look at your PR differently, and you actively create content that is worthy of press and links.
If you've been mentioned by the press and that mention didn't include a link. Look for ways to reach out and politely ask that the publication link back to you. If they do, celebrate. If not, move on!
16. Add an annotation
Months or years from now, it will be hard to remember what caused the traffic bump. Or even days from now, someone on your team might ask about that spike in traffic. Adding a note into Analytics will help.
Annotations are tiny notes that appear under the timeline in Analytics reports. You can add them by clicking the tiny gray triangular arrow below the timeline on any report.

Now you can type in a note associated with any day. When you do, start the note with "press" or something similar, to quickly differentiate it from annotations about other things, such as newsletters or website changes.
Leverage Trust
The final checklist of things to do after you get press is all about trust.
17. Add an "as-seen-in" logo to your home page
The "halo effect" is a bias that we all have built into our brains. When you see the logo of a credible brand, such as a news publication on a website, the website looks more credible.
If the publication is a well-known brand, take a minute to add the logo to your home page. It doesn't have to link to the article. In fact, it's better if it doesn't, since you don't want your visitors to leave your website.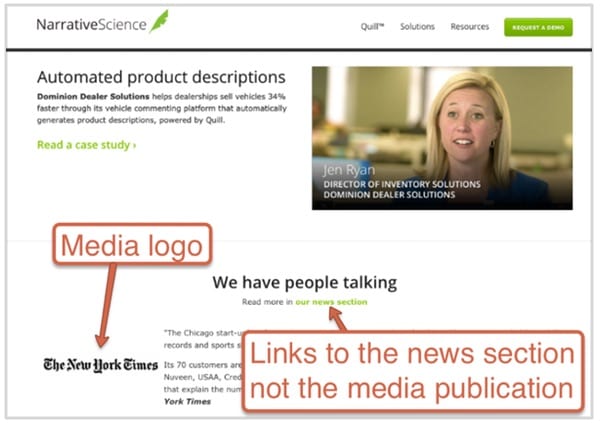 But if you put the media coverage in your news section, you can link to it there…
18. Put an excerpt in your news section
Here again, you don't really want to send visitors away from your site. To keep your visitors from leaving, write a summary of the article as a news story, using excerpts. At the bottom, you can link to the press piece, but ideally, you've explained the article in such detail already, your visitors won't really have a reason to click.
19. Pull out the best quotes and add it to your top page or marketing materials
Any quote from the article will make for a great blurb. It adds trust and credibility since the name of the publication will appear right next to the blurb. It can look like (and work just as well) as a testimonial.
20. Update Your LinkedIn Profile
A short list of all the places you've been mentioned can be added to the summary of your LinkedIn profile. These can appear as text, or you can make them more visual.
Create a small graphic, showing the name of the publication and the title of the article. This can be added as "media" to your summary. The dimensions are 280px by 135px.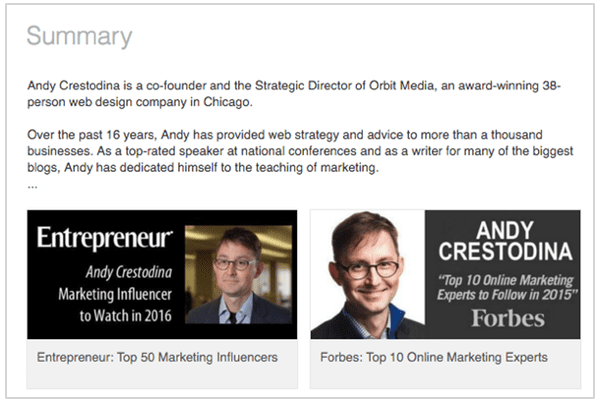 See those little pictures at the bottom of my LinkedIn summary? Yup. I made those myself!
21. Order a mounted plaque
Companies are probably already contacting you, asking if you want to buy a mounted plaque. It's a business. But if you have a physical space with a welcoming lobby area, hanging that plaque can build trust in your brand with anyone who walks through the door.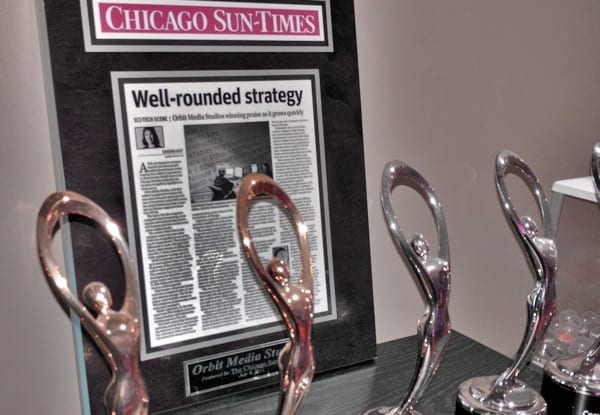 Bonus Tip! Write a "behind-the-scenes" blog post
---
| | |
| --- | --- |
| | "Write a blog post (or series of blog posts) about the behind-the-scenes experience of how the interview or story came about. In many cases, you'll have several interviews and a photographer will come out and spend a couple of hours with you. Write about that! People love that stuff they'd never otherwise see. If you are on television or radio (or a podcast), use the outtakes that don't make the actual piece and create a behind-the-scenes look. If there are funny outtakes, put together a two minute video of all of your screw-ups. You can easily get three to six additional pieces of content from one media story." |
---
Finally, put it on the fridge at mom's house
Print it and put it on your mom's refrigerator. She'll be so proud…
Any other ideas on things to do maximize attention from the press? We'd like to keep this article updated. Leave a comment with any more tips and help make this a better article. Or share any other thoughts or questions!