A year of flux. 
Some businesses are busier than ever. Others are basically shut down. It's going to be a very uneven recovery.
The digital marketers we know are mostly very busy. But is that true across the board? We have some questions:
Has the pandemic impacted job opportunities for marketers? 
What about salaries and compensation?
Every 18 months, we step back and look at the various marketing jobs, to see how both the roles (job descriptions) and the compensation (salary and benefits) have changed. This is our fourth Marketing Compensation Report. 
Here are the updated marketing salaries, followed by the detailed job descriptions for each marketing job title.
The marketing salary guide
These marketing job salaries aren't starting salaries. They are median total compensation numbers based on reports from two sources: Glassdoor and PayScale from 67,000 individuals in the US from the last five years, with various marketing job titles.
First, the data. Then, our commentary.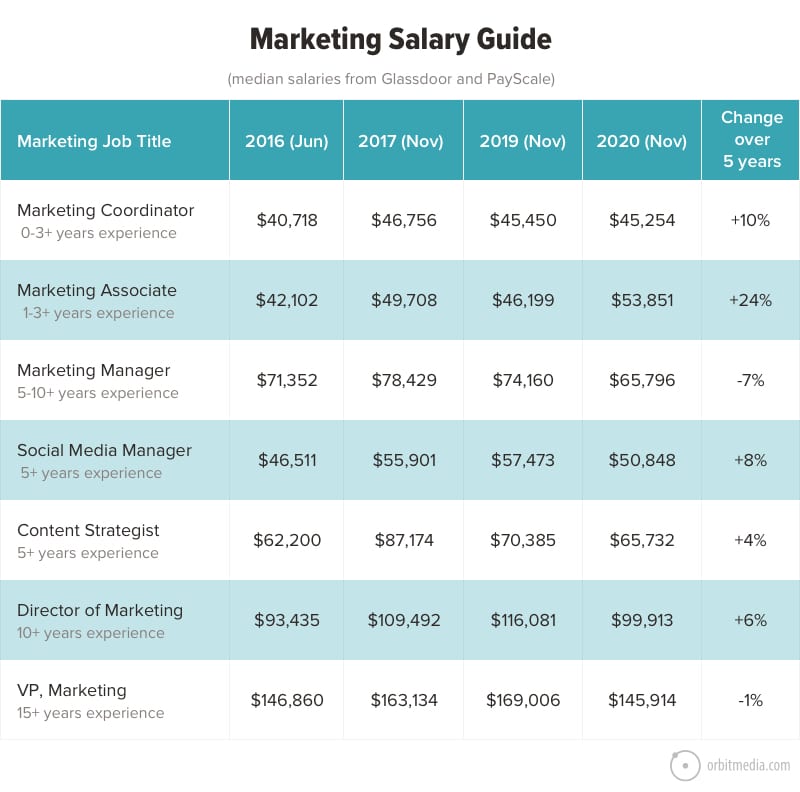 The data shows a drop in salary for all but one of the marketing positions over the last 18 months. Here are the trends for each of these marketing job titles tracked over the last four and a half years: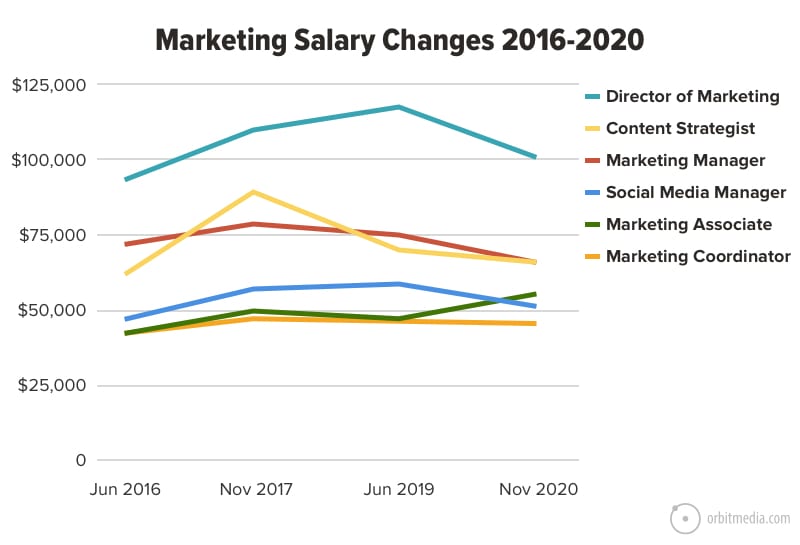 A few important caveats about this data:
This is self-reported data
Glassdoor and PayScale rely on employees reporting their own salaries and are not verified. Crowdsourced salary data is not 100% reliable.
Marketing compensation varies widely
Industry, company size, geography and experience are major factors. For example, Marketing Director compensation ranges from $42,000 to $162,000.
This is salary, not total compensation
It's gross income before taxes and deductions. It does not include benefits or bonuses. The total compensation (including paid time off) is generally 30% higher than what the employee sees on their paycheck.
Has compensation for marketers declined?
Not according to the US government. 
To see a larger, more credible dataset, we looked at 10 years of data from the Bureau of Labor Statistics.
This has a lot more data, but it is not as granular. All kinds of marketing positions are grouped into a category called "Advertising, Promotions and Marketing Managers." This likely includes most of the positions listed above, including the more senior roles, which may explain why the salary numbers are much higher.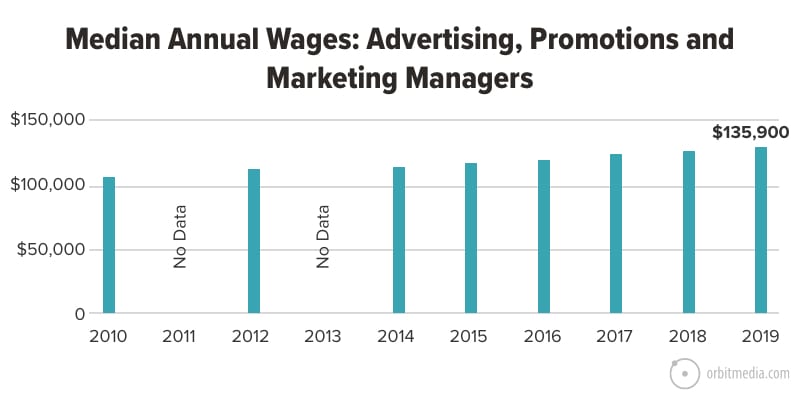 BLS shows wage growth of 25% over the last 10 years. They also predict growth in opportunities, reporting that marketing jobs are projects to grow at a faster rate than other jobs: 6% vs. 4%.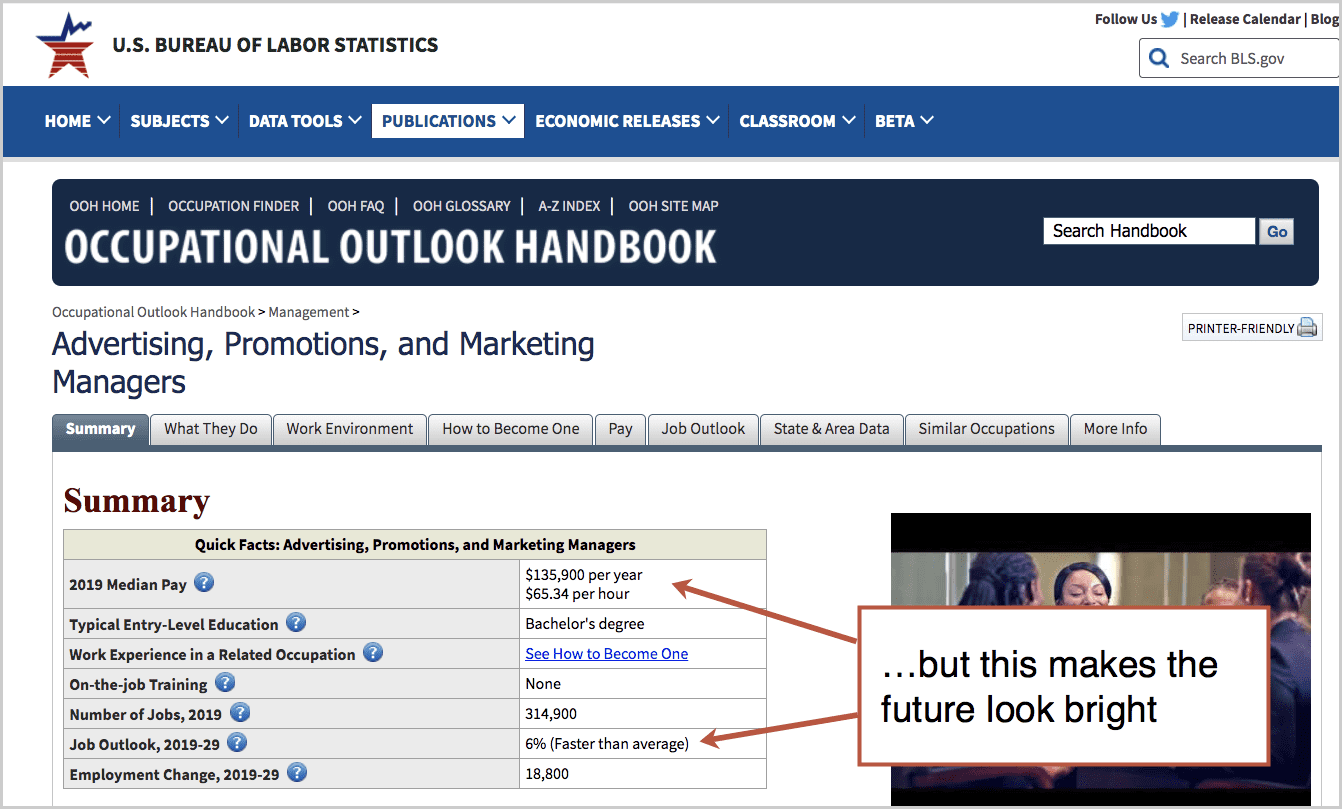 source: U.S. Bureau of Labor Statistics
Has Covid affected compensation for marketers?
The BLS data is for 2019, so it doesn't include the 2020 recession. Monthly data specifically for marketing roles is not available. But the Bureau for Economic Analysis shows monthly income changes for the overall US economy. 
Here's what the 2020 picture looks like: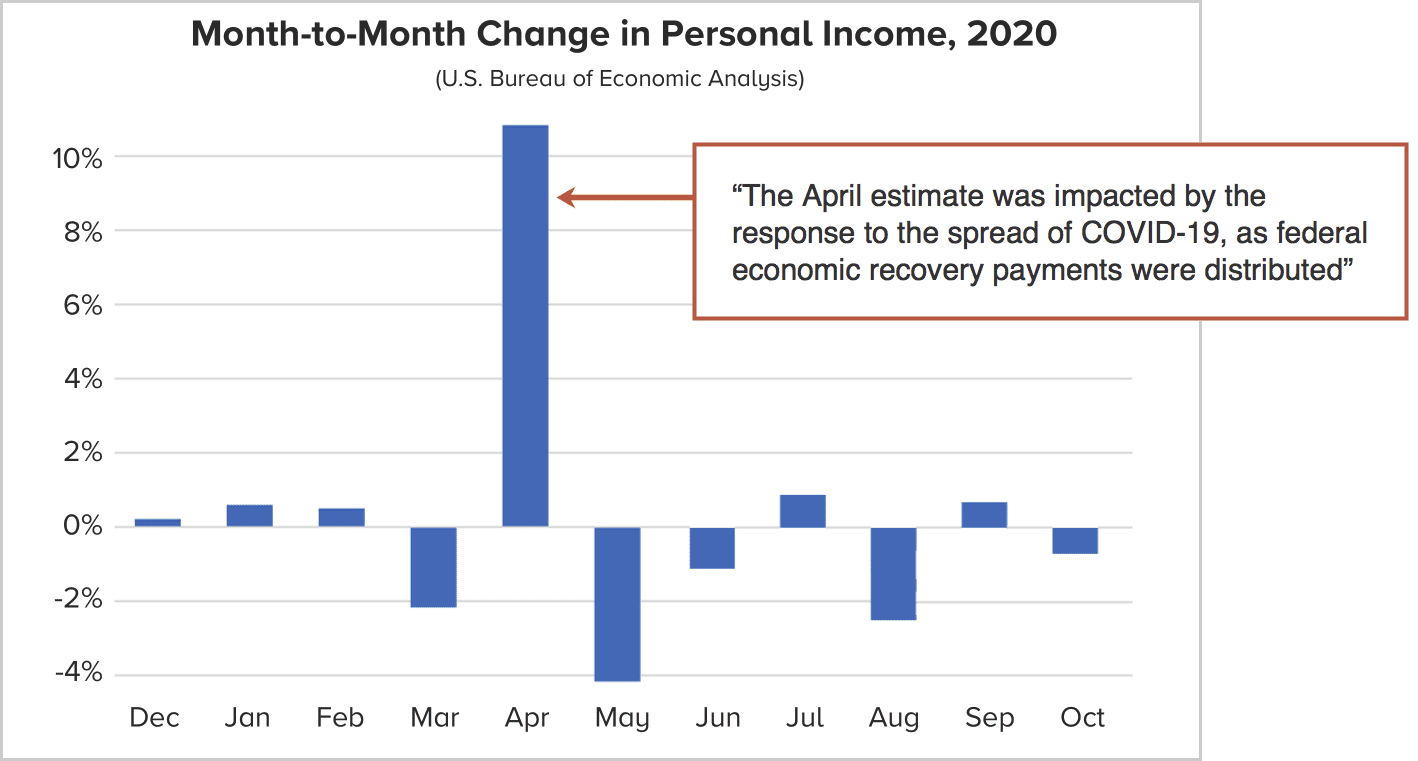 Stimulus payments aside, compensation hasn't grown in the Covid era. But marketing seems to be holding on. In our own survey of 100+ marketing agencies, we found that headcount is holding steady.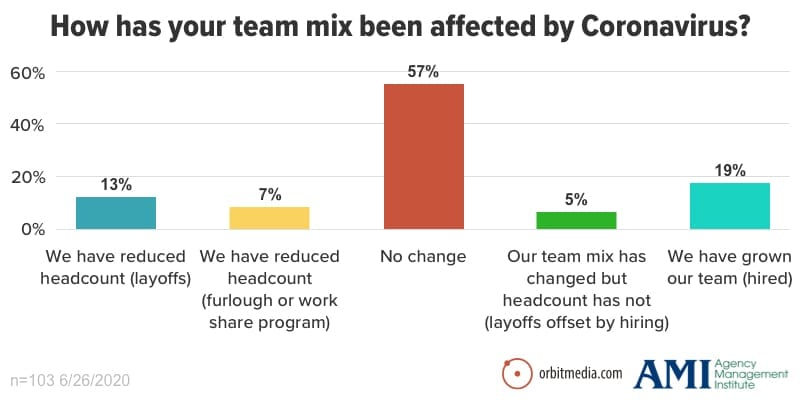 We asked Drew McLellan if he's spotted any job marketer changes for marketers in 2020…
---
"We work with and see the financials of about 250 agencies a year. I have seen no decrease in annual salaries due to COVID. Some agencies implemented temporary pay cuts or furloughed employees back in the spring, but almost all of them have reinstated full salaries and brought the furloughed employees back.

 As agencies have hired in 2020, they've had a broader selection of candidates and felt like they didn't have to inflate the offer just to be considered. It's definitely easier to find qualified candidates willing to accept normal agency salary ranges. But I haven't seen one agency deflate the normal salary ranges to get "a COVID bargain."
---
We also talked to Lynn Hazan, a local recruiter who works with marketers.
---
| | |
| --- | --- |
| | "Overall, during the Pandemic, we have received resumes from candidates whose positions were eliminated on both the agency and corporate sides. Marketing has taken a hit. However, candidates with more technical skill sets are very much in demand. I anticipate that healthcare and technology will continue to grow." |
---
Marketers in businesses that have been disrupted have been badly affected. But it looks as though salaries are holding steady. And some employers are still finding it tough to find talent. 
---
"Marcel Digital has been hiring for a number of positions all throughout 2020. We found recruiting in the first quarter to be relatively straightforward. There was a volume of resumes of targeted prospects. We were able to conduct interviews, communicate with references, make offers and onboard with little difficulty. 

The next 2 quarters and even into Q4 have become increasingly challenging. We believe the job market in Chicago is crowded with agencies looking for talented individuals. Both employers and prospective employees are looking for the right fit in this new normal."
---
Here is our take on a few more big questions:
Are more senior roles taking a pay cut?
It looks that way in the self-reported data on Glassdoor and PayScale, but there aren't enough reporting to say for sure. It's possible that some businesses that have laid off senior managers are hiring back at lower levels of pay. 
How does experience correlate with titles and compensation?
As titles grow, so does compensation, even when the job descriptions are pretty similar. Let's take a look. 
Marketing job descriptions:
Here are the descriptions of the seven jobs above. Consider this a "swipe file" that you can use to grab template job descriptions. You are welcome to copy, edit and adapt these to fit your open positions. Each description is available as a Word download and Google Doc.
---
Marketing Coordinator
Marketing Coordinator supports external teams through project support, program execution, collateral development, project support, sales programs, as well as via ad hoc requests.
Development and implementation of marketing strategies, including advertising campaigns, content marketing, product positioning and other projects

Monthly reporting on marketing data to aid management in making decisions

Manage and track social media accounts

Provide product/service support

Support day-to-day operations including marketing campaigns and promotions

CRM management: Maintain databases of prospects, clients and vendor databases

Robust repertoire of sales approaches across various channels

Trade show and live event marketing and management
Qualifications:
Resourceful, self-starter

Experience working with agency/client partners

Graphic design skills (InDesign, Photoshop, etc.)

Proficiency across various social platforms and management tools (Hootsuite, Sprout Social, Buffer, etc.)

BA / BS / MBA Marketing, Journalism, Communications, Finance or equivalent work experience
How much do Marketing Coordinators make?

The median Marketing Coordinator salary in 2020 is $45,254.
---
Marketing Associate
Support online and offline marketing and advertising initiatives with the goal of expanding brand awareness within targeted, relevant audiences.
Execute strategic marketing plans and strategies

Research and develop successful marketing plans focused on direct sales and promotions

Monitor, measure and report the effectiveness of marketing initiatives against success metrics such as click through rates,, traffic, conversions and A/B testing results

Drive consistent, relevant traffic and leads from our social network presence and explore new ways to reach and engage our target buyers

Craft content for various social channels

Maintain regular contact and communication with senior event coordinators and client partners

Work closely with sales and customer service teams
Qualifications:
1-3 years marketing experience

Strong organizational and project management skills

Experience in website CMS, email marketing, CRM and Analytics

Basic HTML / CSS

Experience with office applications, specifically spreadsheets (Excel, Google Sheets)

Knowledge of database marketing, targeting, and segmentation

BS in Business / Marketing or equivalent experience
How much do Marketing Associates make?

The median Marketing Associate salary in 2020 is $53,851.
---
Social Media Manager
Engage with communities and clients through social media channels, with the goal of web traffic, lead generation and revenue. Create, execute and revise social media strategy and social media marketing blueprint.
Search optimization knowledge: strategy, gatekeeper, manager of voice and brand.

Social media expert: determine / manage what types of content works best on what platform, optimizing content accordingly, as well as understanding the different nuances of each platform; know how to engage an audience through social media posts and interactions, and should, hopefully, find some joy in doing just that.

Customer service: know how to best communicate with customers and audience members; handle all customer interactions; social media presence is your brand's face online.

Social media management: know how to use leading online tools to direct marketing strategies.

Copywriting skills: Creativity; convey ideas in a clear and precise way.

Visual intelligence: knows what images will work, and when; have general knowledge of design in order to create visually appealing graphics to coordinate with appropriate posts; video an ever-increasing component of social media strategies.
Qualifications:
5+ years of experience in social media strategy and execution

Strong understanding of the various audience types and best practices to optimize social engagement and drive traffic

Excellent written and editorial skills

Strong analytical skills, especially with respect to experimental design and analysis

Familiarity with social platforms and popular social media management tools

(Hootsuite, Sprout Social, etc.)

Strong understanding of direct response marketing principles and methodologies

Proven experience growing engagement organically

BA / BS / MBA in Marketing, Journalism, Communications or related discipline required
How much do Social Media Managers make?

The median Social Media Manager salary in 2020 is $50,848.
---
Content Strategist
The content strategist works closely with interaction designers, visual designers, product and project managers to:
Gather business and technical requirements

Analyze user and business needs

Define user requirements inventory and analyze existing content

Write, edit, and proof content

Develop and modify standards and guidelines

Facilitating user-centered participatory design sessions

Creating content strategies for large projects

Participating in team meetings

In addition, the content strategist works closely with business partners to consult on long-term and short-term online content strategies.
The responsibilities of the content strategist range from the highly tactical (sometimes making minor content corrections or updates) to the highly strategic (leading design teams or facilitating sessions with executive staff to discover creative solutions to business problems).
Qualifications:
5 years experience working in interactive design environments as a content strategist, copywriter or related position

Deep familiarity with user-centered design principles

Superb communication skills: this means the candidate will be able to articulate clearly — verbally (in large group settings as well as one-on-one) and in writing — the primacy of the user-centered design as well as the specific contribution of the content efforts

Experience creating content strategies and writing copy for public-facing websites

Prior experience as an online content strategist/producer or directly related experience

Excellent organizational and project management skills with experience managing multiple projects with competing priorities

Strong knowledge of web development technologies

Able to work independently, solve problems and translate complex business requirements into actionable project goals

Good attention to detail with strong written & oral communication and presentation skills

Bachelor's degree or equivalent experience
How much do Content Strategists make?

The median Content Strategist salary in 2020 is $65,732.
---
Marketing Manager
Manage brand messaging via marketing, advertising and promotional activities. Ensures relevant metrics are measured, benchmarks met, staff performance enhanced, and managed communities enriched through assigned goals and objectives.
Oversee the delivery of optimized media campaigns across all platforms, content and advertising, online and offline

Measure performance of marketing activities using Google Analytics and other reporting tools

Demonstrates company values at every opportunity

Coordinate marketing campaigns with sales objectives

Oversee creation and delivery of press releases, advertisements, and other marketing materials

Design online/print ads and publications

Work closely with departmental heads and external agencies to ensure and implement consistent brand deliveries across all channels

Manage marketing vendors, spending and budgets
Qualifications:
5-10 years of marketing experience

Strong analytical and project management skills

Proficient with basic office and productivity software

Excellent written and verbal skills, time management, decision-making, presentation, organizational and problem-solving skills

Analytical/reporting skills

Experience with enterprise software solutions and large, complex organizations

Experience in all aspects of developing and maintaining marketing strategies to meet organizational objectives

Experience in developing and executing integrated new business, cross-sell, upsell, and retention campaigns

BA / BS / MBA in Marketing, Business or Communications or equivalent experience
How much do Marketing Managers make?

The median Marketing Manager salary in 2020 is $65,732.
---
Director of Marketing
Demonstrate leadership and expertise in marketing. Be savvy in various forms of online and offline demand generation. Charged with leading a wide range of community experiences and becoming the brand voice.
Ownership of all marketing functions and resources

Set marketing strategic and tactical direction in collaboration with senior management and sales leadership

Govern all marketing project, activation, and go-to-market plans

Routinely provide management with detailed reporting which includes – but not limited to – customer behaviors and sentiment, market/competitive conditions, industry/economic trends, product performance and campaign performance

(ROI)

Manage marketing-related budget items

Manage the onboarding and development of marketing staff

Oversee the creative/branding process, ensuring all benchmarks are met and systems enforced

Maintain a library of marketing collateral, ensuring content is authentic and with certification or royalty-free

Manage and support all partner and vendor relations associated with the organization

Collaborate, when necessary, with industry leaders to achieve 'best practices' and strategic alignment

Stay current on digital and strategic marketing trends and adjust strategies accordingly
Qualifications:
A minimum of 10 years of work experience in marketing and communications, with a focus on building and executing industry-specific marketing programs

Strong creative skills and proven track record of design oversight and maintaining brand standards.

Experience with architecting and designing campaigns

Proficiency in content management systems and content governance process.

Experience managing online advertising campaigns

Experience developing integrated demand generation strategies and executing campaigns with a proven record of supporting sales to meet and exceed pipeline and revenue targets.

Experience A/B Testing, Analytics and marketing automation

Excellent communicator with proven ability to clearly convey complex ideas and data in written, presentation and spoken formats to a variety of audiences including executive management.

Detail-oriented team player with cross-functional project leadership and strong team management skills.

Proficient with creative software, such as PhotoShop, Illustrator, PowerPoint, etc.

Ability to use data for decision-making in combination with intuition, common sense and judgment

Ability to work independently, take direction from others, solve problems with limited supervision, prioritize tasks, and meet deadlines

A collaborative work style, innovative thinking, strong work ethic

BA / BS / MBA in Marketing, Journalism or Communications or equivalent experience
How much do Marketing Directors make?

The media Marketing Director salary in 2020 is $99,913.
---
VP of Marketing
Responsible for determining and leading the strategic direction for the organization's marketing functions including positioning, brand awareness, driving demand generation and lead nurturing.
Devise and oversee market research and intelligence needs and work closely with colleagues to implement initiatives

Oversee and guide partner marketing, creative and communication strategy

Proactively conceptualize and develop cross-promotions with other divisions

Develops unique value propositions, business partnerships, category management, as well as call to action-oriented advertising and content targeted toward key customer segments

Achieves targeted results, ensures timely and effective execution of marketing tactics and promotions, and develops benchmark criteria to measure/analyze the efficiency and effectiveness of those promotions.

Conducts and analyzes market research to determine competitiveness, identify insights and implement actions.

Measures the effectiveness and of the marketing department and implement improvements as required.

Data-driven and creative

Carries out managerial responsibilities in accordance with the organization's policies and applicable laws.

Responsibilities include interviewing, hiring, and training employees; planning, assigning, and directing work; appraising performance; development and succession planning; rewarding and disciplining employees; addressing complaints and resolving any problems
Qualifications:
Proven experience in a Marketing Leadership role with a track record of driving financial results in highly competitive markets.

Extensive experience (15+ years) of increasingly more challenging marketing management responsibility including industry specific experience

Minimum of ten (10) years progressive, professional level industry experience, including a minimum of seven (7) years in a management, senior/ executive position

Strong market planning experiences which include evaluation and sizing markets, segmentation markets, development of value propositions and designing winning processes to achieve marketing objectives.

Track record of successfully leading a high growth potential operation while building significant business value and controlling costs

Demonstrates a strong customer orientation

Experience conducting global market research, marketing or advertising with an international focus

Experience with brand and communications strategy development and implementation

Experience designing and executing research projects to identify consumer habits and practices, satisfaction levels, product concept development, usage and awareness, purchase drivers, and branding and positioning

Experience in product marketing, new product development and product launch marketing research

Creative collaborator and skilled facilitator

Broad industry knowledge of emerging markets and technologies highly desired.

MBA in Marketing, Advertising, Sales or other business discipline required
How much do VP's of Marketing make?

The median VP of Marketing salary in 2020 is $145,914.
---
The marketer's career path
A career in any field is rarely a straight line, but there is a progression in job titles, from junior to senior. The job titles are listed in order of seniority. And since this is a content marketing blog, we've added a few jobs that are specific to digital.
Note: Notice how the salary data shows very little distance in salaries between the first two job titles, Marketing Associate and Marketing Coordinator. According to the data on Payscale, they are both more junior roles, which most often lead to a Marketing Manager position.
Common marketing career path: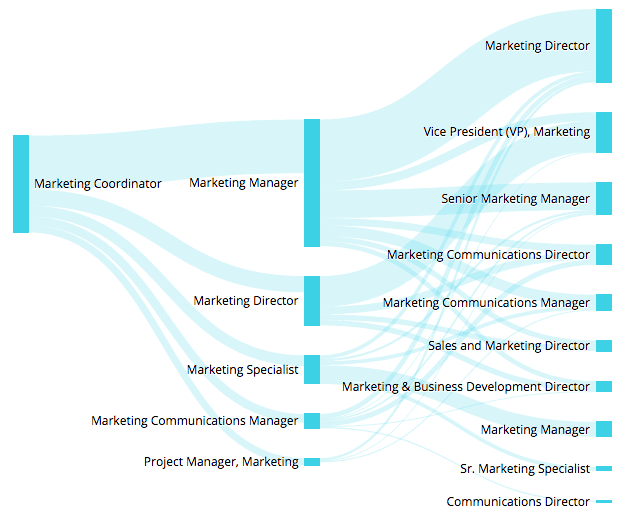 Source: Payscale
Marketing is a growing field
Our field is growing. According to the Bureau of Labor Statistics, the future holds a 6% increase in total number of marketing jobs in 2021. That's above the national average of all fields. The future is still bright for marketers.