For years, companies and promotion agencies have used contests and sweepstakes to build business. And somewhere along the line, marketing managers recognized the need for online components. Think about it: the goal is to boost involvement, so why not invite people to sign up online, at any time? Thus, sweepstakes websites were born.
All of this is very obvious. But what should a sweepstakes web design look like? How should it function? Let's break down the simplest types of sweepstakes sites and then look at some possible upgrades.
Site Fundamentals
Sweepstakes websites need to collect information. They need to promote the offer. They need a form that lets people submit. They need a thank-you page. And they need to tell people the rules of the offer.
Since the offer and form can both appear on the landing page, it's possible to build a very straightforward, 3-page site: offer/entry landing page, rules page, and thank-you page. That's a really small sitemap: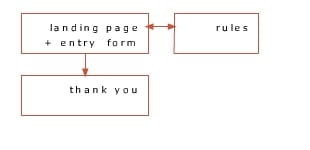 But it's always tempting to add more pages, so it's likely you'll end up with a 5 – 10 page sweepstakes website – something more like one of these:



Each of these sites was built by Orbit in partnership with various advertising agencies and Promotion Activators, a Chicago sweepstakes-management company. We-re always pleased to be part of a team and work with industry experts.
Behind the Scenes
So, what happens behind the scenes? When someone clicks Submit, three things happen:
The entrant is sent a thank-you e-mail. This e-mail can and should include more branding.
The entrant arrives at a thank-you page. Again, more branding!
The entrant is added to a database.
This database is easy to take for granted, but it's critical. The key issues are security and backups.
What would you do if something went wrong and you lost all your entrants halfway through the promotion? What legal issues would you have?
Be sure redundant backup systems are in place. If two backup systems are normally enough, use three. Orbit recommends (and uses) a triple-redundant system for storing sweepstakes information.
Backups are a hosting issue, so developers who provide their own hosting or hosting through a partner may offer a better system than an ad hoc group of freelance web designers.
Ask your team specific questions to make sure this is covered. Hosting is not a place to cut costs on a sweepstakes site. Expect to pay more than for a simple site. But keep in mind that these sites are typically temporary, so avoid a monthly hosting plan, if possible.
In my experience, server administrators who always look a little worried are better at their jobs than those who are always confident. These people get paid to be paranoid. You want someone who is planning for the worst and paying close attention!
Everybody Loves Viral
Let's consider web strategies and features that will give your sweepstakes better results.
First, we'll address the feature that everybody's talking about: viral marketing. In simplest terms, this is the "tell a friend" feature. With a little extra programming, you can add a Send this Contest to a Friend link on the thank-you page. But you can get even better results by taking it a step further.
Books Are Fun, a Reader's Digest company, wanted to encourage entrants to get their friends to play. But how? Simple: offer them a car (and other prizes), and give them more chances to win if they refer friends who also enter.
This required much more custom programming and design, since they needed to track the source and give credit to the referrer only if the referee entered the contest.
Features like this can get tricky fast, so plan carefully. But the results are often outstanding.
And don't forget to tell your friends just how effective viral marketing is!
Pick a Winner
The contest is over, and it's time to pick a winner. How do you get all the entrant information out of the website?
Ideally, your web-design company can create a simple tool that exports the entrant information. Most people want the data in an easy-to-use format, such as an Excel spreadsheet.
This export tool should be available anytime, even while the contest is still running. This allows you to check the results – even mid-contest.
Contact Orbit to discuss Online Sweepstakes Web Design »