On many websites, the thank you page is nothing more than two tiny words. That's a missed opportunity. The thank you page is your first interaction with your newly generated lead. Make it a good one by setting expectations. You've also got an opportunity here to create an even stronger connection.
This page should be more than a dead end with two lonely little words: "thank you."
When a website works, visitors take action. They become leads, buy products and subscribe to newsletters. It's called a conversion. Most conversions will trigger a series of events:
The website owner gets an email.
The visitor gets a thank you email.
Their information is stored in a database.
The visitor arrives at a thank you page or a receipt page.
Google Analytics records the conversion.
A visitor who takes action is likely to take a second action. So improving your thank you page is one of the easiest ways to improve website performance and lead them toward that second action.
Warning: Some websites don't actually send visitors to a page after they take action. These sites show a little thank you message, without going to a separate page with a separate URL. If you have a message, but no page, you won't be able to fully take advantage of these tips.
Here are some thank you page examples showcasing some of the best ways to use that opportunity to capture your user. To keep it interesting, we're going to pretend we're an adventure travel company.
Our fake company has a promotional marketing side and an ecommerce side. There are some distinct "Thank You" tactics for both, as well as some overlap. Our company will take on both.
1. Tell them what to expect next
The words "thank you" don't really say much. Visitors linger for a second, maybe say "you're welcome" (to no one), and leave.
So give them more information about what happens next. For leads, tell them when you'll be in touch. For ecommerce customers, tell them what to do if they're not satisfied. For subscribers, tell them when to expect an email.
Example: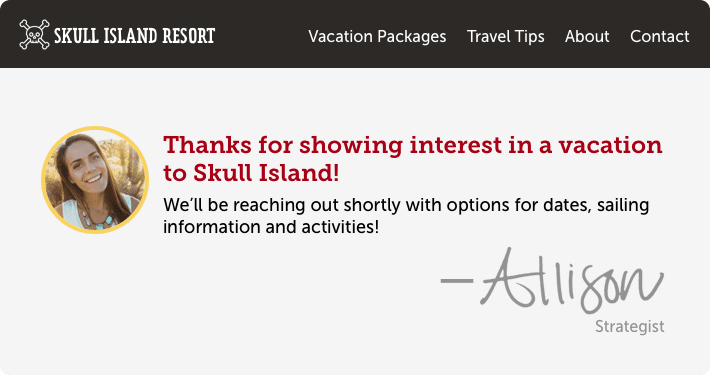 2. Offer to add them to your newsletter
As newsletters grow in importance, you should take every opportunity to grow your email list. Your visitor is interested in you. It's possible that they became a lead because they found your content useful. This means they may subscribe for more content if you give them one more opportunity.
Example: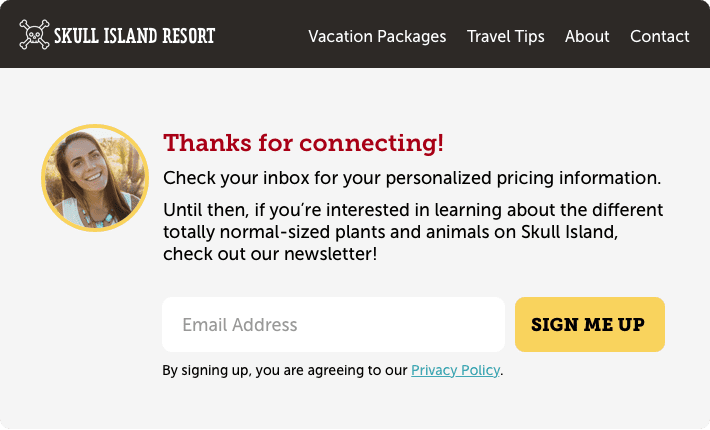 3. Add a video
If content is king, video is the emperor. Video is the best way to tell your story, and helps you grow revenue 49% more than with non-video.
If someone is already interested in you, that's an opportunity to heighten their interest and increase their understanding of your brand. Show them a video to deepen that connection.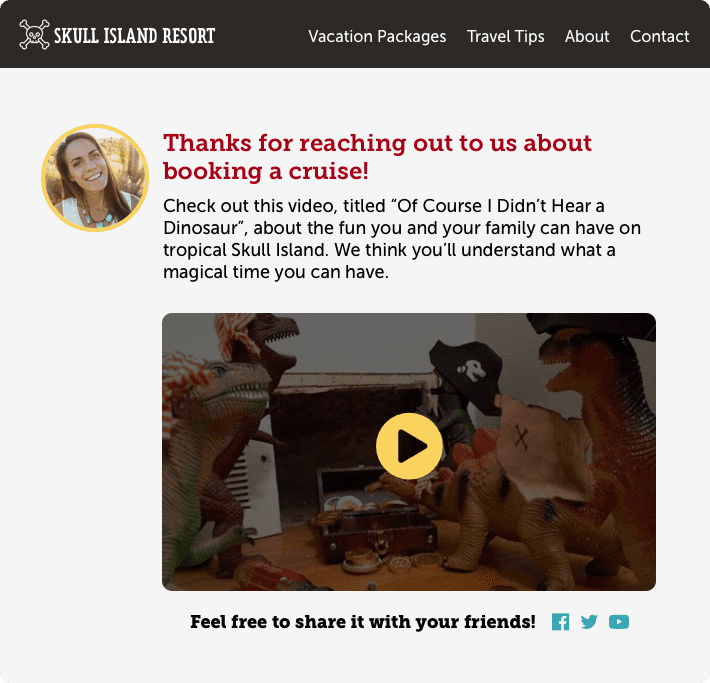 4. Suggest they follow you on social media
Encourage visitors to connect with you on social networks. Adding social media buttons isn't the same as a call to action. Give people a reason to take action by telling them what they'll gain by following your accounts.
Example: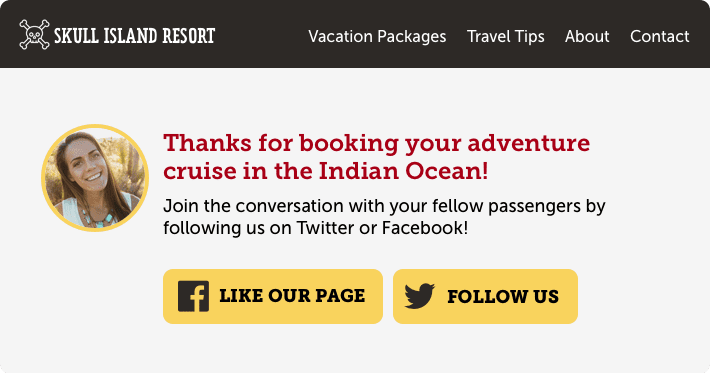 5. Show off your best content
The thank you page doesn't have to be the last page. Keep them around by linking to or embedding your best stuff.
This could be your most popular blog post, a video, a downloadable PDF or anything else useful. Keep the tone personal, and focus on providing additional value.
Example: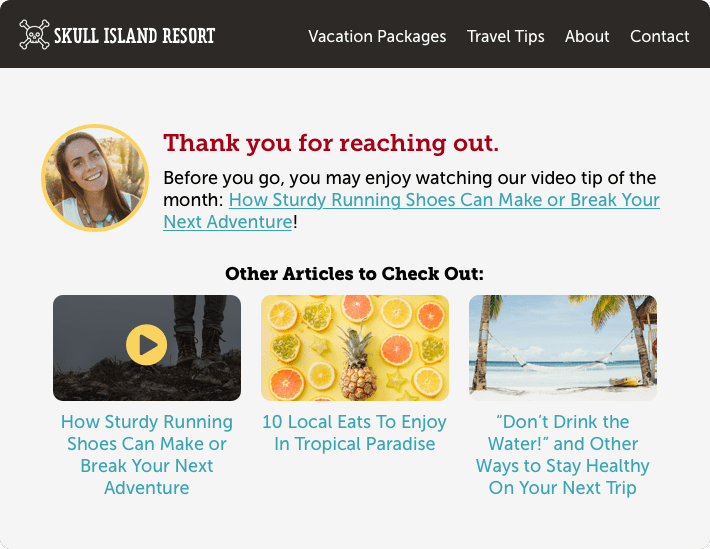 6. Show proof and build trust.
This thank you page example doesn't deepen engagement, but it does build credibility. Use "social proof" to show off evidence that you're legitimate, such as testimonials, links to case studies, "as-seen-in" press mentions and industry credentials. These can be repurposed from existing online reviews.
Example: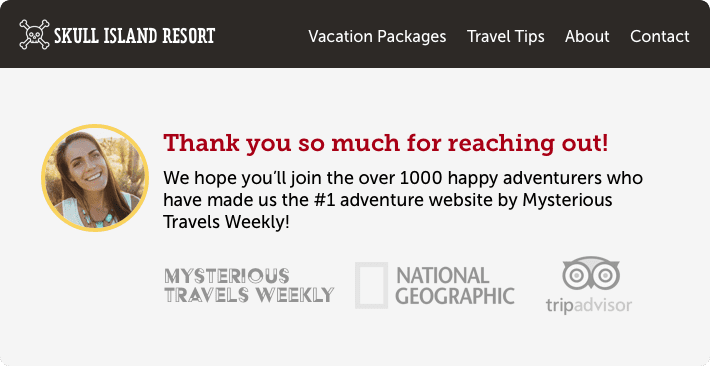 7. Ask a question or two
Try using your thank you page as a place to listen, rather than talk. This is a chance to add a mini-survey and get to really know your customers.
Keep it short (five questions or less), but get the information you need. Ask relevant, but not pushy "tell us a bit about yourself" questions.
You can also do a full survey if you'd like, as customers tend to feel good about you right after taking an action, but this is less likely to be filled out than a mini-survey.
Example: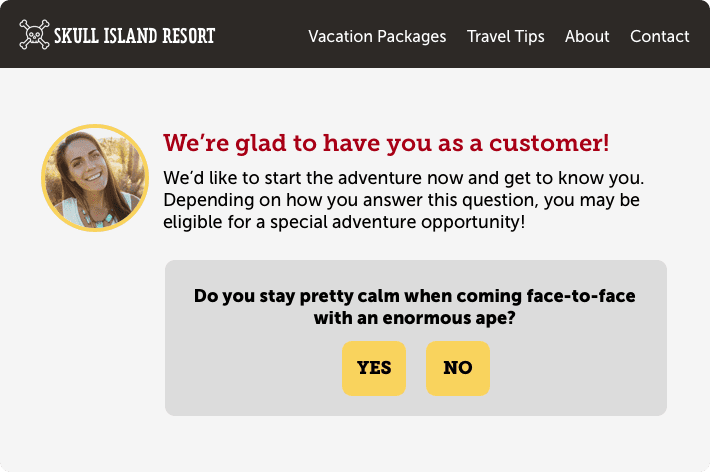 8. Invite them to an upcoming event you're hosting
The moment someone engages with you is the moment to make a connection. Inviting them to an upcoming event (whether in-person or as a webinar/video/etc) makes them feel like they are immediately part of your community.
You give them a chance to get more information and demonstrate that you are the kind of company that offers consistent value in a cool way.
Example: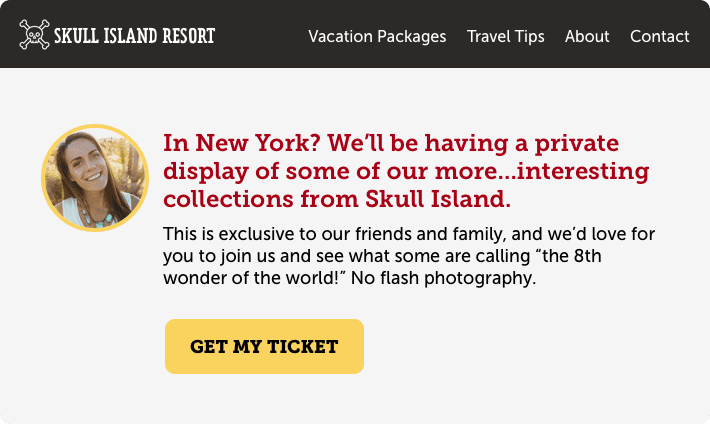 9. Send an auto-response email
Ok, so this isn't technically part of optimizing your thank you page but, they go hand in hand. Once your visitor has made it past the conversion stage and are on the thank you page, you still have one more opportunity to send them back to your website by using an email auto-response.
Have you noticed the "thank you" email you get after you register or sign up for something? This is the email auto-response. It's another opportunity to get them to come back to your website or join your social networks.
Example:

Thanks for signing up for our newsletter. You're now subscribed to receive our best travel tips newsletter every two weeks.

If you haven't seen it yet, you can find our latest blog post here. Feel free to connect with us and start up a conversation on Facebook, Twitter or LinkedIn.

Looking forward to helping you with your next adventure!
10. Let them create an account (ecommerce).
If you force people to create an account before buying, you may lose 30-50% of your sales. But if you offer to let them create an account after buying, as many as 40% may do it. We've learned this from our experience with several ecommerce clients.
It's a simple, but critical discovery: give people what they want first, and then they may give you what you want. Just make sure to emphasize the benefits and the ease of access.
Example: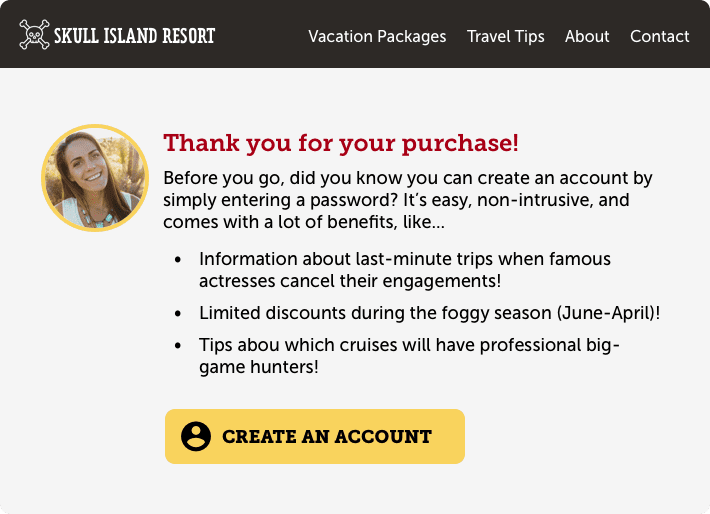 11. Give them a promo code (ecommerce)
The instant they become a customer is the best time to suggest the next sale. Amazon is the master of this, with brilliantly optimized thank you pages. They show you what other people like you have bought, or relevant items from your wishlist.
It's just one more click, after all, and they are items you want. This is the art of the upsell.
A simple promotion code can drive sales, especially if the offer is relevant and time-bound.
Example: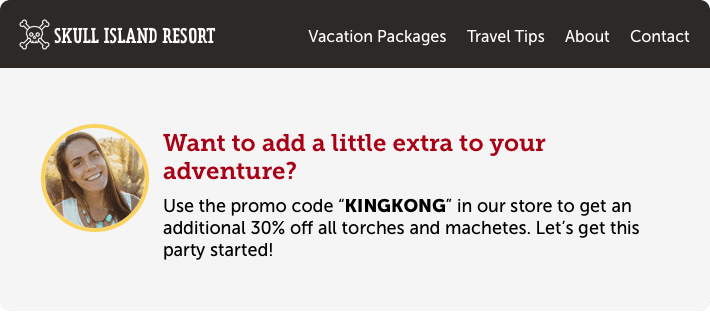 12. Tell them about an upcoming sale (ecommerce)
A promo code may last for a long time, and is a great thank you. But, informing people of an upcoming sale adds urgency, quickens a decision and lets them feel like they are already reaping benefits.
Example: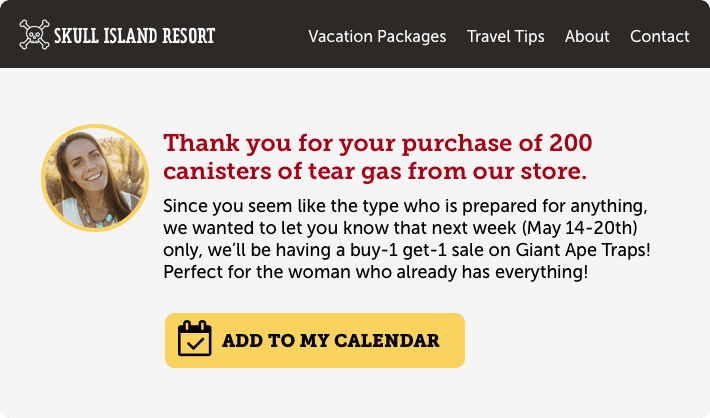 13. Give them the options for and benefits of inviting friends (ecommerce)
When someone makes a purchase from your site, they are (hopefully!) happy. And most people (hopefully!) like to spread that happiness.
This is a good chance to give them a link to send to friends and family to also make purchases. The chances of them doing so are especially heightened if you give them an incentive and reward them for doing so.
Example: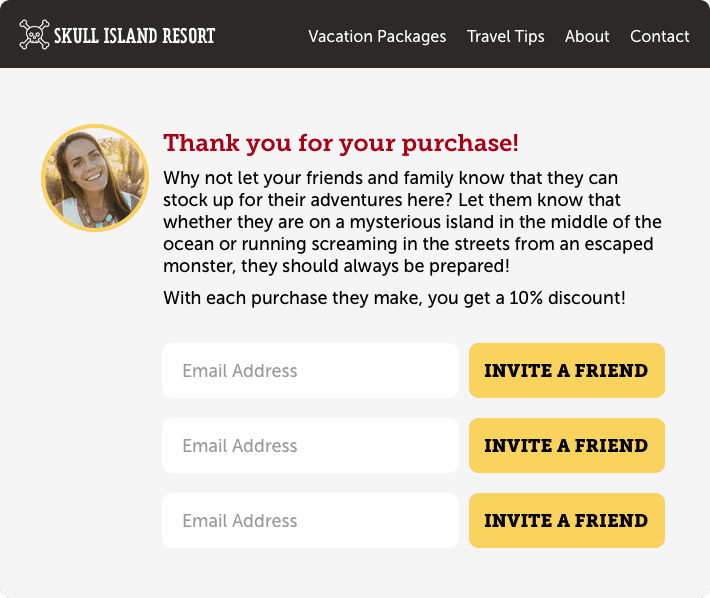 14. Tell them about your app
An app collects information for you and offers benefits for them. It is great for marketing, for distributing information, for collecting geodata. If you have an ecommerce portion of your business, it is a must-have.
When someone makes a purchase or expresses interest, direct them to your app. Let them know some of the important benefits and the ease of downloading your app.
Example: Thank you for booking a vacation with Skull Island Adventures! Before you go, be sure to download our free app, available for both iOS and Android. Our app gives you:
Carnivorous plant identifiers
Fog advisories (we recommend you turn off the alerts)
Trip-planning checklist (camera, thick rope, throat drops in case of screaming)
15. Add an extra CTA
Your visitor has already taken an action, but right now, they are jazzed about you. They're excited about what they've done, and might be ready to take another action, as long as it:
flows logically from what they have just done
isn't intrusive
Make it seem like part of their journey, and they might be likely to follow. This can spur them on from taking a tentative step to plunging in.
Example: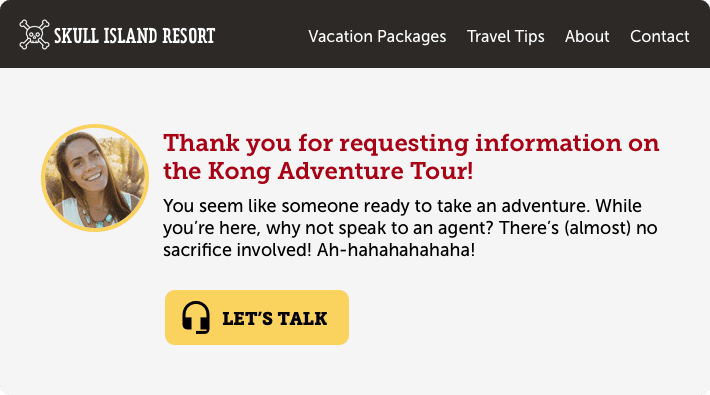 (Of course, depending on your business, you might want to back away from any maniacal laughter.)
You're Welcome
It's easier to deepen an existing relationship than create a new one. Focus on the people who already know you, while you have their attention. Try a few of these thank you pages to get subsequent conversions.
One last tip: make sure you set up a goal in Google Analytics for each of these subsequent conversions. Add the previous pages as funnel steps within the goal.
Thank you for reading this!