There are two main search ranking factors: authority and relevance. Relevance is about content and keyphrases. It's about the page itself. This type of SEO is about writing.
Authority is about links and mentions. It's about what happens on other sites. This type of SEO is about outreach.
We talk a lot about content and relevance on this blog, but what about authority? Not so much. So today we are breaking down the first, the easiest and the most basic authority-building strategy: link reclamation.
Sounds fancy! It's not. Here's the definition:
Link reclamation is the practice of listening for and finding mentions of a brand, checking to see if that mention is also a link, and if not, connected with an editor and asking them to make it a link.
It also sounds easy. It's not. It's a little bit tricky.
When done well, it involves tools and tact, which means taking your time. It isn't a one-step process.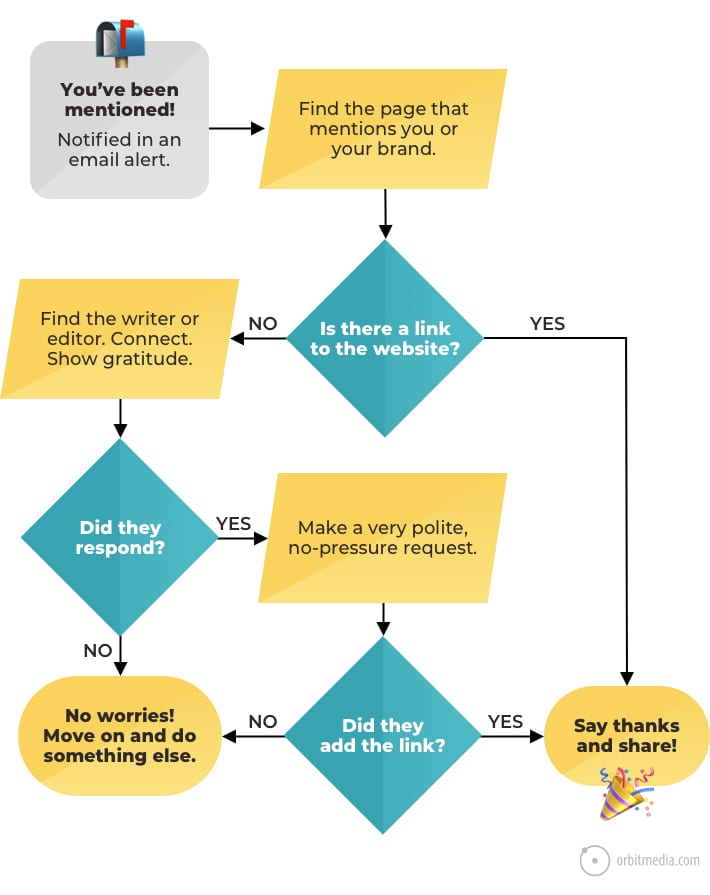 1. Set up listening tools
This part of your PR-driven SEO program is going to be on autopilot. A tool is going to notify you every time your brand is mentioned. If you're in PR or social media, this may already be familiar.
Media monitoring is a feature of PR tools. They look for brand mentions in news stories. These might have a big impact on SEO, but these tools don't report on the website's authority.
Social listening is a feature in a lot of social media management tools, but they only find mentions in social streams, which have no impact on SEO.
So we're going to start with a free tool from the PR world, then show a more powerful, but paid tool built for SEO.
Free and easy: Talkwalker Alerts
I first learned about this years ago from communications pro, Gini Dietrich. It's so simple to set up, you should go there now, set it up and come back. There are just a few simple settings. Here's what it will look like.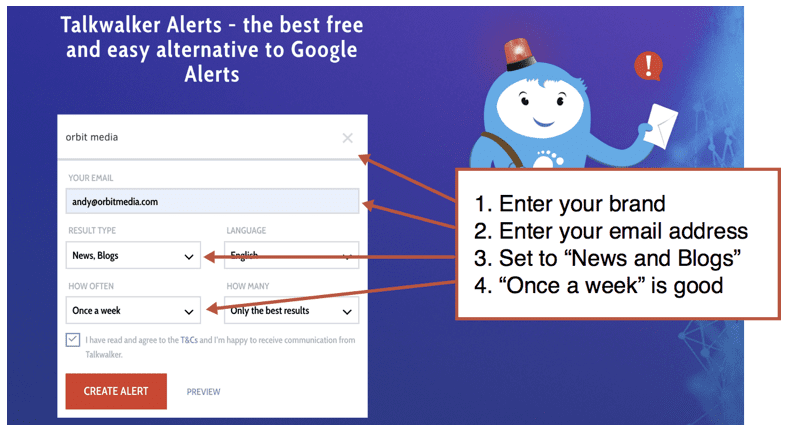 Easy, right? And it costs nothing. Why not just use Google Alerts? Because that tool doesn't really work anymore.
Now you're going to get a weekly email telling you if and where your brand was mentioned. It will look like this: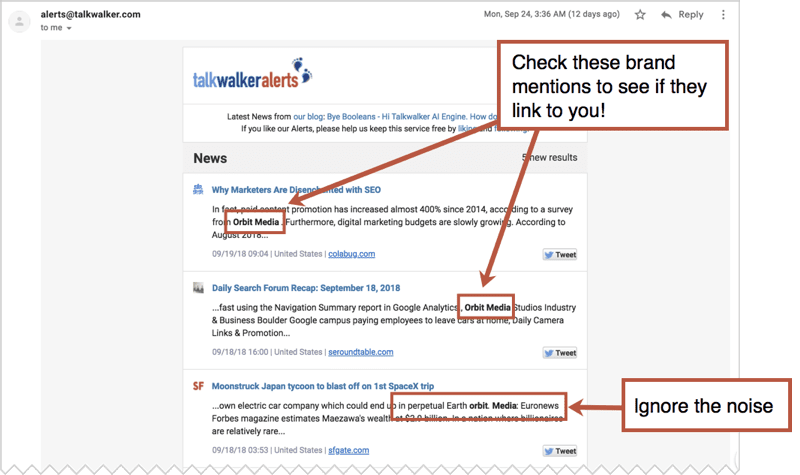 You can even skip the inbox and wire your alerts into a messaging tool like Slack.
---
| | |
| --- | --- |
| | "Want your notifications in near real-time? Use the free Talkwalker Alerts service, but instead of email (because who wants more email?), have your alerts published to an RSS feed. Then add this RSS feed to the Slack channel or instance of your choice. Slack offers built-in support of RSS feeds. Just follow these instructions and all your brand mentions will go right into Slack." |
---
Paid and powerful: SEMrush
Each of the major SEO tools has its own brand mention monitoring tool. They show much more than Talkwalker, including the SEO-specific authority metrics. They show the value of a link from that site to your site.
In other words, they show the opportunity cost if that site mentions you but doesn't link to you.
The SEMrush brand monitoring tool is a good example. You can see that the key information is right there, including the SEO value of the potential link. The reports look like this: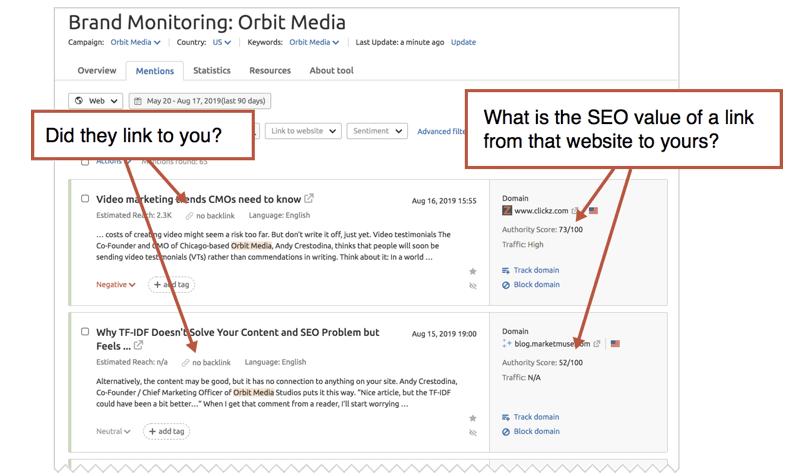 This tool also shows the estimated reach of the page (how many people will likely see it?) and lets you track or block the domain if it's either highly relevant or completely irrelevant.
If you're just using Talkwalker alerts, you'll have to measure the authority through another means. MozBar is a free Chrome extension that measures the authority of any domain you visit.
Note: Different tools have different names for authority, but they are all basically the same thing: proxies for Google's own (now invisible) metric for link popularity, PageRank.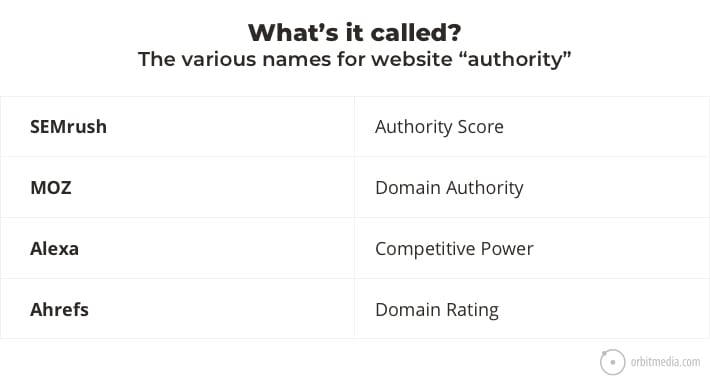 They each have their own algorithm and scale, so it's best to pick one and use it consistently. They all use a 0-100 score but don't try comparing them to each other. That'd be weird.
Regardless of the tool you use and the authority of the site that mentioned you, any link is a good thing. There isn't really such a thing as a "bad link." But if the authority is very low, you may not be as determined as you follow the next steps. Busy day? Let that one go…
Caution! Don't get too excited about links and mentions from medium.com and blogs such as  wordpress.com and blogspot.com. Although these domains have high authority, the page that links to you is one of millions on that domain. So the authority of that specific page (and therefore the actual value passed from that site to yours) is very low. These links have little SEO value, if any.
2. Check the page with the mention
Next we'll look to see if the mention was a link. Simply go to the page by clicking the link in the email alert. There are only two possibilities:
If the brand mention is a link to your website, yay! Your SEO is having a good day. Skip to step 5.
If the brand mention is not a link (as in, it's just body text and isn't clickable) and there are no other links to your website elsewhere on the page, proceed to step 3. Here's what that looks like: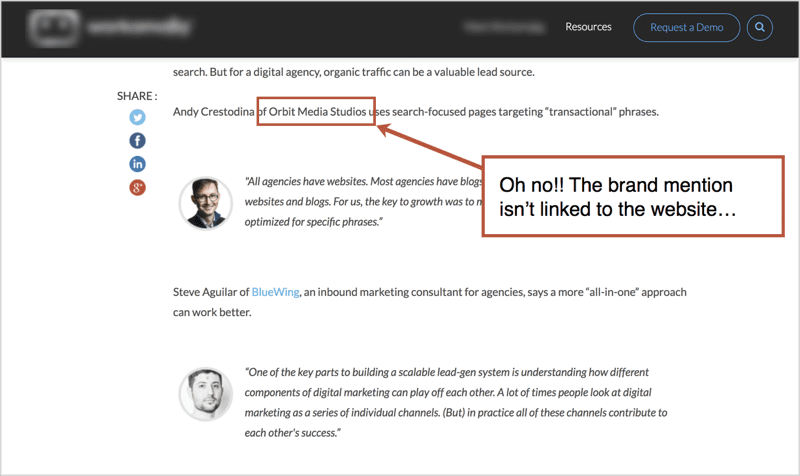 3. No link? Find and connect with the author
These mentions generally appear in articles and blog posts, which generally have a byline of an author. So our next step is to reach out and show gratitude, maybe make a new friend.
LinkedIn is a natural place to start. Find them on LinkedIn and if you're not connected already, send a connection request and add a personal message. It will look something like this: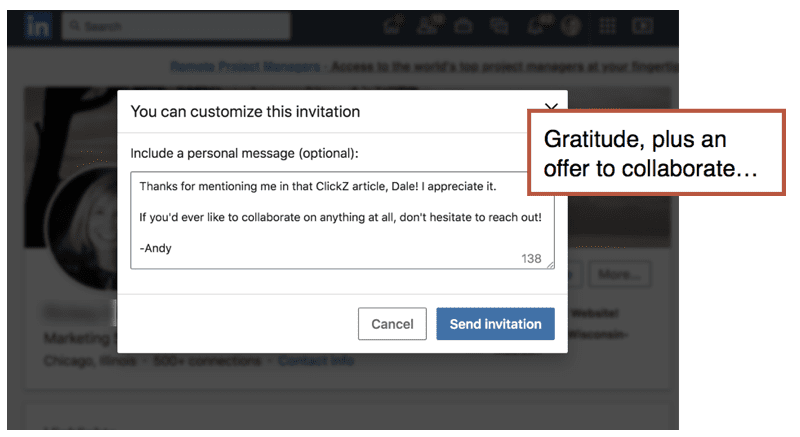 Notice that I'm not starting with any kind of request. That would be kinda weird to say "Glad to connect! Now please do something for me." Instead, I'm making it a two-step process. I'm trying to start a little conversation first.
To learn more about that magical little closing line, "If you'd ever like to collaborate on anything at all…" read this article about SEO and influencer marketing. Super effective!
4. Make the quick request
If they accepted the connection request, it's time for a little outreach. This message, through social media or email, is going to be polite, low pressure and 100% transparent.
Here's how it sounds:
---
"I see you included us in your list of brands in [ARTICLE]. Thank you! We are grateful for the mention and I've scheduled your post for social promotion.
Quick request and if it's any trouble, never mind!
Would it be possible to link the "Orbit Media" to our site? It's partly an SEO thing and it actually makes a big difference to us. I'd be very grateful if this is possible. And again, if not, no worries!
Anything I can do to help you? Just say the word!"
---
Here's how it looks: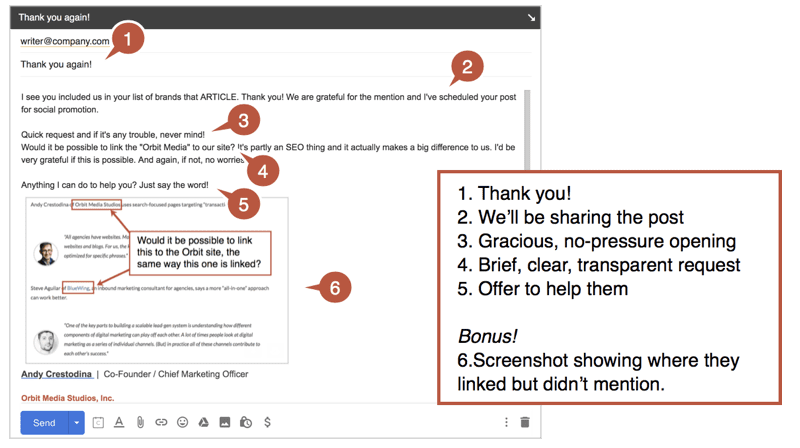 Notice how I explained that I'm actually doing this for SEO reasons. There is nothing sneaky about this. I'm not really expecting anything and I'm offering to be helpful in return. In fact, I'm letting them know that I'm already promoting their piece.
Pro Tip! I also add a screenshot showing where I'm hoping they'll add the link. I make these using Snagit, the screenshot wondertool. I use this tool everyday. So far, this article has six images created with Snagit.
The response from your message should be good since the writer already knows about your brand. They liked you enough to mention you in the article, so they're likely to respond positively.
5. Did they link? Show some gratitude!
If they do help by linking to you, time to celebrate. But first, thank them. And make it good. Here is our list of 14 ways to say thank you, from a quick review to the handwritten thank you note.
One of my favorites is to endorse them on LinkedIn. You appreciate their content, right?  Endorse them for writing, blogging or content creation.
I give a LinkedIn endorsement to anyone who mentions Orbit content. It's an automatic response. And when possible, I boost the skills they're trying to promote.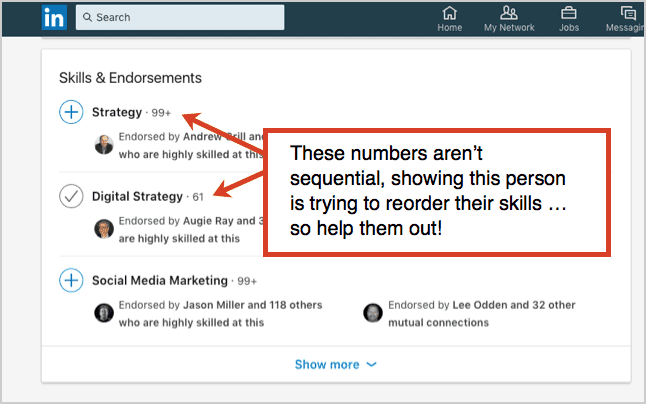 And finally, share the article that links to you, if you haven't already. And when you share, mention the author. It's more than just a lovely way to show gratitude, social mentions are highly valued (often over-valued) by content creators.
Bonus! Personal SEO tip
If you have an alert set up on your name (or the name of a client or executive that you're working for) then you may get an alert of a mention, and that mention may be a link …but a link to a social media profile, rather than the website.
This is a link reclamation opportunity too.
As long as the website has a bio page for this person (and it should), you can request that the editor change the link to go to the person's bio page, rather than to the social profile.
A link to your site is far more valuable than a link to a social profile.
Bio pages are natural link magnets and can have a strong impact on the authority of a website. Over time, they may attract hundreds of links.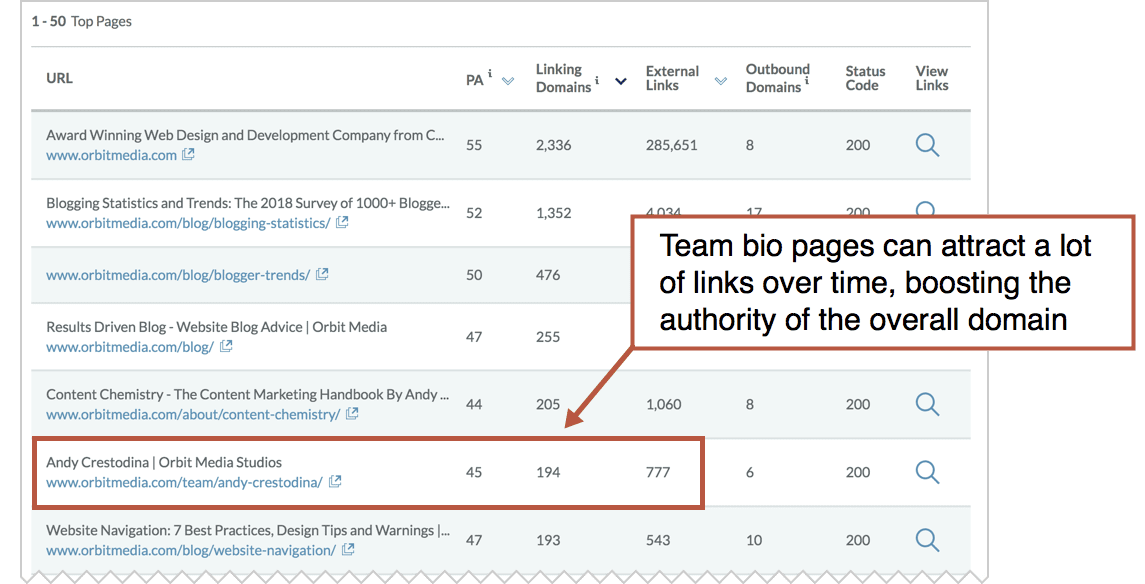 This can help the search rankings of every page on that site, including the money pages: the product and service pages.
Additional reading: How to Improve Your Personal SEO
And if they didn't link?
Maybe they mentioned you in a guest post they wrote and they don't want to go back to their editor and ask for a change. Maybe they have a policy against adding links. Maybe they get 34 requests every day just like yours.
So be it! Outreach is like sales. You'll fail most of the time. That's totally fine.
The ideal outcome is a new relationship with a content creator. A new friend. There's more to life than links. Besides, if you build a relationship, it can lead to all kinds of fun and valuable collaborations down the road.