"Don't build on rented land."
For years, that was common advice for content marketers. The idea is that your content should live on your own website. Not on social media networks. Own your content and drive traffic to yourself, not to Facebook, LinkedIn or YouTube.
Times have changed.
Today, I recommend building on rented land as a second home for your content. I recommend that you embrace off-site publishing. Here I'll make the case for publishing articles directly on LinkedIn as a LinkedIn newsletter.
To help you consider this option, we'll walk through the pros and cons of a LinkedIn newsletter. We'll show the benefits and risks. The rest of this article is a guide showing what we've learned to be LinkedIn newsletter best practices from our own experience.
On LinkedIn in 2020…
…we noticed that a lot of content creators had launched newsletters and that LinkedIn was promoting them through invitations. My invites were flooded with newsletters and 'Accept' buttons.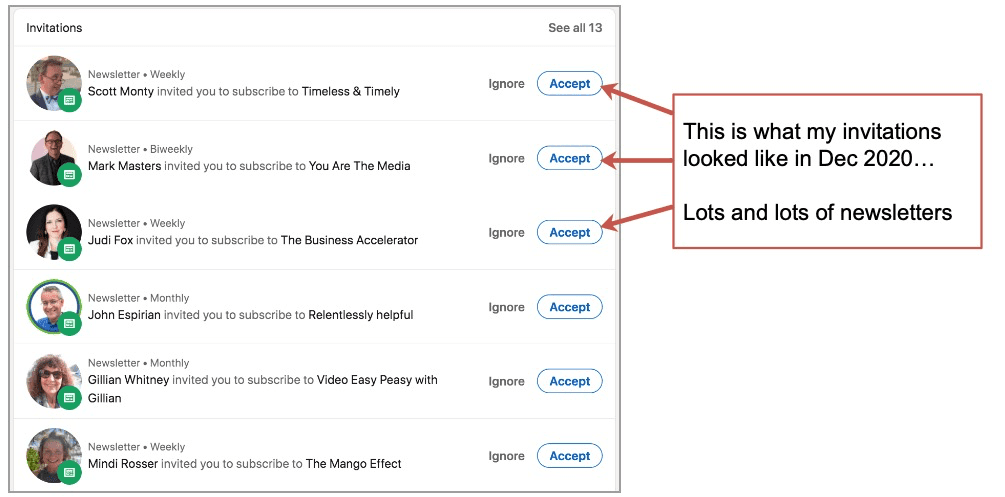 It was immediately obvious what LinkedIn was doing. In their ongoing quest to be a content platform and not just a directory of profiles, they added email newsletters for publishers. Now, anyone can launch a newsletter and let LinkedIn handle the list growth and email services.
This was a brilliant strategic move for LinkedIn.
No question their traffic is up. They're sending millions of emails with links to millions of articles on LinkedIn. Any creator who is ok with platform-specific publishing can be part of this. It's a big opportunity for everyone.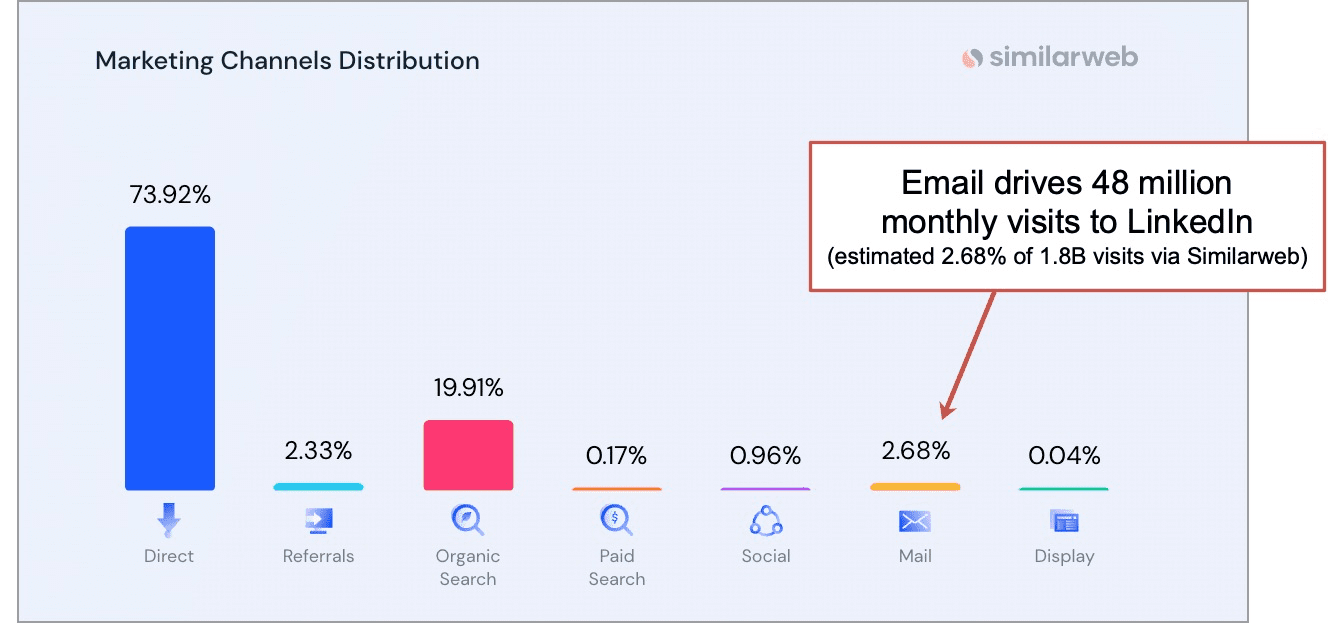 source: SimilarWeb
Launching our LinkedIn newsletter
We jumped into the mix in January of 2021. Our mini-strategy for this content program for a LinkedIn newsletter was very simple:
Frequency: Weekly
The first week, the article would be from our bi-weekly newsletter on the Orbit website. The next week, the article would be a refreshed version of a previously written article. So the newsletter would alternate weekly, from brand new articles to updated past articles. This strategy worked for us because we had hundreds of old articles that our LinkedIn connections hadn't seen.
Timing: Mornings
In our experience, the best time to send a LinkedIn newsletter is early in the morning. The later in the day, the less engagement our articles get. So we try to get it out by 8am when possible.
Topics: "Practical tips for content strategy, Analytics and web design"
This is the same as the rest of our content program, so the repurposing was easy.
Newsletter name: Digital Marketing Tips
We deliberately gave it a very simple, specific name. We wanted anyone who sees it in their stream to know what it's about. We avoided clever, branded names, opting for simple and specific.
Immediately after sending the first edition, we had a few hundred subscribers. That grew to 100k within the first 10 months. After two years, we hit 175k subscribers. People started asking if this was our main channel for marketing.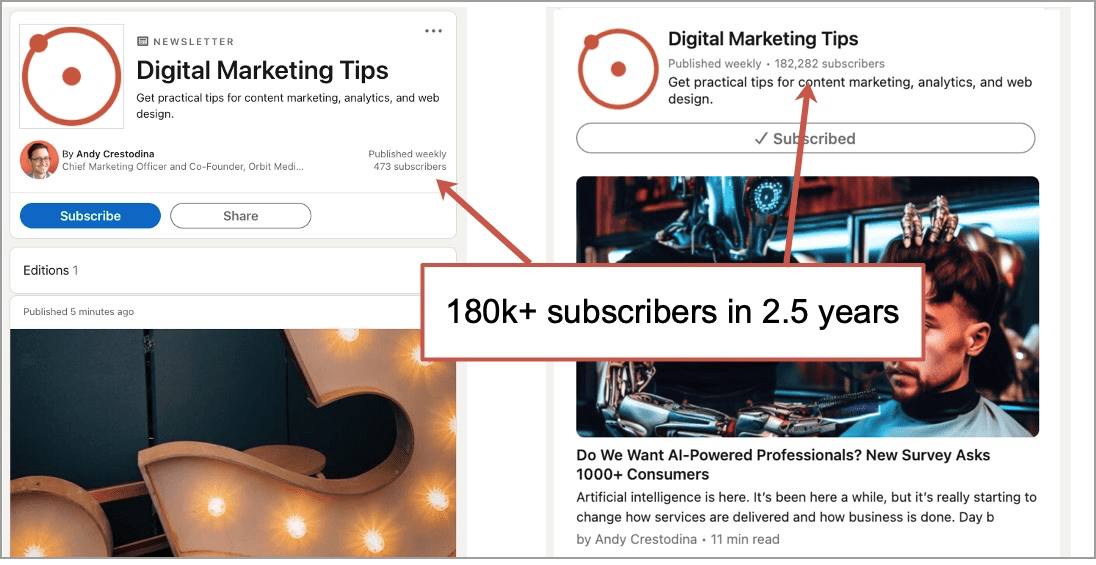 We know that we don't own that list.
We know that the visitors aren't on our site.
We made the choice deliberately after weighing the good and bad.
Are LinkedIn newsletters worth it?
LinkedIn is an excellent social media platform for thought leadership, personal branding and networking. A LinkedIn newsletter makes all of these activities more effective. Because your audience is already there, these outcomes are easier to reach. But there are downsides too.
Let's look at the pros and cons.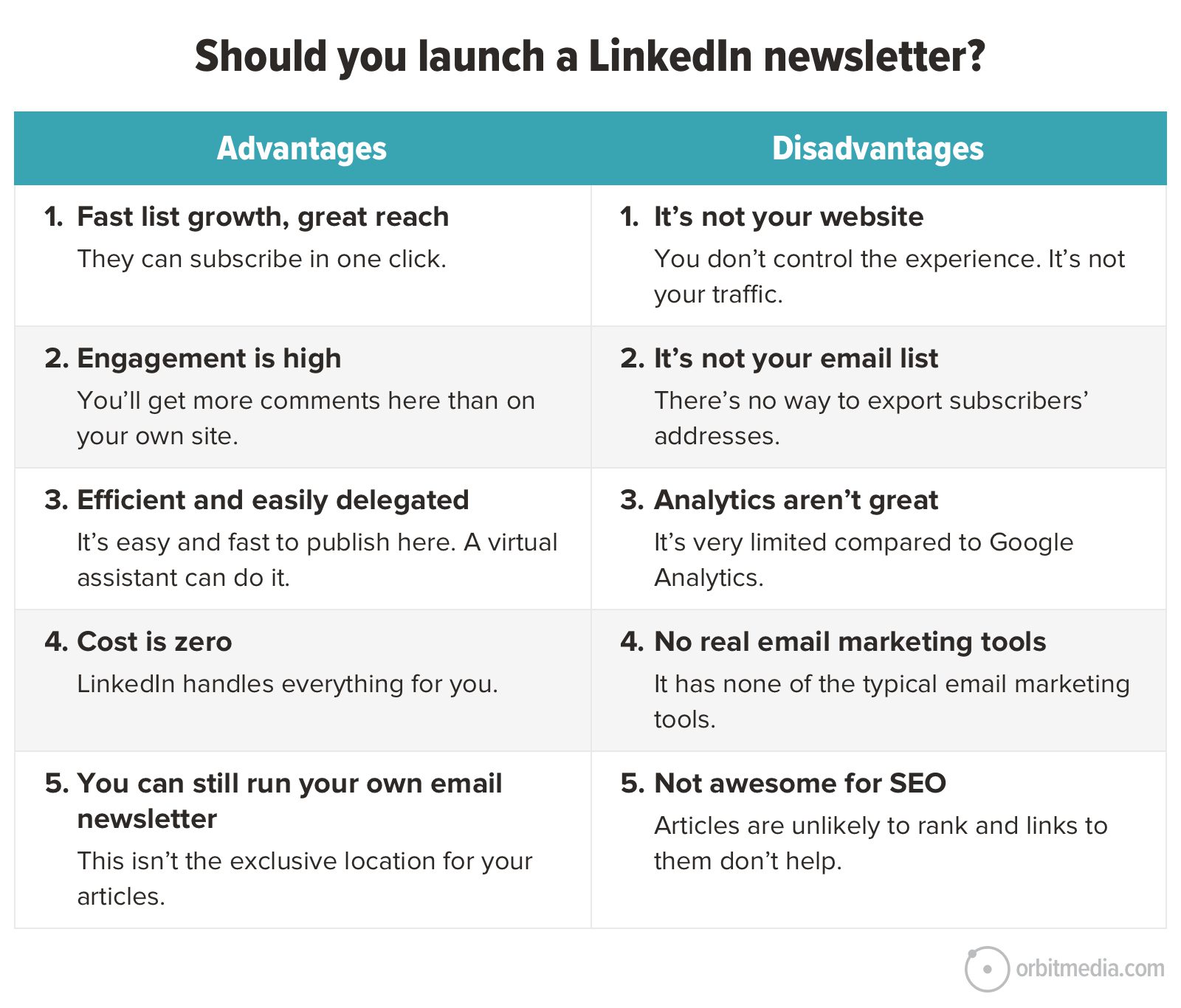 First, let's consider the downsides. Here are the disadvantages of publishing a LinkedIn newsletter vs. an email newsletter on your own blog.
Cons of a LinkedIn newsletter:
1. It's not your website
This is not your traffic, and those aren't your calls to action. A visitor on LinkedIn is unlikely to convert into a lead because they are farther away from your lead gen forms. They're on a site with ads and notifications. You don't control the visitors' experience.
2. It's not your email list
There's no real way to see the list of subscribers and their email addresses. You could hire a VA to crawl through every subscriber's LinkedIn profile and try to harvest the addresses one by one, but that's both tedious and spammy.
They didn't subscribe to your email newsletter. Email list growth isn't the point.
3. Analytics aren't great
You can see the LinkedIn Analytics (impressions, views and engagement) but that's it. You can't see the classic email metrics like open and clickthrough rates.
You also can't see the classic website metrics like engagement rate and average engagement time. Data is very limited compared to Google Analytics
4. No real email marketing tools
You can't split test emails with a/b testing. You can't set up automations. You can't personalize. You can't even see email open rates. Really none of the typical features of email marketing services are available.
5. Not awesome for SEO
This isn't a search engine optimization play at all. It is possible, but unlikely, that a LinkedIn article will rank. But if it ranks, it doesn't help you as much. And if someone links to your article, it doesn't help your authority at all.
Pros of a LinkedIn newsletter:
Now let's look at the upside. This is what makes a LinkedIn newsletter worth it. The advantages list here are basically the 5 reasons to start your own LinkedIn newsletter. Let's take a closer look:
1. Fast list growth, great reach
It's an almost frictionless signup process. When you launch a newsletter, LinkedIn will put a call to action in the invitations of your connections and followers. They can subscribe with a single tap. No keyboard or captcha required.
If you publish on your website and then share as a LinkedIn post, don't expect a lot of traffic. The clickthrough rates from social media to websites are often very low. Here is a screenshot showing the website traffic that came from two social posts with large followings.
It's not a lot.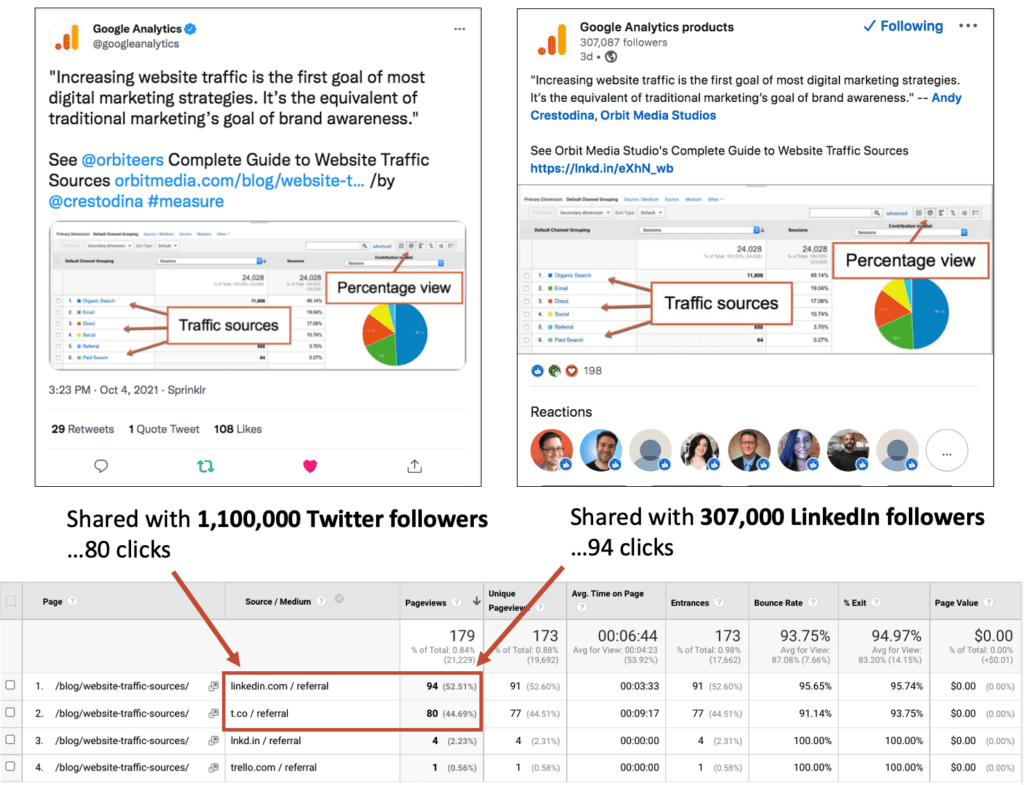 2. Engagement is high
You may have noticed blog comments are down these days. Visitors are looking for answers. They aren't really looking to interact with authors. Ten years ago, it was different. Blog comments were much more common.
Where did the commenters go? Comments have moved off of websites and onto social media. There is still a lot of content engagement happening, but it's on social platforms, not on websites.
Compare the engagement for one article published in two places: our website and on LinkedIn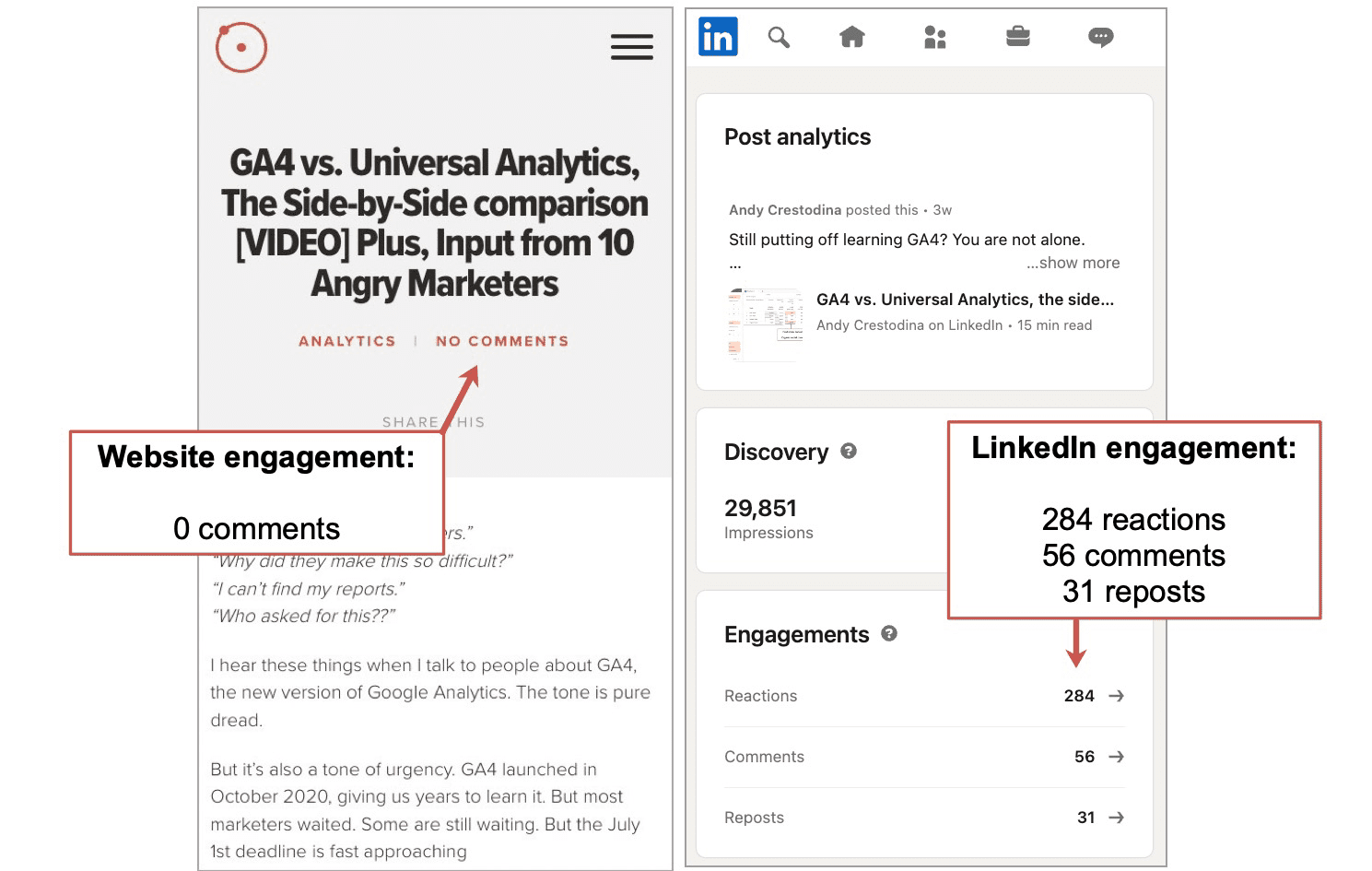 3. Efficient and easily delegated
Once the article is written, it's easy to move into LinkedIn. You simply copy and paste the text and it preserves all of the formatting. The LinkedIn newsletter editor is excellent. Images you'll need to bring in one at a time but it's easy. Even a very long article may take just 10 minutes to publish.
If your strategy is to repurpose articles you're already publishing (curating older pieces or distributing new ones on LinkedIn) then this is work that can easily be delegated. A virtual assistant can do it. For the first two years, we delegated the process completely.
Warning: If you're publishing from a personal account, sharing access with a VA is tricky. LinkedIn doesn't like lots of devices in lots of locations logging into one personal account. Too many logins and the account may be temporarily restricted.
4. Cost is zero
LinkedIn handles the hosting and email marketing services at no cost to you. No software needed.
5. You can still run your own email newsletter
This is the main reason to try publishing a LinkedIn newsletter: there is no risk. You can continue to publish your own email newsletter. LinkedIn doesn't need to be the exclusive location for your articles.
It is not an either/or question. It is a both/and opportunity.
You can add a LinkedIn newsletter to your content strategy as another promotion channel without changing anything else in your marketing. So… why not?
The idea of having a second newsletter on LinkedIn often raises two concerns:
Could publishing each article twice, once on your website and once on LinkedIn, hurt your SEO?
No. There is no duplicate content penalty and Google knows that the original is on your website. There is no SEO risk involved.
If a subscriber gets your email newsletter and the LinkedIn newsletter, would this annoy them?
Maybe. But they can always just unsubscribe from one and keep the other. They have a choice and they can choose based on their preference.
How to publish your first LinkedIn newsletter: 10 best practices
If your LinkedIn newsletter is the beginning of your content marketing program, and you haven't set your content strategy yet, step zero in that process is to create and document your content marketing mission statement.
If you already have an active content marketing program, the foundations of your content strategy are in place. You know your audience, your topics and your frequency. This settles the what to blog about question, because you're simply repurposing your past articles and using LinkedIn to help distribute new articles.
Here are 10 LinkedIn newsletter best practices:
1. Decide: Personal page newsletter or company page newsletter?
Probably, you'll get better results by using a personal page. That human element is great for engagement. But for some brands, this won't work for all kinds of possible reasons: legal, HR, buy-in, etc.
Probably, a personal page newsletter is the best fit for small businesses. The company page newsletter is best for enterprise.
If you want to publish from a company page. But you'll need at least 150 followers first. It's also possible to create a newsletter from a LinkedIn showcase page.
2. Give it a very descriptive name …even if it's sound boring
Maybe the most important tip in this article. We recommend naming your newsletter something that has obvious relevance and value. You only get 30 characters. Don't get fancy. Don't brand it. Just call it what it is.
Compare these two examples. Which of these sounds better?

Marketers love to name things, but mostly, readers don't care about names. They just want help. So when we named our newsletter "Digital Marketing Tips" we knew that it was a boring name. But it's specific. And specificity correlates with conversion.
Clear is better than clever.
3. Write your newsletter description
Again, be very specific. Tell the reader exactly why they should click and subscribe. List the topics and keep it simple. You can write a description of up to 120 characters.
4. Set your frequency
You have four options: daily, weekly, bi-weekly or monthly.
This could align with the cadence of your usual email newsletter. But if you have older content that you can add to the mix, you can go higher.
As we explained above, our email newsletter is bi-weekly. Our LinkedIn newsletter is weekly. Every other week, the LinkedIn newsletter repurposes an older article.
Setup is done! You're ready to publish.
5. Make the first edition good
That first edition is very important. It's special because when you hit publish on your first newsletter, all of your connections and followers will get an invitation. This is the big promotion push.
So go big on quality for your first edition. Make it your best.
6. Add some nice preheader text
The top of the newsletter article is going to appear in the subscribers inbox as preheader text. This can affect open and clickthrough rates. So consider putting something special in the first line.
Knowing that the first line of text is the email preheader, we usually start the articles with a little hello message with a waving hand emoji. This helps it stand out in crowded inboxes as you can see from this screenshot. This is one of those basic email marketing best practices.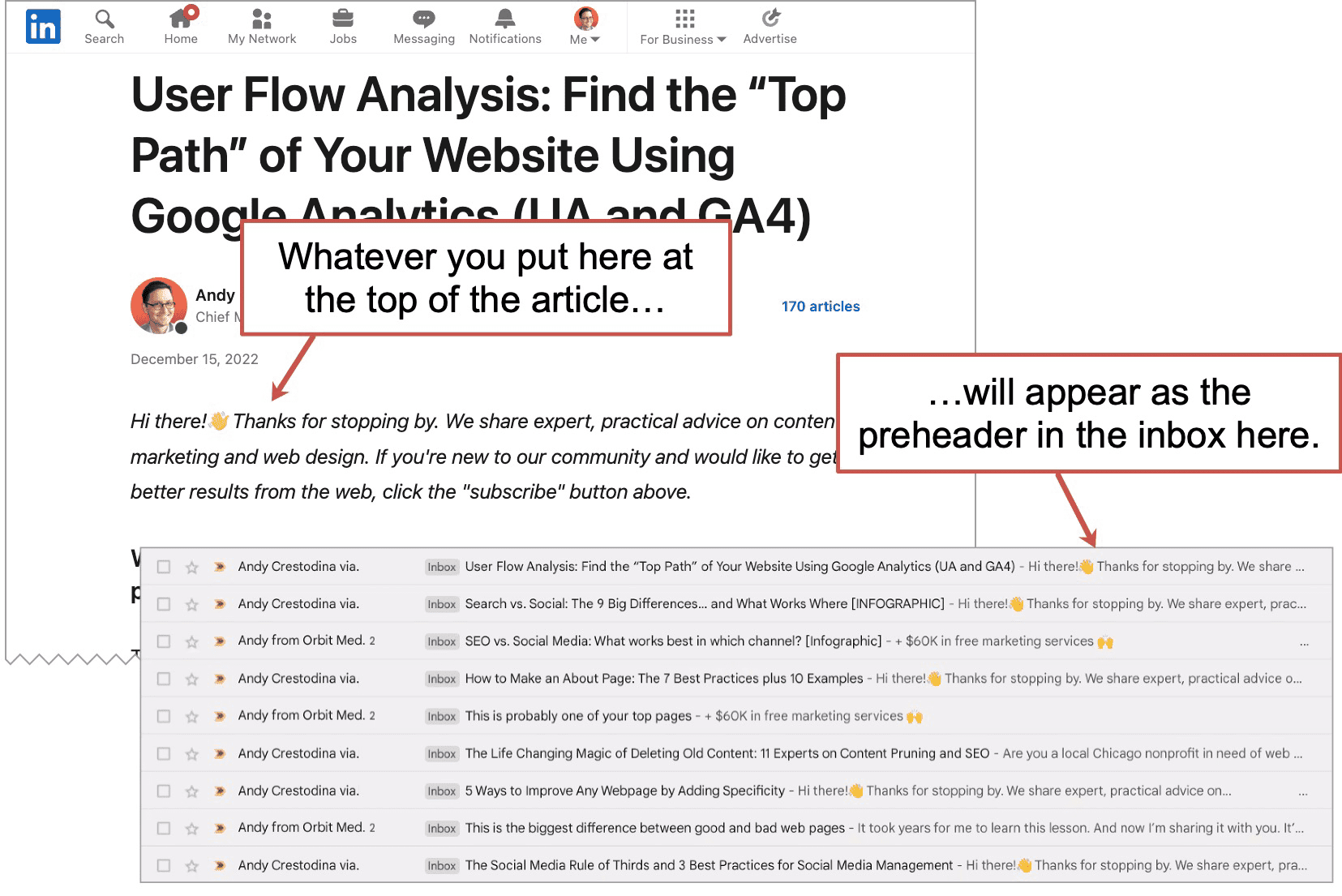 7. Always collaborate and mention
If you don't think about social promotion until after the article is live, you're a little too late. The best content marketers involve influencers and subject matter experts in the process of creating the article. They even share the idea on social media before they begin to write.
The more you collaborate and involve others in the process, the more likely they are to share the piece once it's live. Include influencers as contributor quotes, then mention them (and thank them) in the post when you create the newsletter.
The difference is huge. Compare: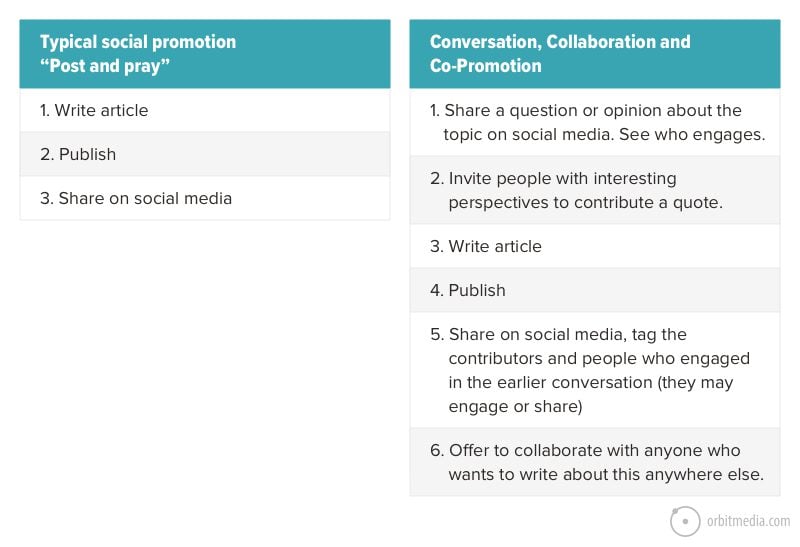 Source: LinkedIn Tips for B2B Marketers
8. Add a great visual: diagrams, charts or faces
Some will see your article in their inbox. Others who have not yet subscribed will see it in their social streams. The featured image will appear in the social snippet, so that visual is key to your success. It's called the cover image and the banner size should be 1920×1080 pixels.
The more compelling the image is, the more likely your LinkedIn content will get traction.
Use something that makes the viewer lean in, such as a chart or graph.
Or something that stands on its own, like a diagram.
Or something that makes them slow down, like a person's face.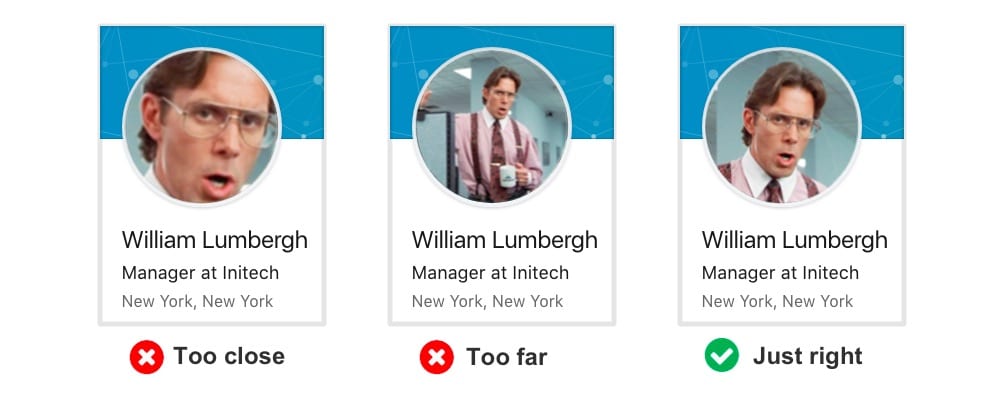 And beyond the featured image, make sure the article is filled with visuals. Ideally, there is something of visual interest at every scroll depth. If there was a LinkedIn newsletter template, this would be on it.
9. Link back to the original on your site
You're committing to LinkedIn, but it's still nice to drive some website traffic. To encourage readers to head over to your site, you can post just two-thirds of an article, then add a call to action, suggesting the visitor goes to your website to get the rest.
That call to action would look something like this…
To read the rest of this article, go to the original on [company blog] >
That's a line of text that you made into a link. That link can include the campaign tracking code so the traffic can be tracked.
The other way to make links in LinkedIn newsletter articles is by using their tool. You click the "Add content into article" icon and then select "link." This creates a very nice snippet, but it doesn't work with campaign tracking codes. It removes them.
Here you can see what those two links look like.

When visitors click the link that has the campaign tracking code, that traffic appears in your Google Analytics. This report shows the traffic from our LinkedIn newsletter over the last few years.
Note: We are using Universal Analytics to show this because GA4 doesn't retain data for longer than 14 months.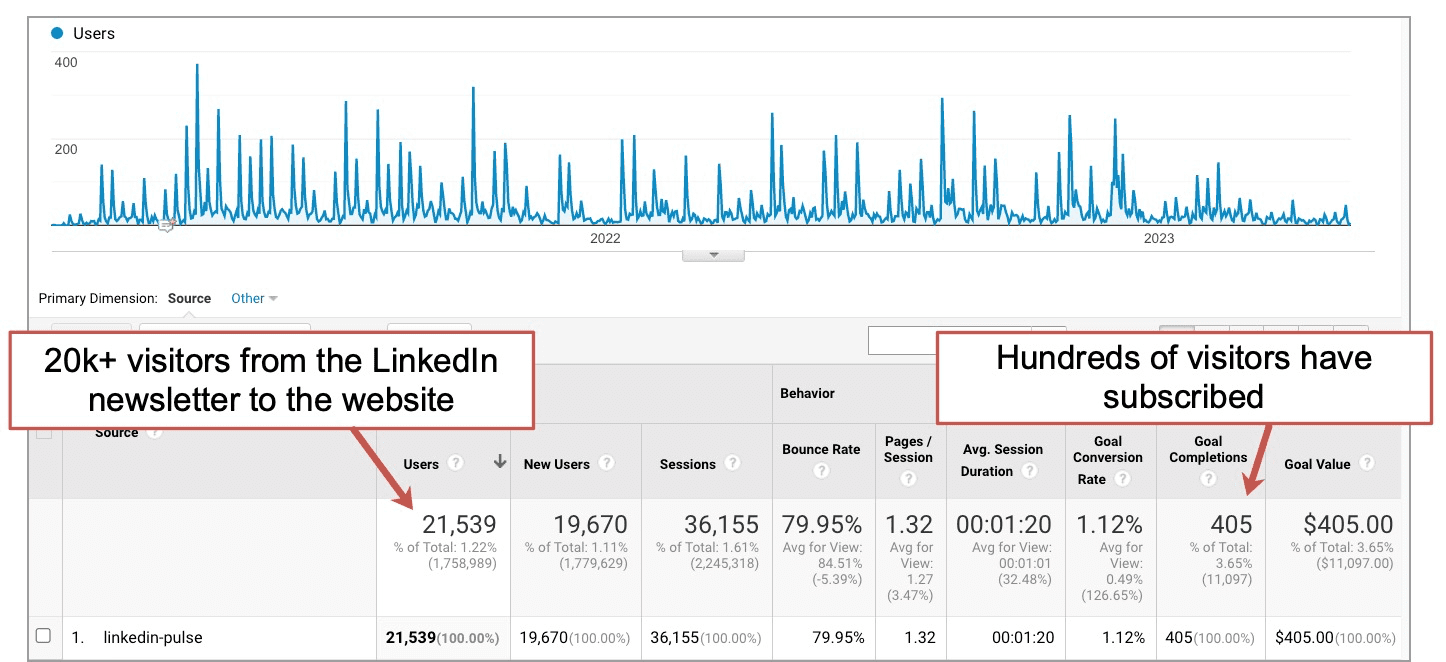 You can see that this LinkedIn newsletter has attracted tens of thousands of visitors and hundreds of subscribers.
The real numbers are probably higher. Some readers click on the snippet rather than the link with the tracking code. And none of the other internal links have tracking codes. And not all readers accept cookies.
10. Promote the LinkedIn newsletter internally
Yes, LinkedIn is going to promote the article through email. But you can help. If you share the article with a few close colleagues, you can get some early engagement on the post, which can trigger the LinkedIn algorithm to put the article at the top of more peoples' social streams.
Grab the link to the post by clicking on the three dots menu. Then share that link directly on internal message boards, in your favorite LinkedIn group or (if it's a personal newsletter) instantly on your company page.
You can even share the newsletter on other social media networks. Just grab the link to the post or to the article itself.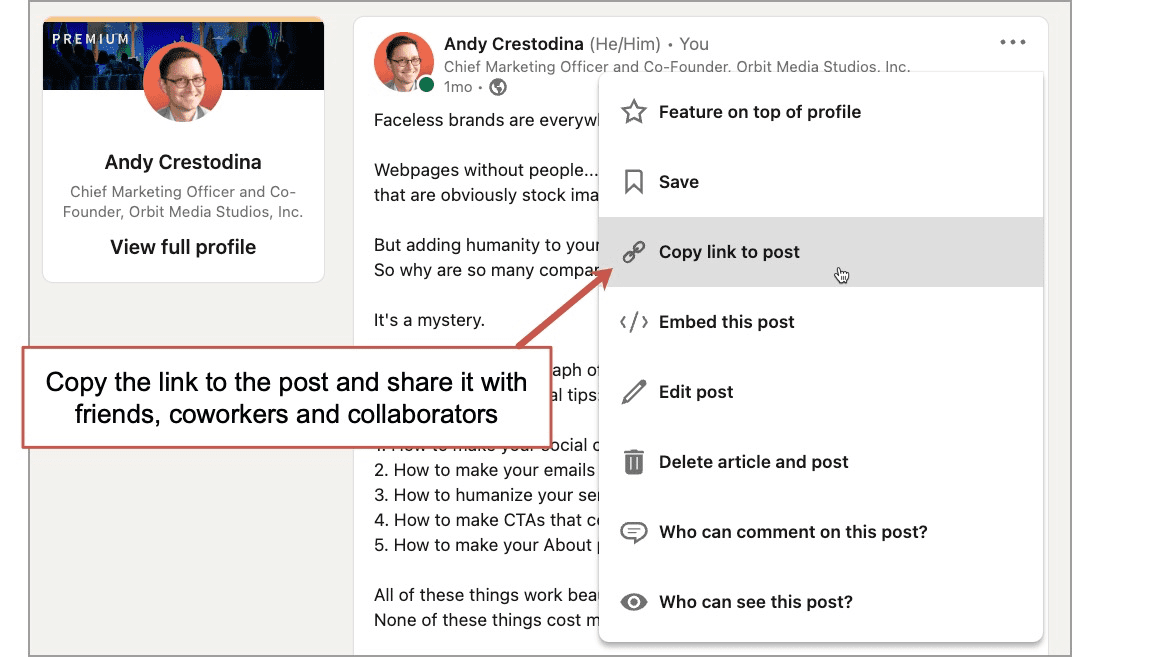 This same recommendation comes from our friend John Espirian, who has published detailed advice about LinkedIn Newsletters.
---
John Espirian, Relentlessly Helpful LinkedIn Expert

"You should also post separately about your newsletter and mention it privately to relevant colleagues via direct messages. If you use other social channels, use them if appropriate to promote your longform content on LinkedIn. There's nothing wrong with a bit of cross-pollination, so long as you're not being spammy."
---
We've made the case and explained how to get started.
Are you in? Ready?
Great. But here's one last tip…
LinkedIn newsletters are faster, but it's still a marathon
You're publishing in a place where people are already engaged.
You're making your content native on a massive networking platform.
You're going to get better reach without a much bigger effort.
It's a great option for any B2B social media marketing strategy. You'll see faster growth than you would with just an email newsletter alone. But it's still a long game. All of content marketing is.
The good news is that any activity on LinkedIn will indirectly promote your newsletter. And the newsletter growth will drive greater visibility for your brand. It's a virtuous cycle.
All future LinkedIn marketing activity will have greater value.