With an effective content strategy, you can use content for marketing, sales, customer support, and internal alignment.
Sure, you could create 143 Google sheets and pivot tables and content calendars — but that isn't a content strategy — it's content strategy documentation.
A content strategy doesn't have to be complicated. But you do need to define it. In fact, according to the 2021 B2B Content Marketing Benchmarks, Budgets and Trends, marketers who document their content strategy are far more likely to report success in their marketing.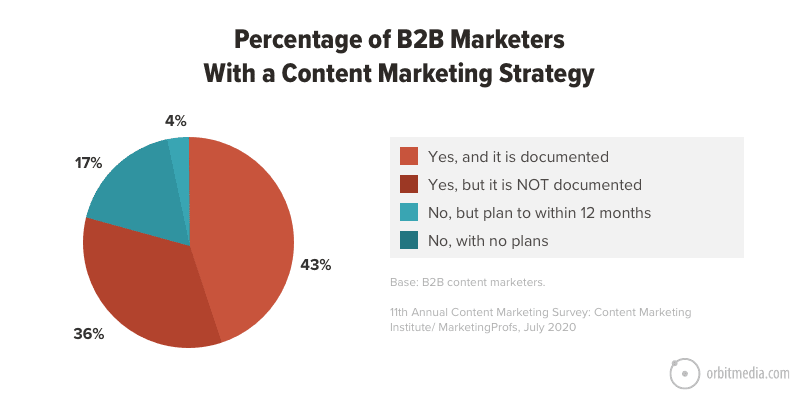 Brands that have a documented content strategy are three times as likely to say they're effective at marketing.
You can build, plan, and launch your content strategy without spending months trying to get everything under control. In fact, you can define the fundamentals of your content strategy in as little as 2 hours using our content marketing mission statement template.
What is content strategy?
Content Strategy is the high-level approach for how you use content to generate leads, convert visitors, delight current customers, grow your brand, provide sales support, or even align your internal communications.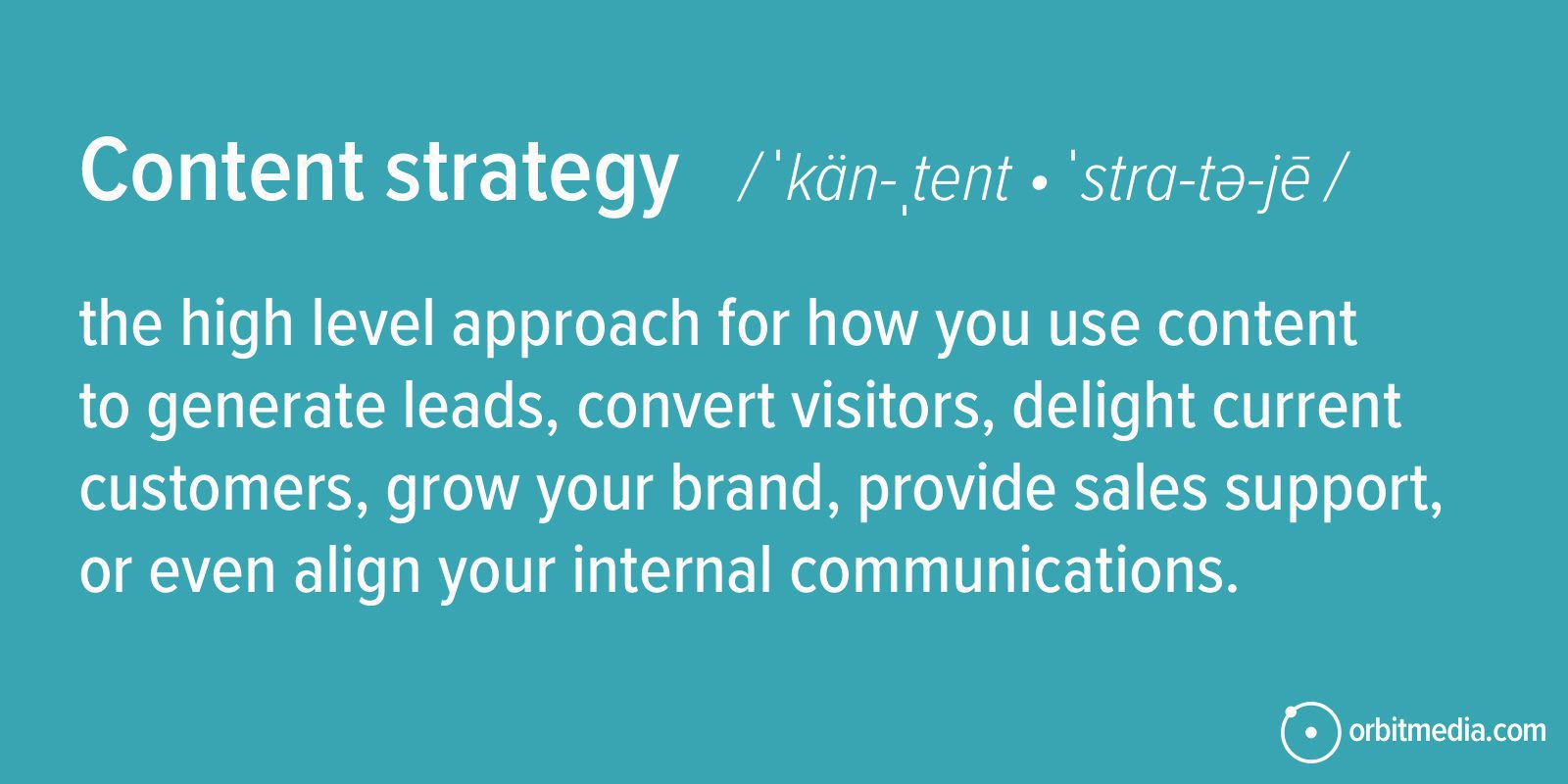 That's our definition. Unfortunately, the term "content strategy" gets thrown around a lot.
Content strategy ends up meaning different things to different folks. This makes it hard to define and measure, which is never a good thing in marketing.
When people talk about "content strategy", they could be referring to:
Content marketing strategy
Content format strategy
Content channel strategy
Content writing
Video and social strategies
Content strategy is, at the end of the day, the umbrella term that encapsulates all of these more specific content tactics.
---
David McCarthy, Carelon

"In my eyes, content strategy defines — as specifically as possible — why you are creating content (including for whom) or what you are using it to do across your funnel/flywheel/etc. The strategy can also articulate what you will not build content for. To me, that strategy definition will help guide the content plan, where decisions around channels, topics, and publishing frequency/volume are reflected."
---
Your content strategy may go beyond marketing to include internal education, customer support, and sales. And your content will likely appear on different channels in different formats created using different methods — all based on the goal the content is meant to achieve.
And that is what content strategy is — using your content to achieve certain goals for your business.
So, what isn't a content strategy?
Your content calendar is not a content strategy. Nor is your tone of voice or style guide. These are tools you might use to implement your strategy, but they are not strategies in and of themselves.
4 Steps to Getting Your Content Strategy off the Ground
If your goal is to either build or clean-up your brand's content strategy, there are 3 steps you can take to make things happen — fast.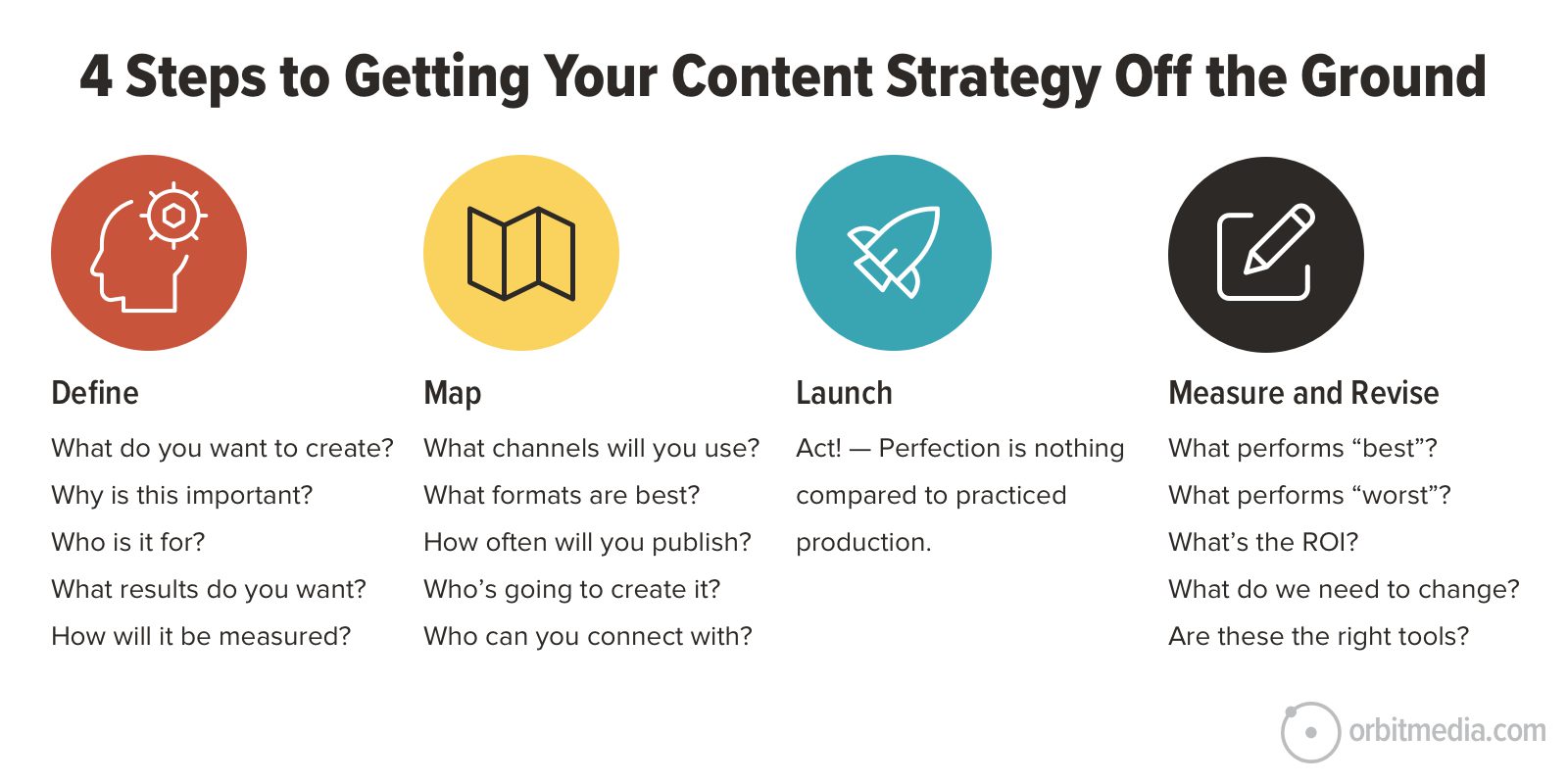 Step 1: Define Your Content Strategy
Your content has a mission — so define it.
What content do you create?
Why is that content important?
Who do you create content for?
What results will that content deliver to those audiences?
How will you measure the success of your content?
Step 2: Map Your Content Strategy
You need a plan for implementing your content.
What channels will you use to distribute your content?
What formats work best for those channels?
How frequently will you publish?
Who will create the content?
Are there influencers in your space you could connect with?
Step 3. Launch Your Content Strategy
Act — perfection is nothing compared to practiced production.
Post your first video. Publish your first blog. Print your first sales one-pager.
If you're thinking of launching or redefining your content strategy, take a cue from Nike: just do it™.
Step 4: Measure and Revise Your Content Strategy
Don't stop at publication. Learn and evolve your strategy to better meet your goals.
What content performs "best" in terms of our goals?
What content performs "worst"?
What is the ROI on our content strategy based on these goals?
Do we need to change the way we measure content performance?
Can we increase ROI with content repurposing?
Are there new tools or formats we should consider?
Remember, though: content can take time. Don't rush to launch a podcast or start creating videos just because other brands are doing it.
Give your content the time it needs to perform and tweak your strategy slowly, testing new variables (e.g. content length, format, channel, voice, subject matter, etc.) one at a time till you find the right recipe for your brand.
PHASE 1: How to Build Your Content Strategy?
A vague idea like content strategy leaves a lot of interpretation to those — probably you — responsible for deciding what your content strategy actually is and how you're going to execute it.
When we talk about "content strategy" at Orbit, we're usually referring to a "content marketing strategy" — or how to use content for marketing purposes.
But content isn't only for your prospects and customers. Content can serve a variety of purposes, so defining what content strategy means to your team will help you narrow in on the more tactical elements of that strategy.
If you're focused exclusively on marketing, check out our content marketing mission statement guide. This formula can help you build your content marketing strategy in less than an hour — use our free template to get that done next week!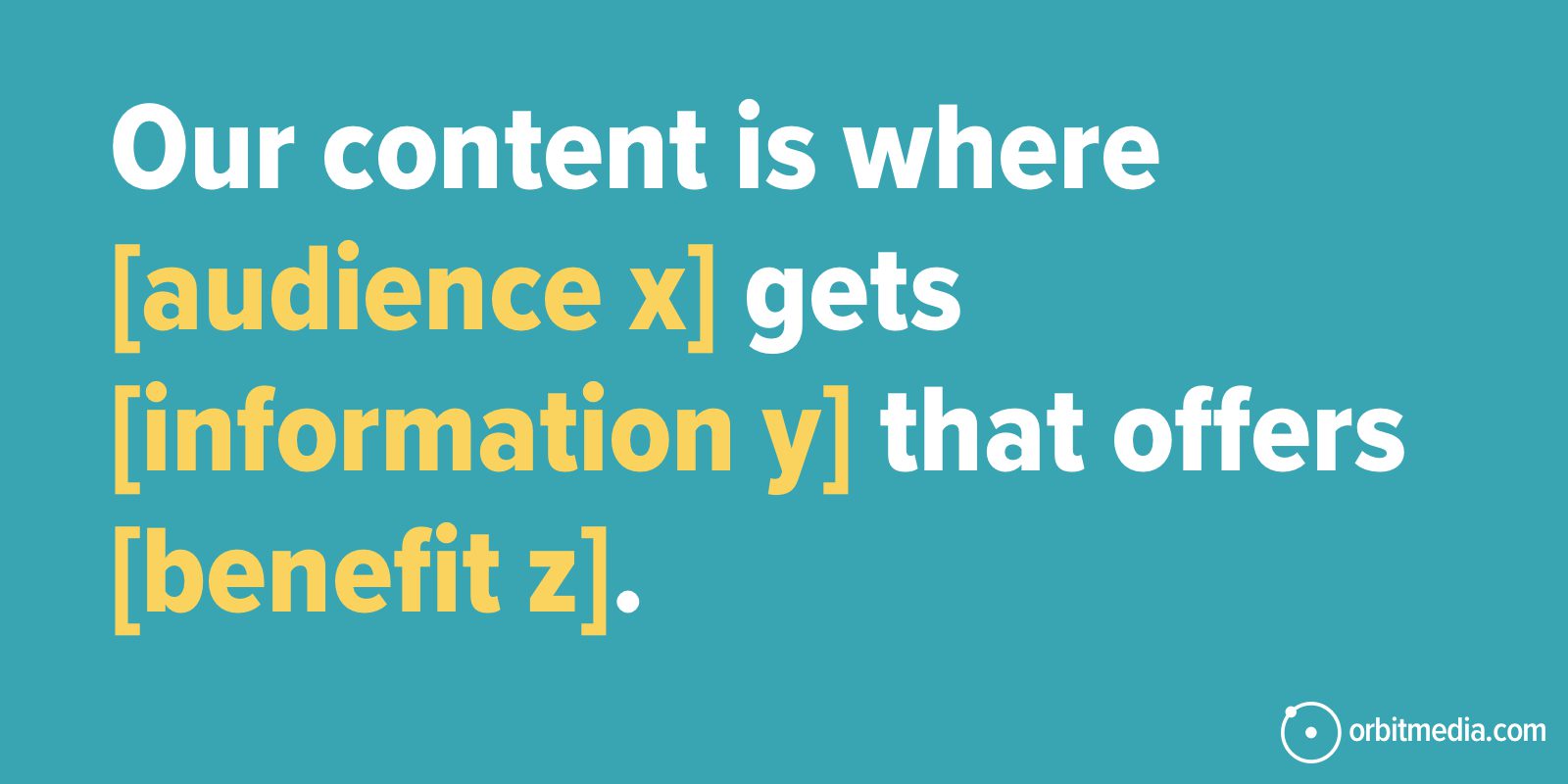 And you can use this same formula to define your broader content strategy that extends beyond marketing:
Our content is where OUR SALES TEAM gets PRODUCT INFO so SALES AND DELIVERY ARE ALIGNED.
Our content is where PATIENTS get BILLING INFO that offers them TRANSPARENT COSTS.
Our content is where CUSTOMERS get TROUBLESHOOTING GUIDANCE that EMPOWERS THEM TO BETTER USE OUR PRODUCTS.
An example of a content marketing strategy might be:
Our content is where CIOs get TRENDING SECURITY REPORTS that offer them INSIGHTS INTO EVOLVING CYBERSECURITY THREATS.
Here are some real-world content marketing strategy mission statements:
Swift Passport – "Where international travelers get travel tips and news to make travel easier."
Enchanting Marketing – "Help small business owners find their writing voice so they can share their ideas with gusto, connect with their readers, and sell more without selling their soul."
Tellabs – "The best source for info on optical LANs. We show IT buyers how to address tech and business challenges, identify trends, reduce expenses and improve user experiences."
Working Moms Only – "To Supply the tools that can give every working mom the ability to lead a healthy, wealthy and more balanced/blended lifestyle."
Any writer worth their salt will tell you that the WHO is the most important part of your content strategy.
---
| | |
| --- | --- |
| | "My advice? Do a lot of audience research. Well enough to learn where they hang out online, which groups and influencers they follow, and what kind of content they actually pay attention to, along with their pains and biggest questions. Your entire content strategy should rest on that information." |
---
Phase 2: How to Map Your Content Strategy
This is where the strategy gets practical.
Now that you've defined your strategy — its goals and audiences — you have to figure out how you're actually going to achieve it.
Get out your spreadsheets, apps, and color-coding expertise because this is where the highlighter meets the college-lined notebook paper. Or your Google doc…
Here are some of the key questions we listed above — and a few more — to help you fit together the right pieces of your strategy. And remember, there could be dozens of other framing questions you might use specific to your industry, your audiences, and your products.
What channels will you use to distribute your content?
LinkedIn or TikTok? Email or landing page? Facebook or Reddit?
Of course that 'or' may not be relevant to you. Maybe your audiences use all of these channels, and you want to be where your audience is.
But caution: you don't need to be on every channel. In fact, Joe Pulizzi — founder of the Content Marketing Institute and Tilt — says:
"You do not have to be everywhere online. Now is a good time to reset…Take your fifteen things and focus on two or three to be the best at."
Match your channels with your strategy — not the other way around. Choose one place where you want your audience to find you.
What formats work best for those channels?
A 150-character tweet or a 15,000-word whitepaper. A 3-minute video or a 30-second TikTok.
Different channels tend to support different types of content. Think about how to use the benefits of any particular channel to best showcase your brand.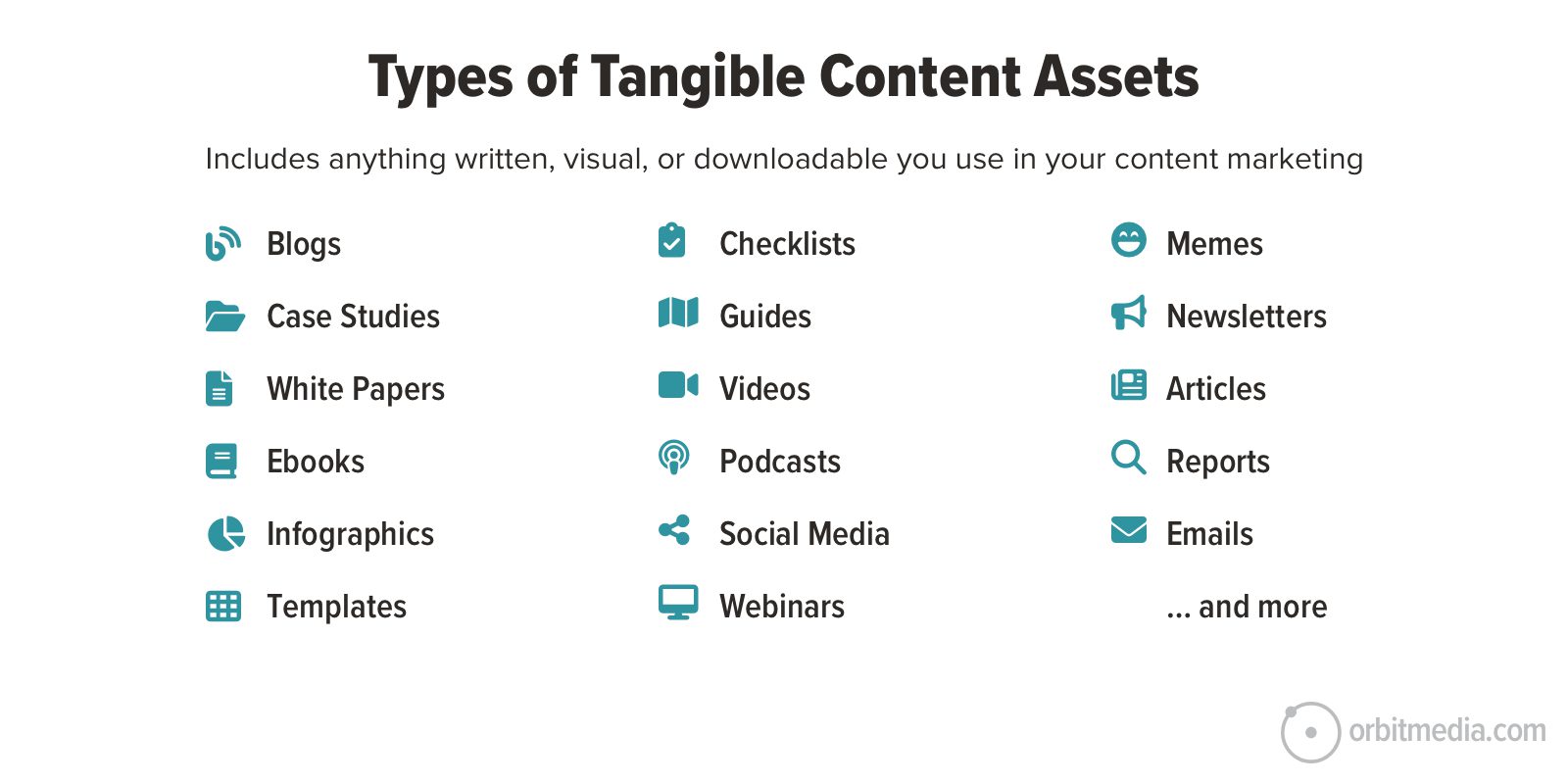 How frequently will you publish?
Content calendar time!
Unless you're a content powerhouse, you probably can't write a new provocative blog every day.
Frequent content creation can help your brand — and you'll definitely hear the gurus of the content world talk about consistency as a key to a successful content strategy.
So, create quality content consistently at a frequency feasible for your team. That could be an article every 2 weeks, a video every month, or a social post every day. It all depends on your goals, your audiences, and the content itself.
Wondering where to begin with content marketing? If you want to maximize your budget and get results, the process starts with a strategic plan.
Here's a system for creating an editorial calendar and a template for writing content briefs. We'll walk through the importance of planning around different stages of the buyer's journey.
Check out our Wine & Web on how to create a swoon-worthy editorial calendar!
How will you create content?
Do you have a writer on staff? Are you going to hire a freelancer? Will you produce your videos? Will you help your internal subject-matter experts (SMEs) create content?
There's no right answer. But you need to have a plan in place to meet your tactical and strategic goals.
You might also need to purchase equipment, like a nice camera or microphone. See how marketing pros build studio-quality home offices here.
How will you repurpose your content?
One of the biggest errors in content development is to create a piece of content, hit publish, and then move onto the next piece of content.
It's a huge waste and reduces the ROI of your content strategy drastically. Explore ways to repurpose your existing content. Turning a blog into a video or social media post extends both the reach of your content and the ideas on which your content rests.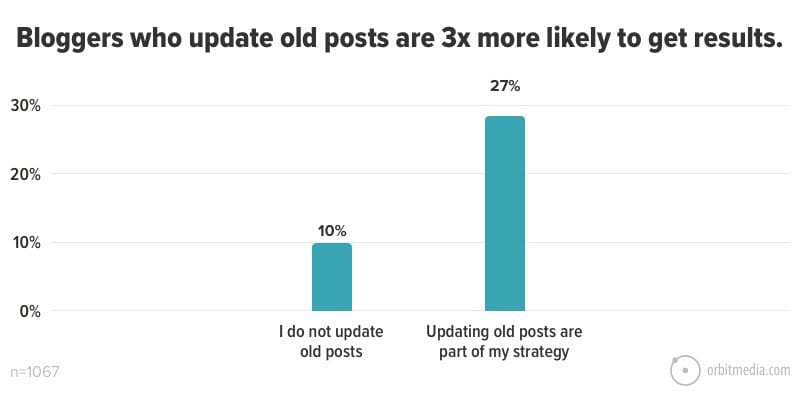 The bloggers that update past content are three times more likely to report "strong results" from content marketing. It's a powerful strategy for any content marketing program.
How will you document your content strategy?
When it comes to content strategy documentation, your best bet is to consider how your documentation will be used:
To onboard new team members
To organize your own production and publication
To sell your strategy within your organization
To educate freelancers
To align silos in your business
It may be you need different kinds of content strategy planning and documentation based on these different use cases. In fact, your content strategy might need a content strategy in its own right!
Are there influencers in your space you could connect with?
Don't neglect those who already own space in your industry. Collaborating with other content creators can be a great way to extend the reach of your content and increase your content strategy ROI.
We've written before about the power of influencer marketing for SEO — so be sure to check it out.
What process will you use to manage change to your content strategy?
Should we write the sentence almost every blog starts with?
Change is the only constant.
It was a reflex, sorry.
The truism isn't useful for an article intro, but it is invaluable to remember as you consider change management.
Your CEO wants you to launch a podcast.
Your customers are asking for help videos.
Your internal teams want to start writing blogs, too.
Whatever the impetus, your content strategy may need to evolve — and you need to manage that change (and measure it) so that nothing gets out of hand.
We're big fans of google forms to capture internal team requests. You can see how we've evolved the Orbit strategy over time: what a 15 year content strategy looks like.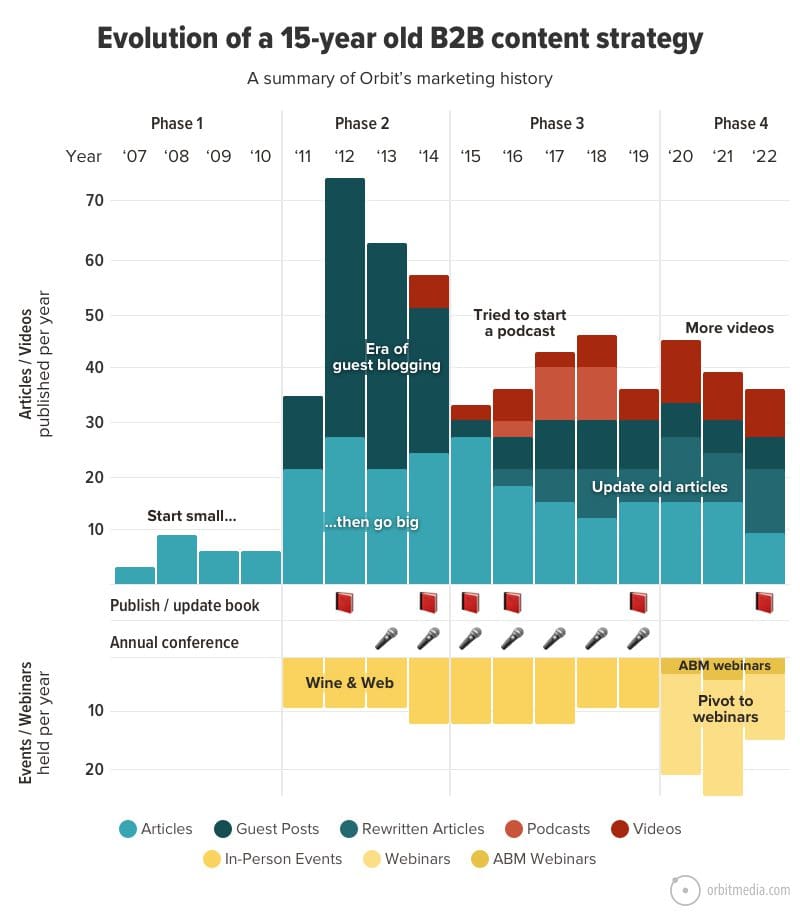 Who will manage your content strategy?
Someone needs to be in charge of the strategy behind your content. While marketing is a natural place for this to live, customer success and operations leaders may also have input. Make sure you have a clear plan in place for managing (and measuring and reporting) your content.
Who will manage your content? (Yep, that's a different question.)
Repeat it with us: the content isn't the content strategy.
Who will manage content production, content standards, publication cycles, editorial reviews…
Depending on the size of your team and the complexity of your content strategy, you may use a digital asset management (DAM) tool or content management system (CMS). And the person in charge of managing content changes to web pages may not be the same person in charge of your social channels.
Phase 3: How to Launch Your Content Strategy
Don't get hung up on perfect.
What you start with may not be what you end with — and that progress, that evolution — is something of which to be proud.
You also have to give your content strategy time.
Your first post on LinkedIn might get 1 like — maybe 2. And the engagement you get four weeks later — and four months after that — will likely grow.
Decide before you begin when the right time to evaluate is and during the launch stage, don't worry about performance. Just focus on the execution of your content strategy.
Phase 4: How to Measure Your Content Strategy
Once your content strategy implementation is in full-swing, you'll need to begin measuring content performance.
Not sure what to measure? We wrote about the best content marketing metrics in our guide, so be sure to check that out.
A key takeaway? What's highly visible may not be very important. 
Example 1: Page Traffic
That is a highly visible metric using analytics. If the goal of your content is to get more traffic, then leveraging SEO content is key to reaching your goal.
But "more traffic" may not always be what you want.
Example 2: Conversion Rate
More likely, you want that traffic to convert — and so you actually want conversion rates to increase. That could mean less traffic that converts more!
This is harder to measure — and harder to directly change — and yet is probably one of the most common goals of content marketing strategies.
Example 3: Brand Awareness
At the same time, maybe a key goal of your content strategy is brand awareness. And then a LinkedIn video that has massive reach with absolutely 0 direct conversions achieves your goal.
That's why defining your content strategy — who you create what content for and why — is so critical. Because if you don't know why you're creating content, you can't know whether the content is working.
Example 4: Support Calls
There are times when you want your content to actually decrease conversions! (I know, we said it!)
Consider the use of help videos that give your existing customers support so they can self-solve basic problems.
In this case, a bunch of folks NOT calling your technical support team or customer service team is success — and measuring video views and assessing that metric in parallel with service calls to your teams could help you ascertain the success of your tutorial videos.
Evolving Your Content Strategy
There are probably hundreds of goals you could define for your content strategy. What you measure, what actually matters — it all boils down to being 100% honest with your goals.
---
| | |
| --- | --- |
| | "Content strategy is how you make sure your content is aligned with your company's goals, target audience, and values." |
---
And your goals should be reflected in your mission statement. Always go back to your content strategy mission:
WHO you create WHAT content for and WHY.
And then don't get scared of change. Try something new, a new channel, a new format. Let your SMEs post a video. Get your CEO to tweet about their morning routine.
But. Don't get scared of not changing.
There will be a new shiny content channel available next month, but will it be where your audience hangs out?
There will be a new LinkedIn feature (hello polls and carousels!) and a new suggestion from the marketing gurus — and maybe it will be useful. Maybe it won't.
Your content strategy empowers you to create content — or not — with your audience, your brand, and your mission in mind.
Now, go create!