Your company's website is often the first interaction a prospect has with your brand. Ongoing website optimization ensures that your website is performing at its peak.
But what does that actually mean? What does website optimization entail? And how hard is it, really?
In this article, we'll cover:
What is website optimization?
Website optimization is the art and science of making continual improvements to your website to increase quality traffic and conversions, driving bottom-line business results. A holistic website optimization approach includes:
Digital strategy
Search engine optimization (SEO)
User experience (UX) analysis
Testing
Conversion optimization (CRO)
Content and technical website updates
Analytics and reporting
In reality, it's about making educated guesses about what will improve the website, and then testing to see what actually worked. (That's the combination of art and science.)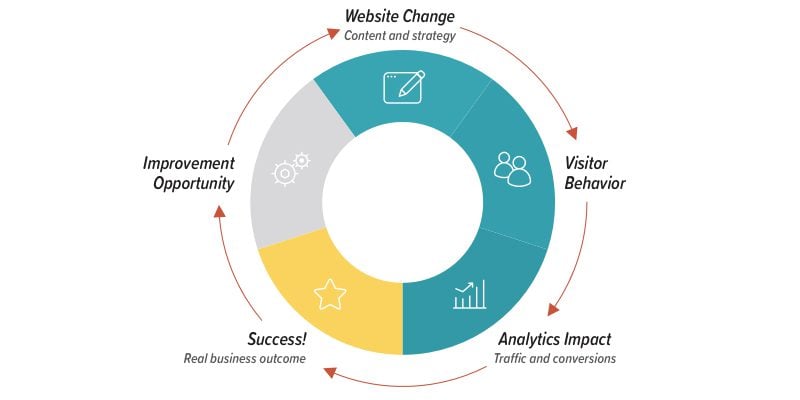 Why is website optimization important?
Website optimization is important for many reasons. At some point, you invested in the design and development to get your website up and running. With a live website, you have the opportunity to use real visitor behavior and data available to help you improve it—both for your visitors and for your business.
Even the best designers and developers are not optimizers. The goal of a website redesign is getting the new site live as soon as it's better than the previous site while operating under the real-world constraints of deadlines and budgets. Typically, redesigns are not about making it perform as strongly as it possibly can. If that were the case, website redesign projects would never end!
The internet and internet users are constantly evolving. Search engine algorithms change, user expectations change, new competitors pop up, existing competitors make updates, and new technologies are released. Your website also needs to constantly evolve and adapt to maintain its relevance and performance.
Having a website and neglecting its upkeep is like opening a brick and mortar shop and not reacting to how buyers interact with merchandise, never adjusting inventory or restocking the shelves based on your customer's buying habits and preferences.
What are the benefits of website optimization?
A strong website optimization program drives bottom-line business results. Period. The results should speak for themselves.
Here's a sampling of results we've helped clients achieve through website optimization programs. These were all achieved in less than a year and several in a few months:
Increased priority topic keywords in "click territory" (positions 1-3) 50%
Tripled total keywords in click territory
More than doubled organic traffic
Doubled website conversion rate
Increased clicks on primary CTA buttons from 3% to 10%
Moved paid ad landing page conversion click rate from <3% to >30%
Increased organic bookings by nearly 80%
The goals of website optimization
The #1 goal of website optimization is to drive business results. In most cases, that means increasing high-quality leads, or direct sales, from the website.
But getting to that end game is a step-by-step process. First, people need to find you. Then, they need to navigate your website with as little friction as possible to reach that end goal.

This means leaning on a few proven website optimization techniques:
Drive organic visibility and traffic. Most well-optimized websites have organic as the largest share of traffic. Online search is simply how buyers look for information, and you want to meet your buyers where they are.
Think like a buyer. You use websites every day to make your own purchasing decisions. If you come across something that feels strange—or worse, spammy—on your own website, it probably feels that way to your visitors. Identify what's off, and fix it.
Test. Make hypotheses about how you might be able to improve a page or an element of the website that's important for driving conversions and test them. Update the website based on the results.
Focus on key parts of the conversion journey. Put your efforts into the pages and experiences that will make the biggest impact. Think: paid ad or campaign landing pages, the top-visited pages on your website, and pages that have to be visited as part of key conversion journeys.
Focus on conversions above all else. This is the end goal. You're going to have competing priorities, limited time, and budget constraints. Make every decision on where you put your effort focused on what will drive more conversions and higher conversion rates.
Quality over Quantity
When you're focused on data and driving up key metrics, it can be easy to fall into a straight numbers game. But remember that at the end of the day, your ultimate goal is to drive quality conversions.
Stay in touch with your sales team. Gut check lead quality with them.
If you're getting conversions but they're not from the right visitors, use this feedback to tweak your program. Maybe this is a shift in keyword targeting. Maybe it's updating language on the site to speak more clearly to the right audience, or softly helping the wrong visitors opt themselves out.
Website optimization strategy: Orbit's approach
As we've covered so far, there's a lot that goes into an effective website optimization program. But what it really boils down to is three things: SEO, conversion and UX optimization, and analytics and reporting.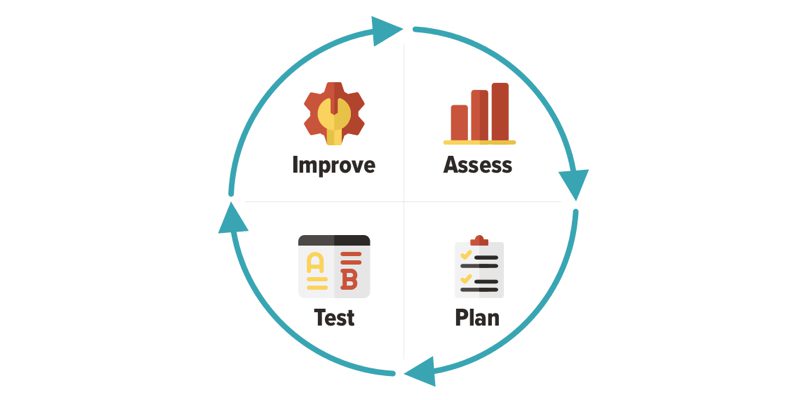 Search engine optimization (SEO)
Search engine optimization is made up of many actions designed to improve how a website performs within a search engine. There are three distinct categories these actions fall into; content optimization, technical optimization, and off-page optimization. Since off-page optimization doesn't take place on the website but on other parts of the web (e.g., link building) it's not commonly included as part of website optimization.
We think of content optimization for SEO as anything that's user-facing on the page. This includes copy, images, video, and any embedded content. It should be optimized for search, yes, but also compelling to the user. Copy that gets someone to a page but doesn't speak to their needs as implied by the intent of the search doesn't cut it.
Technical optimization for SEO is anything that isn't immediately viewable by a user. This includes things like your website's information architecture, link structure, and development functionality. For example, a slow-loading website may need development updates for website speed optimization to meet both user expectations and Google's core web vitals metrics.
Content and technical SEO should be reviewed holistically, then prioritized based on:
Fix what's broken
Improve what's underperforming
Capitalize on untapped opportunities
Lastly, from a content perspective, I recommend having a bias toward middle- and bottom-funnel keywords and topics. Remember, quality traffic trumps quantity. A visitor to a service page is almost always more likely to convert than an informative blog post reader. (And yes, I recognize the irony here.)
Conversion optimization (CRO) and user experience optimization (UX)
Conversion and UX optimization start with a visual site review in which you put yourself in the shoes of a visitor. First, understand your conversion goals and audience needs. Then, poke around the website and ask yourself questions like:
Can I find the information I'm looking for?
Can I accomplish the task I'm attempting?
Where are there dead ends?
Where are there obstacles to completing my desired task?
How are contact and demo pages converting, and is there room for improvement?
With this analysis in mind, you can prioritize conversion improvements with an approach that starts with the easiest, most impactful stuff and move on to the more challenging things to implement.
Remove any and all dead ends. Every page should have a thoughtful call to action based on where the user likely is in their journey.
Remove conversion obstacles and friction.
Develop and implement a testing plan.
Improve paid campaigns with landing page optimization. You're paying for these visitors. They should convert at a much higher rate than others.
Improve contact and demo pages.
Improve the content, especially on service or product pages. Critically evaluate the content you're providing. Does it speak for your company, or to your buyers?
Elevate the most important information to your audience.
Validate that you can help them accomplish their goals or solve their problems.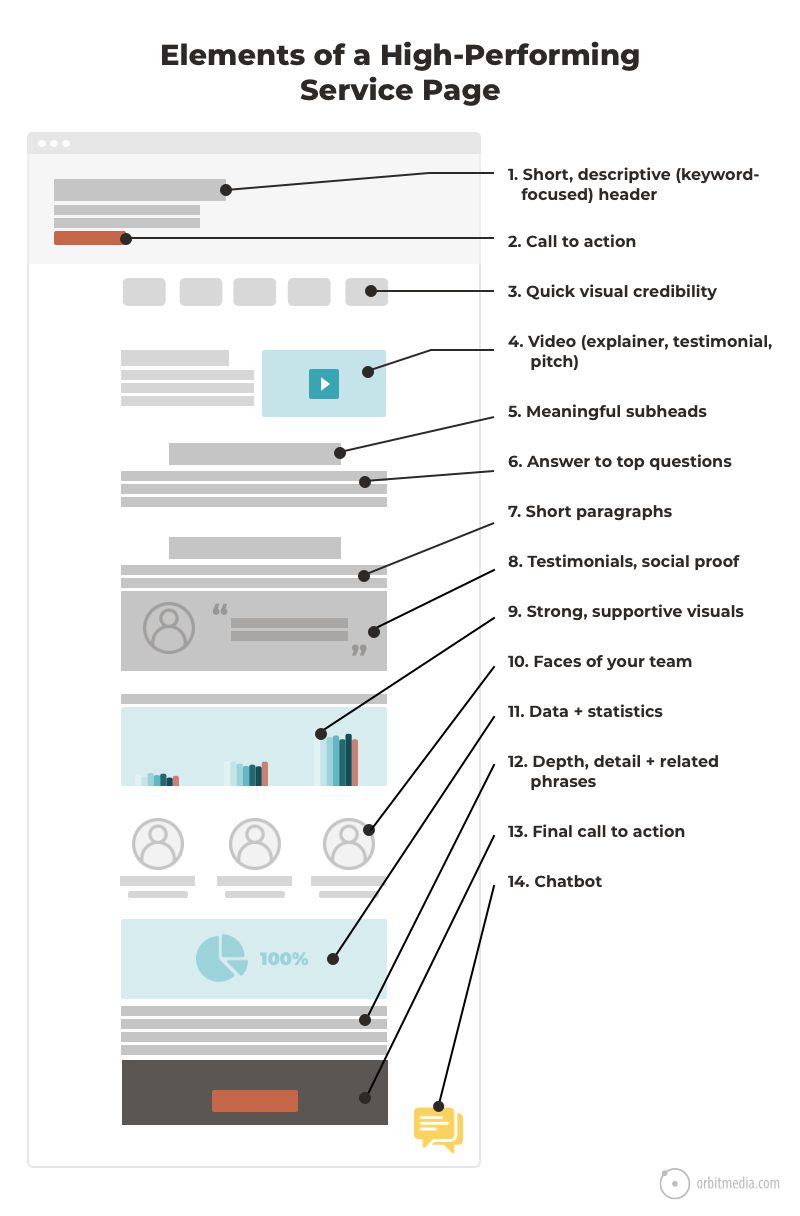 Reporting & Analytics for website optimization
Our website optimization services always start with a review and update of Google Analytics. Without accurate reporting, there's no way to accurately benchmark your current performance, or identify opportunities to improve.
Make sure that your Analytics Goals are reflective of your website and business goals. Our approach is to only use Goals for conversion events. In most cases, we segment Goals into two categories, and watch and report on each individually and in rollup:
Tier 1, or Contact Goals = someone reached out with sales intent. They filled out a service contact form, demo request form, called a sales line, or provided their contact information in chat.
Tier 2, or Content Goals = someone completed a content-based lead event. They filled out a form to download a whitepaper or attend a webinar, signed up for your newsletter, etc.
Outside of Analytics with a big A (meaning, Google), we use analytics constantly to understand SEO and conversion performance, elevate issues, and identify opportunities. The tools listed below are some of our favorites.
Website optimization tools
Here are some of the tools we use pretty much daily to give us the insights we need to assess and improve website performance. When using these tools, it's critical to remember that live websites are never going to be perfect and error-free. Your website optimization team's job is to analyze the information these tools provide and prioritize efforts based on where you'll see the strongest return.
SEO tools
Conversion & UX tools
Reporting & analytics tools
Google Analytics
Custom reports per client or project
How to get started with website optimization
The good news is that simply by reading this article, you've taken the first step in your website optimization journey. You know it's a need, and you're ready to get started.
At a high level, your options are to manage your website optimization program in-house or hire an agency to help. In my experience (both at Orbit and in my previous professional life on the client site), hiring an agency is critical to keeping a program like this on track. It's far too easy for other internal priorities—usually reactive, fix-it type things—to get in the way of this more proactive, sometimes preventative work.
Hiring an agency also gives you access to the talent you need to pull off a website optimization program at a much lower cost than hiring in-house. At any point in your program, you might need any or all of the following skills:
Digital marketing strategy
Content strategy
Copywriting
SEO
UX analysis
UX design
Website content management
Development
Analytics engineering
Data analysis
When you're ready to start your program, spend some time putting your plan together. Document your goals and success metrics. Get your arms around your current state and prioritize the work ahead.
We always start website optimization programs with a two-month assessment. This time is used to:
Get to know the client's business
Understand business, marketing, and website priorities and goals
Benchmark current website performance
Identify SEO and conversion issues and opportunities
Start making some "low hanging fruit" updates for both SEO and conversion optimization
Map out a high-level plan and prioritize SEO, testing, and conversion activities for the next few months
With that plan in place, it's simply time to roll up your sleeves and get to work.