You rank.
They click.
You have traffic.
That was the basic strategy 20 years ago when I first started doing SEO. But those were the days of 10 blue links. Times have changed.
Today, more things show up in more search engine results pages (SERPs) than ever before. They're known as Google SERP features and the seven most common are the related questions, ads, the knowledge panel, local 3-packs, star reviews, videos and images.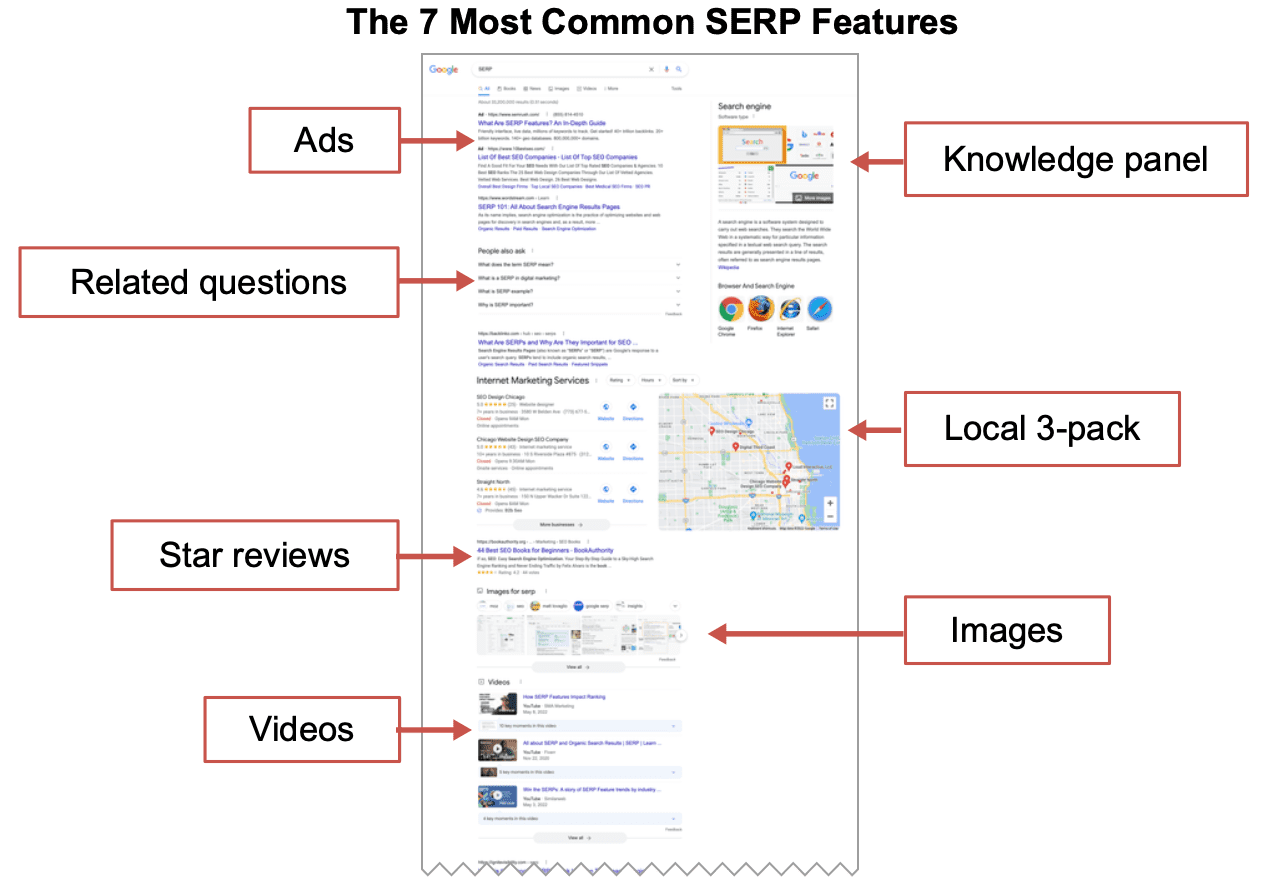 These days, it's rare to see those 10 blue links.
So now, we all need more flexible SEO strategies. We need to go beyond basic SERP analysis. We need to look more closely at the search results before making a plan because the right plan depends on what appears in the search results.
Think beyond the rankings and look for any opportunity to be more visible with your target audience. Don't just optimize content with the hope of rankings and traffic. Think about the experience of the searcher. What do they see? How can you be part of that experience?
This is a new way to think about search.
Old way: Optimize your content to rank and get clicks from search engines
New way: Optimize the searchers' experience to maximize your visibility
We hope this post expands your thinking about SEO.
1. If videos are in the SERP…
Create a video version of your article.
Google is guiding visitors toward video, especially YouTube video. If I only cared about the rankings of pages on my website, I'd miss out on this.
Suppose you wrote a how-to post about Google Analytics. It explains how to share access to GA. You search for the potential target keyphrase "how to share access to Google Analytics" and see a lot of videos.
Even if you write a search-optimized article and it ranks high, the clickthrough rate will be low because the searcher is likely to watch one of those videos. So if you want to be visible here, your job today is to make a video.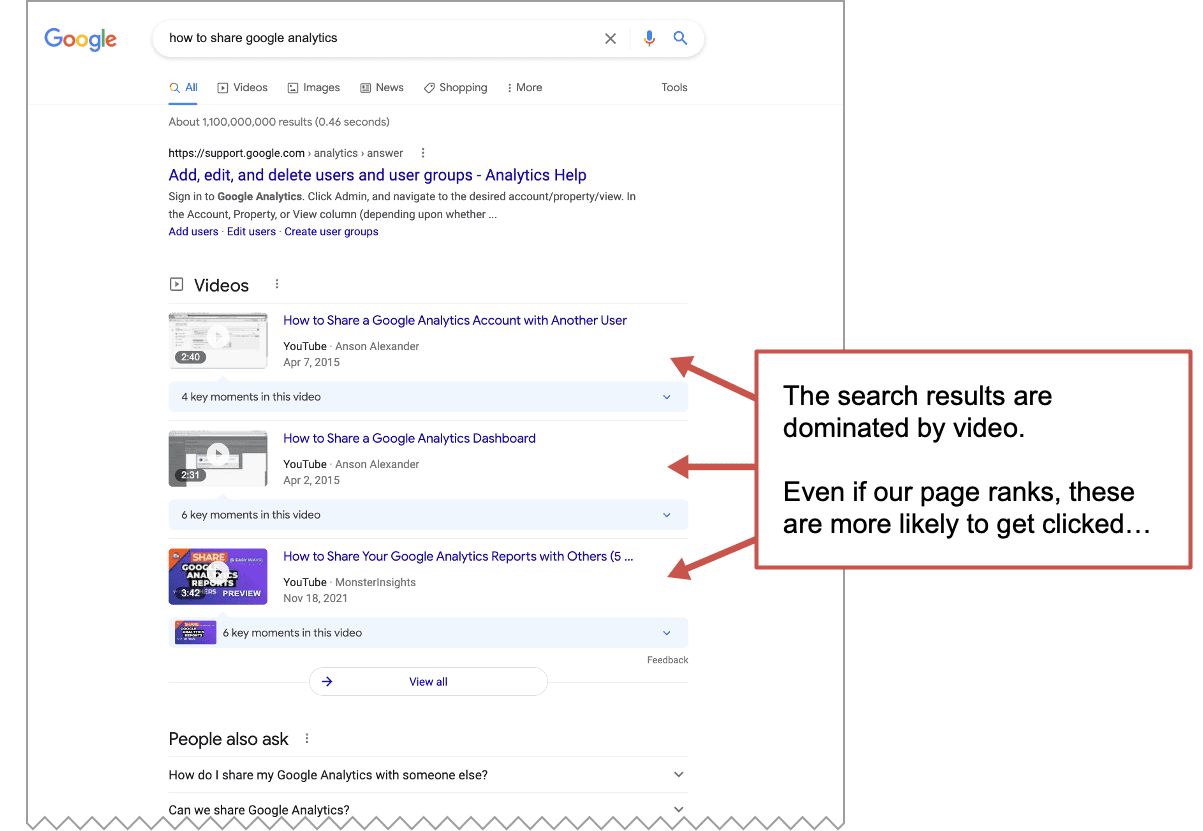 To optimize the video for Google search results, work hard on elements that make a difference, both for rankings and clickthrough rates.
Including the primary keyphrase in the title and description. Make it very detailed
Add helpful timecode links in the description. Give them meaningful labels
Create a custom thumbnail with a face and a bright color
Embed the video at the top of your search-optimized article
This gives you two bites at the apple. The video and the page may each rank separately.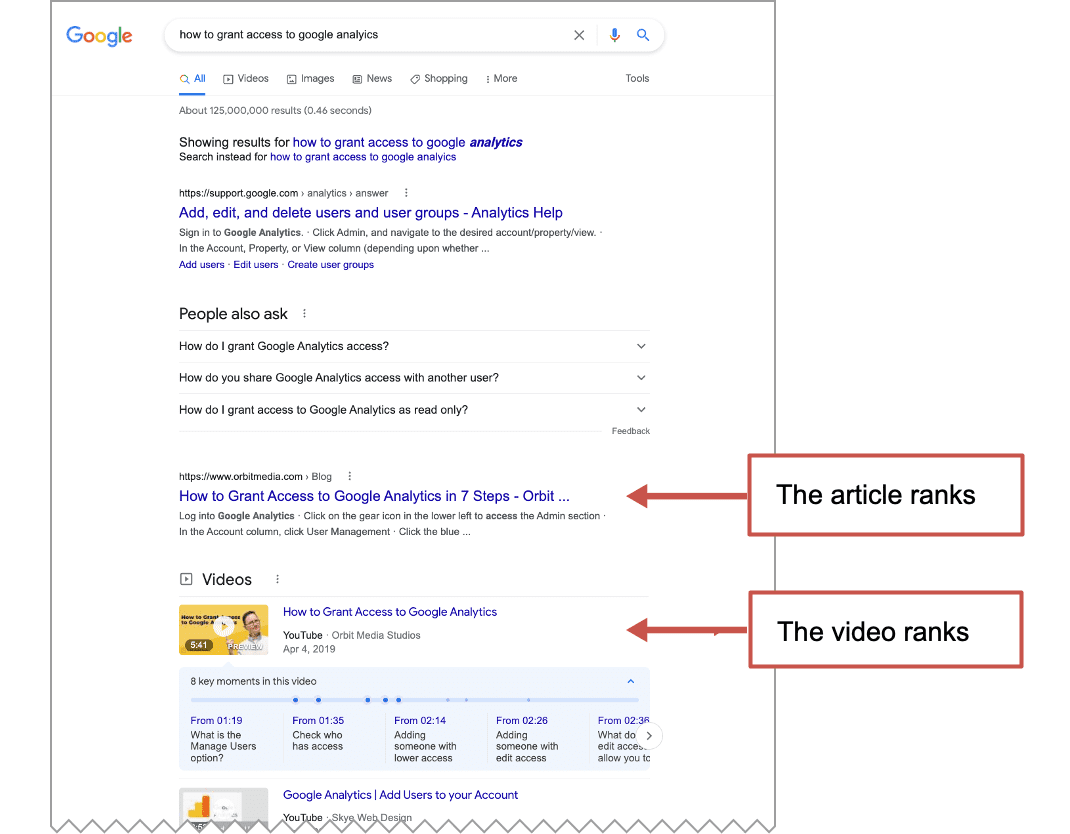 True, clicks on that video aren't driving traffic. You're promoting content on another platform, YouTube. So when it works, the proper way to measure the organic search visibility of your content is to combine the two sources: Your traffic measured in Google Analytics and the video views as measured in YouTube Studio.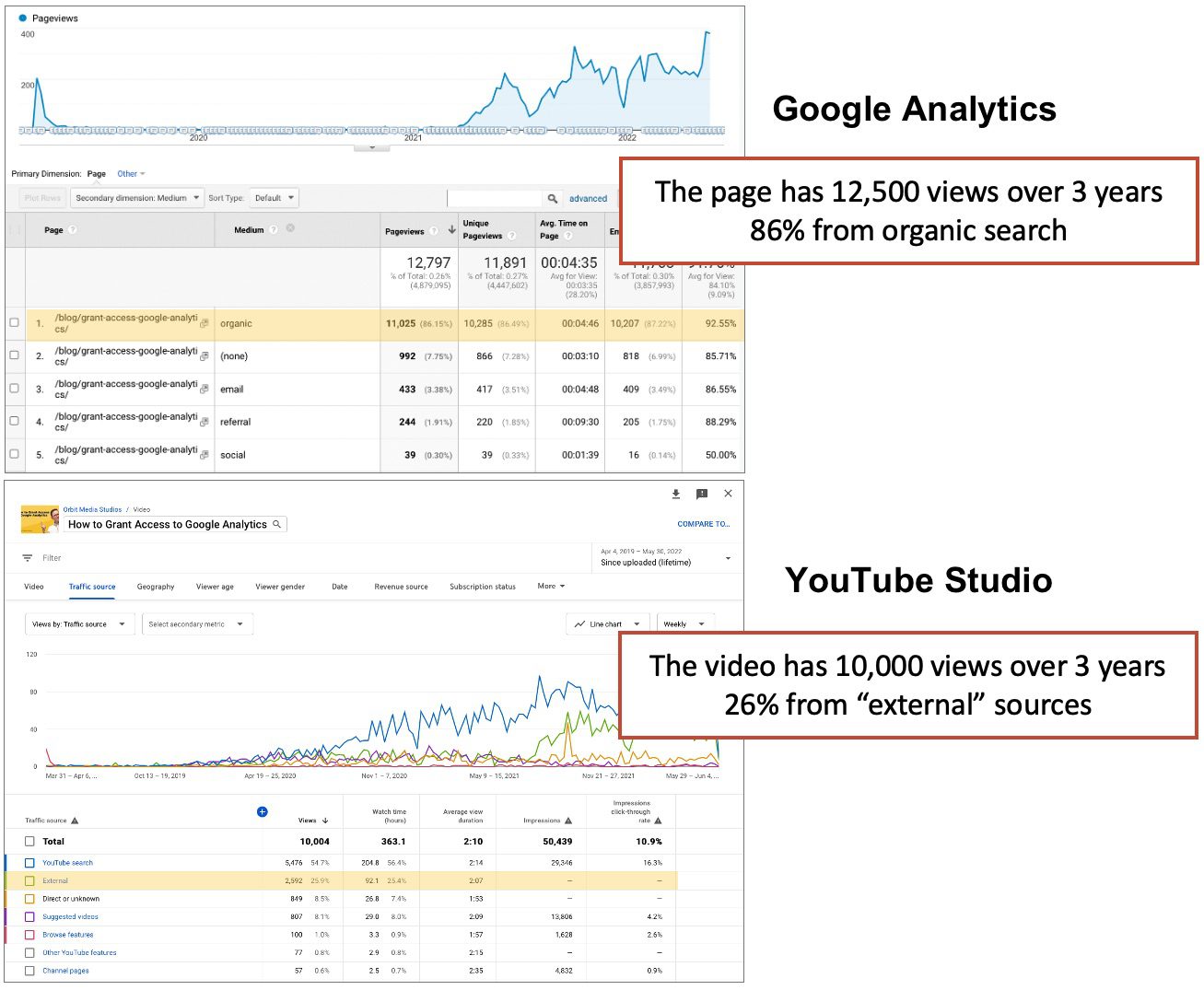 You can see that a video SERP strategy can make a difference, not in traffic but in visibility.
Note: There's a minor problem with the YouTube Studio report. The "external" category includes both the views on Google and the views on your article's embedded video. So you can't easily measure the increase in new visibility without tracking your on-site video views and then subtracting them from the external number in YouTube Studio. Probably not worth the effort.
2. If big publishers are in the SERP…
Pitch articles to those sites.
It's a lovely keyphrase. It would be wonderful to rank.
But when you search for it and look closely at the search results, there aren't any brands that rank anywhere. Not a single competitor is in the mix. The only pages that rank are on media sites and big blogs.
Usually, this means you've found a super competitive keyphrase that is out of reach for the brands themselves. Every high-ranking page is an article on a high-authority domain. It's all publishers.
Here is an example of a search results page where this is the case…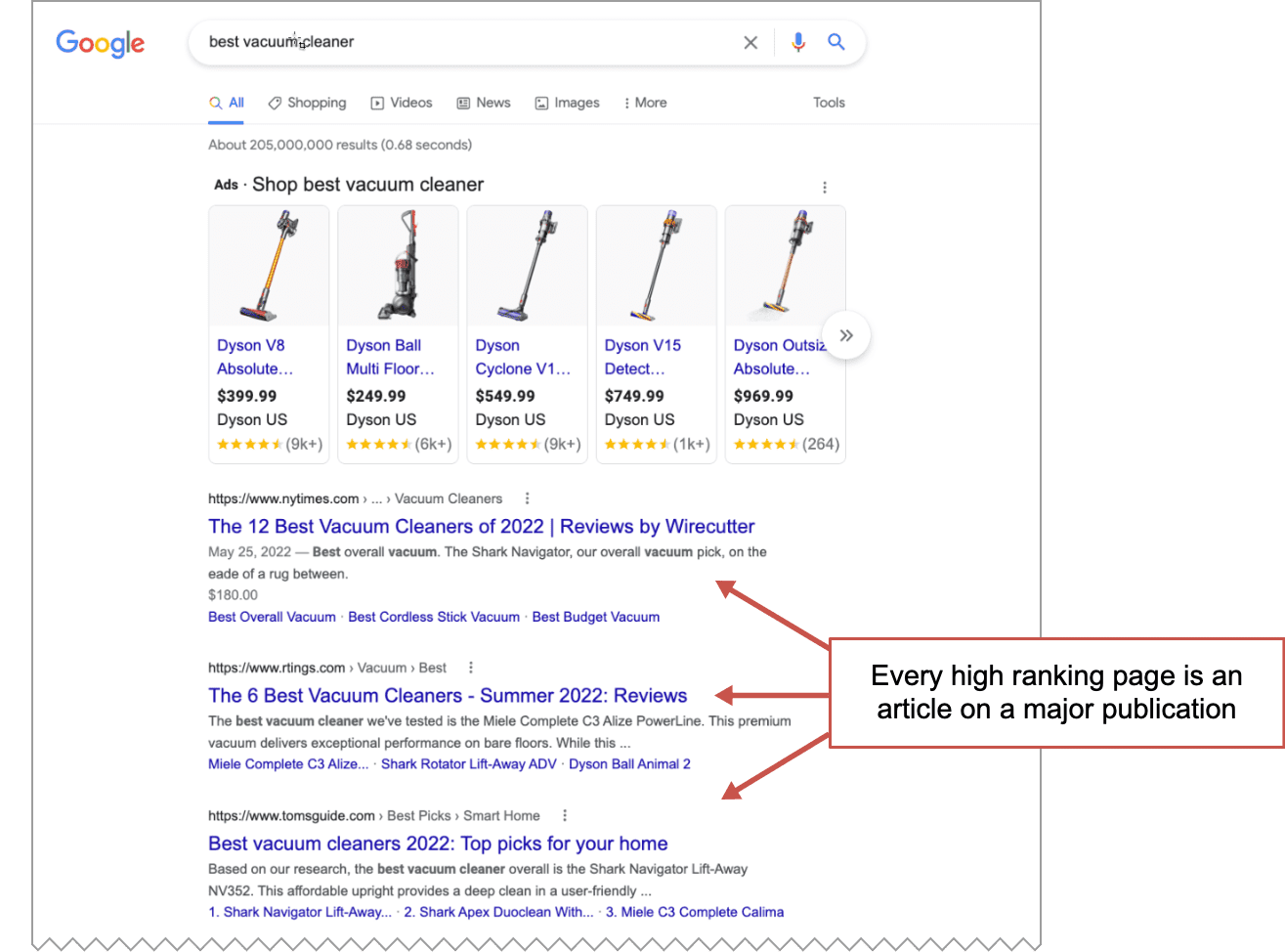 We're going to let SEO pro Hannah Smith explain what to do when the SERP is entirely comprised of publisher sites.
---
"Let's imagine you're a vacuum cleaner manufacturer. Obviously you'd like to rank for a keyword like "best vacuum cleaners", but the truth is, creating a page targeting that keyword isn't likely to result in your site ranking, because you're not a great result for a user.

It's clear from the SERP that Google considers "best vacuum cleaners" to be an informational query, and that the best results for a user here are trusted publisher sites who rigorously review many makes and models of vacuum cleaners (i.e. not just the models your vacuum company manufactures).

As such, a traditional SEO play won't work here; but there are still opportunities for you.

To get your product featured in SERPs like this, you need these publishers to review your products. This is a pretty traditional PR play with an SEO twist – you need to pay attention to which publisher sites are ranking well for queries like this, and then make contact with them to offer them appropriate models to review.

I worked with an established brand on a play like this, and the PR team were surprised to see which publishers were actually ranking for these queries. They already had relationships with some of the sites, but there were some others that they weren't currently sending review products to."
---
This is a critical point. It would be a waste of time to target this phrase with content on your own website. Your SEO strategy needs to adapt. SEO copywriting won't help you. Your only play here is digital PR.
In a way, this is good news. You don't need to be a famous website with high Domain Authority to be visible. Keyword difficulty is irrelevant. You could be a startup. You could be an SEO noob. No matter. If one editor likes you and includes you in that high-ranking piece, you'll be more visible than your high-DA competitors.
3. If reviews (and stars) are in the SERP…
Polish your reputation on those review sites.
Googled your brand lately? It just takes a second. Go do it now. We'll wait here…
How did it look? Since star reviews are in 33% of search results there's a good chance you saw stars. And since navigational queries (searches for brands and company names) are even more likely to show reviews, there's a good chance you saw more stars than a Chicago night sky. As in, dozens.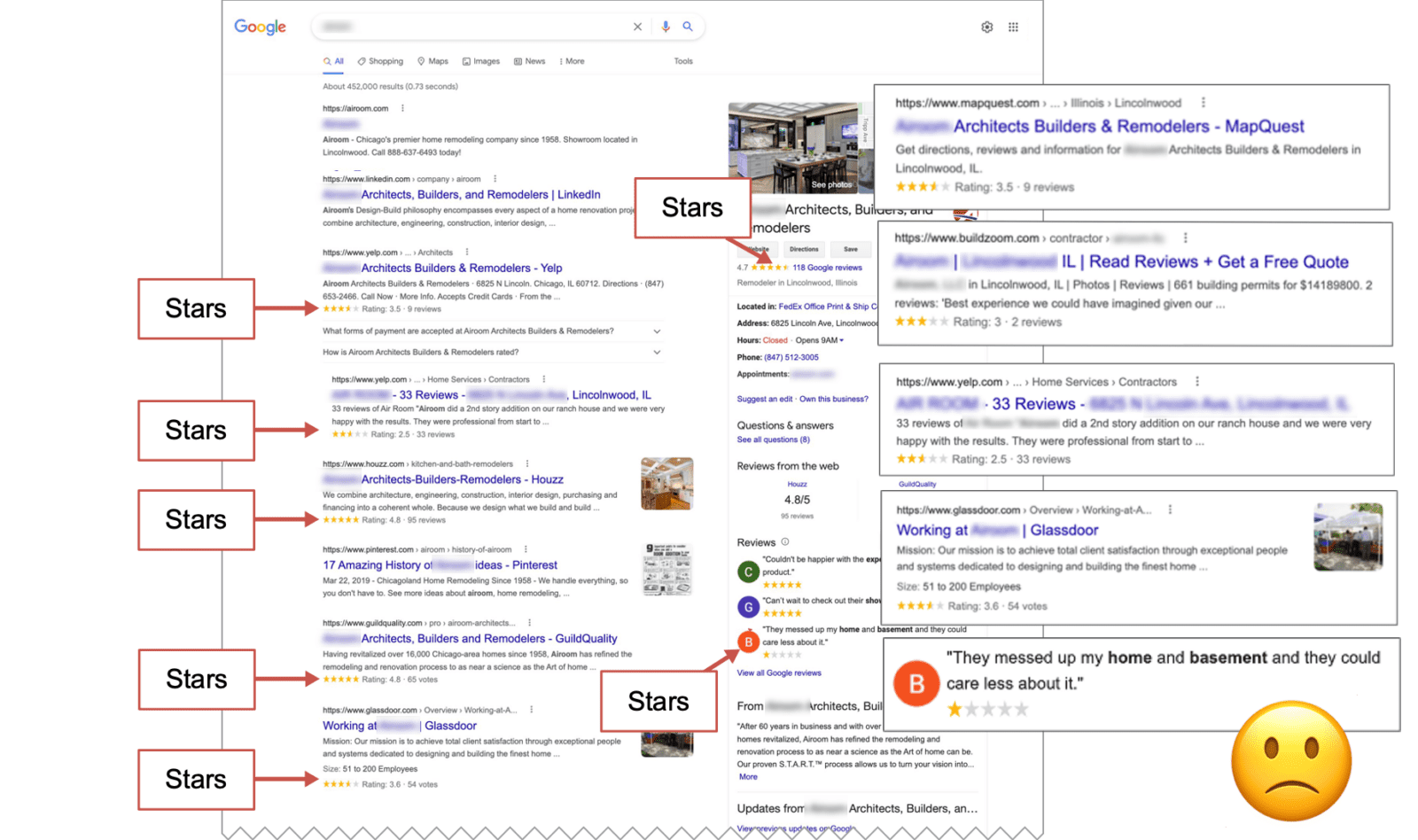 You may rank number one, but whether or not they click may depend on the rest of the search results page. That constellation of low star reviews may send them looking for someone else. Or they may decide it's prudent to search for "[brand] reviews" or even "[brand] complaints."
Either way, this problem is a black hole in your Analytics. This isn't an SEO metric. It doesn't show up in any report unless you're tracking changes in the clickthrough rate to your homepage from branded queries. But no one does that. You have to look at SERPs to find issues like this.
When you look at the SERP, you'll see where the problems are. You'll see which sites aren't sparkling with positive reviews. Next, you need to enlist the help of your superfans. Send a quick, friendly request. They'll be glad to help.
Better yet, make gathering feedback part of your everyday business. When the feedback is really good, that's the moment to turn it into a reputation boost on the review site that needs it most. It's a quick, polite, low-pressure request.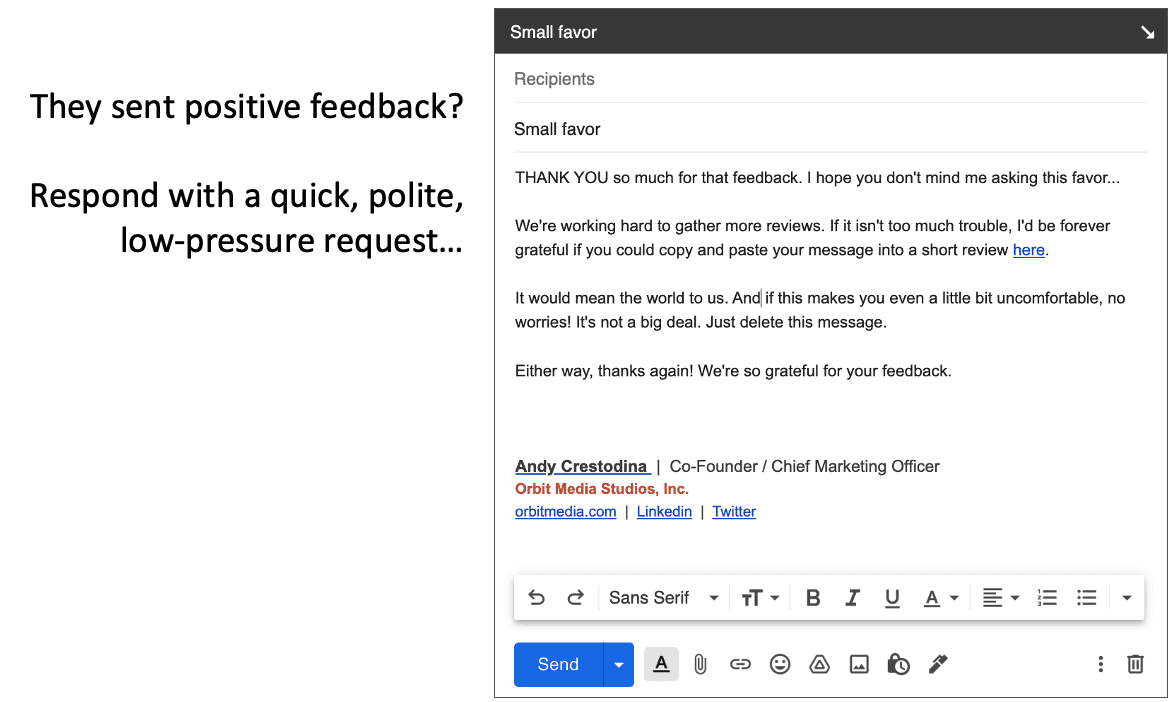 This is another SERP analysis example that has nothing to do with keyphrase difficulty or competitors. It's a part of a reputation assessment and audit of your brand. But it's also SEO.
4. If user generated content (UGC) sites are in the SERP…
Engage in that post on that platform.
For example, we did a roundup of SEO experts that answered the question "will SEO ever die?" While doing keyword research and considering that target keyword, a Quora post appeared high in the SERP. Quora, like Reddit and Stack Overflow, is a site filled with user generated content. It's all questions and answers. Anyone can post. And these posts often rank.
But this isn't a competitor. This is an opportunity.
So for this keyphrase and this SERP, the next step was obvious: submit an answer to that question on Quora.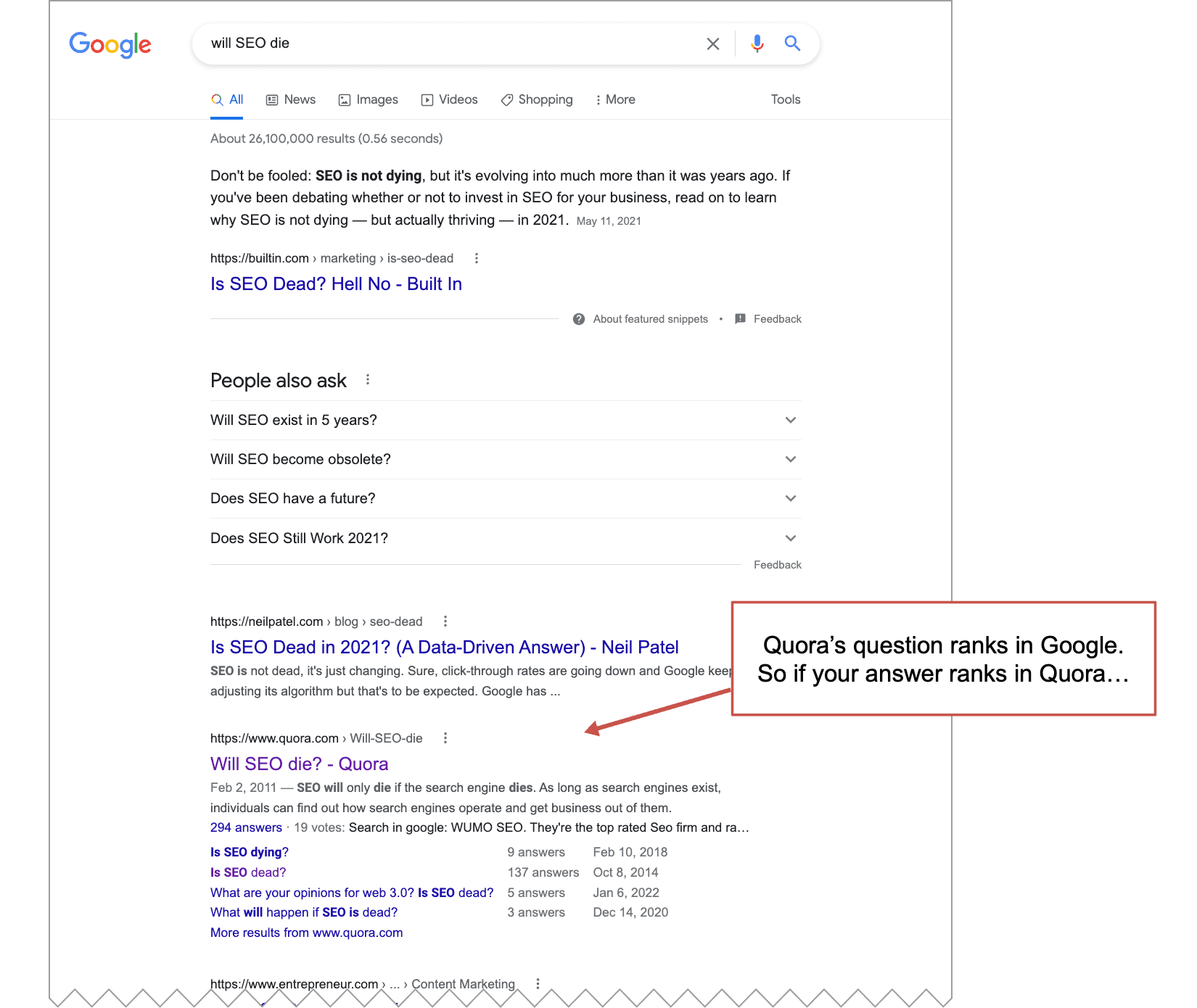 Submitting often isn't enough. You'll need engagement on the post (upvotes and comments) which is much easier if you're an active member in that community. A drive-by isn't usually sufficient.
Or, try the reverse angle. First, check the rankings for that UGC website using an SEO tool. Scan through all of the relevant phrases for which Quora, Reddit or Stack Overflow rank. Then create content that can be promoted through posts on those websites.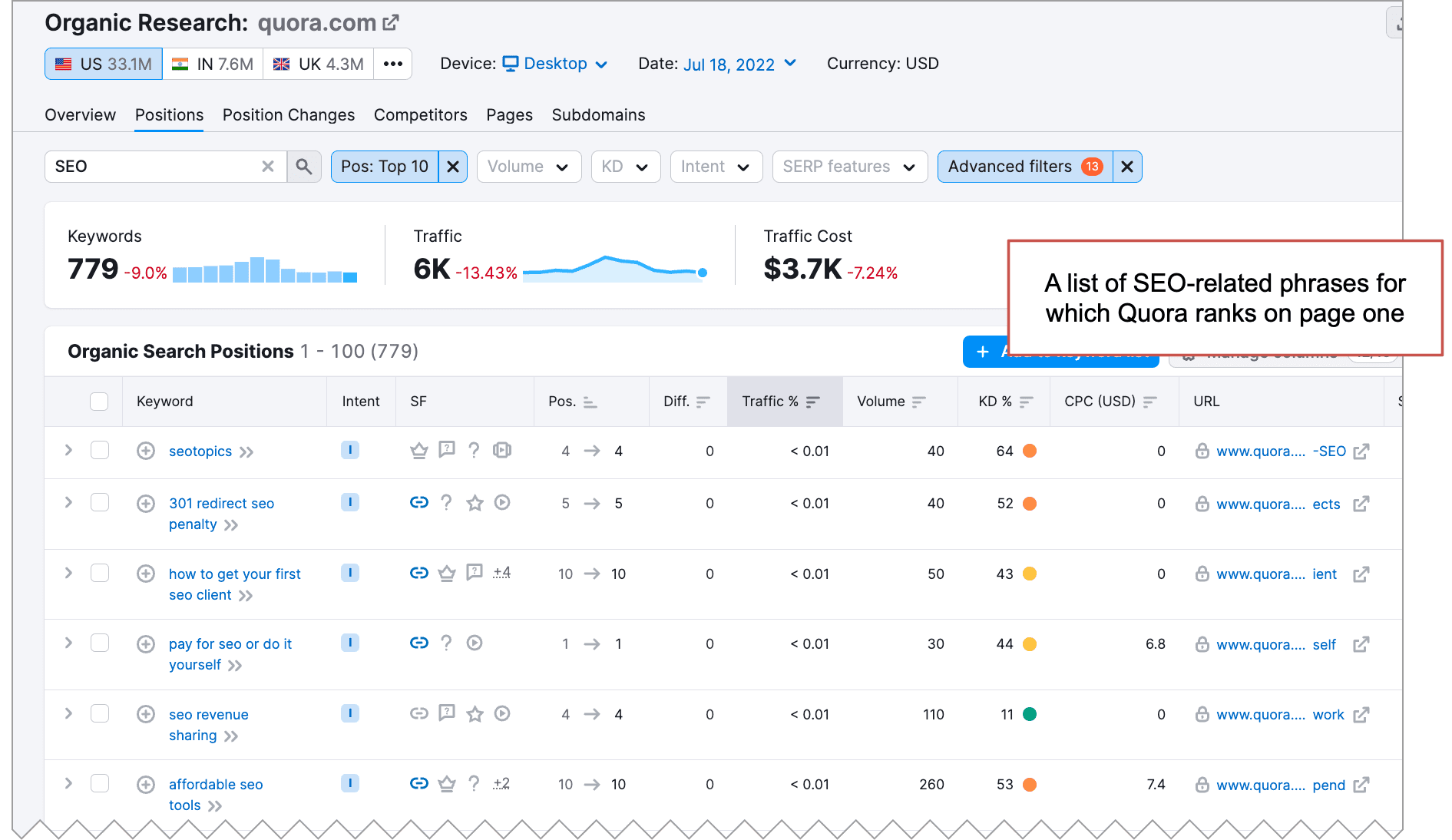 Attaching your content to the existing rankings of someone else's page used to be called "barnacle SEO" but I haven't heard that phrase for a long time. Here's another example:
5. If directories are in the SERP…
Make sure you look good in that directory.
Directories tend to rank high. Clutch, G2, Yelp, Capterra and dozens of other business directories appear high in SERPs.
Often, they rank higher than you'd think they would, appearing at the top even when the usual criteria for rankings aren't strong.
The directory page may have a low Page Authority
The directory page may not have a lot of keyphrase-focused content.
But they rank anyway. Why?
The reason is simple: directories do a good job satisfying the intent of the visitor, which is to consider multiple options. A service provider's website gives the visitor information about only one option, but the directory presents many options. So visitors who land on director are highly engaged. And engagement (time on page before returning to search results) is a ranking factor.
Google favors directories over service providers and marketplaces over merchants.
Let that sink in for a moment.
So when you see a directory ranking high in search results, you're playing a different game. Your job is now to be visible within that directory.
The ranking factors within the directory will be different, so be ready to do some research. Look closely at the listings. Do reviews matter? If so, reach out to your superfans. Do sponsorships matter? If so, give yourself a budget.
And be ready to track the traffic and conversion rates, especially if you're spending money. The medium is referral and the source is the directory website. Here's what it looks like in Universal Analytics…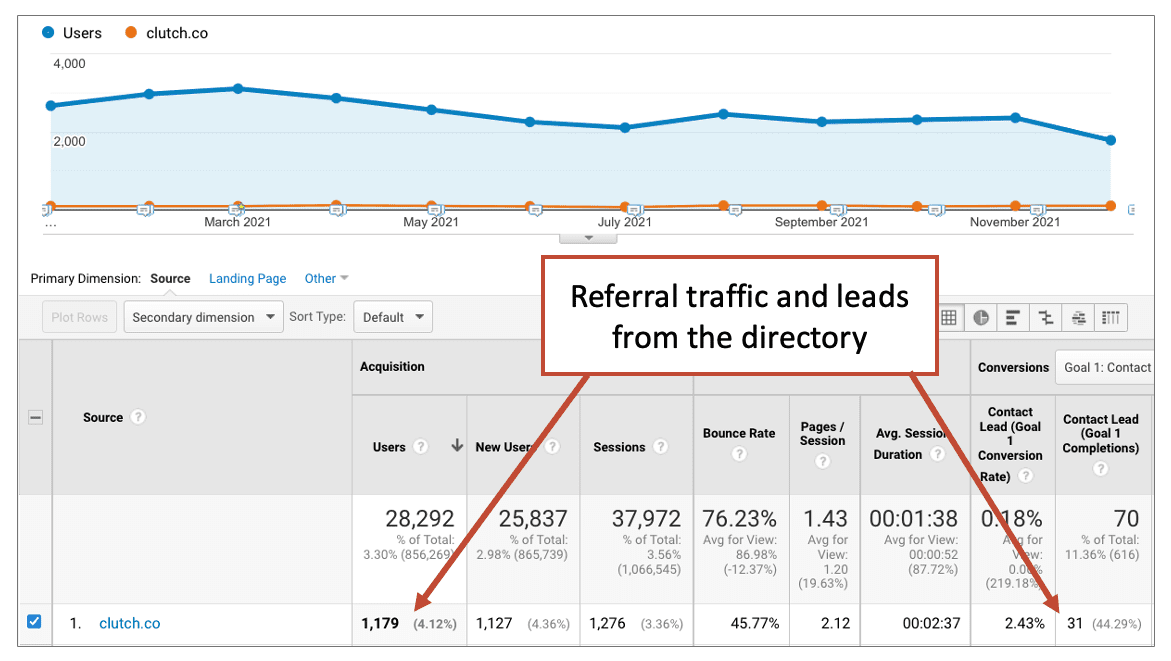 …and in GA4 if you prefer…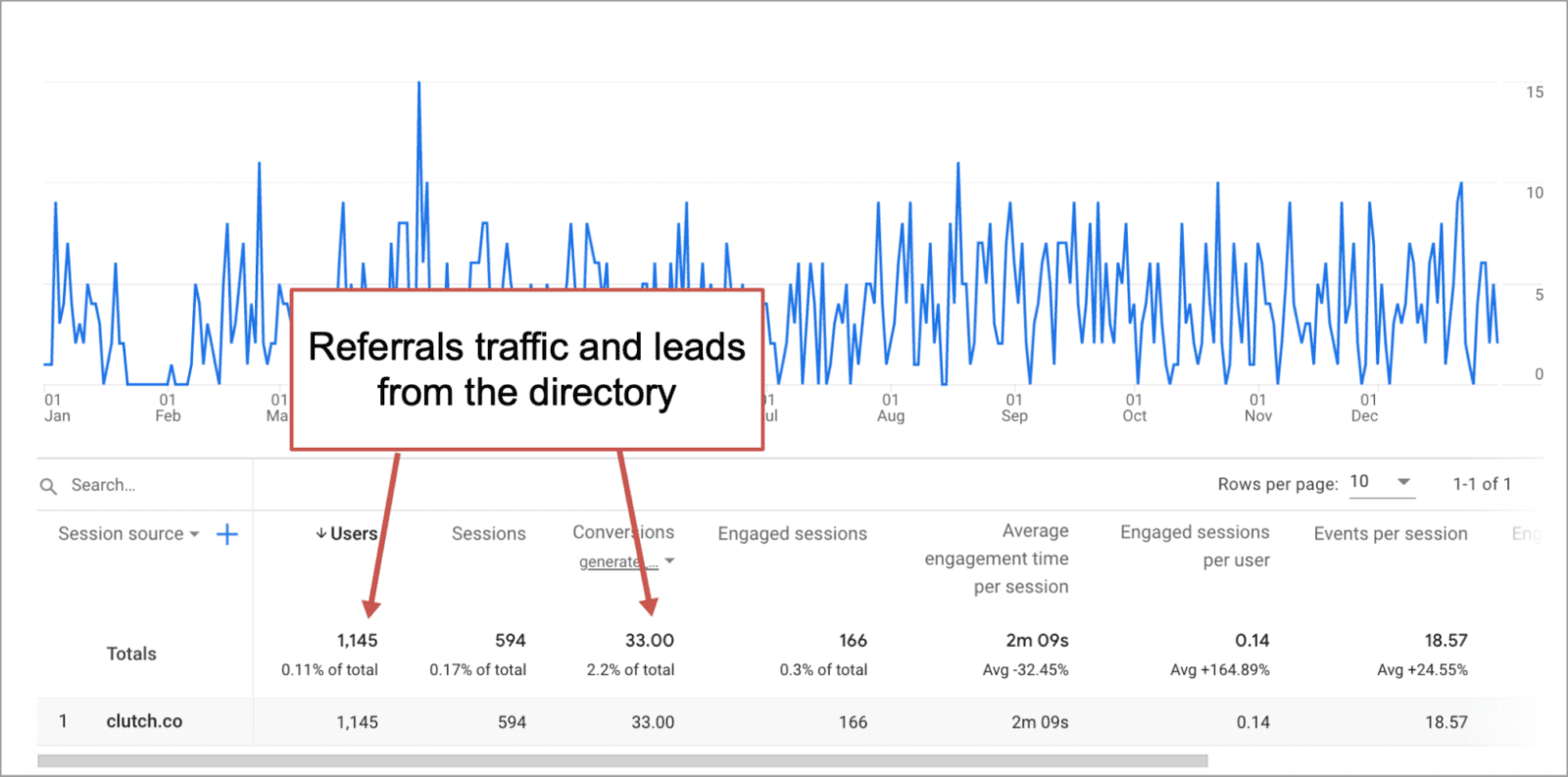 If you choose not to be present in that directory, you are forfeiting all of the visibility from that keyphrase to your competitors.
6. If associations are in the SERP…
Join and collaborate with that association.
Unlike your typical directory, associations exist to support their members. Their job is to help their members grow. So if you're a member, they're invested in your success. They're often happy to collaborate. It's like finding a friend while doing competitor analysis.
You could write a search optimized article for them. You could suggest they interview one of your executives. You could host a small event together. Whatever it is, it's an easy pitch.
And if they've written a roundup that ranks high for a useful phrase, you could politely ask them to add you to it.
The Tortoise Supper Club is an excellent spot for small private events. Search is a great way to promote this and "private dining Chicago" is a great target phrase. But look at the search results. Not a single restaurant ranks. It's all blogs and review sites. But what's that on top? The local travel association.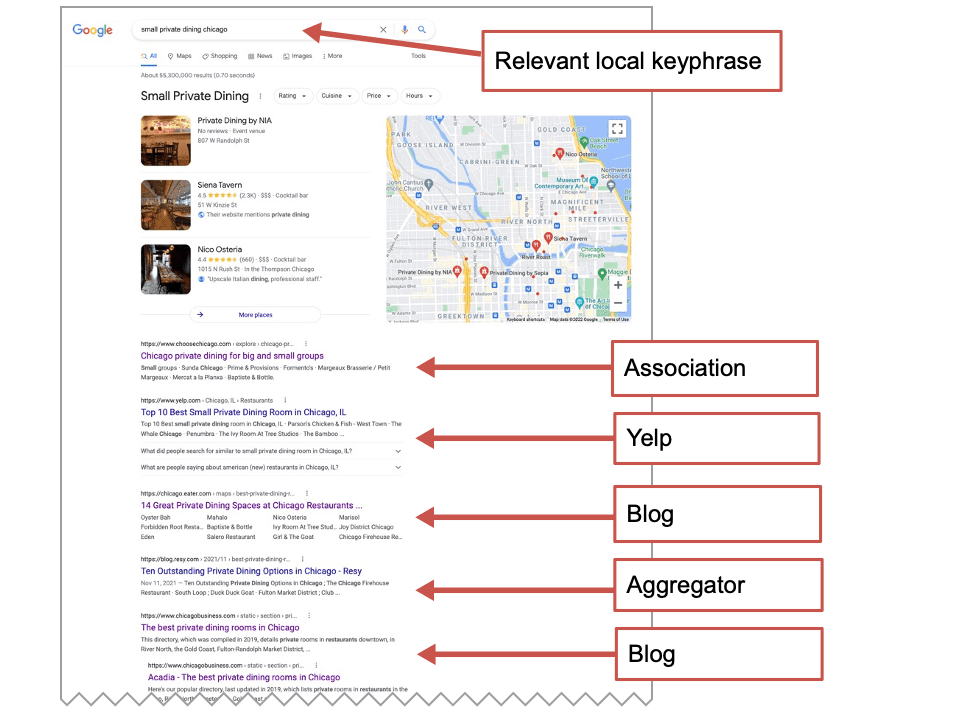 A quick call or email can make you very visible on a page that's very visible in search results. And it may make a visible difference in your Analytics. Just check the referral traffic from that website.
7. If videos are in the SERP for the person's name…
Record a video interview with that person.
This tip is for all of the podcasters out there. Or really anyone doing organic influencer marketing and interviews.
A lot of interviews are done on video. And those videos are usually hosted on YouTube. And YouTube videos are the most likely to appear in Google search results. So here's another SERP strategy.
If you do video interviews and you're considering a guest as you line up your next episode, do a quick search for their name. If you see videos, your interview might have a big visibility boost. If your video ranks for their name, you'll get a lot more views.
Look at any YouTube channel that hosts interviews. See that some have 10x the number of views? Now search for the names of those interviewees. See the video? That's why.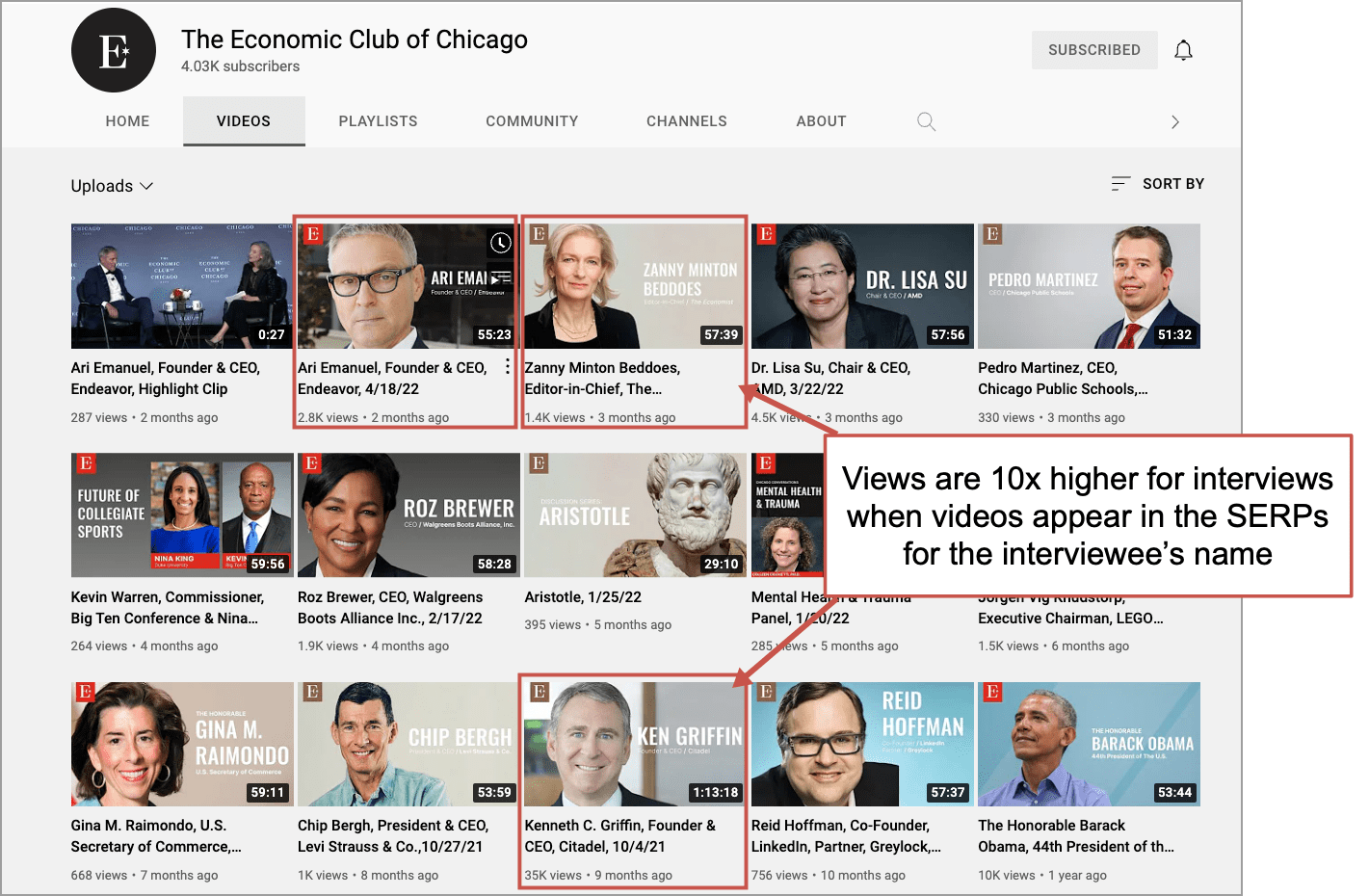 Obviously, this isn't the only criteria for selecting interviewees. Above all, you should interview people who are interesting to your audience. But if you need a tie breaker, consider the SERP.
8. If you're already in the SERP…
Search for a related phrase and compare the search results.
You rank. Victory! But the next steps require careful SERP analysis. Generally, there are two possible next steps once a page appears in search results
Improve the rankings by updating the page
Build up the relevance of the page by adding depth and detail. Specifically, you should incorporate the semantically related phrases.
Target a related phrases by creating a new page
Write another page on a related topic, building up a hub of interconnected content. On the new page, target an adjacent phrase.
But when is a phrase an adjacent phrase? And when is it a semantically related phrase? It's a question no SEO tool will answer for you. The best (and only) way to answer is to simply search for both phrases, in side-by-side browsers, and look closely at the search results.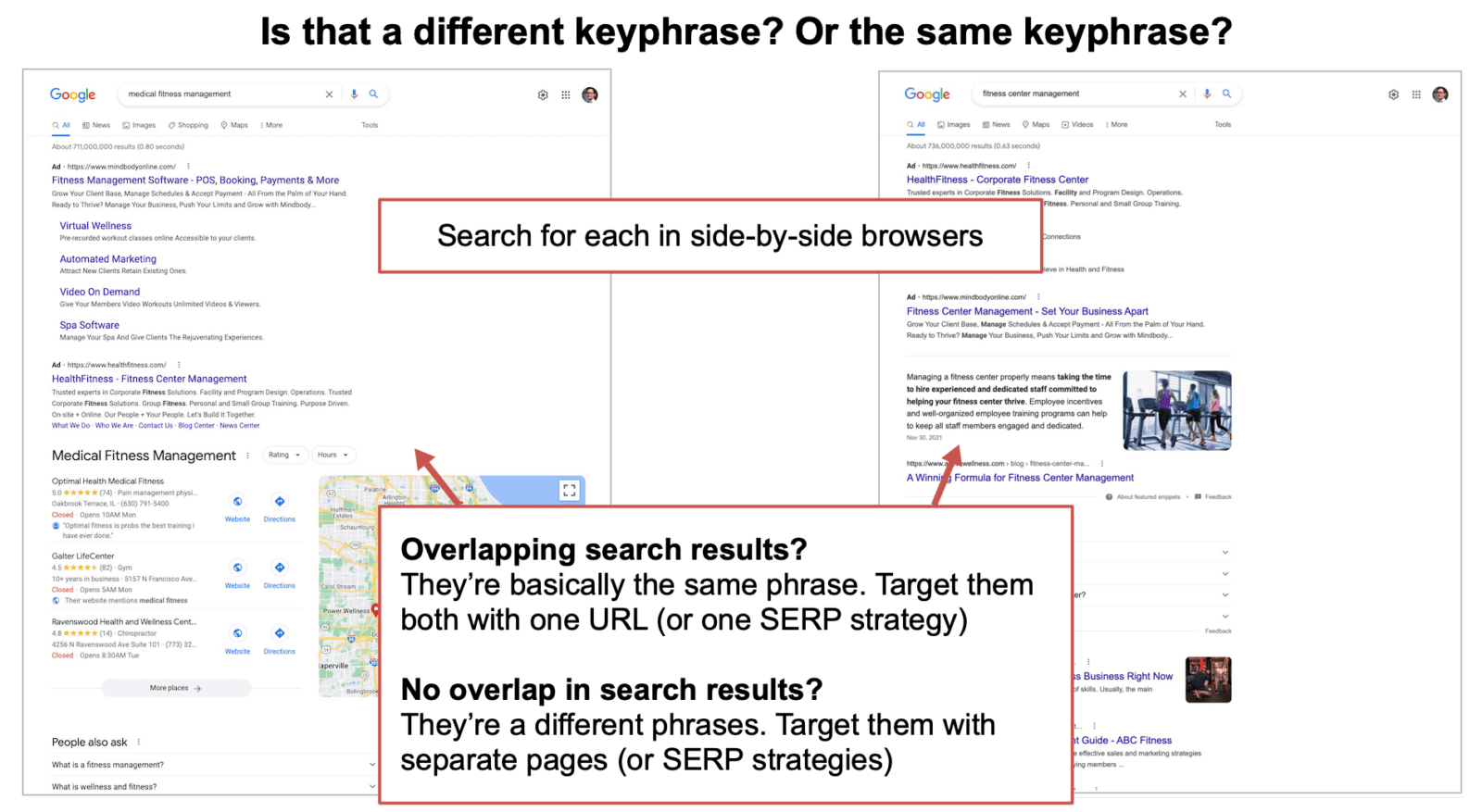 If there is a lot of overlap between ads, search results and SERP features, you're looking at a semantically related phrase. Don't create a new page. Update the existing page, making sure to include details about that related phrase or subtopic. This is called semantic SEO.
If there is little or no overlap between the two search results pages, you're looking at a new phrase. If you have a shot of ranking for it (your authority is in the same range as the other pages that rank) then make a new page. If it's out of reach, consider another SEO strategy or forfeit the phrase.
This analysis is only possible by searching and carefully analyzing the SERPs. Unless you compare the two side-by-side, you have no way to be certain if, within Google, they are one phrase or two.
Not all rankings are visibility. Not all visibility is rankings.
Search engine optimization isn't one thing. Not anymore.
It is no longer about writing and ranking. It's many different things depending on what your audience searches for and what they then see in search results.
Because the strategy is driven by the SERP, the role of the search professional has grown. And other non-SEO roles are finding they have plenty of opportunities to support search marketing efforts.
SEOs are… video marketers, digital PR professionals, influencer marketers, association relations and reputation defenders.
Video marketers, digital PR professionals, influencer marketers, association relations and reputation defenders …are SEOs.
And even if you reject the growing scope of modern SEO, even if you stick to the traditional search optimization goal of ranking in traditional organic search results, you still need to search and look closely. You need to conduct SERP analysis.
You're not done researching a keyphrase until you've searched for it and looked closely at the search results.
If nothing else, you'll get a sense of the levels of visual noise surrounding the traditional organic rankings. You'll get a sense of the potential organic clickthrough rates.
Of course, there are many other strategies that can be used against other SERPs. Our real hope here is to remind SEOs and anyone in digital marketing to go deeper. Pretend to be your potential visitor. Search for the phrase. Look closely at the search results. Analyze the SERP then adapt your approach accordingly.