Travis is a popular guy.  He gets lots of traffic to his website and great visitors, but something was missing. Sure, everyone drops by, but no one stays for long. He knows he needs to step up his game or it won't last.
Constance is smart and her small group of friends love her. She's got this beautifully crafted content that stops visitors in their tracks. But there's a problem: hardly anyone sees it.  She lives in a quiet place and she's lonely.
This is the story of how Travis meets Constance. How traffic meets content. It's a story of friendship, love and guest blogging.
Boy meets girl. Search meets social.
When Constance was a girl, her mom always told her "marry a nice young man with lots of incoming links."  SEO was always important in their family.  (Grandpa told stories about the quality of the content back in his day).  But Constance was a strange girl.  She found it easier to connect with people more than with robots.  She preferred social networks to search engines.
As Travis was growing up, he was always good at sports and ranking for keyphrases. But social media didn't come naturally to him. He often felt like a Google guy in a Facebook world, always wondering how to create a real, lasting social media connections.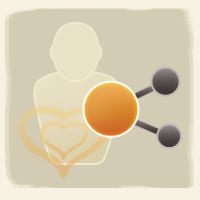 What this cute little couple is about to find out is that in a healthy, guest blogging relationship, they can have both great SEO (links and content) and great social media (a true connection and leveraged followings). Guest blogging creates both new links, and real connections.
They sound just perfect for each other, don't they? Well, let's find out why…
Why Travis? Criteria for a good place to blog.
Constance has always liked local guys with a little charm and large social networks. These guys are popular in the area and can really help her meet new people. So PR type men, association dudes, and hometown bloggers were always appealing.
But she also likes guys with great abs and authoritative domains. She's always noticed the toned, fit guys with great link popularity. These guys may not be famous here in town, but they can really help her rank in search engines. They would make beautiful keyphrases together.
Travis seems to have a bit of both. He's got a loyal local readership and a lot of incoming links. Plus he's a snappy dresser. His blog looks sharp, links out and invites comments. She's starting to feel the chemistry…
Why Constance? Criteria for a good guest blogger.
Travis doesn't play games. He's upfront with her and communicates his hopes and expectations clearly. His Guest Blogging Guidelines explain how the ideal partner for him will write. But Travis is already smitten. He loves Constance for her originality. She's real, she cares, and she always leaves him thinking.
He also likes that she has a small, engaged network of followers. That doesn't hurt. And he knows Constance will be there for him when he needs her, to reply to visitor's comments.
Things are looking good for these two.  After a few tweets, emails, ideas, an outline, drafts and some edits, they consummate by making the post live. They are officially in a guest blogging relationship.
Sparks Fly: sharing and links
Travis knows it's not all about him. For this relationship to work, Constance's dreams need to come true, too. He's ready with the chocolate and flowers.
First, he presents her with a gourmet, dark-chocolate, keyphrase-focused link on his site. It's what any gentleman would do.
Next, he promotes the article with a colorful bouquet of social media and an email newsletter, giving her all the credit. She deserves it.
And she feels the same. Constance pushes out the link through her small network of engaged fans and followers, bringing in some quick comments. Traffic is up, visitors are happy, and the couple lives happily ever after, or at least until the next post.
You get what you give
If you share your traffic with guest bloggers, and share your content with other blogs, you'll enjoy the same benefits of our lovely young couple.
Be Constance: Give content, get an incoming link and traffic
Be Travis: Give a link and share your audience, and get some fresh content in return.
Either way, you'll make a new friend.