There are millions of us and we all have a common goal: create awareness and demand. It's hard work and it's always changing. To keep up, we study hard and read blogs like this one.
But this blog post isn't about marketing. It's about being a marketer.
This isn't about a tactic or a channel. This is about your day. What you do, hour to hour, minute to minute. It's about structuring your time and your activity for maximum results.
This post describes one way to do it. It isn't the only way. But it's how I approach my job as a marketer. I'm sharing the habits I've developed, hoping they'll be helpful to you.
As a bonus, at the very end of this post, you'll find an hour-by-hour day-in-the-life breakdown for various marketers. Enjoy!
1. Prioritize first
You have one day today, same as everyone else. What you do with it is up to you. Your actions are your priorities, whether or not you are decisive and focused.
Some work is urgent, some work is important. That's why setting priorities is so critical.
"What is important is seldom urgent, what is urgent is seldom important."
Those 12 words come from President Dwight D. Eisenhower. Read them again and then think about your day.
Create a two-by-two matrix and you have the "Eisenhower Box," a framework for responding to anything life throws at you.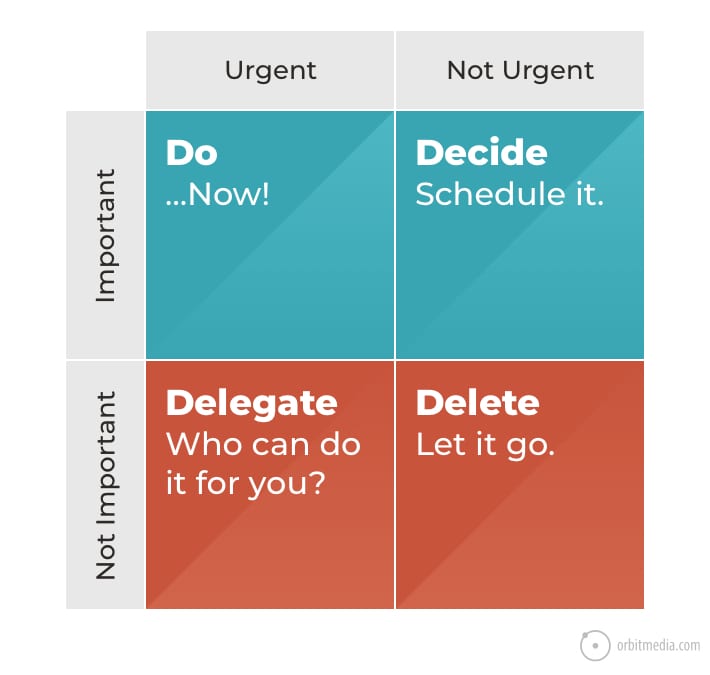 Every possible action can be evaluated and assigned to one of the four categories: do it now, schedule it, delegate it to an assistant/robot/team member or just delete it.
If you're thinking "I don't have anyone to delegate to," hang in there. We'll get to delegation in a minute.
In marketing, some of our actions are so much more valuable than others, they should be prioritized, even when there is no urgency to do them.
Your publishing calendar demands that you make something (urgent)
…but updating older content would get you better results (important).
The blinking cursor on the blank page demands that you write something
…but recording a video would get you better results.
Your inbox is filling up with emails
…but writing an article would get you better results.
Your friend on FB just posted something hilarious
…but you have a job to do.
Let's put that in a little chart: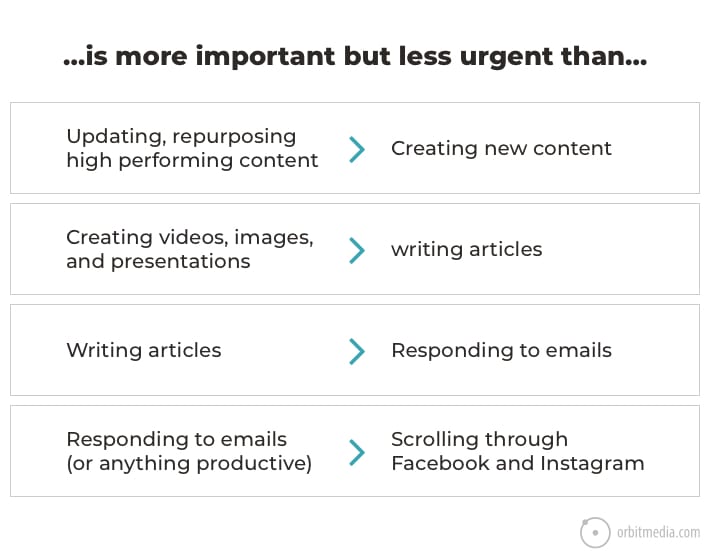 Actions for today:
Turn off notifications from apps on your phone.
If there's something important, but not urgent, add it to your calendar. Skip the to-do list.
2. Maximize your inbox
We all spend time in the inbox. It's inevitable. For me, my day-to-day email is my greatest professional challenge. The goal is to make email time as efficient and focused as possible.
There are a few approaches to email. Research shows that they all break down into five groups.
(1) Red Creepers (18%)
They never delete email. Their inboxes grow forever. I have friends with 20k+ emails in their inbox (I'm looking at you, Kyle). They might seem crazy, but somehow they survive. I assume they use the 'search' feature a lot.

(2) Green Creepers (48%)
They delete some email, but their inboxes are always growing anyway.

(3) Binge Deleters (5%)
When it gets to be a problem. They clean house. Select all and delete. If it's important, you can search for it later or the sender will write to you again.

(4) Wire Walkers (8%)
I'm in this group. We battle the inbox as if it was a small fire, trying to keep it below a certain threshold. For me, I target "Inbox 20." Twice a day I set aside time to get it down to that level. This is a common strategy for people who get large volumes of email.

(5) Inbox Zero-ers (17%)
They use folders and filters to keep things clean. They have low tolerance for chaos. They're organized and sometimes a bit compulsive. Every day or so, they completely empty their inbox by responding, adding action items to a task list, filing or deleting.

Of course, there are effective marketers in each category. Whatever your style, you can use your day-to-day email as a way to trigger ideas and capture content. Here's a framework for turning your sent mail folder into high ranking articles.
Actions for today:
Unsubscribe from 20 newsletters you weren't reading anyway.
Use a scheduling app (Calendly) or AI assistant (x.ai) to avoid the back-and-forth of scheduling emails.
If you use Gmail, try multiple inboxes, which moves mail into different boxes depending on how you "star" them.
Here's what my inbox looks like today.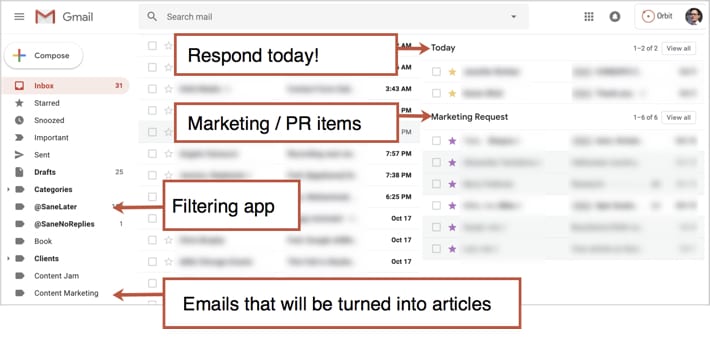 You can see the SaneLater folder (filtering) the prioritization (multiple inboxes) and the content capture folder (Content Marketing folder). Which brings us to…
3. Capture every idea quickly
You're always on. Inspiration may strike anytime anywhere. So you have a mechanism for capturing ideas. You do more than just hope you'll remember them later. You use an app, you carry a notebook, you email yourself or you record a voice message.
I capture two kinds of ideas: topics for new articles and additions to partially developed articles.
New ideas
I have a Google Sheet called "Content & Marketing." Each tab is a list. The first is everything I've ever written. The second is topics. Each row is an idea for content. I add new ideas here.
When an idea grows into a headline, target keyphrases and possible collaborators, I open my content template, copy it, rename it and link to it from the spreadsheet next to the topic idea. Now I have a place to build up the article over time.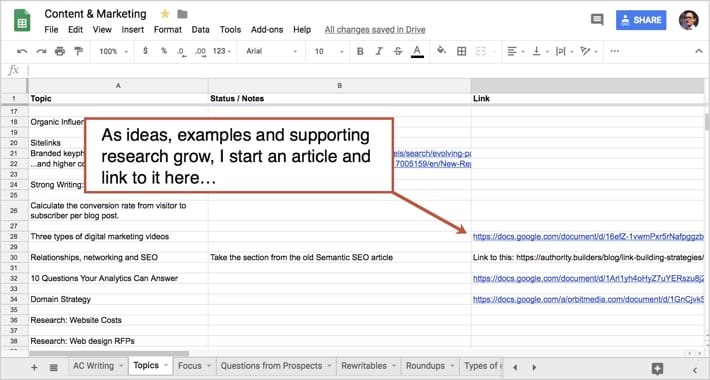 Additions to partially developed articles
I'm on a train reading a book. I'm in a meeting with a client. I'm watching a webinar while eating my lunch.
Eureka!
There it is. An idea, example or statistic that would improve one of my half-baked articles. I open Google Sheets, click on the link for the article template and add it.
So there are lists within lists. The topics tab in the spreadsheet is a list of partially developed articles. Each template has a list of ideas for each article.
There are 50+ articles in there, slowing growing and improving like eggs in a nest.
I never worry about forgetting something. I'm always excited to combine ideas.
Example: The other day I was going to a website and mistyped the URL. I landed on a funny 404 page with a poem. Great! I'm actually collecting fun ideas for 404 pages. So I took a screenshot and added it to the partially written article. In a year or so, I'll have enough examples to write a nice article.
4. Stop everything for PR and SEO
Some things are so important, we should stop what we're doing and focus on them immediately. Otherwise, we might let a valuable opportunity slip by.
If a journalist calls and they're on deadline, you cancel your next meeting and give them the time and attention they need. Otherwise, you might miss a PR hit.
More common for the content marketer, these are networking and SEO opportunities. If you notice that you've been mentioned in something, slow down and make sure you get the maximum value from the mention.
Networking and PR
Your brand was mentioned by a blogger or editor. Someone referenced an article of yours. Or maybe you were mentioned alongside an interesting influencer. Stop what you're doing, say hello and send a LinkedIn request. Content is networking. Never miss the chance to make a new connection.
Once you're connected, send this short message: "If you'd ever like to collaborate on anything at all, don't hesitate to reach out."
When they see it, they'll spend a quick second thinking about how they might include you in their content. That one brief moment can open big opportunities.
No-link mentions and SEO
If a website mentions your brand without linking to you, you have a short window of opportunity to help your SEO. The key is to spot it, check it, then reach out.
Set up a notification of every brand mention
When you get the notification, check to see if each mention also links back to you. If not…
Connect with the author or editor and politely ask if they wouldn't mind updating the article by linking your brand name to your site
It's sometimes called "Link reclamation" and it's probably the fastest, easiest approach to building links and authority, which is one of the three main search ranking factors.
Here's a short video with an example:

Actions for today:
5. Delegate some social media
Some aspects of social media are just too high-touch to be delegated. It's a channel for communication, just like your phone. Some phone calls can be delegated. Others you need to make yourself.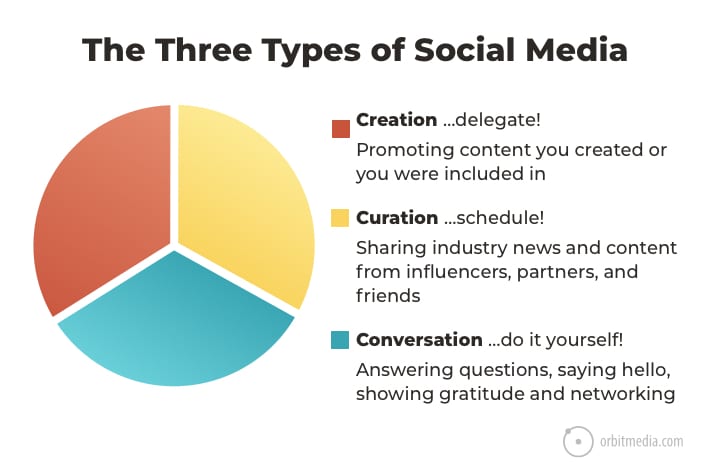 Really there are three types of posts in social media marketing. Each is approached differently throughout your day.
Delegate: Content promotion
Part of your job is to promote your content on social media, but this can be easily delegated. Create a detailed training document or video that shows exactly how you share your own content (using every item in the social media post checklist, of course!) and hand it off.
If you don't have a virtual assistant, this is a great chance to try one. If you save just four hours per month, you've become 2.5% more efficient for less than $100.
Robots can also do this work, although they take time to build. At Orbit, we use CoSchedule and it's a huge help. Recommended!
Schedule: Sharing news and content from friends
You'll spend part of your day reading and learning. You keep up on news, you study new tactics. Newsletters, blogs, books, webinars, podcasts. You find things worth sharing, but it might be early in the morning. Or there might be several things at once.
Schedule these posts using Buffer or a similar tool to keep these posts from getting bunched together at weird times of day.
ProTip! This is also how you'll schedule posts from influencers you're schmoozing, or friends you love, or partners you appreciate. Sharing is networking.
Timebox: Conversation
The most social part of social media can never be delegated, automated or scheduled. It's the part where you show ❤ and gratitude, with or without emojis. It's answering questions and saying hello.
This is very important, but not urgent, so schedule it and "timebox" it. In other words, allocate a fixed amount of time for it. Check your streams once or twice per day to look at social streams and interact. But unless you're a full-time community manager, don't leave it on all day.
ProTip: Make your hellos and thank yous stand out, by showing your face. Write a note and take a picture of yourself holding it up. This is me saying thanks to my friend, Tom Bowen. Hi, Tom!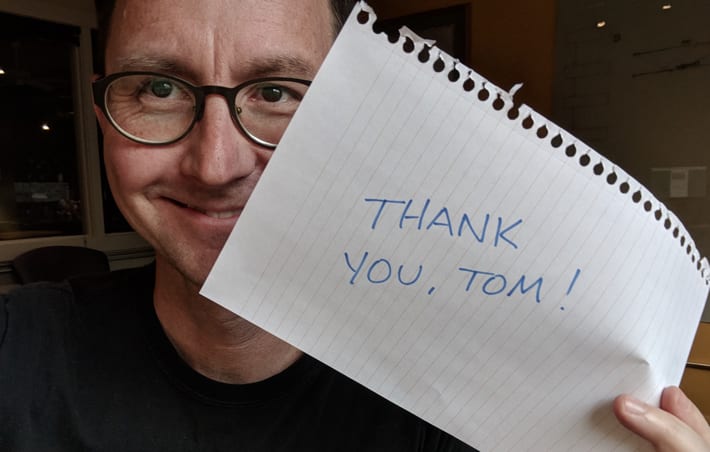 Actions for today:
Put an event on your calendar called "Reading / Social Media." Stay out of social streams and newsletters until then.
Document your process for social promotion and hand it off
Speaking of thanks…
6. Show big thanks
Gratitude should be part of your daily routine.
Content marketing is a test of generosity. The brand, the person that gives away the most helpful advice wins the most attention. When one teaches, mentions, comments or shares, the other thanks.
And there are more ways than ever to say thanks. Years ago, we shared a list of 14 ways to say thank you to your network. Scan through it. Then go make someone's day.
Want to be in the top 1% for attention? Just do what 99% of people don't do: write a handwritten thank you note. Stick a stamp on it and get your message into the forgotten inbox, the US mail.
Not surprising, Ann Handley, shows us a better way to do even this. We were thrilled to have Ann (a.k.a. the best marketing keynote speaker in the world) speak at Content Jam. As part of our thanks, we made her a special little gift.
Ann's response? A handwritten thank you note, adorned inside and out with sketches referencing our time together that day. It far surpasses each one of the many kind words we received after the event. How'd she do it? With pen and ink.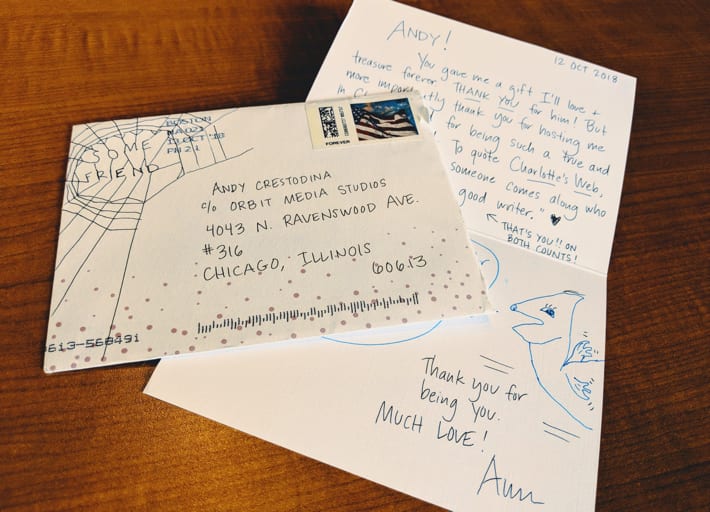 Actions for today:
Write and send a handwritten thank you note to a client, a partner or a friend
Write a LinkedIn recommendation for someone who has helped you
7. Get to bed, people!
Life is about choices. And the choice to go to bed is one of the best in my experience. In fact, Sleep Advisor recommends 7 or more hours of sleep for laser-sharp focus the next day.Turn off Netflix, get some sleep, get up early and write. Exchange that late night episode of "Stranger Things" for a golden hour of uninterrupted writing time.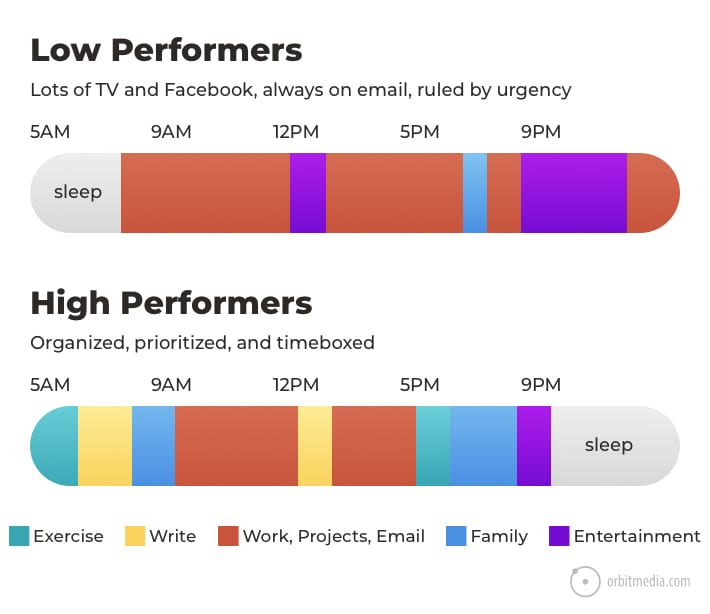 Think it's hard to get up early? That's because it's not a habit. Research shows it takes 66 days to form a habit, depending on the behavior. So set the alarm for 5am for a few months and after that, you'll wake up and write automatically.
Here I am making the case for getting up early and working hard:
Actions for today:
Delete a distracting app from your phone
Be in bed by 10pm kiddos! Be up and active by 5am.
Bonus! Day(s) in the life of marketers
I reached out to a few friends in different roles and asked how their time breaks down.
Gini Dietrich, PR communications executive:

Molly Lynch, PR and Social Media pro

Mark Bealin, SEO agency founder

Jodi Harris, Content Marketing Strategy consultant, CMI

Justin Daub, UX agency executive

How does your day break down? If you write a post about it, let us know and we'll share…
Do you have any productivity tactics or tools you'd like to share? Let us know with a comment…
Colophon: The ideas in this article were collected over several weeks. Three of the points included were repurposed from previous articles and presentations. It was written over 10 days in the early morning hours when children slept and created in parallel with a presentation given at Wine & Web.