Every second, people around the world make 93,939 Google searches. While that might sound like an enormous volume of web traffic, you're competing for that traffic with over 1.8 billion other websites.
So with so much competition, how can you stand out in search engine results?
There are many tried-and-true SEO strategies you could try, but let's focus on just one today: video SEO. Video search engine optimization ('video SEO') is the practice of creating video content that is effectively indexed and ranked by search engines like Google, Yahoo, and Bing.
If video SEO sounds interesting to you, read on. In this article, you'll learn the benefits of video SEO, four great video SEO tips, and how to optimize your videos for search engines quickly.
Let's go.
Why video content is critical to SEO
Before covering the 'how' of video SEO, you need to understand why it's critical for your overall SEO strategy.
A good strategy does one key thing: it brings more organic traffic to your website. Video SEO is a great way to capture organic traffic because it will help you win the favor of Google's algorithm, expand your social media presence, and win backlinks.
Let's dive a little deeper into what those benefits can do for your business now.
1. Google's algorithm favors multimedia
Google's algorithm favors video content because it knows that's what visitors are looking for. According to market research, 96% of consumers have watched an explainer video specifically to learn about a product or service. In 2020, 86% of consumers surveyed wanted brands to produce more video content.
Those statistics show that video is becoming more popular with consumers. Naturally, Google has jumped on the video trend and now promotes video content heavily in search results.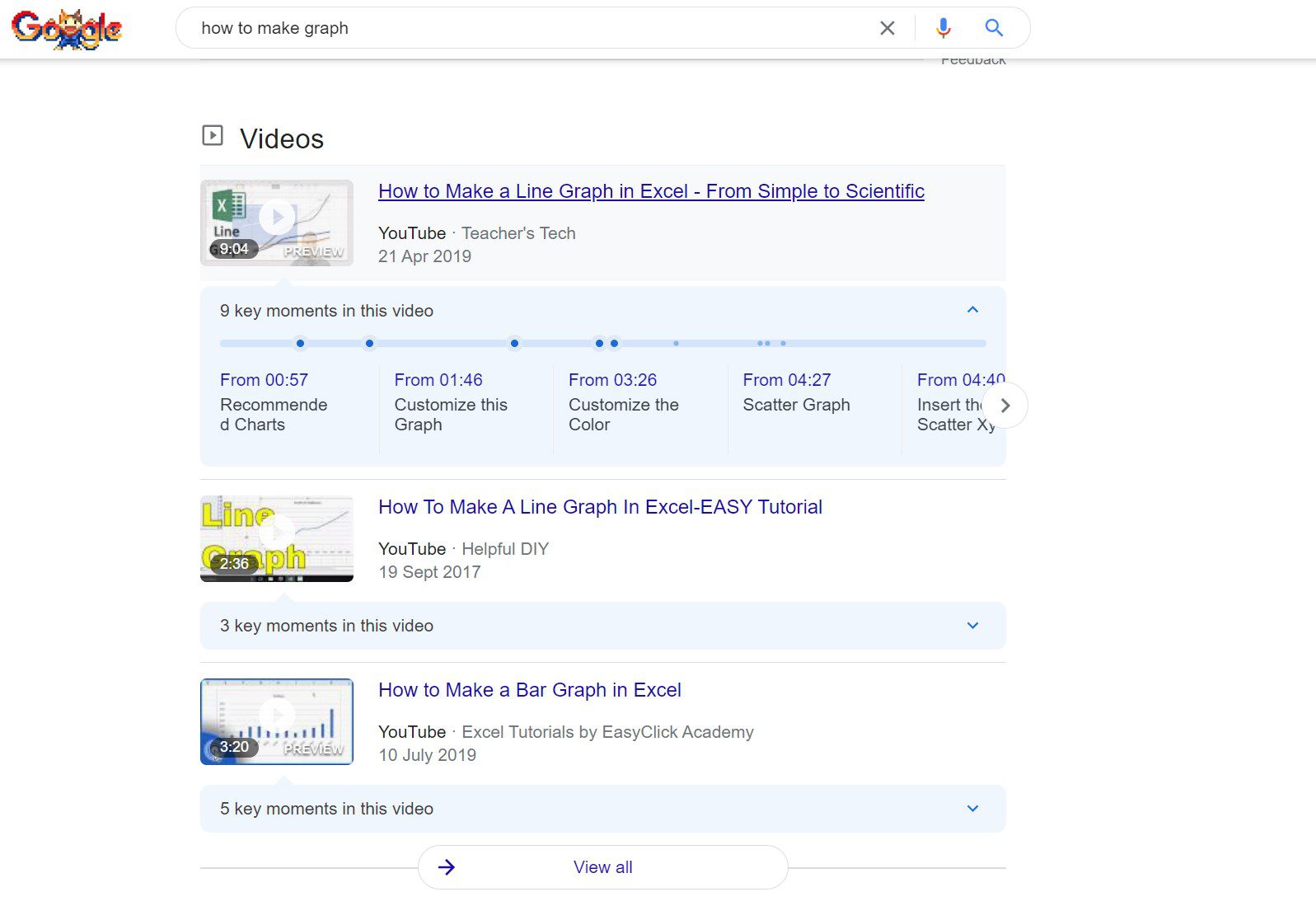 This makes the benefits clear for businesses: produce videos, get ranked.
2. Video SEO helps expand your marketing presence
Embracing video content won't just benefit your website: it will expand your overall digital marketing presence.
When you produce video content for your website, you provide your audience with a direct link to your YouTube account, webinar content, or social media platforms (depending on where you host the video). As more consumers visit those pages, search engines will recognize that they are popular and boost them accordingly. Thus, video SEO will bring you more customers from all your platforms.
3. Greater link building potential
As 72% of SEO experts believe backlinks are a "significant ranking" factor for websites, attracting backlinks will boost your search engine ranking.
Producing videos is a fantastic way to attract backlinks, as they are a form of top-of-the-funnel content (also called 'TOFU content'). TOFU content educates people in the initial stages of their sales journey, so if you produce good TOFU content, high-ranking websites will source your information for their own content.
Video content SEO tips to leverage
Now that you understand why it's crucial to use video content in your SEO strategy, you're ready to start planning your approach to video SEO. But first, there are a few things you need to keep in mind.
This section will cover four video content SEO tips you'll need to succeed with video SEO.
1. Integrate videos on your website
First, you want to ensure you integrate relevant videos into your website. Unfortunately, you can't just add a random video to a webpage and expect results. If you want your video SEO strategy to work, you'll need to ensure your videos fulfill three criteria:
They are relevant = your videos need to be relevant to the web page's topic (for example, if your post is 'how to use Youtube for marketing,' you could integrate videos that show people how to produce quality content for Youtube).
They are exclusive = your videos need to provide information consumers couldn't find elsewhere (like insider information, tips, or product demonstrations).
They are professional = your videos need to be professional, meaning they are well-produced, well-edited, and show the customer-friendly side of your business.
While these criteria may seem restricting, eight types of videos meet all three dot points. These include:
Explainer videos (like 'How to use video marketing')
Product demonstration videos (like 'How to use GraphMaker in content marketing')
Testimonials (like 'Why Company Inc. uses GraphMaker')
Behind-the-scenes videos (like 'A tour of our Sydney office')
Company culture videos (like 'Why you should work at GraphMaker')
Sales videos (like 'How GraphMaker will help your business')
How-to videos (like 'How to install GraphMaker')
Webinars (like 'GraphMaker for video production')
The type of video you choose to create will depend on what phase of the sales funnel you are targeting – as explained in this handy infographic: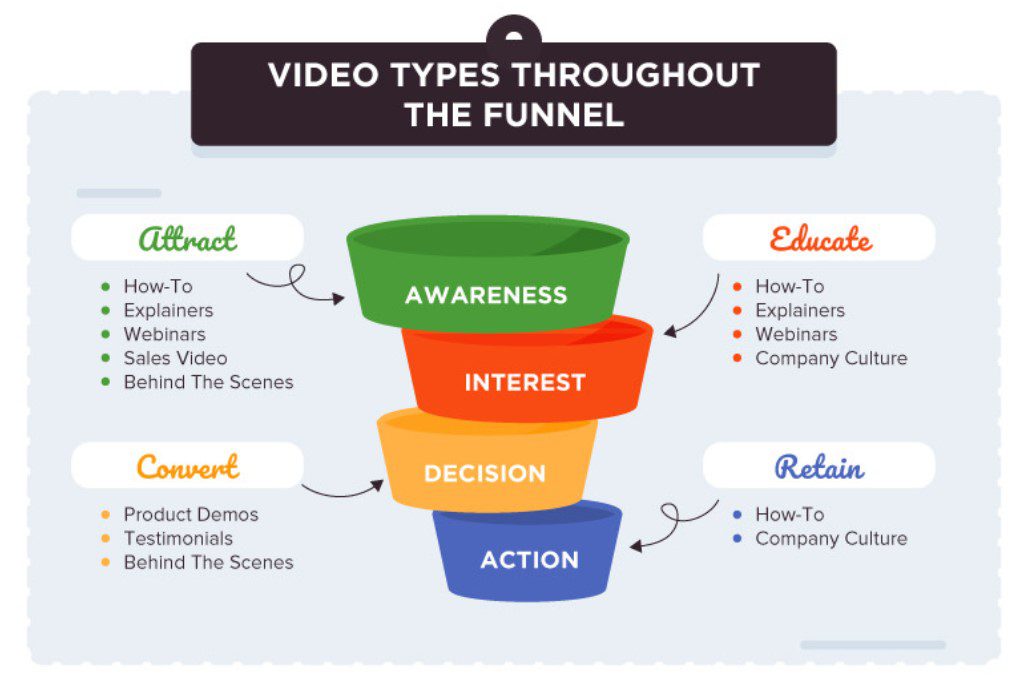 Source: BreadNBeyond
2. Contextualize your videos
Second, you need to ensure you add more to your webpage than simply the video. This means you'll need to add SEO-friendly features like:
A descriptive title to attract people to the page
A description of your video
Timestamps to help people navigate the video
A 'further viewing' section where you link related videos
Web copy explaining fundamental concepts of the video
A glossary of terms to help people understand the video better
Adding these elements has many advantages, as you'll give your audience extra information and provide a convenient space to link readers to your other web pages and products. You'll also create easily indexable content for search engines – which will help your web page rank higher.
If you're looking for inspiration on great contextual video content, check out this blog post and video from Oberlo.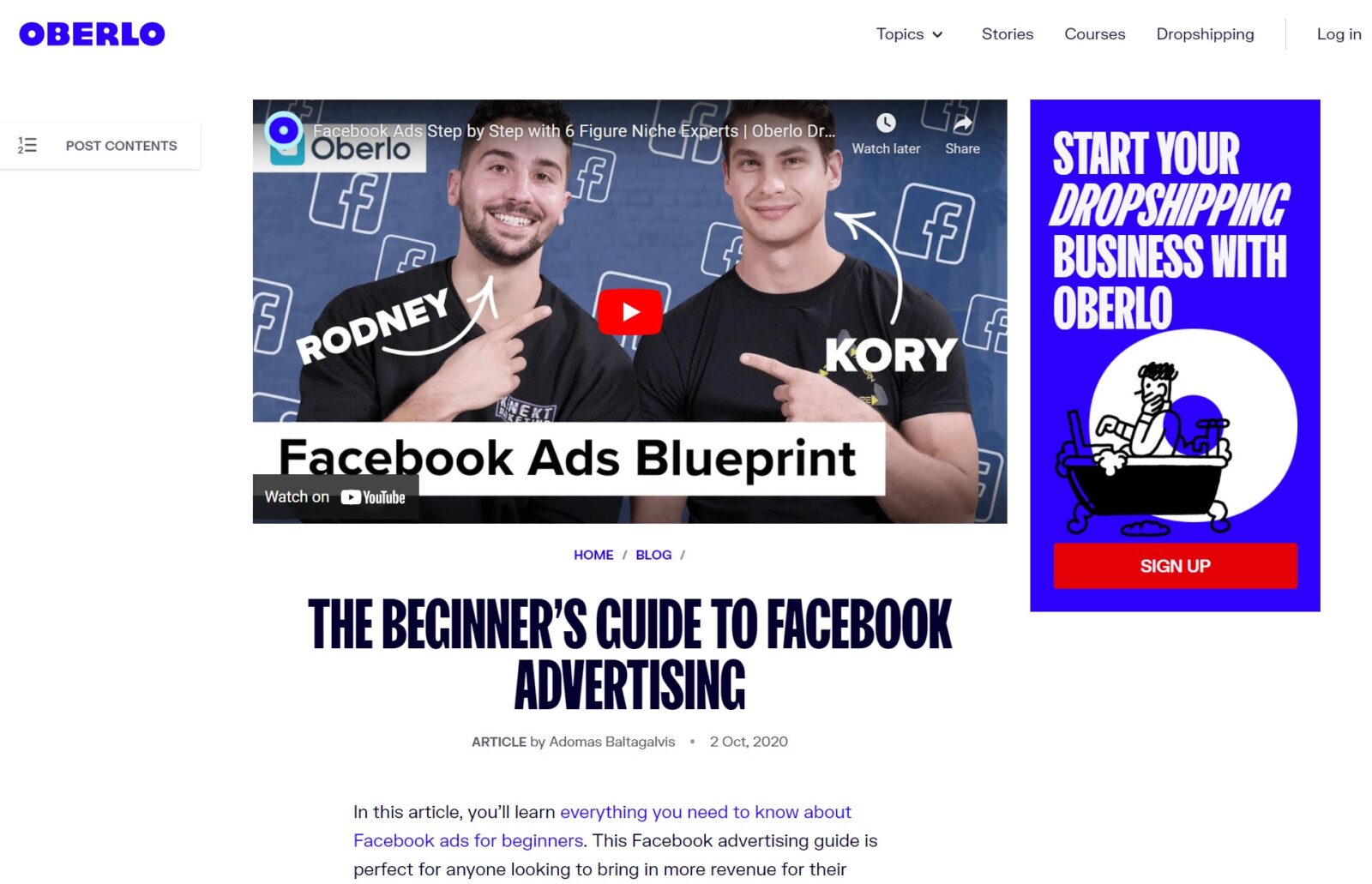 Source: Oberlo
3. Incorporate educational elements in your video
Third, you need to ensure your video is educational to ensure you give your audience valuable insights. To produce an educational (yet engaging!) video, make sure you:
Explain why you are qualified to make the video
Cover basic terms and their meaning
Use statistics, case studies, and demonstrations
Add visual elements to the video (like overlay text, diagrams, animations, etc.)
Add an intro and an outro
Answer potential questions your audience may have in a 'frequently asked questions' section
4. Ensure technicalities are on point
Finally, you should double-check to ensure that your video meets the specifications of the platform you host it on. For example, if you host your video on Youtube, your video should use these social media video specs:
Aspect ratio: 16: 9
Resolution: 3840 x 2160 (maximum) o 426 x 240 (minimum)
Dimensions: minimum of 1280 x 720 (16:9) or 640 x 480 pixels (4:3)
Length = less than 12 hours
Video formats: MOV, MP4, AVI, MPEG4, WMV, MPEG, 3GPP, or WebM

Source: ContentStudio
While video specifications may seem nit-picky, they are important for a crucial reason: people won't watch low-quality videos (let alone buy a product or service advertised in one!).
How to optimize your video SEO strategy
While more consumers are embracing video content, research shows that marketers are struggling to keep up. In fact, 59% of marketers still consider video content the most challenging content to make.
So how do you optimize your videos for search engines quickly and effectively? In this section, you'll learn six fast and easy ways to optimize your video.
1. Choose the right hosting platform
Where you host your videos matters more than you may think. When you base your SEO strategy around video content, each video acts as an anchor that draws in search engine traffic. If your website goes offline, it could be disastrous for your revenue, as the average unplanned website outage costs businesses between $5,617 and $8,851.
Naturally, you should choose your host carefully. The right hosting platform for your business will depend on two things: the length and size of your video and your website host (as not all hosts support embedded videos from all platforms)
For best results, use a widely adopted hosting platform like YouTube, Vimeo, Wistia, or DailyMotion. If your video is small, you may opt to host it in-house – but make sure you test it before pushing 'publish' to ensure it loads quickly.
2. Include video transcripts and closed captions
Did you know that 83% of consumers watch videos on mute? It's true! Research of 5,616 US consumers from Verizon shows that 80% of people are more likely to watch a video in full if it has captions.
Naturally, if you want to keep this traffic, you'll need to add closed captions to your video. But you should also include something else: a video transcription.
Adding a video transcription and a caption to your video will help your web page rank better, as Google's crawlers will scan the text for keywords and rank the page accordingly. They will also help you attract more voice search traffic and make your content accessible to people who can't listen to videos.
To add a transcript and closed captions, simply use a transcription tool or manually insert them yourself. Then, your captions will look like this: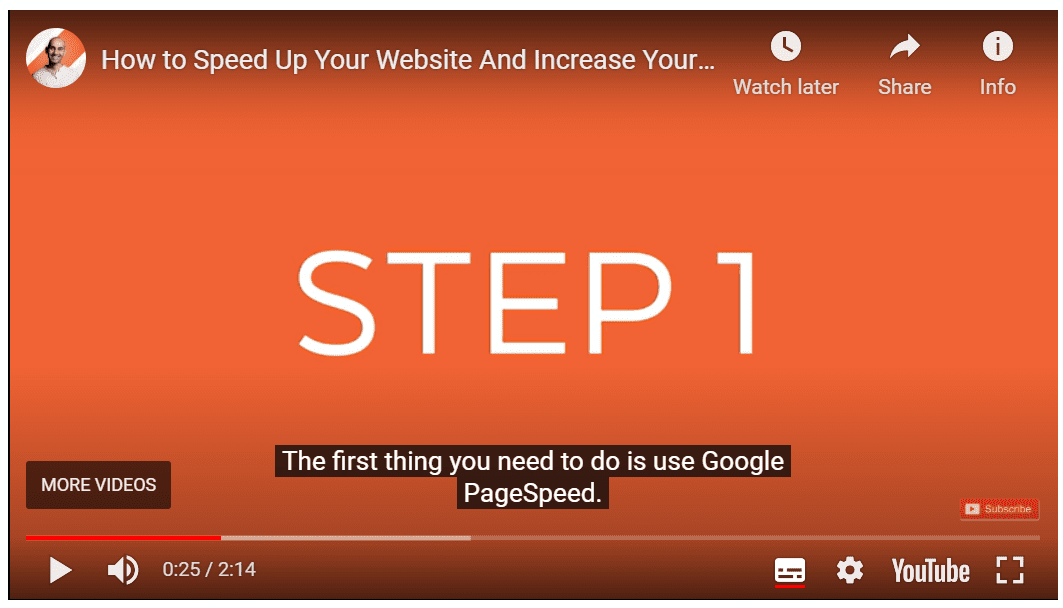 Source: NeilPatel
3. Make your thumbnails engaging
Out of these two videos, which one would you rather click on?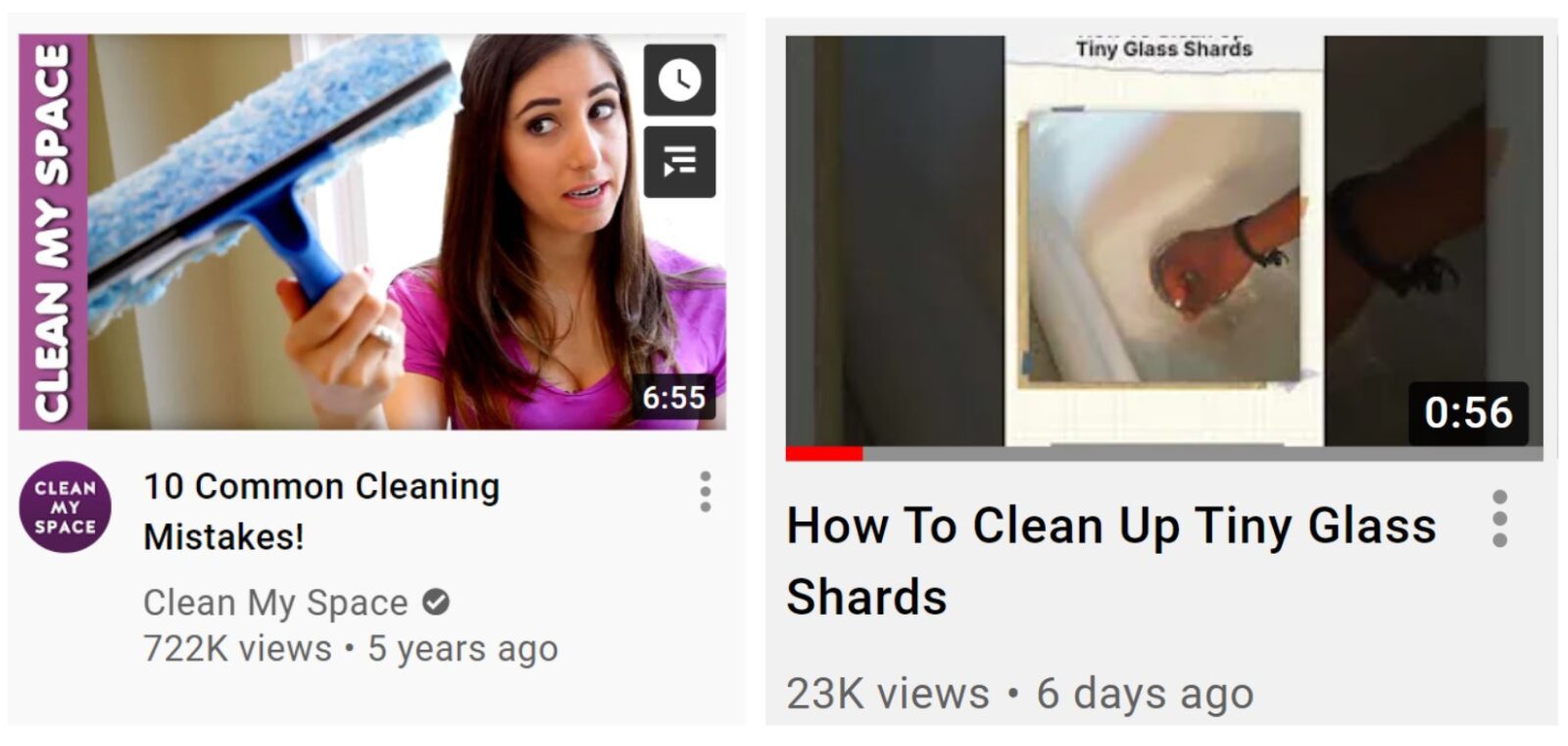 While it's crucial to produce great videos, your video won't help your SEO strategy if it doesn't get any views. To ensure that visitors click on your video, you'll need to use an engaging thumbnail. To choose a thumbnail that grabs people's attention, always:
Make your thumbnail picture relevant to your video's contents
Align any text to the left (as video hosts like YouTube put buttons on the right-hand side)
Make any text large enough to read from 1 foot away
Use bright colors to grab people's attention
Include the presenter (if your video features a presenter speaking to the camera face-to-face)
Limit your thumbnail to 1 – 3 key elements to prevent the thumbnail from looking too 'busy'
4. Supplement your video with good website SEO
While video SEO is an excellent strategy in itself, search engines won't rank your videos unless the rest of your website is search-engine friendly. Naturally, that means you need to optimize your website by:
Checking your website isn't blocking crawlers with a robots.txt file
Using keywords in your web page title tags and meta descriptions so search engines can understand the page contents
Optimizing your images so search engines can index them correctly (i.e., name your images 'graph-of-social-media-trends' rather than 'IMG392848')
Ensure your website loads in two sections or less as faster websites rank better
Minimizing page redirects
Installing an SSL certificate
Using a mobile-friendly theme
If you want to ensure your website's SEO follows best practices, you should also double-check that you aren't making any of these technical SEO mistakes.
5. Embed the video you want ranked first
After reading the 'why video content is critical to SEO' section, you may be pretty enthusiastic about producing videos for your website. Before you get too excited, however, you'll need to make sure you aren't competing against yourself.
That means you should avoid:
Adding videos to more than one webpage
Uploading identical videos to different website domains
Recycling and republishing content more than once a year
Uploading the same video to multiple platforms or social media accounts
Uploading multiple videos to the same page
Targeting the same keywords with two different videos
You should also embed the video you want ranked first at the top of the page like this (as search engines might not index more than one video):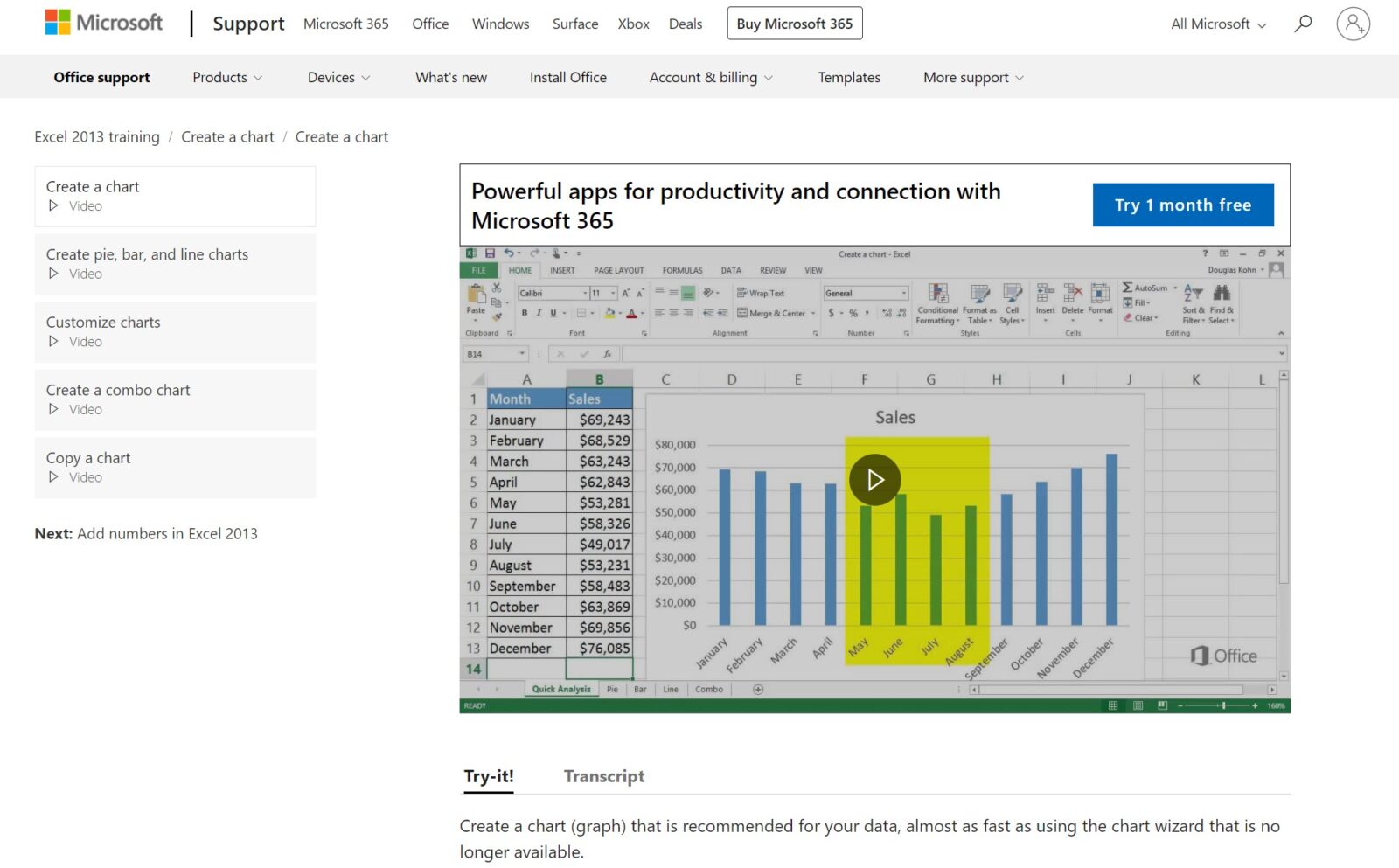 Source: Microsoft
6. Measure your performance
As Peter Drucker said: "If you can't measure it, you can't improve it."
If you want to succeed with a video SEO strategy long-term, you'll need to measure the performance of your videos so you can adjust your strategy. In practice, this means you'll need to track metrics like:
Watch time = the total amount of time people have spent watching your video
Average view duration = how long the average viewer spends on your video
Viewer demographics = what gender your viewers are and where they live
Conversion rate = how many people buy your product or service after watching your video (you should use link tracking software for this)
Bounce rate = how many people leave your website after only viewing a single video or page
Looking at these metrics, you should be able to identify which parts of each video were the most engaging (and which were the least engaging), who your target audience is for future videos, and what video topics perform the best.
Once you have these insights, revisit your plans for future videos and adjust them to meet your audience's needs.
Video marketing: The time is now
If there was ever a time to add videos to your digital marketing strategy, that time is now. Research shows that by 2022, online videos will account for 82% of internet traffic. If you want to win some of that traffic, you'll need to start producing videos ASAP.
Now that you've learned how to use video SEO to your advantage, there's just one question left to answer: how will you incorporate video SEO into your strategy?