Even though we know the importance of fresh content, creating your own posts, images, and videos can be time-consuming. But, what if your users could do this for you — for free?
They can. It's called user-generated content (UGC), and it can be invaluable to your business.
Making the most of UGC and engaging your followers does require planning. You'll need to monitor the type of content that's published because it won't always reflect the image you want for your brand.
How do you encourage user-generated content while improving your online experience? Keep reading because we've created the following guide that will teach you how to implement a UGC strategy that ticks all the boxes.
1. Feature real user reviews on your website
If you offer high-quality products or services, your customers will be happy to discuss your brand with their friends. With the internet at our fingertips, word-of-mouth can be a make-or-break factor for any business.
Most of us rely on online reviews to decide whether a company deserves our hard-earned money. In fact, 87% of shoppers read reviews for local businesses before purchasing.
If your customers are raving about your products or services, don't let the promotion opportunity pass you by. If you have an online store, you can encourage shoppers to leave feedback on your website.
Start with a gentle reminder email after they've made a purchase, and offer incentives via social media. For example, "leave a review for your chance to win a $100 shopping voucher."
Companies that don't have the option to leave reviews will need to think outside the box.
Keep an eye out for mentions of your product or service. Your customers may praise you via email or mention you on social media. If they do, you can feature their reviews on your website. Of course, you'll need to ask for permission before publishing customer feedback.
Here's a quick example from a delivery software provider. It's a B2B (business-to-business) solution with a niche target audience.
On the Track-POD homepage, there's a featured section called "what our clients say."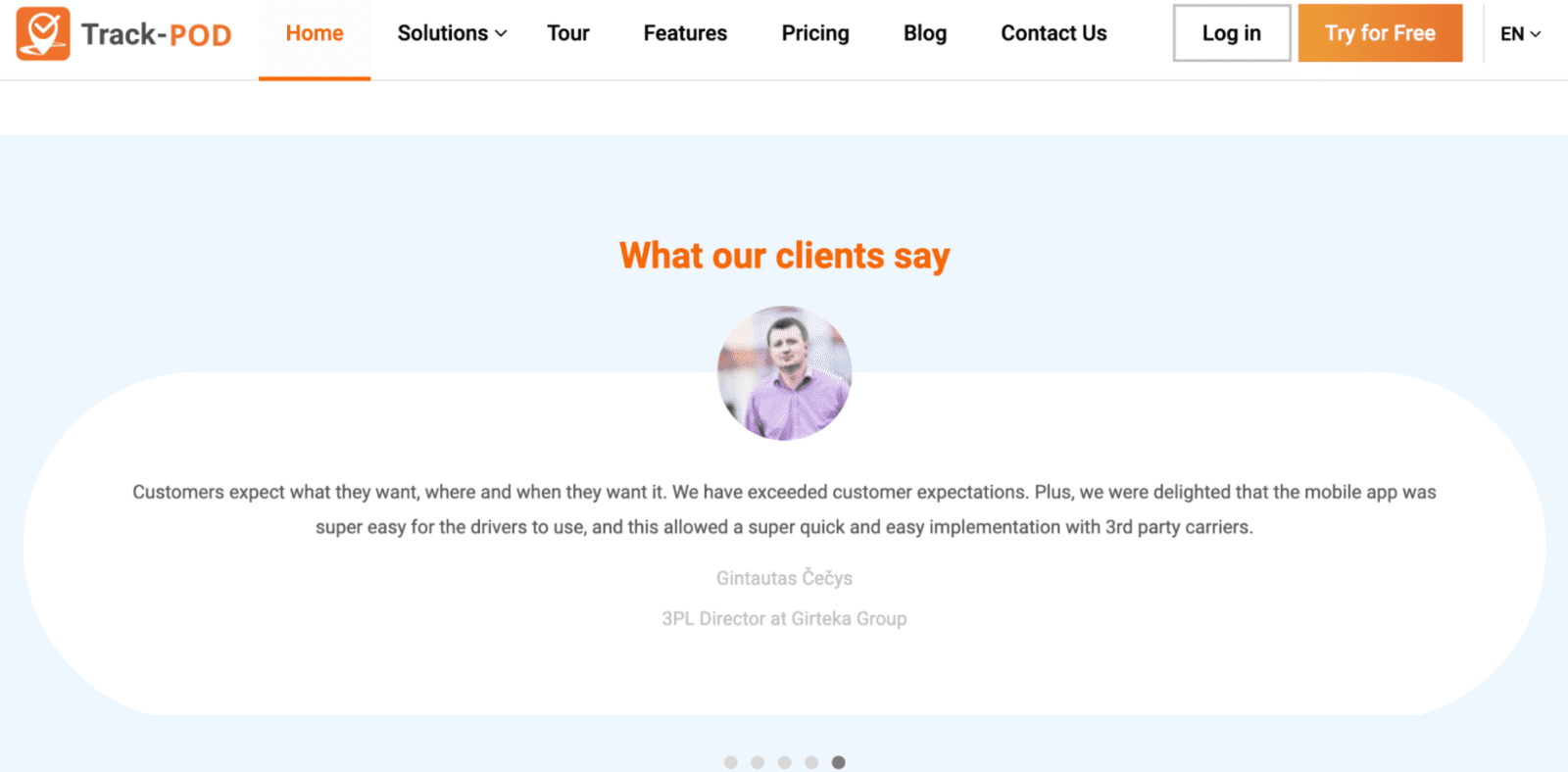 There are multiple reviews, and each includes a client photograph, name, and job title. It's professional, on-brand, and the reviews are targeted to business customers.
2. Get them contributing quality content
When you regularly add content to your website, it can help your SEO (search engine optimization) efforts. Uploading consistent quality articles and blog posts can help you rank higher on Google results pages.
If you don't have time to write articles, there are other ways you can get fresh information on your website. For example, members can upload different types of content that others would find interesting.
A few years ago, online forums and message boards were extremely popular. While they're not as common today, you can still find a few active forums in various niches. When forums are active, they can increase website traffic.
But running a message board requires hard work, and you'll need to check comments for spam and abuse. Instead, consider getting users to create relevant content like guides or articles.
StuDocu is a perfect example of a company that leverages user-generated content in this way. It's a website for students that offers free online resources such as practice exams, lecture notes, and sample assignments. These resources have been uploaded by other students.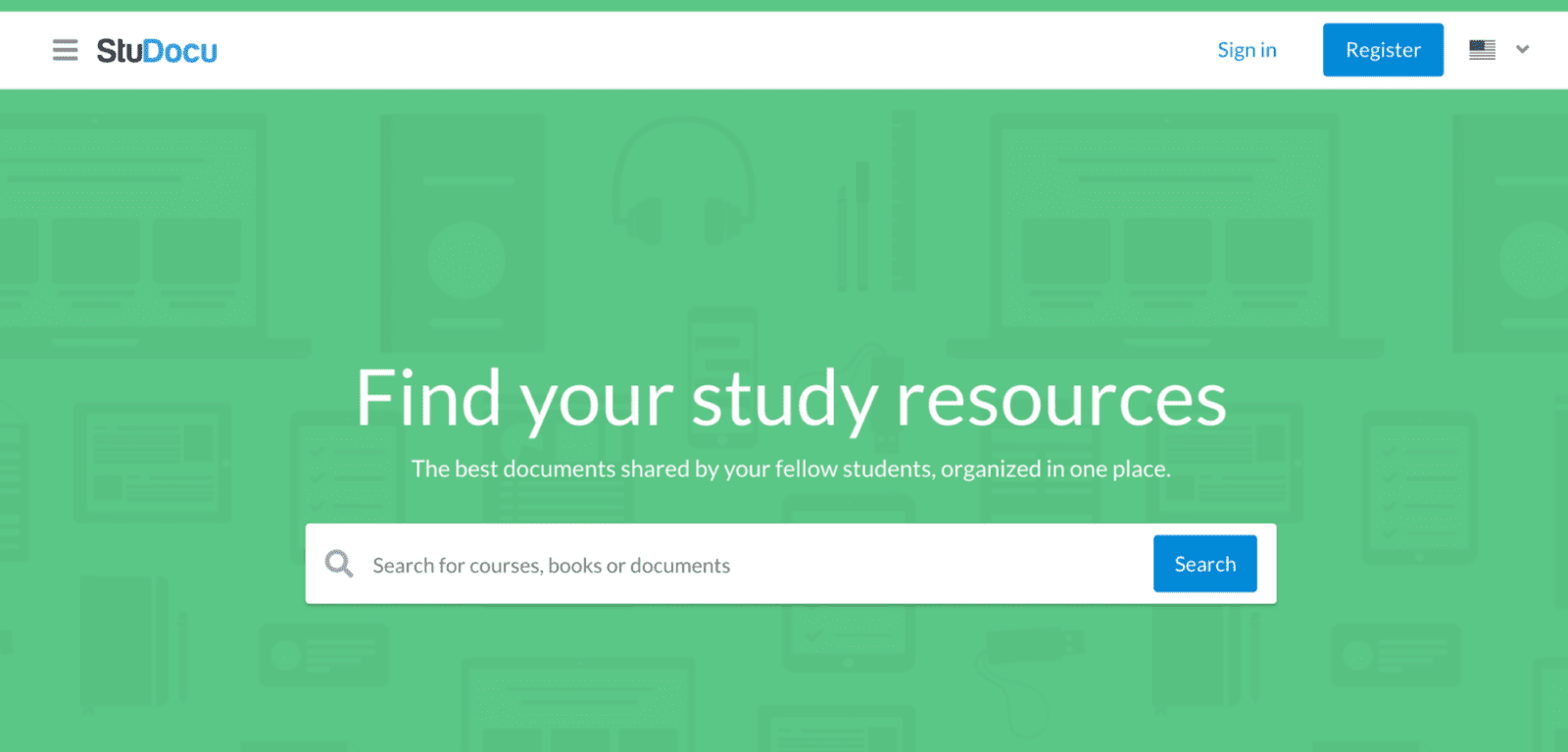 The best thing about this strategy is that your content is evergreen. It's always relevant, and you can continue to add more resources over time.
3. Involve your team
No one will understand your products or services the way your employees do. They're the first users of your product, and they'll have plenty of knowledge to share.
Having content written internally by your employees is a great way to improve the online experience for potential customers. These team members deal directly with clients and leads, so they'll understand the type of information they're looking for.
Fivetran has a blog that covers topics about data strategy, and all of its articles are written by employees.
For example, this guide called "What is a Data Pipeline?" was written by someone working for the company.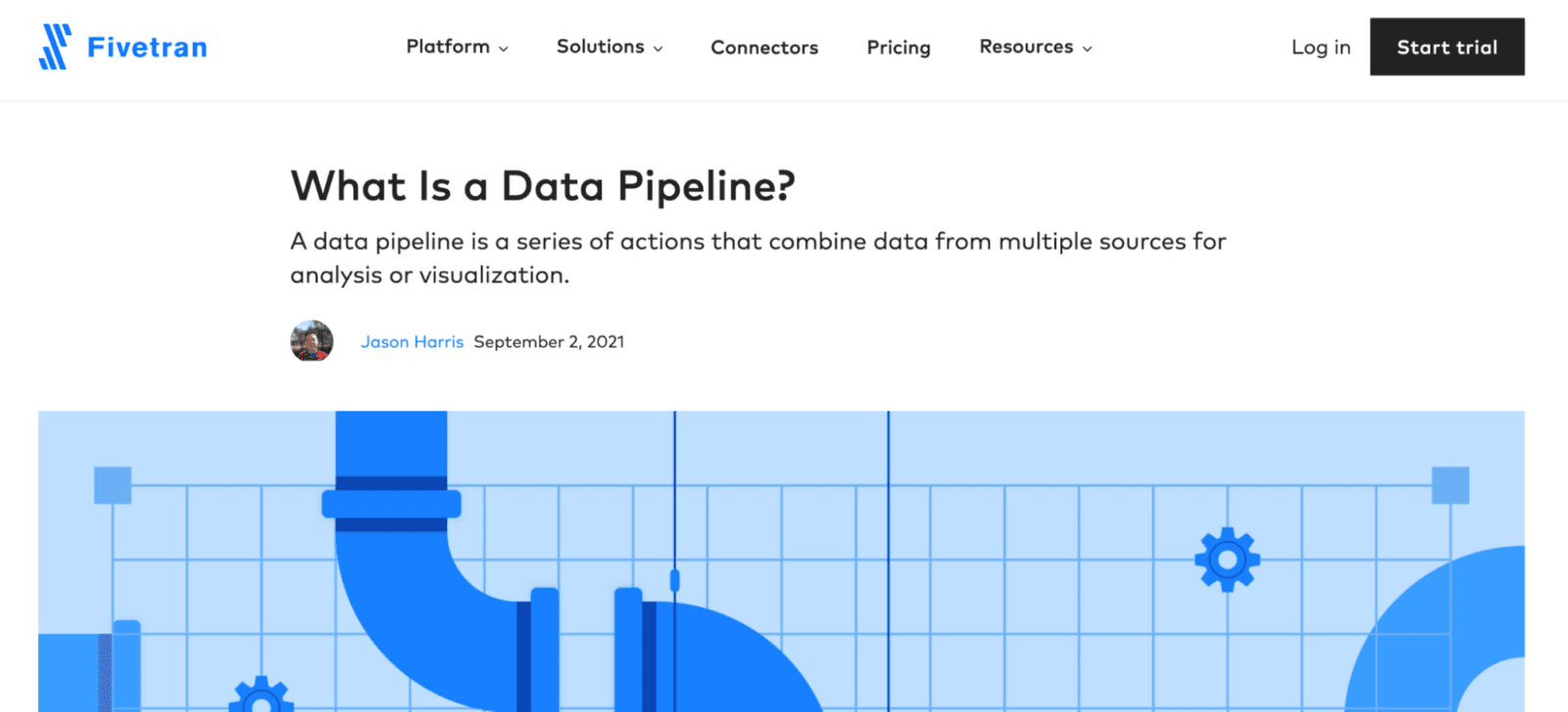 Because Fivetran's employees are experts in the subject, they can explain a complicated topic using simple language. They're used to dealing with customers, so they know how to break down complex topics in a way the audience can understand.
Of course, while your team may be great at their jobs, asking them to write blog posts might not be practical. But even if you decide to outsource your content, you can still get your team involved.
They can help brainstorm topic ideas and check blog posts for accuracy. If customers want to learn more about your products or services, your team can direct them to the relevant article.
4. Know your brand
You can't create an effective user-generated content strategy until you know your brand and customers.
The goal is to get users to create content because they WANT to. Do your research and target the right people in the right places.
Here are a few questions to consider when trying to determine your target audience:
How old are they?
Where do they live?
What's their annual income?
What social media platforms do they use?
Are they employed?
Are they students?
Are they parents?
Do they care about the environment?
When you define your audience, you'll be able to connect with them and increase brand loyalty. With targeted marketing, you can make your customers feel like they're a vital part of the brand. In turn, they'll want to share their experiences.
You may have seen the #unsponsored hashtag recently. People are using this on social media when they create content about the products they love. It's a signal to other users that the content hasn't been paid for. The review is 100% genuine, and potential shoppers appreciate this authenticity.
If you find these types of unsponsored reviews mentioning your brand, thank the writer and reshare.
Let's look at a company that knows its brand and target audience.
FutureKind sells vegan supplements, and its customers are health conscious people who care about the environment.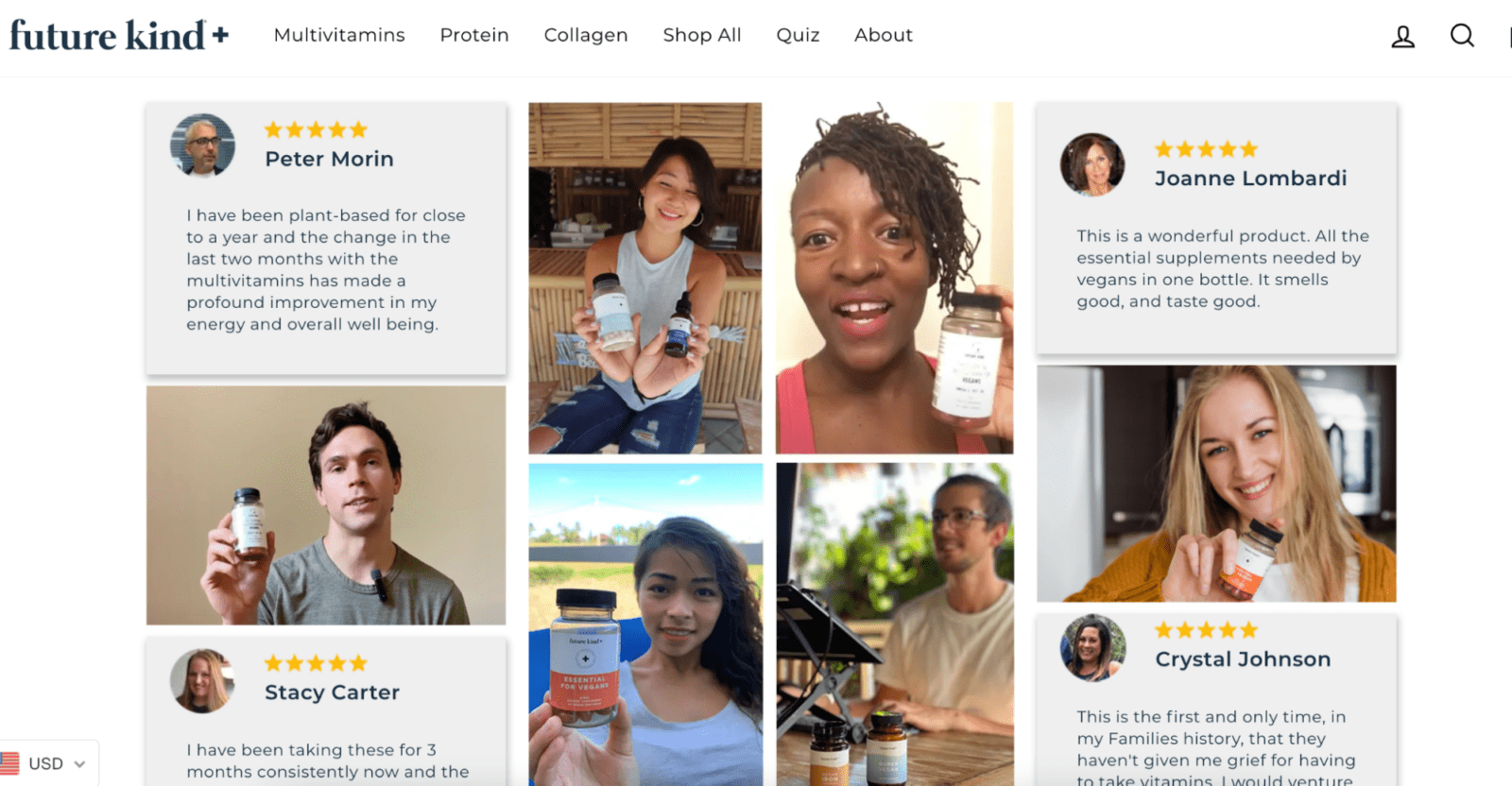 The example above is from the FutureKind homepage. Part of its user-generated content strategy is to add real reviews to its homepage.
Potential shoppers can see this content and know that the brand is trustworthy and the products work.
5. Focus on security
User-generated content comes in different forms. If your members are uploading reviews and comments directly to your website, there are security risks.
If your website is vulnerable, there's the potential for malicious links to be added to your site via forms and comments. And if it's open to registrations, you could see an influx of spam profiles.
To reduce the risk of security threats, you should update your website regularly. Security updates will make it more difficult for anyone with bad intentions to upload unwanted content.
You can also use software and filters to automate spam management. For example, Access Insights lets you spot potential risky users before it's too late. It's a platform that collects and analyzes data with real-time reports.
If users comment on your blog posts and social media pages, you'll need to monitor what they're saying. Some businesses use a filter and manually approve comments. Others automatically publish user-generated content and delete anything that doesn't meet their content policy.
And, if you're collecting user data and storing login details, you'll need to store the information properly. At the very least, your website will need HTTPS to keep all communicated information secure. Google has started labeling sites without HTTPS as unsafe, and that's not something you want your customers to see when they click onto your page.
Create a content policy so that all of your moderators are on the same page. This policy should include rules about discrimination, language, links, and bullying.
6. Make the most of influencers
Influencers are used to sharing reviews, photos, and videos of their favorite products and services.
And, when you collaborate with relevant influencers, you can grow your content and extend your brand's reach. With the right partnership, you can get access to user-generated content that you can use on your own platforms.
Remember how we discussed the importance of understanding your audience? This is something you should keep in mind when working with influencers.
Think about where your target audience spends their social media time. Is it Facebook, YouTube, Instagram, TikTok, Twitter, or Pinterest? What hashtags are they using, and who stands out in that category?
Once you've decided where to focus your marketing efforts, you can approach potential brand influencers.
Let's say you run an event management business and you're hosting a digital technology event. The types of influencers you can look for include marketing professionals, designers, and developers. You can invite them to be guest speakers at your virtual event.
This ensures that these influencers will promote the event to their audiences and create resources that can be shared afterward.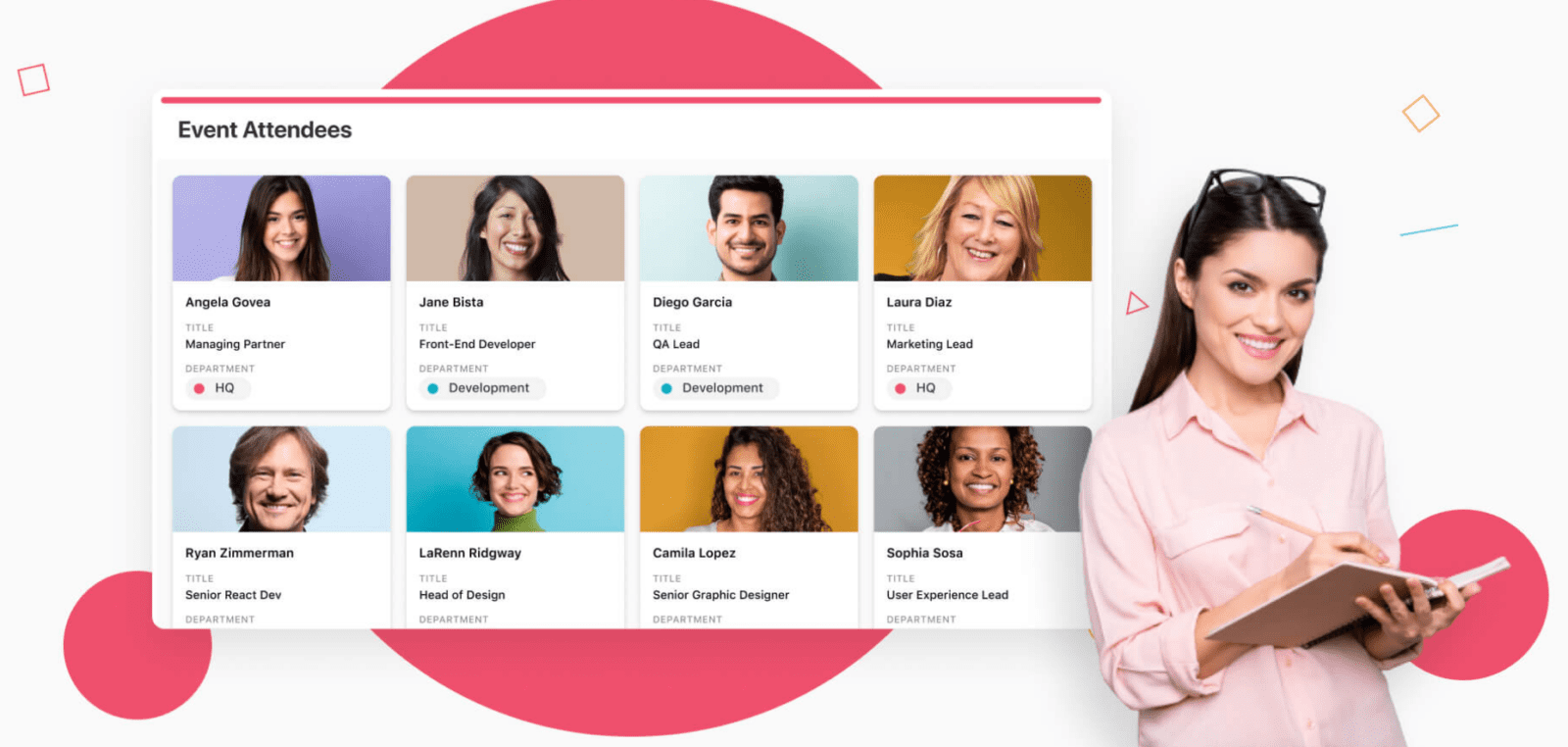 Or, maybe you run a skincare company. You can connect with beauty influencers and ask them to road test your products. In return, they can create a vlog (video blog) showing users how to apply the product while talking about their experience.
You can then upload these influencer videos to your social platforms and company website.
7. Go multi-channel
There may be one social media channel that you've been focusing on, but have you considered a multi-channel approach?
When you use multiple social media channels, you can open up new markets. 4.48 billion people use social media, and they're not all active in the same place. If you want to target a larger audience, consider signing up for two or more social media platforms.
How does this help your user-generated content strategy? While some of your UGC can be uploaded directly to your website, most of it will come from social media.
When you get it right, your followers will ask questions, leave reviews, and share photos and videos. This user-generated content can be invaluable to your brand. Plus, any discussions and social shares can increase your reach.
Managing multiple accounts doesn't need to be difficult. You can get social media management apps that show all of your activity in one convenient dashboard. You can plan your posts, get insights, and chat with your followers without losing track of who said what and where they said it.
Some social media platforms work seamlessly together. For example, Facebook owns Instagram, so you can easily share posts from one platform to the other.
YouTube videos can be uploaded to Facebook with a few clicks of your mouse. This makes it easy to share user-generated content across multiple networks.
But, as we pointed out in our section about influencers, make sure you're choosing social channels that your target audience is using. It won't do anyone any good if you're spending your marketing budget across four social media platforms when your audience is only on two.
8. Give them something
You want users to create content for you, but what will you give them in return?
If you're offering excellent service and high-quality products, that can sometimes be enough of an incentive.
But you can encourage customers to create content by sweetening the deal. For example, you can offer them a discount, access to VIP events, free samples, a competition entry, or a chance to be featured on your website.
Those with an online store can ask customers to share photos of recent purchases.
Here's an example: The BlackMilk Clothing brand asked customers to share snaps on Instagram. It then reshared these photos on its product pages and included a link back to the original Instagram post.
Because BlackMilk has a strong following, fashionistas everywhere were thrilled to be featured.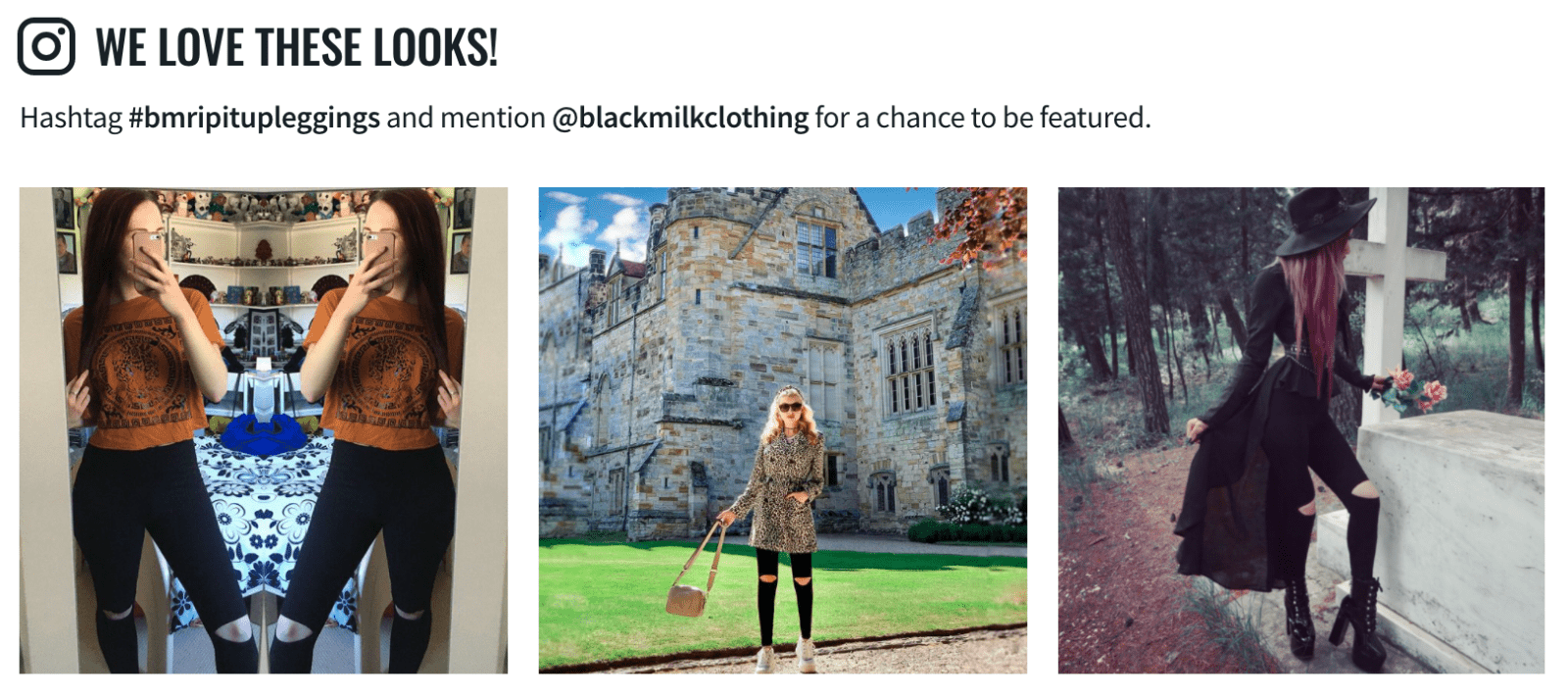 Having your products modeled by real people can be appealing to potential shoppers. And it doesn't cost the brand anything to get this quality UGC.
9. Have consistent branding
Take a long look at your branding. When users from outside your organization are discussing your brand online, you won't always have a say in what's posted.
But, if you're working with an influencer or adding UGC to your website, you can make sure it's on-brand.
For example, you can include branded materials if you're sending products out for review purposes.
It could be as simple as putting your logo on the box, sending them cookies with your company colors, or including a pamphlet with brand information. When they unbox the products, they'll be seeing what your company is and what makes it unique. These finer details will help influencers create the type of content you're looking for.
Don't forget to make company hashtags for your customers to use on social media. Hashtags group all of your user-generated content in one place, which is pivotal for brand awareness.
You can have multiple hashtags, but keep them short and catchy.
Example campaigns include:
#ShareACoke by Coca Cola
#TweetFromTheSeat by Charmin's
#MyOreoCreation by Oreo
#LetsDoLunch by Domino's Pizza
#IceBucketChallenge by ALS Association
When you ask followers to use a specific hashtag, make sure to include your social media handle.
The request should go something like this:
Hashtag #tagmybrand and mention @mybrand to have your review featured on our website.
10. Stay on top of trends
If you want to improve your online user experience through content, you'll need to have something worth talking about. Customers can be fickle, and they'll usually want the "next big thing."
Regardless of what industry you're in, you should try to stay on top of trends. If you sell seasonal goods like clothing, shoes, and accessories, this will come naturally. You can bring out new products to coincide with the weather and what's happening on the catwalk.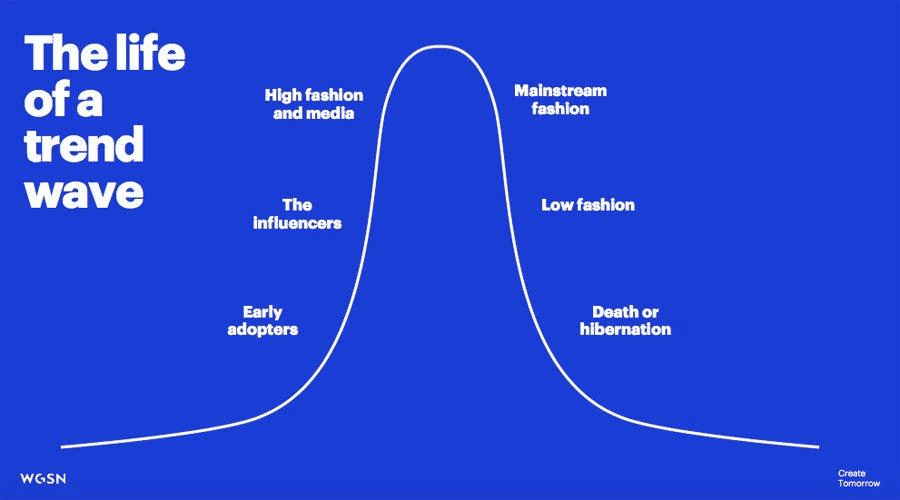 ​​
(source)
Other business types need to be creative. You can host a virtual party and invite previous customers or influencers. Use this opportunity to showcase new products or services, or tell them about your bestsellers. After the event, you can follow up and ask if they'll share what you've discussed.
Mix up your products and services to reflect holidays and events. You can create a special cocktail for Valentine's Day if you're a restaurant owner. Or, if you sell coffee, you can make a chilled summertime brew.
Have a digital product? Update to a new edition that reflects the latest industry trends.
If you want more UGC, stay on top of trends and create some new ones that your followers can get excited about.
Implementing a user-generated content strategy
Fresh content can help you expand your brand. Getting resources, images, videos, and reviews can be simple when you create a user-generated content strategy.
The key is to keep potential and existing customers happy with a positive online experience.
How can you use UGC? You can feature real user reviews on your homepage and get them to contribute high-quality content straight to your website. And, you can ask your team to help create useful resources.
Make sure you understand your brand and your audience. Make website security a priority, and keep your branding consistent. Connect with influencers, use multiple social media platforms, and stay on top of ‌ trends.
With these simple tips, your users can help you grow your content.