Life is about making choices, and sometimes it takes courage and discipline to not do something. For us, we've found that when we focus on those things we're best at, we're more successful. And when we partner with people who are excellent at other things, we make friends.
There are many many aspects to web marketing, from web design to email marketing, from online sweepstakes to search engine optimization. For some areas of web marketing, we do some aspects but not others. Here are a few venn diagrams that will help explain the things we do, the things we don't, and why…
Content Development
Content is critical. Without it, a website would be an empty shell. People don't typically go to a site to look at the design. They go to see, read, hear, and watch information. So it's the content – the text, images, audio, video, and venn diagrams – that visitors are looking for.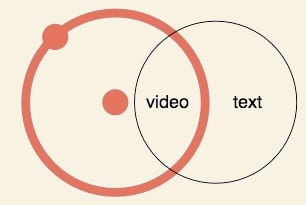 Yes, we do web content writing.
Search Engine Optimization (SEO)
There are a lot of factors that contribute to how high a website ranks in a search engine.  Most of these can be grouped into two categories:
On-Site SEO – making the pages themselves appear relevant to search engines
Link Building – how many other sites are linking to the site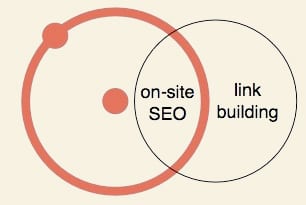 We build sites that are search friendly. They indicate to search engines that they are relevant for certain phrases. We start by researching and recommending target key phrases. Then we create the site map, the design, and the programming accordingly. We even recommend changes to the text and formatting, keeping in mind key phrase frequency and prominence.
But many experts believe that link building is even more important. Search engines (rightly) assume that if a lot of other high-quality sites are linking to a site, it's more likely to be relevant.  Promoting a site through link building – mostly by submitting it to other sites – is effective. But it isn't something we do.  But we partner with some of the best, and we'd be happy to make a recommendation.*
Mobile Marketing
A year ago, we were talking to clients about mobile marketing once a month or so. Now it's weekly. A year from now, it will be part of daily conversations. But since it's still so new, it's important to make the distinction between mobile websites and mobile apps.  Especially since we build one but not the other.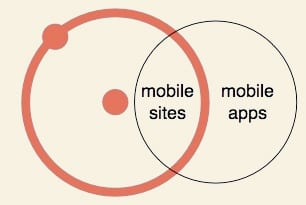 We build mobile websites. A mobile site is a separate, smaller version of a website that is designed to work on a mobile browser (on a phone or tablet). They should load fast, be easy to use, and be easy to update. It's like a faster little brother for your website.
On the other hand (or in your other hand), a mobile app is a program that you download and install on your phone or tablet. You find them in the Apple App Store or Android Market and sometimes you have to pay for them. They're not websites and the strategy, design, and programming behind them is not the same. It's a whole-nother ball game, with different skills, costs, and marketing plans.
We don't build mobile apps, but we know some very smart people who do, and we'd be happy to make a recommendation.*
Why Doesn't Orbit Do Those Things?
Since the beginning, we've been motivated by multi-disciplinary challenges – the ones that make us use both halves of our brains. At different times, we've tried to do other things, but we've always come back to those projects that motivate us most – those projects that combine strategy, design, and development.
This is why everything we do combines creativity with technology.
Writing copy isn't technical. Link building isn't creative. We absolutely appreciate the value of these things. But there will always be others who do them better that we would.
*You may have noticed, Orbit doesn't outsource anything.  We simply refer our favorite partners and invite our clients to consider working with them directly.