If you are confused as to whether you should conduct multivariate testing or split testing on your emails, web pages, popups, and opt-in forms, you are not alone.
When starting out, many marketers struggle to understand the difference between these two types of conversion optimization tests.
Much of the advice online tells you to perform tests and keep on testing and optimizing. But, it's not always clear what types of tests you should be running, or where you should run them.
This article will help you understand the differences between A/B and multivariate testing. You'll discover their pros and cons, where it's appropriate to use each type of test, and how to perform the tests in order to get maximum conversions from your marketing strategies.
What is multivariate testing?
In order to help you understand the difference between multivariate and A/B testing, we'll first take a look at the definition of each type of test, as well as the methodology, common uses, pros, and cons of each testing method.
Multivariate testing involves testing multiple combinations of elements at one time. In other words, you have the ability to change several different items on a single page, so that one version of the page might look radically different from the other one.
Traffic to the test page is divided among the different design versions with the purpose of measuring how effective each design combination is in helping to achieve the ultimate goal.
With this type of testing, you're using the same core mechanisms that A/B testing uses, but while comparing more variables.
This reveals more detailed information about the way these different variables interact with each other.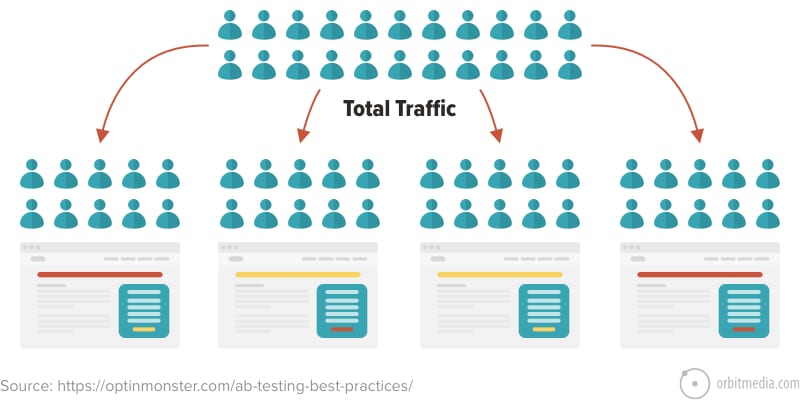 Types of multivariate testing
Below is a quick rundown of some of the more commonly used types of multivariate testing that you can perform on your web pages, emails, opt-ins, etc.
Full Factorial Testing: This tests all possible combinations of the page elements until a clear winner is found. It's the most preferred type of MVT testing, and it requires a large amount of traffic that is then distributed evenly among the different variations.
Fractional/Partial Factorial Testing: As suggested by the name, this type of testing only analyzes a fraction of the possible combinations. Statistical mathematical calculations are then done to find the best converting variations from the rest of the versions.
Adaptive Multivariate Testing: A new approach to multivariate testing, adaptive multivariate testing analyzes the real-time response of webpage visitors to find the version with the best-converting combination of elements.
Advantages of multivariate testing
Multivariate testing is an extremely powerful conversion optimization tool. It's great for helping you to target redesign efforts to the different page elements where they are likely to have the biggest impact.
This is particularly useful if you're designing landing page campaigns as you can collect data about the impact of specific element designs and apply that same information to future campaigns. This has been proven to be effective even if the element is in a completely different context.
Here are some additional benefits of using multivariate testing:
Multivariate testing offers faster results than running split tests since you can change and analyze multiple elements on a single page.
It allows you to easily determine each variable's contribution to the measured gains.
With MVT testing, you can measure interaction effects between multiple supposedly independent elements, such as visual illustration and page title, for instance.
Limitations of multivariate testing
This type of conversion optimization testing also comes with some disadvantages.
For instance, let's say that you have a great interest in a particular topic and decide you want to create a blog.  Multivariate testing won't work in the beginning because you'll have so few visitors. Personally, I feel you need to have about 50,000 monthly pageviews on a website or blog before you can even consider multivariate testing because of the number of combinations that need to be tested.
In addition to that, the more page element combinations you test, the more time you'll need to conduct the test.
What is A/B testing?
A/B testing (also referred to as split testing), is a method of optimization that involves using live traffic to test two different versions of a page in order to find the one with the best conversion rate.
With this type of conversion testing, visitors to a web page are funneled into either version 'A' or version 'B' of the same page.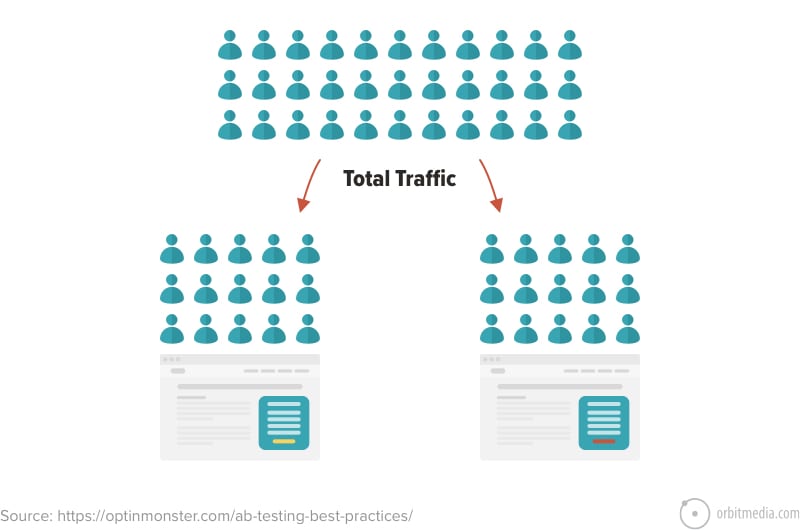 A comparison is made by tracking how the visitors interact with the page that is shown to them. For example, if you created an e-learning product and drove traffic to the page, what buttons do they click? What videos do they watch? Do they sign up for the product, and so on.
With this information, it's then easy to determine which page version is the most effective.
In short, split testing is all about testing a control (the original page) against a variation (the one element that you change) to see how the changes vary from one page to the next. You can change elements like:
Headlines
Graphics
Videos
Button
Colors
Offers
Fonts
Layouts
Call to action text
… and just about anything else you can think of.
To conduct a split test, you simply split your traffic evenly. 50% of the page visitors go to the original version and the other 50% are shown the new one.
Types of A/B testing
Another version of A/B testing is called A/B/n testing. This is where you test many different variations of the same element, dividing the traffic among them evenly.
For example, you could test five different versions of your CTA button. The traffic to the page would be split into five, with 20% of the total seeing each page variation.
Advantages of A/B testing
As with multivariate testing, this widely used testing method has its advantages.
A/B testing is simple in design and concept, yet it's powerful in providing you with extremely reliable insights on the page versions that convert best.
The small number of tracked variables means that A/B tests can deliver results quickly as they don't need a large amount of traffic to get accurate data. This is ideal for sites that don't have large numbers of daily visitors.
A/B testing is quick and easy to interpret, and even bigger sites commonly use it as their primary means of testing as it allows them to run test cycles one after the other, instead of conducting complex multivariate tests.
Limitations of A/B testing
Using A/B testing as a conversion optimization tool also comes with a few drawbacks. For instance, with this type of testing, you cannot tell how the different page elements interact with one another.
You may decide to alter the text on your call to action button, but there could be something else on that particular page that has an impact on how visitors respond to it. You won't be able to measure that with split testing.
Multivariate and A/B testing use cases
In this section, we'll take a look at some use cases of A/B testing and multivariate testing, as well as some examples of how making use of these strategies in your business can lead to outstanding results.
Common uses for A/B testing
This is the least complex way of testing and evaluating any page design element, and it's useful in a wide range of situations:
You can use A/B testing as an optimization option to find the best page where only one element is in question.
For example, a dentist's office running an A/B test on a page on their site might find that 75% more users sign up for their newsletter when shown a sign held up by a cartoon tooth than when shown a sign held by an actual dentist.
When A/B testing is conducted in this way, you can even add a third, fourth, or fifth page. This would then be called an A/B/n test, and the traffic would have to be apportioned evenly to all pages.
These same types of tests can be done on social media as well.  On Facebook for example, a dentist could test two different ads with the exact same image, and simply change the text on them.
After they have a statistically significant sample size of data, they could then use Facebook analytics tools to see what performed the best and use that ad indefinitely, or until another test finds a better variation.
Another common use for A/B testing is to test different landing page designs against one another.
For instance, you could use it to analyze the current version of your business's homepage, which might include elements like text, images, video, and a call to action.
In the new version of the homepage, you might get rid of most of the text, but include a bar at the top for advertising your latest products. After funneling enough visitors to both pages, you compare the number of clicks on the different versions of the call to action.
With this testing method, you must note that although multiple design elements are altered, you're only tracking the impact of the page design as a whole on the specific goals for that business page – not the individual elements.
Common uses for multivariate testing
When it comes to multivariate testing, the most commonly cited use for this method of testing is on a page with several elements that are up for debate.
For instance, you could have a page with great header text, a signup form, and a footer. You might run a multivariate test, rather than creating a very different page (as in the A/B test described above).
So, if you're looking to understand how to price your service, you could add two signup forms of different lengths, two footers, and three different pricing plans. Next, you would drive traffic to all the possible combinations of these elements (full fractional testing).
Important Note: Keep in mind that the more variations that you have to test, the more traffic you'll need, and the longer it's going to take to get meaningful data from your multivariate test. That's why this form of conversion optimization testing is typically recommended for websites with substantial amounts of daily traffic.
After you've run the test, you can then compare the variables on the different page variations to each other, as well as to their performance in relation to other versions of the multivariate test.
You will then have a clear picture of the page that offers the best results, and also the specific elements that are responsible for the improved performance.
For example, changing the footer of the page may have very little impact on the page's performance, while changing the text on the call to action button may have a big impact.
The last example of multivariate testing that I can think of has to do with YouTube.  I've been focused on my own YouTube channel since the beginning of 2020 and I am constantly testing different variables to see how well my videos are received by both my audience, and the YouTube algorithm
Some of the things that I've tested on YouTube are the titles of my videos, video covers, and even the editing of the YouTube videos as a whole.  In all of these different tests, I've found ways to not only increase subscribers, but also increase viewer retention to have more success with the channel.
Deciding what works best for you
Both multivariate testing and split testing have their unique pros and cons. The type of testing you choose depends on your business's needs.
Are you looking for a way to refine your pages for improved conversions? If so, then A/B testing is the way to go.
Do you need to test complete new pages after a massive website redesign? Multivariate testing will reveal all the information you need to know.
You can choose one or the other depending on your needs. and you can even use both to get the best possible results from your conversion rate optimization efforts:
A/B tests are quick and offer bigger gains even for websites with small traffic numbers.
Multivariate tests give you an overview of many different changes that you can then split test to fine-tune the individual elements.
You can also use A/B testing to find the best page layout, and multivariate testing to tweak the interaction between the different elements on the page.
How effective are these conversion optimization tests?
If you're wondering if these scientific methods of optimizing design are really effective, look no further than these three studies: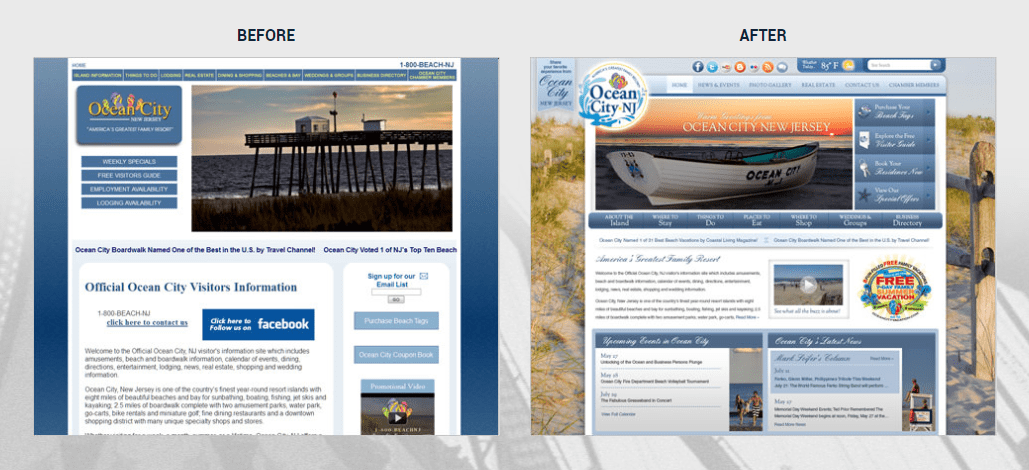 One company, Ocean City, wanted to add a fresh new look to their website that would emphasize their business's family atmosphere.
After the redesign, WebFx conducted thorough conversion testing and was able to increase the overall website visits by 87%. The bounce rate for this page decreased by 11%, and conversions shot up by 40%.
This is just a sample of the power of multivariate testing for helping you achieve your business objectives.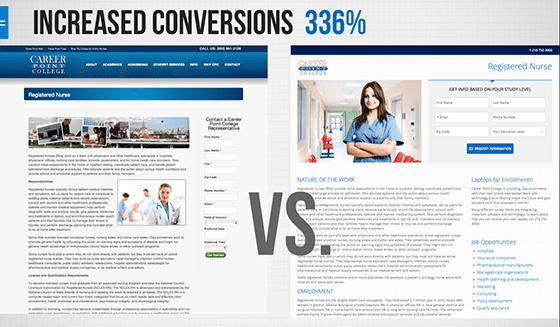 This case study involved a control page that was converting at just 3.12%. Through effective planning, a single split test was used to increase conversions on this page by 336%. This is what Dustin Sparks called 'apples to oranges' split testing.
Depending on the industry or niche you're in, a 3.12% conversion rate could be good, bad, or it could be average.
However, by running the control version against a variation, this company was able to record amazing results. Those are the kinds of results a simple A/B test can bring to your B2B or B2C business.
A multivariate test was performed by VWO with an aim to help Provident Hotels and Resorts increase the number of clicks on their call to action buttons.
The testing team decided to optimize the combination of CTA button text and form title by analyzing the following variations: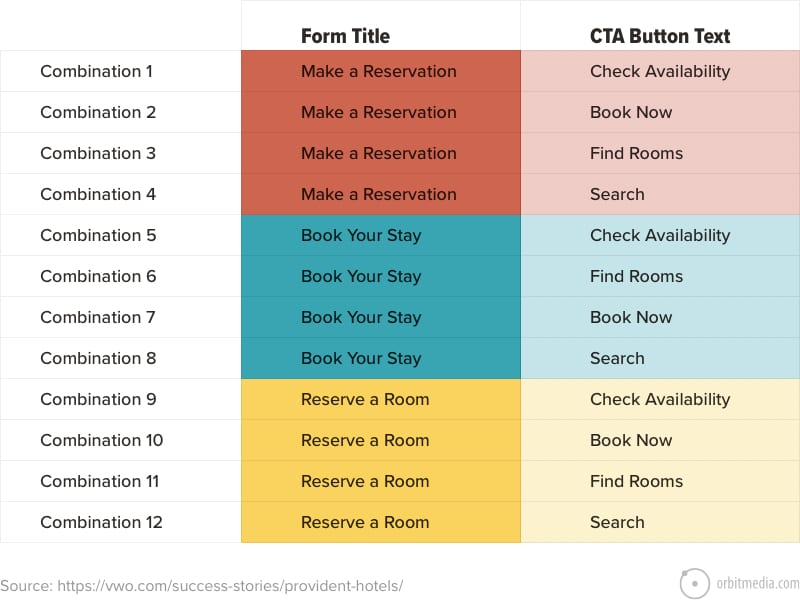 The result? After running the test over a period of one month, using equal amounts of traffic to each of the 12 pages, it was found that the final combination recorded an impressive 9.1% improvement in the conversion rate.
After just one MVT test, they found the page version that instigated the most website visitors to check for the availability and rates of rooms.
As you can see from these three case studies, A/B and multivariate tests are extremely effective for helping you optimize the design of your web pages.
Though collecting information is just the start of your digital customer life cycle, optimizing this process will increase your lead count which will inevitably lead to higher sales and revenue once optimized.
If you're eager to get started with your own tests, here are three affordable tools that you can use to conduct conversion optimization analysis.
3 top A/B testing and multivariate testing tools
The three tools recommended below are some of the best options available to marketers and business owners looking to conduct effective conversion tests.
But, if you just want some quick recommendations, the information below will help.
This is a free tool that you can use to start A/B testing and improving the different pages on your website.
The software has a user-friendly interface, and you will be able to set up your first test in just a few minutes thanks to the visual editor.
Google Optimize will allow you to better optimize your customer journey even if your business is new and you're not yet receiving large amounts of web traffic.
Designed to work with Google Analytics, Google Ads, Firebase, and more, this free tool is one that every business can benefit greatly from.
Unbounce offers both A/B and multivariate testing to help you optimize all your website's pages.
This optimization tool is different in that it also offers you the ability to create landing pages and then test them. You can use their beautifully designed templates that are proven to convert more.
If you're focused on turning your traffic into revenue in the quickest and most effective way, then this software can help you get there with easy to implement A/B and multivariate tests.
Unbounce offers solutions for SaaS, Agencies, and eCommerce. No matter what type of business you have, this CRO tool can help you achieve outstanding results in the quickest time possible.
Used to A/B and multivariate test web pages on a larger scale, VWO is a tool that will help your business identify any roadblocks or possible friction points on any page, develop a hypothesis, and then test an infinite combination of elements to find the best-performing variation.
VWO's testing tool offers an affordable way to accelerate your website conversions with all types of testing.
It also allows you to optimize your customer experience by helping you run experiments to understand their behavior and fix leaks and gaps where engagement drops or visitors get stuck.
This is undoubtedly the best tool for companies looking to drive explosive growth by getting the most out of their CRO process.
Summary
By now, it's clear that A/B testing and multivariate testing are versatile tools that are crucial for your business.
While these two tools may have some differences, don't think of them as opposites, but rather as two immensely powerful testing methods that complement each other to help you optimize every page on your site.
Keep in mind that these conversion optimization tests are not things that you can simply do once on your site and be done. Optimization is an ongoing process that you'll need to invest a lot of time and effort into if you want to see great results.
The good news is that the payoff of all that work can be phenomenal. Once you get things working the way you want them to, you'll be able to convert ever-growing portions of your web traffic into leads and customers.
So, go ahead and use the information in this article to improve your page designs and help your business experience phenomenal growth.