The inbound marketing dream goes a little something like this….
You create an elegant and functional website that showcases your solution to your target audience. All of your content is supremely compelling, and SEO'd to the nines, so it's primed for the search engines to rank your pages as close to number one as possible. Your premium content lead magnets are integrated with email capture mechanisms. With daily Twitter, Facebook and LinkedIn updates scheduled for the next month, you have all the inbound marketing bases covered. And, you're feeling pretty good about yourself.
Now all you have to do is sit back and watch the traffic roll in. After all, you've done all that you're supposed to do to attract an audience that will eventually become your customer base, right?
Nope. Sorry to be the bearer of difficult news, but this inbound marketing strategy is a dream for a reason. It might have worked well a few years ago, but if you want to attract prospects and make sales, then it's time to wake up.
The problem with inbound purity
Yes, it's true that in theory, inbound marketing means your prospects initiate contact with you, across all touchpoints, until they're ready to make a purchase. By definition, in its purest form, inbound isn't interruptive, intrusive or over-aggressive.
You aren't knocking on doors, pitching your wares cold, with the hopes that you can convince people to convert on the spot. You're merely making your content available and discoverable so potential customers will want to keep coming back and build relationships of trust with you over time.
Your offer may stop your potential customers in their tracks and turn them into paying customers, but it does so when they're ready to. On their terms.
It's the polite marketer's strategy, if you will.
But while inbound marketers are surely ethical, they're also at risk of being overly passive.
It isn't enough to ensure your content is optimized for search, promote it through your social media accounts, and wait for traffic to rush in. That's a strategy based on hope and hope alone. Too many marketers simply put up content with the hope that readers will be compelled to heed some call-to-action.
That's like throwing darts in the dark and hoping something will stick. It takes control away from you and makes your business goals all the more difficult to achieve. Let's face it – sticking to a purely inbound style of marketing often doesn't get the job done.
The marketplace has become saturated with so much content and social media noise that unless you try something different, you'll never get or keep anyone's attention.
That's exactly why author and strategist Adam Houlahan recommends rolling content out to test groups before promoting it heavily.
---
| | |
| --- | --- |
| | "It's far better to test your content on a small amount of traffic to ensure it is converting. Once you have an acceptable level of engagement ramp up your traffic options." – Adam Houlahan  |
---
In a recent analysis of one million social posts, Buzzsumo reported that a staggering 50% of them receive eight shares or less. Buffer also blogged about losing 50% of their social traffic.
[Tweet ""50% of content gets 8 shares or less" – @buzzsumo"]
This wasn't because their content quality dropped, but rather because of what they call the "content crush" – there's just more content out there than demand for it.
And then there's this surprising stat from Trackmaven: they analyzed content from 8,800 brands over two years and found brands increased content output by 78% but saw a decrease of 60% for content engagement.
To add to the pain, Optimal Marketing reported that on average, content converts a visitor to a customer at 4%.
While these numbers can be disheartening, some marketers do more to get ahead of the game. They promote on social networks more, or even include a link to their content when marketing on email. And while that's good, it's still not assertive enough.
They may take it further by using content recommendation networks, retargeting ads, sponsored social media posts, etc., but all of these strategies have a fundamental flaw. Not enough of the website traffic that you buy ultimately converts.
If the content you create doesn't engage potential customers, more traffic won't solve the conversion problem. It will just make your leaky funnel more obvious.
What kind of content engages?
---
| | |
| --- | --- |
| | "Every piece of content you create has to do two things: (1) rescue its audience from their own personal hell and (2) deliver them unto their own personal heaven. Great copywriting is about salvation … not sales." – Aaron Orendorff, IconiConent |
---
That's a heavy way to frame the issue, but going after your audience's hells and heavens – their pains and pleasures – drives home how practical as well as emotional inbound marketing must be.
Still, there are always going to be readers who don't take any action, despite spending time on your site. So how do you engineer your content to engage readers and compel them forward?
There are plenty of tried and true strategies that can help make inbound marketing proactive – without being too pushy. Let's take a look at some of the most effective ones and how you can use them.
Experiences to encourage engagement
When you think about the websites that you end up visiting most often, what is it about them that keeps you coming back? Is it the content, layout, storytelling or does it tug at your emotions?
Chances are, the website is using some basic, fundamental strategies to keep you engaged. Here are some user experience (UX) parameters to consider optimizing for stickiness.
1. Great interface design
From a design perspective, your website must encourage a captivating and super clear user experience.
What steps do you want your visitors to take once they land on a certain page?
Where should they go?
Intuitively transparent journey mapping can go a long way.
Use visual storytelling to engage your visitors quickly. Take a look at this example from Poo-Pourri:
In addition to positioning this company as a fun, quirky brand, the video, front and center, showcases exactly how the product can make people's lives better, with clear recommendations for what to do next – and this is above the fold alone.
Take another look at your website's homepage and consider what strikes you first. What do you want the visitor to do next? If the steps aren't glaringly obvious, make changes.
2. Unequivocally clear CTAs
Calls to action with commanding tones don't necessarily mean that a marketer, or micro-copywriter behind them, is being pushy. It's just a matter of allowing those visitors who are ready to take action, to do so easily.
Use simple, clear calls to action. Download Now, Click Here, Get the Full Report, or Access the Checklist Instantly to make it easy for your visitors to take the action you both want, like Orbit does on their site.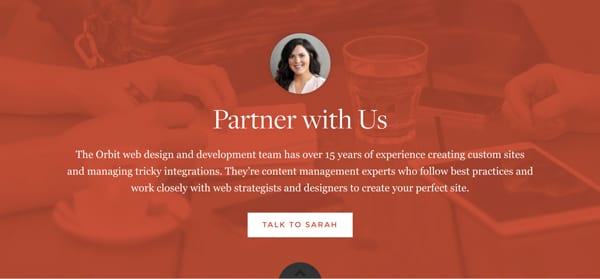 People don't like wondering what they're meant to do next, and they don't like wondering what the results will be if they comply.
Light up the runway, and they're more likely to land where you want them to.
---
| | |
| --- | --- |
| | "When you think about the importance of calls-to-action, it's really amazing. At the same time, it's also important to split test them with different key phrases and colors. Different colors carry different emotions, and a simple color change can result in a huge swing in conversions. This is something Amazon has continually tested with and mastered over the years."  – Zac Johnson  |
---
3. Personalized content
Speaking of the ecommerce giant, if 300 different people go to Amazon.com, each one of them probably sees a different version of the site.
That's because the site is powered by some seriously sophisticated personalization engines. This means that you're likely to see products you've browsed in the past among those recommended, but it also means that Amazon can optimize their content for different audience personas – those who are browsing, ready to buy or anything in between.
Replicating this strategy on your website means having data on visitors for things like location, keyword searches, frequency of visits, scroll depth and dwell time on each page.
You can then use this data to provide a personalized experience based on their location, what they last searched for or what they most frequently buy. Tools like RichRelevance allow marketers to automate the content personalization process.
4. Mind-bendingly high-quality content
To counteract the "content crush," ensure your content informs, educates and engages your readers to the max. Wow your site visitors by providing epic, definitive resources.
SEO thought leader Brian Dean calls this strategy "the skyscraper technique." When you visit a city for the first time and want to see it all from a high-altitude observatory, do you look for the tenth-tallest building in town? No, you don't – especially if the tallest tower is just as accessible.
Use surveys to ask people what they'd most like to learn from you. Curate some of the best content as it pertains to your brand, or the wider ecosystem of topics that your audience cares about, and compile it all into one super-impressive article.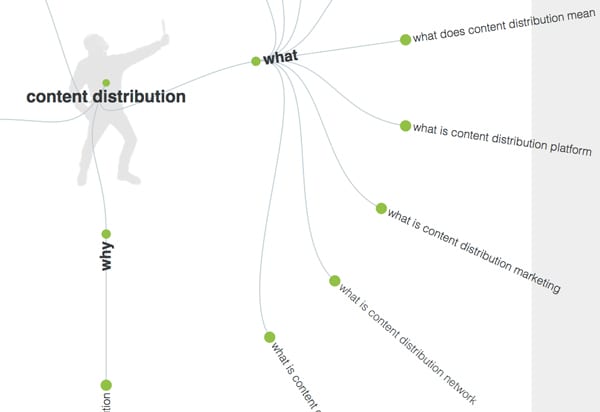 Or, look for content gaps in your niche that you can fill. You don't need to conduct a web-wide audit to identify unsatisfied demand for information that's relevant to your solutions. Answer the Public is a free, searchable index of keyword-associated questions common among Google searchers and Quora users.
Proactive Prompts That Break Barriers
If you experiment with any or all of the above tactics, you're basically optimizing your site to be conducive for visitors to advance themselves down the funnel. But there's also plenty you can do to break through the fourth wall, as it were, and proactively reach out to your audience members – always in a non-coercive, helpful manner, of course.
Here are some more tactics worth trying, if you want to take your proactivity up a notch.
1. Ask direct questions
The on-page survey is a quick way to understand why people visit your site, why they leave, or what's keeping them from buying.
Limit your survey to one easy question, and you'll have instant feedback from your visitors, without asking too much of them. A lengthy questionnaire is completely out of the question for these people – they'll just bounce.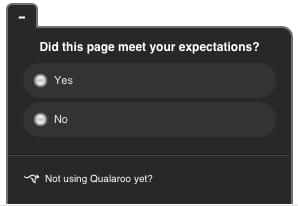 Qualaroo is a powerful tool for creating minimalist fly-in surveys for your website, so you can stop guessing what your visitors want. Even just a simple "Does this page contain the information you were looking for?" can reveal a lot about how useful individual visitors are finding your content – as well as opportunities for improvement.
2. Reach out to anonymous visitors
No matter what tactics you try to capture leads, you'll always see visitors leaving your site without buying or opting in. But all is not lost. These visitors still have the potential to become your best customers, if you can find out who they are and get in touch.
That's where a tool like Leadfeeder shines. This smart software shows you who visited your website and what content they're most interested in.
Based on the IP addresses of their internet connections, this tool can determine the company that each visitor likely works for, which can be invaluable for B2B sales. Through an integration with your CRM and Google Analytics, it sends you reports telling you who visited your site, which pages they viewed for how long and the first- and second-degree connections you have in common with their company on LinkedIn.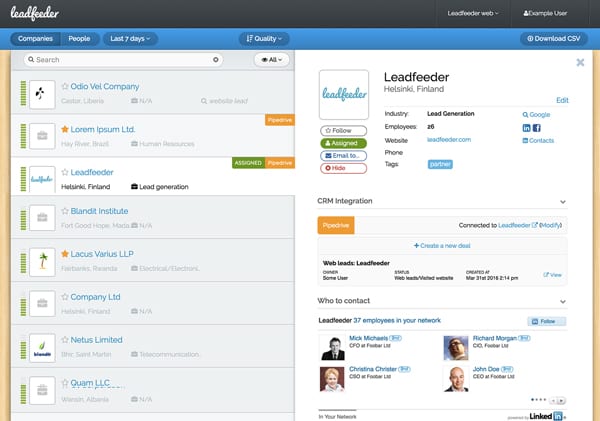 Your sales team can take this information and start connecting with the visitors on social media. Follow them on Twitter and retweet their content. Like and comment on their updates on LinkedIn.
By connecting on social media first, you reinforce their awareness of your brand, plus build trust. Once you've interacted with them, you can then direct message them with an article about the merits of your solution and offer any free advice they'd like.
3. Offer real time assistance
Not just useful for quality customer service, chat boxes show you're dedicated to delivering what your audience needs, even if they haven't bought anything from you yet.
They're a non-intrusive way to show you're more than a faceless brand – your company consists of trustworthy, real people who are available to instantly answer any question and provide additional information. Check out this example from Elite Legal Marketing: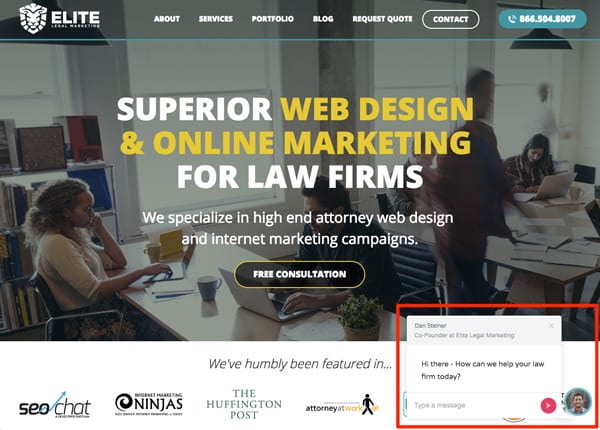 Depending on the tool you use to integrate live chat on your site, you can use bots to automate the engagement (to a point), capture email addresses in the process or move the conversation to social platforms.
4. Encourage shares
This one is super simple but often missed. Your site visitors are most likely to share your content when they're the most impacted by it – in other words, immediately after they've finished reading it. Tap into this enthusiasm by adding social media sharing buttons to make it that much easier to share your content.
You can add these as a scrolling sidebar, at the end of the content, or strategically positioned throughout. Tools like Sumo allow you to deploy persistent, desktop- and mobile-friendly share buttons for free, while premium solutions like East Social Share Buttons allow you to customize button design and incorporate email capture into the experience.
Make sure that the tool you choose supports tweet counts, though – not all of them do, and displaying tweet counts next to your buttons adds important element of social proof.
5. Content upgrades
To accompany key pieces of content on your site, create a bonus asset that elaborates on or complements it. Then offer this "content upgrade" in the middle of or at the end of your blog post in exchange for an email address. No popups necessary. Just a call-to-action that makes a whole lot of sense in the context of what the audience is doing.
Don't forget – these are people who are pre-qualified to be interested in what you're offering, because they've been reading your content on the same topic for a few minutes already. No wonder Jeff Bullas saw a 344% increase in email conversions when he rolled out content upgrades on his blog.
Here's an example from the Persuasion Nation blog: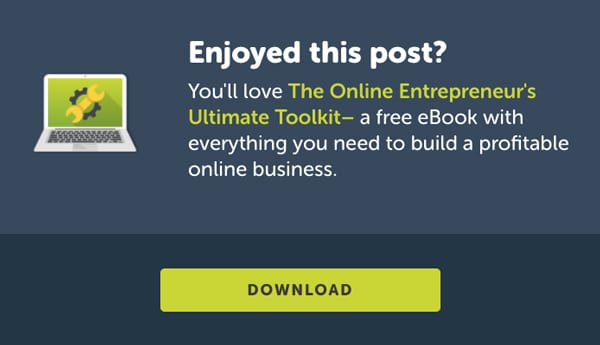 You don't even need to get so ambitious with the assets you develop. An audio or printer-friendly version of the very same blog post can do the job just fine. Other ideas for effective content upgrades can include checklists of takeaways, spreadsheets of resources and topic-relevant email courses.
Worried about scalability issues when creating these assets? No problem – OptinMonster's MonsterLinks tool allows you to assign upgrade assets to WordPress categories.
6. Opt-in options
Given that automated email follow-up is pivotal to your nurturing processes, you want to encourage your visitors to opt in to your list whenever a good opportunity arises.
You can use a Hello Bar that sits statically at the top of the page, a pop-up that appears when the visitor is about to leave your site, or a "welcome mat" that sits above the fold upon arrival.
---
| | |
| --- | --- |
| | "New subscribers are the lifeblood of your email program. You should collect email addresses at every turn. That doesn't mean hammering 'subscribe to our newsletter' over and over. Try to mix it up. With incentives, downloads, webinars and content upgrades, you have a plethora of options." – Jordie van Rijn, Email and marketing automation consultant.  |
---
Indeed, there are plenty of options for capturing email addresses, so make sure you don't overdo it with so many intrusions that people can't even see your content. A minimalist page template with one high-contrast email capture on it is generally the best way to go. If all your visitor sees is an avalanche of opt-in opportunities, they'll likely get annoyed and leave your site altogether.
Start Reaching Out With Inbound
The key to inbound marketing is building brand equity, which takes time to develop in the mind of each audience member. And sometimes they need you to reach out in order to drive action.
It isn't a simple case of creating content, pushing it through social channels and hoping it works. It's a collection of activities, which, when combined, encourage the visitor to engage, making it easier for you to sell.
Inbound methodology accomplishes this in a non-pushy or intrusive way. But that doesn't mean you need to be passive. Get proactive, and make it work for you.
Have you found any of these tactics to be especially useful to you? Any others that I should have included? Let me know in the comments below.