"That's good advice, Andy. But we have bigger plans. We're launching our new print magazine next month."
My jaw dropped when my client told me this. Wow, I thought. That is some next-level content marketing, so far beyond anything I would have considered. It took me a second just to process the idea.
You may know marketers like this. They have big ideas. They make big plans. They are automatically differentiated in ways that make their competition irrelevant.
These big ideas may be risky, but they also can be extremely effective. Let's take a minute to consider some really big approaches to content marketing. Let's talk about "Big Content."
What is "Big Content?"
Big Content is a content marketing format that requires far greater time and effort to produce than the more common formats (i.e. blog posts). Big Content is often based on a novel or original idea and is differentiated in its form, frequency or duration.
Think of Big Content as an extension of the more common formats. They're the same concepts on a much bigger scale. Compare: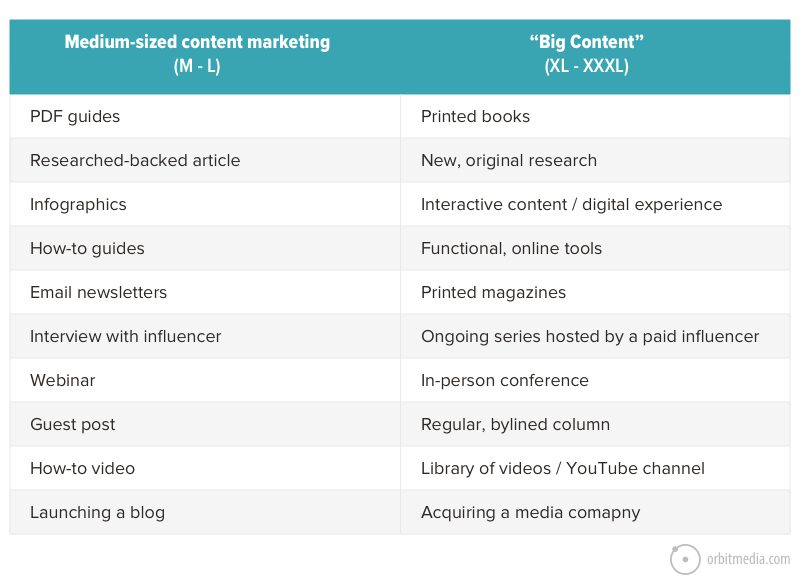 Who needs Big Content?
If it's not for everyone, who needs it? Who would benefit the most from adding something really big to their content mix?
Companies just getting started with content marketing
Some of these formats (original research, tools, a regular column) can speed up the process of building momentum. They're perfect for young content programs.
Companies within very crowded niches
If everyone is doing X, you need to either do Y …or do 10X. The more competitive the category, the more important it is to use one of these automatically-differentiated formats.
Companies with deep pockets
Having the resources to do more shouldn't mean doing more of the same. Use those resources to do things at another level.
Now let's look at five examples of Big Content in action, from XL to XXXL. We'll look at how these advanced strategies perform with some special emphasis on search engine optimization (SEO). We'll also ask why these approaches aren't more common.
We have actually tried some of these ideas here at Orbit, so when possible, we'll share an example showing the costs and the outcomes.
1. Launch a tool
Most content marketing strategies are built on how-to articles. The goal is often to make the brand a useful resource. But there's another "format" with far more intrinsic utility: a tool.
But original tools are very rarely part of any content program.
But they check all the boxes of great content: engaging, memorable, triggers sharing and word-of-mouth, etc. Less obvious benefit, they are magnets for links and great for SEO, according to research by Foundation.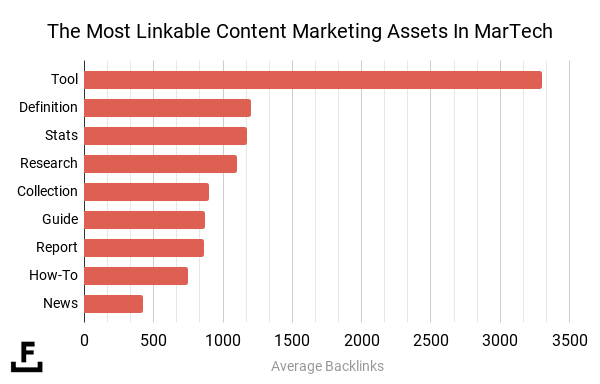 Why don't more brands build online tools?
In other words, why aren't there actual, functioning resources in company 'resources' section?
Lack of vision or lack of budget. A great tool, like this fun hair color changer, might cost 1000x more than a guide for picking your hair color. But the moments are priceless.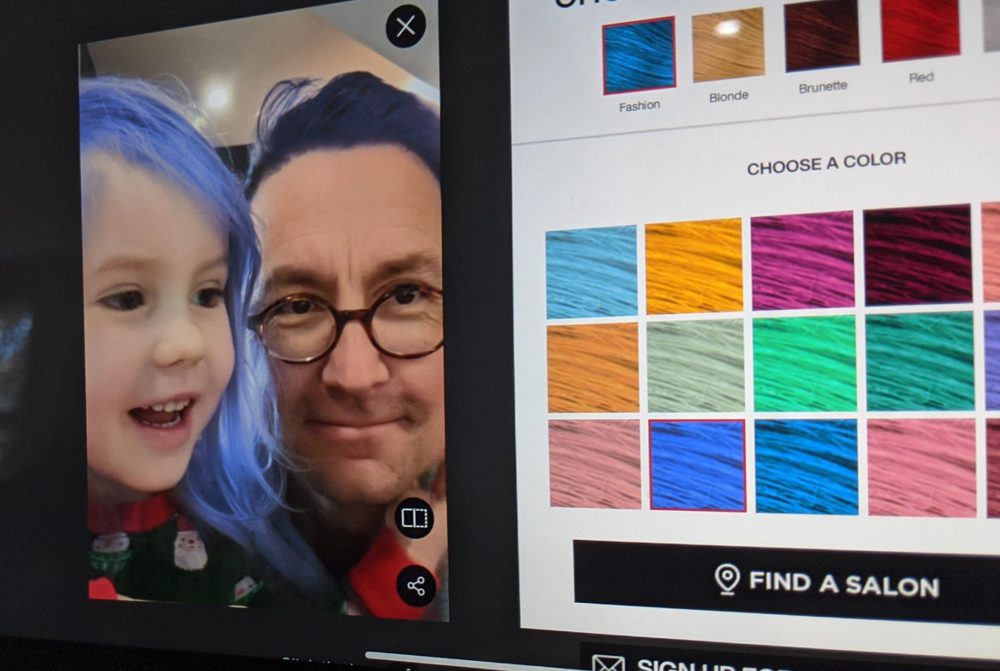 Usually, when a brand adds a tool, it's because it's expected (i.e. mortgage calculators). But when that's the case, it's undifferentiated. Might as well skip it.
Example: Orbit's URL Builder
We have a Campaign URL Builder on this website (it's the best). It took one of our developers 24 hours to build, which is roughly $4000 in billable time. It ranks in search, attracts around 16,000 visitors per year and has been linked to from 20 websites. Worth it? Garrett thinks so.
---
Garrett Moon, CoSchedule

"Free tools can do a great job of driving consistent organic traffic to your brand, but can also be very expensive to build and maintain. When we set out to build our free Headline Analyzer one of the most significant components of that strategy was a high-value keyword that we felt we could rank for very quickly. We knew that if we could grab the #1 spot in search, the tool would provide a significant volume of traffic for years to come."
---
2. Write a book
I'm sure you've already heard the benefits of writing a book. There are many. Thought leadership, sales support, PR, branding.
Books are one of the few formats for content marketing that doesn't have a back button. They go deep into topics. They stay longer, often lingering on shelves for years.
A less obvious benefit is personal SEO. Once Google identifies a person as an author, they look different in search results.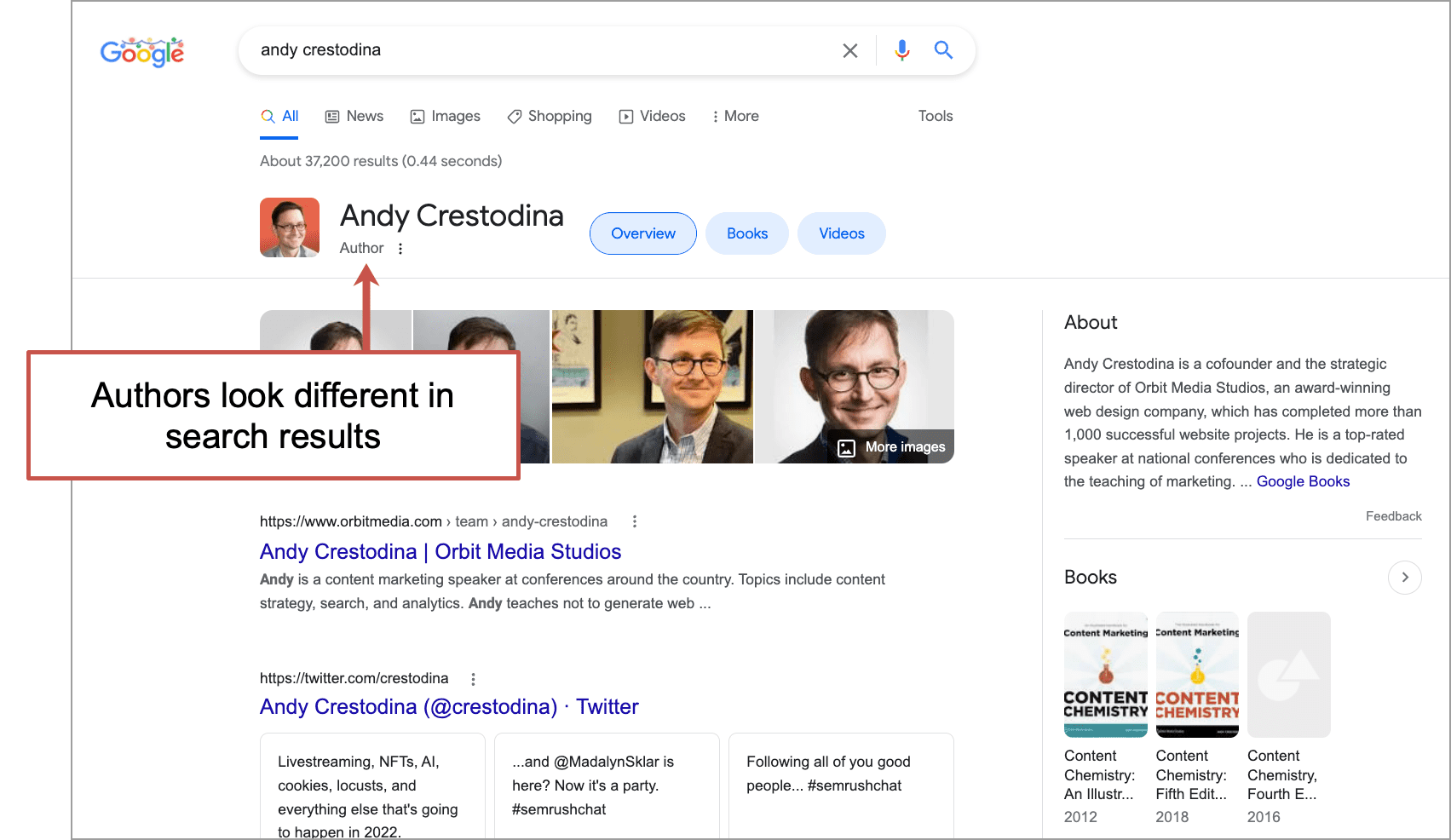 And if the book is referenced by academic papers, a Google Scholar page is automatically generated. The author just needs to claim it. And don't forget to add your profile (and link) to Amazon Author Central.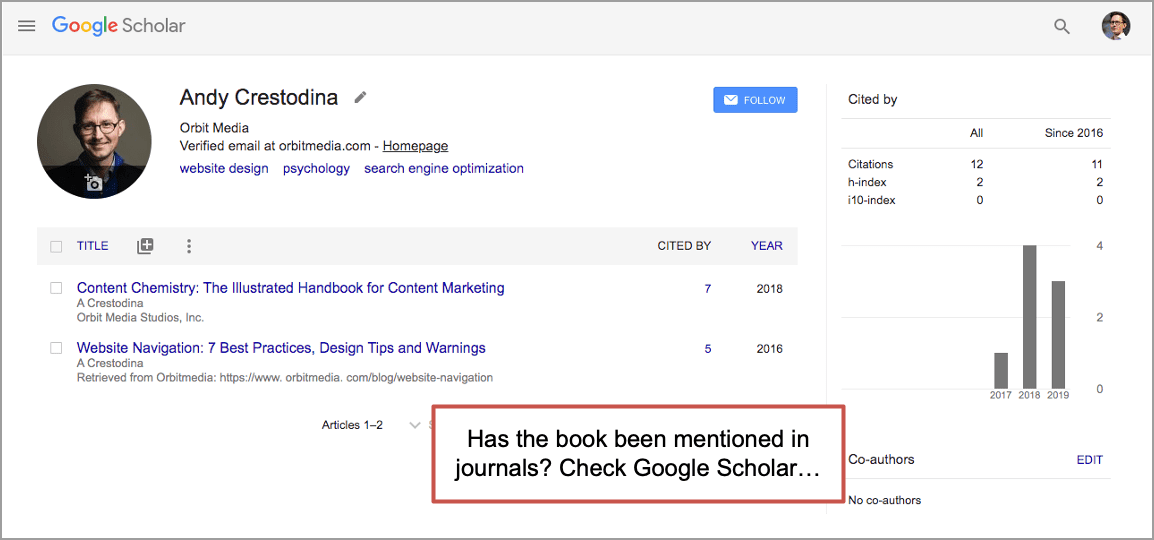 Why don't more content marketers write books?
Lack of time and lack of forethought. Marketing programs that plan ahead can gradually "blog into a book." The trick is to outline the chapters in advance and then produce blog articles that can later be combined into long form guides, and eventually a book.
This is a brilliant strategy because all of the content "market-tested" by your audience before you go to print!
Example: Content Chemistry
The idea was to repackage our best content into a more organized, detailed format. Basically, turn our blog into a textbook.
It wasn't ready yet. When we made the outline for the book in 2012, we found a lot of gaps: topics we hadn't yet written on the blog. So we spend another year or so blogging on those topics. Once we got to around 80% of the content done in blog format, I spent 6-10 hours per week for several months, shaping it into an actual book.
Then editing, then design, then printing, then finding the perfect distributor who works with self-published authors. So the time invested (after those articles had been written for the blog) was around 200 hours. Design and printing cost were around $8000 total.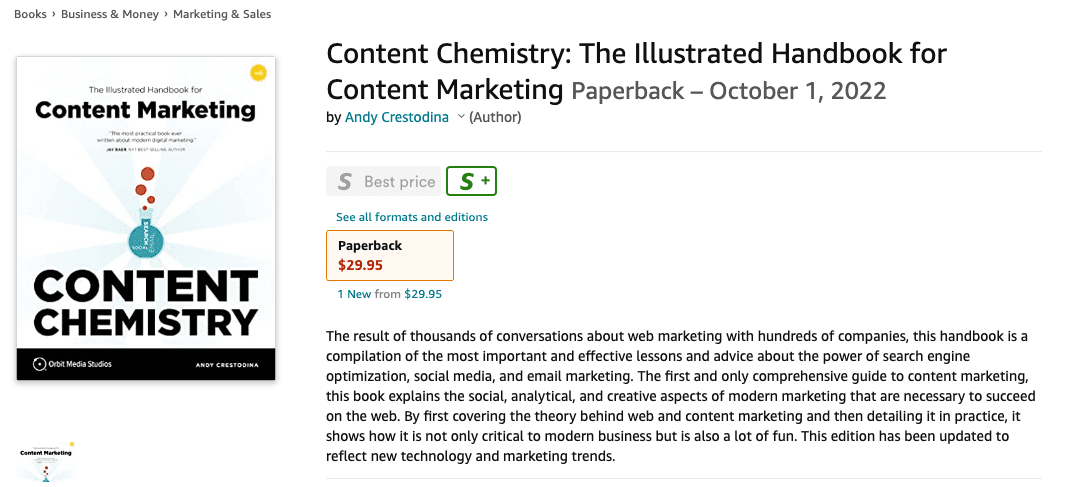 After a year or two, we realized that it was out of date. So we updated it in 2014, then again in 2015, 2016, 2018 and 2022. Each revision is another 100+ hour project, plus design and printing costs. We just finished the 6th edition (you can buy it here).
It always felt like an act of faith, but the results are real.
It's an excellent "leave behind" in sales meetings
It's part of our account-based content marketing program
Its page on our site has attracted 280 links (yes, book pages are link magnets)
It's been translated into Italian
It's used by university-level marketing programs around the world
It has tons of reviews and endorsements, including this quote from Jay Baer "The most practical book ever written about modern digital marketing."
…and it pays for itself. Revenues exceed costs (we're pretty sure). This report shows $113k in lifetime sales.

3. Launch your own conference
Event strategies come in three sizes: small, medium, large. The small version is low cost and low risk, but the marketing impact is low. The "big content" version of event marketing is high cost and high risk, but the outcomes can be amazing.
Attend an event, do a bit of networking, a few people will interact with you and your brand.
Speak at (or sponsor) an event, dozens of people are engaged with you and your brand.
Create an event, and everyone at that event is engaged with your brand. Every one of them.
Starting an event is just the next step in a marketing progression. A conference is just an event with a big food budget.
And then there's the venue, the wifi, the signage and the after party. And don't forget to book speakers and sell tickets. It's a lot. But the upside is huge.
A conference becomes a community, where people create value for each other through new relationships.
This is influencer marketing but in the other direction, where hopeful speakers pitch you.
This is marketing as a revenue center, not a cost. Ticket and sponsorship revenue should exceed the venue cost, speaker fees and bar tab.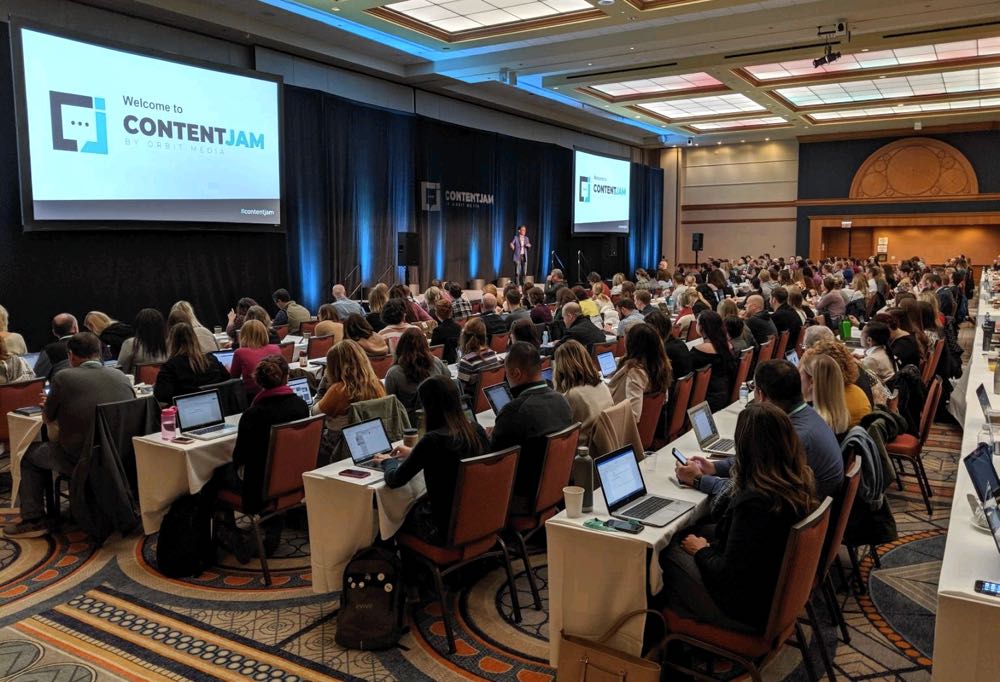 Example: Content Jam
Our event started small, but gradually grew into Chicago's largest content marketing event.
At first, it was just four speakers in four conference rooms around our building. Then, a local university donated their space to us (Thanks, Tim!) which kept costs down. But it kept selling out, so we moved it and it grew some more. Eventually, we got an actual conference space (more people, cost, risk and fun) and it grew to 500+ attendees.
Then in 2020 an evil microbe shut it down. We lost our $25,000 deposit on the venue. Big content is risky!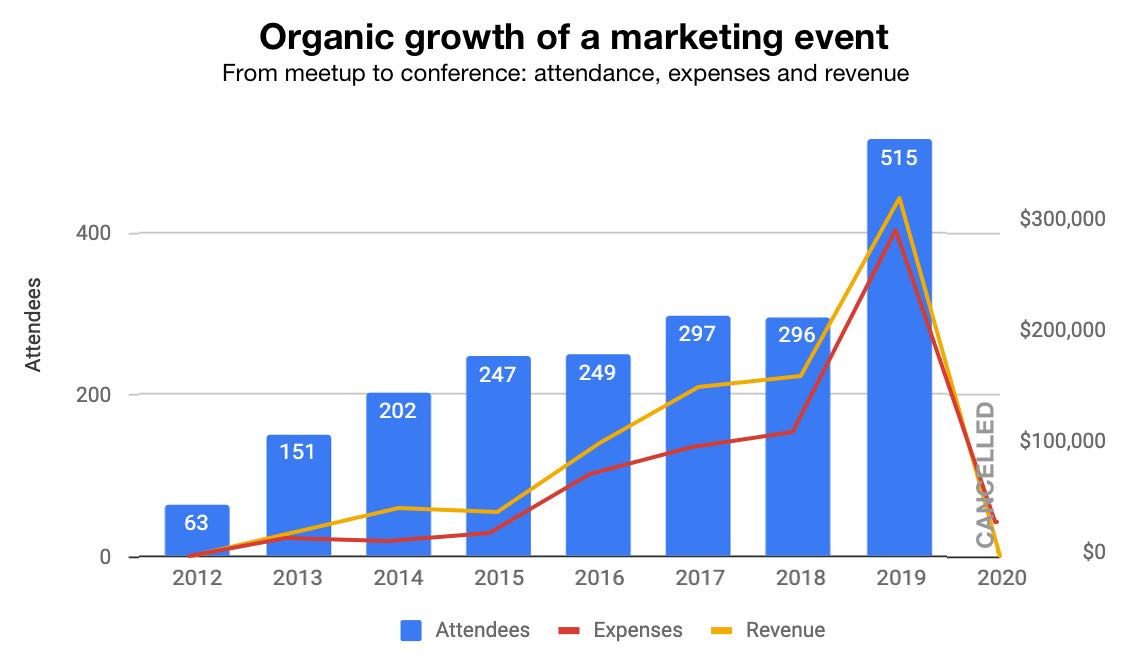 Over the years, 2000+ people have attended, dozens of speakers have taught. Who knows how many leads have been generated and friendships have been made.
Content Jam is still on hold …but it will be back!
4. Launch a magazine
Email isn't their only inbox, but it is their most crowded inbox. Their other inbox is far less crowded: the US Postal Service mailbox. A lot of marketers who complain that "it's so hard to break through the noise" have never tried less noisy channels.
Send something physical and you're automatically in a less noisy channel
Send printed articles and it may not be digital marketing, but it's still content marketing
Send a magazine with many articles …and now you're doing Big Content
Why don't more marketers publish magazines?
Cost. The content may not be that difficult to produce (you may already have the articles) but design, printing and postage costs are significant. One custom publishing pro tells me that costs could be as high as $200k per issue.
Example: Independent Advisor Magazine
TD Ameritrade Institutional was looking to deepen engagement with financial advisors. To go beyond the traditional digital channels, they worked with Imagination Publishing to launch a quarterly magazine.
They use data from their website and social media to guide the editorial for the magazine. Articles with the best engagement online win a place in the printed piece. Smart.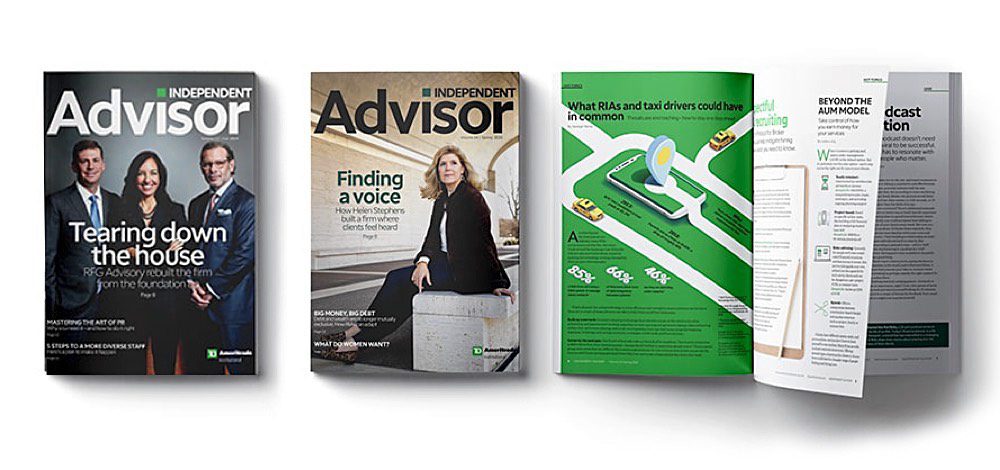 The results are an award-winning, multi-channel program with the magazine as a centerpiece. This magazine is "…not just a haphazard collection of articles but a beautifully edited, well-rounded experience for our print reader." …and it's definitely big content.
5. Acquire a content platform
When Hubspot decided they needed a blog that specifically targeted agencies, did they start from the beginning? Build it from scratch? No. They acquired The Agency Post, which had a 3-year head start and an engaged audience of agency professionals.
The goal is typically to get consistent access to a relevant, engaged audience. Just imagine the conversation in the boardroom.
"Why are we buying ads when we can just buy the publisher?
Why rent this audience when we can own it?"
There's also an SEO angle.
If you want to rank for a phrase, the surest path is to simply buy the company that holds the top spot. This has been happening for years in the mattress industry, which is one of the most competitive categories on the web. It's basically Thunderdome.
We've obviously never acquired a media company at Orbit Media. But I know someone who has. So I reached out for some input:
---
"I learned in publishing years ago…if you can buy, always buy. If you can't, then build.

Most marketers build, which makes sense. Marketers like to create something original. Creating content and then building a following/audience takes time. Sometimes many years.

But what if, you could skip those couple years and have a content brand and audience to work with now. Well, that's why buying a content brand sometimes makes sense.

Smart content marketers always have a list with them of where their audience hangs out…what podcasts, YouTube channels, newsletters, Insta channels? Every one of those channels are for sale. Some are seven figures, but others are five figures.

If there was a shortcut to success, would you take it?"
---
Why don't more brands acquire content companies?
Price, risk and lack of expertise.
Usually, brands do content marketing because they don't have millions to spend. And even if the brand has the money and an acquisition strategy, the deals aren't usually for media properties. They may have no idea how to value a content brand.
If the idea sounds interesting, see the section in Joe's book, Content Inc. It provides a practical framework.
Examples of media company acquisitions
You may not notice it much, but it happens all the time. Here are some biggies from 2021. These transactions were for multiples ranging from 2.25x to 5x.
Hubspot acquired The Hustle (blog and podcast) for $27M.
Penn National Gaming (casino operator) acquired Barstool Sports (sports, pop culture blog) for $450M
Robinhood acquired MarketSnacks (financial news site) and rebranded it as Robinhood Snacks.
Stripe bought IndieHackers (community of developers and tech company founders)
DraftKings bought Vegas Sports Information Network (sports betting news)
Zapier bought Makerpad (content and coding education platform)
DigitalOcean acquired Scotch.io (a community of developers with 1,800+ tutorials)
"Make no little plans"
Big Content may not be necessary. You can build perfectly successful content programs without pushing one of your formats to maximum levels. But it's worth considering. MaybeBig Content is just what your content strategy needs.
I have a bust in my office of Daniel Burnham. He is a Chicago architecture and urban planning legend. He's famous for this quote. You may know the first few words, but read the rest, as published in the Chicago Record-Herald, Oct. 15, 1910. This is an excerpt from the transcript of a speech he gave earlier that year in London.
Daniel Burnham, Chicago urban planning legend:
"Make no little plans; they have no magic to stir men's blood and probably themselves will not be realized. Make big plans; aim high in hope and work, remembering that a noble, logical diagram once recorded will never die, but long after we are gone will be a living thing, asserting itself with ever-growing insistency.

Remember that our sons and grandsons are going to do things that would stagger us. Let your watchword be order and your beacon beauty."
Let's think big. And keep in mind that wonderful latin proverb, Fortis Fortuna Adiuvat…fortune favors the bold!