I recently had the opportunity to present at a food blogging conference about blogging and branding, and after the presentation I realized that food bloggers and business bloggers struggle with the same thing: giving a brand a voice.
"Know, first, who you are; and then adorn yourself accordingly" Epictetus, Greek Stoic Philosopher.
I am not a snooty intellectual, just an excellent Googler of relevant quotes. This particular sentiment from the ancient Greeks goes a long way in writing your blog. If you first know who your brand is, you can then go forth and post.
Before you go any further, you have to identify the voice of your brand. Magazines do this all the time – they create an entire life for their typical reader and they give that character a name. You don't have to go so far as to name your voice, but you need to figure out who the voice behind your blog is and to whom it is speaking. If you do nothing else in exploring your voice, write 10 words that describe the point of view that you are trying to convey. Then you can move on to the good stuff.
Start by carving your niche
There is always someone out there with a business or idea that is similar to or the same as yours. How do you make sure you stand out? You do the following: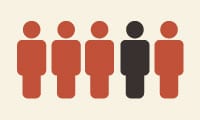 Be different. Maybe you are the funniest unicycle mechanic on the block or maybe your scholarly posts on pest control stand out to your customer. Just because someone else is blogging in your industry doesn't mean that you should skip it. Focus on what makes you unique. How about a website devoted to Healthy Blender Recipes for a specific niche?
Be awesome at just one thing. If you make bicycle tires, do not pretend to be an expert on roller blades. I am a web designer. I would never try to pass myself off as a web developer. I may understand the other parts of my industry, but I am an expert at one part.
Always be improving. Even experts have things to learn. If you continually strive to be better no matter how good you already are, you will be able to position yourself at the top of your niche.
Embrace your personality (or your brand's personality)
People won't make return visits if they don't know whom to expect when reading your blog. Develop a strong, authentic voice and readers will respond.
Put yourself out there. Blogs are a great way for your company to connect with customers and others in your industry; however readers can spot inauthenticity a mile away. Be real and human. Go and check out NPR's Fresh Air blog and see how they put themselves out there.
Share your opinions and views. No one wants to read a blog where every post has a zillion exclamation points and loves everything! They want to know what you actually think. Really, they do!
Be consistent. This is the hardest part, making sure that you are putting out a message that is clear and uses a defined voice. It takes practice, but by being consistent, customers/readers will know they can rely on you and your articles.
Go ahead, get out there and shine!
This is the fun part! You have found your niche and you have embraced your personality, but you can't live in a vacuum. You need to engage with your audience on social media.
Join the conversation. This is easy, just answer questions on twitter, facebook, google+ and linkedin that are relevant to your business and blog. Respond to comments. When you interact, you win.
Connect with people. This is an extension of joining the conversation, but connecting is taking it to the next level. Comment on other blogs, congratulate people on their successes, meet them at industry events, and have real life conversations.
Be humble. This might be the most important bit of advice. Your mamma taught you manners as a child, and now is the perfect time to put them into practice. The most important one is to remember to thank others for sharing links to your articles and for leaving praise and criticism. (Your critics will only help you to improve, so yes, you need to thank them too)! In short, use your blog to make your brand have a consistent and clear personality, and then connect with others while being gracious and you will go far.
How do you translate your business into your blog?