For those in branding and marketing, guest blogging could be a super strategy for building awareness, authority, and… well, backlinks.
Tons of authoritative websites welcome content from outside specialists and are ready to pay for it. From business to marketing, from food to fitness — topics and formats are numerous: essays, reviews, blog posts, case studies, and more.
The only piece of advice:
Before writing an article and outreaching editors, do your best to research a website inside out. Hence, you'll know what topics to offer and what writing style to use to fit their content best.
Most websites that welcome guest authors have a page with detailed writing guidelines. It stands to reason that you should follow them up and down to increase your chances of getting approved and published.
With 7+ years of experience in guest posting, I'm here to share the list of top websites ready to pay up to $2,000 for your content. In this post, you'll find a list with short summaries by niches. For more details, visit the corresponding pages with guidelines.
So, here we go!
Table of Contents
Web Design Niche
Topics: design
Payment: $100
They look for writers ready to craft the materials for designers, developers, and content strategists. Get ready to write well-researched articles backed with arguments, references, and up-to-date sources. The editorial process is quite challenging, and they may ask you to revise your work and use several writing apps to edit it.

Topics: design
Payment: $50
Hongkiat is waiting for the guest posts on web design, dev, and technologies. They prefer detailed and comprehensive works, but not those too wordy.
Topics: Photoshop
Payment: $25-300
This website looks for authors able to write educational articles about the work with Photoshop. They accept both short posts, paying $25-50 for one piece and $150-300 for detailed instructions.
Topics: design, usability
Payment: $100
UX Booth welcomes 1200-1800 words long articles based on research and expert opinions. Case studies with real-life examples are at their preference too.
Topics: design
Payment: $50-200
The website accepts articles about Adobe Illustrator, Adobe InDesign, Inkscape, Sketch, CorelDRAW, and any content about typography. They'll pay you $50-70 for a short yet informative post and $150-200 for a detailed tutorial. Get ready to earn more if you're a recognized expert in the niche.
Topics: web design, web dev, security, WordPress
Payment: $50-250
Plesk outsources writers for creating articles and step-by-step tutorials on WordPress, web security, Javascript frameworks, DevOps, Docker & Plesk, and more. The payment depends on your article's word count.
Topics: web design, dev
Payment: $350-600
They welcome guest posts from soft engineers and other experienced specialists in the niche. You can write instructions, detailed guidelines, and career advice. If willing to get $600 for your work, get ready to craft a detailed instruction with code examples.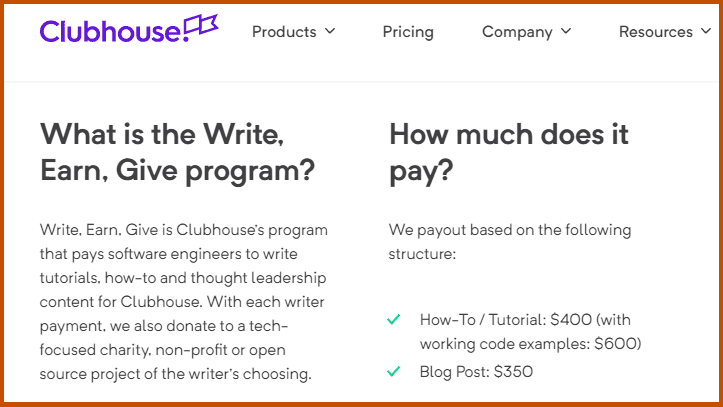 Topics: design with the help of Clip Studio
Payment: $700
Clip Studio Paint looks for authors able to craft text- or video lessons with their program's help. The topics of their interest are concept art, watercolor, matte painting, landscape, and graphic design. They pay $700 for a text lesson and $1,000 for a video lesson.
Topics: design, arts
Payment: $400-600
Western Art & Architecture is a magazine for collectors and art lovers. They accept articles on a variety of topics, including artist reviews, collecting, and home design.
Topics: artists
Payment: up to $600
They welcome articles about artistic techniques, reviews of artists' works, and interviews. The payment depends on the depth of your research and narration.
Web Development Niche
Topics: web dev, niche news
Payment: $200-500
Source is an online project discussing web development. They welcome niche research and reviews, paying $200 for short articles and $500 for detailed, comprehensive research and instructions.
Topics: SQL
Payment: $150
SQLServerCentral accepts articles on any topics related to SQL. They don't pay attention to the number of words in your work but its comprehensiveness and consistency.
Topics: Linux/Linode/Cloud Infrastructure
Payment: up to $300
Linode is waiting for the articles from technical writers and experts working with Linode, Linux, and cloud services.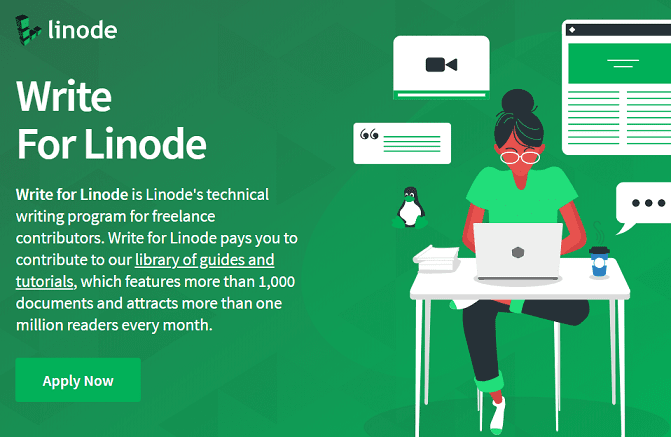 Topics: web development
Payment: $150-300
The website welcomes articles on HTML, CSS, SASS, and everything related to web development. They pay $150 for short stories, $200 for detailed tutorials, and $300 for traffic potential blog posts.
Topics: web design, dev
Payment: N/A
They accept analytical articles and detailed tutorials on web design and developments. Topics can be different: user interaction, Photoshop, logo design, design for mobile devices, e-commerce, etc. Personal experience is a plus.
Topics: Linux
Payment: $300-400
The website looks for articles on Linux: Ubuntu, CentOS, Debian, Fedora, or any other Linux ecosystem. The payment depends on the complexity of your material.
Blogging and Copywriting Niche
Topics: writing, copywriting
Payment: $50
They are a website on how to make money with writing. Case studies of 500-500 words are more than welcome. Please don't send general articles on how to become a writer, etc.
Topics: blogging, copywriting
Payment: $60
This blog welcomes articles on how to make money with writing and reviews of websites that pay authors. Here you can share a new money-making idea or strategy that worked for you.
Topics: making money with writing
Payment: $75-150
It's one of the most popular blogs among people willing to make money with writing. Topics are many: copywriting, productivity, blogging, marketing, lists of valuable instruments or websites for authors, and more.
Topics: copywriting, conversion optimization
Payment: $300-1000
Copyhackers is one of the US leading websites on copywriting and conversion optimization. They publish unique and comprehensive materials that bring practical value.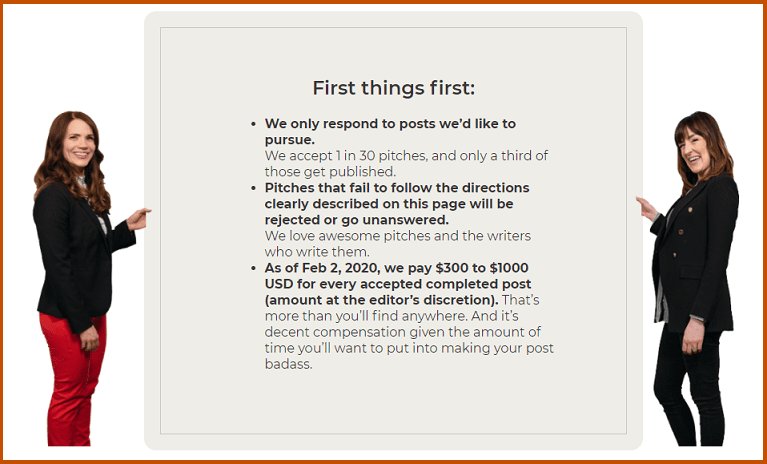 Marketing Niche
Topics: marketing, making money online
Payment: $50-150
The blog is for people who want to learn marketing and make money online. They accept articles from experts with first-hand experience with the topic. Feel free to write about the ways to make money online, social media, loans, productivity tips, etc.
Topics: online business, making money online
Payment: up to $500
This website welcomes articles on everything related to online business: making money, getting maximum traffic, social media, web design, or conversion rate optimization.
Topics: marketing
Payment: up to $500
Their interest is content that helps freelancers get better income. Also, you are welcome to write articles on digital marketing, team building, and project management.
Travel Niche
Payment: up to $1 per word
This website's core topic is tourism, and they accept submissions from guest writers who can tell about their travel experience.
Feel free to pitch this resource if you have something to say about travel tips for women. Their best authors get $75 for an article. You can talk about travel adventures, problems preventing women from traveling to specific countries, food, drinks, etc.
The website accepts inspiring yet practical tips on travel planning, articles on work, study, volunteering abroad, and other materials related to immersing in different cultures.
Budget Travel publishes articles about tourist places, cultures of different countries, and tips or interesting stories about traveling abroad.
The blog publishes articles on how to make money traveling. They want to hear your first-hand experience described as actionable tips of 300-600 words.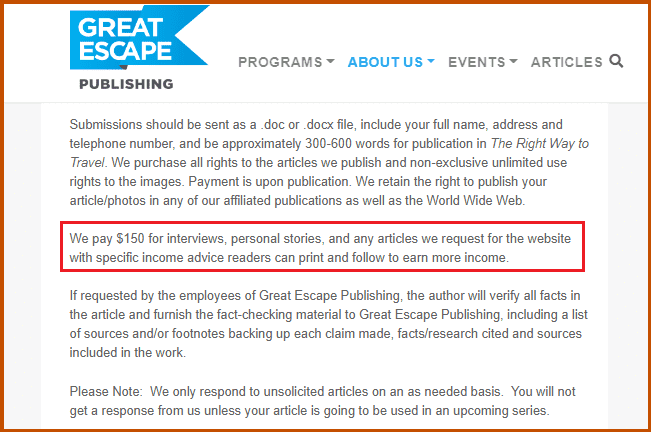 Food and Drinks Niche
Topics: food and cooking
Payment: $100+
Serious Eats welcome essays on the topics of food and its cooking. And yet, they won't publish recipes or culinary techniques.
Topics: food and cooking
Payment: $225+
If you want your article to get approved here, write about culinary trends, reviews of dishes or individual ingredients, or cooking book summaries.
Topics: food and cooking
Payment: $0,50 per word
Bon Appétit is a magazine publishing recipes, cooking tips, and culinary reviews. They welcome personal essays, opinion pieces, and lists from food bloggers.
Topics: gastro travels
Payment: $20-50
Foodellers is a website about food travels. Write to them about inspiring adventures, share recipes, and give tips on what food to try in different countries. Also, they provide a backlink to your website.
Topics: food, restaurants
Payment: $400
The Smart Mouth is a twice-monthly informative newsletter. They'll pay $400 for your 300-500-word article on food, culture, and food culture topics. Essays are welcome too. Or, you can get $200 for the recommendation of a restaurant or a dish, accompanied by high-quality photos.
Topics: healthy diet
Payment: $0,35 per word
As their name says, this blogging platform publishes articles on gluten-free living. Write recipes, medical research, or posts about different nutrition types.
Topics: food
Payment: $150
They publish content about food in the context of cultural identity. Feel free to submit essays, reviews, and interviews between 800 and 1,500 words.
Topics: food
Payment: $0,60 per word
This is an online magazine for those cooking at home. They accept unique recipes, personal stories, quick guides to home cooking, recipe picks from chefs, photo essays, shopping guides, and opinion pieces.
Topics: drinks
Payment: $0.67 per word
The magazine publishes guides to all kinds of beverages: wine, coffee, beer, and tea. They accept reviews, recipes, travel stories, and biographies of culinary gurus.
Topics: food and drinks
Payment: $25-350
Eat Your World is an online guide to local foods and beverages from around the world. They pay between $25 and $50 for small articles for the blog. For reviews with quality photos, you can get between $200 and $350.

Topics: food
Payment: $300-500
They publish articles that give a new perspective on food—interested in articles about food in the context of business and finance, economics, politics, and logistics.
Topics: healthy diet
Payment: $150
Organic Lifestyle publishes in-depth educational articles on health, treatment, the environment, and nutrition. They pay $150 per article and up to $500 in bonuses if your article gets more than 50,000 readers and shares.
Fitness and Health Niche
Topics: health, sports
Payment: N/A
They write about the latest health, sports, endurance, and staying fit trends, accepting contributions from qualified industry professionals. Contact them to get more guidelines and payment details.
Topics: health
Payment: $150-200
ProHealth is a manufacturer of nutritional supplements. They host articles on fibromyalgia, Lyme disease, natural wellness, and longevity. For more details, please visit this Twitter thread.
Topics: health, sports, nutrition
Payment: $50 per 500 words
MealPrep is the Australian website helping people choose and compare nutrition brands. They look for authors of informative and engaging stories on health and fitness. Write about fitness exercises, recipes, and health. You can get $25 for a recipe and up to $330 for a comprehensive article.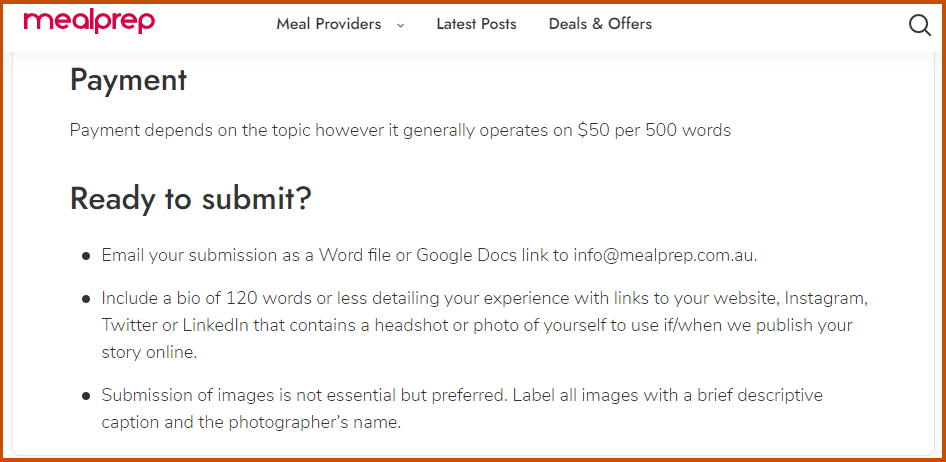 Topics: healthy lifestyle
Payment: $50
The author of this blog provides writers with in-depth, step-by-step guidelines on what to write and how to submit drafts for her review. You can get $50 for articles with healthy recipes, pregnancy or parenting tips, and traditional remedies.
Topics: health and beauty
Payment: $35-150
Devata Active accepts 600-1,000 words long articles. Their topics of interest are health and wellness, productivity, personal development, yoga, fitness, healthy nutrition, spirituality, and travel.
Lifestyle Niche
Topics: teenagers' life
Payment: $500-1,500
Scout Life is interested in articles for 6-17 years old boys on a wide range of topics: sci-fi book reviews, sports, American history, nature, aviation, health, pets, and music.
Topics: lifestyle
Payment: $500
Vox publishes contributions from unsolicited writers in their First Person subcategory. They require provocative stories about the most important things in modern life.
Topics: for women of all ages
Payment: $25-250
Woman's World is a magazine for women of all ages that publishes romantic stories, healthy living tips, recipes, and relationship articles. They pay between $25 and $250 for a story or essay and $25 for a recipe.
Topics: coffee, music, arts
Payment: $200-500
Yes Plz Weekly calls for pitches on personal essays, profiles of artists, musicians and entrepreneurs, coffee, and more. Check the details in this Twitter thread from their editor.
Topics: for girls
Payment: $0.05 per word
Fun for Kidz is a magazine for 6-13 years old ladies and gentlemen. They welcome articles (350-750 words) on different topics that might be interesting to check in this age.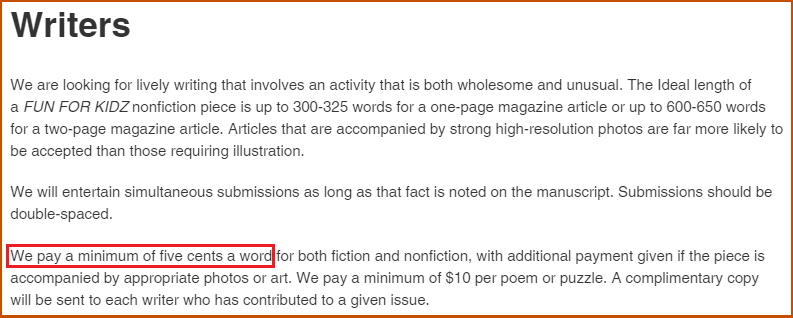 Topics: lifestyle
Payment: $0,5 per word
Extra Crispy publishes opinion pieces, reports, personal stories, humorous essays, photo stories, recipes, and actionable lifestyle tips. Follow their detailed guidelines to increase the chances of getting accepted.
Topics: lifestyle
Payment: $1 per word
Drive Magazine is a magazine about travels, fitness, health, and food. Feel free to send your pitches to their managing editor Marissa Conrad.
Parenting Niche
Topics: parenting
Payment: $75
They accept 1,500-3,000 words long articles on raising children, want to see humor and lessons you've got from your first-hand experience as a parent, and welcome backlinks to corresponding articles and books.
Topics: parenting
Payment: $150
Romper is a website for young moms. The creators seek to explore aspects of parenthood that other media have not yet touched. They accept small articles and essays of 800 to 2,000 words.
Topics: parenting
Payment: $125
The SheThinx blog accepts personal essays about reproductive health and a unique perspective on topics that society considers taboo. They are also waiting for stories of people experiencing premenopause, menopause, and parenting in adulthood.
Topics: travels
Payment: N/A
Traveling Dad is a website about family travels. They pay for informative and engaging stories about travels from a father's perspective, including business travel, family travel, and travel without children.
Topics: motherhood
Payment: $100
This online magazine is about pregnancy, childbirth, and the transition to motherhood. Send a one-paragraph pitch about your topic and why it's a good fit for them. Get ready to write an article of 500-1,000 words.
Topics: motherhood
Payment: $20-80
Stay at Home Mum is the Australian website publishing tips and ideas on cleaning, cooking, parenting, and any other news that can help moms live better. They pay $20 for a blog post and $80 for a video.
Topics: parents and techs
Payment:  $100
Zift is the parent portal and parents insights blog that helps moms and dads deal with children using modern technologies. They wait for the articles with actionable tips and advice.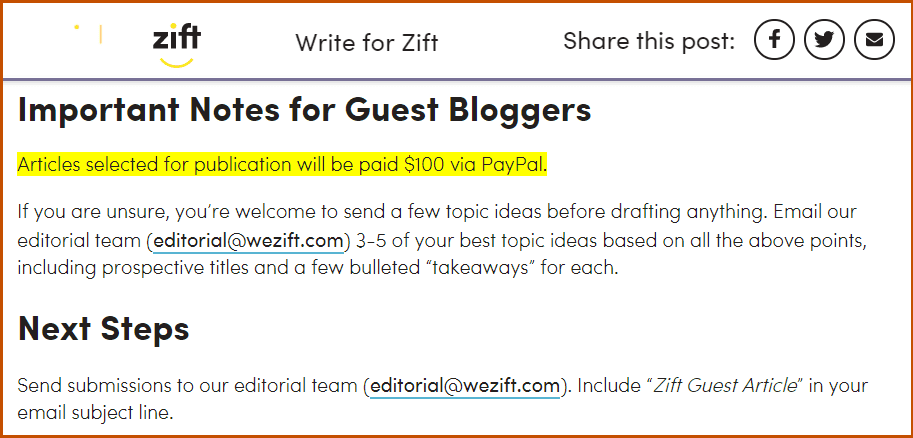 Topics: family travels
Payment: $50
Family Traveler publishes helpful tips for parents traveling with children. They pay $50 for articles between 600 and 2,000 words for the online edition and 0.25 cents per word for essays in the print edition.
Topics: parenting
Payment: $1.87 for a word
Parents.com helps moms and dads raise happy and healthy children while having fun parenting. They are looking for stories for a wide range of parents and want to hear them from a first-hand experience.
Topics: parenting
Payment: $2.50 for a word
On Parenting is a blog at Washington Posts. They look for insightful pieces on parenting from an interesting angle and wait for personal essays or reported pieces up to 1,200 words long.
Topics: parenting
Payment: $1.25 for a word
FamilyFun is the number-one magazine for families with children. They accept entertaining articles on food, games, holiday celebrations, home organizing, solutions to household problems, and more. The length of your work needs to be from 850 to 3,000 words.
Topics: motherhood
Payment: N/A
The website helps working moms deal with their problems. They accept pitches related to moms' work, family, and lifestyle. Get ready to write around 700-1,500 words.
Topics: marriage, patenting
Payment: $300
Modern Love is the column at The New York Times. Their editors look for personal essays about dating, marriage, parenthood, and everything related to contemporary relationships and modern love. The assigned length is 1,500-1,700 words.
Other
Topics: personal growth
Payment: $500
The resource welcomes articles based on personal experience that will help improve readers' lives. No reviews, expert opinions, or other people's advice, please. You can support your experience with research.
Topics: education
Payment: $55
Back to College is a website about US education. You can share your first-hand experience, tell others' stories, review an educational resource, or write an article for college enrollment.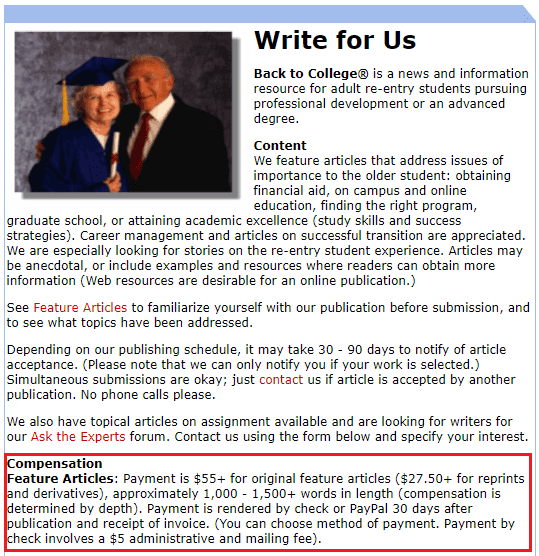 Topics: startups, health, science
Payment: $0.25 for a word
They accept articles about startups, science, real estate, education, and technology in India and Southeast Asia. Ensure to cover these topics in terms of politics. The length of an article is 1,500-2,200 words.
Topics: essays on different topics
Payment: $500
They accept well-written, engaging essays of 2,500-4,500 words. Your story needs to evoke an emotional response from readers.
Topics: politics
Payment: $100
The website accepts articles focusing on Middle Eastern, South Asian, and U.S. foreign policy. They also welcome essays on human rights, women, labor, religious discrimination, and climate change. Articles of 800-1,000 words are preferred from journalists and academics.
Topics: finance
Payment:  $300
Elite Personal Finance is waiting for articles about personal finance, money-saving, making money online, credit cards, business, loans, and much more. Write unique and helpful posts of 1,000-3,000 words and avoid including any promotional links there.
Topics: general
Payment: $150-250
There's a huge range of topics here. The key requirement is humor. They welcome well-researched articles on culture, social media, history, and more.
Sure, these are not all the websites accepting guest posts and paying for your work. If you know others, please feel free to share in the comments.