For most businesses, using YouTube to boost their reach sounds intimidating. However, with the proper approach, it's possible to use this popular platform to increase website traffic and generate more leads and sales.
With over 50 million video creators on YouTube, it's safe to say that any business that hopes to stand out needs to have savvy marketing tactics. You'll need a smart strategy to help you reach and be heard by your core audience.
More US adults are using YouTube than Facebook or any of the other social media sites, which means that this is a channel that businesses cannot afford to ignore.
If you are considering marketing on YouTube, this article will help you get a good idea of how to get started. By the end of it, you'll know how to use this powerful platform to reach your business objectives while keeping your audience engaged.
So read on to discover the different ways of using YouTube to amplify your business reach.
How to use YouTube to promote your business
After its parent company, Google, YouTube is the second-largest search engine in the world. It's also the second-largest website and social platform, with over a billion subscribers.
YouTube has massive reach and immense opportunities for building brand awareness, driving website traffic, boosting customer engagement, and generating leads. This popular social network can help you promote your business even if you're working with a tight budget.
Yet, when most businesses think about social media marketing and promotion, they only think of Facebook, Instagram, and Twitter.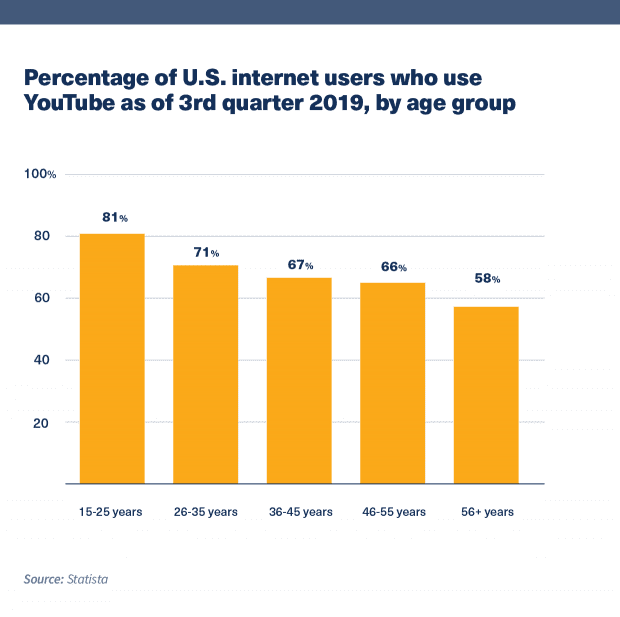 Why Use YouTube?
Well, the most important reason is that your target audience is already there. Why go looking elsewhere when you already know where the people you want are hanging out?
Secondly, unlike other social channels where users swipe through content subconsciously, the YouTube viewer typically has a particular objective in mind, such as learning a new skill, solving a problem, or seeking entertainment. When you address the questions your ideal audience is asking, you make it easier for them to find your brand.
Yet another reason for using YouTube is that the vast majority of people would rather watch videos than consume written text.
Also, engagement on YouTube leads to higher conversions, as shown by this study from Brightcove.
76% of consumers are more likely to purchase a product after watching a compelling video.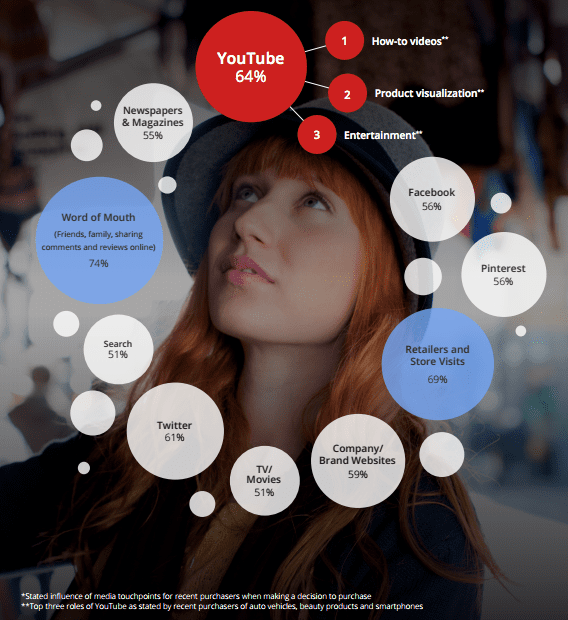 Finally, starting your own YouTube channel is a lot easier than most people think. There are so many opportunities available to help propel your marketing efforts, and from a promotional point of view, there's every reason to jump in and get started right now.
That answers the 'why'. Before we dive into 'how', here are a few useful statistics to help you gain a better understanding of why YouTube offers such vast possibilities for businesses:
YouTube in numbers:
In addition to that, YouTube reaches more people between the ages of 18 and 49 on mobile than any US TV network. In fact, people of all ages love watching online videos, and that trend is only set to grow in this and the coming years.
How to get started on YouTube
You now know that an effective YouTube marketing strategy can help your business reach more people, create more engagement, and improve your bottom line. But you need to know where to begin, in order to increase your chances of success.
To start with, you need to define your objectives. What are you hoping to achieve with YouTube video marketing?
For instance, do you want to:
Enhance brand awareness?
Generate more leads?
Boost conversions?
Improve customer engagement?
Increase sales?
Clearly defining your business's objectives will help you come up with the right strategy. The right strategy will ensure that you create the most effective videos for your channel that will help you achieve your goals.
So take the time to really ponder what exactly you would like to achieve with your YouTube video marketing. Once you've come up with your objectives, you can then get started on your content creation plan.
Budget-friendly and effective YouTube marketing
Now that you have your goals clearly defined, it's time to plan your content creation. This is where most people start to panic. But don't worry, although video marketing seems daunting and expensive at first, it's actually very easy and budget-friendly – if you have the right approach.
When it comes to promoting a business on YouTube, many business owners mistakenly think that professional video marketing is simply not within their price range. But the truth is that you don't need a massive budget to successfully market your business on this popular social platform.
You don't even have to be churning out videos constantly (although you do have to post regularly).
Also, there's no need to spend tons of money on hiring production crews or investing in fancy equipment when you're just starting out. There are plenty of ways you can create valuable, high-quality video content that your audience will love. We'll discuss some of them a little further down the line.
How to choose the right content types
Whether you're trying to entertain viewers, help users discover and learn new things, or assist them in making shopping decisions, it's important that you focus on creating added-value video content.
But before we take a look at how you can do that, you need to decide on the type of content you'll create. As part of your brainstorming process, you'll want to determine the level of expertise your audience is getting from your business's videos, as well as whether or not the content is engaging enough for them. Focus on sharing a compelling story in order to add value to your viewers.
Generally speaking, the videos you decide to create must be either content-driven, such as entertainment, inspiration, or education, or they need to be sales-driven, such as videos focusing on your product or service.
Some internet marketing experts suggest that you need to have two content-driven YouTube videos for each sales video you post on your channel.
With the vast majority of video consumers searching for how-to content and tutorials, it's clear that your business has to find ways to educate, engage, and build brand trust with potential customers if you want to compete online.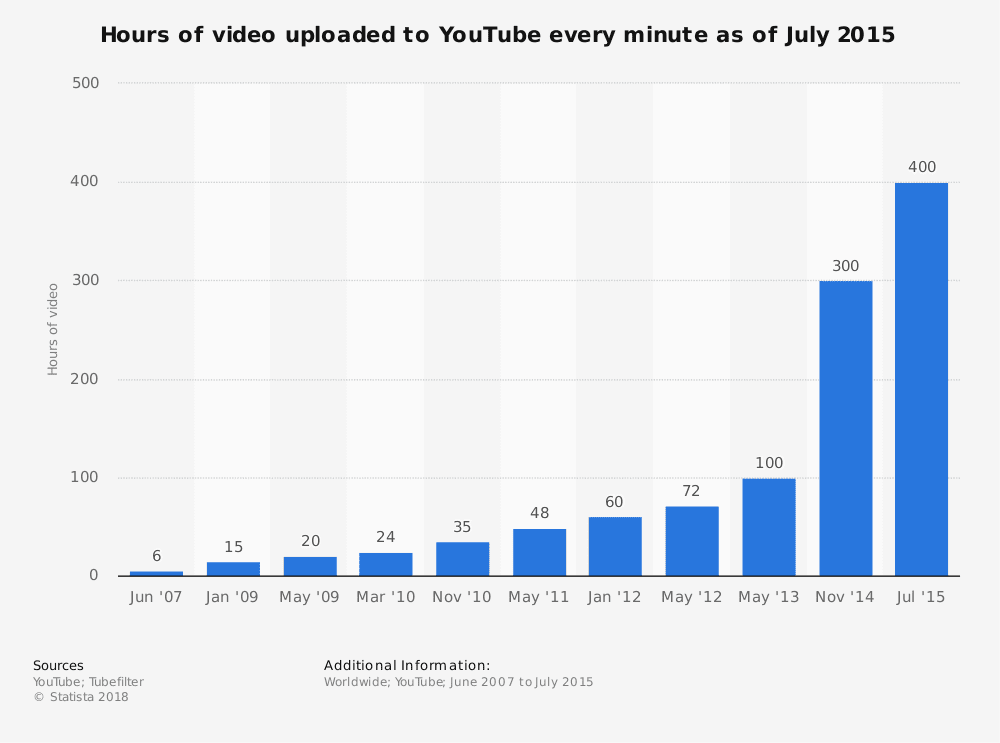 Pro tip! Watch some of your competitors' YouTube videos to discover what they are serving their audiences. This will help you come up with ideas of your own for replicating the same experience in your own business. 
5 ways to produce quality YouTube content on a budget
Although you don't need expensive equipment, you still need to film your videos somehow. Here, we share five of the most inexpensive tools, apps, and techniques that you can use to build your own video marketing studio right from your office.
1. Shoot videos with your smartphone
When you're just getting started, use your phone to save costs on all your video productions. This is an affordable asset that is good enough for many YouTube superstars and gurus. Most smartphones come with in-built cameras that are perfect for producing high-quality videos.
Use these tips to get the most out of your phone camera:
Position your phone using a tripod so you can shoot from an elevated position.
Stay near the phone's mic when recording, and look directly at the camera to replicate eye contact and build rapport with your viewers.
Use your camera's exposure lock to keep the focus constant throughout the shoot so you don't end up with footage that looks jittery.
Use natural light. It's free, and it works very well. Try to shoot outside or near a window during 'golden hour' whenever you can.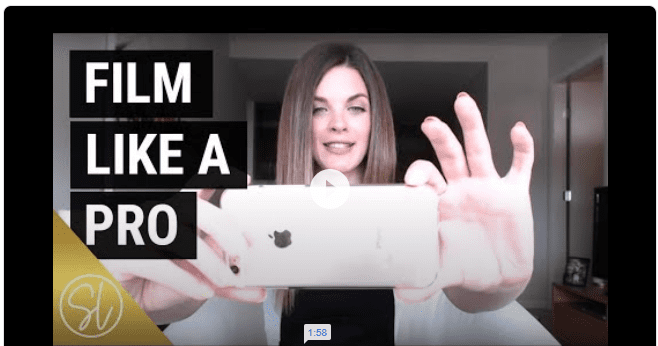 2. Create simple videos
Instead of using all the extra equipment to put together 'live' scenes, why not create a few slides and gather some royalty-free images from free sources like Pexels to help you tell your brand's story? You can also add 'b-roll footage' using royalty-free music and free stock videos to make your productions look even more professional.
You can also use Camtasia or any other free screen-capture software to record your computer screen as part of the video. This is particularly helpful when communicating in-depth or how-to content.
Another affordable way to create video content is to run webinars around your product, which can also help boost your lead generation efforts. All you have to do is create a landing page and offer the webinar in return for the visitors' details, and you have yourself a brand new lead generation avenue.
If all this seems like more than you're willing to learn how to do right now, don't worry. This type of work is extremely easy to outsource. You can get freelancers, students, or interns to help you create powerful, high-quality video content at a very affordable price.
3. Use free video editing software
Mac users have access to the free video editing software that comes pre-installed. Search for iMovie within your apps, and if you're not familiar with how to edit videos, here's a quick tutorial:
If you are using Windows, you can install Windows Movie Maker. Doing your own video editing comes with a bit of a learning curve. But if you're willing to put in the time, and use the free training videos on YouTube to help you accelerate your learning, you'll be able to create your own video masterpieces in a relatively short period of time.
4. Encourage your customers to create content
One of the best ways to get a consistent stream of content on your channel is to turn your customers into video content creators.
For instance, you could run a contest to incentivize your customers to create videos of themselves unboxing or using your product, or talking about a problem that your business helped them solve. The options and formats for user-generated content are endless.
5. Use animated videos to showcase your brand
With animated explainer videos, you don't need a big budget to achieve quality results. This is a great way to get your message across in a fun and engaging way. These videos can be made using affordable tools like Power Animate, Vyond, and Moovly. This type of software allows you to easily arrange simple animations to produce quality explainer videos at a very low cost.
Now you know how video marketing can be done even when your business has a very small budget.
The major concern most business owners have at this stage has to do with the frequency of producing and posting videos on YouTube.
It's understandable, you're busy, and there's always a hundred and one items on your to-do list, vying for your attention. So how can you execute your YouTube marketing strategy and gain some much-needed momentum without having to spend every waking hour creating content and shooting videos?
The answer is simple: Repurpose the content you already have!
How to repurpose your content
Content repurposing is simply taking content in one format and reproducing it in different formats. For instance, taking a blog post, and turning it into a YouTube video.
Repurposing content is a smart marketing tactic that will help you avoid having to spend countless hours producing content. By mastering content repurposing, you will be able to free up a lot of your valuable time so you can work on other important aspects of your business.
I personally do this on my own website One Hour Professor, in an effort to show content wherever my audiences want to reach me.
As you can see from the screenshots below, my YouTube growth has continued since the beginning of the year and all of that is a result of me repurposing my content.


I did this by taking different blog posts that I had written previously, reviewing them, then simply creating a video on YouTube talking through the same points that I wrote on my blog post.
From there, I had a video editor help me make the videos look polished and I posted them to my channel.
As an example, I have a blog post on my website that helps people start a book blog. I've had it there for some time and it's never ranked that well in Google search.
I'm going to be publishing a video on the same topic in the next week and I'm confident that it'll rank in the top five results on YouTube.  Why?  The competition isn't anywhere near what it is on Google.
Time will tell how well the video will do, but the ability to quickly rank well on YouTube gives my brand more exposure in a shorter period of time.
From my personal experience, I've noticed that there are countless times where I can't rank on the Google search engine for a specific keyword phrase, but it's very simple for me to rank on the YouTube search engine for the exact same term.
Another benefit of this strategy is that sometimes you may find that video results get embedded into the SERP.  I absolutely love it when this happens because although my blog posts may not rank, my videos do.  Below is a screenshot of one scenario that worked in my favor where I was able to have an embedded video for the keyword phrase "How do Websites make money?"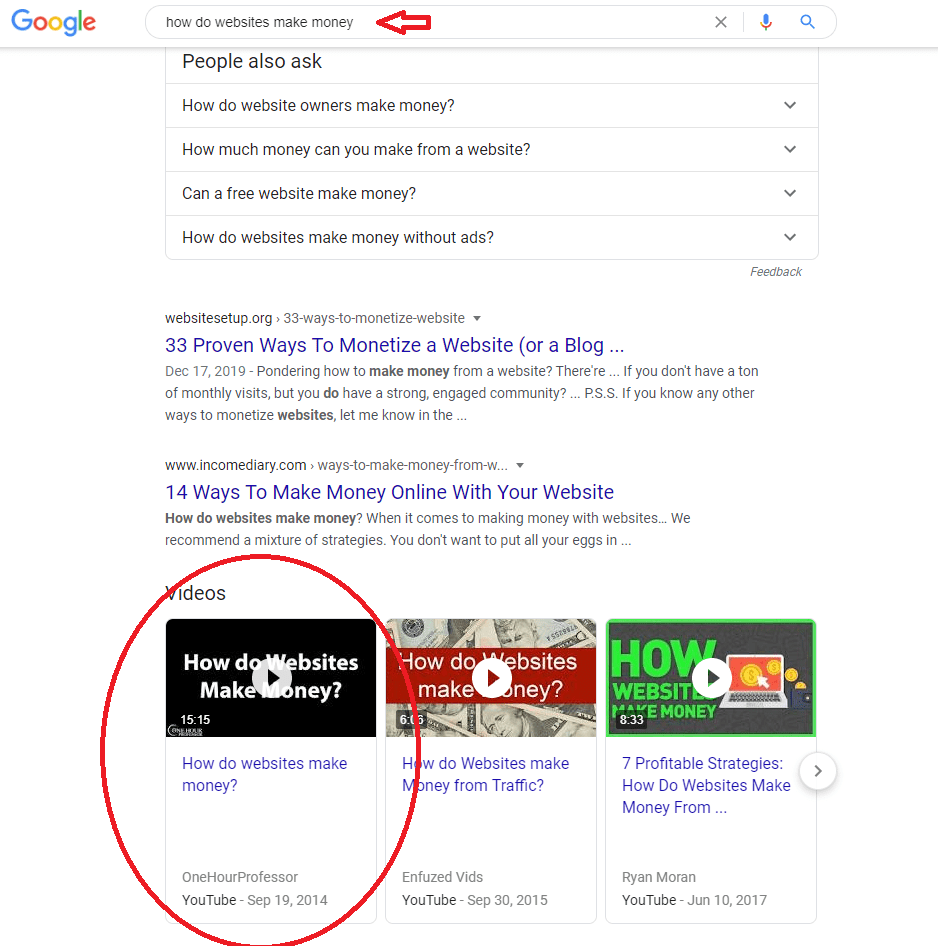 The importance of SEO for YouTube
One of the best ways to grow your channel quickly is through organic reach. That's why it's vital that you fully optimize your content for search.
Why is YouTube SEO important?
Because as previously mentioned, YouTube is all about intent. Optimizing your videos will help you rank for the topics that are important to your business, and allow your customers to find you online.
YouTube videos often appear in prominent spots on the search engine results pages (SERPs) for specific search queries on Google. This is great news for any business trying to expand its reach using this social platform.
Within Google, you'll also find a dedicated tab that users can use to search for relevant videos. All of this adds up to a massive opportunity for anyone trying to promote their business through YouTube video marketing.
Factors that affect YouTube video ranking
There are many different factors that count toward YouTube and Google search results rankings. Use the following tips to increase the odds of getting your videos in front of your target audience:
Keyword research:
Do your keyword research and include all the important keywords and related phrases in the video description and headline to make it more likely that the video is shown in relevant searches.
Video transcripts:
Add video transcripts to provide Google crawlers with the data they need to understand the content of your videos. If the bots have a clear idea of what your content is about, they are more likely to rank it high. Transcripts also improve accessibility so that people with different abilities can consume your content.

Audience engagement:
Provide real value to your audience. The more people watch, like, and stay engaged with your videos, the more likely they are to rank high in both search engines.
Of course, there are some things that you don't have much control over, such as how many people subscribe to your YouTube channel immediately after viewing your video (this dramatically boosts the odds of your videos ranking).
But, if you consistently produce high-quality content that is packed with value, then factors like this will take care of themselves.  
Other important factors to research that will be important for ranking your videos include video tags, thumbnail images, watch time, and subscriber numbers.
Use these tips to ensure that your videos are noticed by Google and YouTube's algorithms. And remember, no matter what tactics you're implementing, practice makes perfect. SEO is a long-term strategy and consistency is necessary if you are going to find success.
Other benefits of using YouTube to amplify your brand
Having a greater YouTube presence is a very attractive promotional tool that businesses can use to grow their reach in an affordable way. If you produce regular high-quality content that engages your viewers, and if you focus on fully optimizing your channel and videos, then you will significantly increase your business's chances of connecting with a wider targeted audience.
Other benefits you will enjoy: 
Increase conversions and revenue
Boost customer loyalty
Enhance trust and build strong relationships
Additional income stream from Adsense for video
Your content never dies
Grow a worldwide audience
Build a massive email list
Target your audience with video Adwords
…the list goes on!
Summary
With proper planning and a strong brand message, you will be able to expand your YouTube audience and motivate your viewers to take action. Get started creating your YouTube videos right now.
Don't worry if your first video isn't perfect, keep practicing, editing, and trying out new formats and, if necessary, use A/B testing on your covers and with the editing of videos based on your audience's feedback until you get it right.
The important thing is that you get started and get your message out there. And remember, if you want to see real results in your YouTube marketing, consistency is key!
Which of the tactics listed in this article are you going to implement first? Let us know in the comments below.