I've seen many posts recently about SEO and content marketing, and they all agree on one thing: quality is the key to ranking high. But I haven't seen a good explanation on how and why this works.
It's true that it's the good stuff that that people link to, and it's those links that help you rank. But quality is just half of the SEO secret. There's still something missing.
Quality, Plus Visibility…
It's the proverbial tree falling in the woods. (Did you hear something?) Even a super-high quality tree can fall, and if no one hears it …nothing happens. A high quality post that no one reads does nothing for you. No visibility, no links, no rank.
So the second criteria is visibility. By that, we mean traffic. Yes, you can and should drive traffic through social promotion. Post it and share it. Yes, you can and should promote it through email. A blog without a newsletter is like a postcard without a stamp.
But both social and email marketing are labor intensive, and the traffic benefits are temporary. So what's the secret to driving long-term visibility? Surprise! It's actually more SEO.
…Equals a Link Magnet
The secret is to get the post to rank, even for a less popular keyphrase, even if it's low on page one. If it ranks, it may stay visible for a long time. It's like that tree just keeps falling, over and over. And if it's high quality, this is where the magic happens.
Some of the visitors it attracts will be other bloggers. Those bloggers will love the post. "It's so useful and easy to read," they'll say. And some will gratefully link to your high quality post. You just attracted a completely organic link. And that link helps the page rank higher. You now have a link magnet.
If you're watching, you'll see these links appear in several places:
WordPress Pingbacks (if it was a WordPress blog post)
Google Analytics Trackbacks
Google Webmaster Tools
Eventually, they'll register in Link Explorer and Ahrefs.
Subscription-based link/rank tracking tools like SEOmoz (now Moz) and Raven Tools
Track the links over time, or just ignore these stats and go write your next high quality, highly visible post! Either way, here how it's done:
Write a great post.
Make it useful. It should teach or help solve a problem. The tone should be approachable, in your own voice. You'll know it's good if you enjoyed writing it and it's something only you could have written. Don't be afraid if it's long. The goal is to make the best page on the web for the topic. Go big.
Give it SEO visibility.
Don't get too fancy. Just do your keyword research and target a phrase that isn't too competitive. Then, follow SEO Basics, using the target phrase in the title and header. Use it at least four times on the page (you probably used it more than that anyway). Also, link to the page from a few older posts, using the keyphrase in the links.
Promote at will.
Of course, share it through social media, send it as an email to your list, and share it personally with a few bloggers or people who might like it.
Example Post: "How to Market an Event"
A few weeks ago, we wrote and published a post about event marketing. Our first goal was quality. We wanted to make it the most useful page on the web for the topic. So we did hours of research, applied all of our experience and talked to pros. We were thinking big.
Then we researched keyphrases. Here are some of the phrases we considered:
"event promotion tips" 36 searches / month
"event marketing tips" 110 searches / month
"event promotion marketing" 390 searches / month
"event promotion" 9900 searches / month
"how to market an event" 12,100 searches / month ← I think we've got a shot!
We selected the last phrase, not just because the numbers were highest, but because the competition was slightly lower than some of the other phrases. Based on our existing link popularity, our odds looked pretty good.
Next, we made sure to use the phrases in the post, following the guidelines above. Repeating the phrase happened naturally since the post was almost 2800 words.
We promoted it through email marketing and social media, of course. But within a few days, we were checking the rank, hoping for more durable visibility. Sure enough, it was ranking low on page one at #9 …and was getting a bit of traffic …then a few websites linked to it …then it jumped to #7 …then it started getting more traffic and a few more links.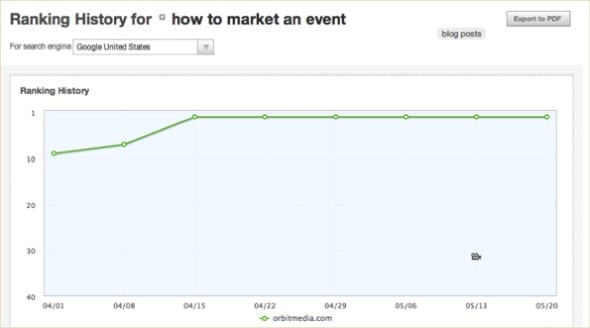 SEOmoz tracks the rank for the phrase over time.
Today, this is the top ranking site for the phrase. It attracts 30-40 visitors per day and 3-5 links per week. It's been linked to by 27 websites since it went live 6 weeks ago. It's officially a link magnet.

Google Analytics tracks links to your website ("trackbacks") over time.
Those links keep the post ranking high, but also lend authority to the entire website, helping us rank for ever more popular and competitive phrases.
Tip: Setting up Google Authorship will make your picture appear next to the search listing, making the post more visible in search results.
Still Not Visible in Search Results?
Try this…
Improve the quality of the post however possible. Add examples, statistics, details, evidence, quotes, etc.
Link to the post from a few other, older posts on your own site.
Share the post with bloggers who write about your topic.
Write a guest post on a similar topic for a relevant, popular blog, and link back to your original post from this guest post.
The Halo Effect of Link Magnets
If you want to rank for a high-value, high-competition blockbuster phrase, don't worry about it. Just start writing high ranking content for lots of related topics. You first need to fill your site with link magnets. Here's an example:
Want to rank for "chocolate cookies?" Write content on related topics, like the history of chocolate, the economics of sugar, altitude and baking instructions, and anything else useful to your audience. Make it great and make it rank on page one. The links it will attract will eventually make you more likely to rank for that more valuable, more delicious phrase.
Tip! If you've got a link magnet, make sure that it's passing SEO value to your other pages through a few internal links. Every great link magnet has an internal link to a product or service page. Remember, it's also a traffic magnet so you want to guide these visitors into your marketing pages.
How Did We Learn This Secret?
Where are these SEO secrets, these master-tricks hidden? In Google's own Webmaster Blog and videos. This post is just a summary of their basic instructions. Google is literally asking you do this.
Quality and visibility. This is truly the great secret to SEO and content.
If you have any great SEO secrets, please leave them in the comments below.