Responsive what now? Responsive web design, sometimes referred to as RWD, is a forward thinking idea, first proposed by Ethan Marcotte back in May of 2010. It instantly caught fire in the web design community, and left us geeking out all over the Twitterverse.
Simply put, the concept allows websites to be constructed in a way that their structure, layout, and design all adapt based on the size of the browser in which you're viewing them. This means one website can be built and optimized for all device sizes, across the board. Mobile phone to desktop monitor. #whoa #amirite
Why is that a big deal to me, though?
At the time this article was written, over 10% of internet traffic in the U.S. was done on mobile. That's even higher worldwide, and it's only going to continue to grow. We've reached a point where having a website isn't good enough; you need a mobile website, too. Users are also expecting more out of their browsing experience. When mobile sites first became common, the general consensus was to only give the viewer the bare minimum of what they needed. Strip out the rest and save bandwidth. These days:
Phones are faster.
They have bigger screens.
They have data speeds that are comparable to what you'd expect on your desktop.
The result? Stripped down mobile sites can leave many users frustrated and clicking the "view full site" button. Responsive websites allow businesses to deliver the features and functionality that users want and expect on their desktop and mobile devices, all with just one site. Your full featured desktop site is your full featured mobile site. BOOM!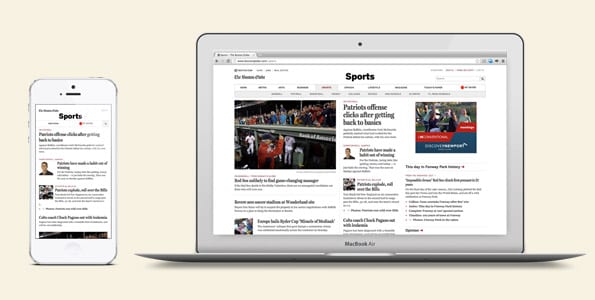 Hmm, sounds complicated…
It can be. Which is why most of the early adopters were trying it out on small, simple sites. Responsive WordPress blog themes started becoming popular; designers were redoing their personal portfolio sites. But the trend didn't really extend to the business world. To many, it was more of a cool factor and less of a practical approach. After all, how could you go responsive with a feature-robust site that has separately optimized experiences for desktop and mobile? Too many variables on two different playing fields, right?  Wrong.
In September of 2011, the new Boston Globe launched. A mammoth of content and functionality, designed responsively. If you ask this guy: game changer. It wasn't long until others started to follow suit. Companies like Starbucks overhauled. The President of the United States redid his site. Ok, I'm sure it wasn't actually him, but that is just plain rad. Come on, now.
Other major companies saw the merit in the approach but weren't ready for a complete redesign, so they updated their homepages. Sony and Microsoft both did this. It was fast becoming clear, RWD had huge potential.
Is Orbit offering Responsive Web Design Now?
We are! We knew it wasn't going to be easy, though, which is why we've spent months carefully defining our web design techniques and approach. After 10+ years in the web design business, OMS has become a bit of well-oiled machine. We have defined project structures, timelines, deliverables, team set-ups, pricing, you name it. Our project workflow follows a well-mapped-out process:
kickoff > sitemap > wireframes > moodboards > design > development > testing > client training > launch  > support 
All of these will be affected by this new offering. So, needless to say, we had some planning to do. After countless meetings, internal prototypes, and hours of departmental training – we're ready.
Do we have it all figured out? Of course not; we're always learning and growing as we go. What we do have is something special, and we're more excited than you could imagine to share it with our clients.
So what makes Orbit's approach to RWD different?
Our strength has always been, and will remain, offering affordable, highly customized, client-managed solutions to businesses seeking a successful web presence.
OMS Responsive is NOT:

OMS Responsive IS:

| | |
| --- | --- |
| | Building million dollar websites that take a year to complete. |

| | |
| --- | --- |
| | Taking our already proven features and processes and updating them, one by one, to be responsive. |

| | |
| --- | --- |
| | Building low-cost, templated, feature-lacking websites that all look and function the same. |

| | |
| --- | --- |
| | Building practical responsive solutions that work for real businesses, customized and tailored to their individual needs |

| | |
| --- | --- |
| | Building sites that are too far out of the box just for the sake of a wow factor. |

| | |
| --- | --- |
| | Staying true to our goal of building effective websites for our client's clients, who visit their sites seeking information in a task-oriented manner. |
And of course, everything will be managed through MightySite, our content management system. To future clients this means:
Less time and money spent building two sites
Less time spent maintaining and creating content for two sites
Less worry about their mobile experience, since it's built for the future
Overall, less headache and an improved product
(Are you sensing a theme here?) Our first few responsive projects recently kicked off, and we'll be sharing much more on this topic as time goes by. We're happy to answer any questions in the comments below, and we couldn't be more stoked over here.
High fives.
Kurt Cruse is a Lead Web Designer at Orbit Media. You can find Kurt on Google+ and Twitter.