One of the biggest hurdles in managing a web project is keeping the project on track, but we project managers at Orbit have a secret weapon in our arsenal. Like a rifle and bayonet, it kills multiple birds (or, uh, enemies) with one stone. The various elements attack different issues that often arise during the course of a project.
Our weapon is called the extranet, and it's a web-based portal used for project communication between our team and our clients. The extranet was designed to organize a large portion of that communication in one single place, as well as solve some extremely common communication issues.
Scheduling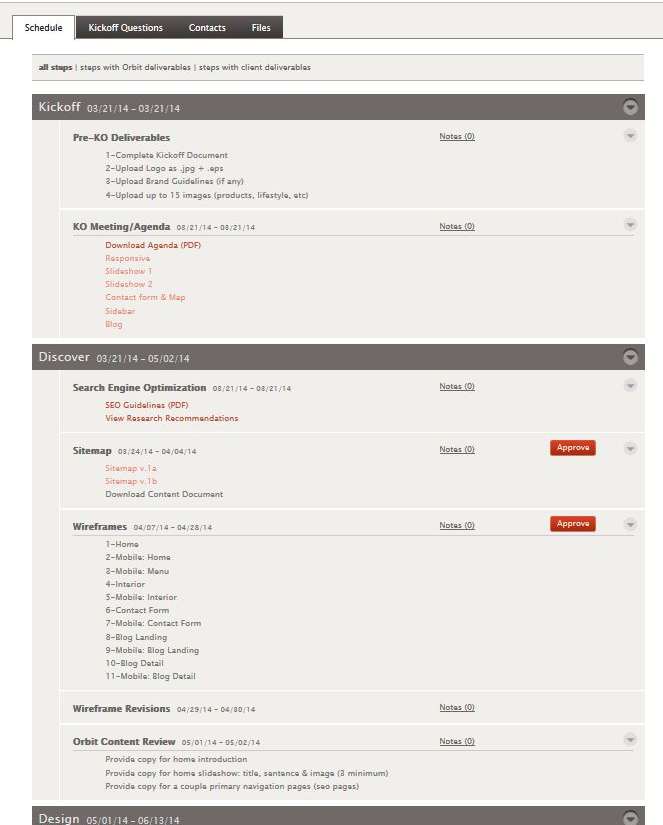 The first issue that the extranet solves, and arguably the most important one, is keeping clients up to date on the current project schedule. The extranet houses a timeline of our complete process, starting at the kickoff meeting and ending at site launch, with every last step in between.
Behind the scenes, each step is a set number of days away from the last so that the whole timeline equals our 15-week process. On the front end, each step includes a date range so that our clients know when that step is scheduled to happen and how long it takes on average.
When something changes the schedule – a client goes on vacation or more rounds of design revisions are needed, for example – project managers update the dates so that they always reflect an accurate timeline for that particular project. This makes it incredibly easy for a client to reference the extranet and know exactly what is happening with their project at any given time.
Deliverables & Approvals

In addition to making clear the project schedule, the extranet also allows for quick and easy sharing of project deliverables, notes, and subsequent approvals. Every deliverable, including sitemaps, SEO research, wireframes, moodboards, and designs, is posted to the extranet by the project team. When presenting any of the above items in meetings, we use the extranet because it's a speedy and efficient way to access each item and have clients follow right along.
After the initial presentation, revised versions of deliverables are posted to the extranet followed by an email from a project manager to let the client know. Clients can either leave a message for their project manager with more feedback, or they can click the infamous, red approval button to signal that they approve and are ready to move on.
We are alerted that the deliverable is approved, and we prepare for the next step of the process. This back-and-forth streamlines communication and ensures that a history of the project deliverables and approvals is tracked in one place.
File Sharing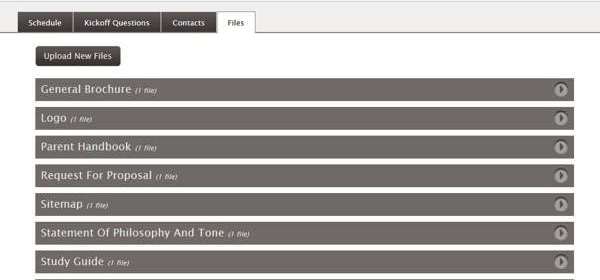 Another advantage to our extranet is that it contains a section that is designed specifically for file uploading. During a web project, clients send numerous files to us – mostly large ones – such as vector logos, photos and graphics, PDF documents, Excel files, and more. Instead of sending large files via email, which usually has a size limit, or signing up for a third party file sharing account, our clients can upload them directly to the extranet.
With the extranet, there's no prolonged pain and misery; it's a swift and exceedingly capable means of doing the job it's designed to do. Necessary information is all in one place, with a traceable history, and an easy-to-follow, easy-to-use structure. But I guess that weapon's not so secret anymore!
Tell us about your project "weapons" in the comments below.