Of course we don't need to tell you how important customer testimonial videos are. 70% of Americans say they look at reviews when making a purchasing decision. Or, give you a bunch of reasons why you should invest in one (moving potential customers through the consideration phase of the sales funnel *cough*).
We wanted to let you know just how easy it is to produce a customer testimonial video. Not only do people want to see faces, but web pages with videos also have stronger time-spent-on-page metrics. It's a win-win if you ask us.
Here are six tips for nailing your customer testimonial video project.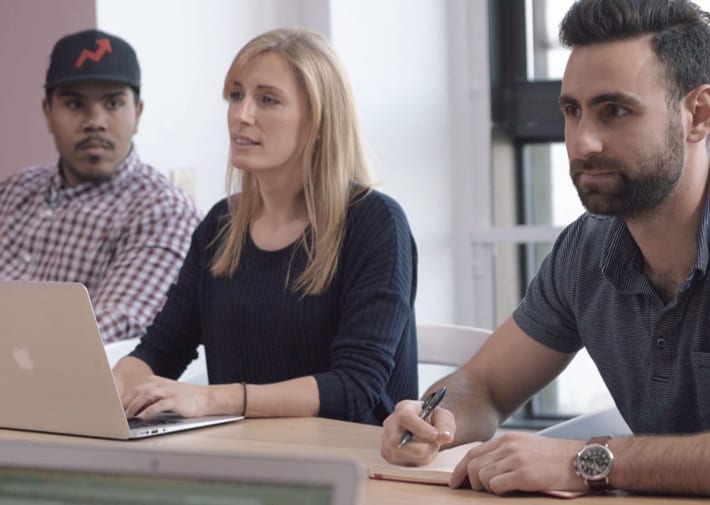 Customer Testimonial Tip #1: Find Your Champion
Obviously the most important part of a customer testimonial video is the customer. Your viewers want to see real faces and hear real stories from people that benefited from your product or service. This helps potential customers in their decision-making process, especially if they're on the fence about clicking that "checkout" button.
It's important that you find a customer that feels comfortable being on camera (or if they don't, we have some tips for that), has a compelling story, and is invested in the success of your company. Always showcase a strong partnership — trust us, your viewers will pick up on the genuine enthusiasm.
How do you find this champion?
Just ask your team. Almost always someone will have a person that comes straight to mind. "Oh, Jenny would be so good for this!"
Ask your teammate to reach out to the customer and partner with you on this project. You don't want to lose that personal connection. Plus, having them on set could help make the customer more comfortable.
For more ideas, just refer back to Orbit's article, How to Write Testimonials. No need to repeat them here!
Now, we know you're thinking, "How do I know that this person will be good on camera?" To be honest, we don't think it matters. If they have a great story to tell, that's all you need.
Camera shyness can be coached through. Good customer experiences can't be made up.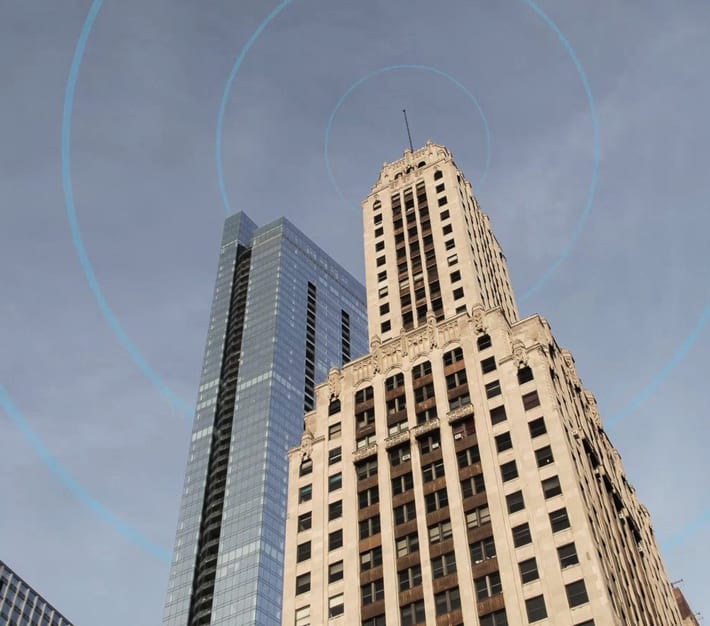 Customer Testimonial Tip #2: Location!
Shhhh, we're filming. If you're going to where your customer is or hosting it in your own office, always reserve a room that's quiet and distraction free.
You may not notice how loud the HVAC system is, how often people nearby get phone calls, or that one coworker that snorts when they laugh too hard, but your director will. Reserve a room and notify the office when filming will take place to ensure everyone's on their best behavior.
Lights, camera, action!
Lighting is also important. Your crew will bring their own lights, but it's always helpful to have options available in the room such as overhead lighting (that can be turned off) and natural light.
Also make sure you reserve a large room, like a conference room. A regular meeting room might seem large, but once you get everyone and all the gear in the room, it becomes a squeeze. A large space also makes it easier for the camera to move around and take shots at various angles.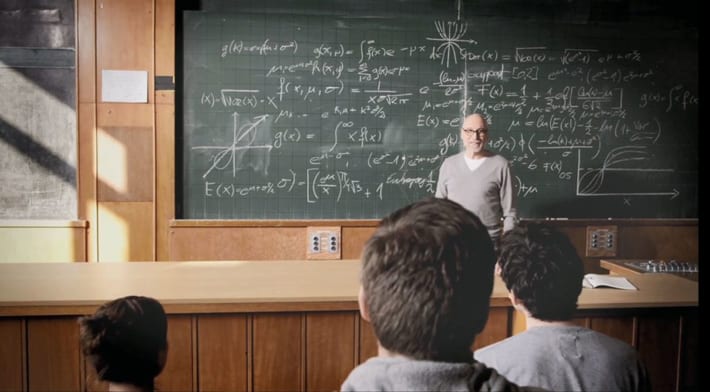 Customer Testimonial Tip #3: Don't over prepare
Sorry overachievers, but for a customer testimonial video the less you prepare your customer, the better. The key to these being a success is that it's conversation-like: organic, natural and unscripted.
As for the interviewer, you will want to have your questions prepared in advanced. However, don't share this with your customer partner. Always make room for natural flowing dialogue and be open to questions that come up in the moment.
You might get a customer that's a little nervous about being on camera. If that's the case, you can share some questions with them. Just enough to show what you'll generally be talking about and what you hope to gain in terms of content.
We often tell people to act like you met on a bus or at a party. Make it light, casual and positive.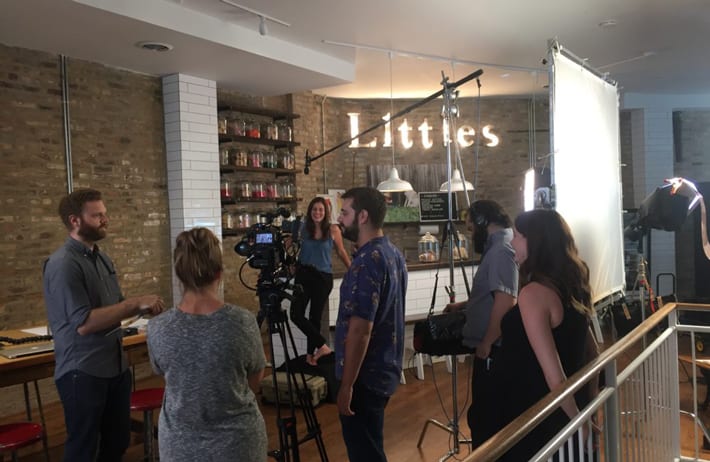 Customer Testimonial Tip #4: It's Not About You
Here's a tongue twister: even though it's a customer testimonial video about your company, you will need to switch the focus from your company to your customer.
Now say that three times fast! No really, because it's important that you feature the customer experience and that it's not just another business video.
We know that this might be hard. You're investing in additional marketing material that appears to not directly promote the company. Just remind yourself that building awareness isn't the purpose of the video, it's about convincing people to take the leap with you and make the purchase.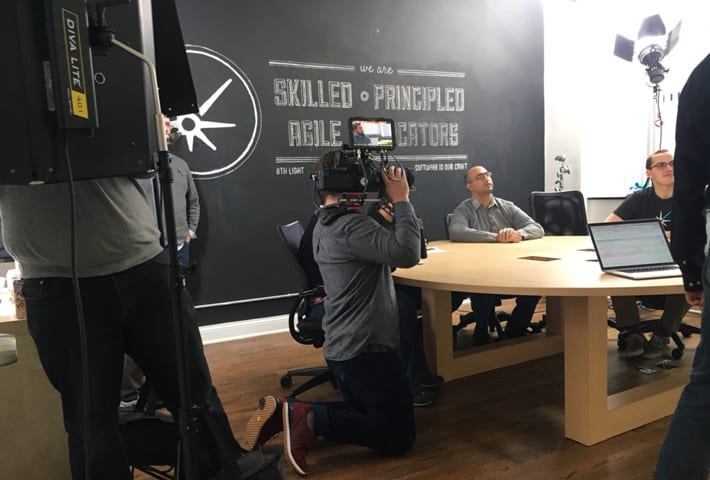 Customer Testimonial Tip #5: B-Roll
Technically speaking, customer testimonials are talking head videos. However, they don't have to be boring. B-roll is a great way to break up the story with some visuals while also continuing to illustrate key takeaways.
Filming b-roll can take an additional one to two hours on top of the regular shoot, so it's important to build this into your schedule.
As for what to film, be inspired by your customer. In our SurePayroll video, they were excited by Urban Wood Goods' workshop and wanted to exhibit their craftsmanship:

Focus of the area of life that your company helped improve and build a story around it. Did you make it easier for freelancers to find gigs? Show them working in their homes. Are you a retailer? Show the customer walking through the store to bolster up the shopper experience.Customer Testimonial Tip #6: Keep it short and don't over correct
People tend to be long-winded when on camera, so you'll need to find ways to encourage them to be more succinct in their answers. Here's our suggestion:
"I really liked that answer! Could you say it again, except keep it shorter for me?"
Feedback to the customer is always a good idea, but over-correction can have the opposite effect with your subject. So always start with a positive, "I really liked that answer," and follow it with a correction.
If you find that your customer is getting burnt out on feedback, take a break. It's a great way to get them out of their heads. Encourage them to get up and walk around. Plus, it's exhausting to be on camera for extended periods of time and movement is perfect for re-energizing.
Wrap-up
If you were to walk away with only two bits of information, let it be, "keep it positive" and, "focus on the customer experience." That's really all you need to have a successful (and fun) customer testimonial video project.
If you have any further questions, tidbits, or fun stories about customer testimonial videos, share them in the comments below.