The thing writers have in common with the rest of the world is that we dread the blank page. The thing that makes us different is that we have an instinctive inclination to write.
But that doesn't mean good writing comes easily. I came across a nice post by Brad Farris on Spinsucks for people who don't naturally have that inclination, offering tips on getting through the writing process.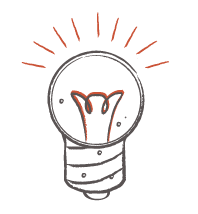 But there's something you can do before that process even begins, before you use Brad's tips, before you even put pen to paper or mouse to mousepad, to help make it easier (and maybe even fun):
Before you can write, you have to collect.
If you have all the raw materials you need at your fingertips, your work becomes more of an organizing exercise than a writing exercise. With a great supply of raw materials, part of your job will already be done and you'll be ready to rock. That's the idea behind collecting.
Here's five ways to collect what you need.
1. Don't edit
Imagine an enormous shopping bag that you carry with you everywhere  you go. Every interesting thing that you see, hear, smell, taste, and experience, you put in that bag.
Images that strike your fancy, words that catch your ear or longer pieces of language that speak to you. A poster you see on the subway. An ad you see on TV. A pretty flower that smells good, something funny said by your child or Jon Stewart, or by someone running for President (which is kind of like a cross between a child and Jon Stewart).
Don't worry about relevance. That will come later. When you collect, more is better.
2. Pay attention
As you read this, look up. Notice a new detail in a picture or building, on a car or bus,  in the sky or on your wall. Every detail is a discovery and could lead to something new. Try looking at things instead of walking past them. It's amazing what happens when you start actively observing vs pleasantly existing.
3. Be stupid
Inspiration often comes from opinions and information that you don't have. Engage people in conversation. Debate, disagree, digress. And ask questions. The dumber, the better. The questions that seem stupid on the surface have the greatest possibility to make people think harder about the answer.
4. Surround yourself
Create a file on your computer with virtual clippings. Rip out articles, headlines, images and put them in an actual physical file. Put stuff up on your walls; get a funky bulletin board. Create a never-ending menagerie of stimulus that's constantly swirling in your airspace. And remember to revisit it as often as you can.
5. Travel
Down the road, across the ocean, up to the attic. Doesn't matter where, just go somewhere new. Spelunk. Scuba. Get lost. Every time you expose yourself to somewhere new, you're adding to your collection and increasing your ability to write.
But how the heck do you actually collect all this stuff?
ALWAYS, ALWAYS, ALWAYS CARRY A COLLECTION DEVICE.
You will have thoughts at inconvenient times. Mine come at the gym, with 12 giant TV screens in front of me providing ridiculously infinte stimulus. I used to rush to the service desk, borrow a pen and paper, and write down what I could recall.
Now I carry a little Miquelrius pad and pen and pause my run to capture thoughts. Phone, ipad, mini tape recorder, a pack of cocktail napkins, whatever works for you, have something with you at all times to get thoughts down before they seep out your brain. An idea is a terrible thing to waste.
Once you've collected the raw materials, you get to use your writing tips. And once you start writing, take a look at the checklist Andy Crestodina put together to make sure your content is optimized. Do everything you can to make sure your efforts get noticed.
Writing is hard. But collecting is fun, and can help make writing easier; maybe you're doing it already. Do you have a collection device with you now? If so, share your wisdom; let the rest of us know what you use!