I love guest blogging, but the problem with guest posts is that your usual audience doesn't see those posts. People often ask us where they can read more of our articles, so we've decided to do a twice yearly round-up.
So here, at the halfway mark of 2013, we're sharing five of our most useful (and fun) guest posts so far…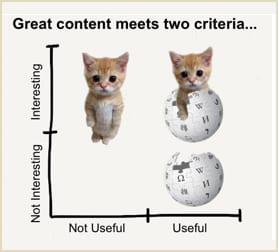 WRITING
1. Great Content Meets Two Criteria. Does Yours?
Kittens are good for social media; bad for SEO. People love to share cat pictures, but kittens don't usually rank high.
Wikipedia-style content is good for SEO; bad for social media. Search engines love informative content, but when's the last time you tweeted a Wikipedia page?
Full post on Content Marketing Institute >
2. Writing for the Web: Tips, Tricks, and Standards
It's the dawn of a new day in content marketing, and there's rain in the forecast. We're about to see a downpour of web copy.
The number of marketers who are writing for the web is exploding. So is the need for each article and blog post to stand out from the competition. And the best copy will win…
Full post on Duct Tape Marketing >
SEO / OPINION
3. SEO Ethics: Link Spammers and Thought Leaders
Ethical issues pop up when you outsource your blogging, especially when the goal is SEO. As usual, search is on the front lines of marketing ethics.
The ethics of outsourcing content isn't black and white. There's a spectrum of SEO ethics, ranging from the easy (but shady) to the difficult (but pure).
Full post on Businesses Grow >
EMAIL MARKETING
4. Small List, BIG Engagement
Quality beats quantity every time. A small email list of engaged subscribers is far more valuable than a big list of indifferent recipients.
Fewer subscribers is actually an advantage if online networking is one of your email marketing strategies. Here's how…
Full post on Constant Contact >
ADVANCED ANALYTICS
5. Your Blog Post is Almost Awesome
Some blog posts are better than others. They sound better, rank higher, and convert more visitors than the other posts. They jump out in your Analytics. You know which ones they are.
But what about the posts that are on the edge of greatness? They could do more, but something is holding them back. They're almost awesome. They just need a little help.
Full post on Crazy Egg >
FUN BONUS!

If Your Blog Were a Beer
Our favorite place to guest post is Gini Dietrich's community at Spin Sucks. We recently wrote a post there called If Your Blog Were A Beer. It's a way to look at what you have on tap in you blog.
Yes, if blogs were beer, we'd all be hammered.
This one caught the eye of the designers at Visual.ly, and they were generous enough to make it into an infographic! Special thanks to Joe Cardillo and his amazing design team.