Not all of your visitors are on the hunt to make an immediate purchase. Catering the right content marketing collateral, especially at the bottom, is critical to land sales.
You might have a huge collection of top funnel content, webinars, and other audience-builders. But what about content to turn your visitors into customers?
As a visitor learns more about you—and progresses towards the bottom of the funnel, they'll need that last bit of content to convert them into a customer. And that's where bottom-funnel content comes in.
So in this post, you'll find answers to all the questions you've ever wondered about Bofu content and how to create it.
So let's get started!
What is BoFu content?
BoFu or bottom of the funnel content is an essential part of the marketing funnel as it is where the final conversion happens and where the most optimization is required.
Unlike the top of the funnel — where content involves solving audience queries and problems — the bottom is where you need to show why your product is the best solution for your target customer.
This is done by focusing on how your product has worked with people similar to your reader, showing why it is better than the competitor's alternative, and explaining how your product can do more than just solving a single problem (a big idea).
All of these lead to a trust-based sale, where your customers are confident about their purchase and become less likely to churn in the long-term (if you also want to reduce churn rates).
BoFu content has different formats depending on the context, such as case studies, customer reviews, and use cases. So, you better choose the right format according to your business model.
How to think about BoFu content
Let's get into your prospect's shoes for a second.
When you're a few steps away from making a buying decision, you usually find yourself considering one or more similar products for a unique purpose.
So when you're doing the research, you usually want to know if the product:
Can help you do what you want/need to do.
Has worked for someone in the same situation as you.
Has better features for your specific use case.
Is built to help people like you.
Has better pricing than the rest.
The kind of content you want to read at this stage should answer all these questions and help you make a decision — whether or not that decision involves buying the competitor's product.
So we'll walk through seven content formats that work are great to fill the bottom of the funnel with content that converts. 
7 BoFu content formats:
1. Case studies
Some people think that case studies are the middle of the funnel. 
But if you think about it, a person must be specifically interested in your product and actively thinking about making a buying decision when they click on your case studies. So we're going to treat it as BoFu.
What's excellent about case studies is that you can take a customer who resembles one of your buyer personas and interview them to not only build their success story, but to get deep insights on what made them buy, why they think your product was a fit for them, and the life improvements they got after buying.
If you had customer research on your to-do list, you could kill two birds with one stone by working on a case study.
How to create a successful case study:
Identify your ideal customers.
Find a successful customer that resembles one of your ideal customers.
Interview this customer for the following info:

The story of their success. What problem were they facing? How did they solve it with your product? What were the results?
What they thought before becoming customers.
How their life looks like with your product.

Put all the information together to create a case study.
Write a compelling headline that highlights your customer's type (ex. Real estate agent, freelancer, doctor), and the result he/she got (e.g., "How a real estate agent got +235% ROI with [your product]", "How a freelancer went to an agency model after doubling her client count doing [what you do]").
 Case study example: 
Automate.io has a great example of a case study headline.
They're not just presenting a simple online store success story; they went more specific with "Shopify store," so any Shopify store owner can relate even more with that headline.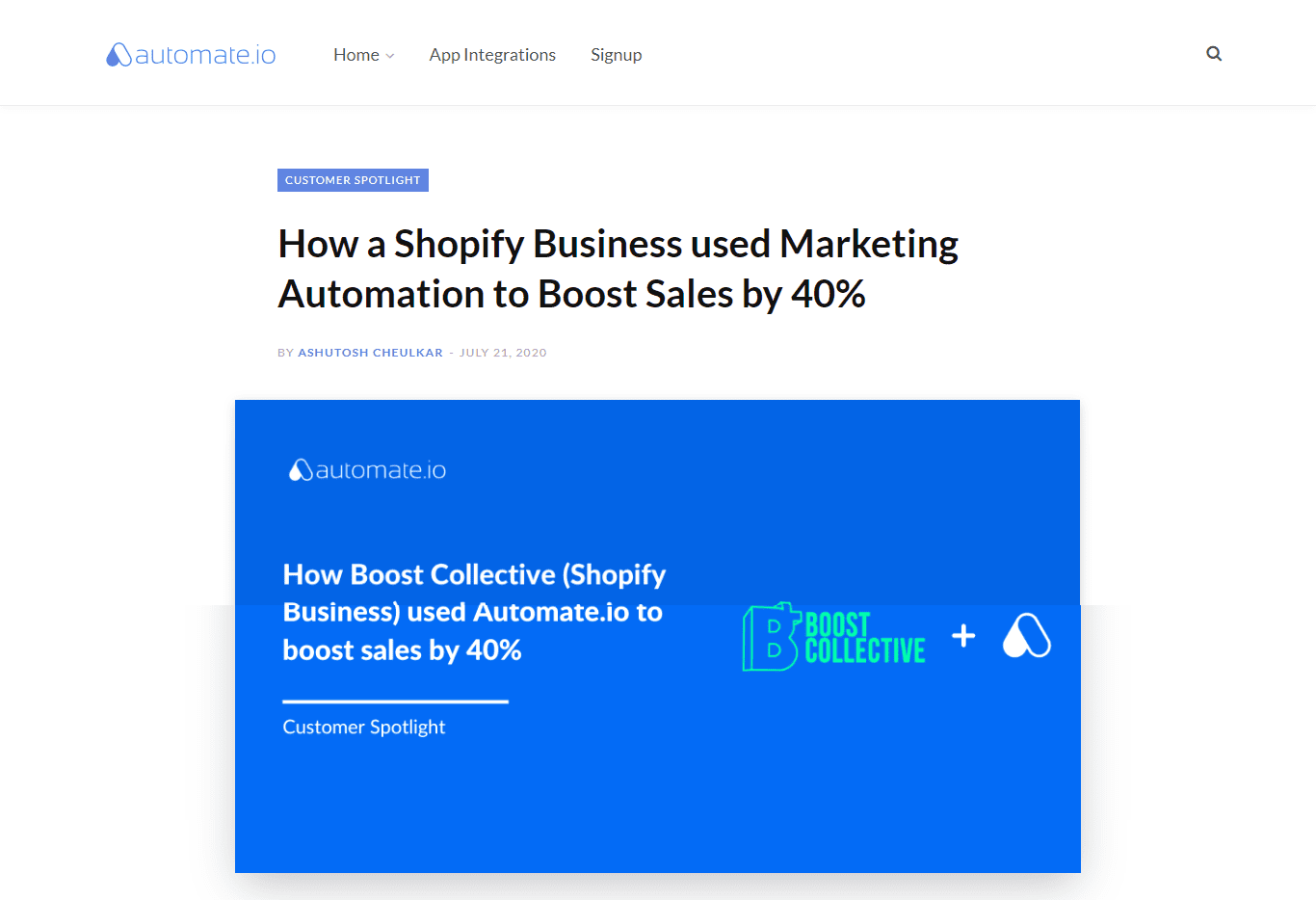 Going further, the headline also makes the results very clear, being direct sales generated with their product.
Not processes, not leads. But direct sales.
And that's just the headline. You can read the rest of the case study if you want to see how a case study can be structured.
2. "[Insert brand] alternatives" pages
This format is great for SEO.
People with buying intent often google things like "SalesForce alternatives" or "GPU alternatives for gaming laptops." That's an excellent opportunity to create content that shows why your product is the best alternative to your direct competitors, and so on.
What you want to achieve here is to make it clear to your target customers why your product can do what they want you to do in a better way. Making emphasis on the lacking features your competitor has, but your product excels at.
That way, you're making it easier for people who want to change their product to give your brand a shot and see how it goes.
How to create a product alternatives page:
Identify a popular competitor product.
Find out features/use cases/results this product is missing, but your product delivers.
Make a list of similar products that may be a fit for non-ideal customers, and review them.
Compile the reviews, including your product, write the content, and make fair comparisons.
Make sure to position your product as the best alternative for your ideal customer.
Product alternative page example:
Chanty goes a little bit farther, so instead of reviewing alternatives, they review the actual product you're replacing.
Sections like pros and cons, features, and "why people use Slack?" are included on the page, and it tells you why the tool is not perfect.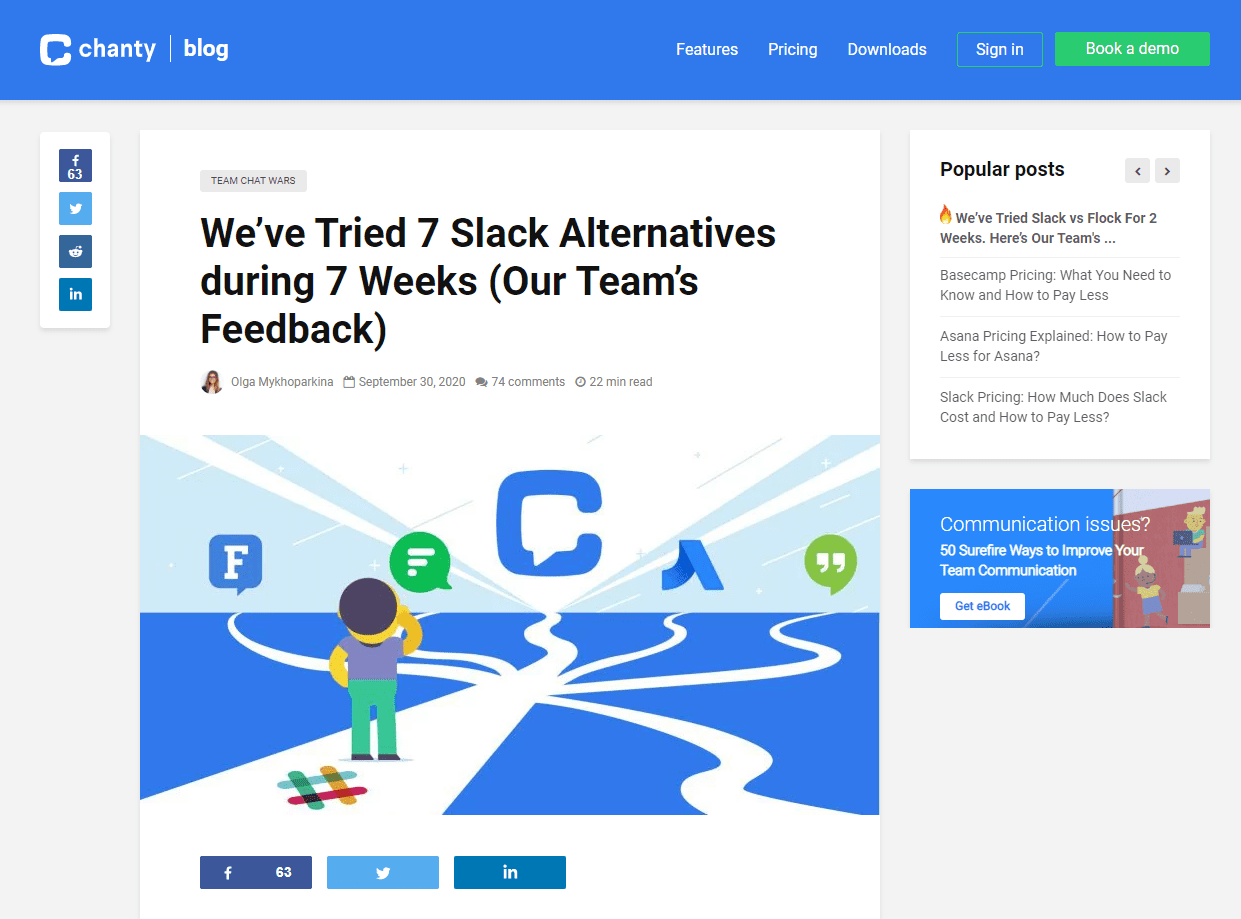 When you read further, you'll finally find the actual alternatives, and see their own product as one of the Slack alternatives.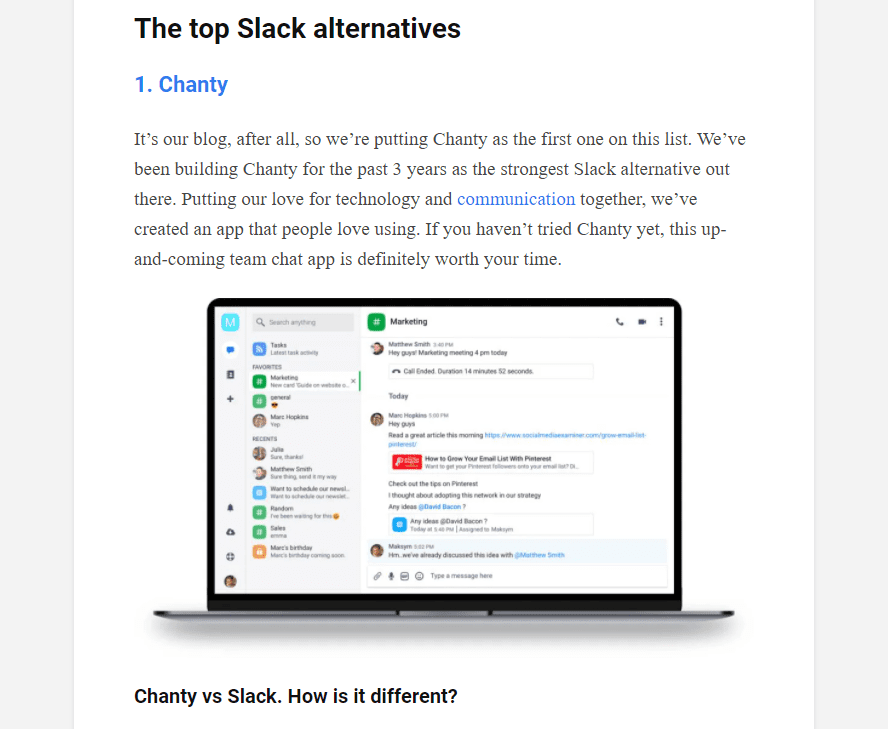 3. Product features/Use cases
Your prospects want to buy a product for a specific purpose. So make sure your use case pages align with such an idea.
If you don't do this, your product's features will be overlooked and won't attract anyone that's not desperate to waste their money.
When creating a use case page. It is essential to hit where your ideal customer is looking for (hence the importance of customer research.)
How to write a use case page:
Ask yourself: What are the benefits that your ideal customer needs the most, and why?
What are the product's features that provide such benefits? And what's unique about it?
For each benefit, write down a use case your ideal customer can identify with. And show how your product can help.
Don't tell, show.
Use case page example:
Mention has many use cases that are both "need" specific and industry-specific.
One of them is a competitive analysis.
What's great about this use case is that it straight-up tells you the most important benefit, which is monitoring what people say about your competition — to stay ahead of them.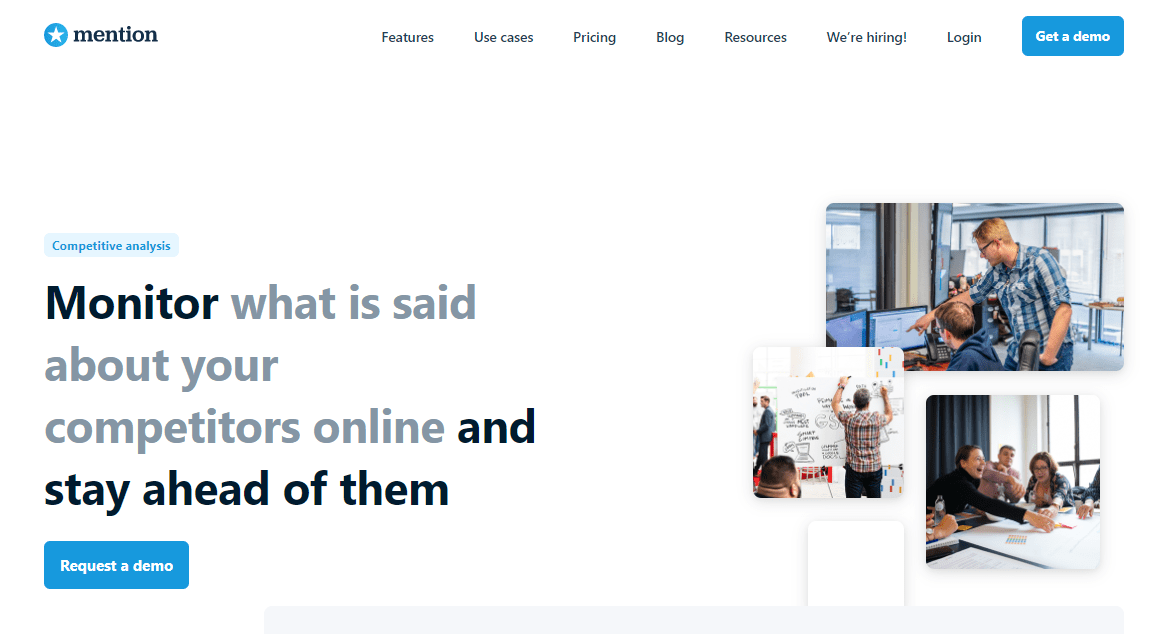 Plus, they include user testimonials to reinforce their credibility, and they also recommend related content that's relevant to the use case at the end of the page.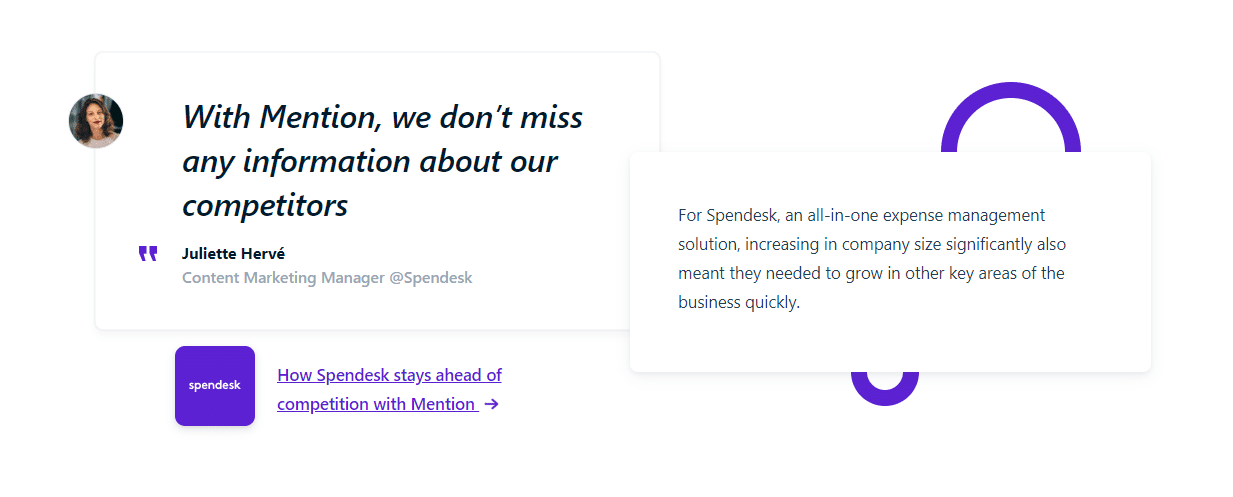 4. Product vs Competitor comparison 
People also search for "McDonald or Burger King" or "Uber vs. Lyft" kind of keywords.
And to nail that search intent, you can differentiate your product from the rest and make it clear for your ideal customer whether or not your product is the best for them.
The goal here is to communicate your Unique Value Proposition (UVP).
And once your readers understand your UVP, they'll recognize if your product is exactly what they're looking for and take the desired action.
At the same time, this positions your brand as a "specialist" instead of a "generalist," increasing your product's perceived value.
How to write a product comparison page:
Choose a popular competitor product.
Choose the points of comparison (features, performance, use cases…) based on what your ideal customer needs the most.
Fairly review the competitor product.
Create a comparison table to make it easy to go through. And take the rest of the post to argue about each point.
Write a conclusion. If your product is genuinely great and you chose the right comparison points, your product should win the match.
Product comparison page example:
With ClickUp, you'll find that they often compare their product with the competition.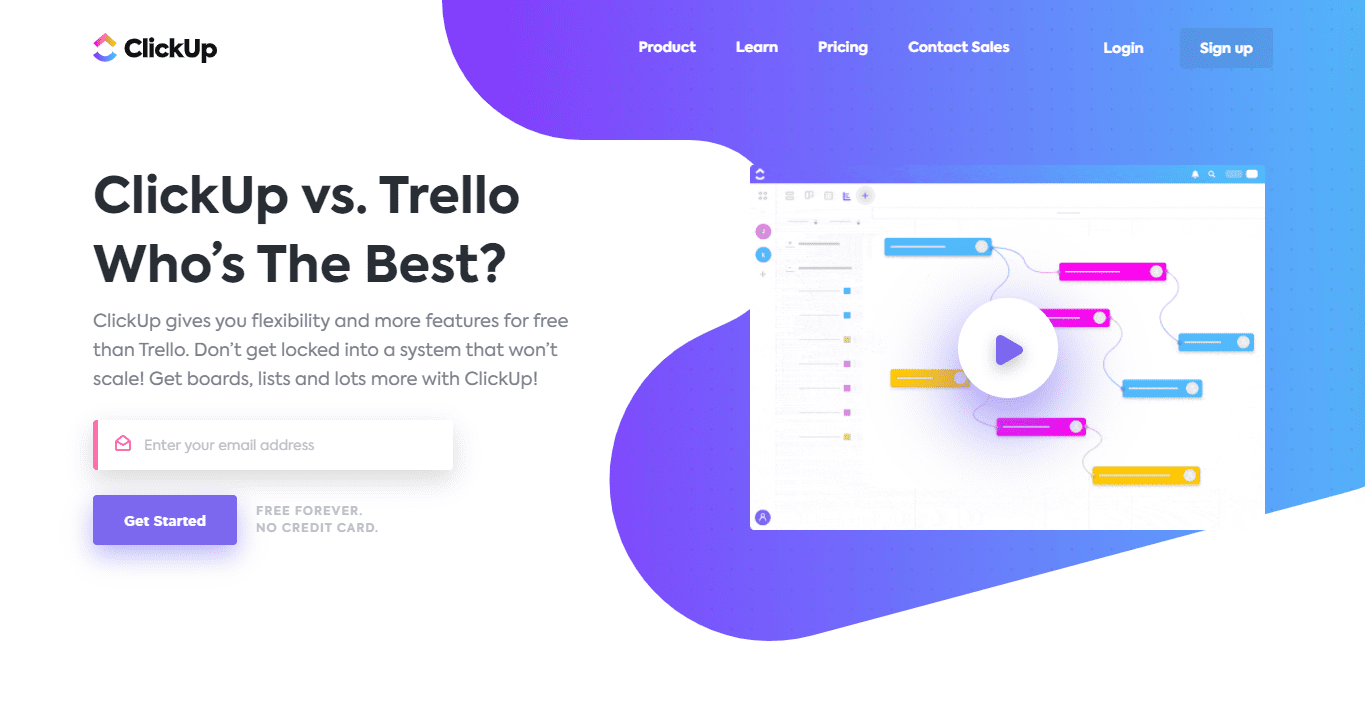 They do shamelessly compare their best features with Trello, which has more limited free options than ClickUp.
And they show it shamelessly: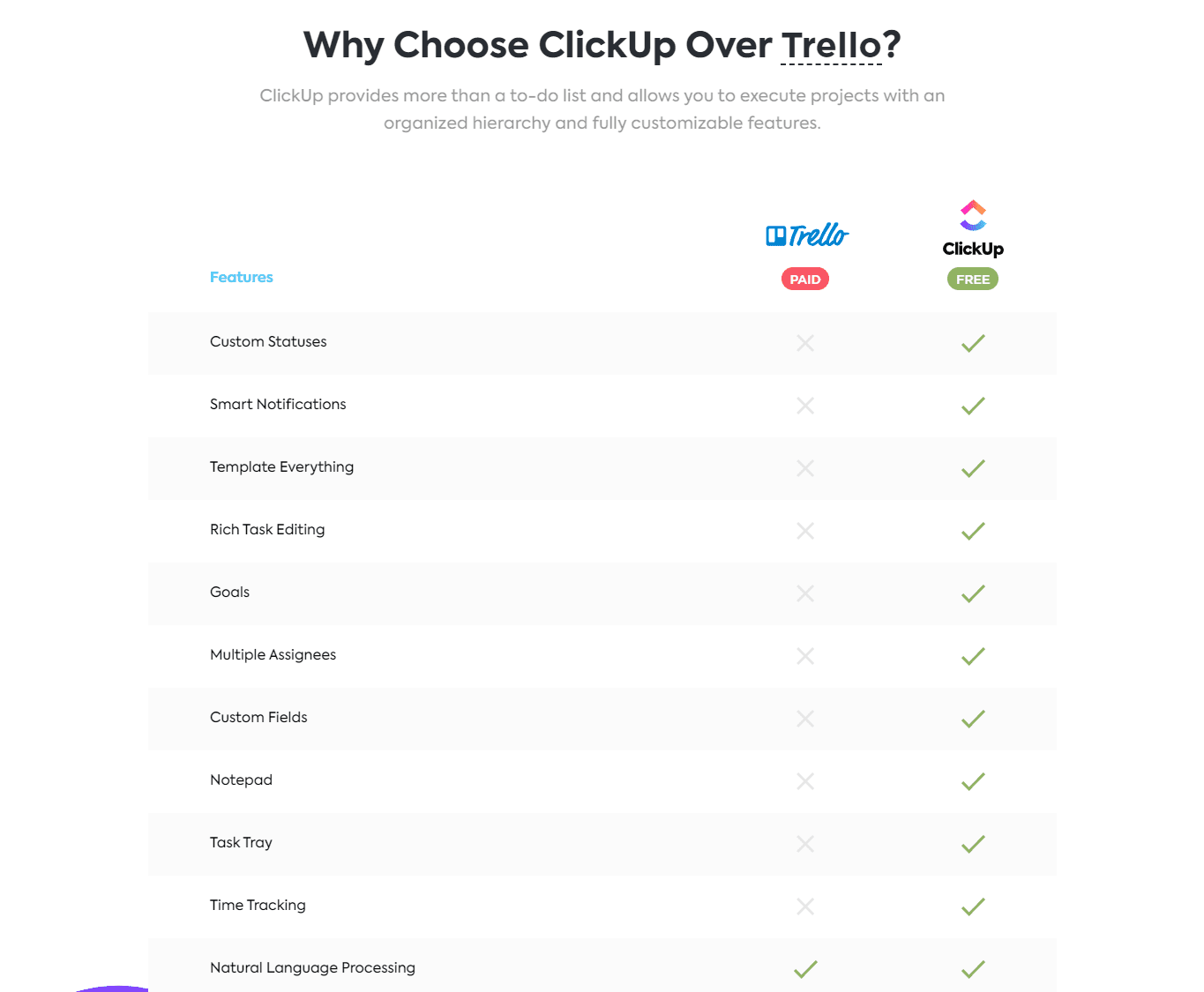 Comparison tables like this communicate the value that your brand provides against the competition and position your product as a better option (though I guess you could be a little bit less biased than ClickUp…)
5. Reviews/Testimonials
Many times, your prospects only need some proof before making a purchase.
Product reviews and testimonials are simple but compelling pieces of content. And what's even better, your customers do the job for you.
To get reviews, you just need to ask. You can reach out to customers 15 or 30 days after they've bought your product and ask for their opinion.
And depending on your business, you can even automate it!
How to get reviews: 
For manual work, make a list of engaged/ repeat customers.
Plan a solid distribution strategy. Reach out via different channels: email, social media, etc. and ask them to write a review on your platform.
If your product is a software, you can even publish your brand on G2, Capterra, Product Hunt, and the like. And ask customers to write a review on one of those platforms (you can get some organic traffic from here).
Once you've nailed your process, automate it. Don't be afraid to include on-page notifications and pop-ups to ask for a review.
Use all your reviews to strengthen your landing pages, product pages, or even create case studies. 
Testimonial example: 
From the same case study example we saw earlier, you can find a great example of how building a case study helps you to get testimonials.
As you can see at the end of Automate.io's case study, they asked the same successful customer for a testimonial.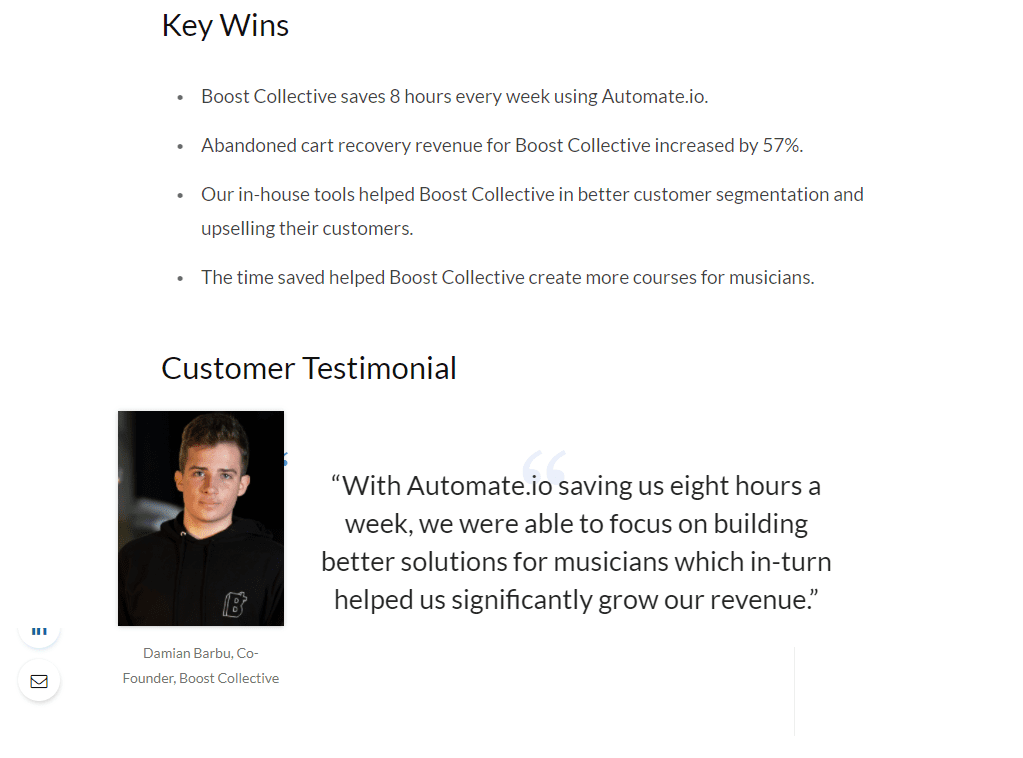 Why? Because it just makes sense.
When you do this, you can then use that same testimonial to reinforce your credibility on other pages — and convert more.
So if you're planning to create some case studies, now you know you can also get some killer testimonial for your marketing team.
6. Webinars/Video courses
Webinars and video courses are a great way to educate your audience and teach people how to become your perfect customer.
And it is a great opportunity to showcase how your product can be used to do what your training is about — making it easy for your audience to convert into customers.
While all of these are good reasons to do webinars, the best part is that your target audience can get a chance to know your team deeply and build a stronger relationship.
And you know that trust is essential to close sales.
How to conduct successful webinars:
First, leverage a webinar software that works best for your requirements. These tools are used from A to Z of webinar creation.
Build a training program about a topic that your ideal customer is looking for learning
Make your product shine within the training. If it's built to help your customers achieve certain goals, you can show them how to do it.
Set a date, and promote your webinar on your social platforms and email list (email list being the most important).
Send the traffic to your optimized webinar landing page.
Send reminder emails. And schedule a replay for people who can't attend.
Webinars — unlike video courses — give you the option to interact with the audience. You can set a time for Q&As, ask questions, and address objections and doubts for people who may want to buy.
You can include special offers or discounts at the end of the webinar as a reward for attending.
Webinar example:
If you'd like to learn how to approach webinars, you can check GatherContent's webinars and see how they do it.
And judging by their webinar library (which is huge), they certainly know how to use webinars as BoFu content.
Just look at how hyper-targeted their topics are.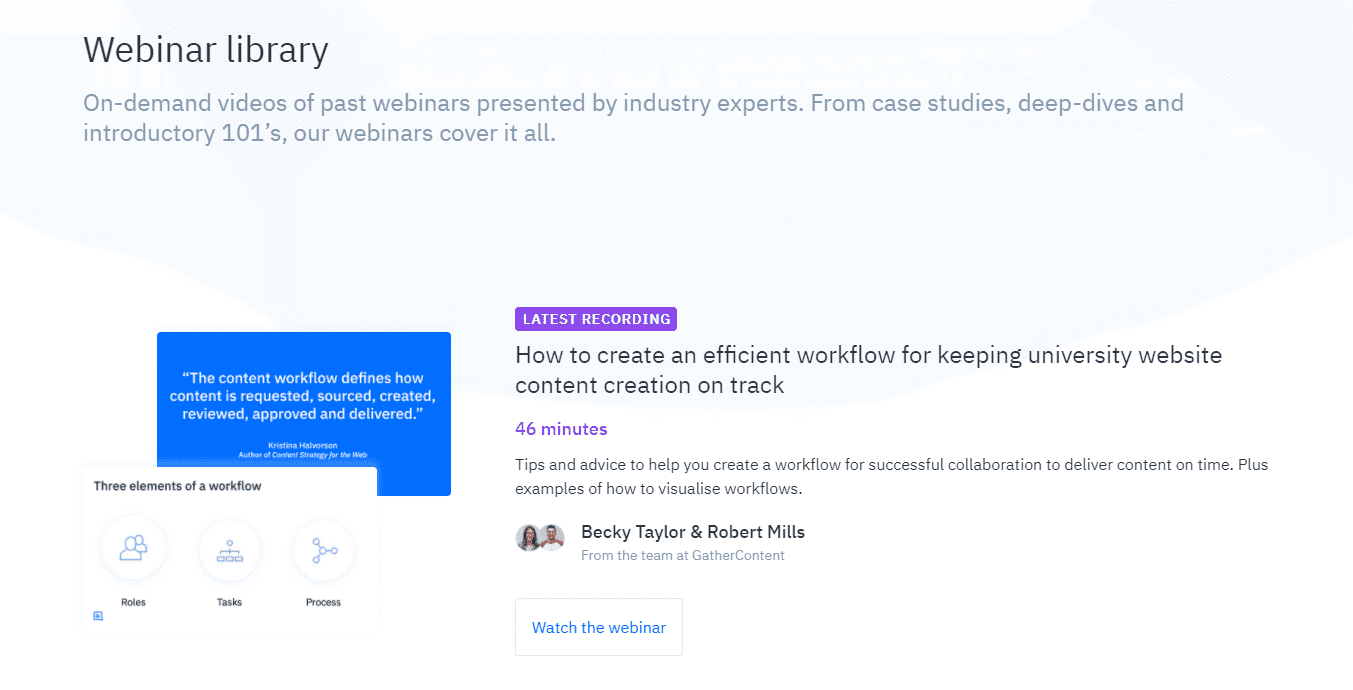 7. Pricing page
Some prospects are more simple, and they just want to compare prices. Great pricing pages show different plans for different types of customers, different types of budget, and so on…
What people usually wonder on the pricing page is: "what exactly do I get?"
And the reason is simple; they don't want to over-expend on a plan they don't need.
That's why it is essential to include a table that compares each plan.
How to build a pricing page: 
Highlighting the most popular (and expensive) option with markers and decorations
Making it simple and easy to understand
Showing what's the best option for each kind of customer (for freelancers, agencies, enterprise)
Focusing on the price. Don't sneak your prices, or your customers won't trust enough for the rest of the buying process (which can make them leave)
Including a clear next action
Pricing page example: 
SendinBlue has a very clear pricing page, showing you what each plan is targeted to.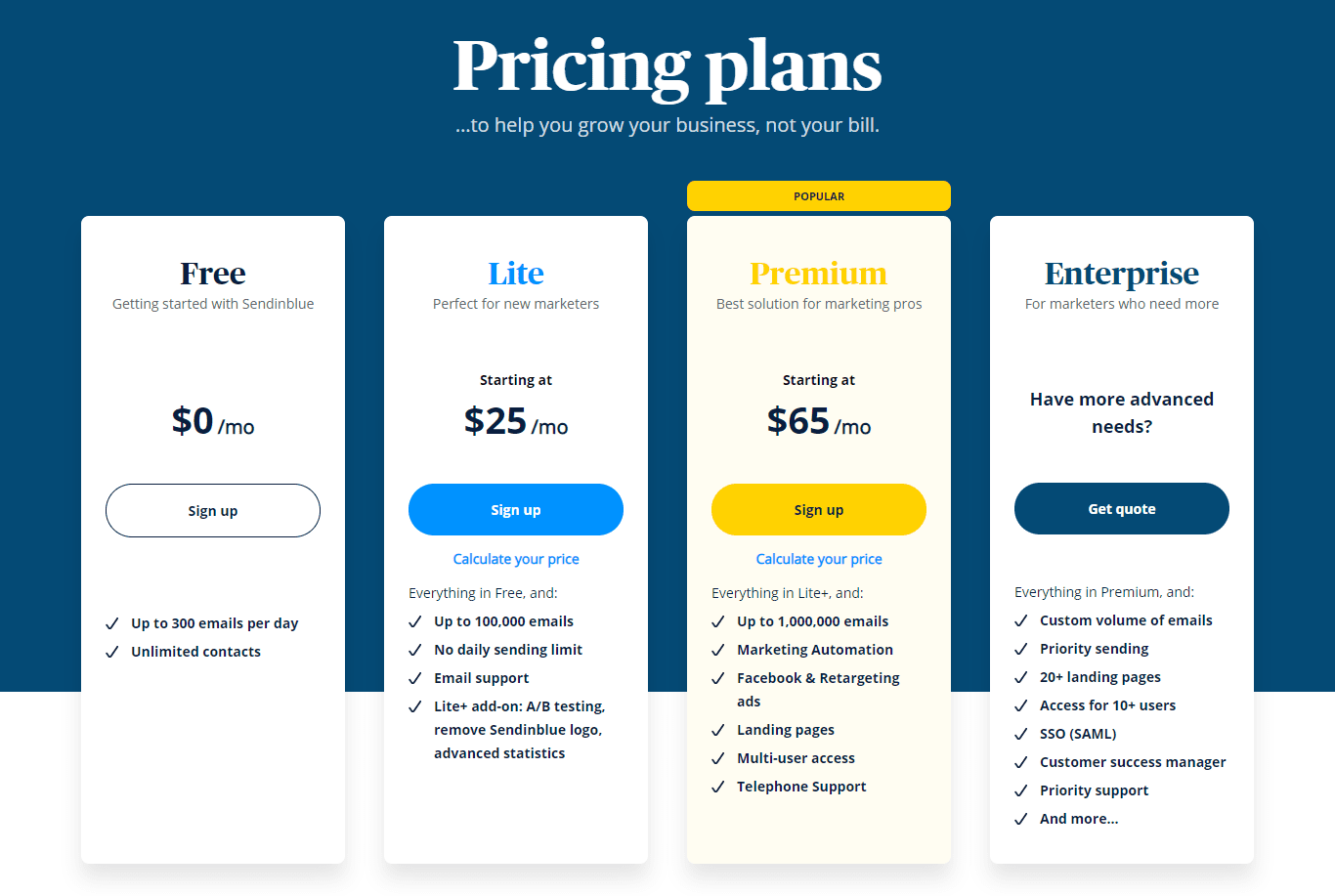 What's more, you get a full comparison table when you scroll down a little bit, so you can be 100% that the plan you're considering is the right for you.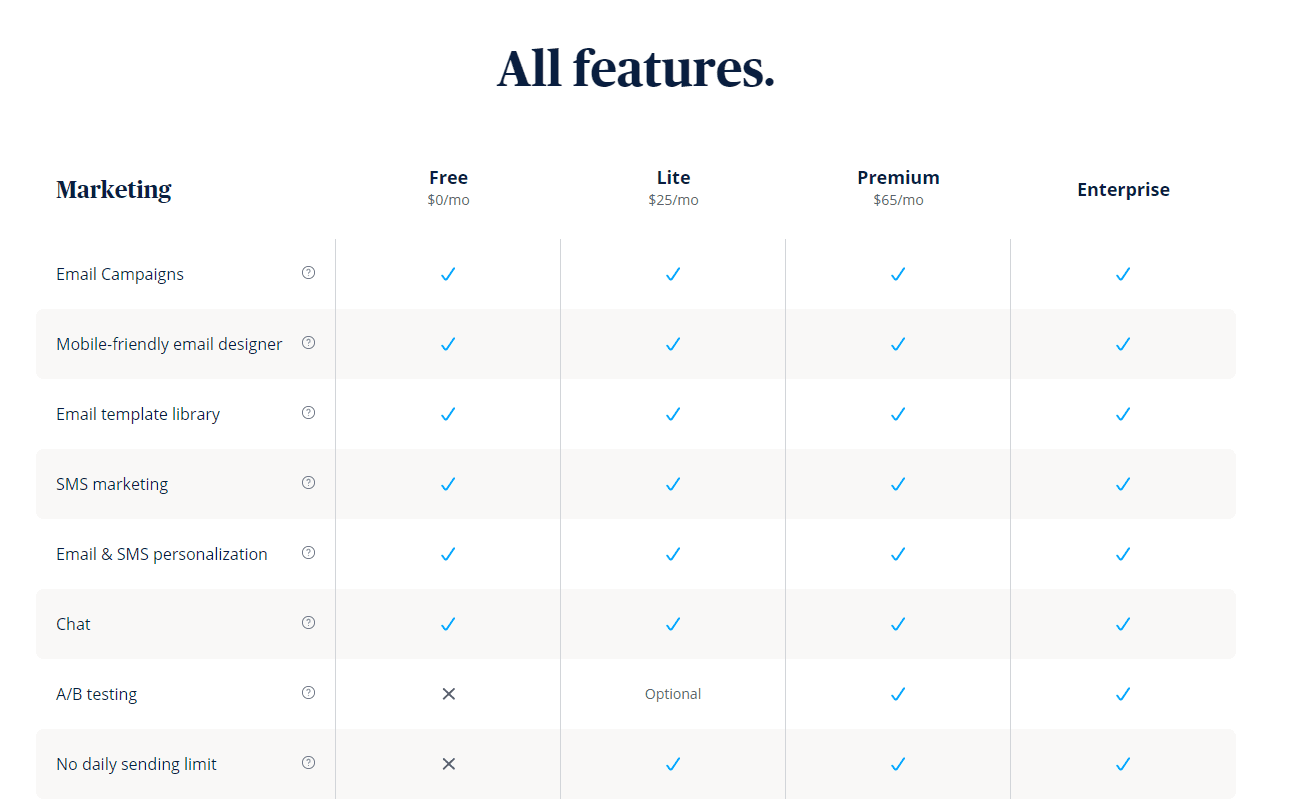 BoFu content best practices
If you want to create a successful blog, you need to embrace all the stages of the sales funnel. And as said earlier, BoFu content is the most important stage, as it's where the conversion happens.
Nailing the format may give you a base. But after that, you'll want to optimize.
In fact, if you create BoFu content for the sake of doing it, it may not convert at all. 
Pro tip: Check out GetResponse's funnel templates to get inspiration to create some rad sales funnels. I often use their templates when crafting funnels myself. 
Here are the best practices for creating BoFu content that converts:
Include CTAs. Your prospects won't convert if you don't tell them what to do, so always keep the next action clear for the reader.
Measure the right KPIs.

Engagement means nothing at this stage. Focus on the important metrics (like conversion rates or bounce rates), and if you can,

integrate your analytics tools

on one platform to keep control of your traffic sources.

Hyper-target your ideal customer.

Every piece of BoFu content should be tailored specifically for one buyer persona.

Tease your product.

Don't be afraid to talk about your product, as that's what your prospects want to read at this stage.

Sell.

Apply

the marketing fundamentals

, and invest in good copywriting.

Keep providing value. That you're selling doesn't mean you can't provide valuable information to your audience; you can both teach and sell!
Consistently creating BoFu content is not easy, and there's several overlapping tasks that can easily overwhelm. Plus, you need to always be testing and optimizing for better results (read: A/B testing).

For this reason, I leverage management tools and plan ahead before starting a campaign— Plus, you need to keep optimizing, so make sure to organize well in advance.

For instance, I use Clickup's dashboard as my content calendar as it gives me a data-driven overview of all my content projects: 


But if you know your target audience well enough and follow a comprehensive process, you'll finally convince your boss that content marketing is worth the investment.
Level Up Your BoFu Content
Creating content for each step of the marketing funnel (correctly) will grant you huge advantages over other brands that are just focusing on meaningless top of the funnel content.
Why? Simply because you're optimizing for results.
And if you master the bottom of the funnel, you can tackle the middle of the funnel and then the top of the funnel in a way that gets you crazy ROI.
But what you've learned here will only increase your value as a marketer if you apply it.
So… embrace the bottom!