Chris LaFrombois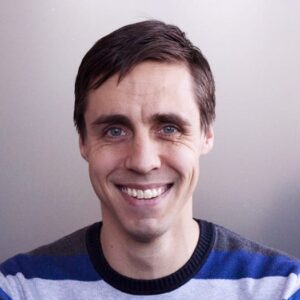 ---
Developer brain, rock and roll soul
Websites, e-blasts, newsletters, catalogs, logos … You name it, Chris has designed and coded it. Now that he's at Orbit, he's doing what he loves best: programming beautiful, user-friendly websites.
He's a whiz at front-end development and strengthening his back-end development skills every day. Before joining the team, he worked as a print and web designer for about 15 years.
He's also passionate about playing and producing music, and he's the proud owner of two degrees: a bachelor's in audio design and production from Columbia College in Chicago and one in graphic design from University of Wisconsin-Green Bay.
Whether it's -20 degrees or 100 degrees out, you'll find Chris biking to work on one of his trusty road bikes. You can also catch him around town playing bass with his band, Rollo Tomasi (yes, just like L.A. Confidential).
Fave Places
Marie's Pizza
Superior Street
North Branch Trail
Lake Front Path
Orbit (of course)
Interests
Rock and Roll
Biking
Dog parties
Coding
Green Bay Packers

For me, I am driven by two main philosophies: know more today about the world than I knew yesterday and lessen the suffering of others. You'd be surprised how far that gets you.
Interested in becoming an Orbiteer?
You're strategic, creative, collaborative and fun. You play well with others and enjoy challenging projects. You're transparent and appreciate processes. Above all, you love to make clients happy.