Alex Liokumovich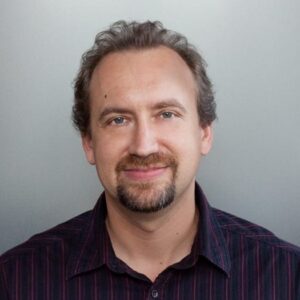 ---
Alex was born a long time ago far, far away in Belarus.
He spent his first 24 years in a city called Brest, and he graduated in 1996 from Brest State University with a major in Mathematics and Information Technology and minor in Teaching. Alex first spent his working years spreading knowledge about computers in community college, and he did some Visual Basic development for an accounting department.
Alex moved to the United States in 1998 and worked as an IT/Database administrator, where he got introduced to web programming through FileMaker, lasso, and a 4D WebSTAR server that was hosted in-house, which was immediately followed by a search for a better solution. Of course, it has been found in PHP/MySQL/Apache.
In March 2005, his life path and Orbit merged when he began designing, developing, and supporting all parts of Orbit's custom web applications and e-commerce projects. Alex lives in the Chicago suburbs with the best wife ever, Natalia, and two great kids: Dmitriy and Victoria.
Fave Places
Museum of Science and Industry
Shedd Aquarium
United Center
Cloud Gate
My House
Interests
Travel/Exploring
Computer/Space Science
Soccer
Spending time with my kids
Sleeping

Never ever type Google into Google! You can break the Internet!
Interested in becoming an Orbiteer?
You're strategic, creative, collaborative and fun. You play well with others and enjoy challenging projects. You're transparent and appreciate processes. Above all, you love to make clients happy.