Jessica Larsen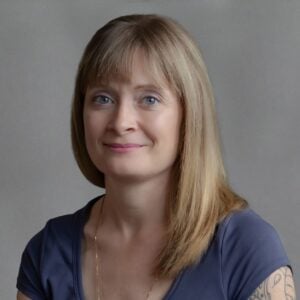 ---
Jessica began programming sites at Orbit over ten years ago as an intern and quickly became a developer whizz kid (a.k.a Lead Web Developer).
She's adept at both back- and front-end development, with experience in PHP, CSS/HTML, jQuery JSON, AJAX, and more. Jessica has developed numerous e-commerce and custom sites for Orbit's clients, and she has a penchant for doing restaurant sites (though staring at photos of delicious food all day can be dangerous).
Jessica grew up on Sesame Street in Bloomington-Normal, IL and moved to Chicago to attend the Illinois Institute of Art in 2004. Her portfolio won Best in Show in 2006, and she graduated with a BA in Interactive Media Design. When she's not at Orbit, Jessica can be found behind a camera practicing her photography, making arts and crafts, traveling, and enjoying time with her daughter Emma and hubby, Jeff.
Fave Places
Timber Lanes
Long Room
Wrigley Field
Local shops
Outside patios
Interests
Bowling
Photography
Hybrid Foods; pizza burgers, taco pizzas, chili mac, spaghetti burritos…
Coding!
Craft Beers / Breweries

I think fooseball is a combination of soccer and shish kabobs.
Interested in becoming an Orbiteer?
You're strategic, creative, collaborative and fun. You play well with others and enjoy challenging projects. You're transparent and appreciate processes. Above all, you love to make clients happy.