It's the one question I hear most often. It has various forms:
Ok, but where should I start?
What are the 2-3 things I should do now?
What's the first thing we should be thinking about?
It's often asked at the end of meetings about SEO, content strategy, analytics, web design or really any topic in digital marketing. 
Regardless of the industry, the audience or the maturity of the business, our recommendation is often the same…
Start at the end of the lead generation process.
Go to the very end of the process, to the bottom of the funnel, to calls to action and the conversion pages. Fix those first. 
Then go backward, up through the funnel, making improvements to each previous step in the experience of your audience. 
Improvements to these final steps are website improvements, which are durable, permanent upgrades. They make all future traffic more valuable because they affect conversion rates. Consider…
Should you add more water to the bucket? Or fix the leaks first?
No amount of water can fill a bucket with holes in the bottom.
Should you add more cheese? Or build a better mousetrap first?
You can attract a million mice, but if the trap stinks, you'll catch nothing.
Let's mix in one more metaphor: lead generation is a chain. Every link must be strong for it to work properly. If there is a weak link at the end of the experience for your audience, every previous effort will be wasted.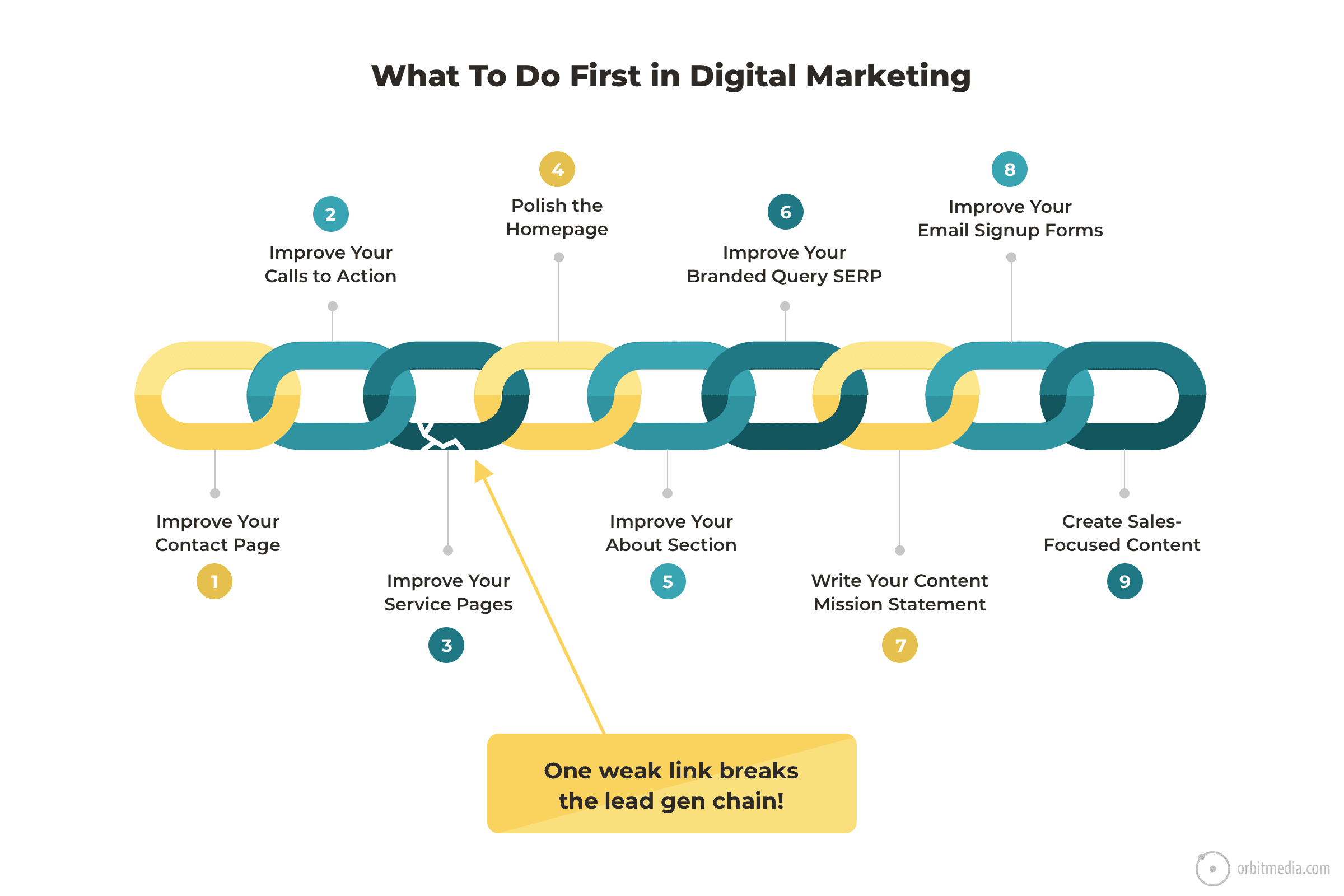 That's the case for beginning at the end, at the bottom of the funnel: focus on the most valuable audience (current visitors and prospects) in the most valuable moment (on the money pages).
Here's that same diagram in a sitemap format. It's a structure for lead generation websites, but you could easily adapt it for ecommerce, non-profits or any other business.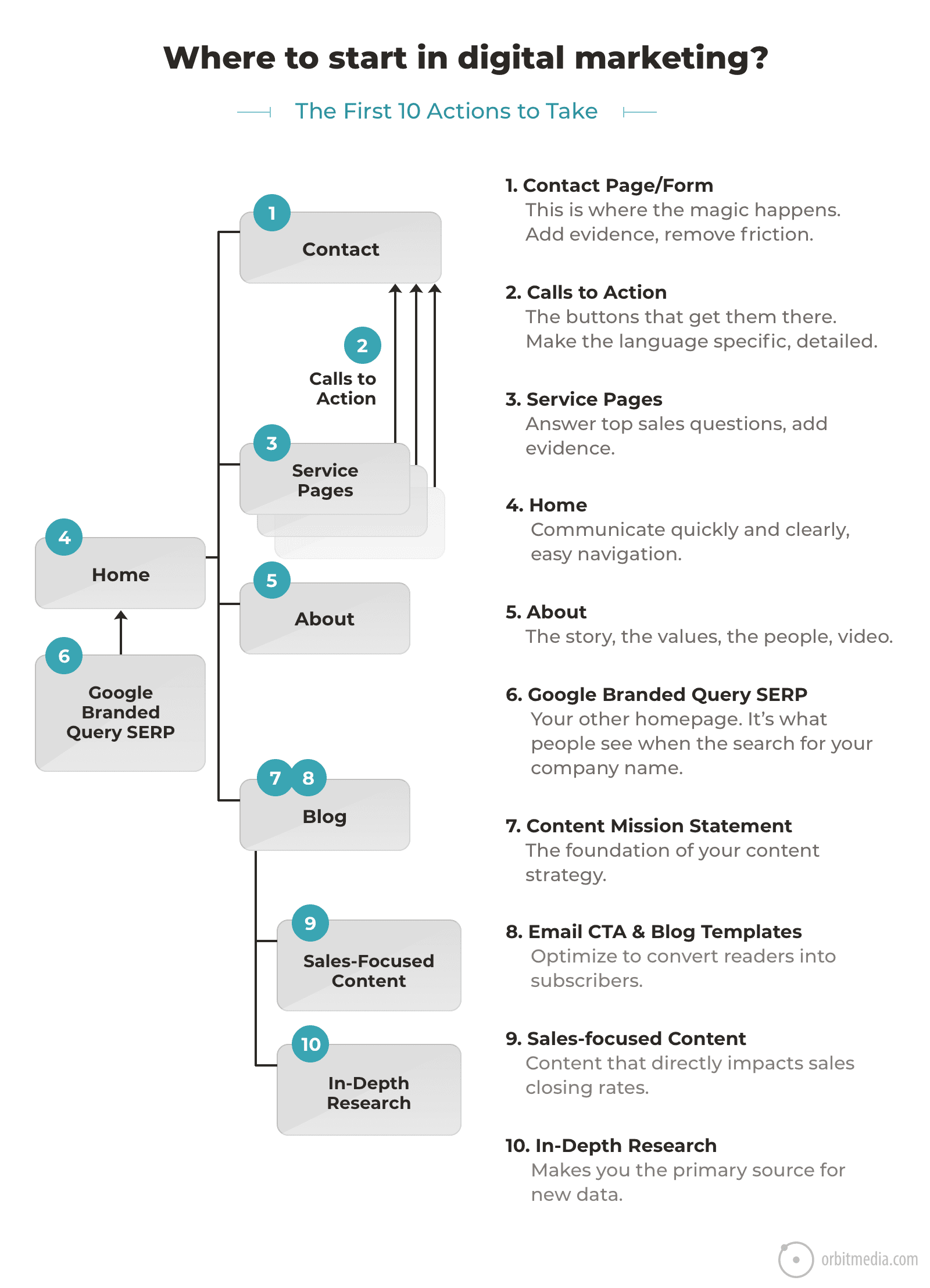 Next, our detailed recommendations for each step.
1. Improve your contact page
Right now, as you read this, there may be visitors on your contact page. Improving the experience of these visitors, the people who have already expressed their intent to contact you is your first priority.
If this page doesn't work, nothing else matters. 
Sadly, contact pages often lack the little things that make a difference. Make sure you've got the basics (phone, fax, mailing address) and then spruce it up.
Could the page do more to build credibility?
It's never too late in the process to remind visitors that you're legit.  Show a picture of your building, a sales rep, another testimonial, awards, certifications, client logos, etc. Finally, let them know how quickly you'll respond.
Could the form be easier or shorter?
If the visitor thinks they're asked to give too much info, they may go elsewhere. Don't ask for more than you need to qualify and respond. Get the rest during sales.
Does the form work?
Test it. Look good on laptops and phones? Is there a thank you page? Is it tracking in Analytics? Populating your CRM? Who gets the leads? How do they follow up? 
Every day leads are lost because of broken forms or no prompt response.
Improvements to the page can be measured in the before and after with a Path Exploration in GA4. Here's what it looks like. You can find detailed instructions in this post about user flow analysis.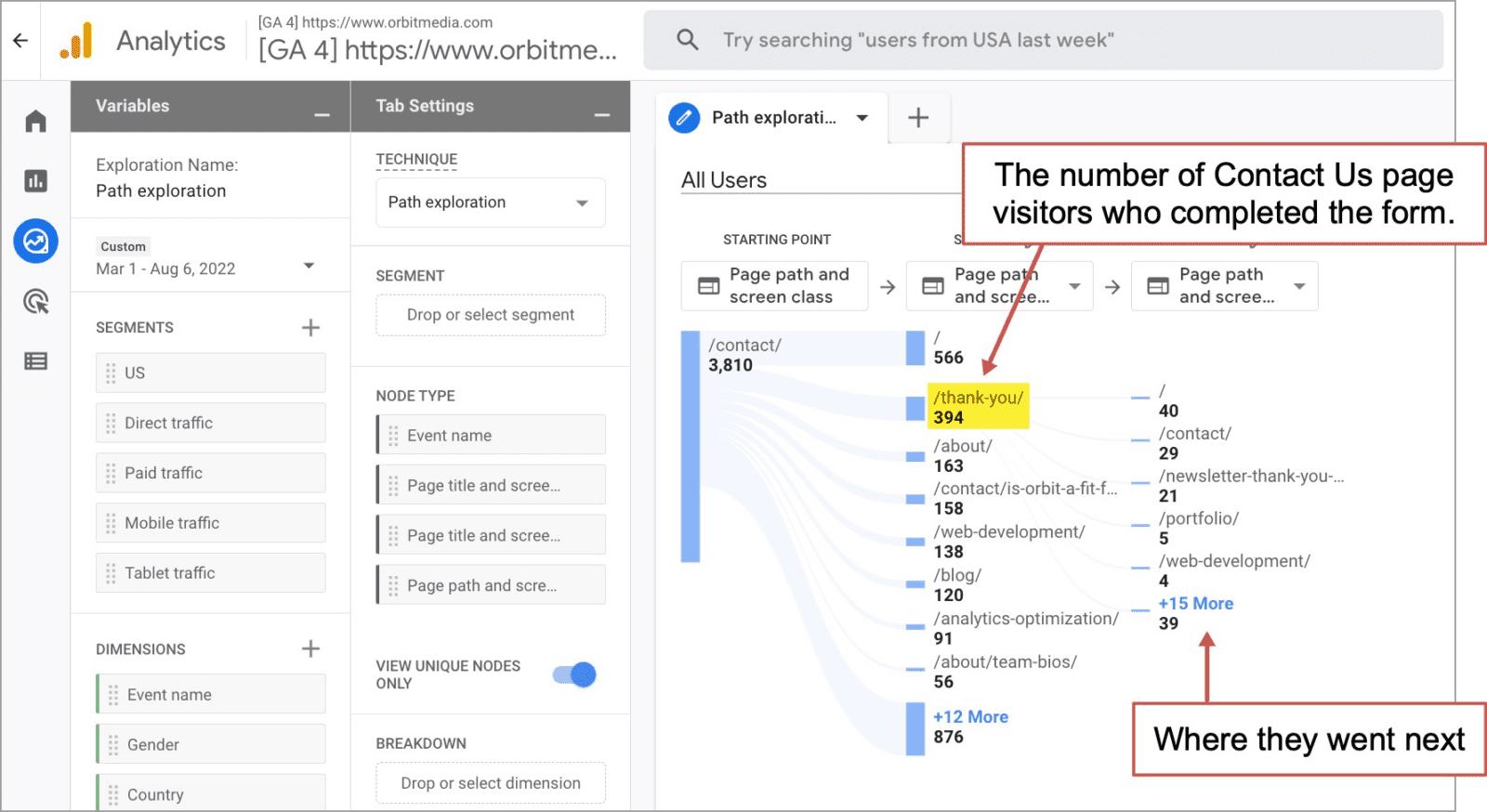 2. Improve your calls to action
The next link in our reverse-order chain is an actual link. They are the calls to action (CTAs) that bring visitors to the contact form. If these don't get clicked, nothing else matters. 
Here's a helpful tip for writing CTAs: 
No one clicks anything until they've done a split-second cost-benefit calculation and decided that the benefits exceed the cost. 
So you can improve CTA's CTRs (call to action click through rates) by making the cost seem smaller or the benefit seem bigger.
Consider how calls to action work with (or against) the psychology of visitors in these examples: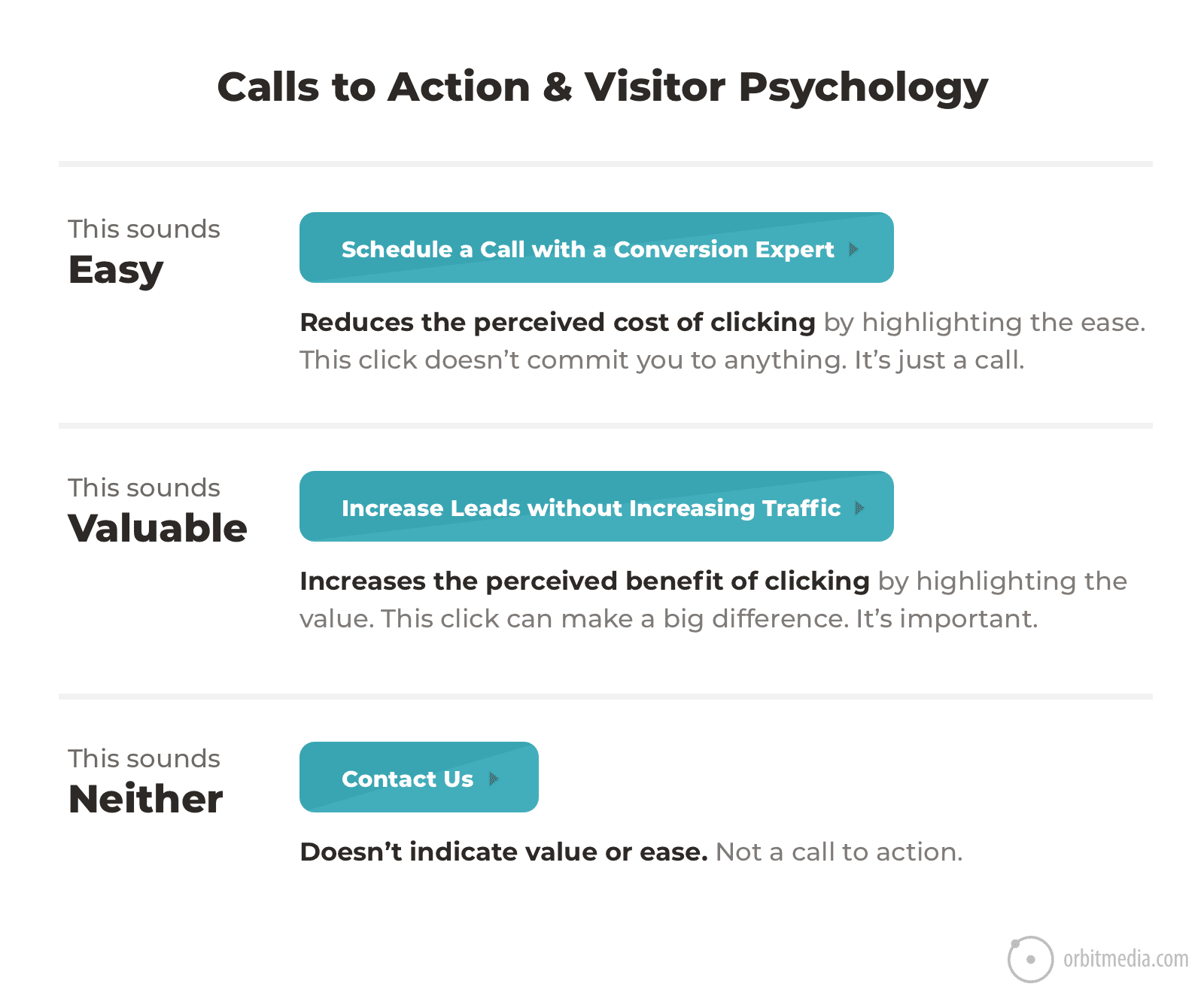 Do this easy thing. 
Do this valuable thing. 
Either way, your service pages should have calls to action that maximize the click through rates. Don't know the click through rates for your CTAs? See the Path Exploration tip mentioned above.
RELATED: Scan these 7 specific tips for designing buttons that get clicked
3. Improve your service pages
The context of the call to action is the next big factor. Your service pages are often the pages where your freshly optimized buttons get clicked. But if these pages don't persuade, nothing else matters. 
Beyond the CTAs, a service page is fundamentally a mix of two kinds of content: answers and evidence.
Answers
Give them what they came for, meeting their expectations and satisfying their information needs. "Am I in the right place?" is generally the first question. "Can you do this for people like me?" is soon after.

Keep in mind that these pages can also answer powerful unasked questions, just as a good sales rep might do. "What could go wrong if we do nothing?" and "What are the risks of doing this badly?" are classic examples.


Evidence
A page without evidence is a pile of unsupported marketing claims.

Great sales pages support their marketing claims with testimonials, examples, case studies, client logos, as-seen-in media mentions, certifications, data and statistics with charts and graphs. Evidence is a key ingredient.
Of course, there are other visual considerations. Every web page is both content and container. If the design stinks, you're in trouble. 
Put all the elements of a great sales page together and it might look something like this, but longer.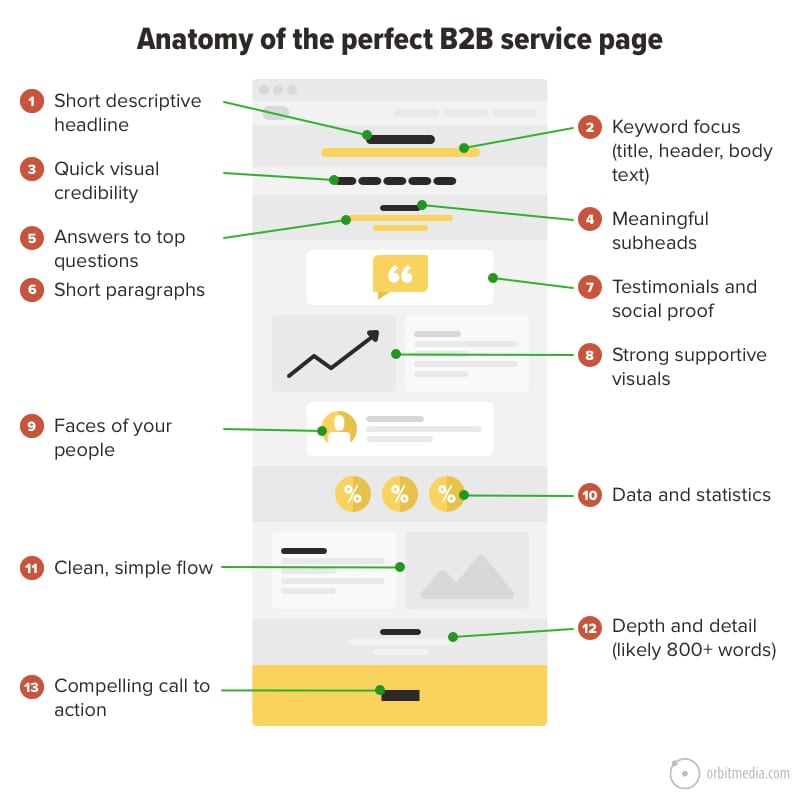 This little diagram is explained in detail in our 13-point B2B Service Page Checklist. 
Search engine optimization (SEO) is another consideration. It's very important, but not critical, as long as you have other sources of traffic. More about SEO in the conclusion below.
4. Improve your homepage
This is often the page that sends people to the service pages, making it the next link in our backward chain. The job of the homepage is to guide visitors deeper into the site. 
It's the page for which you know the least about your visitor, making it a tough one to design and write. Visitors come here from all kinds of traffic sources with all kinds of different intent.
Knowing it has to communicate fast, here are two tips for a better homepage.
Make the header descriptive
If the text within the H1 is vague, visitors won't be able to tell, at a glance, what business you're in. That's fine if 100% of your visitors are word-of-mouth referral prospects, but bad if you have any hopes of using digital to increase brand awareness or rank in a search engine.

Give your homepage header the "Backyard BBQ Test."

If I met you at a BBQ party and asked you what your company does, would your homepage H1 tag be a good answer? …or would I look at you weird because you told me you "humanize technology" or "revolutionize digital solutions"


Make the navigation labels descriptive
The other way to communicate fast is in the navigation. Of course, this isn't just on your homepage, it's a global element, appearing on every page. But using clear, simple navigation labels is great for both visitors and search engines.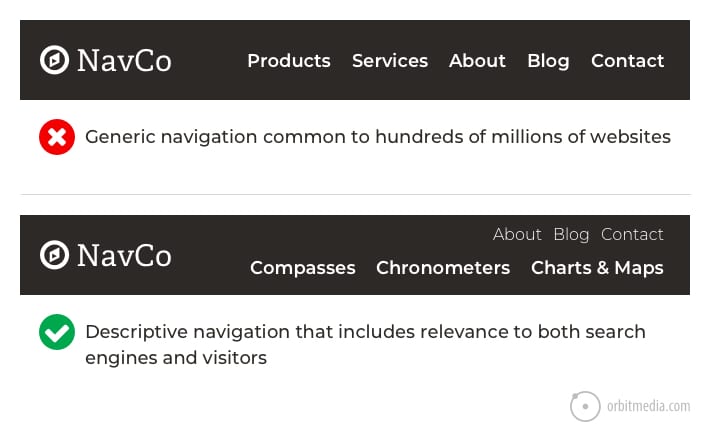 It's likely where the visitors' eyes are going second (after they read the header) and probably most visitors will click on the main navigation without scrolling at all.
We use Hotjar to track clicks and scrolling on a lot of our client's sites. When we combined a bunch of scroll heatmaps into a composite image, you can see just how few homepage visitors scroll. 
An average of 73% of homepage visitors click on the main navigation (or leave the site) without scrolling down to see below the fold content.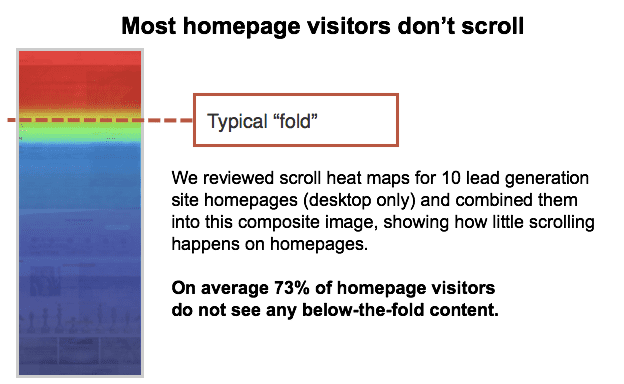 There are many other ways to improve your homepage, from image compression to title tags. Most of the items on the checklist in the previous step apply.
5. About page and bio pages
Often, but not always, visitors want to learn more about the brand before they take action. They want to meet the people and hear the story. These visitors click on the about page.
The About Us page is always one of the top pages on marketing websites, after you exclude the content marketing URLs. It's a very important page.

Some websites fail to put the customer at the center of their content. These sites are filled with "we love us" messages on every page (we are #1, the best, top-rated, etc) which makes the page boring and self centered.
But the about us page is meant to be self-centered. Time to go deep on those me-first messages. They asked for it, right? Be human. Be vulnerable.
Why this company exists (the origin story)
What you care about (mission, vision, values)
Who works here (link to a page for each person)
Here's where you showcase that amazing company video. This is the most important of the three types of marketing videos.
If you have an "About Us" section with a lot of pages, and those pages are very short (a one paragraph page for mission… a one paragraph for values… one page with your company video…) combine them into one page. Don't make them work that hard. Give them all of your beautiful, self-centered content in one place. 
RELATED: How to Write Your About Us Page
6. Google your company, improve your branded query's search results page
Now that the key pages sparkle, take a look at your other homepage: the Google search results page for your company name. 
Search for your brand. What do you see? 
A lot of people see this. It's a highly visible and important factor in your reputation. It can't be ignored. 
Do you see sitelinks within your rankings? Those pages are traffic magnets. Pay special attention to them.
Do you see reviews? Address any reputation issues immediately.
Does the "knowledge panel" appears on the right? Check the images. Check the business category. Log into your Google My Business account to make corrections and improvements
Did Google suggest any brand-related keyphrases? Search for them all. You should rank for each.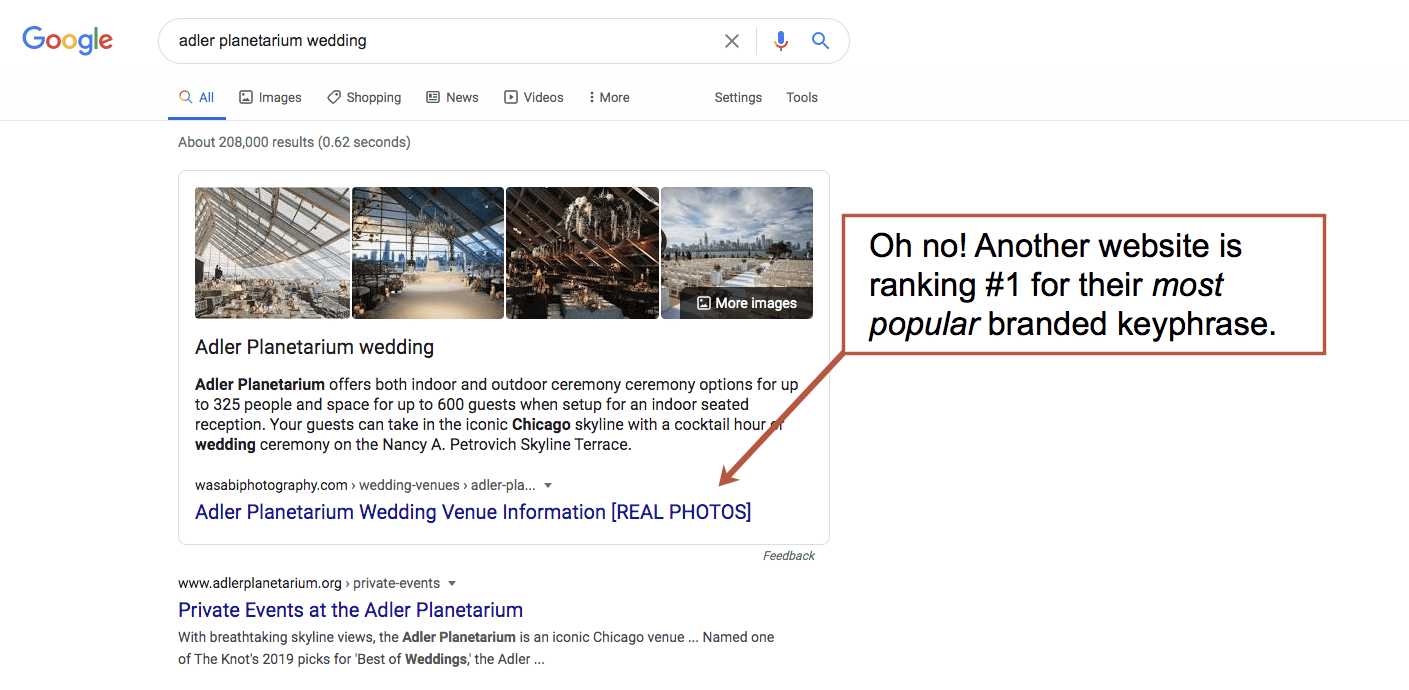 These search results are so visible to your audience, but issues are invisible to you …unless you're watching it. A problem here will mean less traffic and fewer leads. It's a problem that doesn't show up in your Analytics, so few marketers prioritize it.
Check it every few months at least, using our complete guide to improving your branded-query SEO. 
7. Document your content mission statement
We focused on the sales pages of the website first because visitors to those pages have commercial intent. 
Now that those key pages are looking good, we'll move up through the funnel to content marketing, where visitors typically have information intent. 
Content marketing starts with strategy. The foundation of content strategy is the content marketing mission statement. Before you write another post, confirm that this is documented.
Your mission simply states three things: who your content is for, what the topics and formats are, and why your visitors will pay any attention.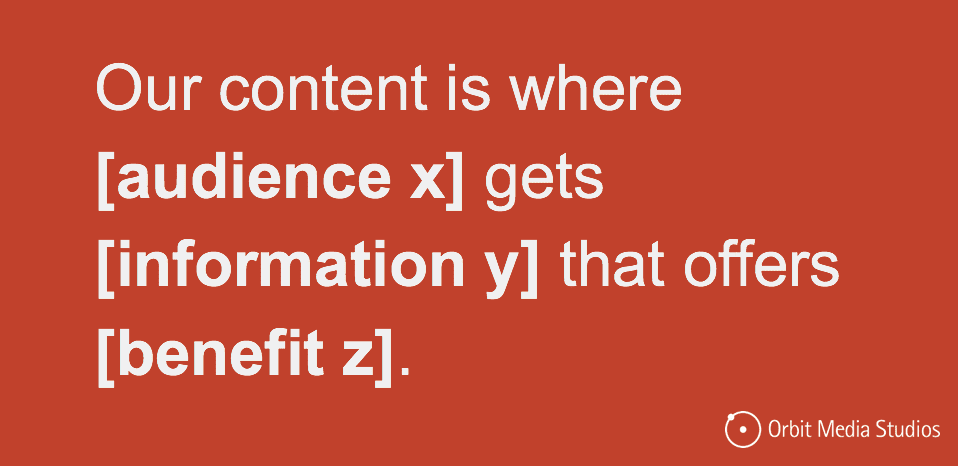 Research shows that brands with documented content strategies are roughly 3x more likely to report success in digital marketing. Brands that don't often lack focus and fail to connect with visitors. It makes a huge difference. 
8. Email signup forms and blog templates
With the mission statement in place, you're ready to repurpose it into a CTA for email subscribers. This will have a direct impact on email list growth and make every visitor to your blog more likely to subscribe.
Turn the [information Y] section of your mission into a promise in your email signup call to action. This is the second of the 3 P's of email signup boxes.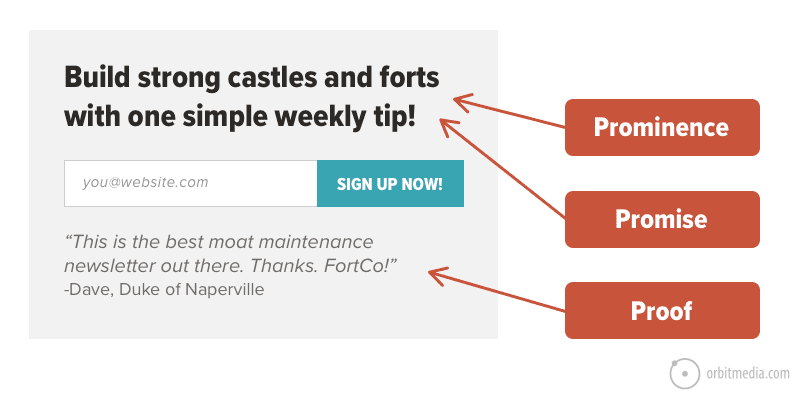 This CTA should be short enough to use anywhere: the blog main page, pop-up windows (if that's your thing), the website footer, in-line CTAs within the articles, in the sidebar or in a sticky element like the footer below. 
Here are some elements should appear within your blog detail page template:

9. Content that directly supports sales
Now we're ready to blog right? Not so fast.
Before creating content that attracts fresh new visitors, make something that's useful during the sales process. Why? Because current prospects are more valuable than potential visitors. So we should focus on them first.
An article that supports sales messages can be sent directly to prospects during the sales process. It will still live in the blog, but its target audience is actually very specific. It will be sent by the sales team to prospects in the pipeline.
This is called zero-waste marketing because it is shared directly with your prospects. It has perfect sales marketing alignment.
Here are common examples of this kind of "sales enablement content."
A set of articles sent to prospects in follow up communication after sales calls. These articles should answer the most common sales questions in detail, address objections and give examples.

This content can also answer important but rarely asked questions. Make the prospect say, "Whoa, I didn't know that was so important! These people know their stuff."
A webinar that addresses a common challenge for your clients or for an industry you're targeting. Invite anyone in your pipeline, then reach out 1×1 to potential clients with personal invitations to join.

Follow up with them with personal messages afterward, offering to go deeper into the topic for them specifically. This is a classic account-based marketing tactic.
A podcast where you interview business leaders …giving you a pretense to reach out to prospective clients. Spotlight their business and their expertise. Send a thank you gift. Keep in touch.
This content is often fun to create. It's liberating. No need for keywords or content promotion strategies. No need for influencers. Collaborate with customers instead. This is laser-focused content that makes pageviews, shares and rankings irrelevant.
---
| | |
| --- | --- |
| | "If the marketing team isn't generating leads and providing content to help the sales team close those leads then it's not doing its job." |
---
10. Create an in-depth research piece
Now that all of the most critical improvements have been made, we're ready to focus on the top of the funnel. But where should that begin? 
Every blog benefits from quality. Some call this cornerstone content, pillar content or a content hub. Whatever you call it, it's good to build it early, because it makes everything easier forever after. 
You have something to share in social media, something to add to your welcome series emails, something on your site to reference when you write guest posts, something to show editors when you pitch a guest post.
The sooner you create it, the better. 
There is one format for content that is the most valuable, the most useful to others, the most likely to get mentioned: original research.
If you conduct and publish an original study, you just made your site the primary source for new information. You contributed to your industry in ways that most content programs never do. You've made something for all of us to reference because it helps us support our messages in our content.
Original research is both the most credible content, the format most likely to exceed the expectations of your reader, and the content most likely to attract links.
Related: How to create original research that gets attention 
First things first
The problem with digital marketing is that there are so many possible actions to take.
So the key to success is prioritization. Always fix the bottom of the funnel first, because those improvements make all subsequent actions more effective.
You're going to have a website visitor tomorrow. Are you ready for them? 
If you've tackled this list, you are. You're ready to double down on all your traffic driving efforts. You're ready to advertise, to network, to dive into content marketing and social media.
One final caveat…
We realize that not everyone is starting from the same place. Although the items above are universal, when you one level deeper into content marketing, the mix will depend on the maturity.
Younger content programs have different opportunities and challenges than well-established brands.
Here's a quick framework for prioritization based on Domain Authority, a measurement of link popularity and search ranking potential. It recommends that younger content programs focus on guest blogging (earned media) more than on-site publishing (owned media).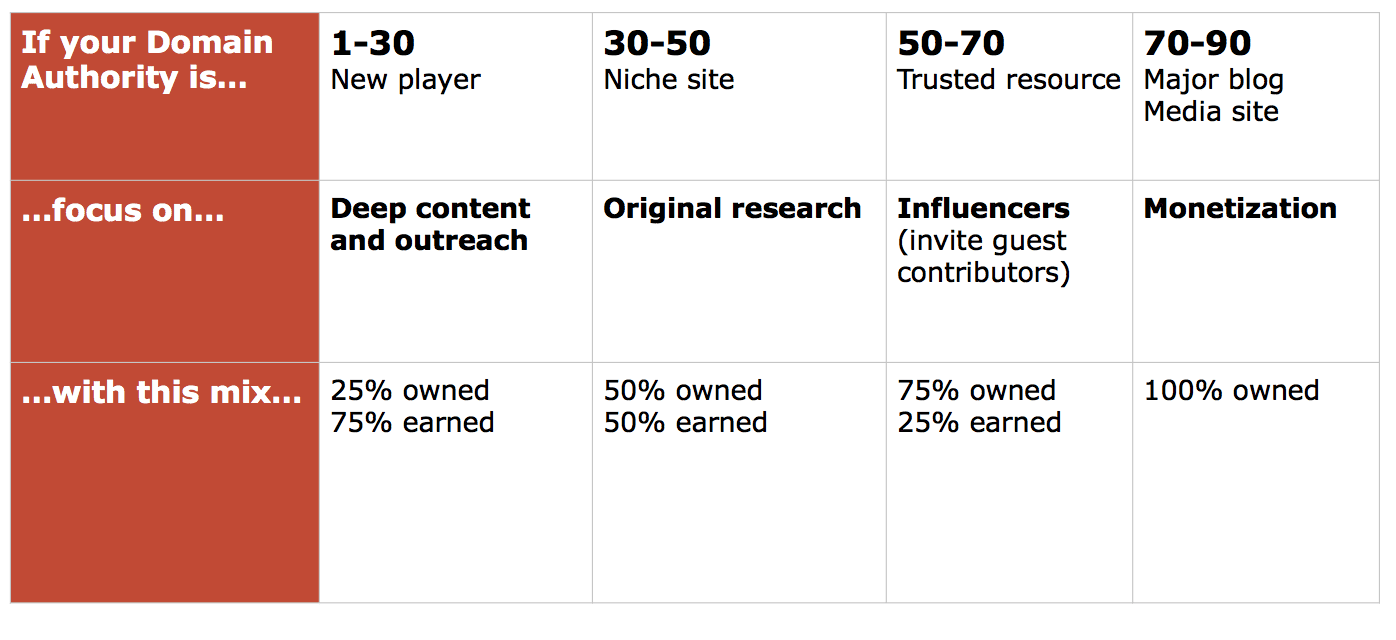 If yours is a new brand, consider the benefits of focusing on guest blogging for your first year of content marketing:
You'll reach a larger audience more quickly (other sites already have an audience)
You'll grow your Domain Authority (and search rankings) faster
You'll improve your writing skills faster (by working with pro editors)
You'll grow your network faster (outreach leads to partnerships and new friends!)
Know anyone struggling to get started? We'd be grateful if you passed this article along to them.
Got an idea or perspective to share with your fellow readers? Leave it in a comment below!