Your website "About Page" won't be a common entry point for visitors. But it could be a common exit point.
Pity too. The About Page will be one of your most visited pages on your site. An inevitable stop for first-timers.
Why are website About Pages a major cause of visitor exodus?
They're narcissistic. They don't move readers to feel or do anything. Generally, they're boring.
If you don't want the response to your About Page to be an "about face," you'll find some valuable ideas here. Let's look at how to write your About Page, make it connect with readers and serve a purpose.
ABOUT, spelled out…
ABOUT, as an acronym, is a little formula I created to help guide you through five powerful ideas for creating an effective About Page (or section).
A = Approachable
Imagine greeting someone for the first time and beginning the conversation by reading him or her a press release. Ridiculous, right?
I can't tell you why so many companies shift into a journalistic-imbued writing style when it comes to crafting copy for their About Page, but I can tell you it makes for a dreadful first impression.
So faux pas number one for the About Page is writing it with a sleep-inducing tone. Don't let your page sound like a funeral. Make it sound like a party.
You're here. Woo-hoo! We're excited to tell you why this is the place to be.
Let the party begin. The About Page on the Moz site kicks off the party with a fun headline, unconventional image and scroll-worthy storytelling-style content.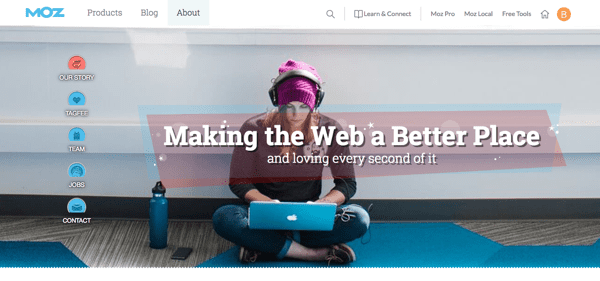 Great About Pages are warm, energetic, interesting introductions. Do everything you can to sound approachable. Nix the jargon. Nix the third-person voice. Nix the meaningless hyperbole and business clichés. Look your reader in the eye and belt-out a happy hello.
And please, don't make the headline of your page "About" or any similar variation. Give visitors a reason to move down the page and expect to find some fun stuff.
B = Beneficial
Yes, the About Page is about your company. Your reader has come to learn more about what you do. But why? They have a problem they're looking to solve. As they say in metaphor land, the customer doesn't want a drill; he wants a hole.
A mission statement can be a real buzz kill, but Help Scout won't have it. Their About Page promises to "help you build a company people love."

To win the reader's attention—and affection—you need to address the "What's in it for me?" (WIIFM) question. You need to present a benefit, or several. What value do you deliver your customers?
Oh, how this simple idea brings communicators to their knees. It shouldn't. Try this simple exercise. Fill in the blank.
How to ________________________.
I've always loved this approach. It works for headline writing, positioning and forging unique selling propositions. Here, it's going to work for your About Page.
You can't fill that blank in with a feature, product, service, or brand name. Only a benefit works.
How to create a lead-generating website. (Could work for Orbit Media.)
How to publish content that builds your brand. (Could work for Feldman Creative.)
How to easily create the exact size hole you need. (Could work for the drill store.)
How to lose weight without starving yourself. (Could work for millions of websites.)
I'm not telling you your About Page needs to include these exact words, but they need to communicate the idea. How are you going to help (a.k.a. the benefit) is really what the reader has come to learn. If your About Page doesn't get the idea across, it fails.
The value you provide is what your company is about. Therefore, it's what your About Page should be about.
O = Optimized
Your website's About Page content should be considered part of your lead generation plan and optimized for conversions.
On the Unbounce blog, a post on the conversion potential of About Pages goes so far as to say;
Your About Page should be a conversion-friendly hub where your visitors are directed to shop, jump on your email bandwagon or begin a free trial—all after being informed and inspired. If you're not using your About Page to convert customers, you're losing out.
About Pages provide an opportunity to tell stories, connect with prospects and build trust. These are keys to conversion.
A history page on the Vienna Beef website tells an engaging story of the history of the company highlighting its milestones.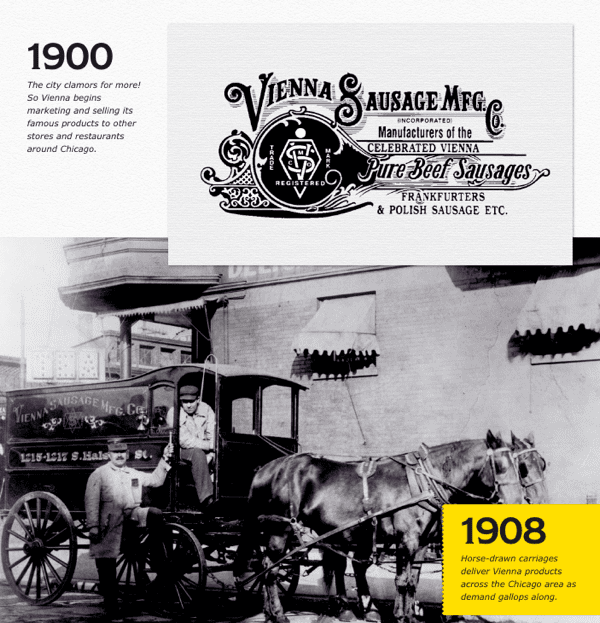 If you've setup goals in your Google Analytics, your "all pages" report will include page values. This report from Orbit's own analytics reveals their About Page is one of the site's most important pages for contributing to conversion.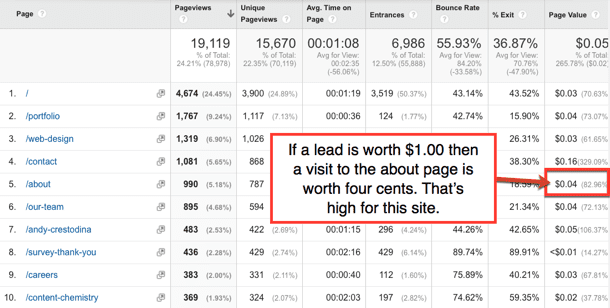 You've given your visitors a number of reasons to believe in your company's abilities to deliver value. Tell them what to do next. Include at least one call to action (CTA) that directs the reader to move further into your website or enter contact information.
The GetResponse About Page offers CTAs including: meet the team; learn about the product; peruse the customers page; and signup for their newsletter. Your About Page doesn't need to have as many choices, but if you want to optimize it to convert, it should have at least one.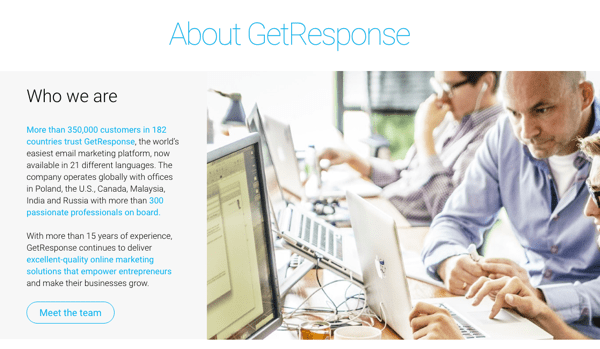 U = Unique
It's very easy to make your About Page sound generic…
We do this. We do that. We care about our customers. Our people are dedicated and talented.
But it's hard to imagine you want to sound like your competitors.
Test your current About Page against this idea. Wherever a mention of your company appears, swap in the name of one of your top competitors. If the page works just fine this way, you have work to do.
Your About Page is an opportunity to tell a unique story. Much of your uniqueness can come from the voice of your writing.
---
| | |
| --- | --- |
| | "For some reason, when people sit down to write an About Page, everything they know about creating interesting content suddenly flies out the window. Their usually great writing style starts to suck." – Sonia Simone, Copyblogger & Rainmaker Digital. |
---
Sonia suggests:
Use your own writing voice.
Be ruthless about pruning out any corporate-speak or hype.
Don't be afraid to be a little funny, if you can pull it off, or dorky, if that's who you are.
Your About Page is where readers go to figure out who you are and if they like you. The things that make you unique define who you are and certainly affect your likability.
What can you do?
Tell your backstory. Why does your company exist? How did it get to where it is today?
Own your imperfections. Did failure precede success? Did the company set out to do one thing and change course? Do your weaknesses accentuate your strengths? Don't be afraid to be honest and real. It'll appeal to prospects emotionally.
Go behind the scenes. Your scenes are unique scenes. Shoot some video and give your visitors a real take on what life looks like in your offices.
Orbit made a video that takes you "Inside Orbit" to meet the team and learn about the company culture and its values.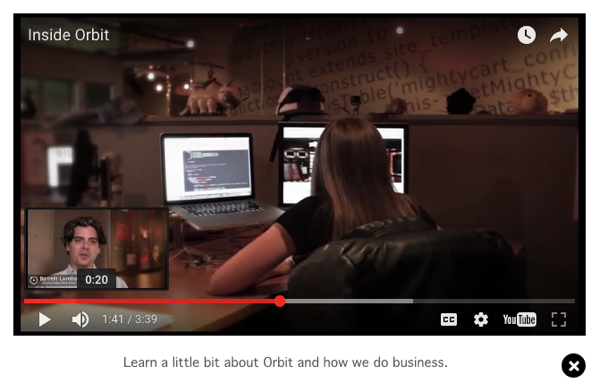 Let your constituents have a say. You have real customers, partners and collaborators—and they contribute to your uniqueness. Make a place on your About Page for your extended family to chime in with testimonials or any content you believe prospects will value.
Introduce your values. Sounds boring, doesn't it?
I don't mean talk about how you value results or ROI or something predictable that everyone values. I mean highlight what you stand for.
Do you support a cause?
Are you involved in the community?
What you're doing to make a difference is likely going to make you different.
Import social media.
While it's probably the topic of another article, it's likely the things you say and do on social media channels reveal the true character of your company. Your About Page is a perfect place to get social. I've seen quite a few engaging About Pages featuring company and/or employee Instagram feeds—and that's just one idea.
On Orbit Media's About Page they link to their culture page. It has a stream of tweets and Instagram posts from the Orbit team (a.k.a Orbiteers).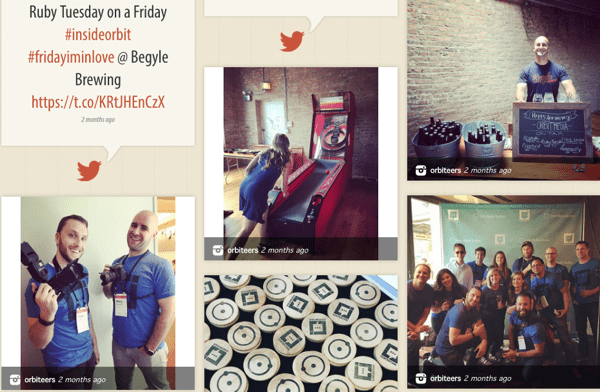 T = Team
The most undeniably unique thing about your company is the people who work there.
Your company is your employees. No other company has them. This means in an effort to be approachable and unique ("A" and "U") your team is worthy of spotlighting on your About Page.
Why did the MailChimp team bring a "K" to the photo shoot? You got me, but the company appears to be proud of its team and features them on their About Page.

I've seen team pages done in many interesting ways. However, more often it's a yawner with name, title and mini-resume featuring previous jobs and college experience.
You can make profiles of your staff members more interesting—and great conversation starters—by showcasing interesting things about each person.
Informal photos
Interesting facts
Hobbies, interests and passions
Quotes
Videos
Social media profiles (and ways to connect)
Answers to funny and unpredictable questions
Favorites
Fun stuff on the Wanelo team page. Deena likes Mexican and Peruvian textiles, sushi, llamas, Pilates and things that are impossible. Sean has a pillow doppelgänger.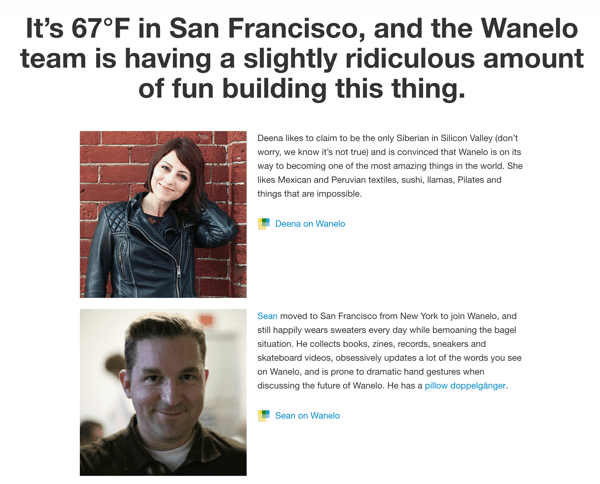 Another useful tip for showcasing your team, from an earlier post here on the Orbit blog, is to set up an individual page for each team member you want to feature. This will give your About Page a larger footprint and present pages that may rank when people search for a specific name.
Let's talk about the About Page
Yes, your About Page affords you an opportunity to talk about yourself and is the place where readers expect you to. But on your About Page, and any page on your website, your challenge is to engage visitors so they feel compelled to do something. You accomplish this by telling your story in a context that serves your readers.
Is there a checklist you use to create the perfect About Page? No.
Your About Page should not be exactly the same as someone else's. It can feature whatever you want. In fact, the more you commit to making it original, the more effective it can be.
What content do you include on your About Page? What's working? How might you update it to better serve your visitors?
Please share your thoughts in the comments section below.