From the simple link to the embedded feed, millions of websites integrate with social media.
Why not? It's a perfect fit.
The goals in social media marketing are to promote content, serve clients and build relationships. Same goals as the website, right? So you should connect your site to social media in every possible way …maybe.
There are quite a few ways to connect. These are the five main types of social media integration for websites.
Social icon buttons
Social share / follow buttons
Social widgets (ie. Facebook page plugin)
Single sign-on (lets visitors create a new account or log in using social credentials)
Embedded social feed
There are thousands of article with best practices and how-to tips for each of these options. So instead of another guide, we're showing how NOT to connect social media to a website.
Because social media integration done badly is clunky, distracting, ineffective and slow.
1. Don't put social icons in your header
There are big, colorful social icons in website headers all over the internet. And because they're colorful, they are often at the top of the visual hierarchy, the most visually prominent element on the page.
Imagine walking into a store where the biggest sign says 'exit.' Would that be helpful? Probably not. Then why have big candy-colored exit signs at the top of every page on your site?
Website visitors are hard to win but easy to lose. Driving traffic takes a lot of time and energy. So don't encourage them to go. Don't invite them to leave your site.
Where there's traffic, there's hope.
Sending a visitor to a social media platform puts them in the hands of a profit-driven, billion dollar company that is totally focused on keeping and monetizing that visitor. Is that good for your marketing?
Here's what it looks like in a header: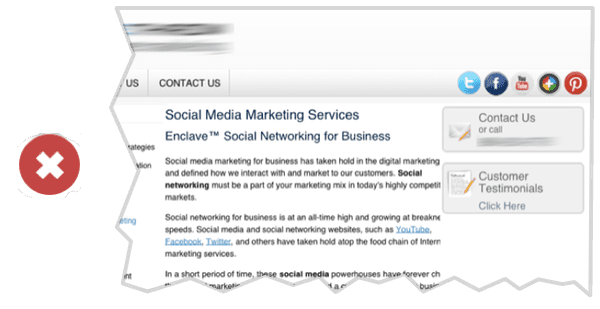 We did a little research into web design standards and found that in 2015, 26% of the top marketing websites had social icons in their header. In 2019, that number dropped to 20%. It's going out of style.
A better way to add your social icons
We recommend moving these to the footer and grey them out. Here they can be found by people who are looking to follow, share and mention, but they won't encourage visitors to leave.

Notice that the email signup button (a higher-value interaction for the brand) is more prominent. The social media buttons (which are lower-value clicks for the brand) are less prominent.
This is not legal advice, but…
This may actually be a violation of the trademarks of these companies since you are modifying their logos, which are registered trademarks. It's a design treatment used on millions of websites, I'm sure. I've never heard of any legal action being taken.
Twitter doesn't want you messing with their logo. Check page 7 of their brand guidelines.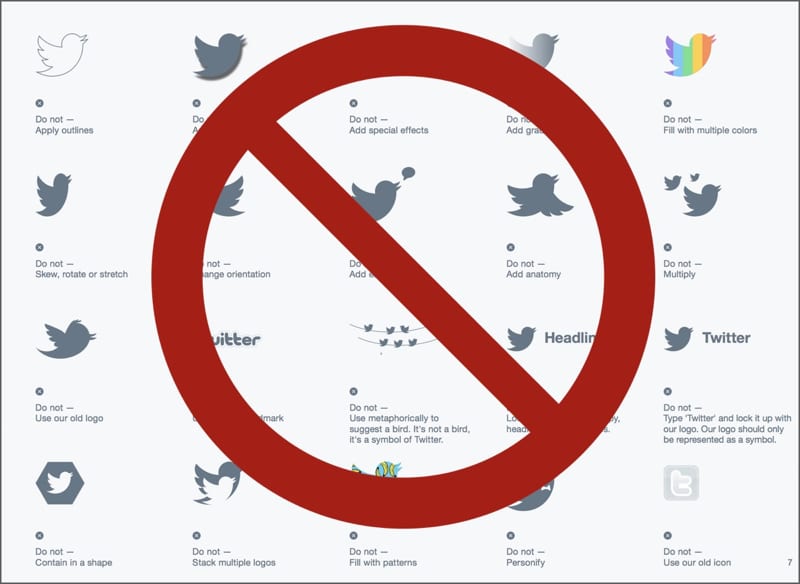 Which social icons do your visitors click the most?
Few people ever check, but the question is answerable through Google Analytics.
By default, GA only tracks movement from page to page, not each website exit. But if you set up event tracking for exit clicks, you can see which get clicked from any page. Here are the URLs of every click for each website exit from our homepage.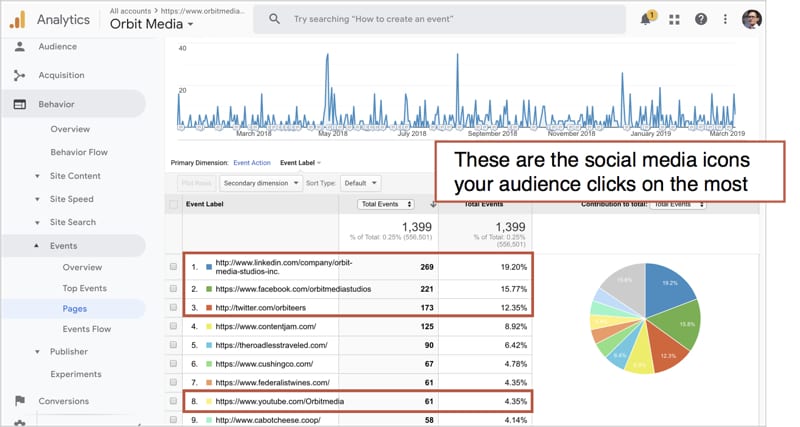 To make this data look better, I'll take it out of GA and show it on the page using the screenshot/markup wonder-tool, Snagit. (now you know how I make all of my stuff)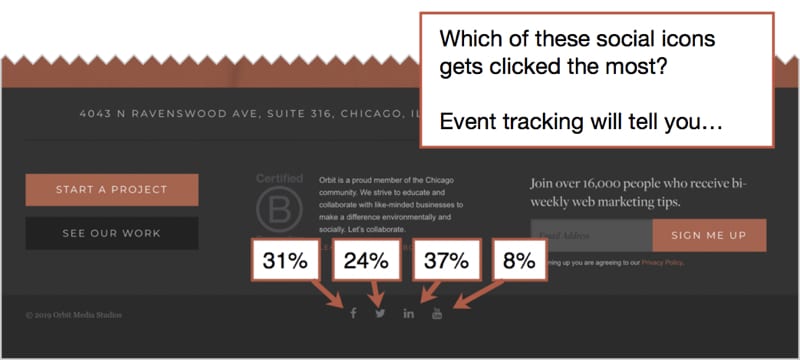 Your social media icons are like a poll, showing you which social networks your audience is using.
Where's the best place to add social icons?
Besides the footer, here are three of the best, most effective places to suggest that your visitors follow you on social media
On your careers page
Visitors on this page are motivated. They're professionals looking for work. Let them know that you post jobs on social media and suggest they follow you there.
On the blog
Blog posts are of course very social (share buttons, comments) and those clicks amplify your content marketing. But blogs can do even more to grow your following. Try writing a simple, text call to action inviting visitors to follow you.
On the thank you page
The thank you page is a great way to get more value from the same visitors. They just became a lead, subscriber, customer or job applicant, why not offer them another? Add a social CTA and encourage them to follow your brand.
2. Don't link to dead accounts
Websites everywhere link to social media accounts that are barely active or completely dead. It's like a broken link or a disconnected phone.
So when should you add a social media icon and guide visitors to a social network?
When that social network is a key part of your digital marketing strategy. Before adding that facebook or twitter icon to your new website, ask yourself two questions.
Do you post content there consistently? (active publishing channel)
There is at least as much relevant content on the social network as your website.
Do you engage with people on that social network? (active networking channel)
You're not just present, but you're interacting with people, networking and building relationships. If someone asks a question there, you answer it.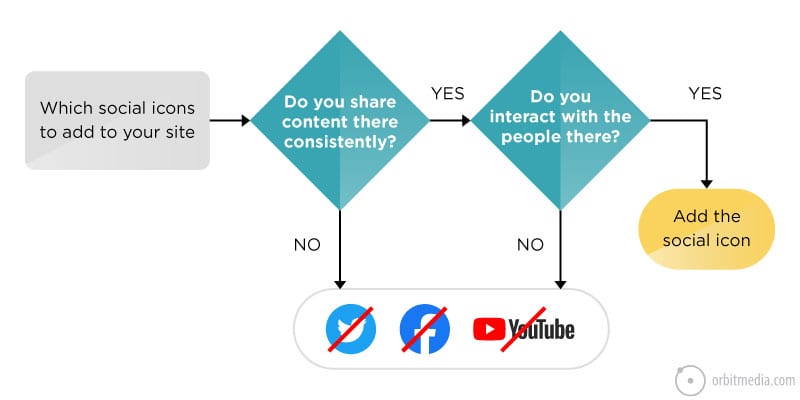 The answer should be "yes" to both. If it's not, set aside social media integration until you have a social media strategy. Far better to have no icons than buttons that go nowhere.
The next question: where to put these social icons?
3. Don't add share buttons to service pages
Ever shared a service page? Ever seen someone else share a service page? It almost never happens.
The job of the service page is to turn visitors into leads. Social sharing buttons are just distractions, especially if they're big and colorful. They add visual noise but not value, so they should be removed. Cut them and uninstall the WordPress plugin that added them.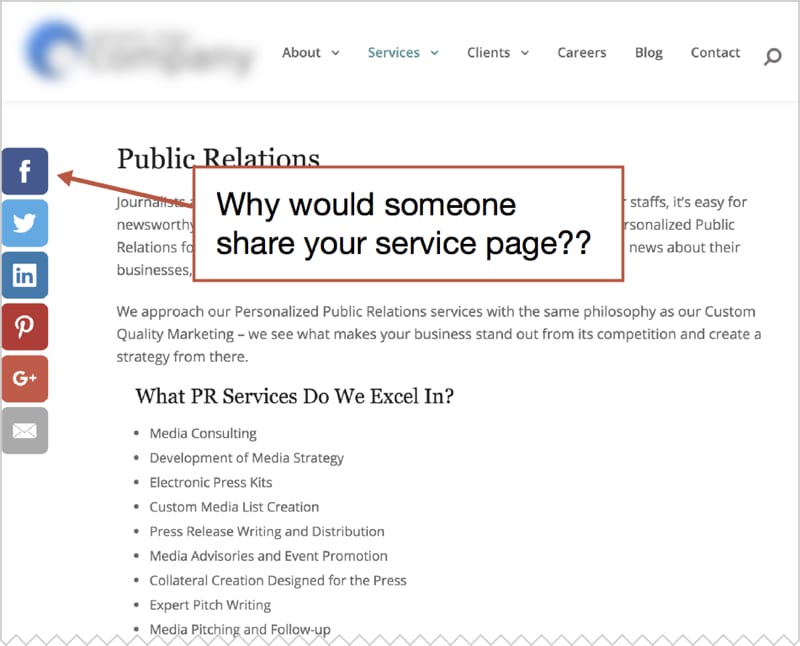 What about share buttons on ecommerce product pages?
Do people ever share products? Yes, but almost never. When we looked at ecommerce website and compared pageviews (Google Analytics) to social shares (Buzzsumo) and found that shares were rare.
Only when the audience is passionate about the product are where there any shares at all.
In the Vienna Beef online catalog, the top shared products are shared by about 1 in 1000 visitors. And those shares are almost all on Facebook.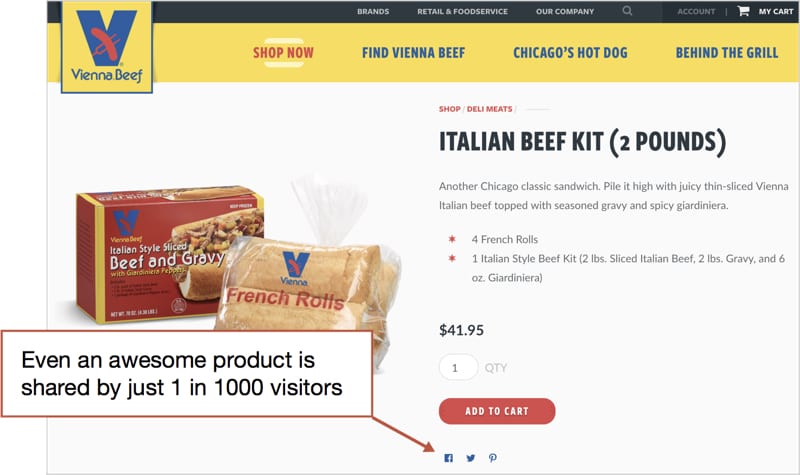 Knowing this, we designed the share buttons to be much less visually prominent than the add to cart button. Because the goal is sales, not shares.
We found that getting shared by 1 in 1000 visitors (that's 0.1%) is about as much as you should hope for. A share rate of 0.001% was more common. Ouch.
So set your expectations very low for product page shares, and be very careful not to distract visitors from the buy button.
---
adam bianco, director of customer marketing, the beard club

"If a customer shares their experience or purchase on social media then that's a win, but because the likelihood of that happening is so small we don't want to take away from the main call to action which is often, purchase a product or sign up for a subscription. After that, we can automate the message through email or on the order confirmation page about sharing on social.

Once a customer goes to social media, they aren't coming back. They are going to be distracted by baby pictures and puppies and forget about your brand entirely until you pay Facebook to send them back your way. Focus on your own business objectives and call to action. If they are true brand advocates, they'll likely share on social media anyway."
---
4. Don't show low sharing numbers
Social proof cuts both ways. If the numbers are big, it's positive. If they are small, it's a negative making the content looks unpopular. Sad.
Social sharing has dropped by more than 50% in the last few years, so numbers are down for even the best blogs. It doesn't mean visitors aren't enjoying the content. You may be getting great word of mouth offline. Don't be discouraged …but watch your widgets.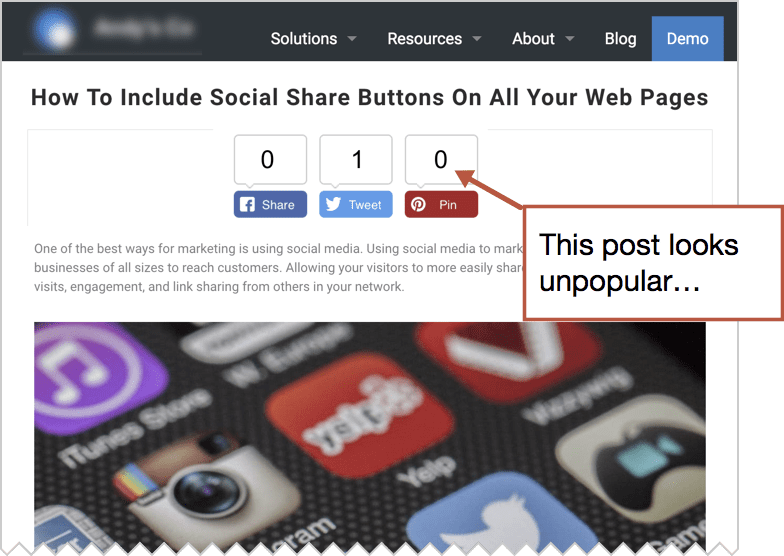 Pick your widgets carefully. If shares for some networks are low, you can show just one number: the aggregate number for all social shares. This is what we do. Or just use widgets with no numbers.
Simpler widgets have another advantage. They load faster.
5. Beware of heavy Javascript
Social icons are almost weightless. But social media widgets (share, follow, like, etc.) are built with Javascript. And to load, they need to talk to servers at Facebook, Twitter, LinkedIn or Pinterest.
These extra requests can add a half a second or more to the page's load time, especially for fancy widgets that show share counts.
There are a few ways to avoid the code bloat that comes with social widgets:
Use simple widgets …avoid those with counters (shares, fans, followers).
Use super-lightweight share buttons …you can make them with a tool like this one.
Load social widgets with asynchronous Javascript, so they don't have to load in sequence …or simply program the site to have them load after the entire rest of the page has already loaded.
Worried that social widgets are slowing you down? Run your pages through an audit using Lighthouse within Chrome Dev Tools.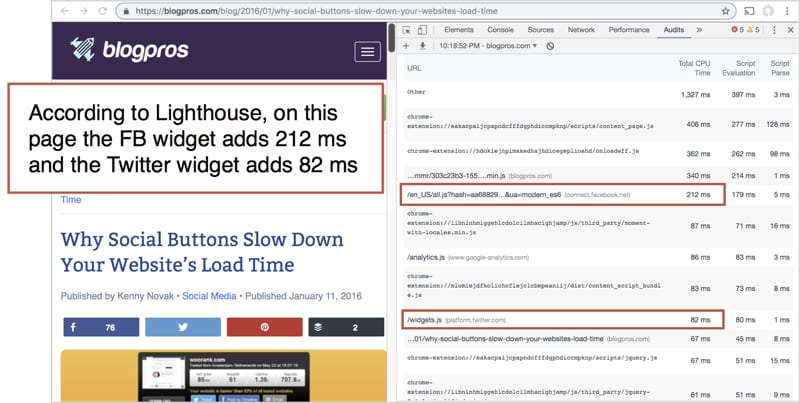 Social media integration done right
To see an example of how a social stream can be built into a website, check out the Orbit Culture Page. It uses a combination of hashtag (#InsideOrbit) and permissions (only showing posts from certain accounts) to keep things fresh.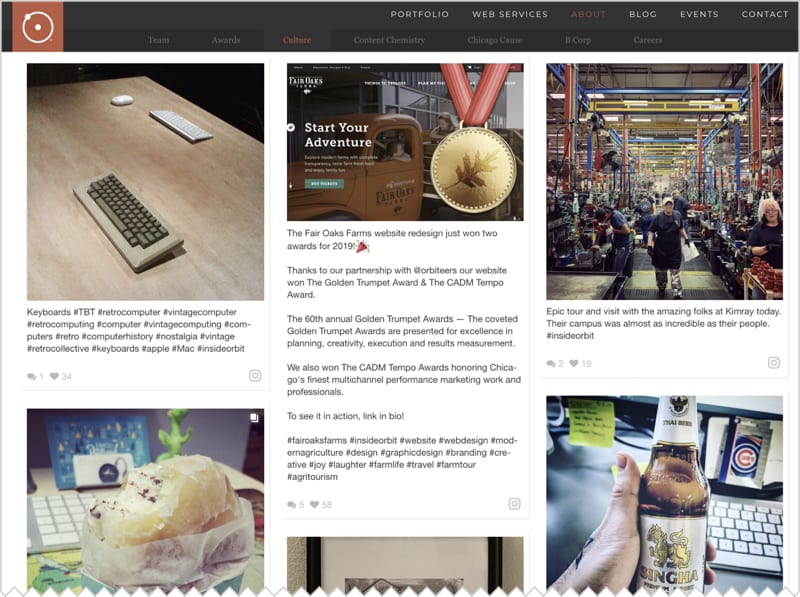 Make your brand social and personable, on and off your website. And connect your site to the places where you're social. That's a good thing.
Connect TO the social networks where you are active
Connect FROM the places where visitors are likely to interact
Connect IN WAYS that don't distract or slow things down
Did you find this helpful? If so, you are welcome to follow us on LinkedIn, where we share our highest value articles once a day.