Social media streams are crowded, fast-flowing and very very competitive. As social networks pull back on organic reach, showing up is hard and getting attention is even harder.
So how can you stand out on social?
Marketers that go big are doing better. And the one way to go bigger than anyone else is to upgrade your content to maximum power. That's social media video.
Social media videos are so engaging that the networks are pushing them way to the top of social streams. Facebook, Instagram and LinkedIn all want us to do more in this all-powerful format. It wins in the algorithms and in wins for attention.
As a social media marketer, video is your most powerful tool.
First, a few quick examples…
The first example here is a social media video that drives brand awareness, but doesn't drive any traffic. Like most short videos (TikTok, Instagram Stories, Facebook Reels, YouTube Shorts) they are great content for social media, but they don't typically have calls to action or links. Social media viewers see it, maybe engage, then keep scrolling.
The second example is a social media video may also drive brand awareness, but also drives traffic, sending viewers toward your content marketing program. See the difference?
This is about social media marketing for driving traffic.
This article will show you how to make a tiny video commercial for your content, introducing your article to your followers in a way that drives clicks, traffic and measurable results in GA4.
Here's how to make social media videos that slow the scroll and capture clicks.
What you'll need
A shakey cell phone video isn't what we're going for here. That's what everyone does. Your laptop has a camera and mic, but you can do better than that. A little more effort will get you a high quality video and much better results. So here's my process for leveling up my social media videos with just a little bit of equipment and software.
1. Set up once. Record many.
It will take a little time to set things up, so make the most of that time by shooting four or five of these at one time. This kind of "batch shooting" means you make the most of that good hair day and that you're not playing with your lighting every time.
If you haven't built a DIY recording studio, just set up a camera in a sunny corner of your home or office. Here's what mine looks like:
(Actually, I don't have a phone on my desk anymore)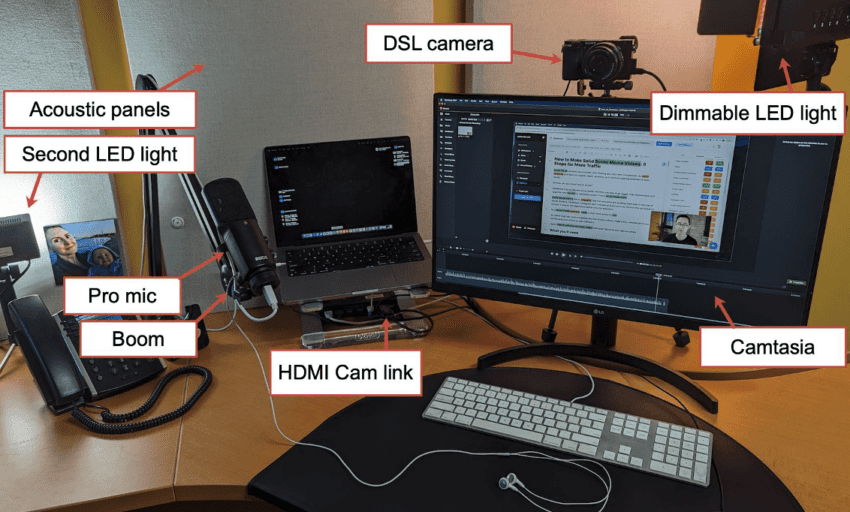 Equipment list for a mini at-home or office studio:
I'll list the specific gear I have and the costs, along with notes and also ideas for the equipment I'd get if I was starting over today:
Camera: Sony a6000 DSLR camera ($350) …I might get the Sony ZV-1 if I was building this today
Mini tripod: Any of them will do ($30)
Camlink: Elgato ($100) …this is what tells your computer that your DSLR camera is a webcam
Microphone: RØDE NT-USB ($150)
Boom: RØDE ($100)
Light: Pixel LED Video Light Panel ($100) …Ring lights are terrible. Who wants to look directly at a light? Just get a good dimmable LED panel and bounce it off a wall.
Acoustic tiles: ($70 each) …I have three and they make a huge difference
I've got the tripod at a relatively close distance. I want my head to fill most of the frame. I'm facing a window, so the lighting is all taken care of. Pick a spot where you can leave the mic and tripod in place. This makes the process faster, making it easier to do this more often. Efficiency is one of your main goals.
This setup is also perfect for Facebook live, webinars or live streaming for a YouTube channel. Or just laying down the audio track for explainer videos or any animated videos.
And also, there are the video tools. You'll need some video production software:
Video recording and editing program: Camtasia ($300)
That's cheaper in the long run than an Adobe Premiere Pro subscription, which is $20/month. Of course, it's possible to do everything here with nothing more than the phone in your pocket.
If you'd like to see how other professional social media marketers do it, take a look at this roundup of 27 desks of marketers. You can see the set-ups and equipment list of pro YouTubers, virtual keynote speakers and serious podcasters.
Lights… Camera… Turn your phone on silent… Action!
2. The shoot
Press record on the camera and on Camtasia. You're about to make a one-minute social media video. Now sit back, take a deep breath and…
1. Smile 0:00
This will be the first frame of the video
2. Introduce yourself 0:02
Just your name and title are fine
3. Tell the viewer what you're doing here 0:05
"I'm sharing with you an article about…"
"This is just a quick video to tell you about…"
"Here is a quick summary of our latest advice…"
These are the seconds that are most likely to be seen in the social stream, so start with big energy, punchy statements and an extra bit of body language.
4. Summarize the article 0:45
Quickly go through the bullet list summary of the article. It should be five points or so with a few words about each. Just list the key points as if you're telling someone about it in a voicemail message.
Get a little excited about it. Use your hands. Don't make it perfect. If you feel like you messed up, just pause, smile and do that part again.
5. Your CTA: Suggest that they click! 0:55
"If this sounds useful to you, just click the link in the post…"
"Click the link and check out the article for the full story…"
"The link in this post will take you to the complete process…"
6. Thank them for watching 1:00
Stick the landing with a very brief sign off. It can be one simple word: thanks.
That's it! Now do two or three more before you get up.
3. Import, size and sync
Since you recorded the sound on the laptop, the file in Camtasia is already open and ready to go. This is the easiest way to make a promotional social media video.
If you recorded this on your phone, share the raw video file with yourself to get it onto your computer, then open it in Camtasia.
If you used an external camera, plug the SD card into your laptop, copy the file onto your desktop, then drop it into the open Camtasia file.
You want your head to be big and centered. Remember, it's social media. On a desktop, it will appear in just a small part of the browser. On mobile, the entire screen is small. Let your face fill around 30% of the video. And scootch it up a little so there's room for captions and the video player controls below your face.
4. Edit it down
Editing is really just cutting out the mistakes and trimming it down to that one-minute mark. Don't try to make it perfect. In fact, those little breaks and imperfections are a benefit. They're called "jump cuts."
Knowing that you can clean things up in post-production makes shooting easier. Just do it in one big take and then trim out everything but the good parts during the editing process.
5. Add captions and overlay text
Captions are critical. In the social stream, the video will start playing without sound as they scroll toward it. Our goal is to slow them down and catch their attention. A silent, talking head doesn't have a lot of stopping power. We're here to make a social media video with text overlaid on top.
The text of the captions will draw them into the content. They're also important for accessibility.
Here's a quick screencast of me doing the editing for one of these videos. This is 4x speed so you can watch the entire 14-minute editing/captioning process in about four minutes.
Wave.video is another super easy way to add text to a video. You can quickly put beautiful text animations on top of any video, creating a compelling little intro and saving it to the right size for any social network. Check out this demo…
6. Export the file
Save the file as an MP4 to your computer. Now you have a tiny video ad for your latest content, ready to be uploaded to any social media channel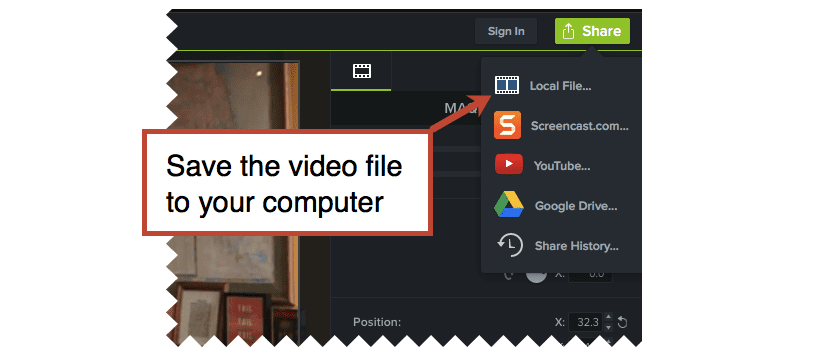 7. Add campaign tracking code to the link to the article
The social network will show you basic engagement metrics (likes, comments, shares and views), but it won't show you if visitors clicked (traffic) or what they did after they landed on your site (conversions).
For this, you need campaign tracking code. Adding campaign tracking code allows you to track traffic from that link separately in Google Analytics. It appears as a campaign, available in your Traffic Acquisition reports.
Use a simple URL builder to add campaign tracking codes (the medium, source and campaign name) to the link to your article. You'll find simple instructions here.
For my LinkedIn video, I kept it very simple. Source: linkedin, medium: email, campaign name: video-email-open-rates. It adds a parameter for each element to the end of the link. That's all it does.
You'll then use that link with that tracking code in your social media post, allowing you to track the traffic, engagement and conversions in Analytics.
Here I've done it using our own little URL builder. It's very simple.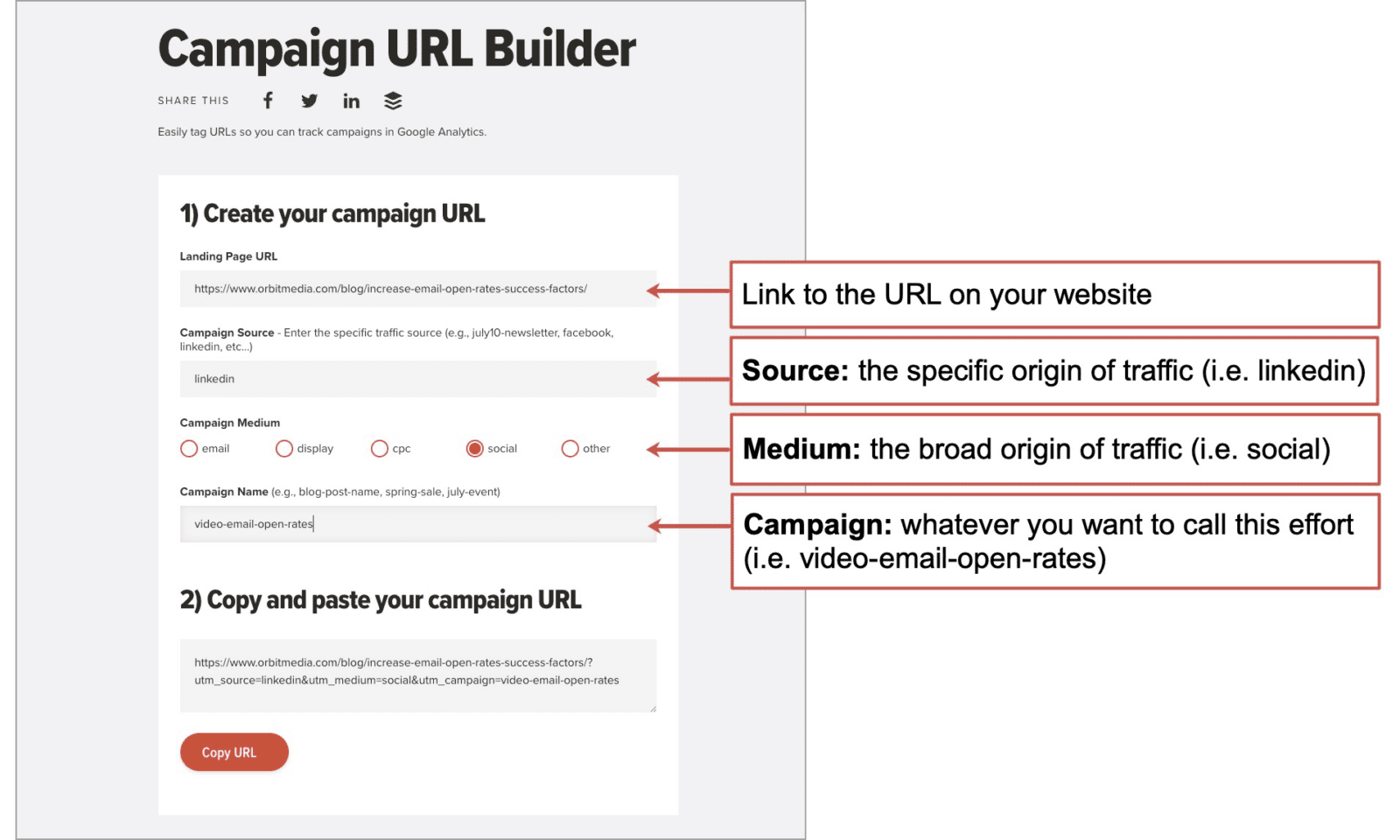 To make it easy, our tool lets you select the medium from a few simple options. It also forces lowercase letters to prevent the same effort from appearing twice in GA4.
It may be an engaging short video on the social media platforms, but was the visitor engaged after they visited your website? This is the only way to know for sure.

8. Make the social media post!
Create a new social media post and import your video to the social media platform. Then, add the link with the tracking code. Next, you need to add the next and make the rest of the post use every trick in the social media book to catch the visitor's attention.
Use numbers, quotes and hashtags
Add line breaks and special characters
Mention contributors and others
Mentions are a key ingredient in social media posts because they immediately make them visible to people who may share them. Adding contributor quotes to your articles (like this one) make your content better, make marketing more fun, and gives you someone to mention on social media when the article goes live. I highly recommend any form of collaborative content marketing.
ProTip! Post the social media video a few days after the article first goes live. That gives you the opportunity to thank (and mention) people who already commented or shared it.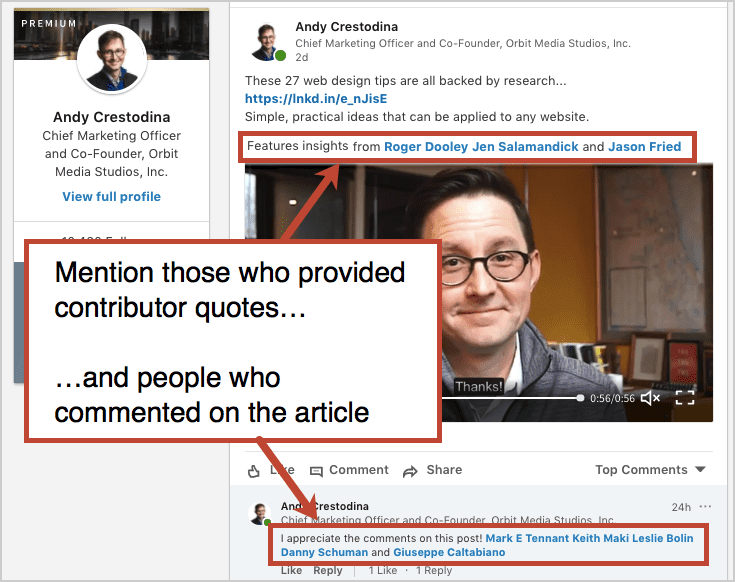 The video itself will do wonders for your click through rates, but the formatting and mentions are important too. If you need ideas, check out these social media post examples.
9. Promote the social media video/post
Now that the post is live, it's very helpful to jump-start the conversation by sending it to a few people right away. This helps trigger the algorithms that push the video to the top of the social streams.
Take a minute to get the word out by sharing the link of the social media post itself. Here's how to grab that link and send them directly to the social post.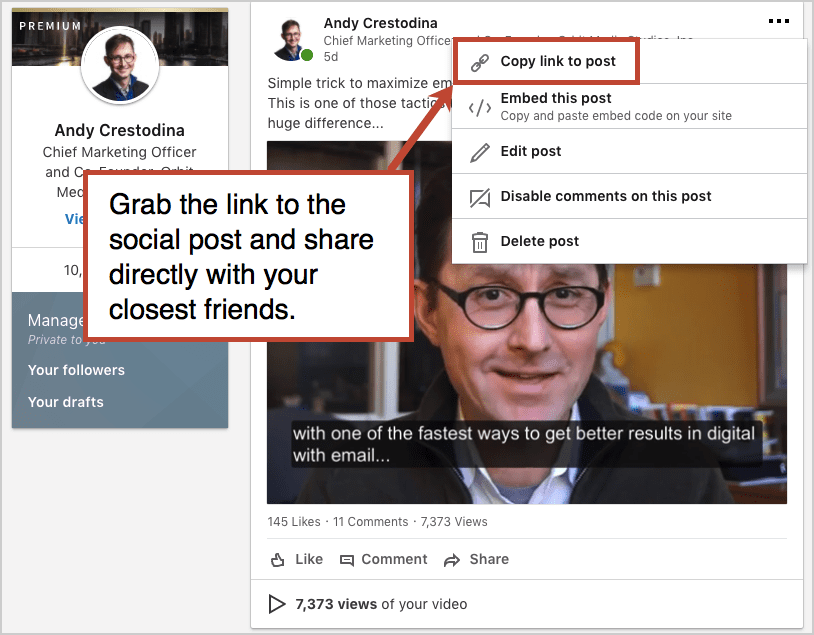 Here are a few quick ways to share it with close colleagues who may give it a quick like, comment or share…
Email to a few close friends
Share it within a relevant private group
Post it in an internal Slack board, Google Chat …or the person sitting next to you
If they're truly close friends, the request will be very short.
"Super quick favor! Could you please take a look at this post and like it or comment if you think it's deserving. Thanks, buddy!"
If you really want to throw gas on the fire, there are tools that make it easy for your internal team to amplify any social post. Gaggle and or the LinkedIn "My Company" are two of the biggies. You can't require your team to promote the brand from their personal accounts, but some may be happy to, especially if they were involved in the content.
Keep engaging on the post by replying to all comments. The social platform will put the post in more people's social streams if it has strong engagement, especially comments. So if a question appears in a comment, go big in your answer, tagging anyone who may be interested.
Time out …this entire idea sounds crazy
Yes, I'm suggesting making commercials for articles. I'm suggesting sending emails to promote the videos that promote the content that promotes your business. It does sound crazy.
Things used to be so much simpler, didn't they?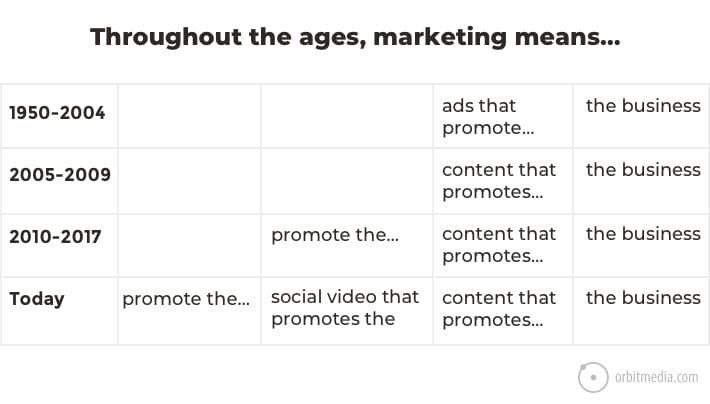 It's very indirect. Very meta. But it's effective. It's an excellent way to do marketing.
Content is a great way to promote a business. Social video is a great way to promote content. And directly sharing the video with close friends is a great way to promote the social media video.
10. Measure the impact in GA4
Time to measure the impact. There are two places to see how we did, the analytics in the social platform and the data in Google Analytics (GA4)
The social network will show you the number of likes, comments, shares and views. But keep in mind that a "view" in social media is a video playing for just three seconds. They may have just slowed down a little bit as they scrolled past. Social metrics aren't really what we're looking for.
The campaign tracking code we added lets us see the traffic, conversion rate and new email subscribers from your social media video and post will be in the Acquisition > Campaign report. Just add a filter so it shows only traffic where the "Session medium" is "social."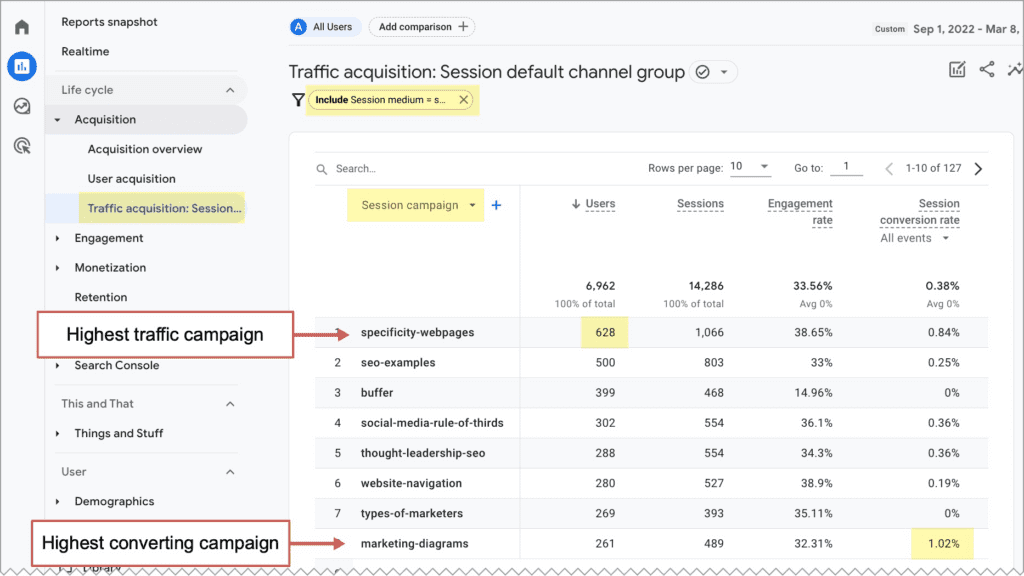 There are several other ways to measure social media traffic using GA4, but adding campaign tracking code is the only way to see traffic from a specific social media post.
Now here is the traffic for one social media video and social post on LinkedIn. This was promoting a webinar we did about using AI for marketing (fun topic). It did well, but it was a lot of work to put together, so we made a social media video to promote the recording.
Here are the results…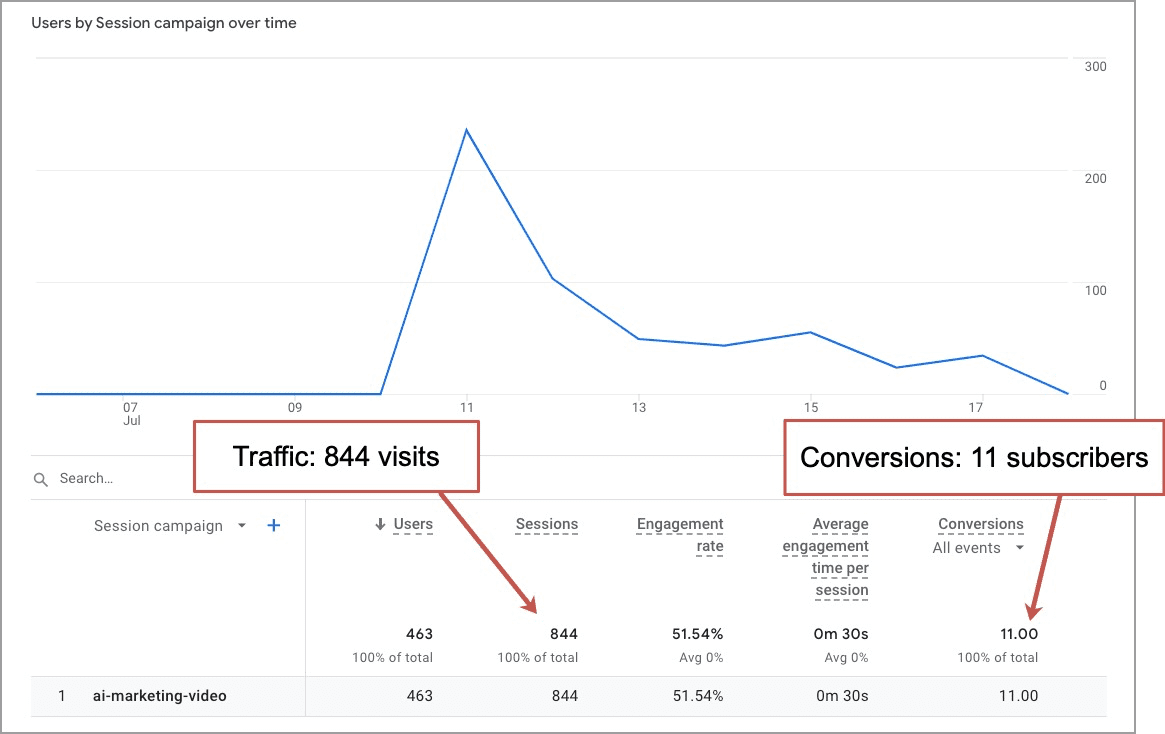 Two things are remarkable about these results:
800+ visitors and 10+ subscribers from a single social media video post
The lifespan of that post was one week
You can see the social media post with the short video with text right here.
The visits from the social post and video above went even higher after I took this screenshot. Visitors from more recent posts were lower but still in the hundreds.
The reach of the video is a function of the size of your network. Larger and more active followings will see greater reach and engagement from any social activity. Results vary.
It's a lot of work, but it's worth it…
It might seem insane to spend 20 minutes on a single social media post. That's like ten times the normal effort. But for us, the results were even greater.
Here's the kind of traffic we've come to expect from these kinds of social videos with text overlaid:

Still, it may not be realistic to put in this kind of effort for every single article. So focus on those articles that convert visitors into subscribers at the highest rate. Before making a bunch of social video content, do a content marketing audit and discover your best mousetraps.
These are absolutely worth 10x the promotion. They'll get you 100x the results for the effort.
Related: How to track video views in GA4
---
| | |
| --- | --- |
| | "At LinkedIn, we create short video commercials promoting the content on the LinkedIn Marketing Blog. All of our team members do one of these every month or so. We compete to see who can create the most inventive video. I did a video with my dog in it, which generated 359 Likes and 17.6K views. My colleague, Judy Tian, borrowed from Bob Dylan and used handwritten cards in her video. That video got 326 Likes and 23.3K views. Bottom line is this stuff works." |
---
Bonus! Now squeeze a little more value out of it…
All the hard work is done. You now have an amazing little piece of social content you can use many times and in many places.
Share the video in another social network
Share the video in private groups
Embed the video at the top of the post (but first, give it a custom thumbnail. Amy Landino has tips for that here)
Put that thumbnail in a future email newsletter. It will probably do wonders for your click through rate!
If social media video marketing had been one of your goals, you've checked the box.
Any other ideas for getting more value from a social video? Or ideas for making them easier to create? Please share your tips with your fellow readers in the comments.