You're ready to start a marketing campaign; a newsletter, social or some paid campaign. Your main goal is to drive traffic back to your website, convert that traffic into leads, and those leads into customers.
So, how do you tell which marketing campaigns were successful? Easy. Use the Google Analytics URL builder to track your campaigns.
There are many ways to use campaign tracking. We'll focus on email marketing and then you can apply that to all of your other marketing efforts (ads, social, affiliate links, etc…).
What is Campaign Tracking in Google Analytics?
Campaign tracking, also known as "utm tracking codes" simply allows you to add special tracking code to your URL. It helps to identify how users are getting to your site. For example:
Instead of using this link in your email marketing campaigns:
https://www.orbitmedia.com/blog/how-to-setup-google-analytics/
You would use this tracking link:
https://www.orbitmedia.com/blog/how-to-setup-google-analytics/?utm_source=december6-newsletter&utm_medium=email&utm_campaign=how-to-set-up-google-analytics
See all of those extra goodies in your link? That is the campaign tracking code.
Why use the Google URL builder?
Most of your marketing, whether it's an email, an ad, social promotion or any other marketing effort, has the same goal: conversions or awareness.
The URL builder allows you to track each marketing effort separately in Google Analytics. If you don't track your marketing campaigns they get lumped in with all of your other traffic. So how do you know what's working and what's not?
This is especially important for paid marketing. If you're spending money, you should definitely know what's getting you the best results. Before you get started, you should have goals set up in Google Analytics. Here are detailed instructions.
Your email service provider or social platforms will show you click through rates, impressions and views but they don't tell the entire story. In Google Analytics you can see exactly which campaign drove the most sales, subscribers and leads.

How do I use the Google URL builder?
It's very simple and we built a URL builder to make it even easier.
Step 1: Enter the link you want to use to take visitors to your website.
https://www.orbitmedia.com/blog/how-to-setup-google-analytics/
Step 2: Add the three main parameters that you'll want to track.
Campaign Source: This tells Google where traffic is coming from: december6-newsletter.
Campaign Medium: This tells Google what kind of source it's coming from: email.
Campaign Name: This simply describes your campaign. We are using the blog post that we wrote on How to set up Google Analytics, so I used how-to-set-up-google-analytics as our campaign name.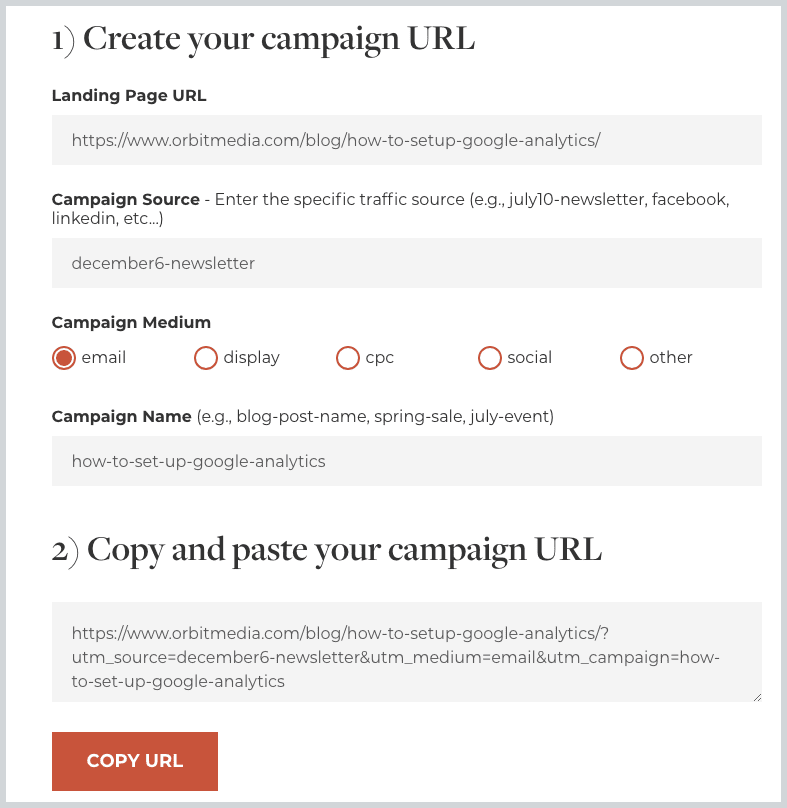 As you type, you will see that the new URL is being auto-generated.
Step 3: Click on "Copy URL" and paste it into your email newsletter (ad, social, etc…) instead of your regular "untagged" link.
Bonus! You can see at the end of our URL builder, it will show you exactly where this will appear in your Google Analytics campaign report. We'll also dive deeper into reporting below.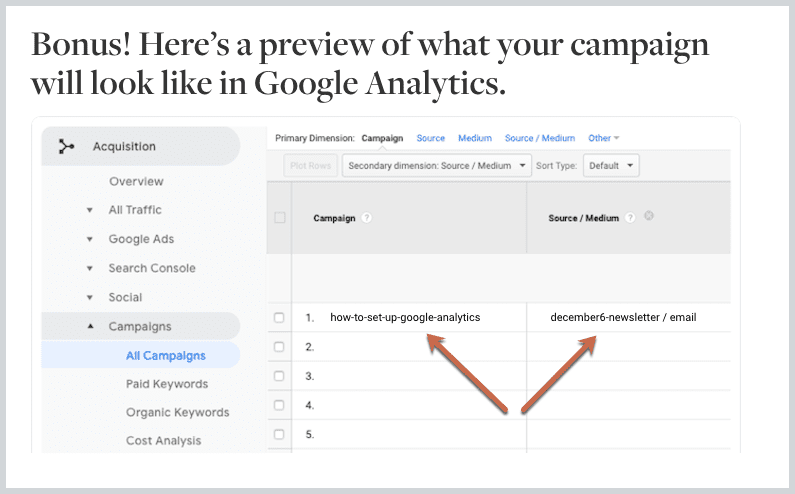 Repeat these steps for all of the links that you want to track in your marketing.
Where do I find my campaigns in Google Analytics?
Now we can dive a little deeper into reporting. If you want to see email deliverability, clicks, and open rates, just log into your email service provider and view the reports. If you want to see who actually converted, log into to your Google Analytics.
Here are some examples of conversions you should track:
contact form submissions
newsletter subscribers
product purchases
Once you're logged into Google Analytics, go to Acquisition > Campaigns > All Campaigns. Here you're going to see how many visits you received from your campaign, how long they stayed on your website, how many pages on average they visited while they were there, the bounce rate and conversions.

Where can I see if my campaigns are converting?
To find actual conversions, look towards the top right of the table, below the line graph. You'll see a column for conversions. From the dropdown, you can select which goal conversion you'd like to see. In our example, we are looking at newsletter subscribers.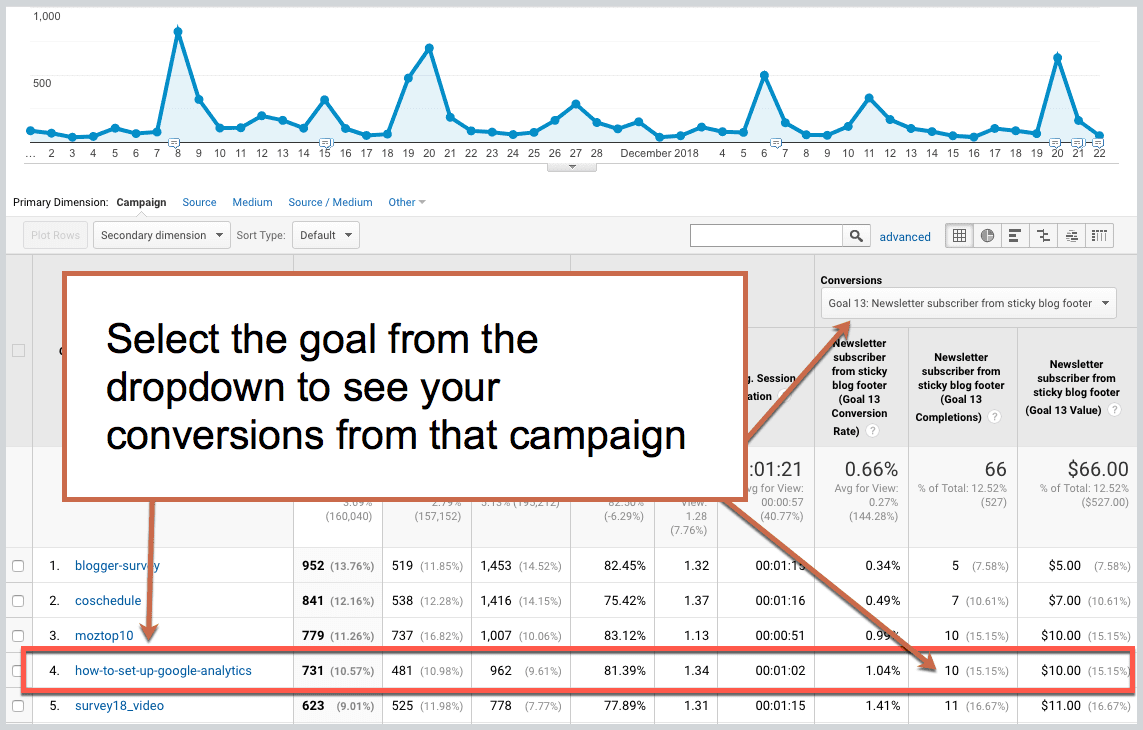 Now you're able to see visits and goal conversions for each campaign.
If you go back and look at trends over time, you can see what types of articles people spend more time on and which ones are more successful. If you want to get really geeky (and we hope you do), you can use Google Analytics and Google Sheets to see all of your top converting pages in one report.
That's it. Now you'll be able to see who is actually converting from your marketing efforts. If you have any additional tips, please leave them in the comments below!