"If there's anything that an online store needs, it's to generate lots of traffic and have sales flow in like rain.
Some people think it's easy peasy. You decide on the right product, set up your website, put out marketing ads, and sales come in. Sure, it's simple and you can get it done, but it's a long-term game that takes much effort to kickstart sales the way you'd like.
That's why ecommerce marketing is a big deal. Regardless if you are just starting an ecommerce business from scratch or you're years in, marketing is essential. You'll need marketing tactics to draw people who don't know anything about you to trust you and retain them.
In this article, I'll share tested ecommerce marketing ideas that I use to get the ball rolling. Before I go into that, you need to understand that blindly working with a marketing idea without defined goals and strategies is senseless.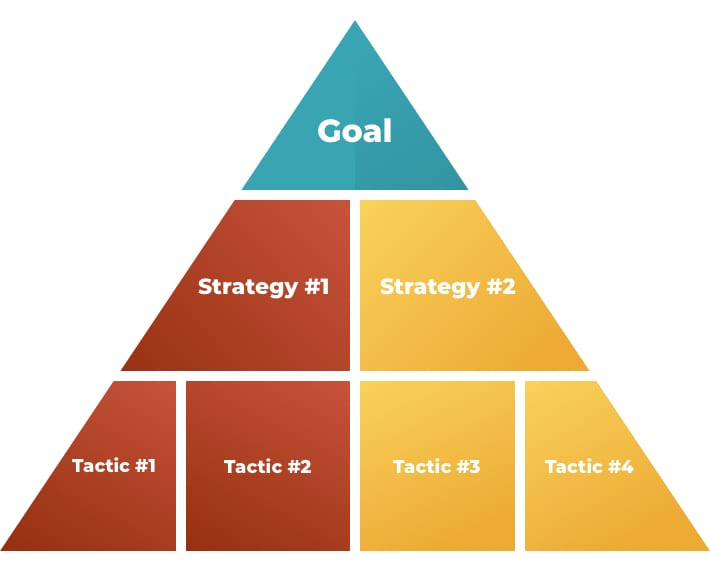 For any idea you pick from this list, you should align that idea (tactic) with your goal and strategy. If your goal is generating sales, it has to be more specific, say a certain amount of dollars worth of sales in a month.
Your ecommerce marketing strategy gives that goal a path, for example, increasing your brand's reach. The tactic then takes it from there into how you'll achieve all of that. When you have done that, you can pick ideas from this list that aligns with your strategy.
1. Define your buyer persona and use personalization to improve customer service
You need to have results from this tip before you can accurately use the other ideas in this article.
---
| | |
| --- | --- |
| | "Personalization for conversion has to begin with accurately identifying your ideal clients, and doing thorough research with customer interviews, surveys, conversation logs and recordings, so you understand exactly what they want, need and are missing." – Nichole Elizabeth DeMere, Growth Marketer & SaaS Consultant |
---
If you have ever correctly created an audience on Facebook ad manager, you know how specific your audience can get. That's almost what you should have. Your buyer persona represents a defined set of your target audience. Note down:
Demographics: age, sex, location, salary, education level, family status, occupation
Interests: Hobbies, values, attitudes, behaviors, lifestyle preferences
Personal: Goals, challenges, fears, pain points
If you are looking to sell eco-friendly diapers, then you'll look for people to buy that product. It's obvious that the primary buyer is a parent, but to get a concrete persona, you need a name, job, age group, and all.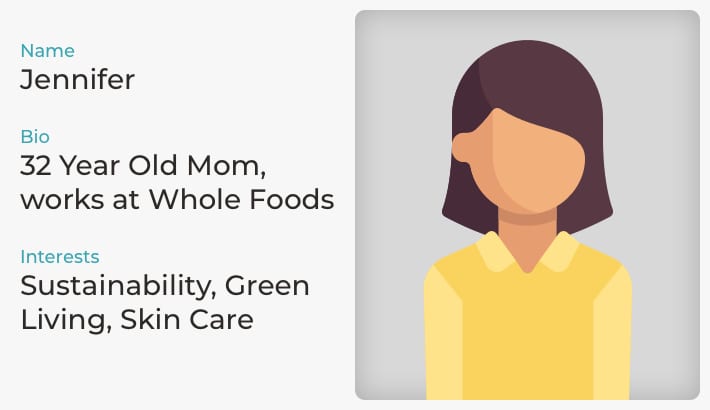 We are also not just only looking to get demographic data, but also pain points.
So, take a look at discussions in forums. Mom/parent forums and blog comments or product reviews are resourceful places to find those for our test product. You can start with a Google search for discussion. Type "Product inurl:forum."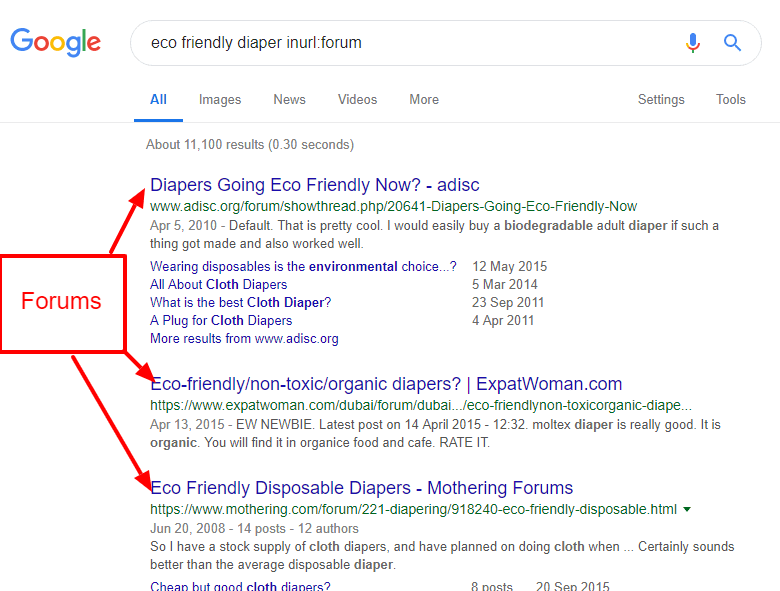 Then check popular ecommerce marketplaces like Amazon, AliExpress, etc. for comments and reviews left by buyers.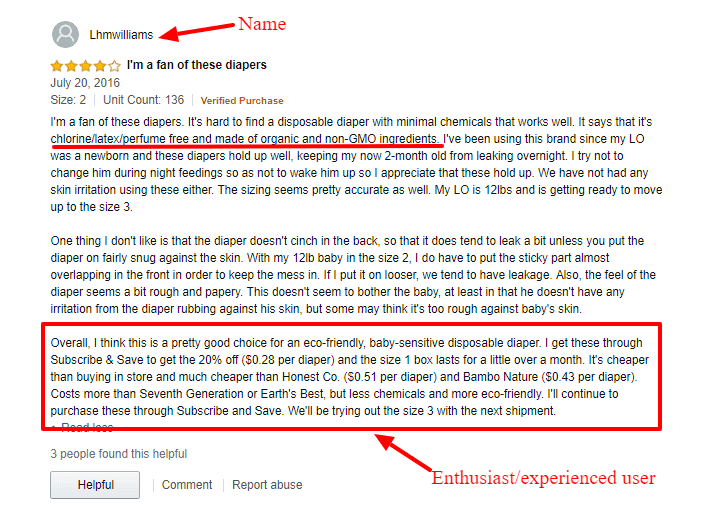 Look out for people who not only buy the product but actually cares about them, to build a unique angle around who your buyer is.
2. Bring in localization by presenting your website in your customer's local language
To increase your conversion rate and dominate your market, gear everything you do on your ecommerce website towards the individual customer.
If you are delivering products to people in Portugal, Italy, or France, for example, using the local language of those countries over English is one way to pave your way into that market. You don't have to spend many dollars on that. Some ecommerce platforms – Shopify, BigCommerce, WooCommerce – provide translation features that you can set to sell to some people who don't understand your language.
3. Use customer location to boost sales
There are many ways you could use individual customer locations to lift sales. Alloy Apparel shows the trending items local to the visitor. For visitors outside the US, they replaced that section with bestsellers.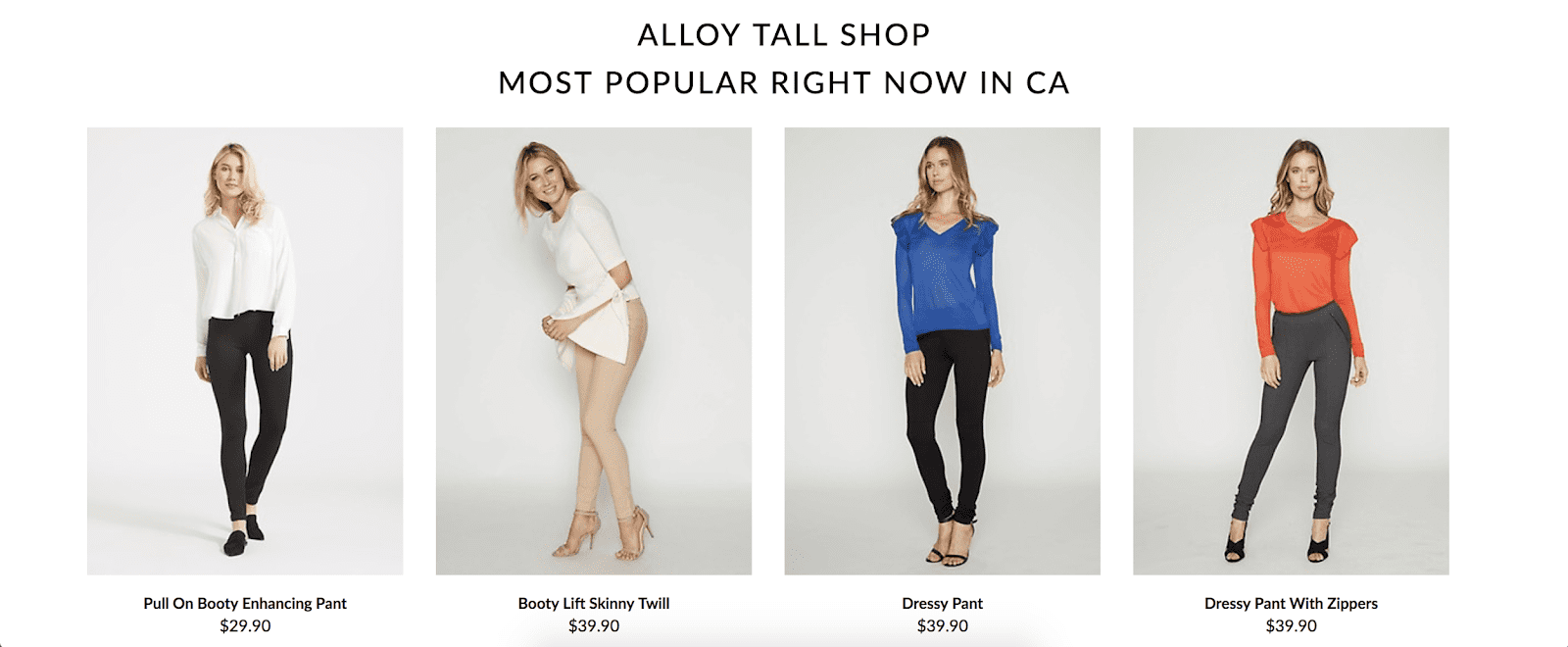 Another way you could go about it is sending offers to customers based on the weather in their location. If you sell women's clothes, for example, in October, your banner could show bathing suits to someone in southern California and coats to your Maine Customers.
4. Address people with their names and go further to make them feel special
This is not the 2000s people. If you are still sending emails without addressing your customer with their names, what are you doing?
Every day, your potential customers get tons of emails from so many businesses, ecommerce and otherwise. If you want to sell your products and increase your chances of them actually reading whatever it is you crafted, address them with their names.
Secondly, in your emails, provide relevant links to each customer from their history and preferences. Make sure the messages are relevant and targeted. You could go as far as asking customers to reply to some of your emails or sending birthday messages (if you have that info).
Bonus tip: don't over-personalize. That's a thing. The line between using their personal information to market and invading their privacy is thin. Don't cross it or they might perceive you as shady and take their money elsewhere.
5. Create epic content on a regular basis
For most things you want to write, I bet you there's content on it already.

At the time this post was written (around 7 am EST), that number of blog posts had already been published on WordPress.com according to worldometers, that's not adding those websites that are not on WordPress.com.
Creating content is more than SEO. Your content could rank on google, drive in mad traffic, and your visitors still bounce without purchasing anything because your content is not relevant. Sure, getting keywords with buyer intent and reverse engineering your competitors SEO strategy is great, but that's all for traffic. Sales will be the one to get growth.
Read: How to write a blog post to ranks high. 
Content marketing is about driving brand loyalty and building authority – two things that you can easily convert to sales.
To differentiate, either give a different, more relevant perspective to what's already on ground and/or write based on your own experience.
Whichever you go for, make it actionable. It should give 110%. Try to get images, videos even (how-tos are good rockets), screenshots, quotes, and other types of graphics that provide information to your visitors. Also, be yourself and write in your tone.
6. Scale up your content strategy by capitalizing on events that matter to your audience
One massive way to convince people to buy from you is putting your messages in the right places at the right time. Remember this?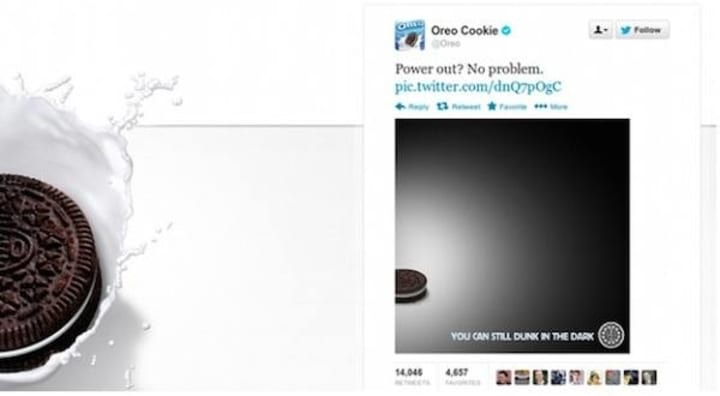 Oreos took hold of the 34 minutes blackout at the Super Bowl XLVII stadium to show this.
You may not have the on-hand design team that they have, but you can come up with a way to astonish your audience in something that matters to them. In this case, the Oreos' TA loves snacks during a game, add in the timeliness and humor of this ad, and you get more people who know and are willing to buy because there's an amazing connection.
7. Use user-generated content to encourage sales
If you don't have the time to craft fantastic content, let your customers do it for you. In some cases, that works better on conversion rates. That's because customers like to see that you include them in what you are doing. Another thing is that customers trust information from other people over what you're going to say.
User-generated content takes many forms. Guest posts and reviews are a big part. You could add those and go further, like Doritos with the super bowl ads of previous years or the #RedCupContest from Starbucks.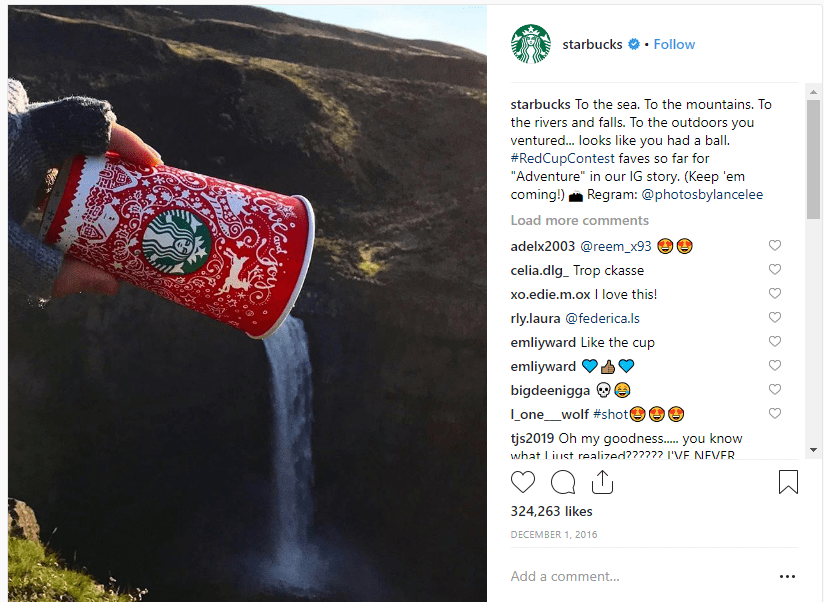 Contests are also a great way to build your email list or social media following.
You could also ask for UGC for a cause. At different times, Aerie, a female apparel brand gave $1 to the National Eating Disorders Association for every unretouched picture people took in either an Aerie underwear or swimsuit and posted with the hashtag #AerieREAL. That increased the brand's popularity and sales.
The last UGC I'll mention here is affiliate marketing. Letting others do the work for a small commission drives sales and bumps up revenue.
8. Send wishlist reminder emails to convince shoppers to take the last steps
Sending email for abandoned carts is a popular tactic. It's great. However, you can up your game with wishlist reminder emails.
It's so easy to forget items in our wishlist. I spent time on my profile after purchasing an item a few weeks ago and realized I had wishlist items from years ago that I didn't buy. They weren't even available anymore.
When someone places an item in a wishlist, it means they want it, so remind them.
Convince your visitors to take the final plunge in purchasing the products they have shown intent to buy. You could put urgency especially if it's selling out; no one wants to miss out on a product they like. Alternatively, you can give a special promo like a discount or free shipping if they purchased.
9. Optimize your product descriptions to speak to the buyer persona
One mistake people make in their ecommerce store is having a copy-paste product description from the manufacturer's website or just describing the features. That's the lazy person's way out that does nothing for you.
Every experience should speak to the customer. Your product description shouldn't be different. I know it's cotton, but what does that do for me?
Starting with your page title, make sure it's well thought out, relevant, and delivers its message in less than 66 characters. Don't clutter it with so many keywords all because you want to rank for search engines. Remember you are not selling to search engines but people. While SEO is important, think of your customers as well.
Make features fulfill the interest of your customers. You have defined who they are, and their pain points so make your features benefit oriented to fit the need. Even as you do that, do not leave out the critical information.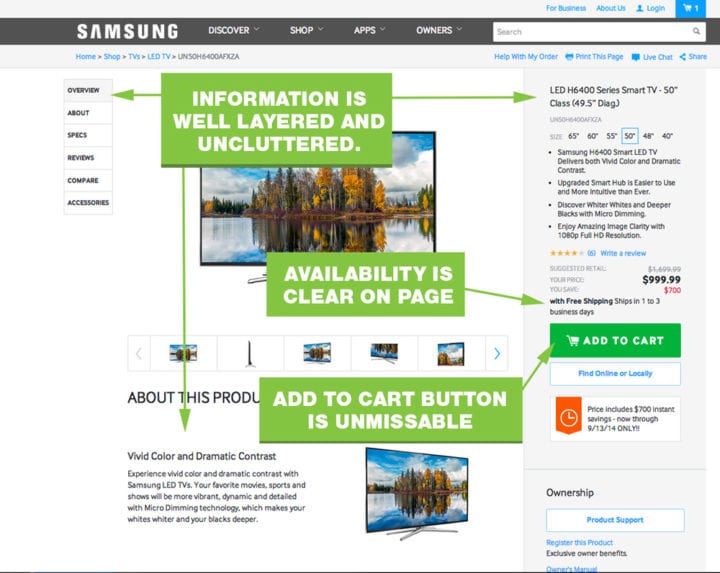 Also, write for your buyer persona. Your brand tone comes out of what you want to represent and who your customers are. Stick with that tone in your copy to connect with them and convert.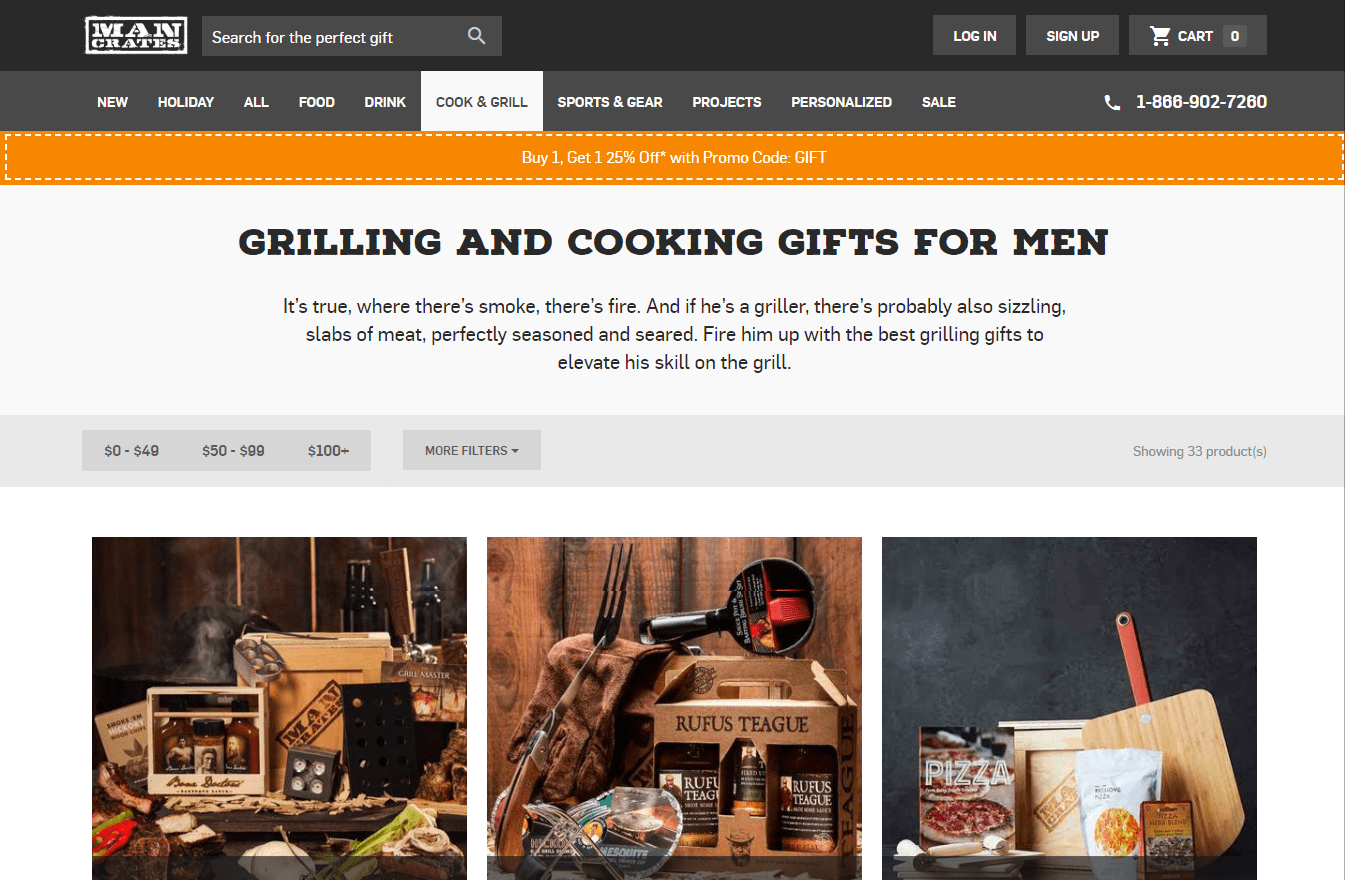 Looking at Man Crates website and their product pages, you can see that their copy has grit and tells who they are talking to because of the consistent strong voice.
10. Invest in high-quality product images to stand out
You better realize that every copy and product image tells a story to your visitors. The easiest thing to do is get product images from the manufacturer's website, but that may not represent you. Take shots that say what you want to say. Get multiple angles with good quality. That way, it's possible to see the back or zoom in.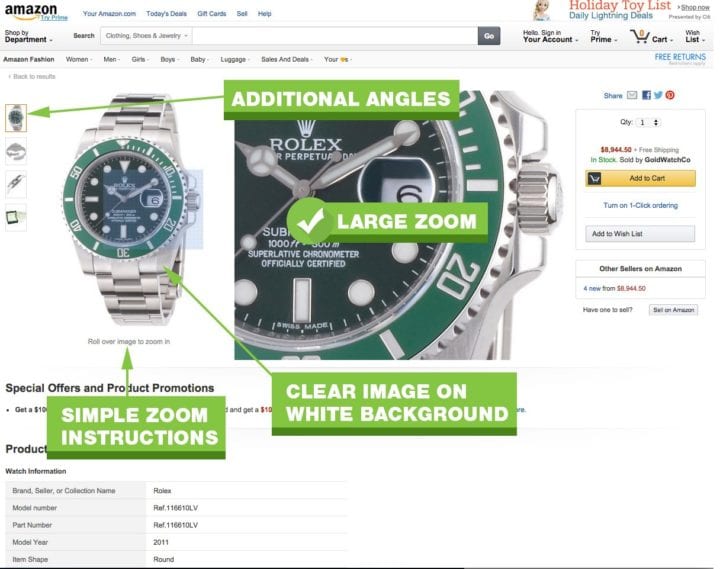 11.  Use a loyalty program to get repeat purchases
Getting a customer to make the first sale is 6-7 times more expensive (and harder) than getting them to make repeat purchases, especially if they had a good first experience. If you are a one-time wonder, you'll spend more on marketing and lose out where you would have gained. Optimizing for Customer Lifetime Value (CLV) is a proven route to scale up.
Customer loyalty programs give CLV.
Courtesy of: Ecommerce CEO
A loyalty program entices customers to return and keep on purchasing. They are easy to set up, and as long as you do it right, people will flock in.
Make your customers feel like spending more money on your store by appreciating them with a reward. You can give points that they can use to get free products, discount coupons, free shipping, or if you offer subscriptions, they could get certain days/order free. When people feel a connection to you or your program, you're on your way to success.
SaaS ecommerce stores, like Shopify, offer the ability to integrate apps that do everything from streamline your marketing, to adding customer-friendly chat boxes. Check out this list of Shopify apps to help increase conversions.
Once you have loyal customers, referral programs can accelerate growth.
Final thoughts
As you pick these ecommerce marketing tips to kickstart sales on your online store, A/B test to tighten up the slack areas.
You have to keep improving your sales and marketing process regularly to make online shopping as seamless as possible for your customers. A marketing plan without testing is sailing blind; you could hit a brick wall. Test parts of your product pages, checkout process, and landing pages. Use the results of those tests to improve your process.
What stage are you in your ecommerce marketing? Do you have any questions or concerns? Let me know in the comments.