We build a lot of e-commerce sites, so our clients frequently ask about adding product reviews to their sites. In almost every case, my recommendation is "no." Here's why…
Yes, you can moderate reviews to make sure you don't display anything inappropriate or overly negative, but you also have to be okay with some 3- and 4-star reviews. If every product on your sit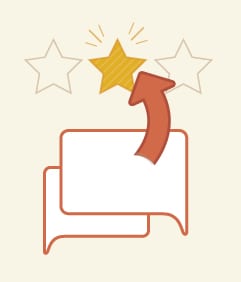 e has excellent, 5-star reviews, you'll lose credibility.
The bigger problem is that most e-commerce sites don't get enough traffic to generate a good amount of reviews. For most businesses, adding a review feature means 95% of their products will have a "be the first to review" link. This isn't meeting anyone's goals.
Although I'm not in favor of a review feature for most e-commerce sites, I do love reviews, testimonials and recommendations. They're little jewels of third-party content, but most people don't know how to get the most out of them. So here are the DOs and DON'Ts of using them properly:
DO Mine Your Recommendations
People may already be saying nice things about your business, your products or yourself on other websites. If you find these, you can use them in other, more visible parts of your marketing.
Mine through these sites like you're panning for gold. Be ready to copy any nuggets you find and paste them into your site:
Google Places (find your listing in Google Maps)
LinkedIn recommendations
Google+
Bing and Yahoo!
Open Table for restaurants, Trip Advisor for travel, etc.
Yelp!, Merchant Circle and other listings
and yes…Twitter
You should be watching these listings anyway, either by subscribing to updates from each site or through Google Alerts set up for your business name.
DO Check Your Inbox For "Reviews"
In many cases, "reviews" show up in your inbox. They're emails from fans and happy clients. Your first instinct should be to write back and say thank you. Your second instinct should be to use these in your marketing.
If appropriate, politely ask the sender to copy and paste the review into a site such as LinkedIn, Yelp! or your Google place page. If they do, you should be eternally grateful.
DO Solicit Reviews From Superfans
If you have a web page or business listing that needs a review, you can probably get one easily. Just pick one of your biggest fans and ask.
I know it's hard, but you have to get over the hesitation and social awkwardness of asking for the favor. Do it. It's worth it. Then thank them profusely. If they're giving you a testimonial for your site, you may even want to link back to them.
All the stuff about "you should thank them" or "you should be grateful," while true, may come off as patronizing. Adults don't want to be reminded to do stuff their parents told them to do over and over again when they were children.
Reviews are becoming one of the main ways for businesses to stand out in Search. We know it increases click through rate, and many are speculating it could be a ranking factor too. Connecting the dots…this means more high quality reviews may well equal more customers. If you have not claimed your listings, or haven't put in place processes to make it super easy for your best customers to leave you reviews, you will want to get started ASAP.
DON'T Make a Testimonials Page
It's very common for people to want a page for testimonials. They're great right? Of course! But do you think people will go to a page to read them all? Do you ever visit "testimonials" pages? Probably not.
For our best advice on testimonials, see our complete guide: How to Find, Write and Use Persuasive Testimonials.
DON'T Add Reviews Before Doing Your Research
Before you decide if you're going to spend the money to add "reviews" to your website, please take these tips into consideration:
Ask your web vendor what they think
Look at your analytics to see if you're getting enough traffic to your product pages to justify reviews
Talk to other site owners that have implemented reviews and see what their experience was like
Google yourself and see what people are already saying about your company or products
Bottom line, make sure that people like you enough to say nice things about you. No one wants a site full of bad reviews. Or even worse, no reviews at all.
So, was this review article helpful? yes / no