We recently conducted a blogger survey to get a feel for blogging habits. We did a massive push to get over 1000 bloggers to participate. In this post, we'll share our notes, show you how we did it, and let you be the judge of our approach. Hopefully, you'll also learn a bit about how the survey marketing worked.
How'd we do it? Was our method legit?

How can you do it? Is this marketing effective?
Goals
We often create content because we find it interesting. But in this case, we were a bit more strategic.
Produce original research on a topic that is frequently discussed, but rarely studied: the effort that goes into blogging. This research would make our site a resource for people who need this data, increasing our general relevance online.

Reconnect with hundreds of contacts and old friends.

Build relationships with bloggers and make new friends!
Method
The number of respondents relative to the total population determines the statistical relevance. We really don't know how many self-identified "bloggers" there are in the world, but we assumed 1 million.
If there are a million bloggers, the survey needed at least 1000 respondents to have a 3% margin of error with 90%+ certainty. We used this tool to do that calculation.
We wanted to make the survey short, but still give us real insight into the work that goes into blogging. No one complained about the length. A few even suggested we add questions next time. We chose FluidSurveys partly because it let us use our own thank you page.
Getting the Word Out: Brute Force
Getting the word out was a ton work. We don't have huge social networks, so we used the "brute force" method of personally reaching out to blogger friends.
We found more bloggers by scrolling through thousands of connections on LinkedIn, Google+, and past attendees of our events. These were not template-based emails. There was no automation involved. It was all personal.
We sent 233 personal messages through email and LinkedIn, inviting people to respond and asking politely if they would share. Some of these emails included an image, which they could use if they shared on a social network.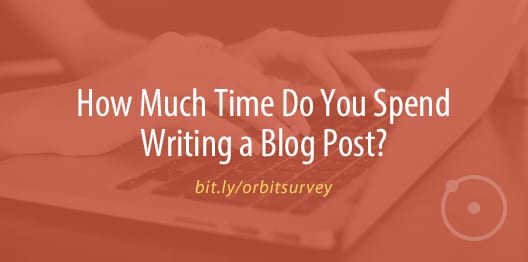 We immediately learned two things: massive personal outreach is hard and it's fun. It was great to reconnect with so many old friends. Amazingly, one of those conversations turned toward sales and will likely become a lead.
If you have the time… I recommend doing large-scale personal outreach for a survey or for any reason.

If you don't have time…  there are much faster ways to promote a survey. Here's an example of how Groove HQ did it by giving away subscription-based products from partners.
The other benefit of the outreach is that the list for possible respondents is also the list of people to share it with once it's live. We grew this list as we kept sharing, adding people who asked to see the results once the survey was complete.
The outreach list has changed from "hey, would you like to take this survey?" to "hey, want to see the results?" The best content is created with promotion in mind.
More ways to get the word out…
Other promotion techniques, with their costs and results were as follows…
LinkedIn Ads
$119.97 = 37 clicks (6,141 impressions)

Facebook Ads
$30.00 = 98 actions (9,124 paid reach)

Thank you page / send to a friend function
3 hours = 28 email shares
We didn't consider any of these to be very successful.
Time Invested
The first question in the survey is "how much time do you spend on a typical post?" Finding the answer to that question was one of our main motivations for doing this. We knew that our posts were usually 4-6 hours of work, but most blogs were spending much less time.
In case you're wondering, this "blog post" was more like 90-100 hours of work.
Writing the questions: 1 hour

Researching survey tools: 2 hours

Building lists: 4 hours

Outreach: 60 hours

Analysis: 8 hours

Writing and Editing: 4 hours

Design and Implementation: 15 hours

Promotion: ???
Here's an example of a blog post that goes way over the top. Three people worked on it, before, during, and after office hours.
Kind Strangers and Generous Friends
It would be impossible to thank everyone who shared the survey, but here are a few who stand out. We owe each of you a huge thanks…
Gini Dietrich for linking to the survey from within several blog posts. Heidi Cohen and Ian Cleary were also nice enough to put the survey into their email marketing! Jay Baer, Martin Shervington, and Lisa Loeffler were very generous to share on Google+. You can see the "ripples" from these shares below. Jon-Mikel Bailey pushed this hard on Facebook, along with Gini. Molly Cantrell-Craig sent a personal email to her network. Adam and Toby from downunder shared this everywhere. Roger Parker was generous as always. Mack Collier for mentioning this at #blogchat and Jennifer Lehner tweeted this to loads of blogger friends. And our course Mana Ionescu for her input, insights, and influence.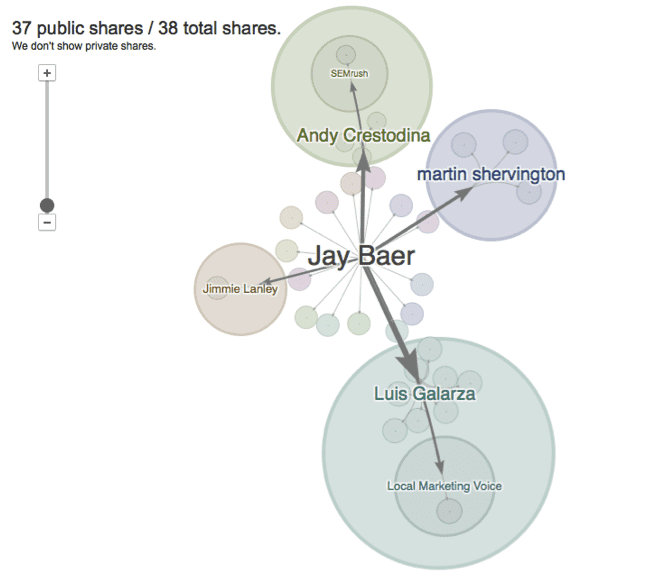 Thank you all! You are all officially lifetime members of the Department of Blogger Labor.