It is expected that video traffic will account for 82% of all online traffic by 2022. Videos can also generate more leads. This is why if you want to continue generating leads and traffic from your marketing efforts, you need to create more videos.
And the best network for this is YouTube as it has 1.9 billion monthly active users who consume 5 billion videos daily. As you can only publish videos on this network, you can be certain that your videos here will generate more engagement than on other networks.
To help you get the most out of it, I have made a list of the top YouTube tips and tricks that will generate more views, subscribers and leads…
1. Use keywords, tags and hashtags
Creating quality video content will help you stand out on YouTube. But that alone won't be enough as you should accompany the videos with the right text in the title and description. The text should include the right keyword. This can help your video rank higher in search results and generate more views.
So, when you come up with the topic idea for your video, you need to do some research to find relevant keywords YouTube's users are searching on the network.
You can then add them to your title and description. But be careful not to stuff these keywords. They should smoothly fit in with the rest of the text. Stuffing keywords can make your videos look spammy. Remember that YouTube isn't just a video search engine. It is a combination between a social network and a video search engine.
This keyword research will come in handy when you run ads too as you can target people who are using relevant search terms.
You can also add the keywords to your tags as they can help your videos rank higher.
To find these keywords, you can use Keyword Tool.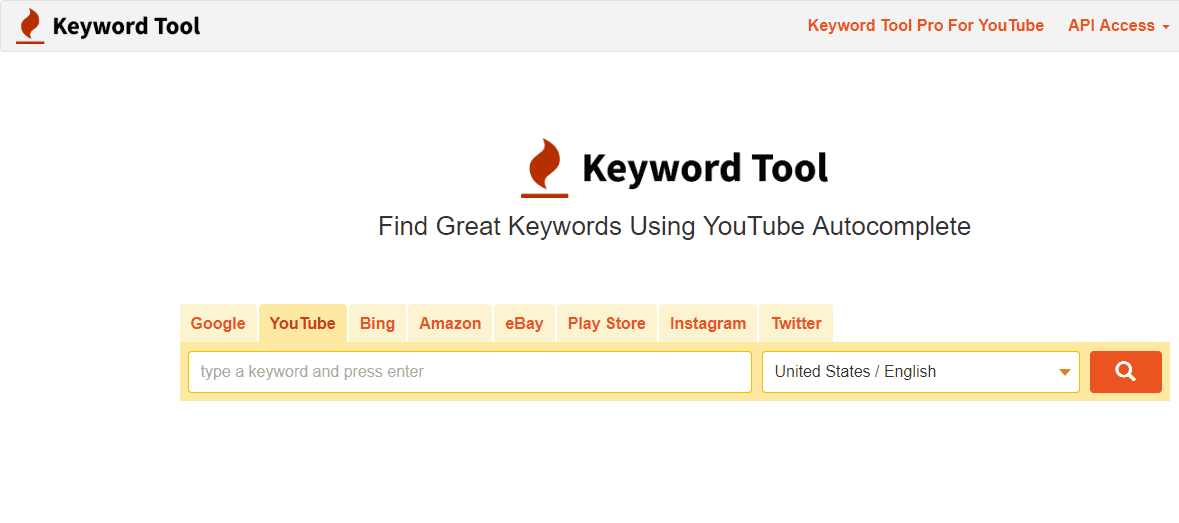 If you type in the topic you are creating the video on, it will show you the most relevant keywords people search on YouTube. You can also check the questions and hashtags people used.
It will also display the search volume, trends and competition for all the keywords.
So, before you create your videos, find the most relevant keywords and hashtags people are searching on YouTube and add them to your video title and description.
2. Use banners and thumbnails to drive views
Along with the text and videos, you should also add images to optimize your channel. The two main images you need to create are the banner and the thumbnail. The banner can be used to promote your products and your channel.
While thumbnails can be used to generate attention and get people to click on your video.
For some inspiration on creating banners and thumbnails, you can check out the Nat Geo Wild YouTube channel.
They have a banner image that promotes one of their latest shows.

And their videos have thumbnails that contain a still from the video and are labeled with the name of the series.

You should be creating quality thumbnail images. Like Nat Geo Wild you can take a still from your videos or you can download professional quality images from stock photo sites like DepositPhotos and then modify them by adding overlay text.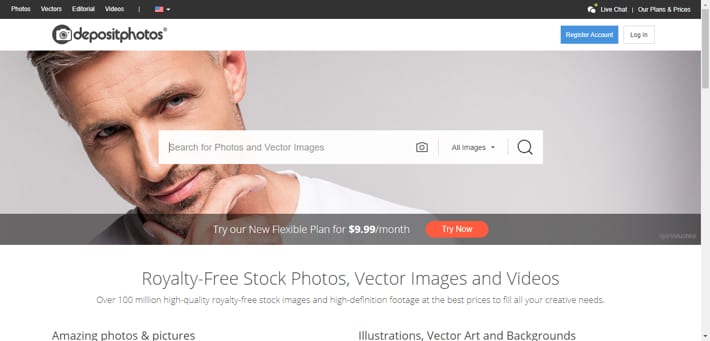 If you use stock photos, you should make sure that the color theme of your brand matches the thumbnail. Depositphotos has many vector images so modifying them to suit your video/brand colors shouldn't be a problem.
The overlay text you add should either be the title of the video or the series.
3. Add captions
Ply Media found that videos with subtitles were watched 91% to completion. Whereas those without them were watched 66% to completion.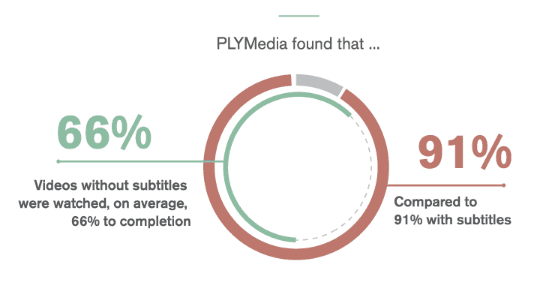 So, you should begin adding subtitles and captions to your videos to make them accessible to more people. To quickly add subtitles to your videos, you can use Screencast-O-Matic's video editor.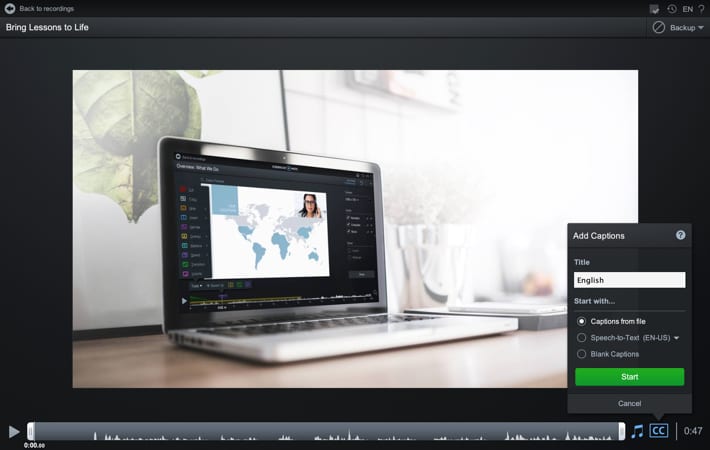 They have a speech to text feature that automatically adds captions to your videos. You can also add captions by importing a caption file or by adding them in manually.
Screencast O Matic is a complete video editing software so you can also use them to edit your videos and remove gaps.
4. Add conversion-focused end cards
When you watch videos on YouTube you might have noticed that around the end some popups appear asking you to watch another video or to subscribe to their channel. This is known as the end card and it can last 5 to 20 seconds before the video ends.
Here is an example of an end card from The Dodo…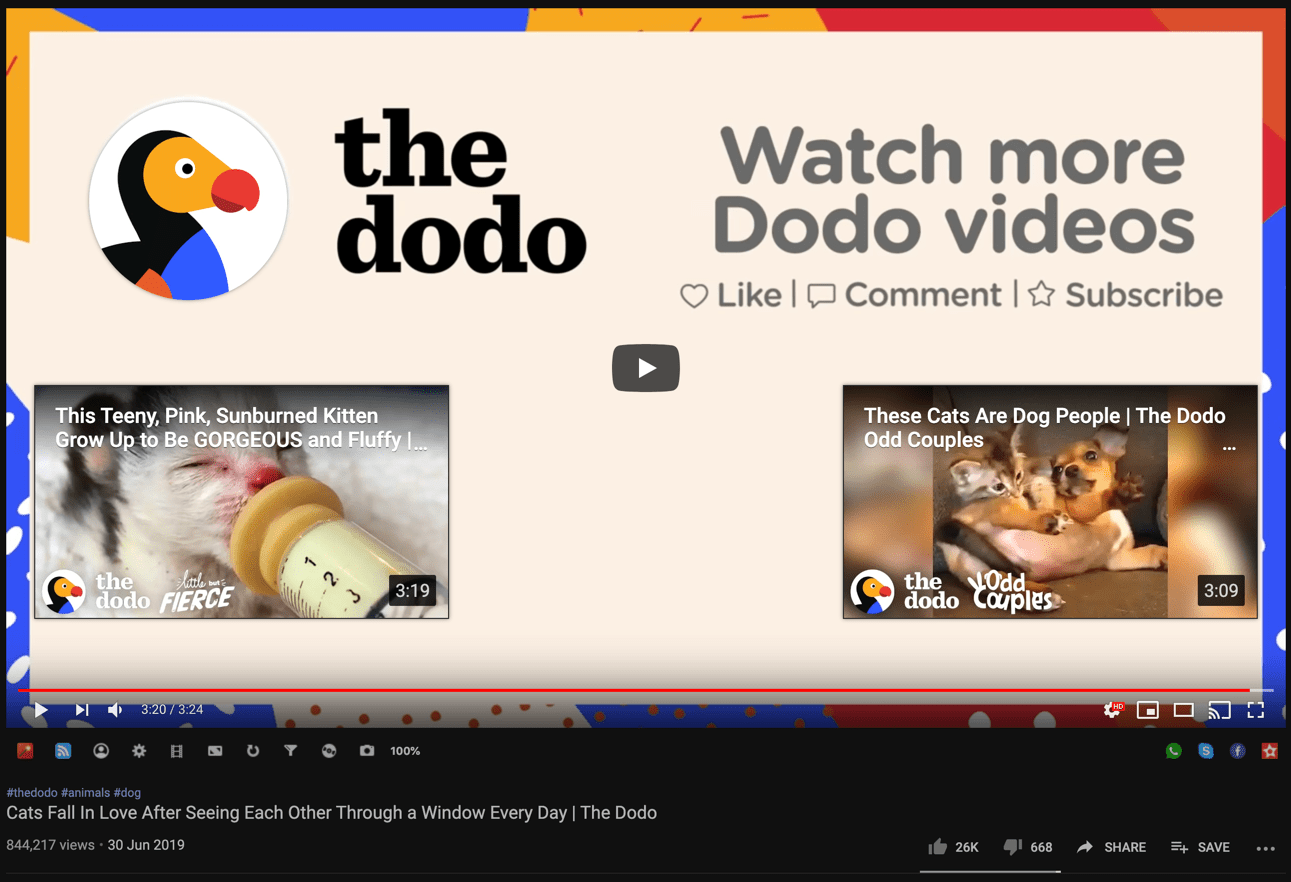 When most people create their YouTube end cards they just add it to the already moving video. But I recommend that you create a distraction free background like the above one and then add your elements on top. This will allow the elements to stand out and get more clicks.
You can add 5 types of elements. These are playlist, video, subscribe button, link and subscribe button to another channel.
The ones you choose should depend on your goal. For example, if you want more views you can add the playlist and video elements. If you want more subscribes and/or traffic you can add the subscribe and link elements.
You can create the end card background by using tools like Crello or Canva. They are free to use and have drag and drop image editors that let you choose a background image/photo and place overlay text and objects over it.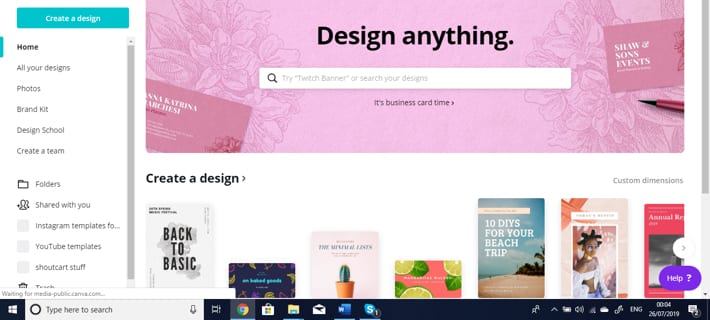 You can then add the image to your video at the end by using the aforementioned video editor, Screencast-O-Matic. And to finally add the elements, you will need to use YouTube Studio's editor.
5. Optimize for social media sharing
You should also optimize your videos for social media sharing. You can easily do this by researching which videos get shared most.
Start by making a list of your competitors' top videos on a spreadsheet. Then copy and paste these URLs into Buzzsumo and hit 'Go!'.

It will show you the top social networks on which the videos got shared most and who shared them.
You can then optimize the video you are creating with similar titles and descriptions and also run an outreach strategy to convince the same people who shared your videos to share your videos too.
6. Use paid marketing methods
If you have the budget for it, you should invest in paid marketing methods on YouTube to promote your products and generate more views and subscribers.
One great straight forward solution is ads. Ads are so popular on the network that YouTube generates $3.36 billion in video ad revenue from the US alone.
Another method that works is influencer marketing.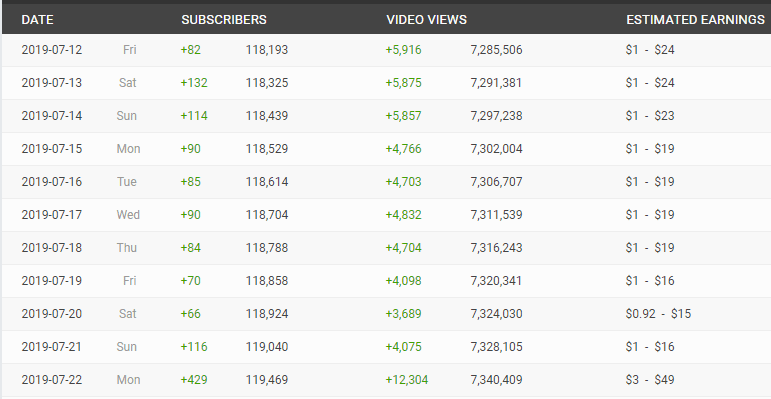 You can analyze accounts of influencers by using tools like Social Blade to see how many views and subscribers they generate and then team up with the right influencers to either promote your channel or products.
You can also team up with influencers and create a video together. They can be a guest on your show or you can be on theirs. This can help you attract subscribers and views too.
Now use these YouTube tricks…
These top YouTube tricks will help you stand out from the competition and build a foothold on the network. Begin implementing them today to drive more views, subscribers and traffic.