There are thousands of tools available to web marketers, many of which are so popular, you're probably using them already. So rather than rounding up the usual suspects, here are nine tools of which you may not have heard.
These marketing tools take only seconds to use. Although many of these have paid options, they each also have useful free versions, even if the options are limited. Notice how each tool answers a specific question.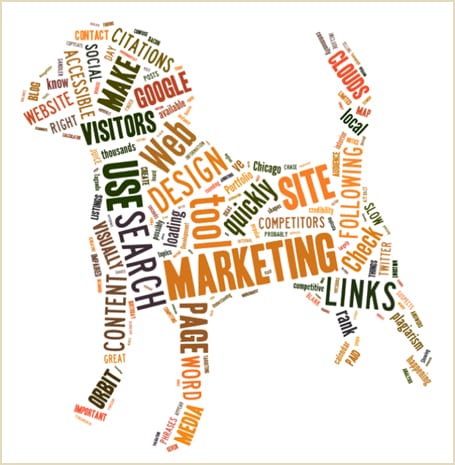 1. Is anything happening today for me to talk about in social media?
Something is happening somewhere in the world. But how will you know if it's "World Bacon Day" or the birthday of Adam Sandler? This is a great web marketing tool for anyone using social media.
Check an event calendar to get ideas for the day.
2. Are my top phrases becoming less popular over time?
It's possible that your content is focused on a phrase that is trending downward. If so, you'll want to adjust the language you use on your pages and diversify your blog post topics. See trending over time with a keyphrase research tool: Google Trends.
3. What phrases are my competitors ranking for?  What Pay-Per-Click ads are they buying?
Understanding how your competitors attract visitors is an important part of search marketing. There are tons of competitor analysis tools available. But here's a simple online marketing tool that will quickly show what SEO and PPC phrases your competition is focussed on: iSpionage.
4. Is someone copying my website content?
It's possible that competing sites are plagiarizing your content. This kind of duplicate content can confuse Google and hurt your search rankings. It's also annoying. If you've ever been the victim of website plagiarism, you know what I mean.
Use a plagiarism checking tool to find copycats: CopyScape.
5. Are there too many links on my homepage?
Your homepage has earned trust and credibility in search engines through incoming links. This credibility gets passed down to your interior pages through links. But having too many links dilutes this "link juice" and reduces the chance that your interior pages will rank. Even a huge site like Amazon has only around 100 links on their homepage.
Use an internal linking checking tool: The SEO Tools
6. What is Google telling my audience to search?
Finding the right topics is fundamental to content marketing and an important part of keyword research. As soon as your audience begins typing, Google starts suggesting search terms. Wouldn't it be nice to see them all in one place?
Use this keyword discovery tool to find topics that Google suggests related to your keywords: UberSuggest.
7. Is my site loading quickly?
Slow loading sites are bad for search marketing and terrible for visitors. If a site is slow, visitors tend not to stick around. If you know precisely what is slowing things down, you can fix it quickly.
Use a page load analyzer tool to see the load time for each element on each page: Pingdom Tools.
8. Is my site accessible to the visually impaired?
All visitors are welcome to visit, right? But is your site welcoming to the visually-impaired? Making your site accessible is a smart way to not lose potential visitors. It's also the right thing to do.
Check the accessibility of your website with this accessibility validation tool: WebAIM Wave.
9. How can I unfollow some of these old Twitter accounts?
Hopefully, Twitter is already a part of your web marketing. But if you've been at it for a while, you may be following people who aren't that relevant. Some of them don't even follow you back. It's good to purge sometimes and bring your following/follower ratio into balance, but it can take hours to go through Twitter, find, and unfollow these accounts.
Use a tool to quickly see who's not following back and possibly unfollow them: ManageFlitter.
Bonus Marketing Tool
How can I quickly create visual content?
Visuals communicate quickly and get shared often. Word clouds make a great alternative to stock photos for blog posts. Wordle makes it easy to create word clouds, but here's a marketing tool that goes a step further: Tagxedo makes word clouds in specific shapes. (Note: this requires the Silverlight plugin.)
Use this tool to make Word Clouds in specific shapes: Tagxedo. That's how we made the puppy word cloud for this post!
What Did We Miss?
Ok, I'm sure you've heard of at least a few of these. Did we leave out any good ones? Share your favorite online marketing tools with us and with your fellow readers by leaving a comment below.