Social media marketing changes constantly. One thing that stays the same, though, is that keeping social audiences engaged takes time and effort.
By now, most marketers understand that scheduling social content is an essential part of any sound strategy. But, you might not necessarily know how to automate your social media marketing the best way. Or, you might be running into resistance from naysayers who believe it's the wrong approach (for any number of reasons).
No matter what your current situation looks like, this post will get you on the right track.
Social media automation myths (that won't go away)
Even today, there are still some who say that automating your posts is a bad idea.
Whether those folks have been fed bad information, or have a philosophical aversion to the practice, that attitude most often isn't based in objective reality.
It doesn't mean they have nefarious motives. They just might not be totally informed.
Here are a few common myths you might encounter (and why they don't exactly add up).
Myth 1: "Social automation tools decrease post performance"
A lot of things can reduce organic post reach. Like tightening network algorithms, increased competition for people's attention, or just poorly-executed content. But, using a tool to schedule posts isn't included on that list.
For evidence, Buffer conducted an in-depth case study confirming that using tools to keep your social media accounts loaded with fresh content isn't going to hurt your performance.
Myth 2: "Social automation is impersonal"
Social media marketing is only impersonal if you make it that way. With that in mind, this common misconception might hold true if:
You only share automated posts. Generally, you should be augmenting your social schedule with timely posts too.
You never bother to tag any other accounts in any posts. This is a missed opportunity to influence shares and get more reach for your posts.
You don't respond to comments or messages. Neglecting comments and messages is literally leaving money on the table. In fact, according to Sprinklr, customers who get a response from a brand on Twitter spend up to 20% more.
Follow some basic guidelines for mixing up your social content and take time to engage with your audience, and you won't have to worry about this one.
Myth 3: "Social media automation is 100% set it and forget it"
This one gets it partially right. Sure, one of the benefits of scheduling posts is freeing up your time for other tasks.
However, it shouldn't be totally mindless. You should be proactively mindful to make sure what you're posting is:
Still relevant. It can be easy to share and reshare content for so long that it eventually goes out of date. Make sure the content you share is either evergreen or up to date.
Actually driving engagement. Measure performance and adjust accordingly.
Appropriate given what's in the current news cycle. If there's a major catastrophe dominating social media, your pre-scheduled posts might come off rude or insensitive. In case of an emergency, be prepared to shut down your social channels temporarily.
Even self-driving cars need an operator to keep their eyes on the road. Think about social media automation the same way.
What are the benefits of automating social media?
Now that we've dispelled some misconceptions, here are several reasons why automation is the only way to go if you're serious about social media marketing.
You'll save tons of time …
Imagine what it takes to update all your networks consistently without a tool. You have to write all your content in a spreadsheet. Then, you'll need to keep all your corresponding visual assets somewhere else.
Next would come setting up Google Calendar reminders to go into each network and post. Even networks that allow you to schedule posts natively can't solve the problem of needing to switch between tons of tabs to keep every network updated.
It's all a huge hassle, and overly labor-intensive processes tend not to stick. Automating posts and managing them within a purpose-built tool solves all these problems (and more).
… extend the life of your content …
Social media content tends to have a short shelf life. People's attention spans are short. Posts need to be exceptional to get people to stop scrolling and actually click.
So, your posts need to be shared multiple times to get the most from the time you spent creating them. That's especially true on a high-volume network like Twitter.
In fact, data bears out that resharing posts can lead to better performance. Take a look at this data from one tweet reshared multiple times from CoSchedule: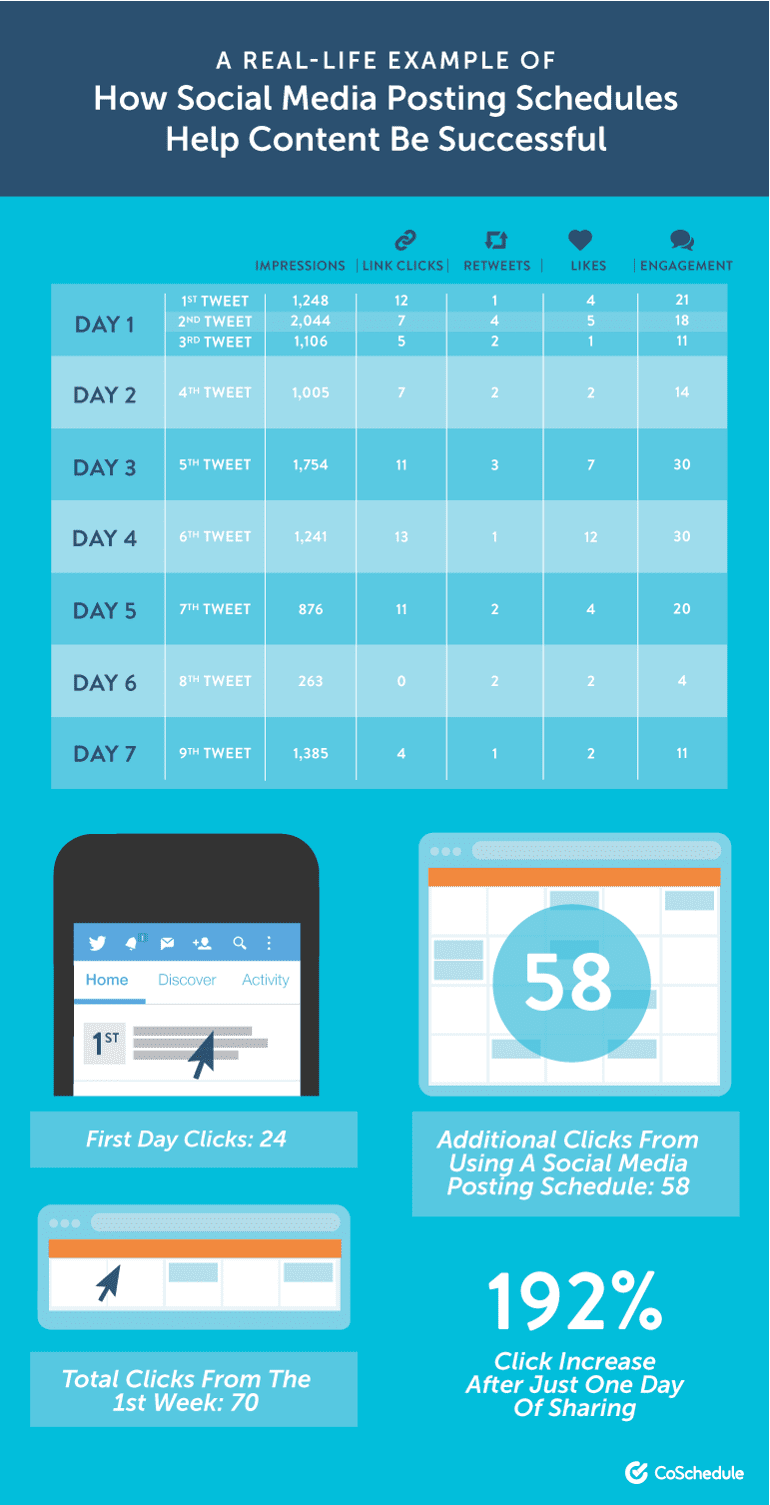 … and as a result, you'll keep your audience engaged
Keeping your audience engaged requires a consistent stream of content. Sustainably maintaining a steady flow of posts requires tools that make it easy. You can see how the two are connected.
Take another look at the graphic above. Engagement on that one tweet held steady each time it was reshared, and actually peaked after it had been shared four or five times.
Now, extrapolate that performance across multiple tweets (or posts on other networks).
You can't count on everyone seeing your content the first time it's shared. Resharing high-performing content increases the odds it'll get seen (and drive results).
---
Gini Dietrich, Founder, CEO and author of spinsucks

"I actually use CoSchedule and I love it so much I've asked it to marry me (and it said yes!). I mean it's pretty and all, but I love it more because it helps us create a long-tail effect with our content. It gives you the ability to automate evergreen content over a month, several months, or a year to bring new visitors consistently to your website versus having a big bump when content is first published.

So, rather than having to constantly and manually share a piece of content, you set it up in a template and let it do it's thing (while also following the other automation tips included here). Of course, you don't want to do this with ALL of your content, but for a few select pieces, it does create a consistent band of visitors for a very long time."
---
Get started by choosing what you'll share
The first step is to determine which content you'll post and where you'll post it.
Sure, you can create original content that's purpose-made for social media (rather than resharing content from your blog or website).
But, coming from a content marketing perspective, you'll need blog content to share (and reshare) too, and a lot of it.
So, let's start there.
Use BuzzSumo to see what's getting shared the most
A great tool to begin your research is BuzzSumo.
Not only can it help you find out which content is being shared the most, it can surface that content both for your own accounts, as well as across popular networks at large.
This is useful for two reasons:
You can find which content is popular in general. And choose trending content to curate.
You can also find which of your own posts are getting the most shares. And double down on that success.
Start by entering a topic keyword and you can quickly surface top-performing content by share count:

Then, enter your own site into the tool to find your own top-performing content:

You're off to a good start nearly immediately with content you can curate, and content of your own to reshare.
Related: 12 Social Media Content Ideas
Use your social analytics to find your most engaging content
Any social media automation platform you use should have built-in engagement analytics.
Here's a look at what the Social Engagement Report looks like in CoSchedule:

However, not all marketers are smart about adopting a data-driven strategy.
That's a mistake, especially considering how easy it is to access valuable data that can help you make better decisions about what to create and share.
There are tons of tools available that offer similar reporting around engagement along with social sharing capabilities. In addition to CoSchedule's Social Organizer, consider the following selection:
No matter which tool or platform you use (and there are plenty more beyond what's on this list), you have access to enough post-level data to make informed decisions around what might work in the future based on past performance.
So, no excuses. Use that data to drive your content mix across social media.
Reshare your top-converting content
Now, it's time to dive into Google Analytics and see which content is converting at the highest rate.
Now we need to find the posts that are most likely to inspire our visitors to act. This data is in your Analytics in the "Reverse Goal Path" report.
Set the report to show the newsletter subscribers goal (if you haven't yet, set up your goals in Analytics) and set a filter to show just the blog posts. Now you can see how many subscribers each post attracted.
These are the posts that are most likely to turn visitors into subscribers.
Note: for a more accurate number, calculate the actual conversion rate from visitor to subscriber. Do this by dividing the number of subscribers by the number of pageviews for each post. Pageviews can be found in the All Pages report.
Share your most important content
Fresh, high-investment content (like original research, ebooks, white papers, videos, and so forth) should be shared and re-shared.
If you've put a lot of resources into something, you must have had a good reason to do so, and so giving that content the attention it deserves on social media only makes sense.
With these types of pieces, keep a close eye on performance. If something isn't working, switch things up, and don't be afraid of rapid iteration to hit on a winning formula.
Choose your networks
You don't need to be on every social network. You just need to be on the ones where your audience is active.
So, choose the networks where you'll automate posts accordingly.
Buffer's Kevan Lee has put together a great guide (which was last updated in December of 2018) on how to figure out exactly which networks those are.
Some things to think about when choosing networks include:
Size of active user base: Some networks have dramatically more total users than others.
Demographic alignment: Are your target customers active on a given platform?
Alignment with business goals: Is a particular network better suited toward achieving your business goals than another?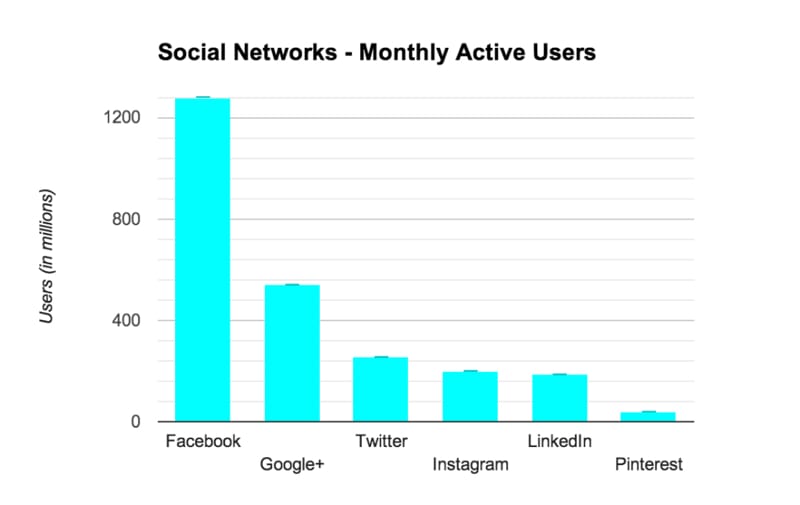 These questions can quickly grow more complex than they sound. To help narrow down some starting points for where your business should be, refer to this post from Convince & Convert.
Establish a basic posting schedule
"How often should we be posting?" is one of the most common questions marketers and business owners ask about social media marketing. It's tough to provide a one-size-fits-all
But, when you're starting from scratch (or if you're actively posting but don't have an actual plan or cadence yet), having a set of starting points can be useful.
Here's a suggested posting frequency from CoSchedule to get you started (omit any networks you're not using):
Understanding the actual best times to post
You should be scheduling your posts when your audience is most likely to see them. That's simple advice, right?
Well, figuring out what those times are requires testing and patience to get insight into your specific audience. Once again, that makes providing a blanket set of recommendations difficult.
To get started, follow these data-backed recommendations (broken down by vertical; follow the times that most closely match your own business):
Automate away!
Your social media accounts will need feeding over time to keep driving performance.
But, with this simple process in place, keeping your presence active and engaging doesn't have to be difficult, and it doesn't need to take tons of time either.
You've got the knowledge. Now, it's time to put it into action.